This article may contain affiliate links; if you click on a shopping link and make a purchase I may receive a commission. As an Amazon Associate, I earn from qualifying purchases.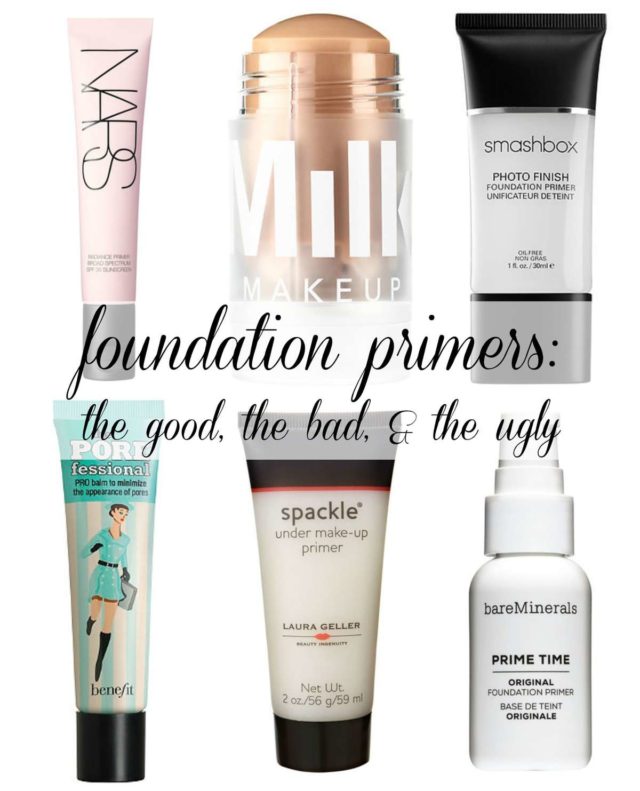 I've really learned the value of makeup primers. When I was younger, I wanted them so my makeup wouldn't melt away after a night dancing or day in the sun and humidity. While I still appreciate that aspect of primers, I find primers to be beneficial in multiple ways, especially with my over-40 skin.
Primers do not have to be partnered with foundation; as primers have improved over the years they have become stand-alone products that improve the look of skin without any added color. When used with a foundation or BB cream, primers help reduce those products from settling into fine lines and enlarged pores. And then the long-wearing feature – who doesn't want their makeup to stay in place until they take it off?


I saw this primer by NARS that had an SPF of 50 and was psyched. An ex-tanaholic who got her first age spot at 29, I'm always happy to find products that have sunscreen. As someone who often goes sans foundation, it's nice to find an all-over face product with SPF to layer over moisturizer for extra protection. However, this was sold out and I ended up selling myself on NARS' Radiance Primer.
NARS Radiance Primer has an SPF of 35 but also, in the words of the Nordstrom site (where I bought but didn't link because it too is now out of stock) it contains, "Radiance Boosting Complex, which works instantly to revive dull, fatigued skin and help add long-term vitality to your complexion while prolonging the wear of makeup and enhancing its effect. Encapsulated sunscreen beads release on contact for luxuriously fresh broad-spectrum protection, while the plant extract evodia rutaecarpa promotes microcirculation for improved skin vitality." It's oil free, and made in the USA.
A little goes a long way, just a pea sized amount will cover your whole face and onto your neck. It has a subtle smell of sunscreen, which is to be expected. It blends easily, and disappears. No feeling of dryness, oiliness, or silicone. While many illuminating products make me look like a disco ball or if I coated myself in pig grease, this does not. It makes me skin just look a tad bit more refreshed, more glowy, but not shiny and no shimmer.
I've used it with just concealer, on its own, with a BB cream, and with a heavier foundation and it performs beautifully with all of them. While this is no Skindinavia that will pretty much glue your makeup to your face, it does make my foundation last enough that I can head out to dinner after work and not have to redo my face. Come spring when this tube runs out, I'll likely switch it for the SPF 50 one because I'd want the extra SPF and thanks to the sun, I won't need quite as much radiance.
This is the OG of foundation primers, and one I swore by for YEARS. It's silicone based – goes on silky, dries to a powder finish. Completely clear. Especially with heavier foundations, this stuff is amazing for creating a smooth canvas where makeup is applied evenly, and sticks around a bit longer.
It claims to make skin look great even without foundation, but I haven't had such an experience. As I got older, I found Photo Finish to make my skin look drier, less luminous, and more needing of product. In fact, Photo Finish is what had me stop using foundation for a while, thinking it was making my skin look older. I switched to a BB Cream and no primer and was thrilled with the results. When winter came, I wanted something a bit heavier to cover my vampire pallor and tried some without Photo Finish and liked it. Tried with Photo Finish and suddenly the foundation looked obvious and my skin looked older.
This is not a bad product, it's the OG for good reason. However, if you've been using it for a decade without trying alternatives because you think it's so great, consider trying a different version. You may like the results.  (FYI, some say this Monistat anti-chafing gel works just as well for far less).
I can't really tell the difference between this primer and Smashbox. I think this one is a hair more liquidy, but the pump stopped working after two weeks and I had to apply it by unscrewing the cap and tapping it on my face with the tube for the pump. Then when that no longer got the job done, I had to shake it into my hand which wasted so much product. All that, and this stuff wasn't revolutionary. However, this is paraben-free, sulfate-free, phthalate-free, synthetic fragrance-free synthetic dye-free, petrochemical-free, and made in the USA which is quite appealing. And while Smashbox is cruelty-free, it doesn't claim it's free of all these other nasty ingredients.
Every time I can pick three samples with an online beauty purchase, this primer seems to be one of the options. So I decided to choose it a few times and some friends gave me their testers so I could try a few times without having to purchase.
I do not like this stuff. It's thick and sticky and heavy. I've read many who use it like spackle to fill in holes from pock marks, scars, and such to create a more even canvas; I can see how it would work for that. But as a base layer for foundation or just to improve skin's appearance I didn't like it because I could feel it on my skin.
Like Glossier, MILK is a trendy new cosmetics brand getting a lot of hype. And like Glossier, I bought into that hype. MILK's Blur Stick supposedly minimizes the appearance of pores and fine lines on every skintone for an invisible, smooth, matte finish. Unlike many primers, Blur Stick free of silicone. It is also vegan, cruelty-free, free of parabens, sulfates, phthalates, dimethicone, oil, and gluten.
I was underwhelmed by MILK Blur Stick. It comes in beautiful packaging, the product is a peachy-beige color that is a bit iridescent. You twist up the product like a deodorant or giant lip balm. It's a very hard product, doesn't glide on the skin, and like deodorant leaves a couple flakes in its wake. To apply, you rub on your face like a stick of deodorant, then blend with fingers. Better have warm fingers and well-hydrated skin, because this stuff doesn't easily blend. Once blended and covering my face… I saw no improvement. I applied more to my nose which was shiny and had visible pores and… nothing. I put my makeup on over it, and you could see that I missed a few spots with my rubbing/blending because my skin looked uneven – some places had good coverage but looked dry, other places looked normal. When I used more on skin just moisturized and with warm hands, it covered better but it still didn't do much to hide pores, blur fine lines, or keep my foundation in place during the day.
I haven't used the POREfessional by Benefit, but I am considering it after my friend texted me a photo of her face with only this on it. She's only a few months younger than I, has battled adult acne though now has it at bay, and has skin sensitivity. She loved how it looked on its own – just improving skin tone, evening the skin, minimizing pores and such. It looked so good in the photo it's on my wishlist to try in the future. Have any of you tried it?
If you have a primer you love that isn't mentioned, please share in the comments! We all have different skin colors, textures, issues, and needs and I know I and many other readers benefit from your suggestions!