This article may contain affiliate links; if you click on a shopping link and make a purchase I may receive a commission. As an Amazon Associate, I earn from qualifying purchases. 
Many readers write to me, stating that my staples and many of my posts do not work for them because they either work from home, or are stay at home mothers or wives. As someone who never did work from home, I would always respond back that there is life outside of your house and you should be prepared; anyway you will feel better and be more productive if you are well turned out.
I often got responses back that I didn't know what I was talking about; to be in your home comfort is key, style is not important.
Well I am now working from home, on semi-bedrest no less. As I type this I am in my bedroom, my laptop on a tray table. I have been like this for a bit and will be until my baby arrives. Once she arrives I have six weeks of maternity leave at home and a couple of transition weeks – working from home, part time working at the office until I return back as a full-time office employee.
As I type this, I am in black ponte trousers, a gray silky jersey empire-waist top, black socks and diamond stud earrings. My hair has been blown out, I am wearing tinted moisturizer, rosy lipstick and mascara. There is a good chance I will see no one but my dog and husband all day, and that the only time I leave this bed is to use the rest room or refill my water bottle.
However when I started working from home, I relished in the idea of not having to worry about my attire. I often worked the day in a variation of what I slept in – knits, sweats, garments better made for my Saturday yoga classes. It was fun, decadent to not put on a bra, not "do" my hair, and just be comfortable.
My schedule was one day working from home, next day working from the office. I started noticing that the days I had to go to the office, I was dreading them. I wasn't dreading the office or the work, but the need to pull myself together and look professional. I started having more difficulty pulling together a decent outfit from the clothing I already owned and knew so well. The days I worked form home seemed to drag on longer than necessary – often because I would get distracted with a non-work Web site or the desire to do housework instead of payroll work.
I decided that each morning that I felt well, I would try to pull myself together. Shower, an easy wash-and-wear hairstyle (for me is letting the hair air dry with a tiny bit of product and then come back later to smooth the bangs for 5 seconds with a round brush and dryer), small bit of makeup to make me look alive (amazing what a quick swipe of blush and mascara can do for the face). As for clothing, well I wasn't going to endure bedrest in constricting denim, but I could do it with dresses and leggings, and pants made out of knits.
My morning routine is less than ten minutes because for me, showering at night works better with my schedule. Those ten minutes each morning make me a more productive at-home employee, have less concern with having to leave the house last minute or sign for a package when the UPS driver comes to the door. With my exterior organized, my interior seems to be more organized as well. I feel less tired, less sluggish, and more receptive to visitors.
The easiest way to be polished at home, is to start with the purchases. Be careful with every purchase you make – can it handle time on the floor, in bed, and to be accidently tossed in the dryer by your spouse? Keep away from that which will fade, requires ironing or special washing instructions. Also keep away from that which resembles gym attire, sleepwear, or something that your husband would wear. It's better to have less that is quality than more that is junk. As you find great durable and flattering pieces, donate those which aren't up to snuff.
A few pieces I have found to be great while being at home: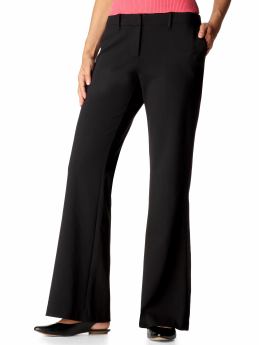 Old Navy's Stretch Ponte Mid-Rise Wide-Leg Trousers – I love love love these trousers. They look elegant, but they are made of fabric that is as comfy as sweats. The fabric is heavy enough to hide lumps and bumps and look work-worthy. They have a classic waistband and zipper, but they don't dig into your tummy, even when sitting or reclining. They are machine washable – I usually hang them to dry, but they have also gone in the dryer when I have been in a rush and they haven't pilled, shrunk or faded.
I usually despise slash pockets, but these lie pretty nicely. Best of all – they come in petite and tall lengths! $34.50, currently only available in black. Get yourself two pairs so you have some ready while the other pair is in the wash.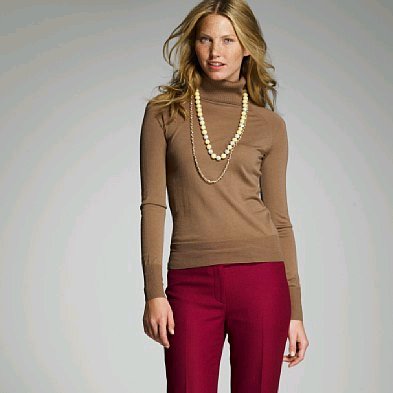 J. Crew Merino Sweaters – Their turtlenecks are cozy while looking elegant, the crewnecks are a stylish alternative to a sweatshirt, and the v-necks add femininity to your simple outfit. Unlike cotton, merino usually keeps it shape and color through many wears and washes. Unlike cashmere, it's usually at a reasonable price point. The tight weave glides over curves, isn't itchy like shetland and looks polished. Come winter, I often layer with a tencel, silk or fine jersey tee or camisole underneath (a silk undershirt is incredibly warm without bulk). Black and gray are always chic, but bright colors are always nice to see and wear. Consider a jewel tone that pleases your eye – it will go with black, gray, camel, denim and other neutrals just as nicely as a more subtle or predictable color. Though the sweaters usually say Dry Clean Only, I have always washed my merinos on the gentle cycle in the machine with Woolie or a gentle landry wash, and either hung them up on a padded hanger or lay them on a towel on top of the dryer to dry. This specific merino turtleneck has select colors on sale for $39.99 – not too shabby!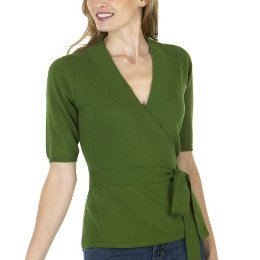 Wrap Sweaters – This one is from Target. Wrap sweaters are great because they offer the layer you want, but flatter your feminine shape far better than a sweater coat or hoodie. This could work over a nursing tank, a cami, a tee, a turtleneck all with ease and look elegant and feminine. Sweaters and tops that wrap to the side give the illusion of a smaller waist; lightweight sweaters add warmth without bulk to your frame, and again this is a great way to add a pop of color to your basic neutrals. This specific sweater is under $25; I have found great wrap sweaters at Gap, Ann Taylor, Nordstrom, Macy's, and more usually under $50. Another ting – if the sweater is layered over a cami or tank, you don't have to wash it as often. Have a Tide to Go pen at the ready, and you can get more miles between washes!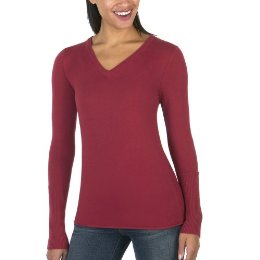 Mossimo Ultra Soft Long-Sleeved V-Neck Sweaters – I learned about this sweater from another blogger and agree that they are fab! They are super cozy and soft like cashmere, but far less in cost. They come in a good range of colors and seem to flatter a variety of shapes of women.
Very nice with trousers, jeans or even with a simple pencil skirt for church or dinner out. Layer with a cami or tee, dress up with a strand of pearls or a scarf tucked into the neckline. You very well may find that a sweater like this will get more wear and bring far more joy than your most snuggly fleece pullover!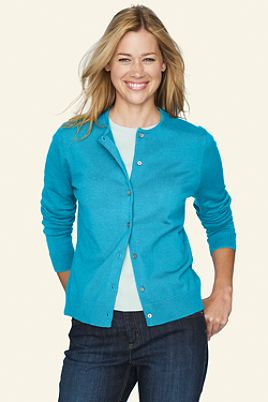 Lands End Fine Gauge Twinsets – Lands End is awesome – they have the best selection of colors, most of their pieces are made of great quality and are easy to wash, their pieces run a bit big, they have an amazing return policy and their styles are classic without being dowdy.
A very easy way to look polished is by wearing a twinset – the shortsleeved crewneck and matching cardigan from Lands End is a great choice. I was mine in the wash on the gentle cycle and hang it up to dry overnight. The colors never fade, the shape maintains, and it dresses up or down nicely. Pair the set with capris in spring, wool blend trousers in winter, a pencil or a-line skirt for brunch, toss the cardigan over a sundress on breezy summer evenings, wear the crewneck alone with trousers and pearls for a simple Business Casual look. Again, consider a cheery color that will bring sunshine to a dreary winter day. Lands End carries most styles in petite, plus, and other extended sizes. The cardigan is $39.50 and I think worth every penny. Keep up with the site, Lands End often adds pieces to this line of fabric so you can get things like sleeveless shells or 3/4 sleeve cardigans come summer and turtlenecks come winter.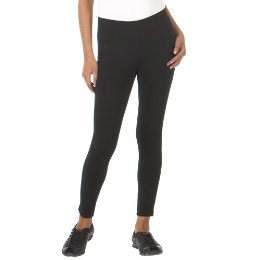 Merona Black Leggings – Okay, the leggings under the dress look is gone and done. It was hip for a season and now it looks pretty dated and desperate on most. The thing is, the look is pretty awesome when you are at home. Suddenly you can get on the floor with the kids, chill in bed, hang out at the playground and more without worrying about a breeze. A dress in knit or matte jersey with black leggings and ballet flats is still more chic than a velour jumpsuit or your husband's favorite hoodie. If paired with a solid color dress that has a simple silhouette, the look can be artsy and elegant. I love wearing my black leggings with a dove gray dress and a long scarf at the neck; my friend's weekend look is a black jersey dress with bell sleeves, black leggings, red ballet flats and a long silver necklace with red pendant. She looks polished, but is jsut as comfortable as she would be in her pajamas.
These leggings are less than $10 and get the job done. They aren't miracle workers, but they will last you through a season quite nicely.
What to Avoid:
Memorable Prints – It's hard to wear the same things week after week if they are so unique. Find creativity in your going out pieces, or your accessories. Choose great colors, flattering neutrals, and then detail piecves to add personality.
Bedazzlement – Just because a tee shirt has fake gems at the neckline does not mean it's fun or cool. In all honesty, most embellishment (embroidery, jewels, grommets, patches, accent fabrics, ribbons) makes the garment look cheap, not more stylish. Again, find your style with actual accessories to have versatility, style and polish.
Logos – A woman of style NEVER advertises what brand she is wearing. Style comes from the garment itself, NOT the designer.
Anything that Sheds, Pills, Fades or Creases – This means most khakis, cotton button-downs, angora blends, low percentage of cashmere blends, some silk blends, and cheap knits. If the black jersey already has a slight tint of gray or green, you can be sure that it will head further int hat direction after a few washes. Knits with at least 5% of lycra or a synthetic are less likely to shrink thank 100% cotton.
Be honest with yourself. If you don't have time to blow dry your hair after a shower, will you have time to properly iron that oxford shirt? If the answer is no, then don't buy it in the first place. It won't smooth out from wearing or if you pull it down and press it between you and the car seat. Stay with knits and synthetics if your lifestyle doesn't give you the time for ironing.
Polo Shirts – Unless you have a very slight frame or a slightly athletic build, these shirts are NOT flattering on women. Yes, they make feminine cut ones, but they still are not as flattering as a basic knit. The collar shortens the neck, the sleeve rounds shoulders and draws attention to larger arms, the neckline makes a large bust look matronly and a small bust look more obvious. The cut is usually too boxy or too tight at the belly, and the length is more often than not at the worst part of a woman's body (somewhere around the middle of her bum or right at the love handles). Want to get away from the tee with a creative knit? Try a wrap style, one with puffed sleeves and a scoop neck, one with lantern sleeves or a notched neck.
Cropped Cargo Chinos – These do not flatter a woman's frame in any way; the shortened length makes calves look bigger and legs look longer. The extra pockets add bulk (and usually end up wrinkled after the first wash). Want the cargo pockets for day tripping at the park or in the woods? Go with a jacket or a full-length pant or even a small backpack or sling. Want the cropped look? Consider a heavy jersey, a ponte fabric or a synthetic in the same fabric as a jacket or cardigan for something just as comfortable but far more flattering.