This article may contain affiliate links; if you click on a shopping link and make a purchase I may receive a commission. As an Amazon Associate, I earn from qualifying purchases.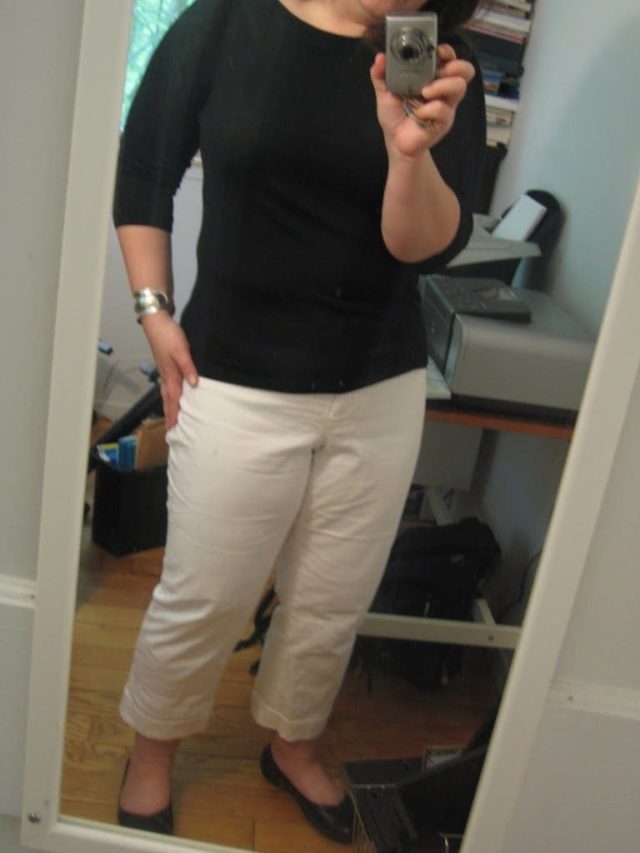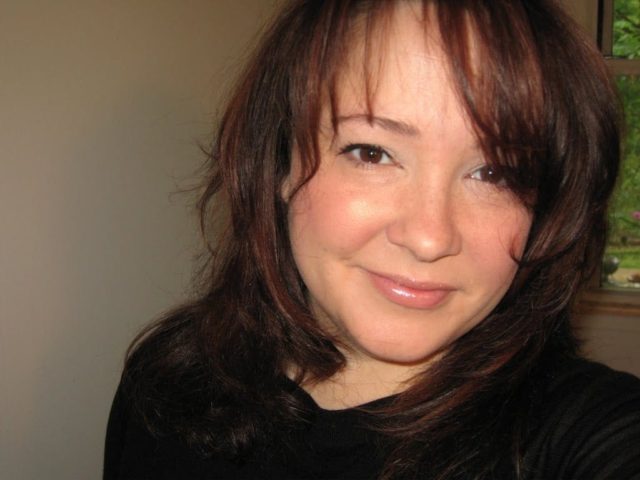 Black tissue-weight merino boatneck from J. Crew (loved the green so much I had to get a second one in a basic black!), white cuffed lined cropped pants from Casual corner, black leather flats from Naturalizer, silver cuff bracelet.
Hair is on it's… third day. While dry, blew it straight with a round brush and added a small amount of BioSilk to the ends.
Makeup is L'Oreal true Match foundation in C3, concealer in W4-5, Nars blush in Orgasm with Smashbox Soft Lights in Tint over it. Eyes is the ivory from the Revlon ColorStay quad strong in inner corners and light over lids. Lashes curled, Cover Girl Lash Exact applied with DiorShow Unlimited over it (both in black). Line of Maybelline UltraLiner in black on top lash line. On lips is Victoria's Secret Beauty Rush gloss in Strawberry Fizz.
REVIEW-VICTORIA'S SECRET: So I ordered a bunch of stuff from Victoria's Secret. I don't know if I mention this on here, but I hate Victoria's Secret. For a woman with large breasts, I find their bras usually fit horribly or do not support enough. Their salespeople are clueless, trying to sell me an alternate size when the one I need is out of stock. The new look of the stores is gosh-awful, looks like a cheap whorehouse. The comapny kills 50 kazillion trees a day with their endless shipping of catalogs, and the majority of what they manufacture is total crap (either due to quality or style). I have a coworker who always looks… nice but not quite. Her jacket bunches at the small of her back, her slash pockets bow out, her pants are a tad too long, her top a tad too sheer. She shops almost exclusively at Vickie's. Oh and she always has quad-boob from their bras (she is not a small buster girl either).
So all my yoga pants are in a horrible state. One pair is too big and has a bleach stain on the leg. One was too long so I cut them off without hemming and they are starting to fray. The final pair is too big and all faded and awful looking. Victoria's Secret has yoga pants and they come in petite, so I figured I'd order black and navy. While at it, I decided to order two knit bras for the summer in fun colors if by chance a strap shows with a tank (I got hot pink and black). And heck, cotton undies are 5/$25 and even my undies are a bit old and big, so I'll order 5. I figured that since I am still a 12 I am still a Large in them. As always, I check online to see if any promos or coupons are going on, and got $10 off, free shipping and a hideous plastic totebag with Heidi Klum's pic on the front and "SUPERMODEL" in rhinestones at the bottom (but it came with a TON of minis and samples inside).
The yoga pants are too short, and the regular length is too long. On top of this, they look like tights on my sturdy thighs and a bit indecent from the back. the fabric is thinner and cheaper than the target yoga pants I currently sport.
The bras are fine. Not as bad of quad-boob as I usually get, and my breasts are not at my belly button, so I kept them.
The underwear is AWFUL! All my friends rave about their boyshorts being so cute and flattering and comfy so I ordered 2 in the set. I bet these are cute if you have an hourglass shape. If you have a Lincoln Log shape, you look stupid. Any chance of a waistline was gone, the legs bunched at the crotch, the bum sagged and the lowrise made my belly look more flabby than it really is. I ordered two briefs for under skirts and returned them because they were such a high rise they came almost to my ribs and again the bum sagged. the last was a thing and I didn't even open it… what's the point, the price is good only if you keep all 5.
So again, disappointed with Vickie's, though not as terribly as in the past. The freebies were also a sweet deal, that is where I got this lip gloss. It makes my lips look like patent leather, though the color is very pale. It would look nice over the mouth colored in with a brownish-pink lip pencil. It smells like cotton candy, comes in a squeeze tube, and stays a decent amount of time without being overly sticky. I would actually purchase this gloss, though in a different color!
REVIEW-NATURALIZER: So I was in need of some new comfy shoes. Shoes I could wear on photo shoots or coordinating wedding, shoes for day trips of sightseeing, days like today where the company's Wellness Committee (of which I am a member) had a Walk-Out where us participants took a 20 minute walk at lunch.
I wanted to buy from Nordstrom because then if I actually wore the shoes outside my living room and they hurt, I could still return them. I ordered the "Creston" flat by Naturalizer because it was a reasonable price point and looked comfortable, not clunky and very unassuming.
They are GREAT. Now they aren't super chic, but they are fine. They have a bit of an athletic or driving moc look with the rubber soles that come up around the heel. I can wear them all day and not find any chafing or pain, and unlike traditional flats they support my foot. Not my usual chic heels, but a great alternative when foot duty calls!