This article may contain affiliate links; if you click on a shopping link and make a purchase I may receive a commission. As an Amazon Associate, I earn from qualifying purchases.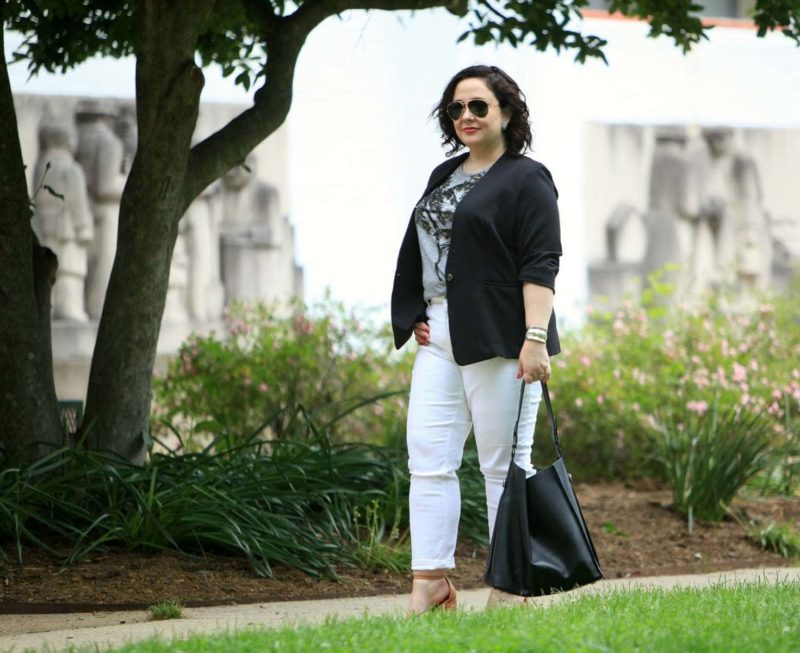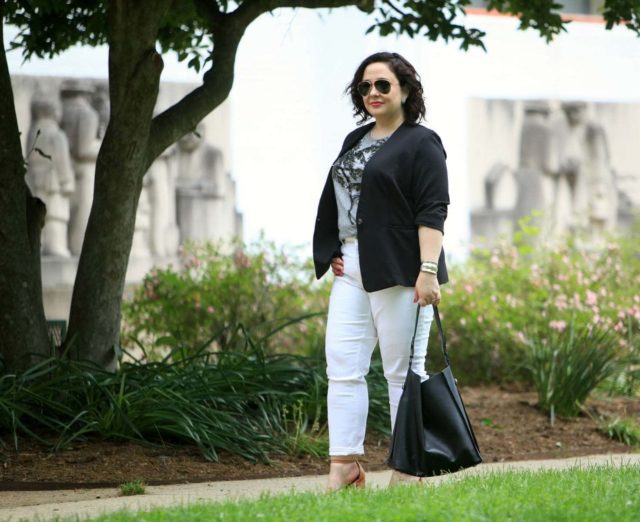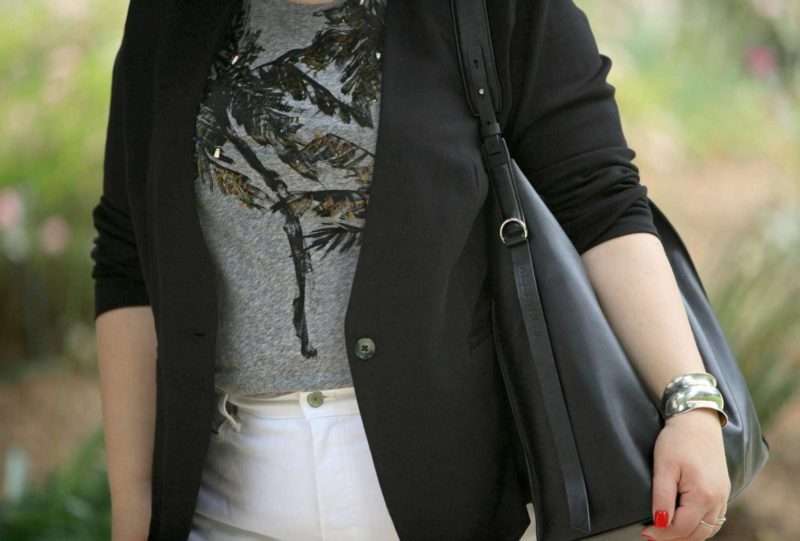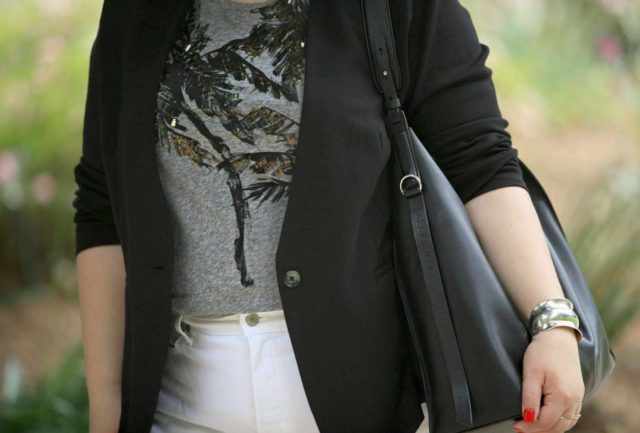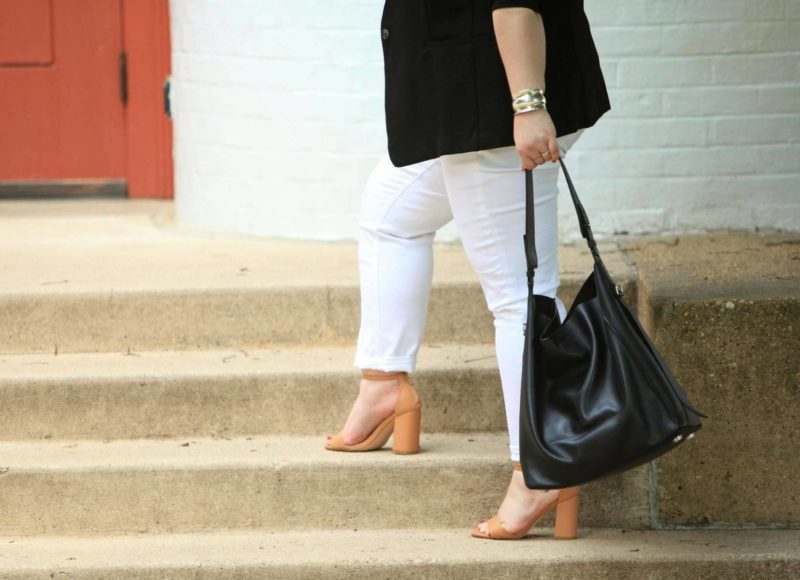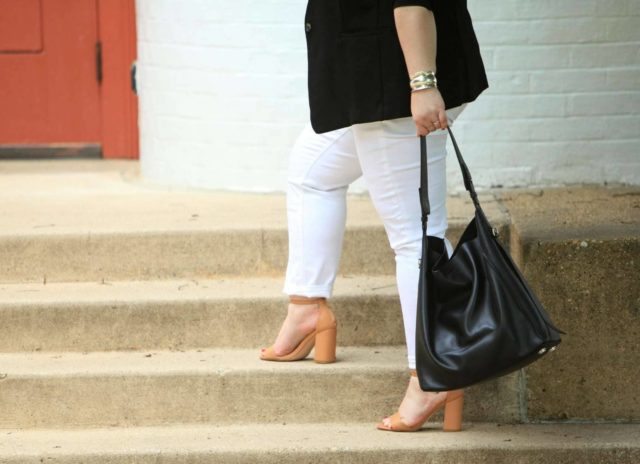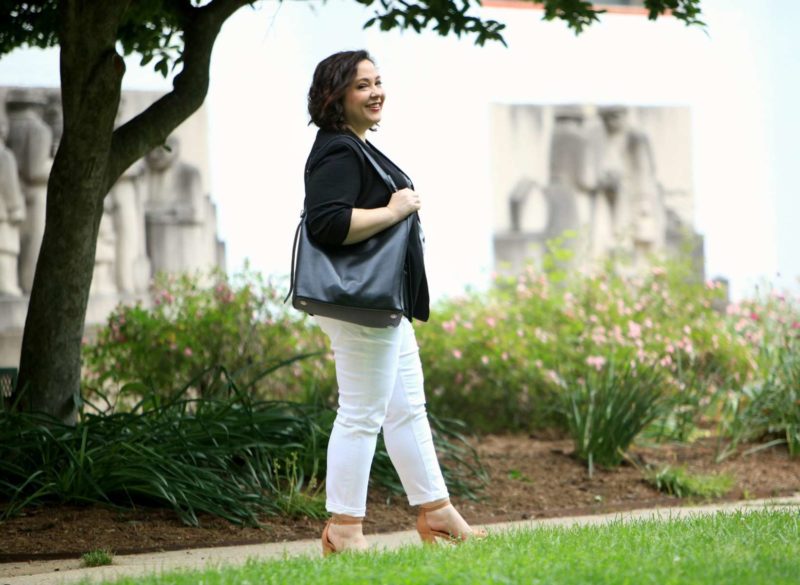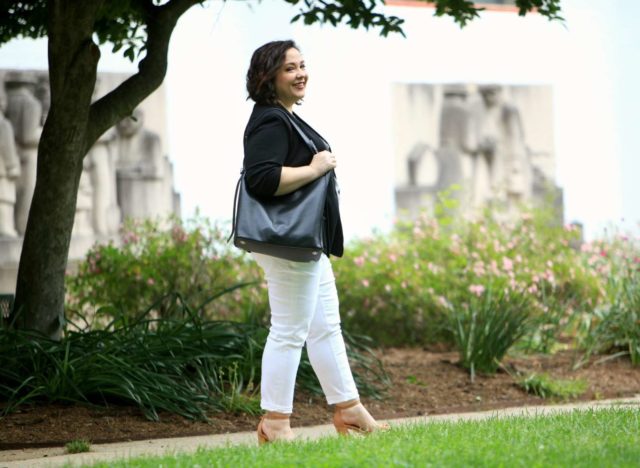 Blazer: RACHEL Rachel Roy c/o Dia&Co (0X) | Tee: J. Crew (XL – on sale!) | Jeans: Talbots (14P) | Shoes: ComfortView | Bag: ALLSAINTS | Sunglasses: Ray-Ban | Bracelet: Had forever (similar)
I work in two offices; one is more professional of attire, the other more casual. One I wear dresses and suits, the other I can get away with jeans and even sneakers on Fridays. When shopping for workwear, I look for pieces that can transition from the more dressy DC office to the business casual office in the suburbs; and from the casual office to the weekend.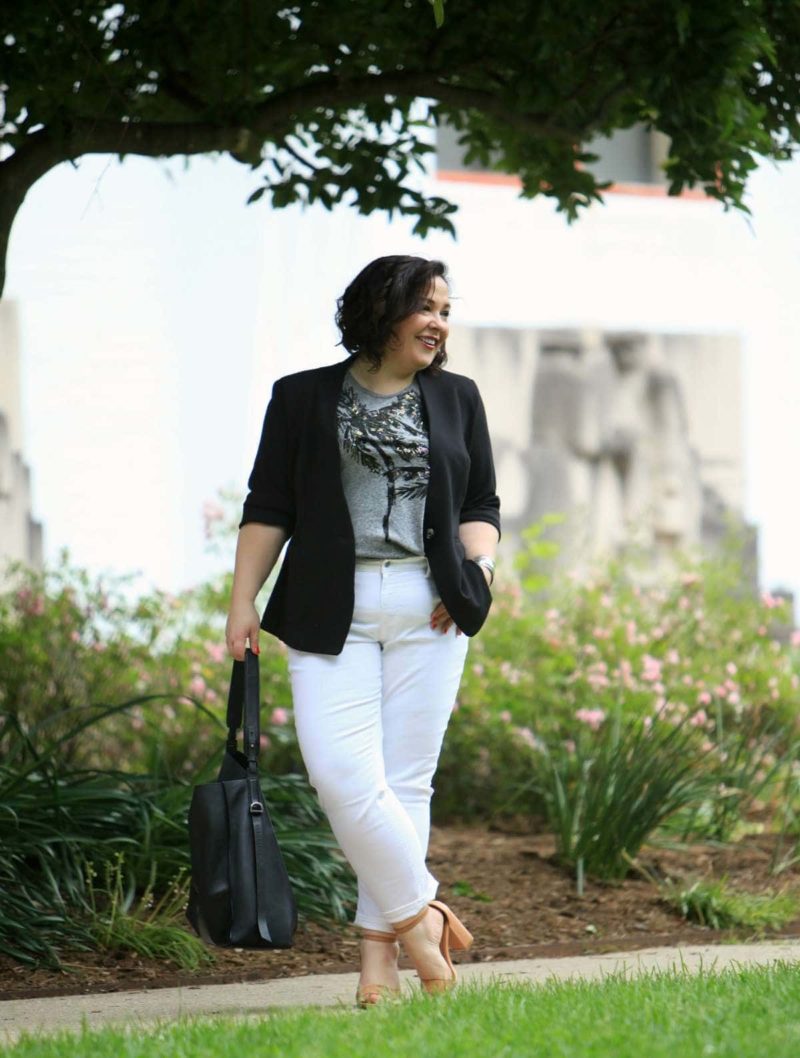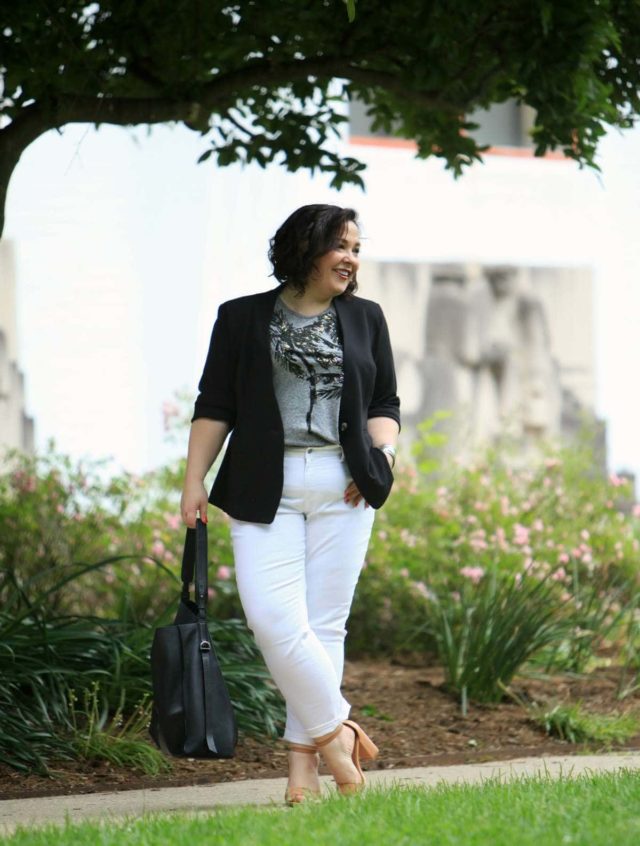 This blazer came in one of my Dia&Co boxes and it's awesome. I wore it on my flight to the rewardStyle conference because it's stretchy ponte that's comfy yet looks polished. I've worn it over dresses, paired it with a pair of ponte trousers for a suit, but often wear it to the more casual office with jeans. While it's ponte, I still get it drycleaned so it maintains its shape and remains something polished enough for the DC office.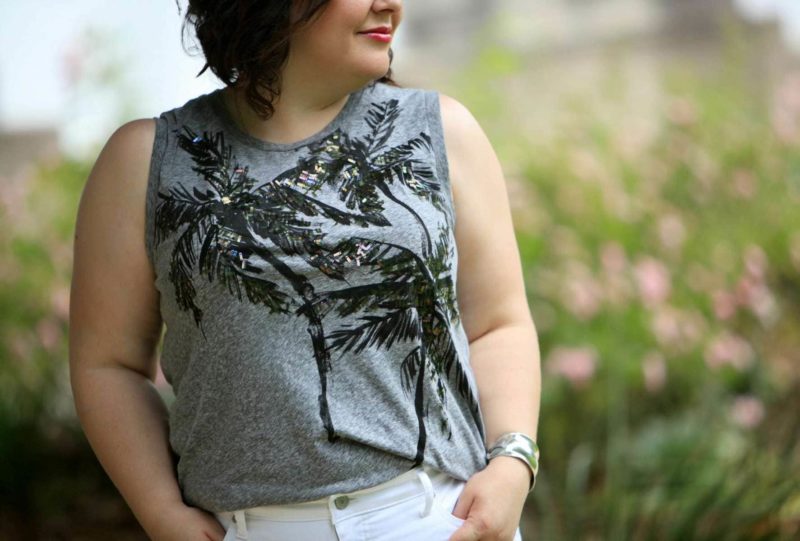 I just got this top from J. Crew (stay tuned, hits and misses post to come) and it's exactly what I love for this time of year. It's dressier than a simple tee, sleeveless but not exposing too much. I can wear it on its own or under a blazer; glam it up by pairing it with a maxi skirt or faux leather pants, or dress it down with jeans or a pair of shorts. It's on sale and when I got it, there was a promo code so this was cheaper than a meh tee from Tarjay!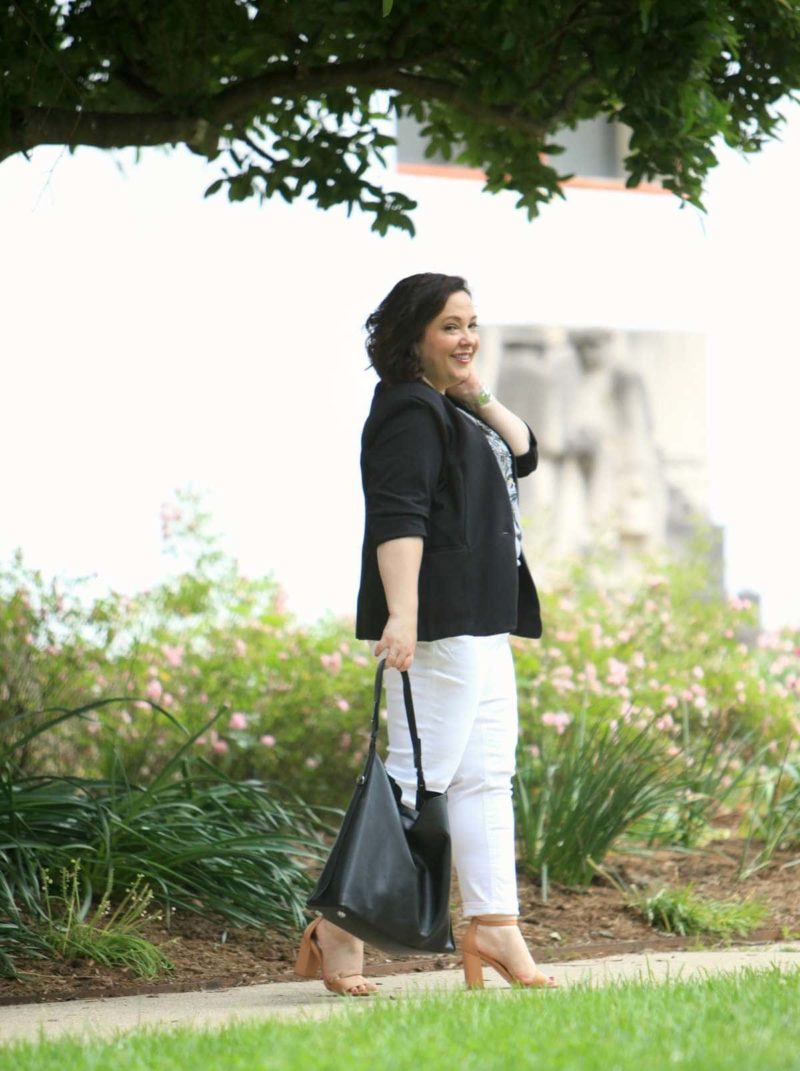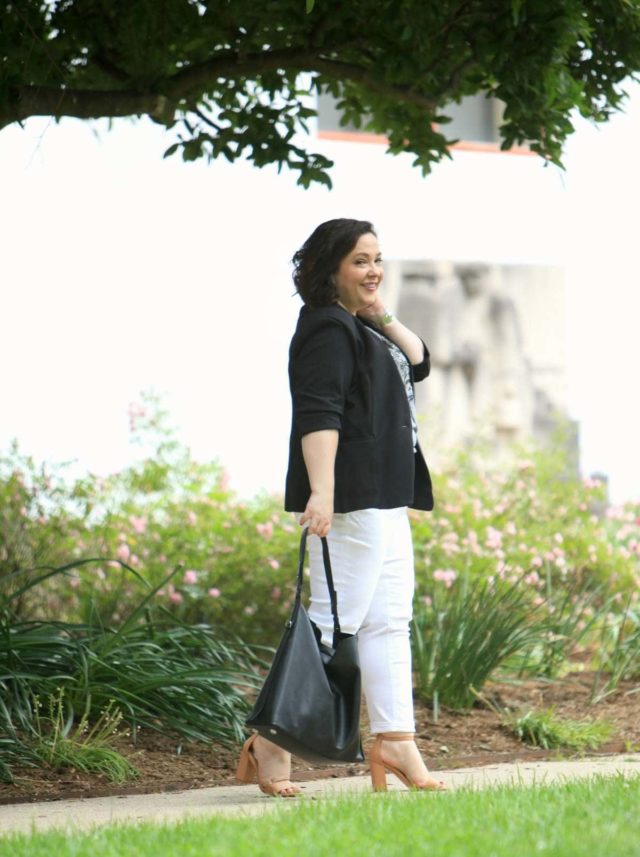 And you all said I should check out Talbots for white jeans and ordered a few styles of them, as well as their pants. Spoiler alert, this is the only pair I kept. These are the Flawless Five Pocket Slim Ankle Jeans in the curvy fit and petite, and I think that description is misleading. I found them not slim considering the "sturdiness" of my legs, not petite in fit (they go up over my belly button) or in length (the website says 27″ but these are a hair over 28″). They're not really what I was looking for but if you ignore the name and pretend they're straight fit jeans in a regular length they're not half bad.