This article may contain affiliate links; if you click on a shopping link and make a purchase I may receive a commission. As an Amazon Associate, I earn from qualifying purchases.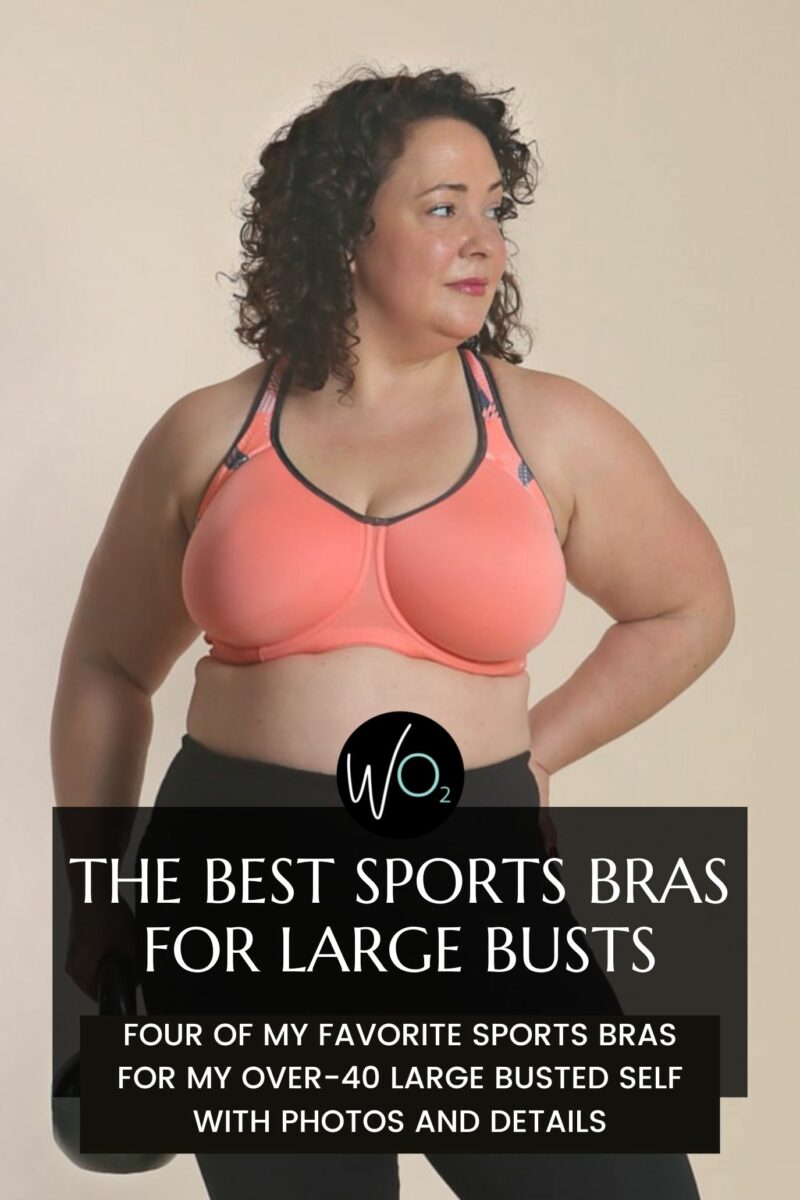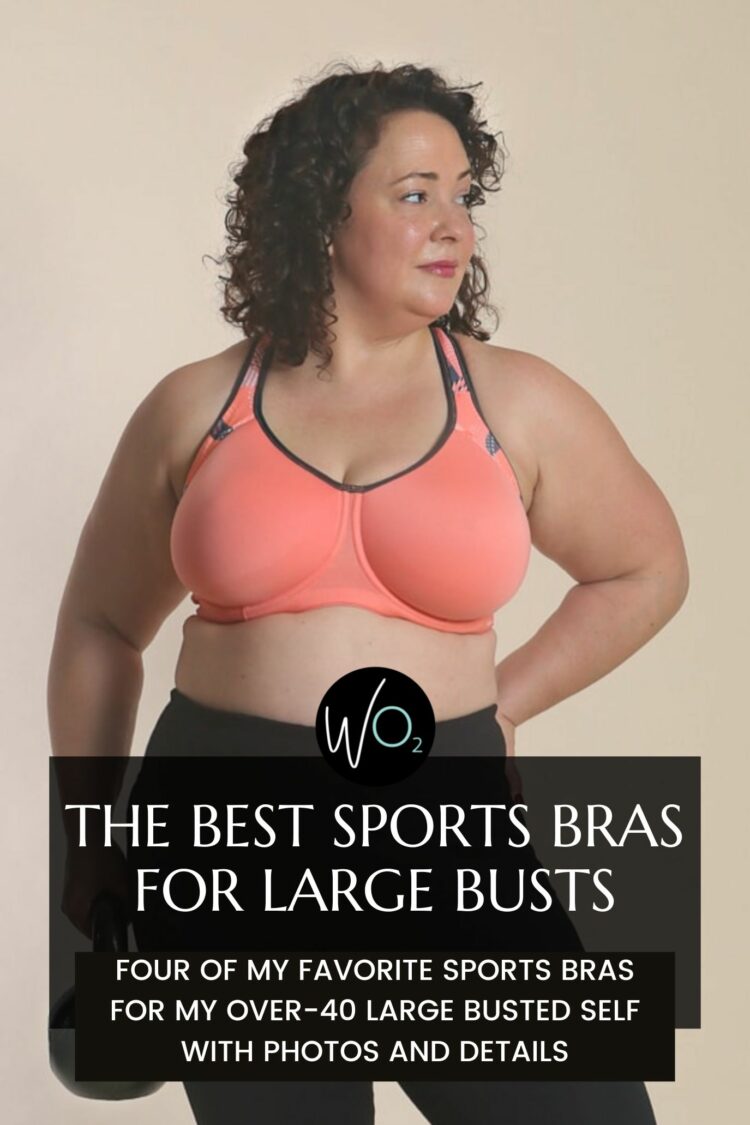 As someone with a large bust, it has been a struggle to find sports bras that fit, reduce bounce, and don't destroy my shape. For years, I have researched sports bra to find one that provides all three. One will fit, but my breasts are to my navel. Another, it gives great shape and lifts up my girls… until I begin jogging or jumping. And so many will offer the support and reduce bounce but mash my bust into a solid mound of flesh. Can't a grown-ass woman with big boobs work out with comfort, support, and look good doing it?
I shared my experience with a virtual bra fitting with Bravissimo a few months ago. Bravissimo focuses solely on bras, swimwear, and other apparel for women with large busts. Perusing the Bravissimo site, I saw they had a broad range of sports bras for large busts. I saw brands I recognized, some new to me, and even that Bravissimo has their own line of activewear. I scheduled another virtual fitting to see what sports bra for large breasts their expert would find perfect for my body.
The Importance of Finding The Right Sports Bra For Large Busts
Especially as I have gotten older, I've come to find the importance in finding a quality sports bra for my large bust. When I am contained, controlled, and feel confident in how I look, I can focus on my workout instead of my body. There's nothing worse than having a wardrobe malfunction mid-workout, and I've been there. Shoving side or underboob back into the bra, yanking straps back up to my shoulder, having breasts in the way of my bicep curls, or actual pain from bouncing have hindered my activity.
Especially for high impact exercises, one needs a high impact sports bra that holds in breasts and keeps them in place along with the body as it moves. The larger one's breasts (and the more those breasts have experienced gravity, weight fluctuations, breastfeeding, and life in general) the more there is a need for compression, coverage, and design specifically to hold softness in place as we jump, jog, and bounce.
We all deserve to feel comfortable and confident when we choose to move our bodies, and have the workout gear to achieve that. And over the years of researching bras and hearing from the Wardrobe Oxygen community, I have learned that we large-busted women find different bras to be perfect for our fitness needs. So when I considered what sports bras I'd feature for this review, I factored in not only what I need for my activities but what you all may desire too.
How Can You Tell If Your Sports Bra Fits Correctly?
First things first, when fitting a sports bra, especially for large breasts, you need to know your bra size. Smaller busts may be able to wear a bra sized in the same manner as a top or pair of leggings, but to get a well-fitting bra for a large bust, you're going to want to know your measurements.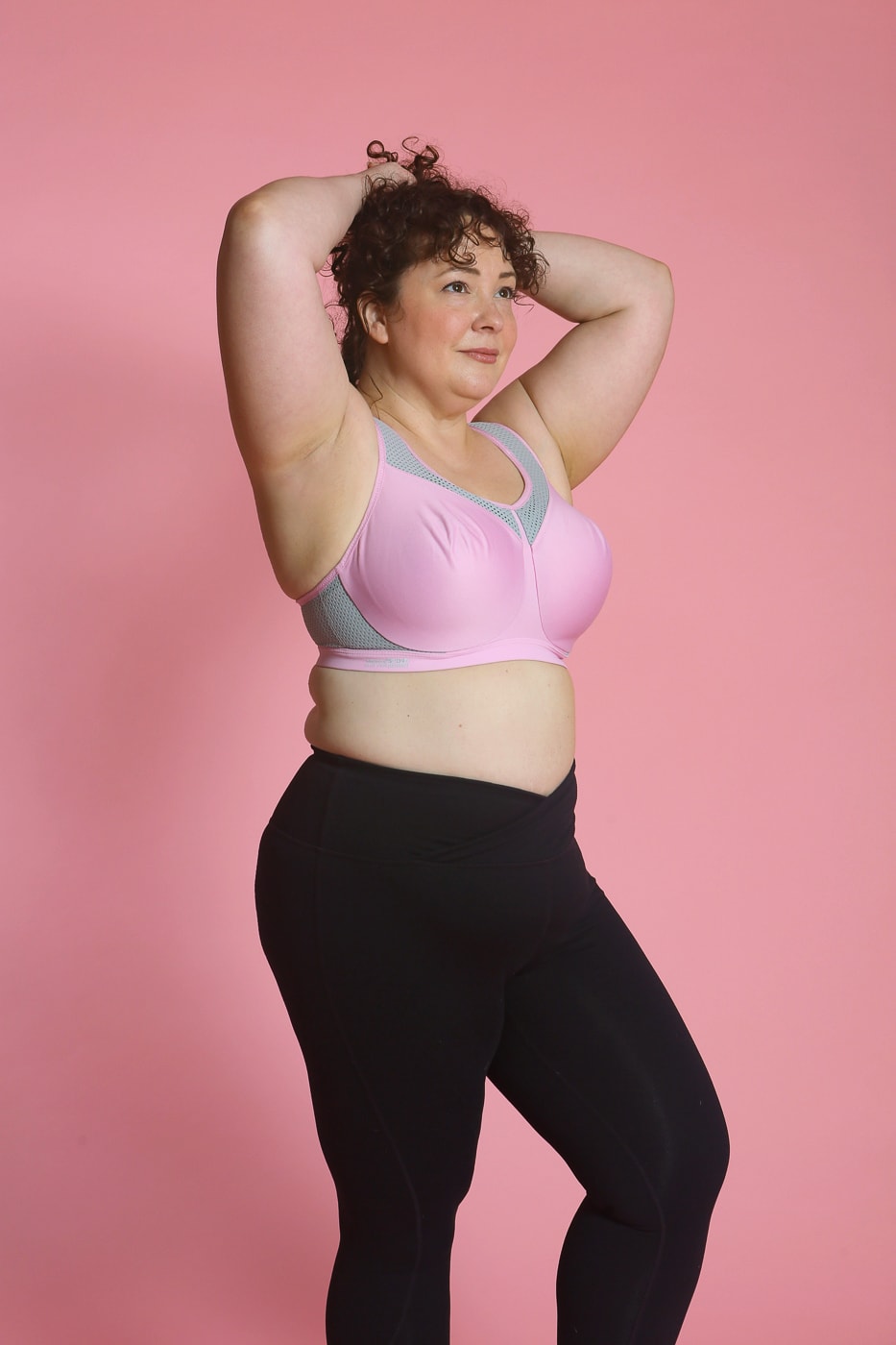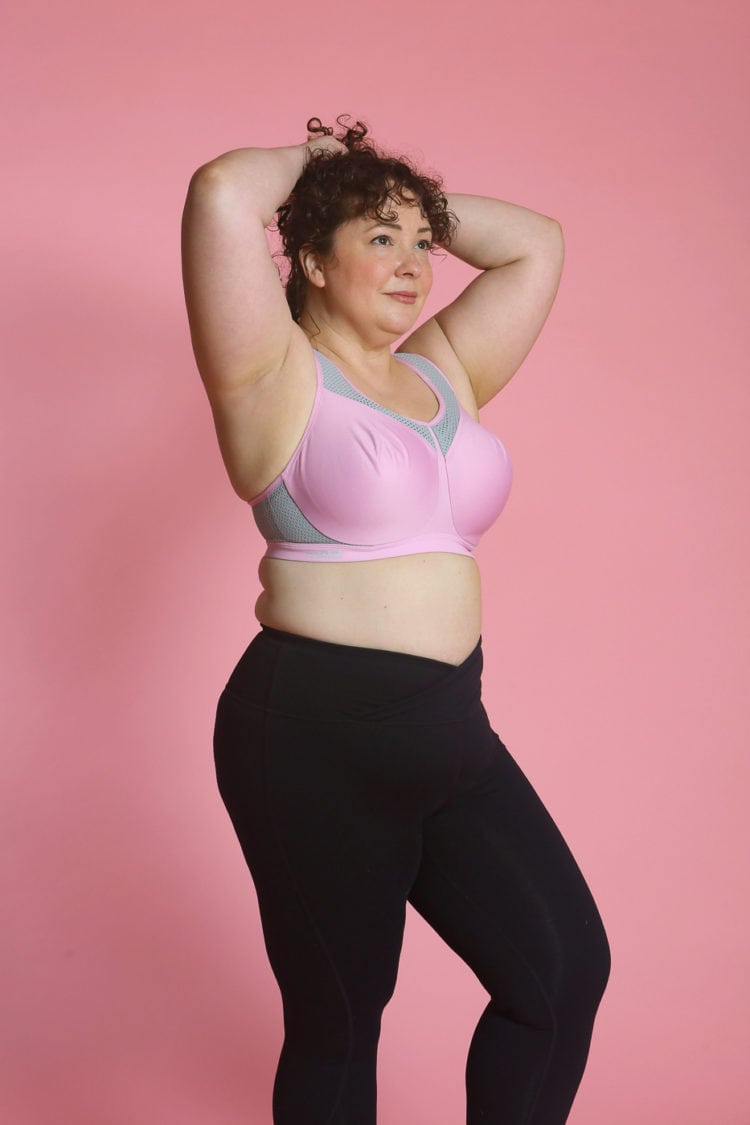 There are many tools on the internet to help you measure your bra size at home. I recommend the Subreddit A Bra That Fits and ABTF's measuring guide to find your bra size. But what has really helped me to find bras that truly fit my curves is through a bra fitting with a bra expert.
These days, finding a skilled bra fitter is difficult. Department stores and boutiques have cut hours and with it, cut the talent. I have now had two virtual bra fittings with Bravissimo and have found them so helpful in not just finding my bra size, but what styles of bras are best for my unique shape.
Bravissimo virtual bra fittings are free, and take place over Zoom. I have now worked with two different Bravissimo bra fitters; one in a UK store and one in the NYC boutique and both put me immediately at ease, were so knowledgeable, and were able to figure out my bra size without a tape measure or touching me in person. I did remove my top so the fitter could see my current bra and how it fit, but I didn't feel uncomfortable or exposed (even one time the fitter took her top off too so we could be equal!).
A few tips for ensuring a great fitting and great performing sports bra:
If you have the right size sports bra, it will fit snugger than your favorite everyday bra, but will not cause bulges or restrict breathing. Sports bras stretch out with use and when sweaty, so better snug than loose when purchasing.
The cups of your sports bra should be smooth and contain the entire breast (no quad-boob cleavage or spillover into the armpits).
If it's an underwire sports bra, the wires should lie flat against the body.
Adjust the straps to where you can fit a max of one finger between them and your shoulder. Again, sports bras should have a snugger fit than a traditional bra to ensure the best performance.
Before you take the tags off a new sports bra, do a bit of movement. Swing your arms around, do twists, and make sure the bra stays in place. A sports bra should be almost an extension of you, and stay in place no matter what movement you make.
I also recommend jogging in place or doing jumping jacks to ensure you're getting the support you need for the level of impact in your activities.
Types of Sports Bras For Large Breasts
There are many types of sports bras on the market, and many that come in sizes for large busts, but don't support much more than the occasional tree pose or morning walk. For this post, I am focusing on the styles of sports bras that can handle medium- to high-impact activities.
Compression Sports Bras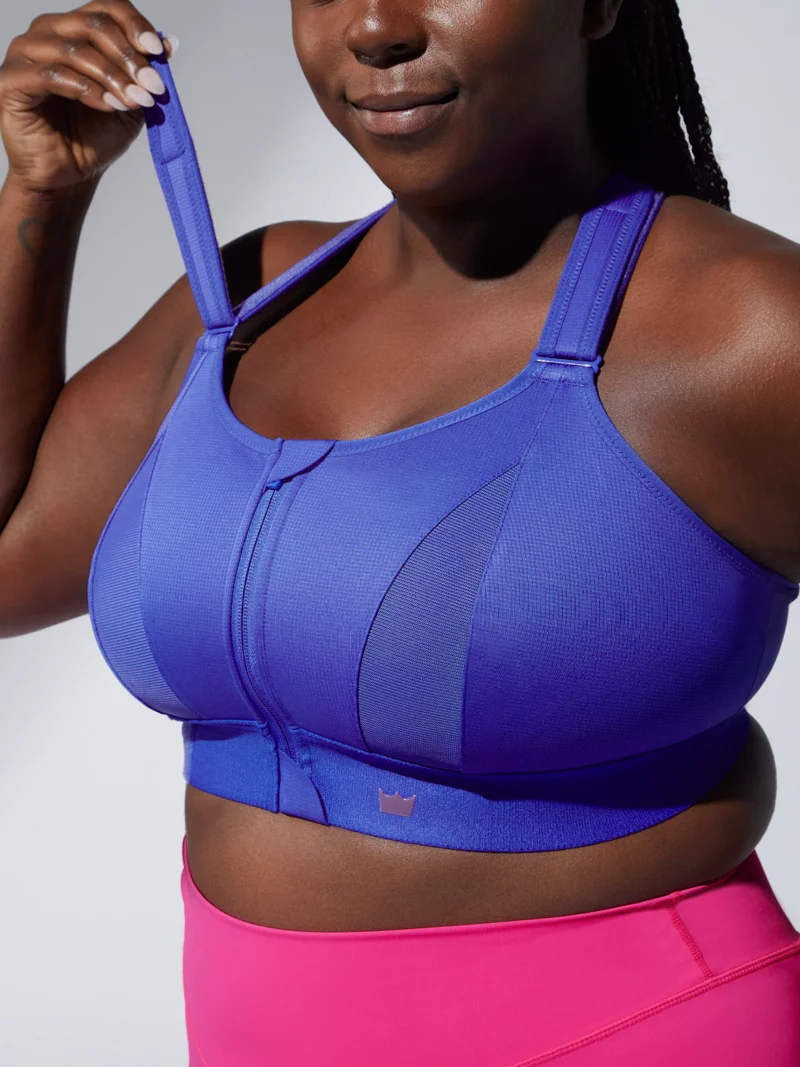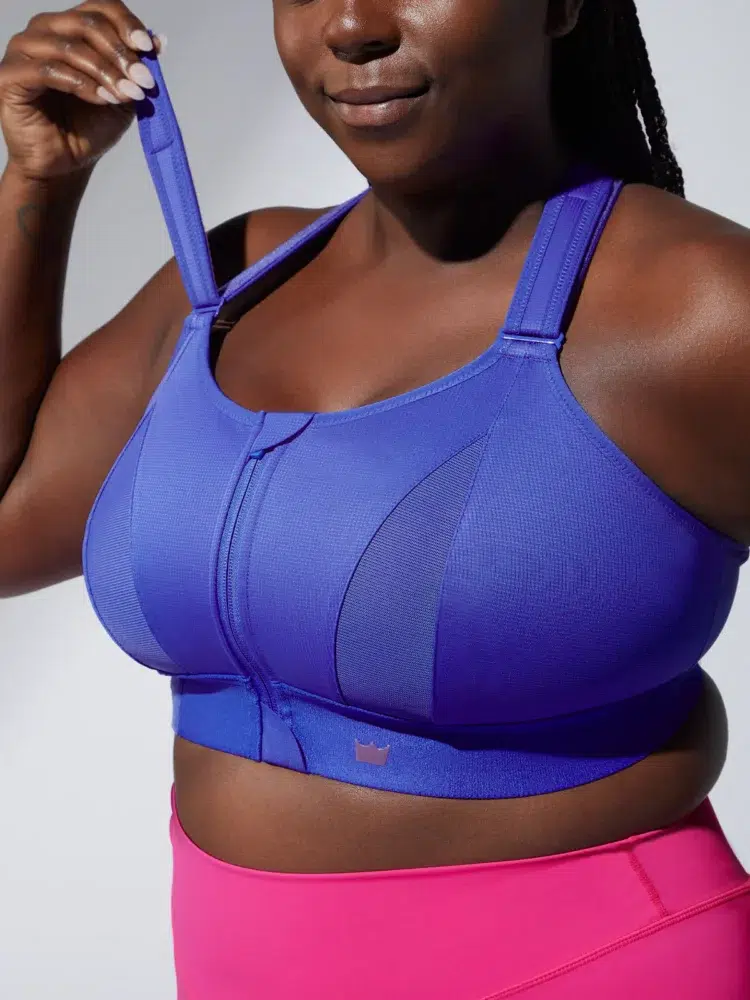 A compression sports bra compresses the breasts against the torso to restrict movement. There aren't individual cups, and such bras usually have wide straps and a front closure to ensure a snug fit. You will find such compression sports bras to often have a zipper and/or Velcro front closure; the most popular compression sports bra for large busts is likely Shefit.
Compression sports bras are great for high-impact activities as well as for reducing the projection of the bust/minimizing size. They are also great for sports where you may be upside down or in positions where a traditional bra may cause you to spill out. However, some do not like compression bras because they're not known for separating the breasts. Some don't like this "uniboob" effect; also lack of separation can cause chafing or a rash between and under large breasts, especially when sweaty.
Encapsulation Sports Bras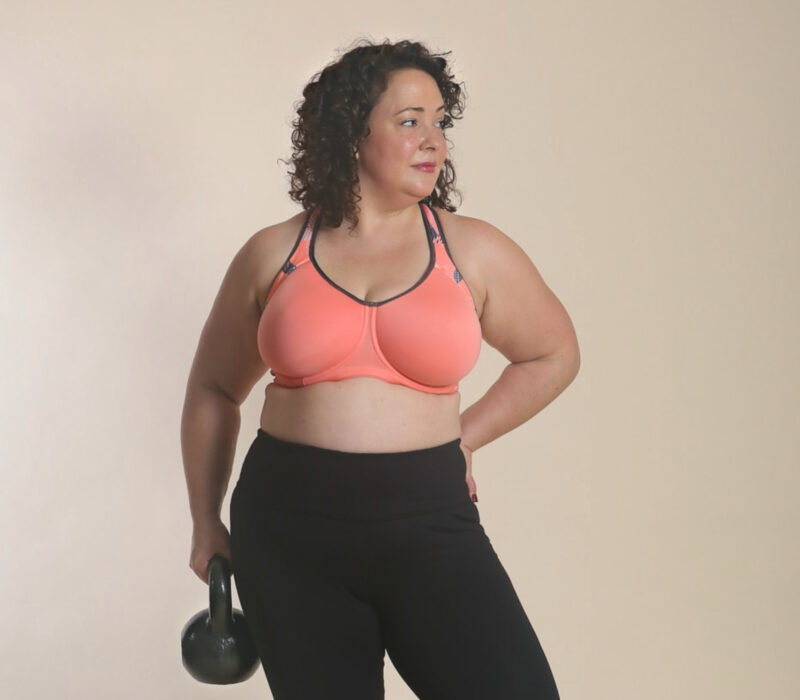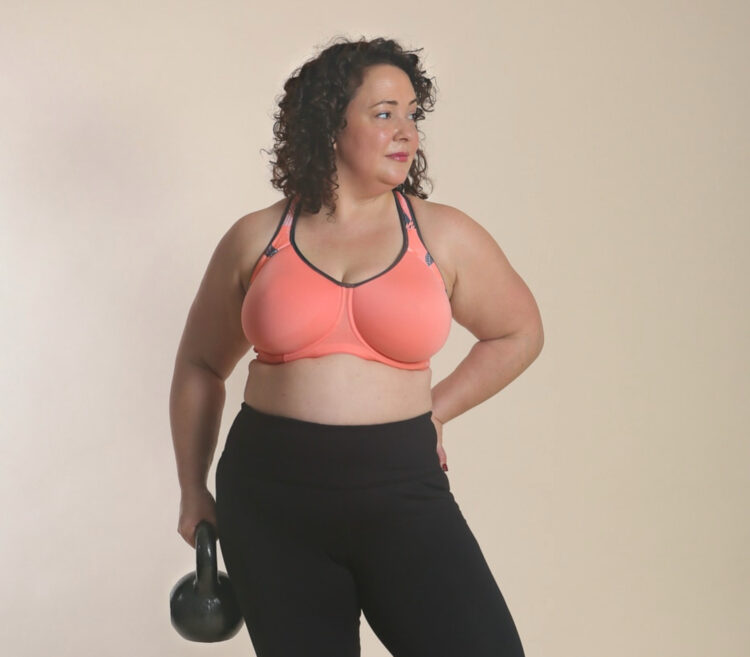 Encapsulation sports bras support each breast individually. Encapsulation sports bras will feel more familiar as they will be similar in design to your everyday bra. That doesn't mean they lack support, on the contrary an encapsulation sports bra will have more customization with adjustable straps, multiple hooks on the band to adjust size, and can be bought by bra size instead of apparel size.
Encapsulation sports bras are also great for high-impact activities; such bras have come a long way in the past couple of years. Encapsulation sports bras also define each individual breast which may be a silhouette you are desiring. However, some do not like encapsulation bras because they often look more like a traditional bra instead of an activewear top.
Combination Sports Bras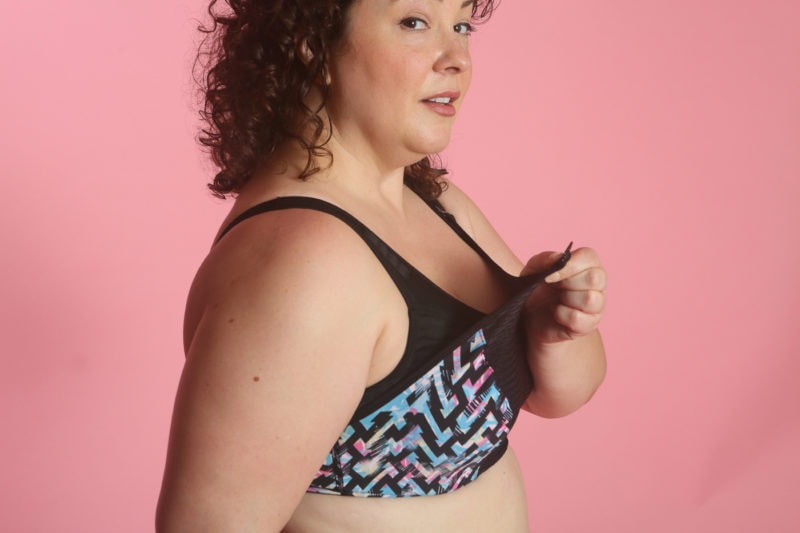 If you can't decide whether you desire compression or encapsulation, you don't need to choose. There are several combination sports bras on the market that both support each breast individually and compress the bust. One combination sports bra I have tried is the Glamorise Custom Control. With interior cups, this bra has a separate front panel that can be adjusted to provide the compression you desire.
The Best Sports Bras For Bigger Cup Sizes: My 4 Favorite Styles
As someone who is over 40, has a large bust, and likes a range of activities, I have tried literally dozens of different sports bras made for bigger cup sizes. When I had my virtual sports bra fitting with Bravissimo, I didn't expect the fitter to suggest any style of bra I hadn't already tried. I was pleasantly surprised and some of them have become new favorites!
When it comes to a sports bra being a win for me, I want it to handle medium to high impact exercises like bootcamp classes, Peloton bike rides, Brazillian Jiu Juitsu, hikes, kayaks, and such. I desire a bra that gives me a nice shape, and I really like a pretty bra that can be worn on its own like sports bras for smaller-busted folks. I shared all this with my Bravissimo fitter and she was able to share not only which bras would be the best choice for me, but even which band size and cup size would be the best depending on the brand and style.
Some of these styles of sports bras I've worn for years, some I've only owned and loved for a few months, but all perform really well for my frame and activity needs. For reference, I am 5'3″ tall and usually wear a size 14 in apparel and a 36 F in bras. My favorite sports bras for large busts:
Panache Wired Sports Bra
The Panache Wired Sports Bra has been recommended to me by so many of you in the Wardrobe Oxygen community but I looked at the style and thought it too stiff and bulky. When my Bravissimo fitter also suggested it AND I saw that they had a highlighter yellow one on sale I was game. I really liked how this bra looks like activewear, and not lingerie. My fitter suggested my regular 36 F size.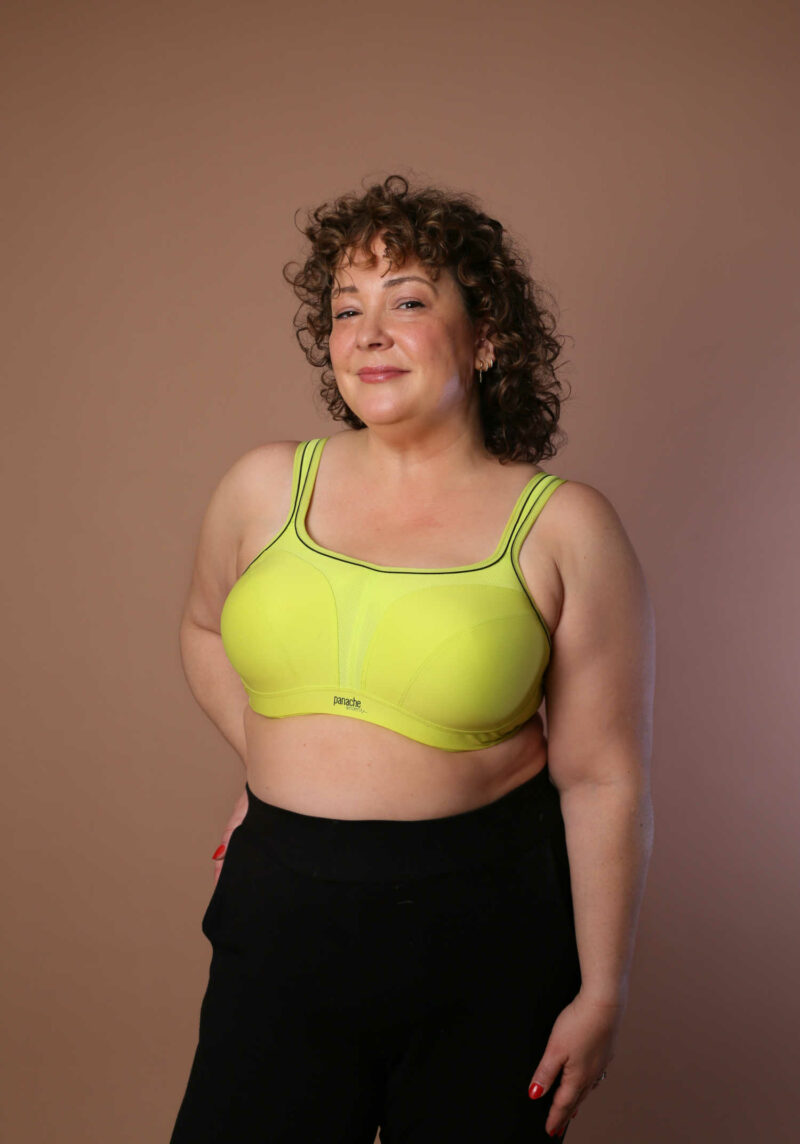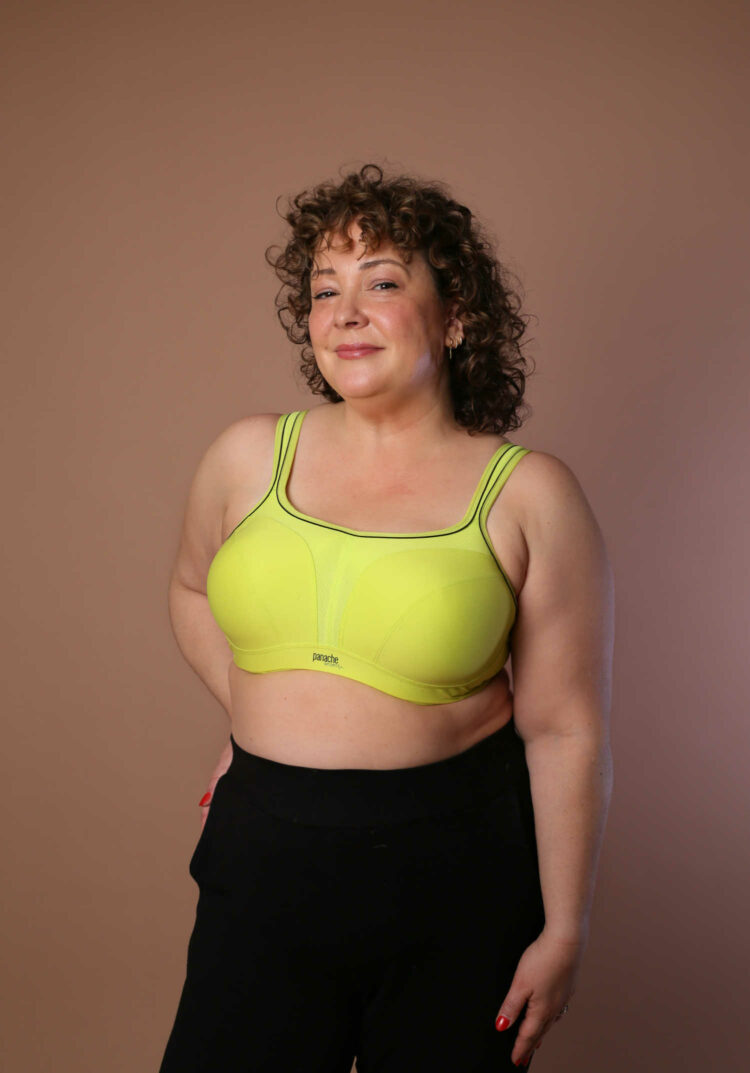 Panache is an award-winning UK intimates brand that specializes in D plus lingerie. A family run business that started in 1982, Panache encompasses the intimates brands Panache, Cleo, Sculptress, Panache Swim, and Panache Sport and offers their sports bra in a wired and non-wired option.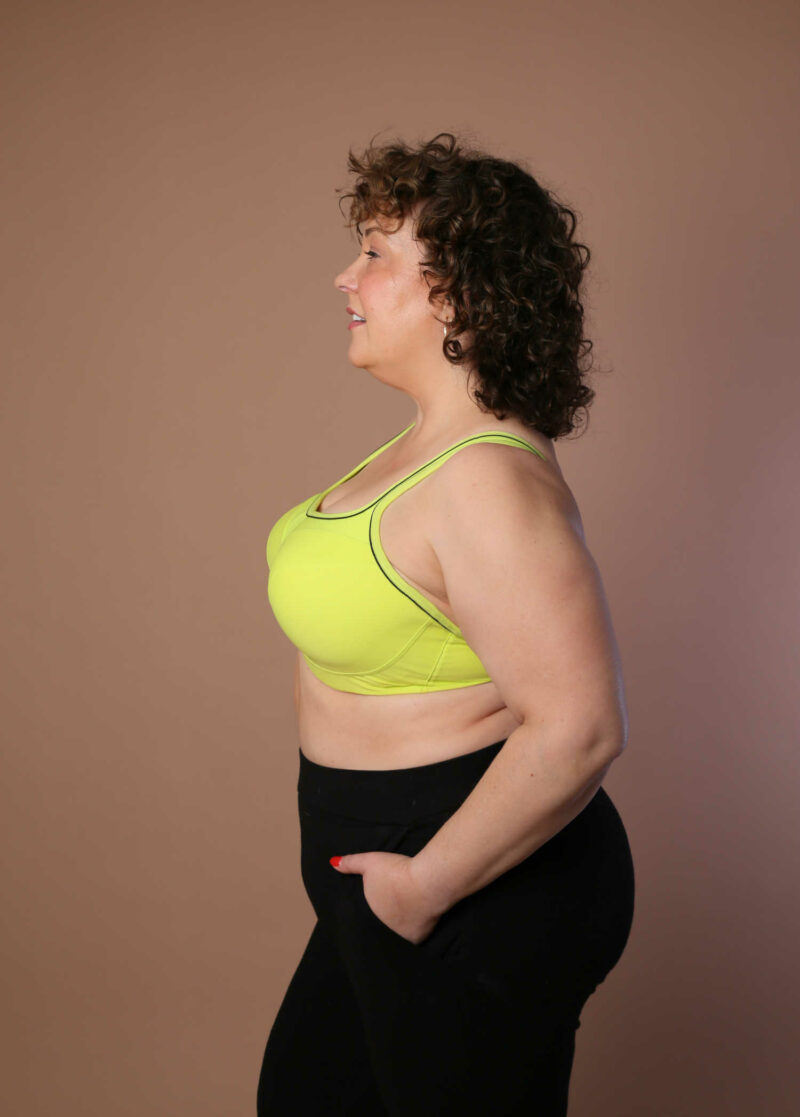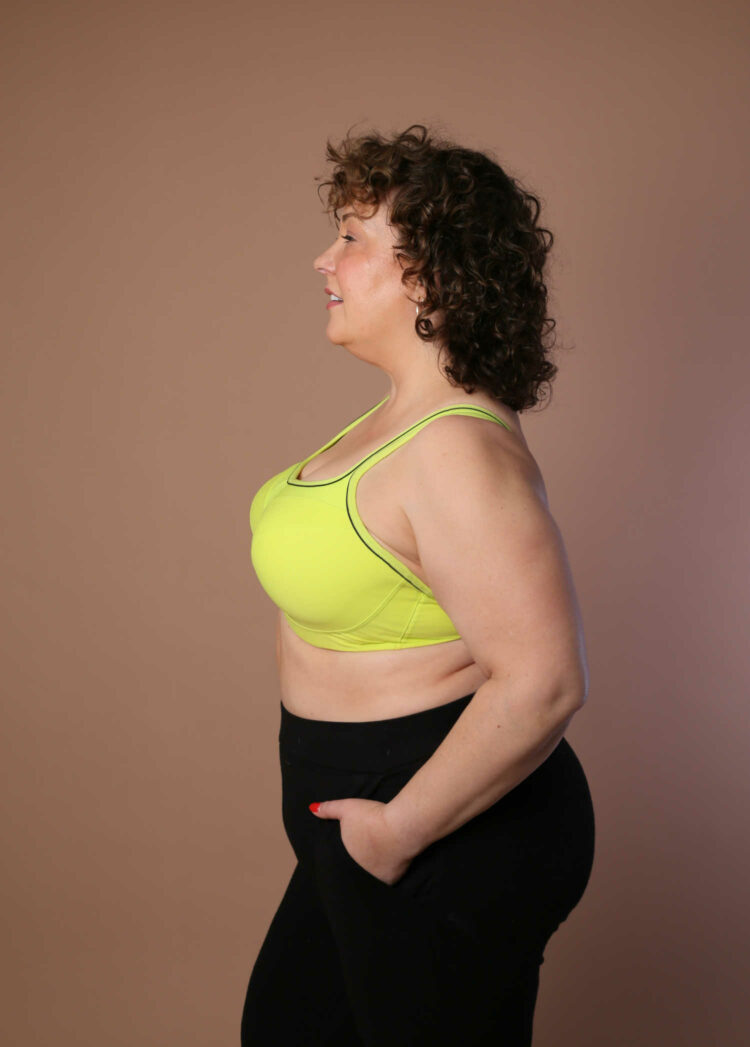 The Panache Wired Sports Bra is available at Bravissimo in band sizes 28-40 and cup sizes D-J. If highlighter yellow isn't your jam, Bravissimo offers 9 other colors. With gel-encased wires, cushioned straps, and a padded hook and eye closure in back, this bra is comfortable and supportive. I appreciate the molded individual cups for separating the breasts for shape and structure, and the hook on the back of the adjustable straps to be able to turn the bra into a racerback.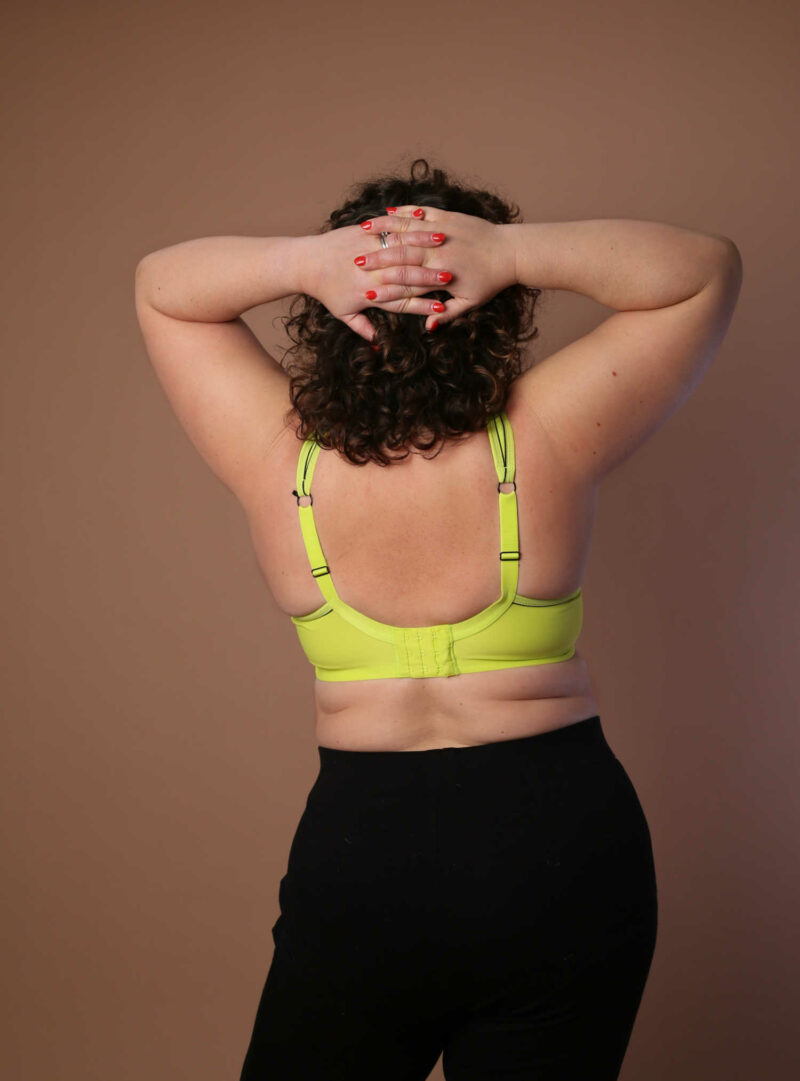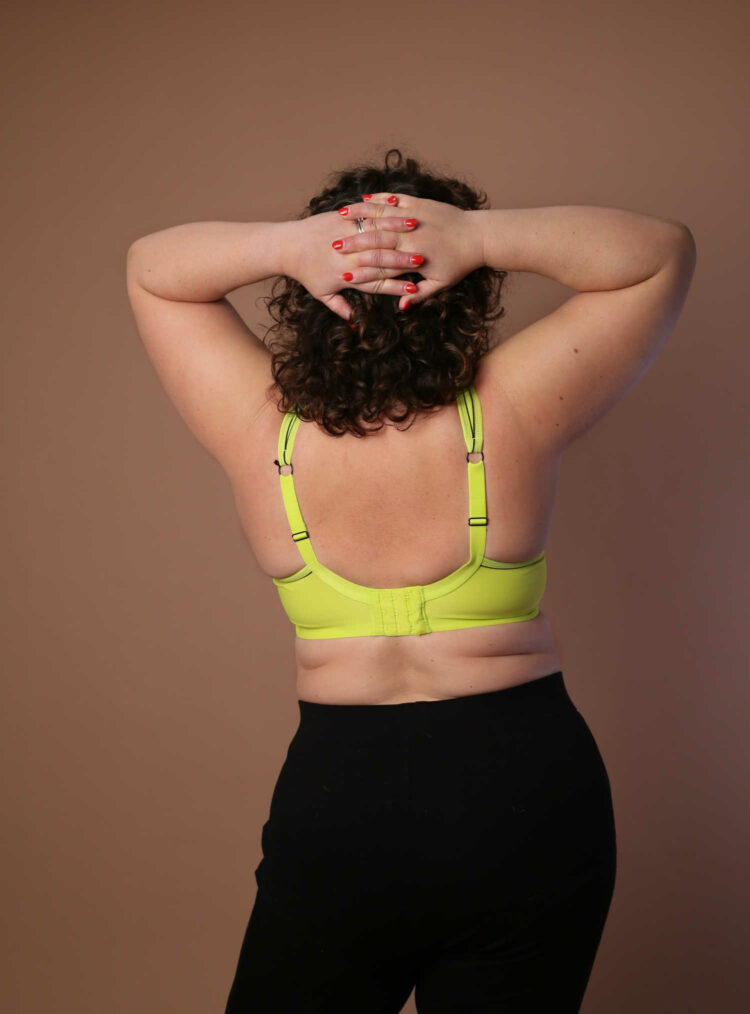 I have now worn this bra to Brazillian Jiu Juitsu, for Tabata rides on the Peloton, and a session on the elliptical and the weights at the local gym and find it comfortable, supportive, and stylish. The molded cups do make it a bit stiffer than many other sports bras, but I appreciate the lack of "headlights" and chafe resistance for activities that brush against my chest. The Panache Wired Sports Bra is a hit for me, as I know it is for many of you!
Shock Absorber Active Multi Sports Bra
I had no idea that a sports bra for large busts could be wire-free and still be supportive. I also didn't think a compression bra would give me any shape. When my Bravissimo fitter suggested the Shock Absorber Active Multi Sports Bra from Champion to me she laughed at my skeptical side eye. But my Bravissimo virtual fitter suggested I try it and reminded me that if she was wrong, Bravissimo had free returns. She wasn't wrong; this is a supportive, stylish, and comfortable compression sports bra for those of us who are well endowed!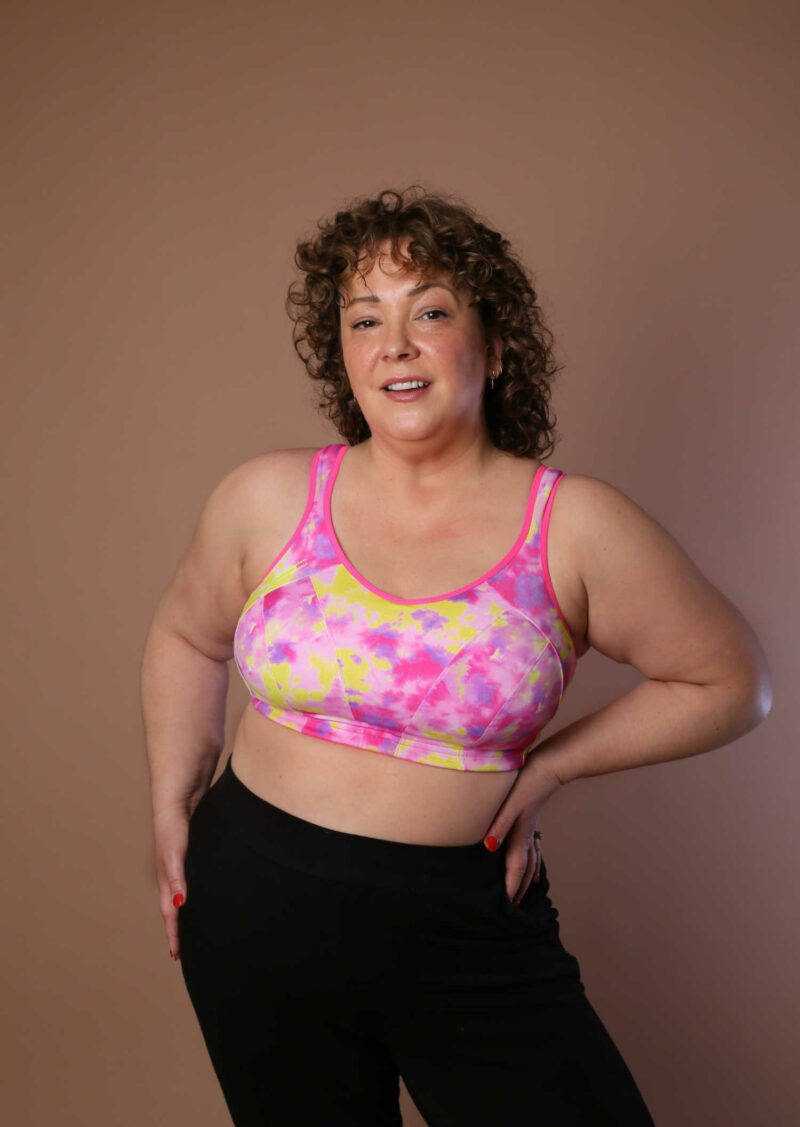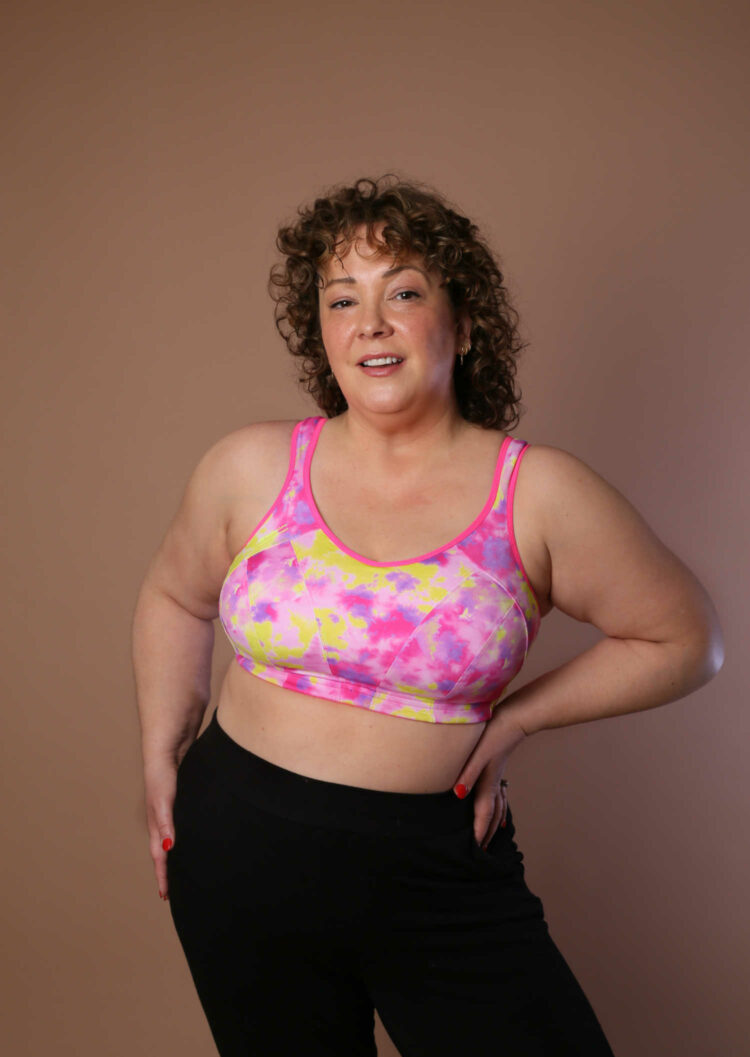 My fitter suggested for this style, to go with a US 38G and I think that was a good call. The Shock Absorber Active Multi Sports Bra is snug (it is a compression bra after all), but comfortable. And so lightweight and breathable! I have never before found a sports bra to accomodate my chest and be so lightweight. This style of bra from Shock Absorber is available at Bravissimo in band sizes 30-40 and cup sizes D-HH; Bravissimo has it in 4 colors and I of course was into the Pink/Yellow option.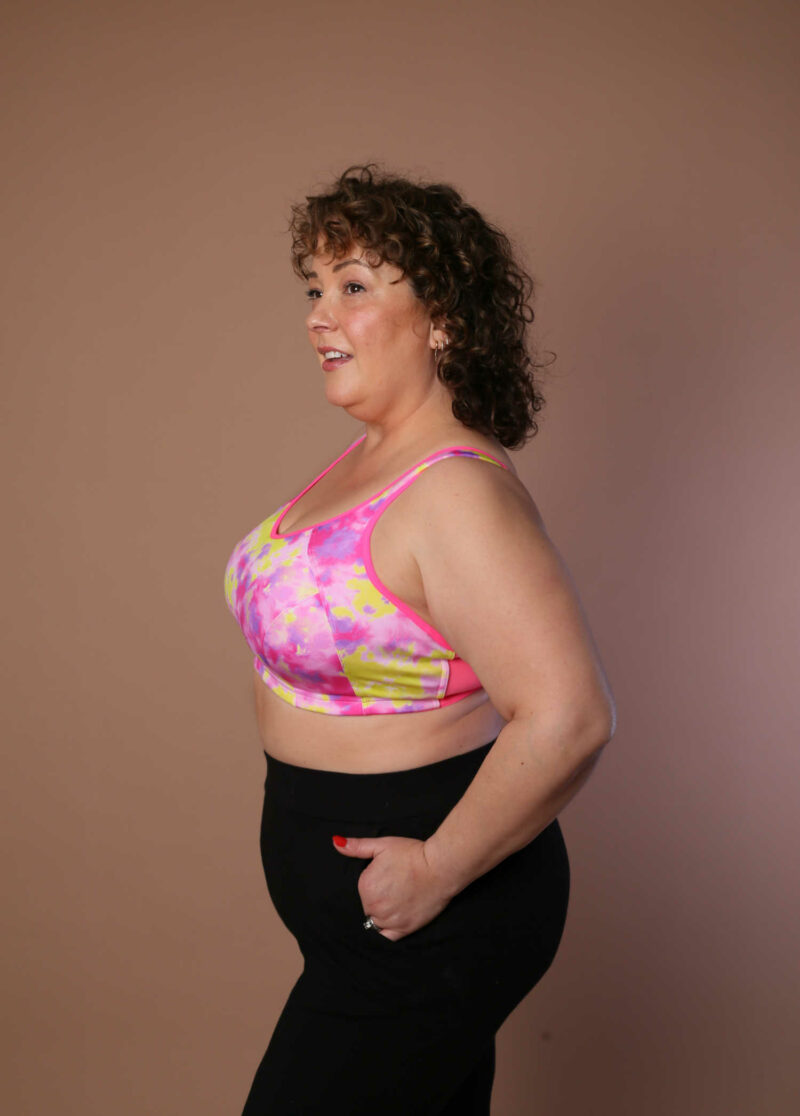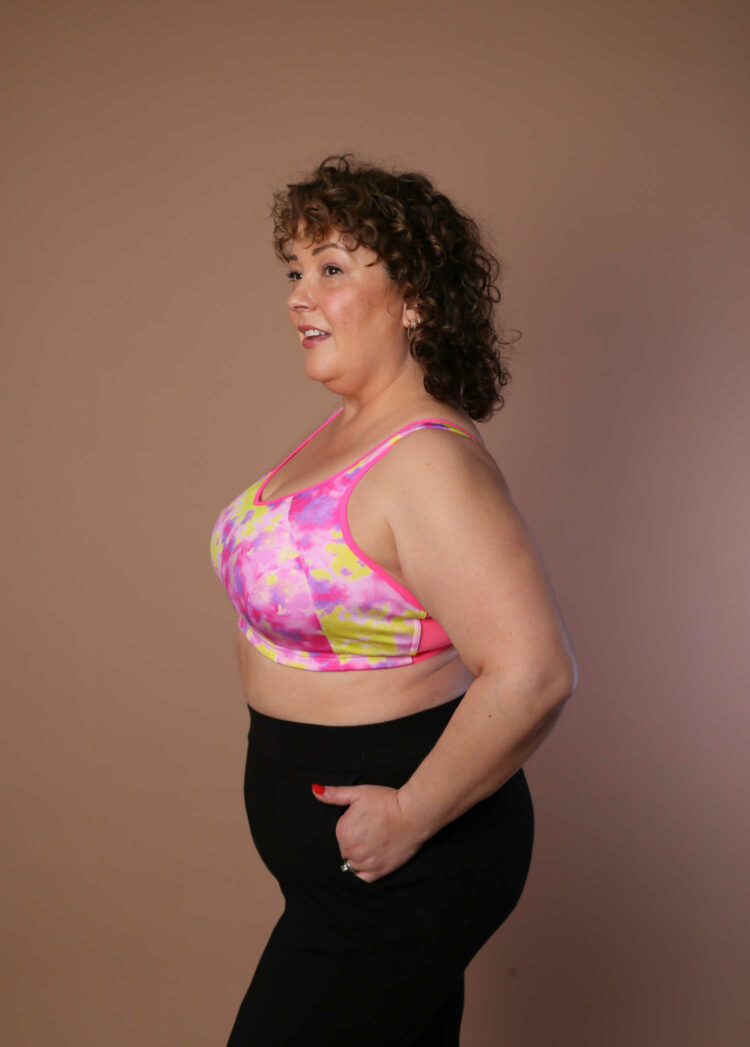 I had sworn off compression bras for being too heavy and complicated; this bra made me a convert. I don't find this bra from Shock Absorber as high impact of support as Panache, but the breathability makes it a great choice for Peloton bike rides and cardio that gets me super sweaty, and water activities like kayaking and sculling. It dries super fast and feels like nothing even when wet. Again, I like how it looks like a piece of activewear and can be worn on its own.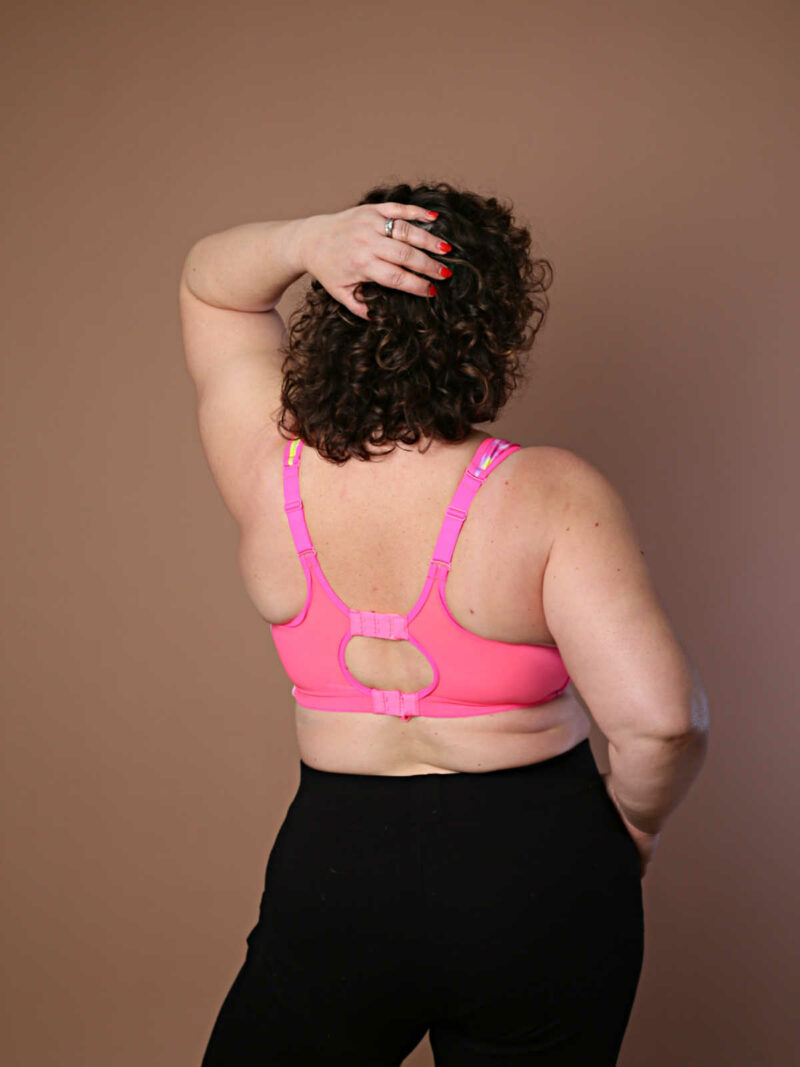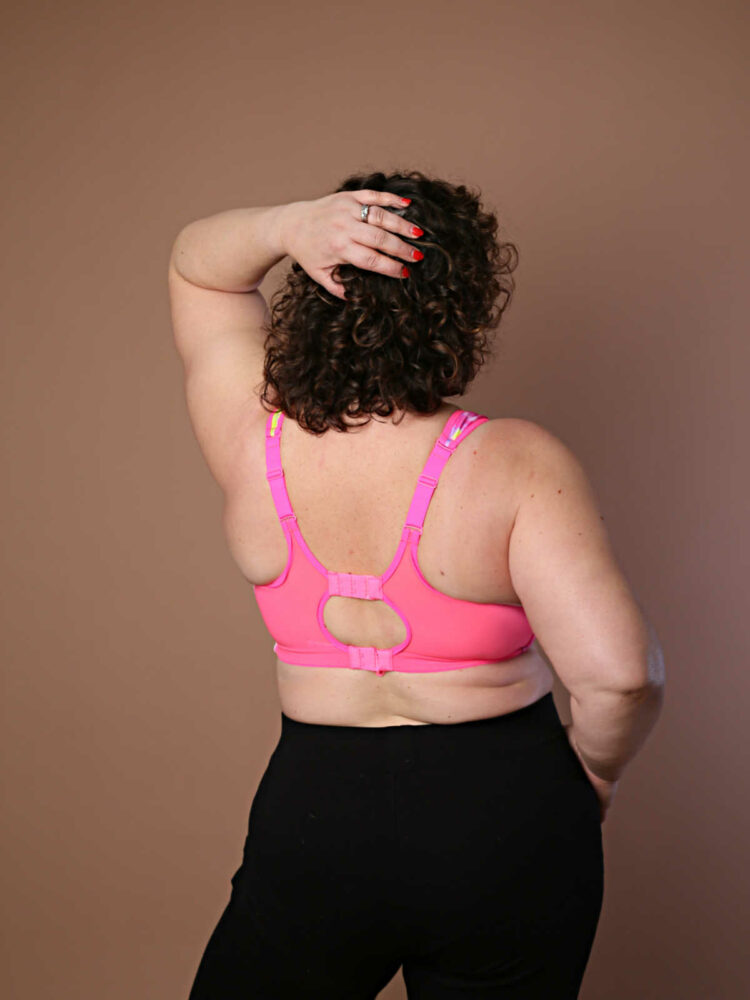 The only issue with the Shock Absorber Active Multi Sports Bra is it's a beast to get into. The back has two hook and eye closures. I found the most success starting with the bra around my middle, closing the top hook and eye closure in front, then spinning the bra, putting it on, and then hooking the bottom closure. Once on, it was comfortable and I found it easy to get off. If you really need no bounce; this is also a bra you can wear over an encapsulation bra for extra support.
Bravissimo Inspire Sports Bra
Bravissimo's Inspire Sports Bra has been a highly rated customer favorite for years; my virtual fitter understood my desire for stylish sports bras and suggested the new version of this classic that was designed in partnership with Oti Mabuse from the British television series Strictly Come Dancing. The Oti X Bravissimo Performance Wired Sports Bra is also an encapsulation bra, but unlike the Panache bra, has non-padded cups for a more lightweight feel. But because the cups have little stress, my fitter suggested size 36FF.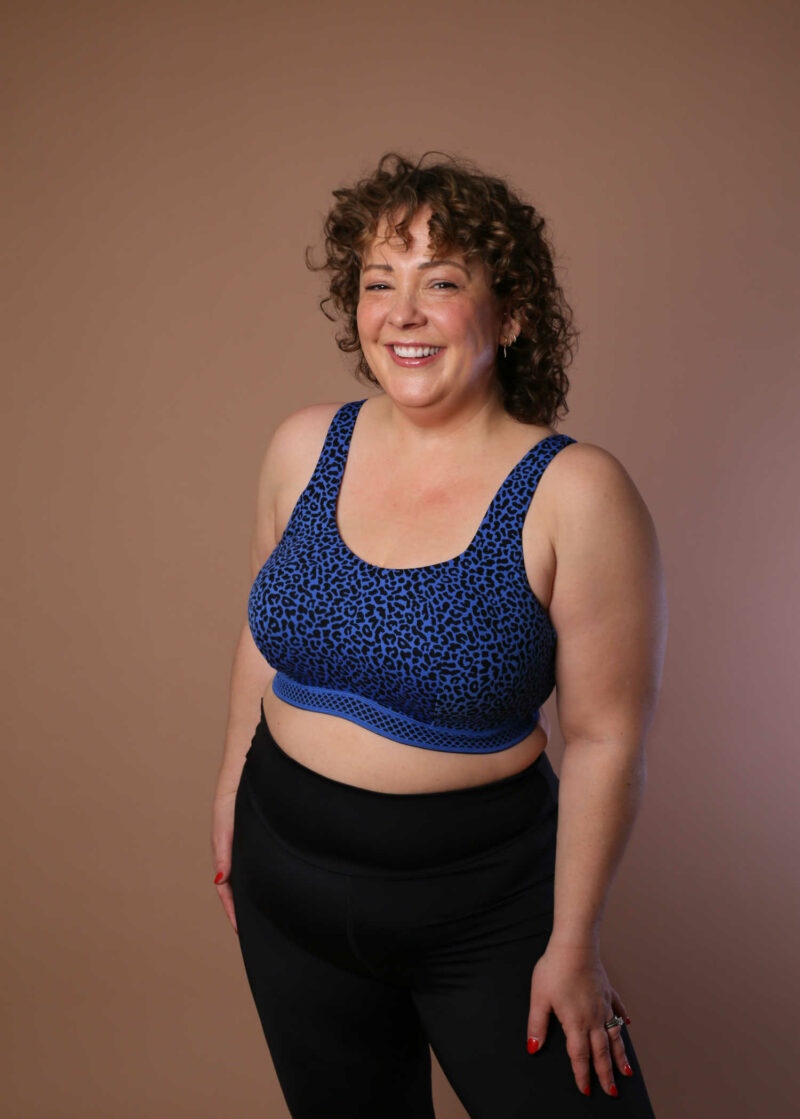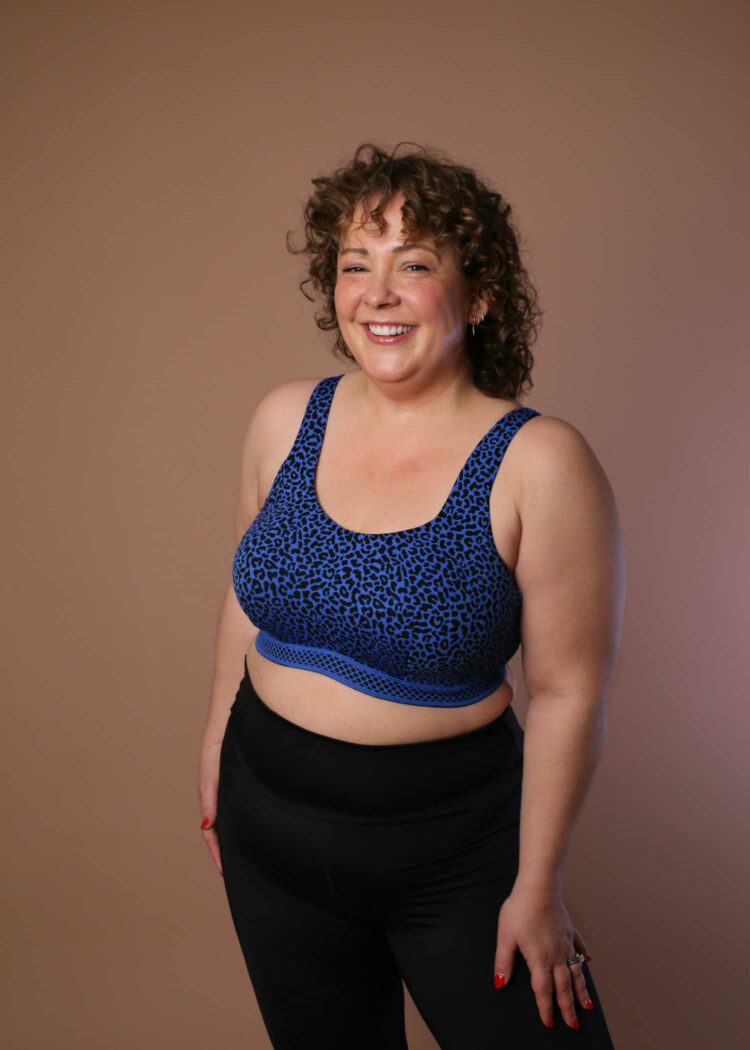 The Oti x Bravissimo Performance Wired Sports Bra is designed quite a lot like a standard bra with underwires, adjustable straps and a 4-hook and eye closure in back. The blue and black cheetah print is just a bright and statement-making in person and I appreciated the contrast-print elastic band below the cups whcih added style and interest.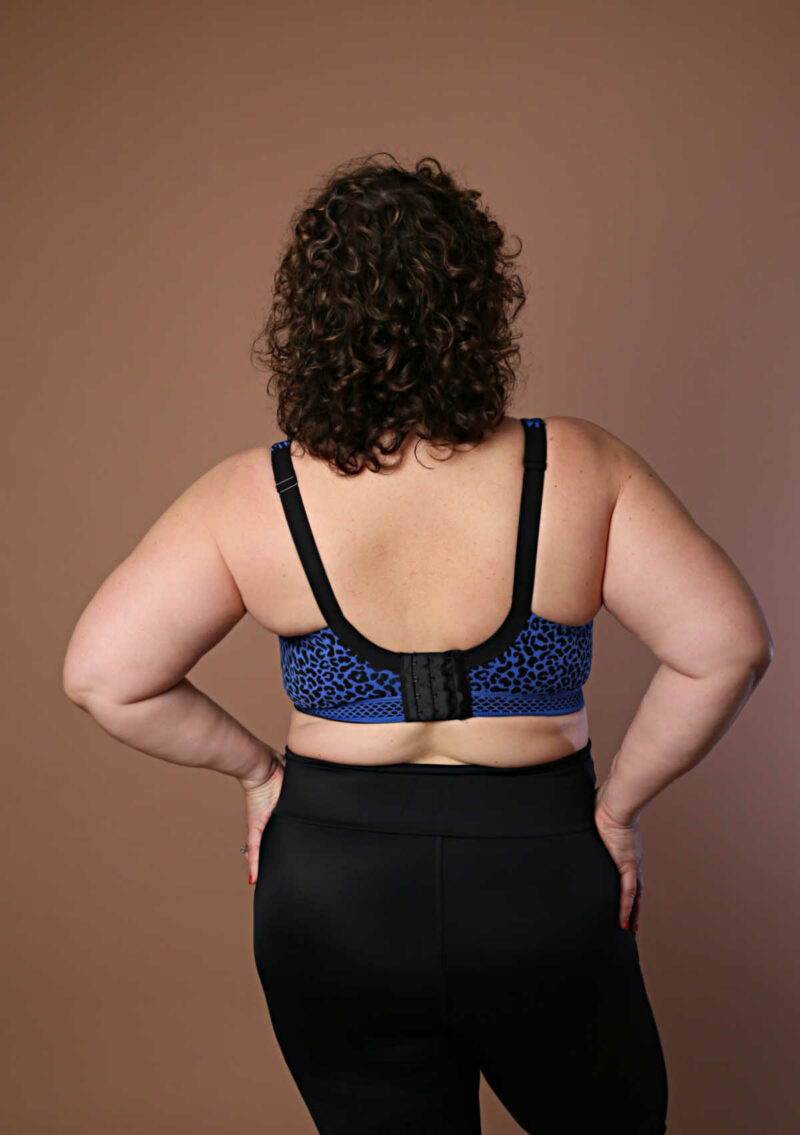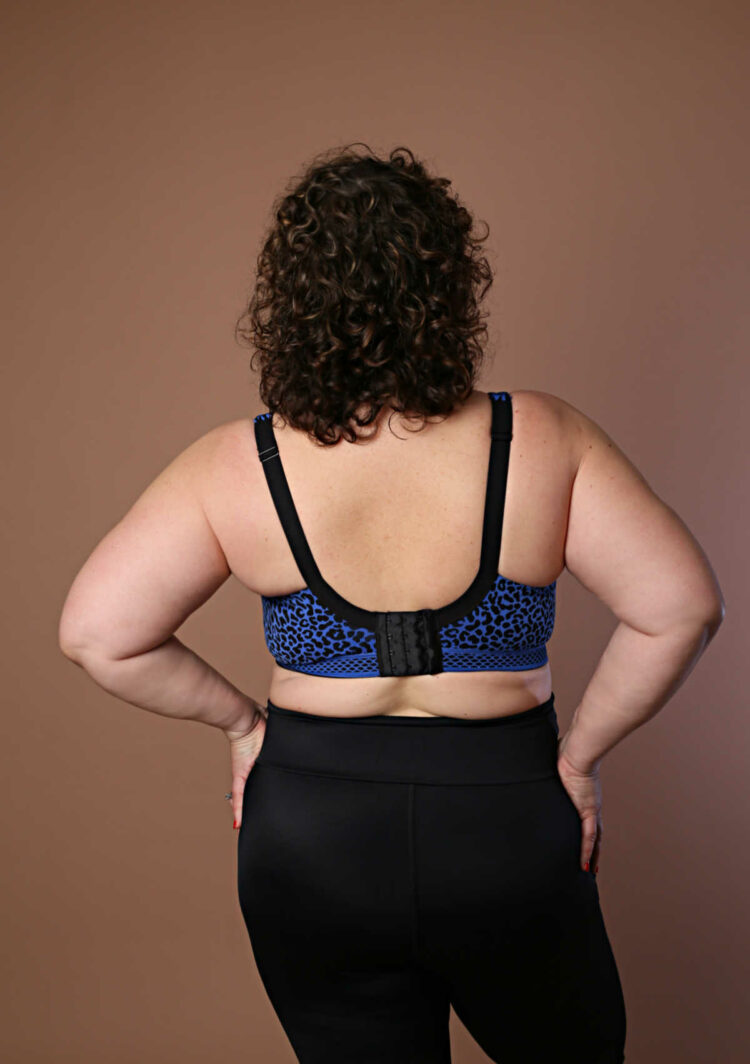 The cups are double layered; the interior layer is firm and seamed to give a great shape with a stretchy top layer that reduces jiggle and smooths everything. The front half of the adjustable straps are rigid and double-layer like the cups; the back half where the adjustment takes place is stretchy but sturdy. This is a great bra for large breasts because it offers excellent shape and definition while also reducing bounce.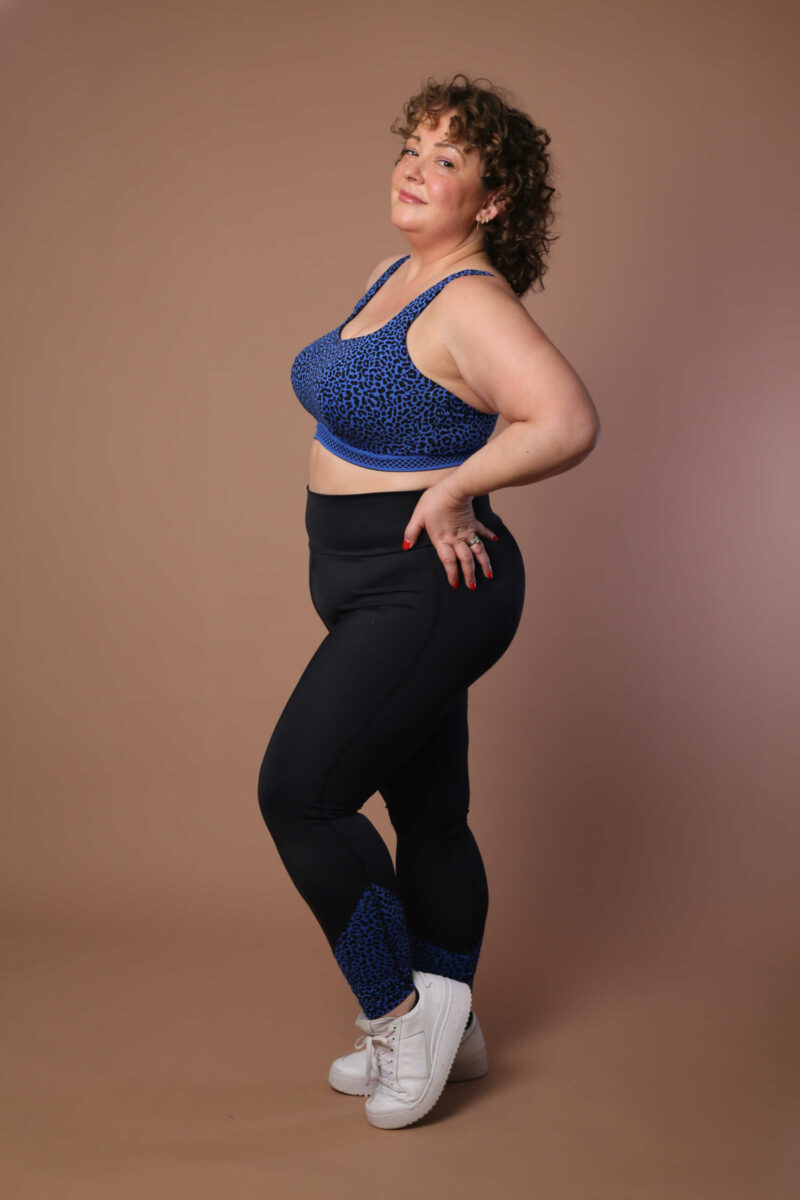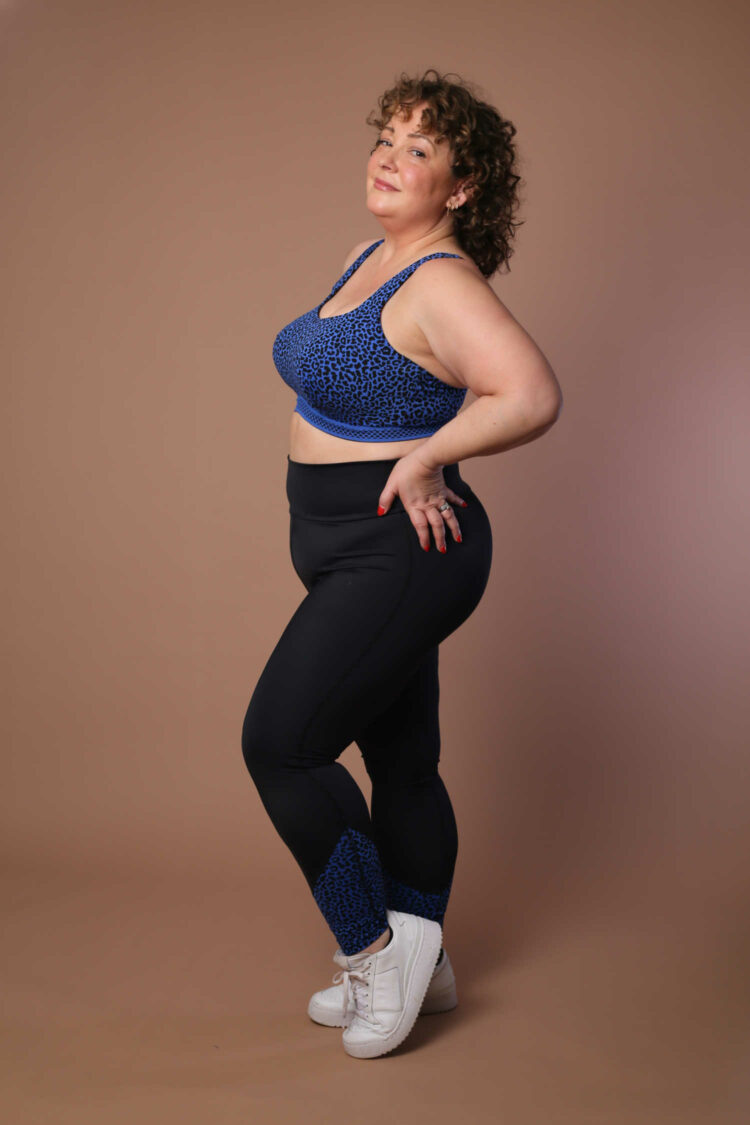 Because this is a sports bra that acts like a normal bra on steroids, it's a great choice for activities where your bra isn't on display. For example, I like it for Brazillian Jiu Juitsu under my t-shirt because it gives the support and firm stability, but gives me a natural shape under clothing. I often wear it for morning walks because it feels so comfortable but I know it will give me support and handle a sweaty time.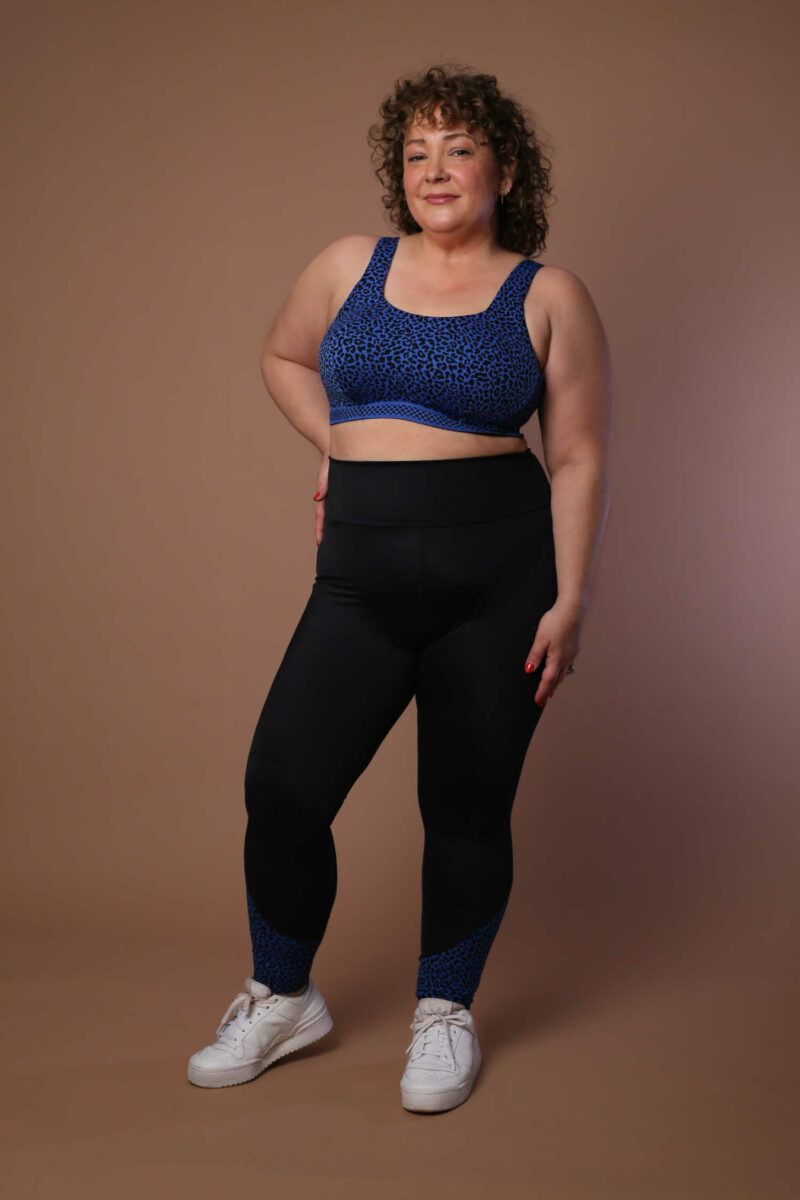 Because I love a matched set, I also got the matching leggings in size XL. At 5'3″ I felt these were a tad too high rise and long in length for my body but I liked the fabrication and how the coordinating blue cheetah print was an accent and not over the entire garment. I felt cute wearing the set to the local gym, and found the leggings washed up great.
Freya Sonic Sports Bra
I cannot write a post about the best sports bras for large busts without sharing my favorite for about a decade: The Freya Sonic Sports Bra. Great shape, comfortable, good support, not too restrictive but enough jiggle prevention to do most any level of fitness activity. I wear a 36F in this bra and since I already own three of them, when my virtual bra fitter suggested it, I passed on getting another and focused on new to me styles.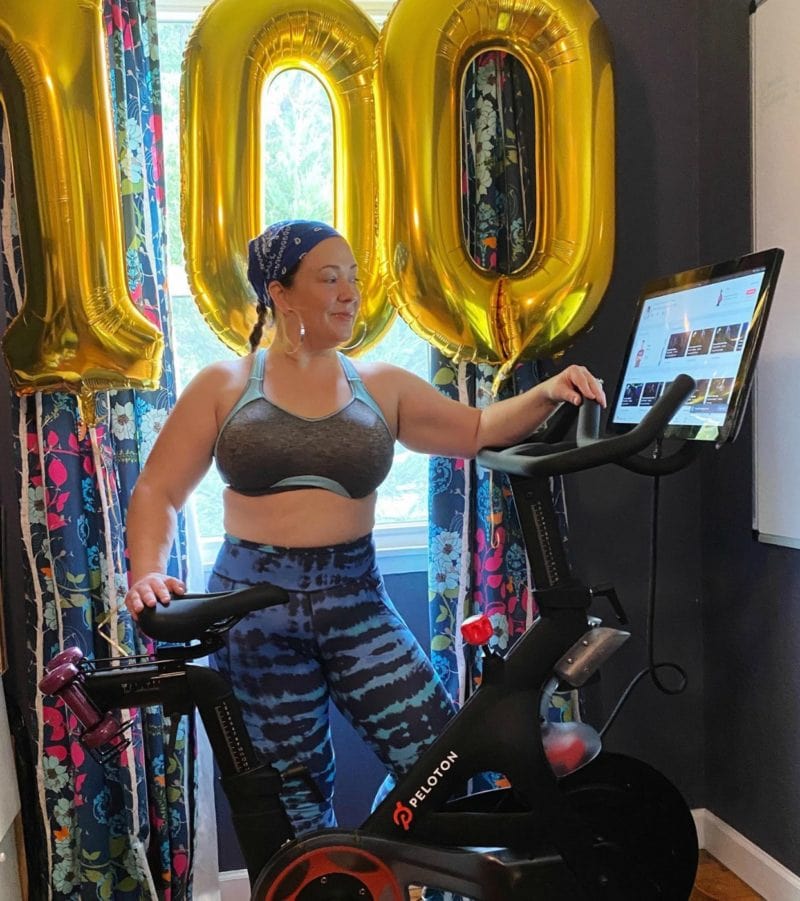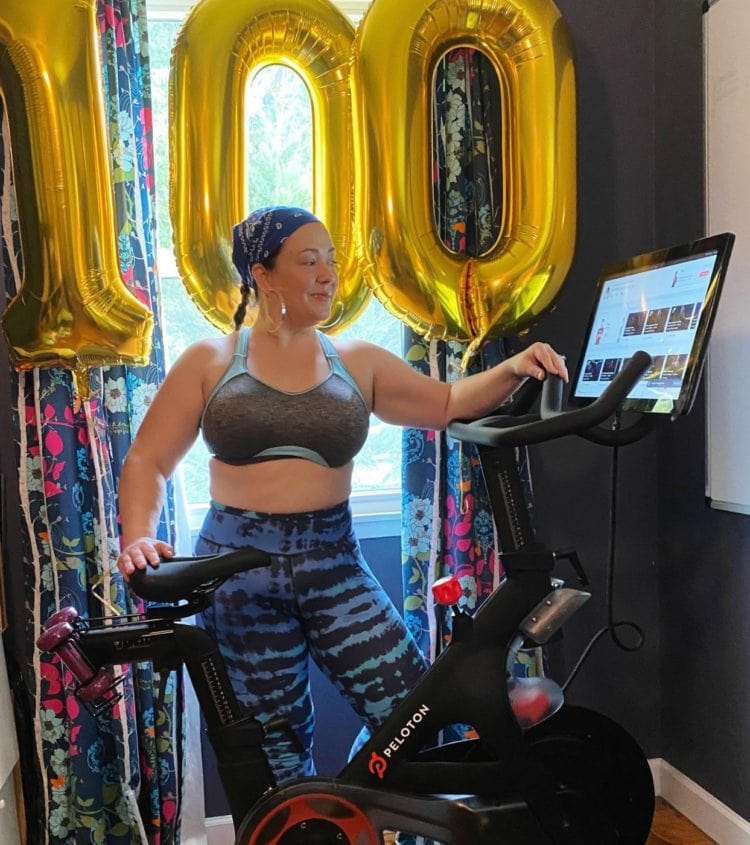 The Freya Sonic Sports Bra is an encapsulation bra with underwires and padded individual cups for shape, support, and "headlight" reduction. I appreciate the padded straps which do not dig even for high impact activities. With a hook in back to change the straps into racerback, this is my favorite bra to wear on the bike, but also under activewear tops because it gives great shape and disappears like a traditional bra.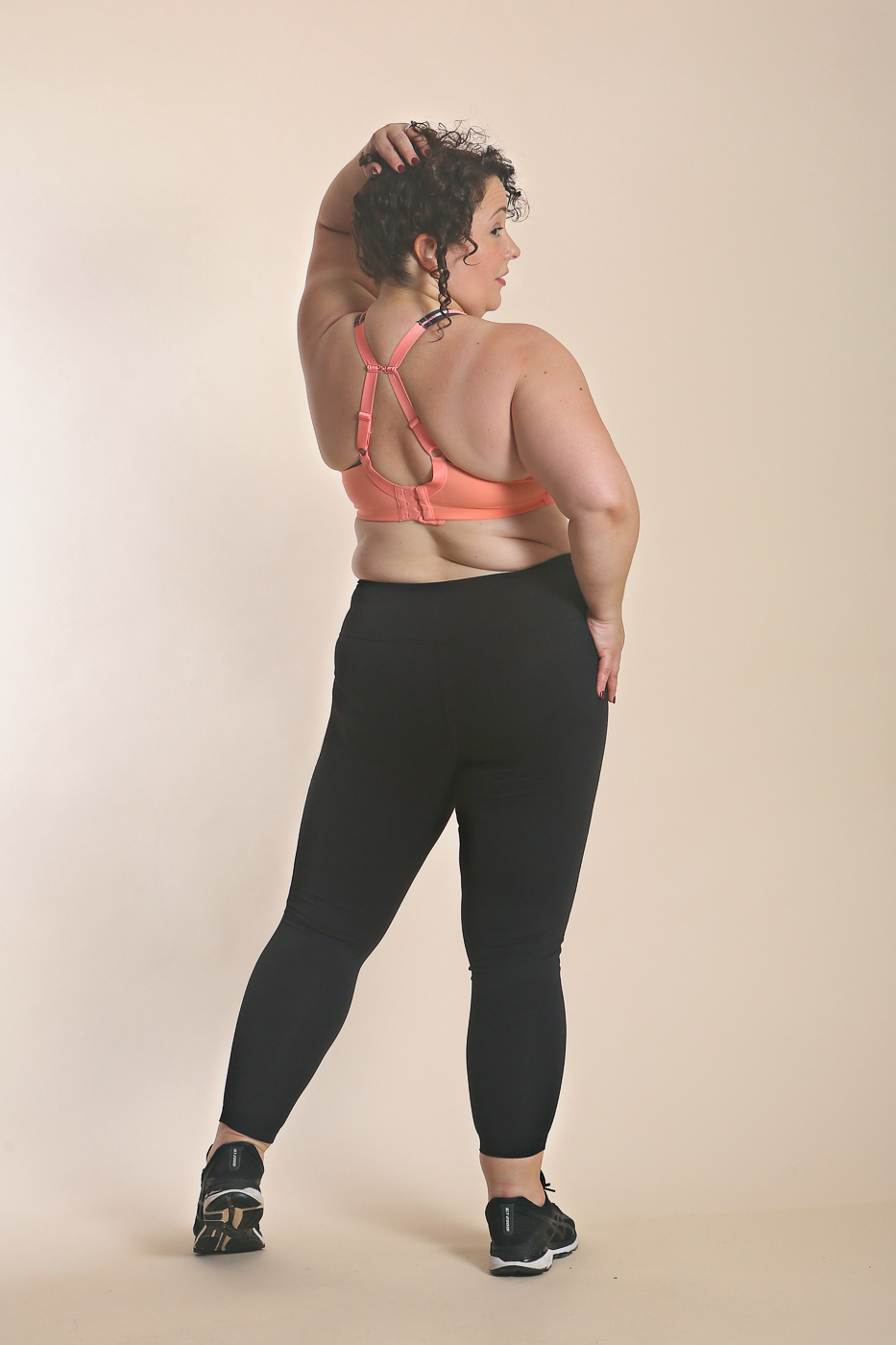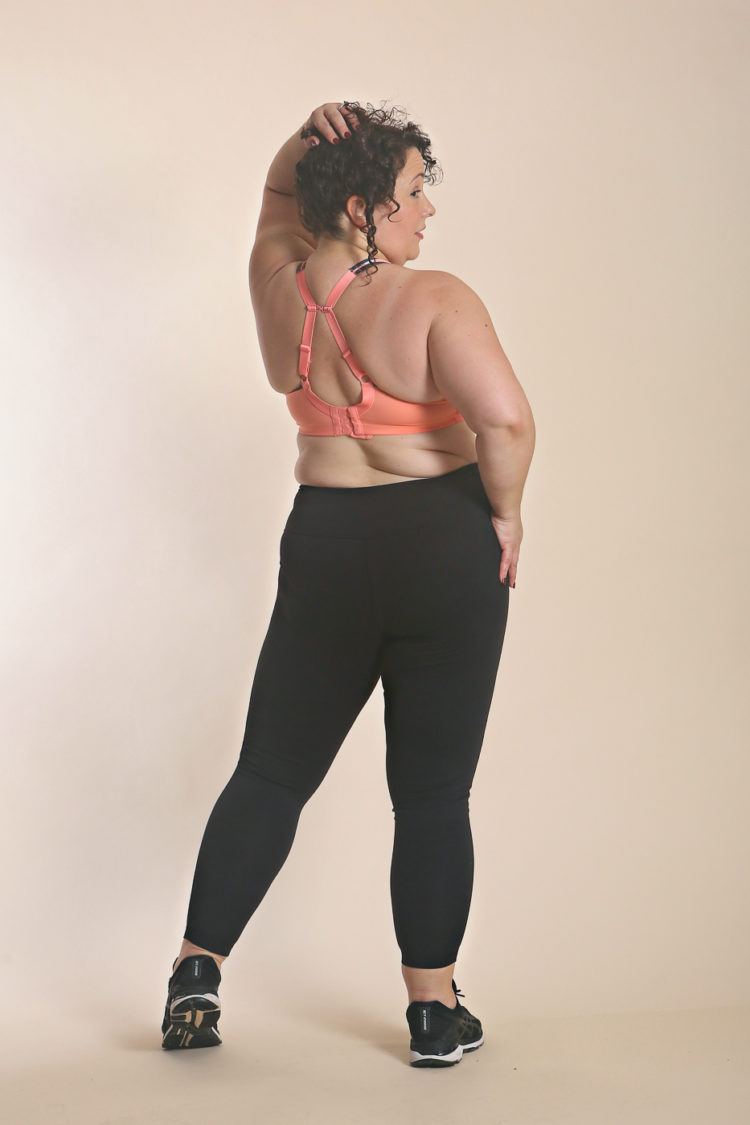 Bravissimo has the Freya Sonic Sports bra in band size 32-38 and cup size DD-H. Bravissimo also has the Freya Sonic Spacer Bra which is the same bra but a lighter fabric great for hot and sweaty activities; it is available in band sizes 32-38 and cups D-HH. I also own this version of the Freya Sonic and find it to run a bit more snug at first, but honestly, once worn a couple of times it's hard to tell the difference between the two. If Bravissimo doesn't have your size in the Freya Sonic (which is occasionally called the Freya Active), you can sometimes find this bra at other retailers like Amazon, Bare Necessities, and Macy's.
I cannot stress enough the importance of getting fitted before starting your journey for the best sports bra for your large bust. You should be fitted every year, as breasts change size and density due to weight fluctuation, activity changes, health, gravity, and time on this planet. It is not unusual to find you need a different size for your sports bras instead of your regular bras. A great fitting sports bra will make your activities all the more enjoyable, and I hope this list proves you don't have to sacrifice shape or style for the support your deserve.
If you have a favorite sports bra for large busts not mentioned here and you think it's a great option for us grown-ass women, do share it in the comments!