This article may contain affiliate links; if you click on a shopping link and make a purchase I may receive a commission. As an Amazon Associate, I earn from qualifying purchases.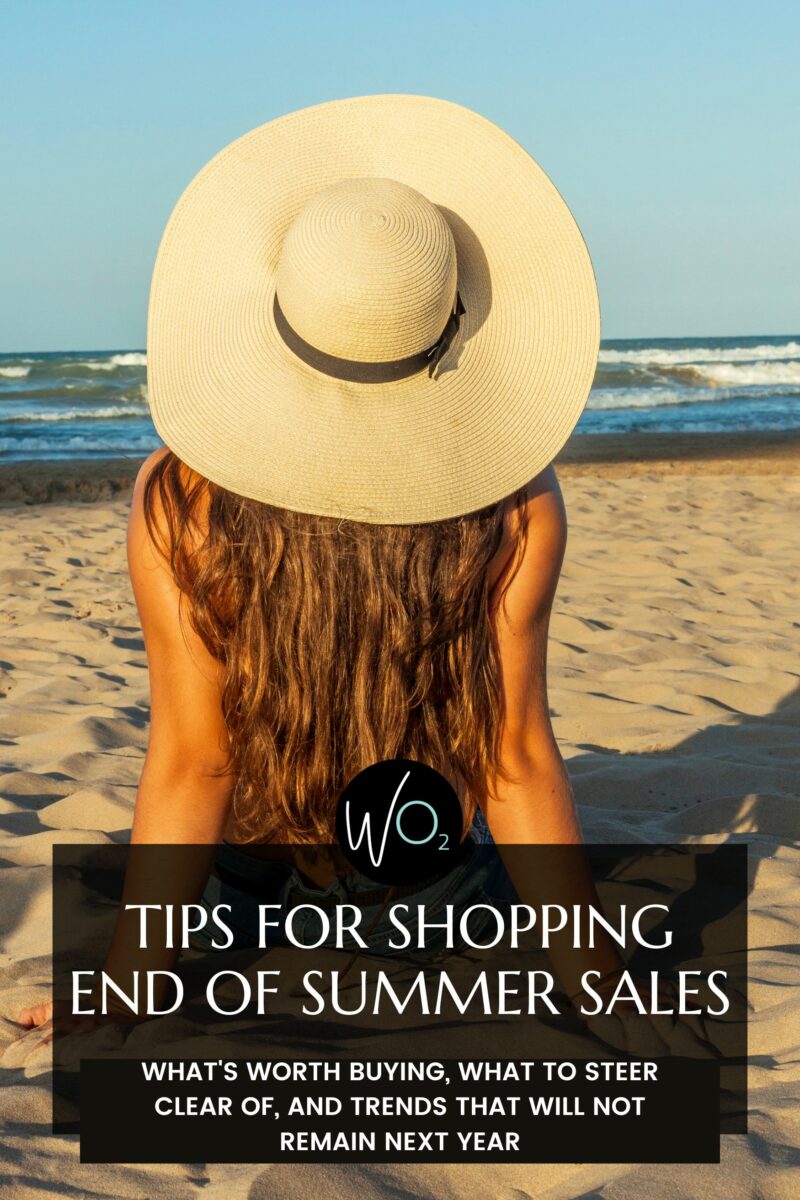 While it still may feel like summer where you live, fall is around the corner and retailers are making room for the next season's fashion by putting summer on sale. The prices are nice, and you may be able to get some wear from these items before the temps drop, but what is worth buying now that will still be chic next summer? I'll share my thoughts on what summer sale pieces are worth buying now and won't cause you retail regret in 2024.
What Summer Sale Pieces Are Worth Buying Now for Next Year?
What's great about summer fashion is that a lot of it is trendless. There are some things that just remain chic regardless of the year. This is the kind of fashion you should consider buying now while it's on sale to enjoy until it gets cooler, but also to enjoy come next summer. My picks: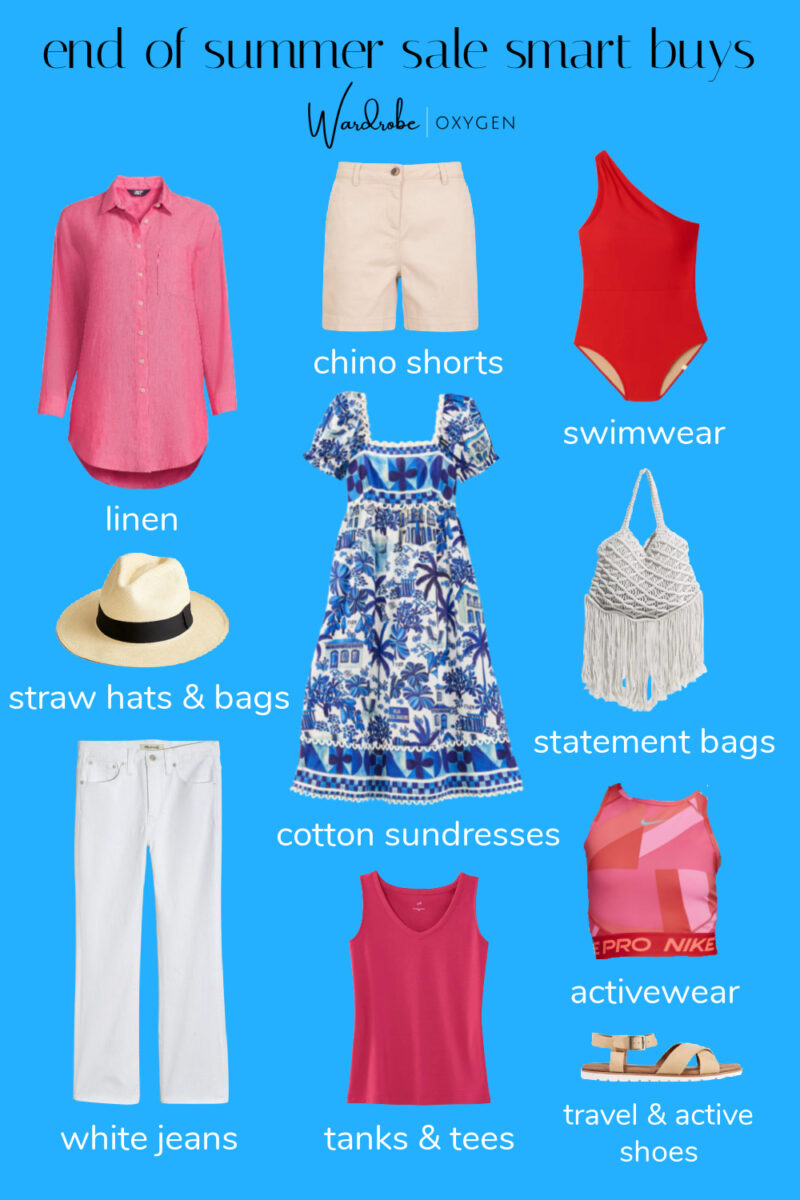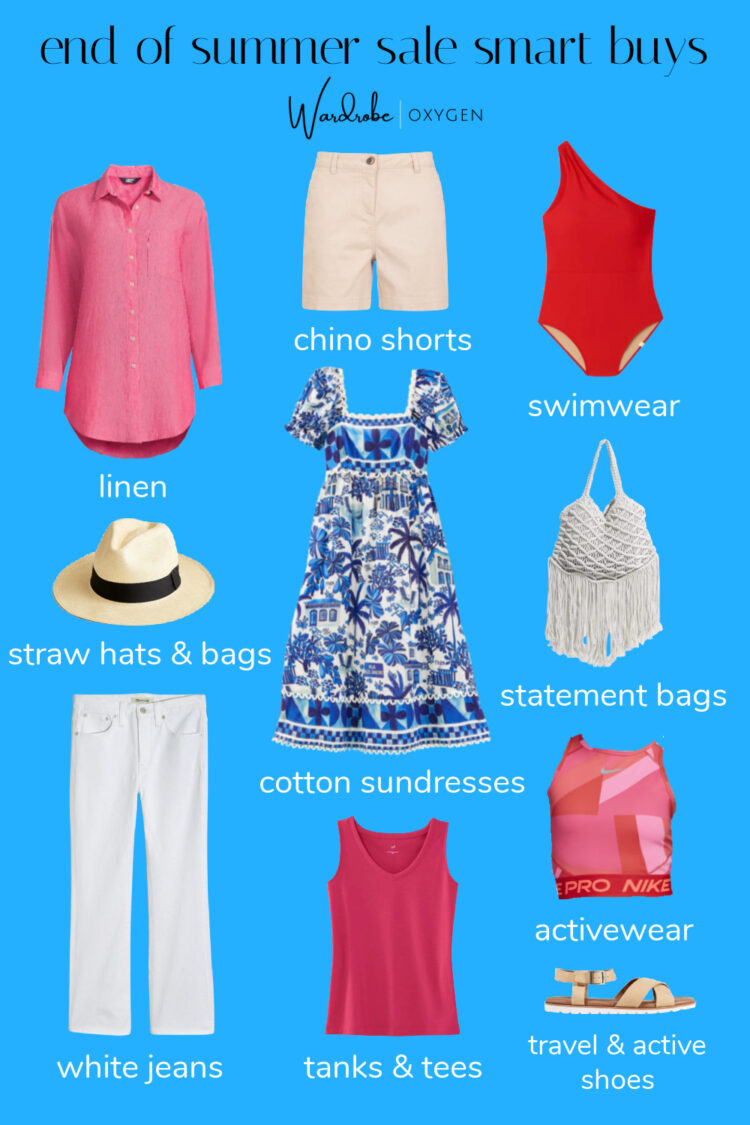 Some sale items I recommend buying:
linen tunic | panama hat | white jeans | chino shorts | cotton sundress | cotton tank | one-shoulder swimsuit | macrame bag | fitness tank | sandals

Sundresses
As a grown-ass woman, I struggle to find sundresses that aren't backless, strapless, have cutouts, or some other detail that makes it tough to wear. So when I find a style that fits my body and my lifestyle, I'm thrilled. And this is the first thing I am seeking on sale right now to wear next summer.
Look for styles that are fabrics that will hold up with sweat, wear, and washings. Linen and cotton are good choices. Be sure these dresses work with the kind of underpinnings you're most comfortable in come summer; don't be swayed by a pretty print or price. And look at details; can you zip it up on your own? Will your phone fit in the pocket without dragging down one side of the dress? Does it fit the you right now, and would it fit the you in 2024 if there are subtle changes with your health and lifestyle?
Be realistic, but have fun with colors, prints, and details. Sundresses don't have to adhere to specific trends to look chic year after year!
White Jeans
White jeans are a summer classic, and IMO they're chic all year round (see me style white jeans for winter at this link). Finding a pair that fits can be tough, so if you find them now on sale, that's a win/win. Look for straight legs, baby bootcuts, and wide-leg styles that will be most likely to remain stylish for many summers to come.
Linen Apparel
Linen was a BIG trend in 2023, and I don't think it will be out of fashion in 2024. It's just too comfortable in the summer heat! Linen shirtdresses and sundresses are always safe bets; look for shift styles or midi-length dresses for eternal style. Pull-on style shorts and pants with straight to wide leg silhouettes, tailored suiting, and classic shirts (trim or oversized/boyfriend fit) are all good buys. Stick with solid colors, but as for which colors, choose what you will be most likely to wear or what brings you the most joy.
Chino Shorts
A pair of chino shorts 3″-9″ in length, free of cuffs, pleats, and embellishment are classic summer staples that won't go out of fashion any time soon. For us grown-ass women, we may find a 5″-9″ length more comfortable than a shorter inseam. Look for straight cuts, nothing tapered or fitted, nor anything too blousy for a trendless fit. Stone, khaki, navy, and white are always safe bets but if you have a certain color you love wearing in the summer I encourage you to buy those as well while they're on sale.
Denim Shorts
Denim shorts are another summertime classic, but not all "jorts" are created equal. I hesitated to even include them because denim shorts can be classic… but certain styles can look hella dated from one year to the next. I personally like a faded, vintage-looking pair of cutoffs, again anywhere from 3″-9″ and not too fitted. I also like the pull-on styles in chambray, Tencel, and lightweight denim that have pockets and a sewn hem.
Again, don't go too short or too long with these for fear of looking dated come 2024. As for wash, something that looks worn or vintage is likely to look the most on-trend next summer (and will look more and more cool with each wash).
Cotton Tanks and Tees
Another classic, and one of the best bargains this time of year. If you wore the heck out of a certain white tank or tee this summer and it's still in stock in your size, grab another. White tanks and tees always get stained, yellowed, or stretched out and it's nice to have a backup. Black cotton fades, so that is also a great choice to buy backups for 2024. As for color, I recommend if your favorite shades are on trend this season, stock up. They may not be trendy next year (AKA not in stock), but they will still look stylish.
When it comes to tanks and tees, keep silhouettes classic; no cold shoulders, embellishment, padded shoulders, mixed media (sleeves or back a different fabric from the front), lace or other fabric trim or insets, buttons, snaps, ruffles, etc. That is, unless such details are your signature, then by all means save now to rock next summer!
Swimwear
Swimwear is something that is very slow to change trends. If you see a suit or separates on sale that you like, I recommend getting them now so you're Memorial Day ready come 2024. I recommend choosing colors and styles that will work with your existing cover-ups, beach bags, and other swimwear accessories. And don't forget rash guards and board shorts to complete your swimwear collection for sun protection and water-based activities!
Swim Coverups, Totes, and Hats
For this category, I recommend going classic. Swim accessories are where trends happen in a flash of the pan, and what you find appealing in 2023 may feel passe or just plain wrong in 2024 (or 2028). Boyfriend-style shirt coverups, pareos, straw totes, water-friendly totes (mesh, open weave, SCOUT bags for example), and classic styles of straw hats (floppy, fedora, Panama) are safe bets that will be chic now and many summers from now.
Activewear and Summer Activity Accessories
Activewear is another category that doesn't change trends as quickly as traditional apparel. Especially if you are involved in a summer sport or activity, stock up now on what you know will keep you performing and feeling comfortable in the summer heat.
Along with activewear, stock up on those accessories and tools needed to keep you comfortable as you perform in the summer. PFDs, belt bags, sunglasses, goggles, swim caps, sneakers, socks, caps, underpinnings… if they're on sale and you know they work now is the time to stock up.
Active and Travel Footwear
Shoe trends have been changing quite rapidly in the past few years and I don't recommend buying any fashion summer shoes or sandals right now unless they really fit your signature style. Instead, look for the kind of footwear you'd enjoy for summer travel and activities. Water shoes, water-friendly sandals and sneakers, summer-weight hiking shoes, sandals with arch support… these transcend trends and will provide you comfort and joy now and next summer.
Summer Statement Bags
The one item on sale now that isn't a classic but is a good buy is a cool summer statement bag. A wicker purse with a crossbody strap, a raffia clutch, a cool macrame handbag with fringe, a beaded purse that's the color of the ocean… statement bags can elevate wardrobe basics and if they're quirky and cool enough (and don't have a bunch of visible logos), they transcend trends and become something you carry and love for years.
For example, a decade ago I got a woven raffia foldover clutch at a beachside boutique. And every single summer since, I have used that bag. It's big enough to hold my phone (which has grown in size over the decade), as well as sunglasses, reading glasses, a small wallet, and other essentials.
If you shop for summer bags on sale, be realistic about what you carry in the summer. Do you carry backup sunscreen? Do you have reading glasses, prescription sunglasses, or progressives? How about medications? I know I often tuck a mini Megababe and deodorant in my bag come summer. Take all your summer purse essentials and place them in a Ziploc bag and fold over the bag so there isn't any excess. Measure how big it is, and only consider bags that will at a minimum hold it.
Trends Not to Buy During 2023's End of Summer Sales
I cannot guarantee these items will b out of fashion next summer, but I do feel these trends will not be eternal. Unless you positively love them, consider opting out of buying these items, even if they're on mega clearance:
Cutout tanks:
You know those tanks that cut in so much at the shoulders it's a racerback and racerfront and finding a bra to work with them is a pain? Yeah, they can make shoulders look fab, but I don't think it's smart to buy any more of them right now.
Dresses with cutouts:
I am hoping and praying this trend fades away, and considering we're not in the first summer of this trend, it's a good chance they will soon be passe. While some cutouts at the lower back, upper back, and collarbone can be artistic, cool, and offer airflow, don't invest in any more dresses that have cutouts on the torso.
Cold shoulders:
Nope, no, let them go.
Jelly shoes:
Not just the ones we wore in the '80s, jelly has come in style for fisherman sandals, flip flops, and wedge slides. Remember the pain and slippage from your past and just say no.
Cargo anything:
Unless it's for hiking and activities, don't stock up on any more cargo for fashion, especially if there are a bunch of hanging straps and bungees. This trend started a couple of years ago and came to a head this summer and I just feel that by next summer the trend will have either ended or morphed into a new variation.
Lucite "cage" purses:
Originated by the brand Cult Gaia, these bags came out a few years ago and now every retailer (and sketchy brand on Amazon and Etsy) now has one. Don't get them. Everything falls out of them and they don't look modern or timeless.
Skinny jorts:
They have been a staple, especially at plus size retailers, for over a decade. Stretchy denim, fitted, usually with a little cuff just above the knees, these prevent chafe, show under tunics, and you likely already own a pair. You have enough. It's okay to wear a bit of volume, I promise it won't make you look bigger and it likely will be more comfortable on a muggy summer day!
Tips for Shopping End of Summer Sales
When it comes to shopping the end of summer sales, it's important to be super real with yourself. Shop for your current body, and your current lifestyle. Not the five pounds from now you, the win the lottery you, the going on an unscheduled cruise, an unplanned trip to Italy, the lounge by the poolside in a silk caftan sipping a cocktail you. If those events happen, I'm thrilled for you and give you permission to shop full price. But end of summer sale shopping is about being practical. Buy what you know you will wear, buy what you NEED.
Do not buy anything that is a hair snug. Especially as we get older, our bodies change. We can keep the same number on the scale but have a completely different shape. We can even keep the same clothing size but those garments will fit differently in a year. Have some room in these pieces so if alterations are necessary, they can be made.
Only buy garments that have laundry instructions you know you can follow. Hand wash and dry flat? Is that really going to happen at the beach house or when you'd rather be outside enjoying the weather? If it's complicated, it's not a smart addition to your future summer wardrobe.
Also be wary of unexpected colors. Often, the least popular color will be the one still on sale. That color very well may suit your skintone and style and I encourage you to get it. But if it's a style you like but a color that doesn't provide comfort and joy, leave it on the hanger; don't click "add to cart." The world will still rotate and you will still have a fantastic summer without it in your closet.
Finally if you got through this summer without being naked, you likely already own enough. The end of summer sales may be tempting, but the cheapest thing is not buying anything at all. You can have big style with a small closet; save those dollars for a fabulous summer getaway next year!