This article may contain affiliate links; if you click on a shopping link and make a purchase I may receive a commission. As an Amazon Associate, I earn from qualifying purchases. 
I have been following your blog for awhile now and bought many things from your recommendation; the latest one is a dress from Dobbin. However, I need the correct undergarments. I put on the Jockey shorts (also your recommendation) but the seams show. I have tried Spanx and they are a bit too constricting. Any advice as to what I can wear under dresses so I can incorporate them into my wardrobe?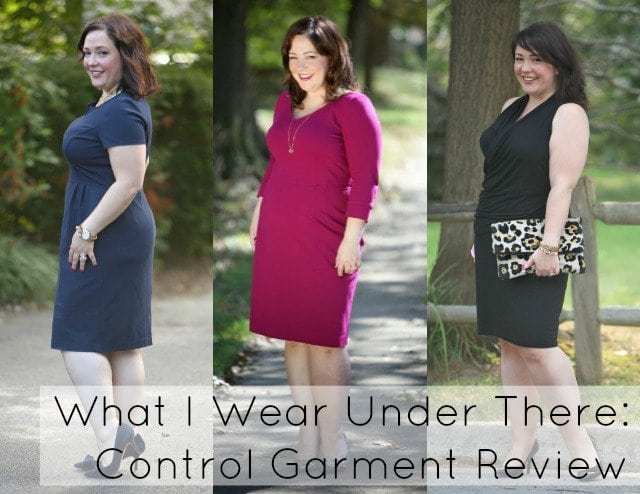 As I write my response to you I'm wearing a wrap dress I bought from Old Navy that needs just the right light control garment to smooth my figure, gently hold me in without gas pain and without visible seams. Like you, I find I need underpinnings like this in my arsenal to wear under my Dobbin ponte dresses, my Karen Kane jersey dresses, and other frocks that need that special something. Here's my favorite light control garments that I wear under fitted and knit dresses:
This is what I'm currently wearing with my dress. I have three of these babies – one in nude for light colored dresses, one in black for dark colored dresses, and one in the most gorgeous fuchsia because it was on clearance and I couldn't resist. While this suit has seams, they are in logical places that match up with seams of most dresses. The rear has a wide lace band so there's no VPL, and I LOVE that it can be comfortably worn with any bra from my lingerie drawer. The straps are adjustable, which is a perk for my short-torsoed self, and it's actually PRETTY.
The crotch has a hook and eye opening that I find utterly ridiculous to try to maneuver, especially when in a public restroom trying to handle heels, strangers' germs, and a fitted dress hiked up around my waist. I don't unhook it with each visit to the lavatory but instead just slide the whole garment to the side, hold in place as I take care of business. But really that's the only negative aspect of this garment.
This is not a Spanx-like control garment. In fact, it doesn't do a lot of gut sucking. What it does do is smooth the figure. No indentation of a belly button, no segmentation from the waistband of panties or tights, no VPL. My body is the same size, but it appears to be firmer and smoother under clothing.
I've written about this garment before because I've been a fan for many years. This is pretty much the same thing as the bodysuit, but it ends at the waist. Same lace back, same smoothing but not gut-sucking capabilities, and same ability to not look like Bridget Jones scary pants. Seriously, pair with a pretty bra in the same color and you feel retro bombshell.
Unlike the bodysuit, the shaping brief does have a waistband, and depending on your figure and softness, it may show. I find this piece best for skirts or dresses with a defined waistband. Also know they do stretch out with time; pairs I've had for a year still look great but slowly get bigger even with careful laundering. I buy a new one when Nordstrom has them on sale (not on clearance now but have been part of their Anniversary sale), and have found them at a nice price on Bare Necessities.
I'll tell you a little secret; one of the perks of durable tights is that you can go commando under them. They're opaque enough for it, and they can handle being laundered so often. This really reduces the segmentation and lines that can happen under garments.  I wear these tights on their own quite often because they suck in a bit but not nearly as much as the brand's actual control garments, and the waist is high enough that it doesn't cut me in the middle. If you're someone who doubles up hosiery for extra opacity, control, or warmth; this is a great pair as they don't shift and they can handle it without stretching out. And as I mentioned at the beginning, they're super durable and can handle being machine washed on gentle in a lingerie bag (or even a run in your stockinged feet across concrete to catch a dog chasing down the mailman).
I also like these tights from DKNY, and for all the same reasons mentioned for Spanx. These do run a bit tighter in the elastic top, but I actually like that because it gives an even smoother line from ribcage down. DKNY's tights come in Plus Petite which is a nice feature that I wish more brands would embrace. But these tights are durable enough that this fall I'm wearing a pair I purchased in 2012.
So now I ask you readers, what do you find works best under fitted knit dresses?