This article may contain affiliate links; if you click on a shopping link and make a purchase I may receive a commission. As an Amazon Associate, I earn from qualifying purchases. 
I just got back from a trip to Europe and ponchos were EVERYWHERE! I never really liked the look before, but this time around I'm actually thinking about getting one. Can you recommend a few styles that might work for more than one season? How do I style it other than over skinny jeans? Which styles of ponchos/capes are most flattering for different body types? Or maybe I'm totally bonkers thinking I should wrap myself in a blanket while I'm not sitting on the couch…! Anyways, would be curious to hear your thoughts!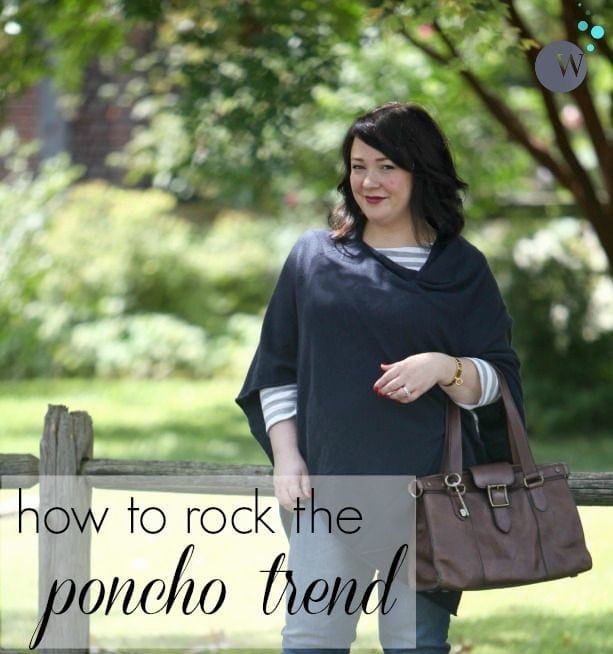 You're not bonkers! I fell in love with ponchos and capes last year (see me wearing one here and a poncho-esque sweater here) and my love affair has continued into 2015. What's great is the poncho trend has only improved with more variety in cut, fabric, and pattern. I'm going to discuss some of the most popular poncho trends and how to style them and which ones will work best with your figure.
How to Style Solid-piece Knit Ponchos
These are by far the most popular, and most versatile versions of this season's poncho trend. A solid piece cut in a square or oblong, there's a hole or slit for your head and the garment drapes over another top. Last year I purchased a navy cashmere poncho in this style and found it perfect for crisp fall days and spring weeks where there was still a bit of a nip in the air. They're a bit tough to wear under heavier outerwear, but I've been known to hike it up at the neck and wear like a pashmina until I get indoors. Such ponchos also make for a great "office cardigan"; that piece you leave at the office and throw on when the A/C is blasting or the heat isn't strong enough.
While such cuts of ponchos come in a great variety of fabrics, those made of knits that can drape nicely are best. Not matter your body type, a knit poncho will be more flattering if it doesn't tent out from your shoulders or bust, and if it falls below your waistband.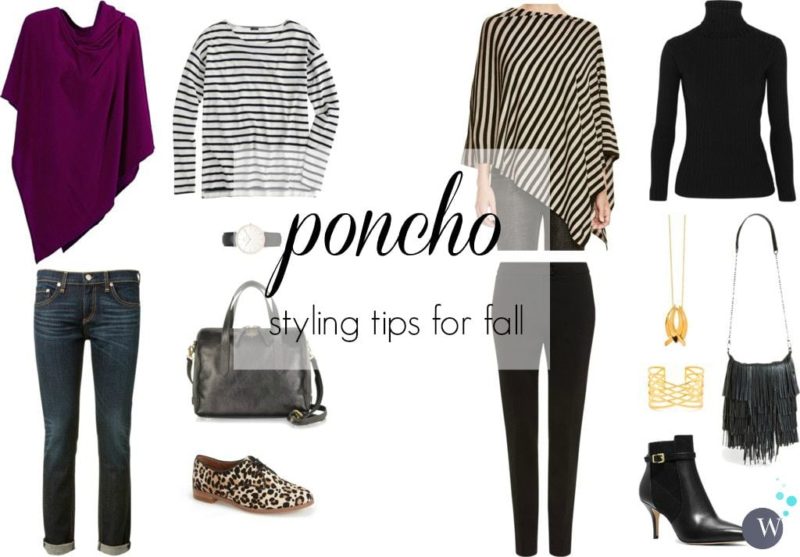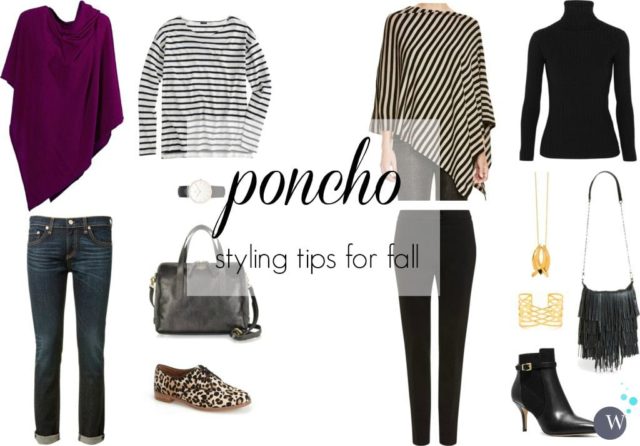 Shop Similar Looks:
eggplant poncho | boyfriend jeans | striped tee | watch | black bag | oxfords
striped poncho | ponte pants | turtleneck | pendant | cuff | fringe bag | booties

The most popular of this type of poncho is one in a sweater knit, like my cashmere poncho. These can be of most any fabric and most any weight. I've found the heavier the knit, the longer the poncho so it doesn't add bulk and has a better drape.  A poncho in a cotton knit, merino wool, or cashmere will have nice drape while still adding warmth when layered over other tops.  The left look is a great casual or weekend way to wear a poncho.  While this look would work great with skinny jeans and boots, switch up the silhouette with boyfriend jeans and an ankle bootie.  A solid poncho pairs great with prints; a classic Breton tee peeks out from underneath and leopard print brogues add interest.  A poncho adds weight on the top of the body; if you need a bigger bag look for one with a long shoulder or crossbody strap to better distribute the bulk.  For the right look, this shows how a printed poncho can look quite chic.  With a trim black turtleneck (can be easily switched for a crewneck), ponte pants, and sleek heeled booties, this poncho look could work for the office or dinner.  A gold pendant and cuff add shine while also weighing down the poncho to better show your shape; a bag with texture or a contrast color will add the necessary pop to the clean look.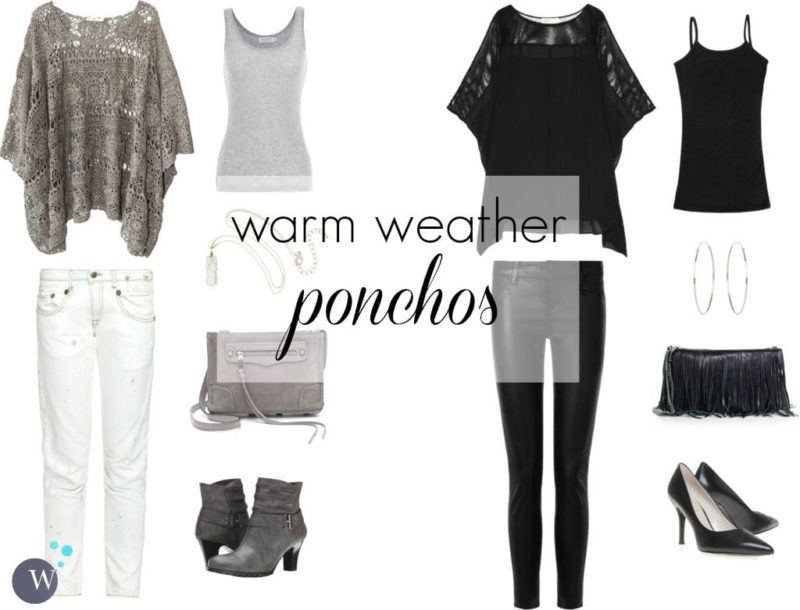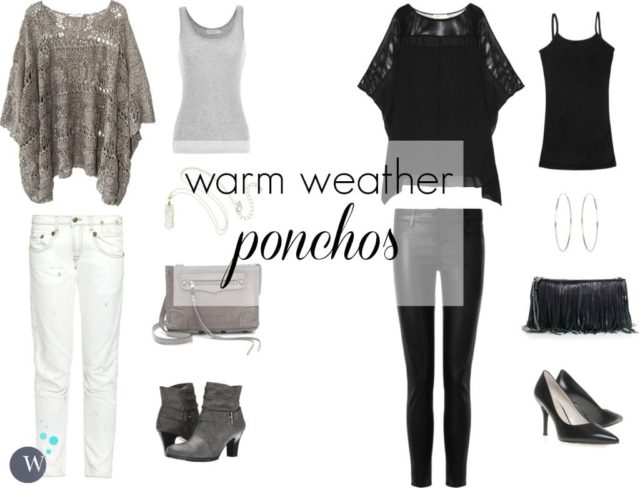 Shop Similar Looks:
gray poncho | gray tank | off-white jeans | crystal pendant | gray crossbody | gray ankle boots
black poncho | black camisole | black jeans | silver hoops | black fringe clutch | black pumps

In the two sample outfits above I've style ponchos that could be worn in warmer weather. The left style is a great way to incorporate a funky open work poncho you may have picked up on your travels or crocheted yourself. While I styled it with straight jeans, it could also work with other cuts of jeans (flare, boyfriend, skinny) but would also work great over a jersey maxi skirt or maxi dress that skims the curves and doesn't have much volume. Such a lightweight poncho can also work with cropped pants of a lightweight fabric like linen. The right poncho is one that is often found at department stores, and quite popular with plus size retailers. This is the type of poncho that can quickly veer into Golden Girls territory. When choosing ponchos of chiffon or with sheer panels, think simple and modern. I specifically went with a monochromatic look which instantly makes it look modern. I added modern touches; glazed or leather jeans or leggings will make the choice of chiffon purposeful without looking Vegas. With so much detail in the outfit, keep the accessories to a minimum; earrings OR a bracelet. A clutch or slim handbag with chain strap will prevent too much volume on the top part of the body. While Dorothy Zbornak was a fabulous character in the '80s, she shouldn't be your style icon in 2015.
How to Style Ruanas
A ruana is like a poncho as that it is made of a single piece of fabric with a hole for the head; the difference is that there is a slit down the front from neck to hem.  They are sometimes marketed as ponchos, blanket ponchos, or even kimonos.  I like ruanas because they're easier to get on and off, and you can switch up their look by belting them.  Also with the slit in the front, prints are easier to carry off because there's a break in the pattern.  Longer ruanas (hip length or longer) are less likely to slide off your shoulders or slip back; like ponchos the heavier the weight the longer the ruana should be to get better drape.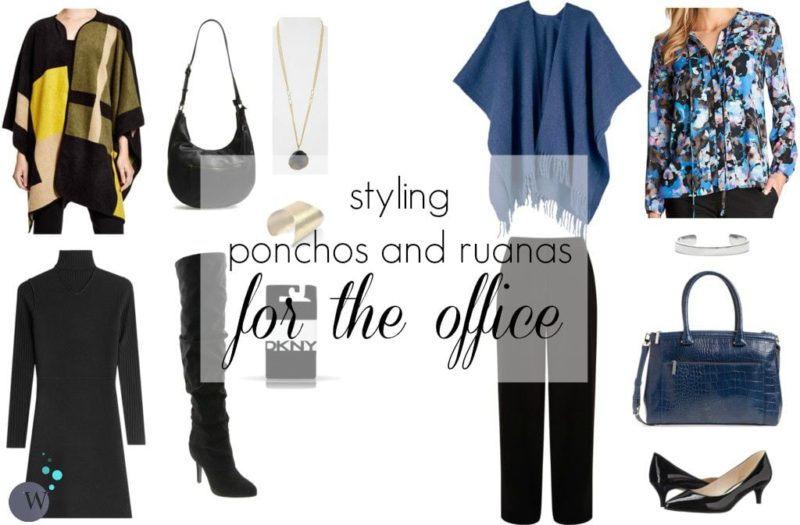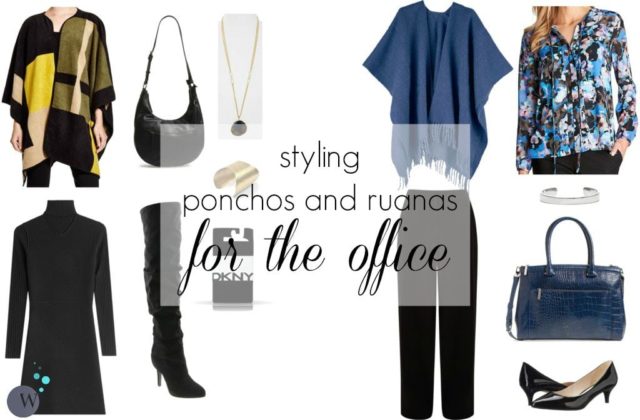 Shop Similar Looks:
colorblock ruana | sweater dress | bag | pendant | cuff | tights | over the knee boots
blue ruana | trousers | blouse | bracelet | bag | pumps

While a ruana can be styled just like a poncho and looks great with a knit top and jeans for the weekend, it's a style that can also work for the office.  The left look is a way you can wear a ruana with a dress; having the dress short will keep the look from being frumpy.  Keep the look modern with over the knee boots with a slim heel and on-trend jewelry.  For the right look, you can see how a ruana can replace a cardigan for a cozy outfit that still looks right for the workplace.  Balance the weight and casual feel of the ruana with a silky blouse and nicely tailored trousers.  A heel and structured bag with polish will add that necessary touch of professionalism.
Ponchos and ruanas are on trend, and I doubt they will be out of style this time next year.  They're a trend that is available in any size and pricepoint.  Once you own one and start playing in your wardrobe, you'll see they're quite versatile and go with much more than skinny jeans.
Shop Ponchos and Ruanas:


Save