This article may contain affiliate links; if you click on a shopping link and make a purchase I may receive a commission. As an Amazon Associate, I earn from qualifying purchases. 
Dear Allie, can you give some pointers on how to style a peplum top? I see girls in my office wearing them and they're super cute, but with skinny black pants, I (and, to be honest, some of my coworkers), end up looking like I'm wearing a skirt that's too short with black leggings.

How do I balance wanting to show off my shape with not wanting something so full that I end up looking 3 sizes larger than I am? Thanks in advance!
Peplums, we all thought they would be a flash in the pan but from the look of things they're here to stay, at least through the spring and summer. Here's some tips on how to wear a peplum top so you don't look as though you're wearing a micromini with tights.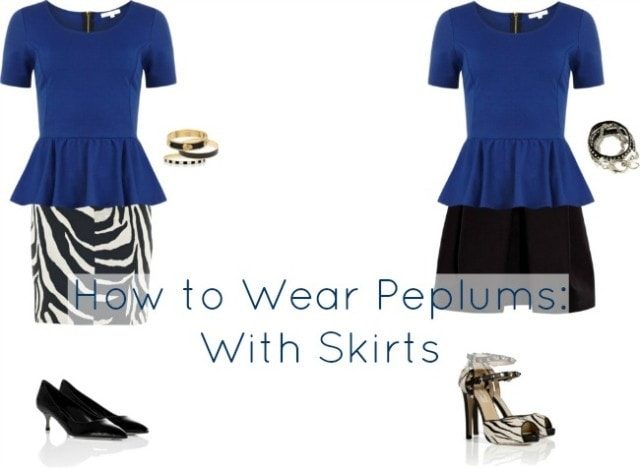 A pencil skirt is slim enough to show the shape of the peplum, but not as skinny as skinny pants so you have some shape. A work-appropriate pencil skirt is actually more of a straight skirt, ending right around your knee. Having the exposed leg below will actually make you look more covered and the peplum more appropriate.
Who says you can only pair a peplum with a skinny pant or skirt? Many a blogger (Atlantic-Pacific, me, Delusions of Grandeur, even Olivia Palermo) have successfully paired a peplum with a fuller skirt and found it to be quite an adorable silhouette. The key is to have the peplum out of a softer fabric (jersey, ponte, silk, sweater knit), so it works more like a ruffle than a shelf.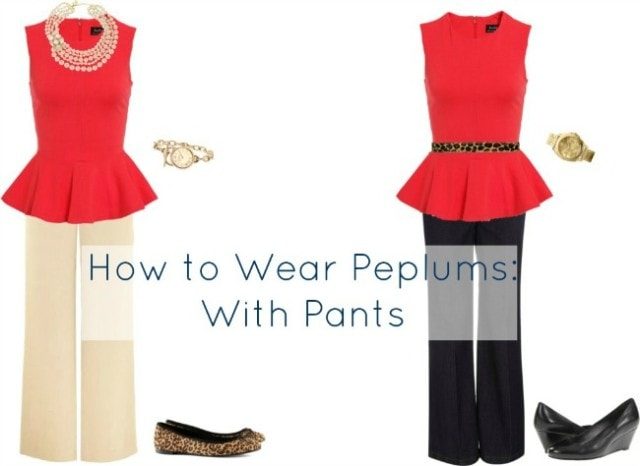 I have the Tahari "Hazel" pants and adore them because they are slim in the rear and on the thighs, but then gracefully flare out above the knee. This way they aren't too bulky at the top, but still keep me from looking like a lollypop. I wore these pants with a peplum before and liked the look. A pant of a softer fabric (gabardine, silk, lighter-weight suiting fabrics) will drape nicely and not add too much bulk at your midsection. Consider a belt at the seam of the peplum top for additional definition.
Denim, even when skinny, never looks as skinny as regular trousers. A heavyweight pair of jeans in a classic shape (straight, mini bootcut) or a lightweight pair in a fuller silhouette (sailor, trouser) balances a peplum top quite nicely.

For details on my collages, visit me at Polyvore!
Follow Me on Bloglovin | Twitter | Facebook | Instagram