This article may contain affiliate links; if you click on a shopping link and make a purchase I may receive a commission. As an Amazon Associate, I earn from qualifying purchases.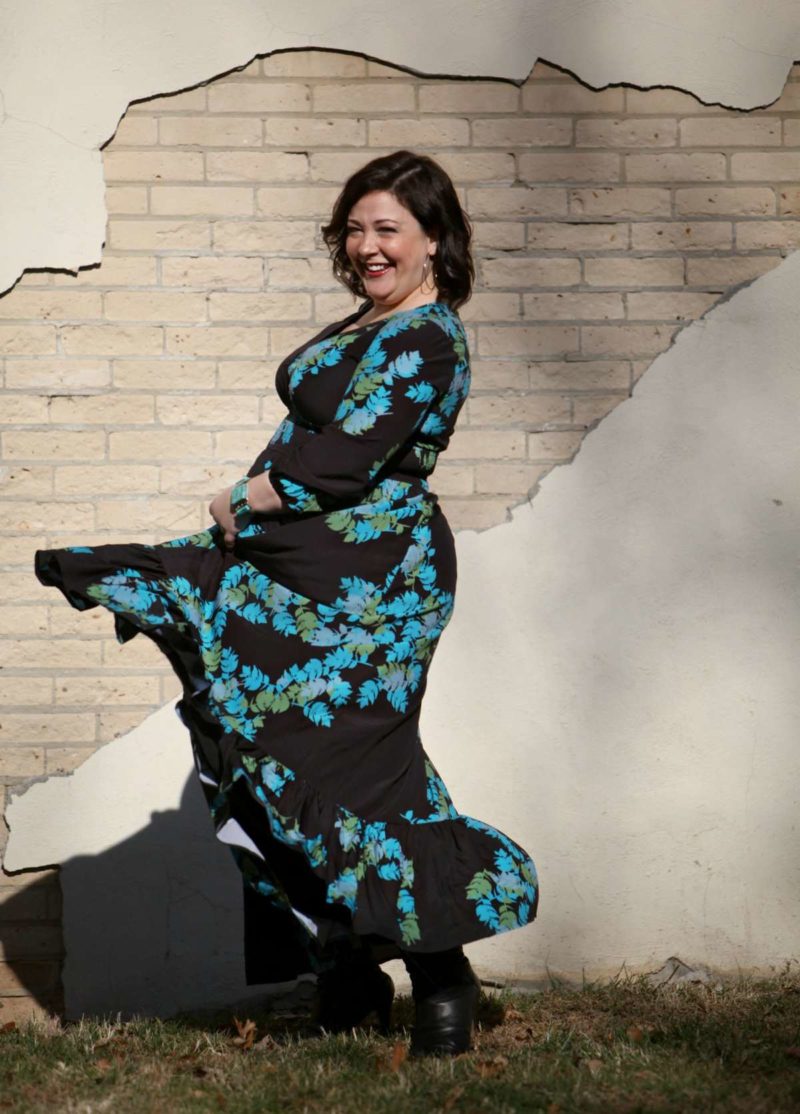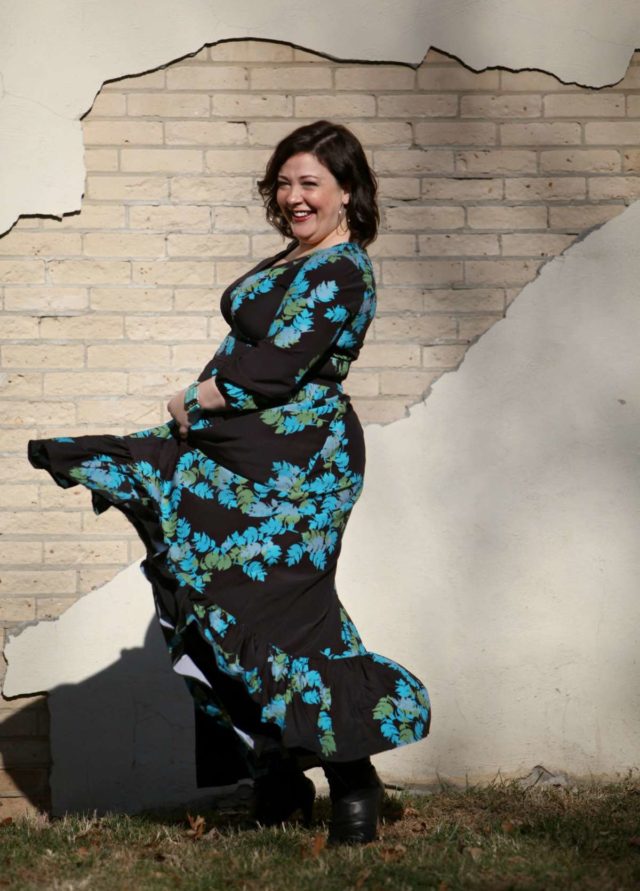 dress | boots | bag | sunglasses | bracelet | earrings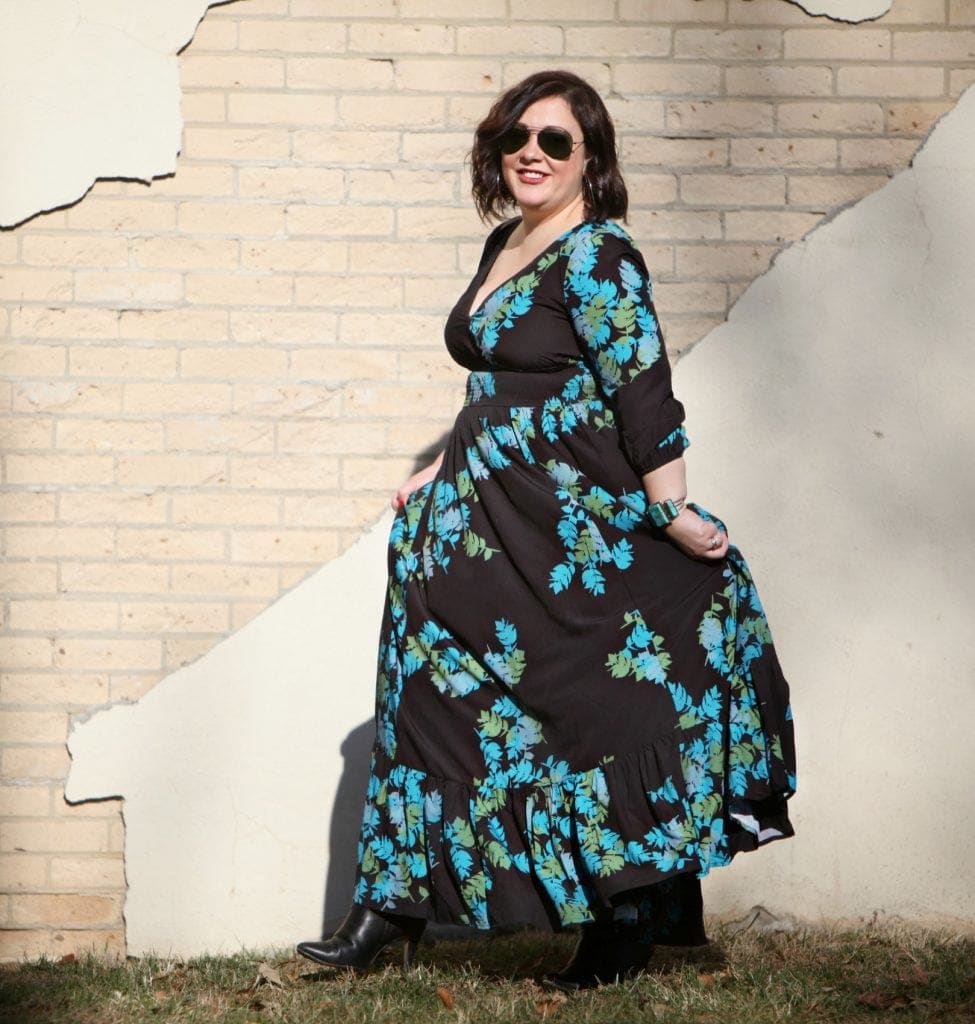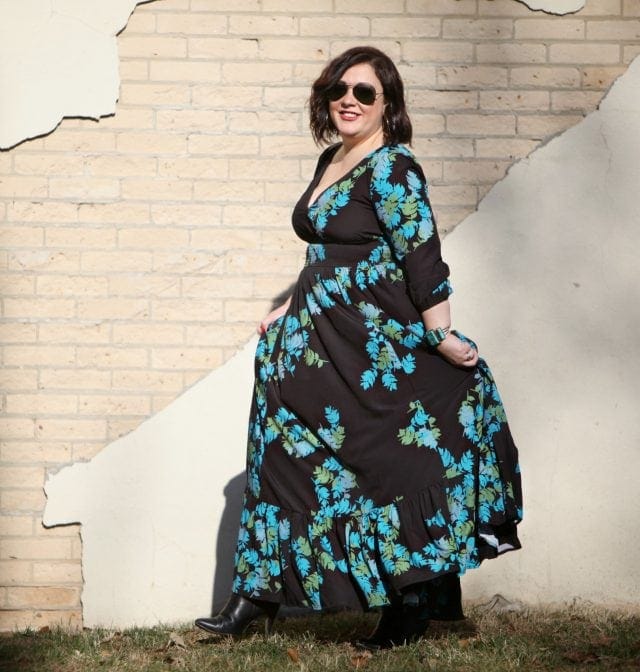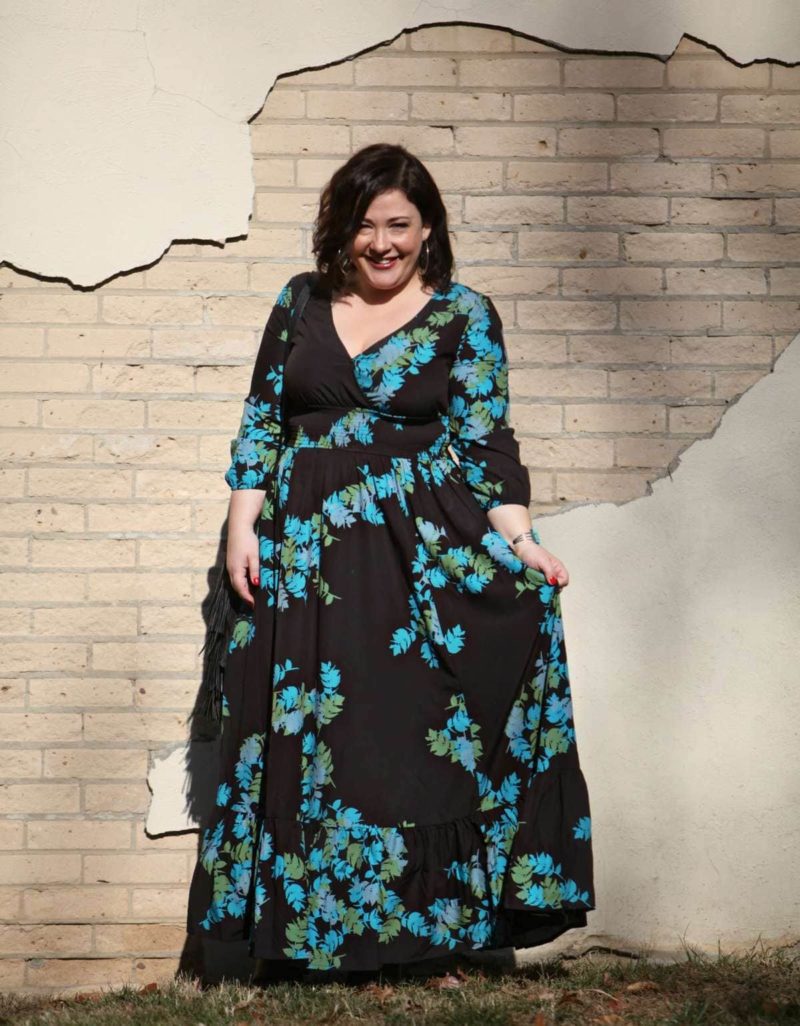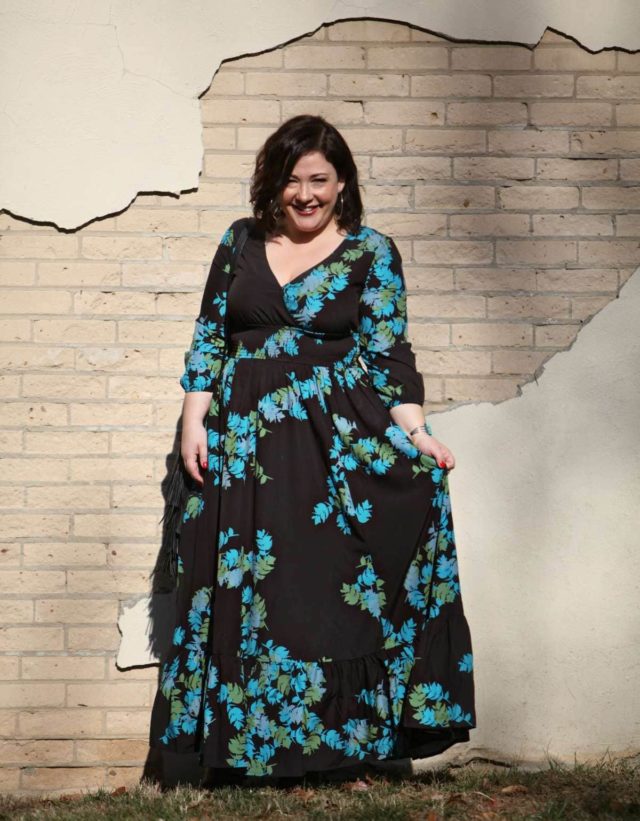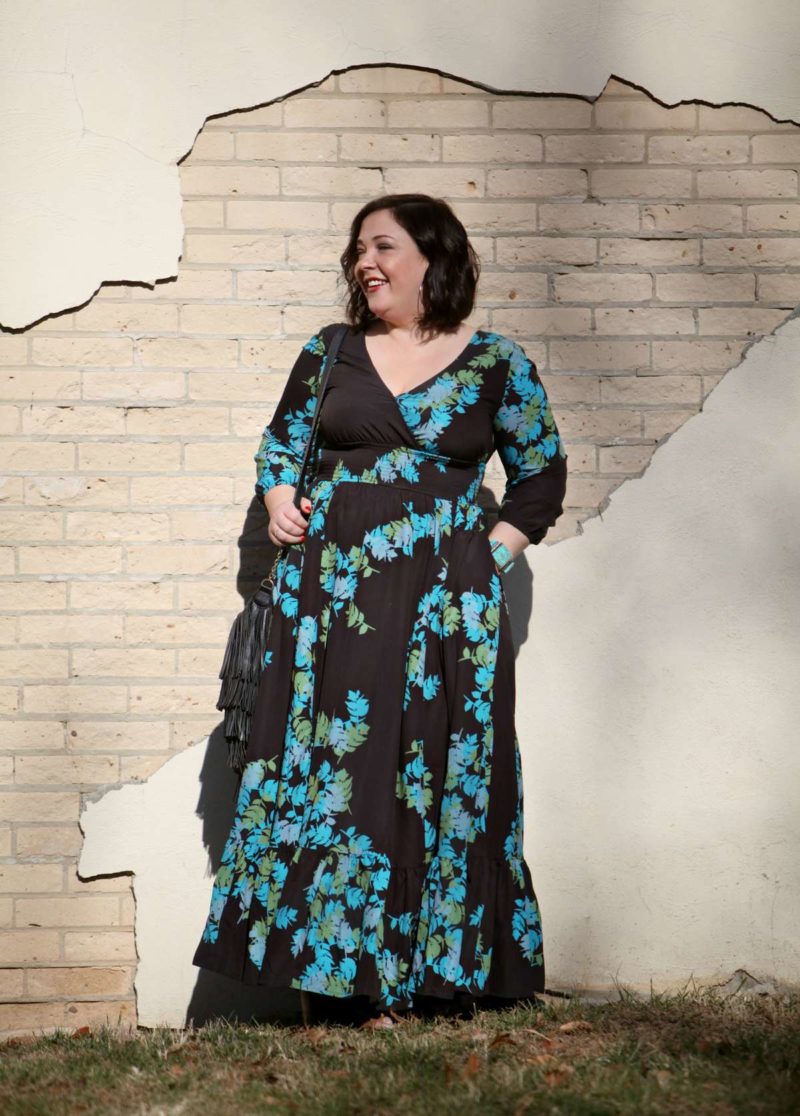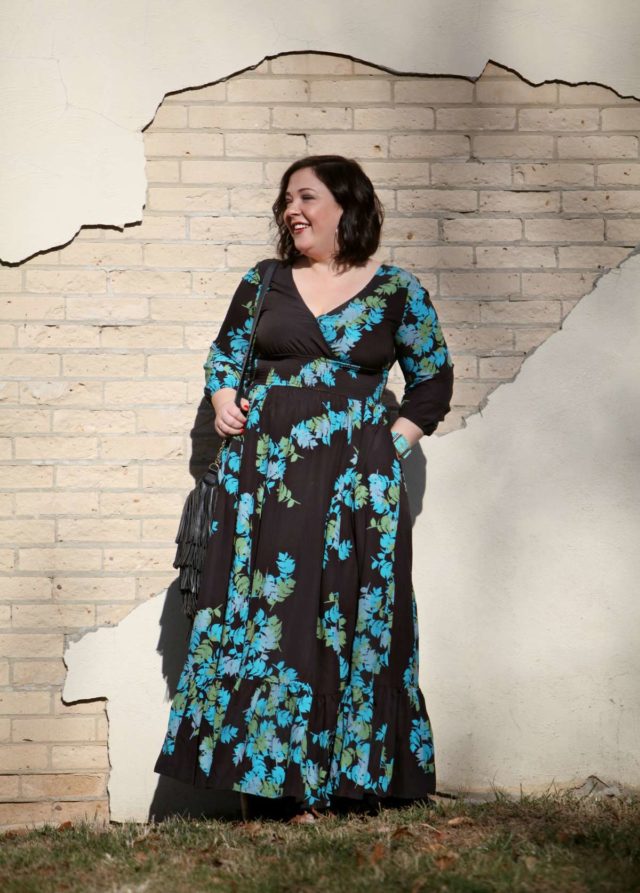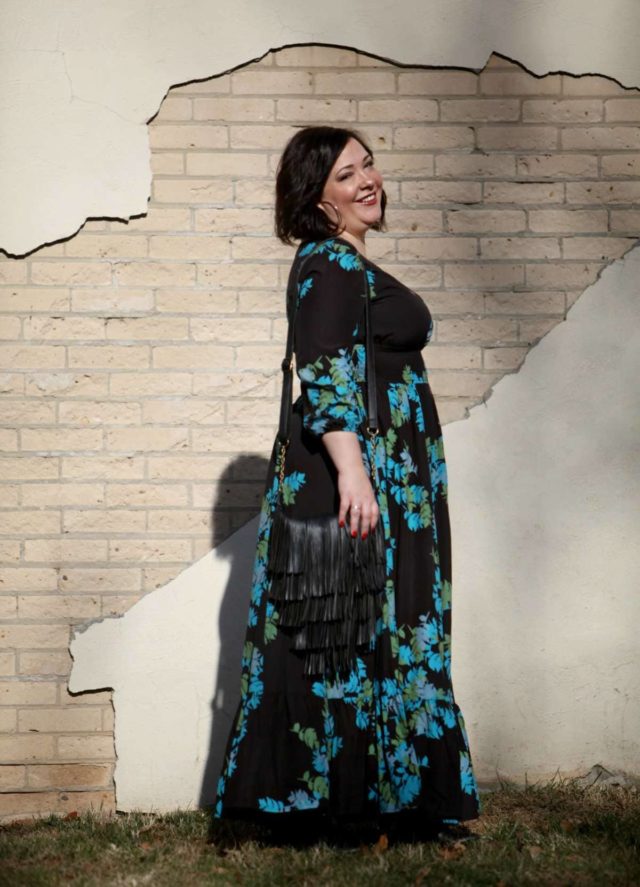 Dress: eShakti (16) | Boots: Ros Hommerson (old; similar) | Bag: c/o Handbag Heaven (similar) | Sunglasses: Ray-Ban | Bracelet: Bought in Four Corners (similar) | Earrings: Amazon
I find my style gets more classic and less boho when the temps drop.  Below freezing temps and gauzy frocks just don't play nice together.  But this dress is one I can wear in the winter.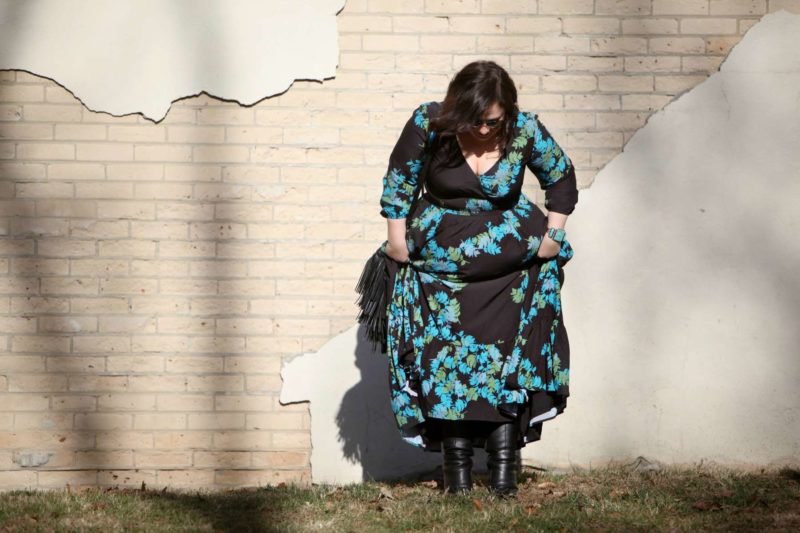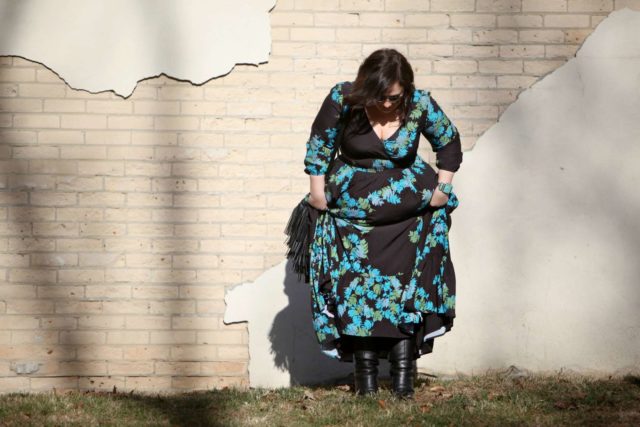 Underneath I have my Lands' End Thermaskin leggings, knee-high wool socks and knee-high leather boots.  Also the dress is lined for extra wind protection.  For modesty and more warmth I could also add my Thermaskin camisole.
As I mentioned in this post, I recently made an eShakti order.  I saw my sister in this dress and fell in love.  She told me it came in a blue floral option which is more my style.  But can I buy the same dress as my sister?  Isn't that a faux pas?  But I'd buy the same dress as a blogger or celebrity.  My sister has awesome style and I am regularly inspired by her looks.  She didn't have issue with it so I headed to the eShakti site.
Looking at the size chart, I decided I was a 14.  I stated my height (5'3″) and didn't do any modifications.  While on the eShakti site I saw this black maxi wrap dress.  It looked like that perfect basic I could put on and wear for a blogger event, the theater, a party, even to work.  That too I ordered in a 14, shared my height, and did no modifications.
The dresses arrived in less than three weeks.  The floral dress looked the same as my sister's – clearly a poly blend, but pretty.  Fully lined, pockets, a snap at the bust, smocked elastic waist.  It was too small.  I did get it on but took it off carefully because it was so tight I feared I'd tear it.  The armholes were so tight and the sleeves so snug I couldn't move.  My chest was compressed so much the snap at the bust couldn't close.  The bodice seemed very short as the elastic waist was halfway up my chest.  And the length?  It ended above my ankle bones.  So bad in so many ways.  The black wrap dress was the same – too tight in the arms, too snug in the armholes, the waist too high, the bodice too tight, and not enough fabric to cover even half my bust. It was too short, but also the fabric wasn't nice.  It was a bit stiff of jersey and the kind that already looks worn, a bit faded and likely to fade even more with the first wash.
Returns are easy.  The purchase comes with a mailing label but you go to the website to confirm the return and get a sheet to print out and put in the box.  I returned them December 12th, have not yet received confirmation the dresses have been received nor return payment.  eShakti doesn't do exchanges so I made a second order of the floral dress you see on me in this post.  This dress was delayed and I received email notification of it.  I thought it would arrive the week of or after Thanksgiving but it didn't come to my home until the week before Christmas.  This time I put in that I'm 5'3″ but I'd like it to work with 3″ heels.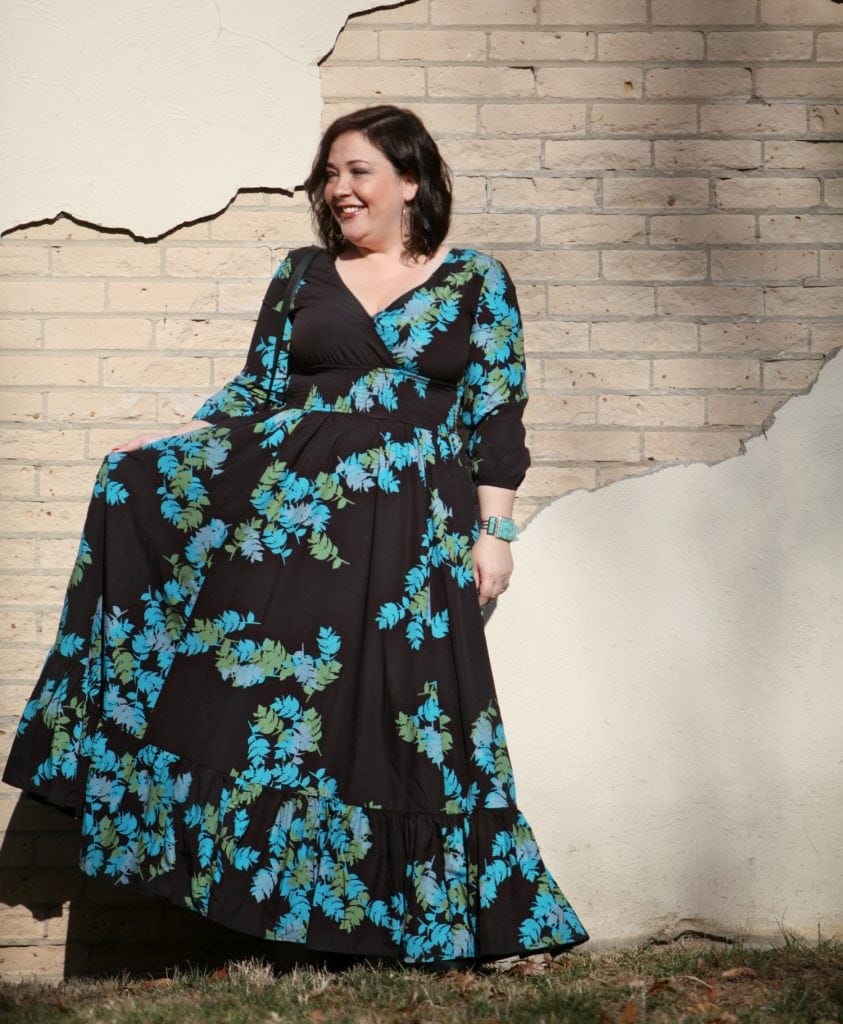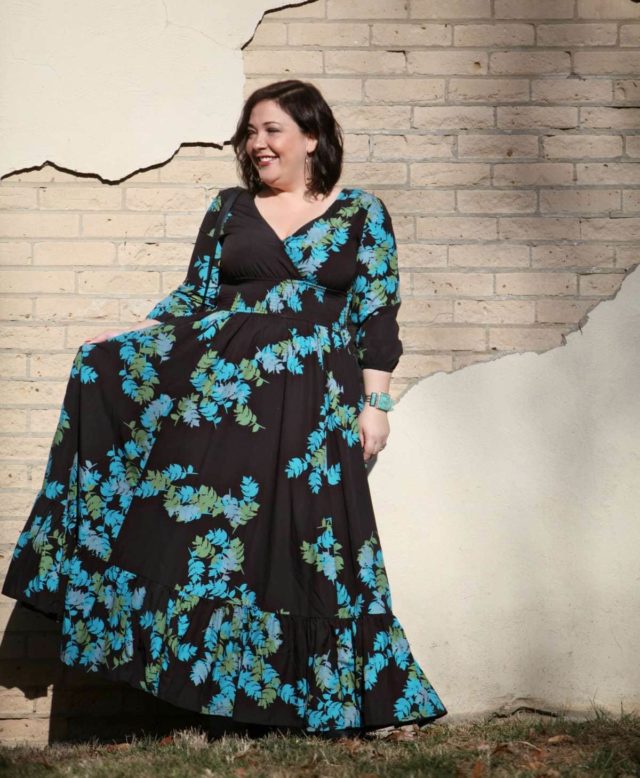 The dress is still tight in the bust and the sleeves in the upper arms aren't roomy.  The snap won't stay closed on its own, there's also a safety pin at the neckline.  I tried it on right after work with hardly any makeup and a hot mess of hair and decided to return it.  The next day after a shower and applying my makeup I tried it again… and I liked it.  Karl came in the room and said it was a very me dress and doesn't look snug.  And as I wore it the sleeves stretched a bit to a comfortable fit. These boots are only 2″ high; it seems these dresses run short.
So do I recommend eShakti? Yes, especially if you do custom measurement and if you do not have a really large bust.  It's nice to be able to customize sleeves and length and it's a great choice for those who are tall or petite.  I had issue in the past with the cotton fabric feeling stiff and cheap; I felt the same about the jersey.  But this dress is really nice and would go for far more in a department store.  So yes, I recommend eShakti and may buy from them again in the future!