This article may contain affiliate links; if you click on a shopping link and make a purchase I may receive a commission. As an Amazon Associate, I earn from qualifying purchases.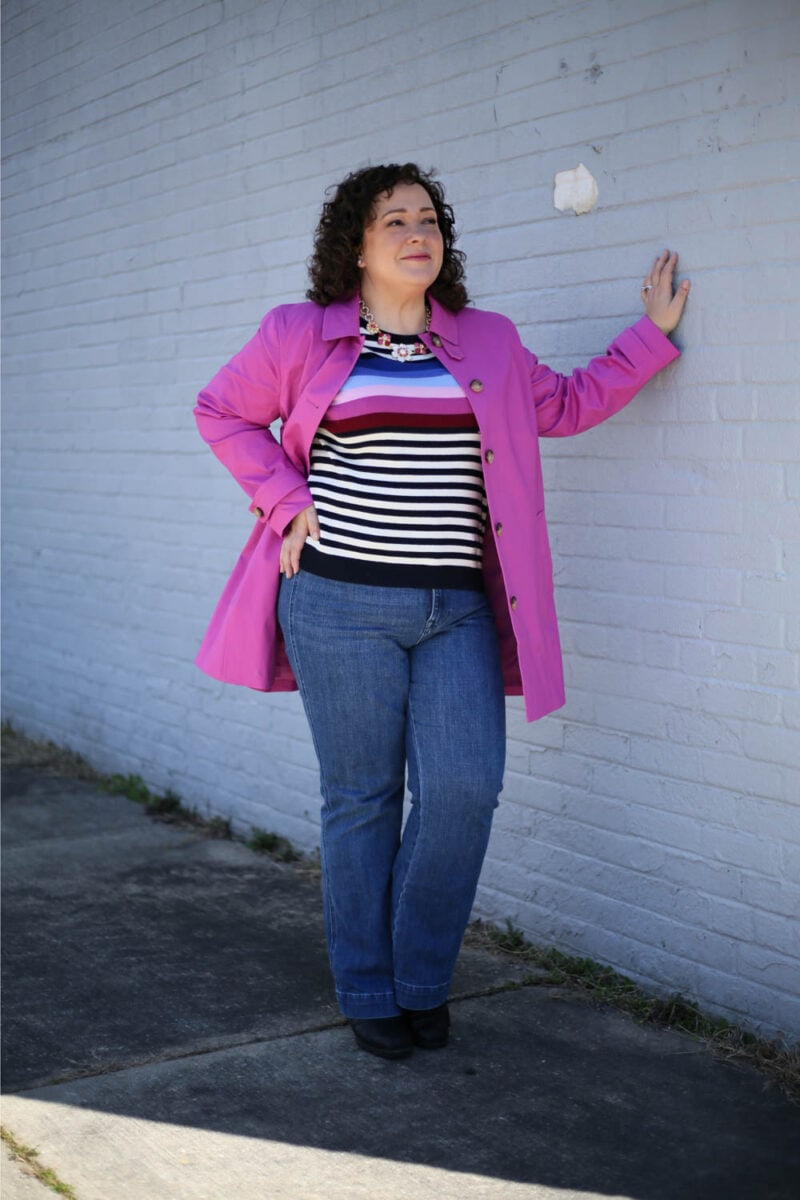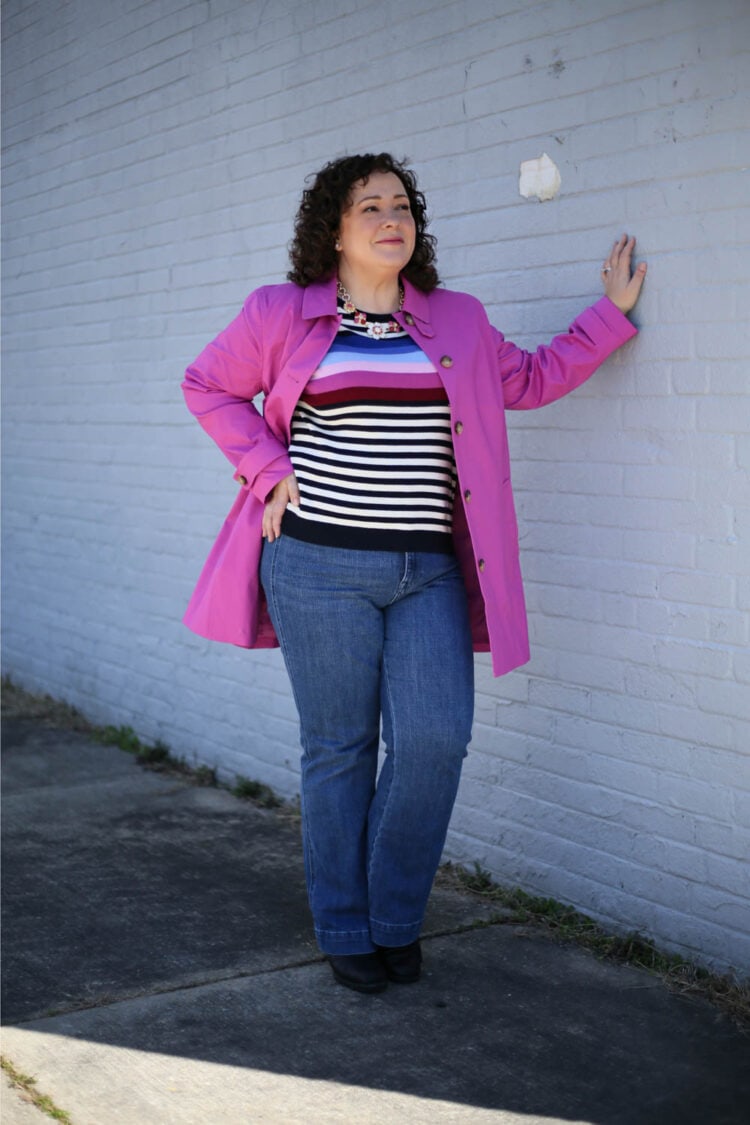 Oh gosh Alison, yet another spring coat? Let me let you in on a little secret – I am an outerwear lover. I have been since I was a kid. And I have a collection of outerwear, some that I have had since college. I may not wear each piece every month or even every season, but I find joy in having variety for each outfit, season, and situation.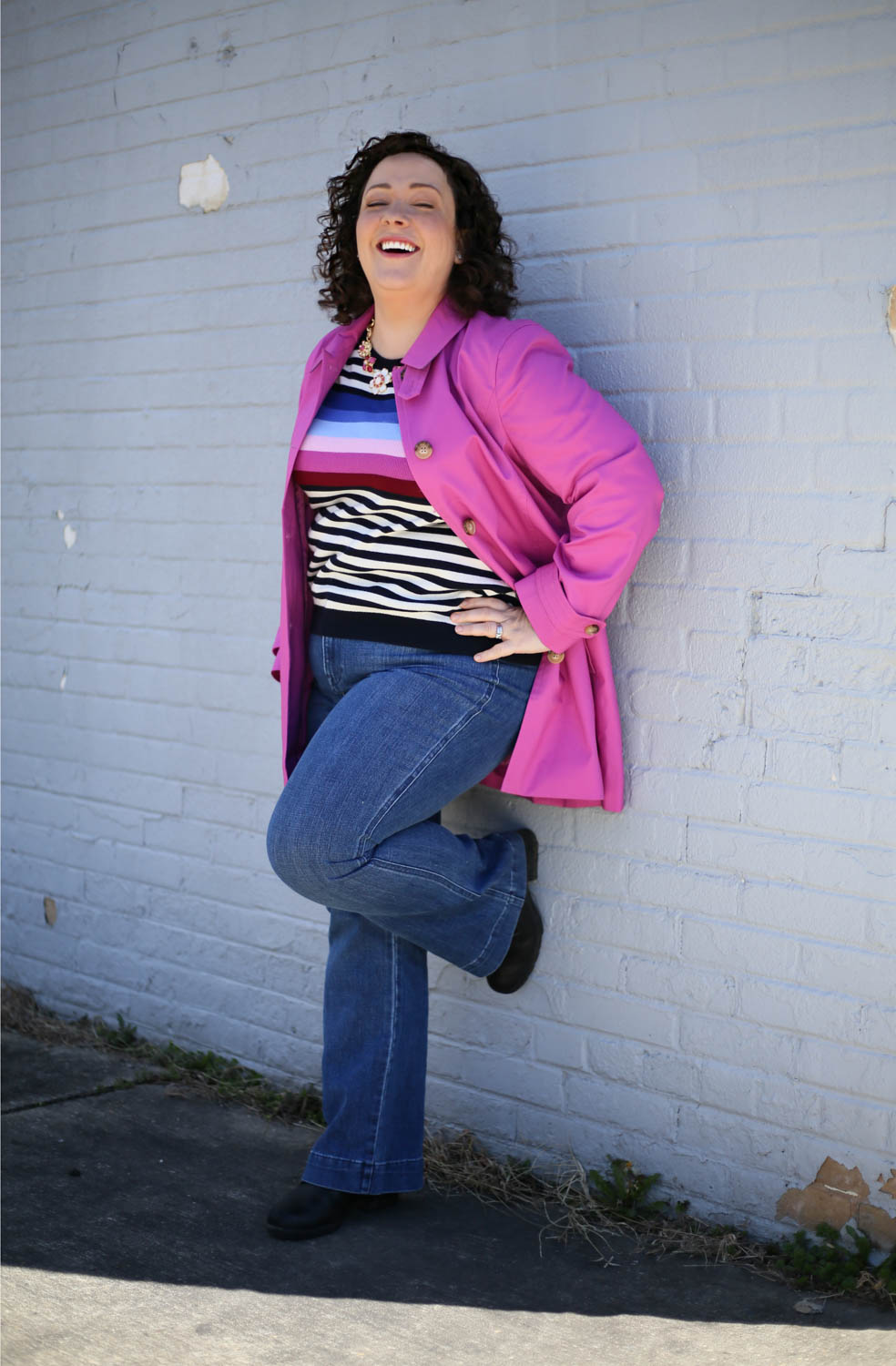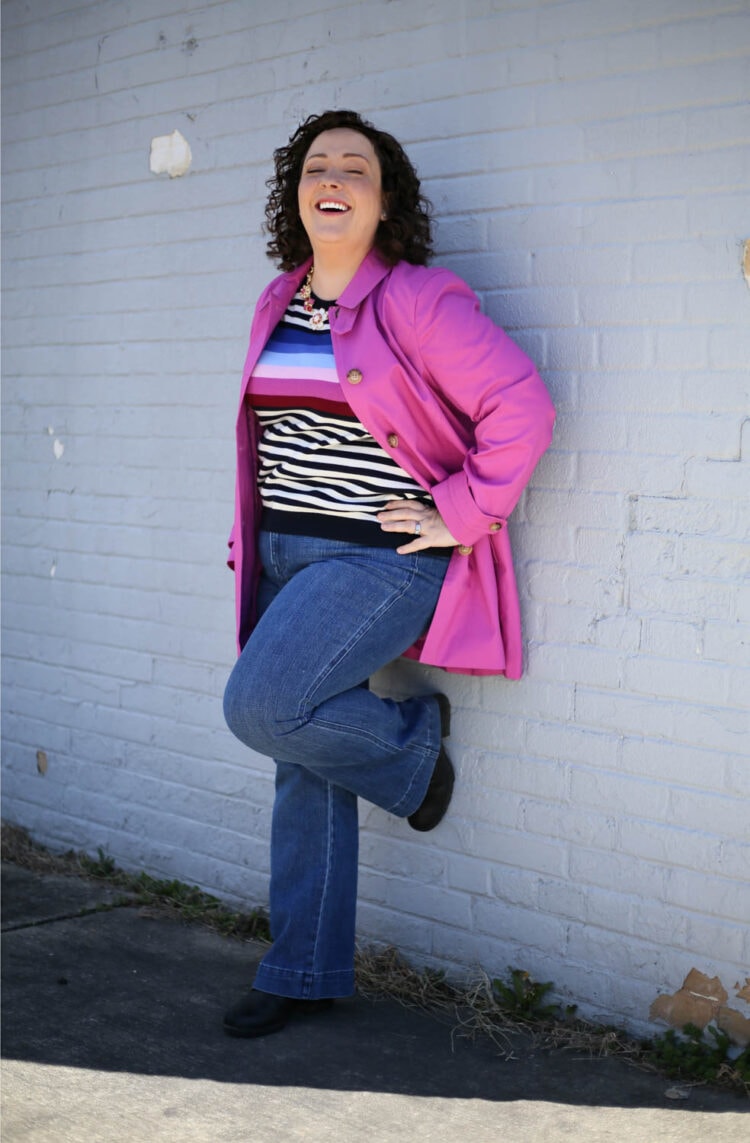 For some, it's shoes. Others? They are all about handbags. I have a friend who wears glasses and owns over 20 different pairs. My "thing" is coats and jackets, and being able to add gorgeous size-inclusive outerwear to my wardrobe is one of the perks of this job.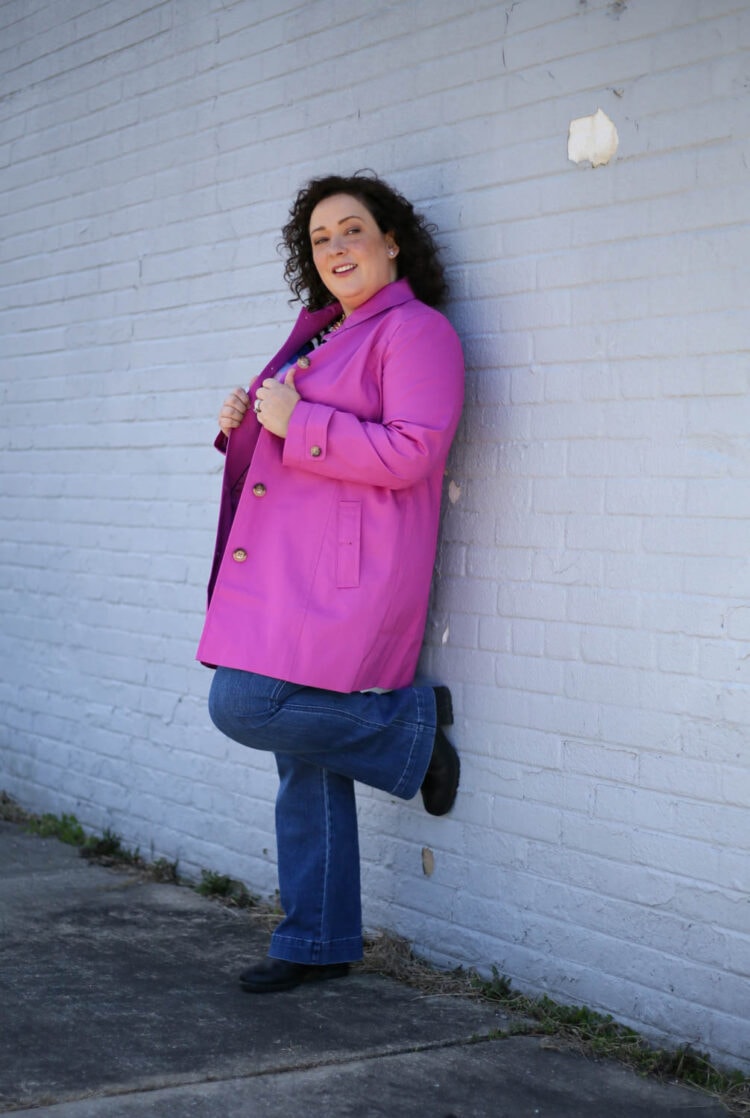 This water-resistant Mac is from Talbots and is available in Misses, Petite, and Plus sizes XS-3XL. I am wearing an XL Petite, which is roomy enough to wear over sweaters but doesn't look too boxy over thinner garments. The color is even more delicious in person.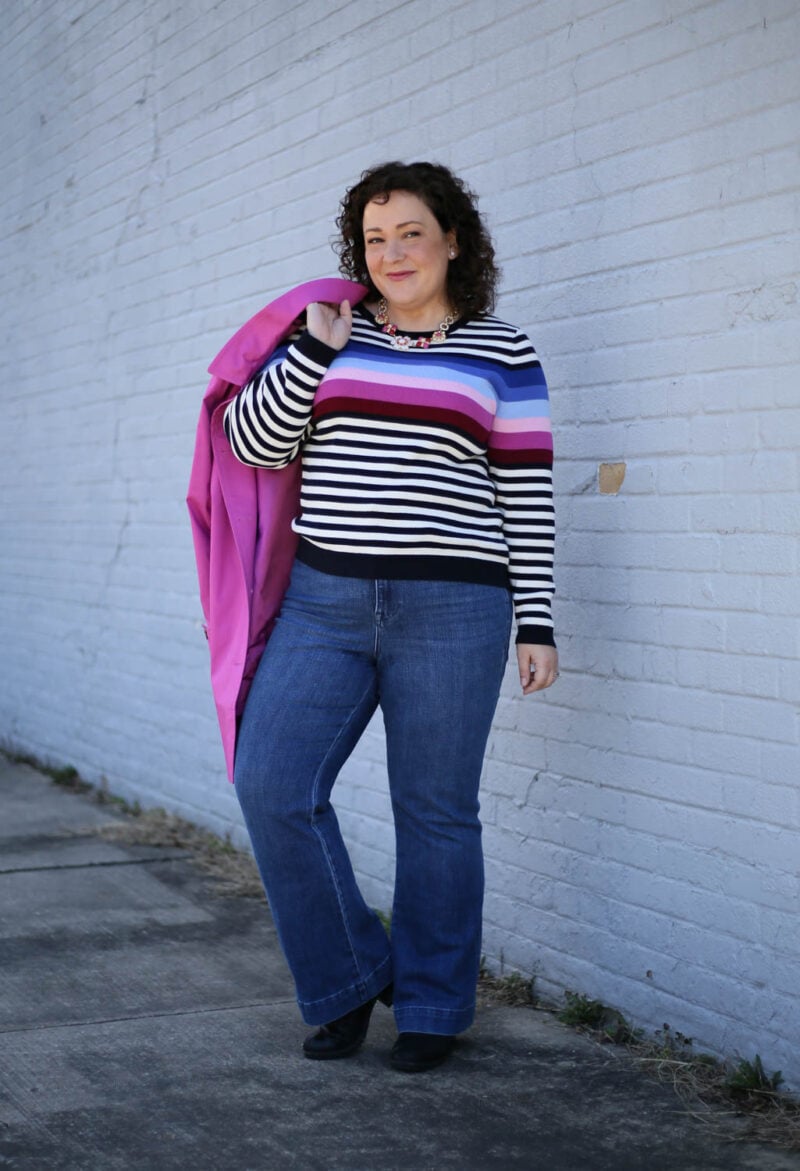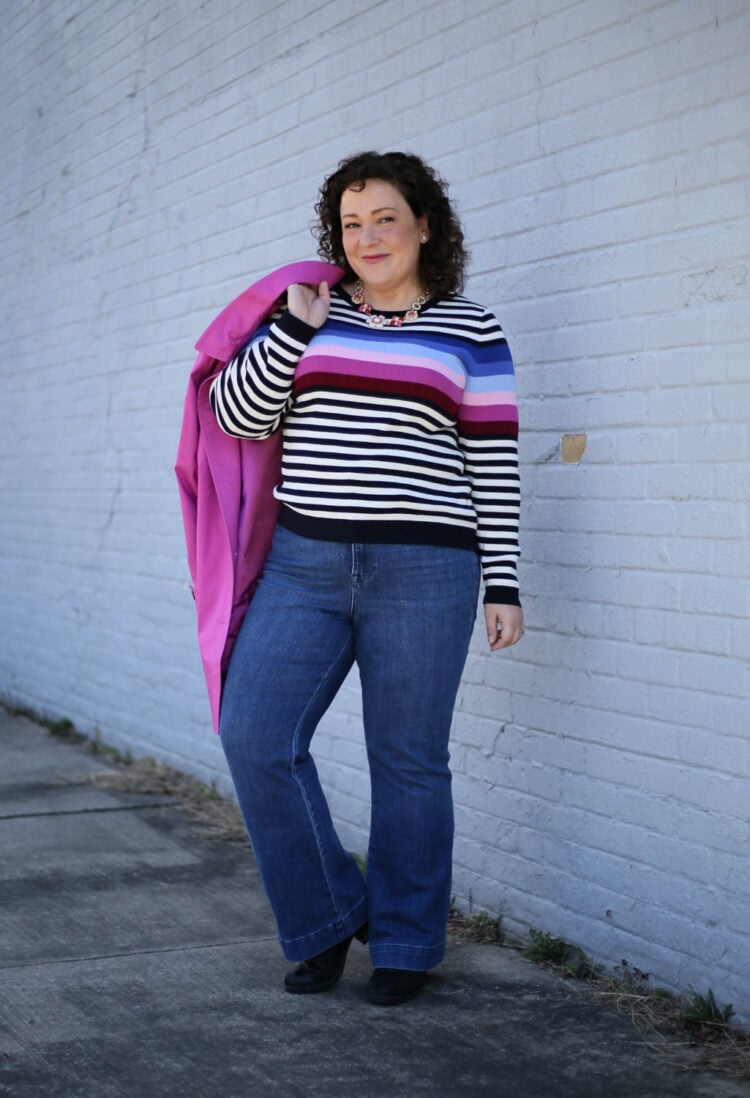 If this color isn't your thing, Talbots has the same coat in three different prints. The jacket is water-resistant; I haven't worn it in the rain but I think the weight will keep a sprinkle away, but a heavier downpour may leave me feeling damp.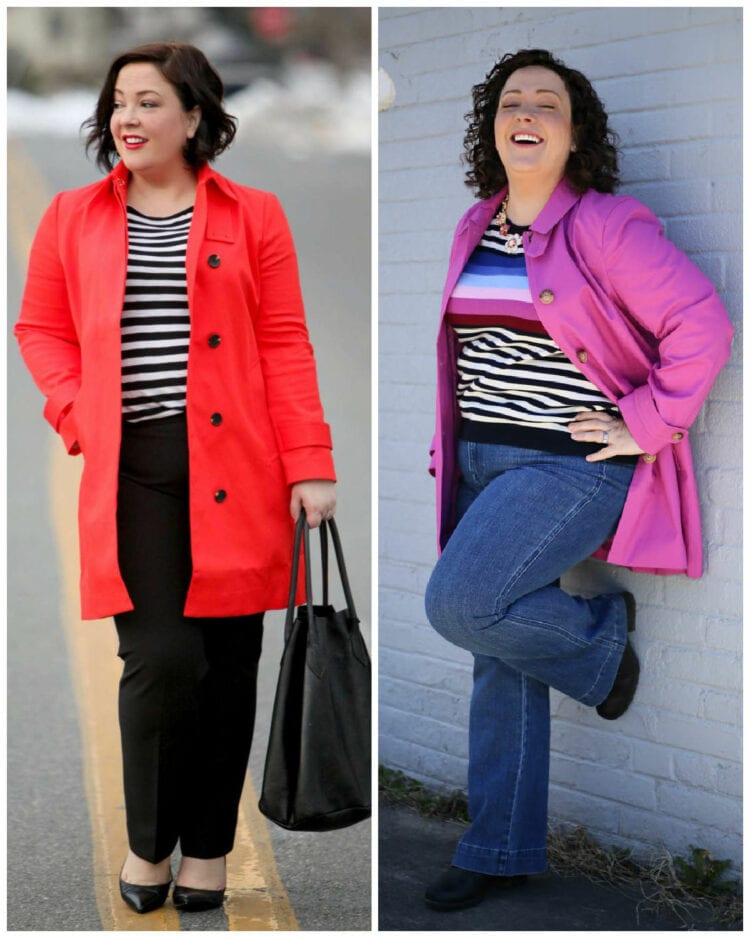 This Mac is very similar in weight to my orange trench (seen here in 2016 and seen here in 2018) which has given me many years of style and has been great for travel and spring/fall weather and has been good enough for keeping me dry when having an umbrella and doing short walks or dashes from transportation to destination.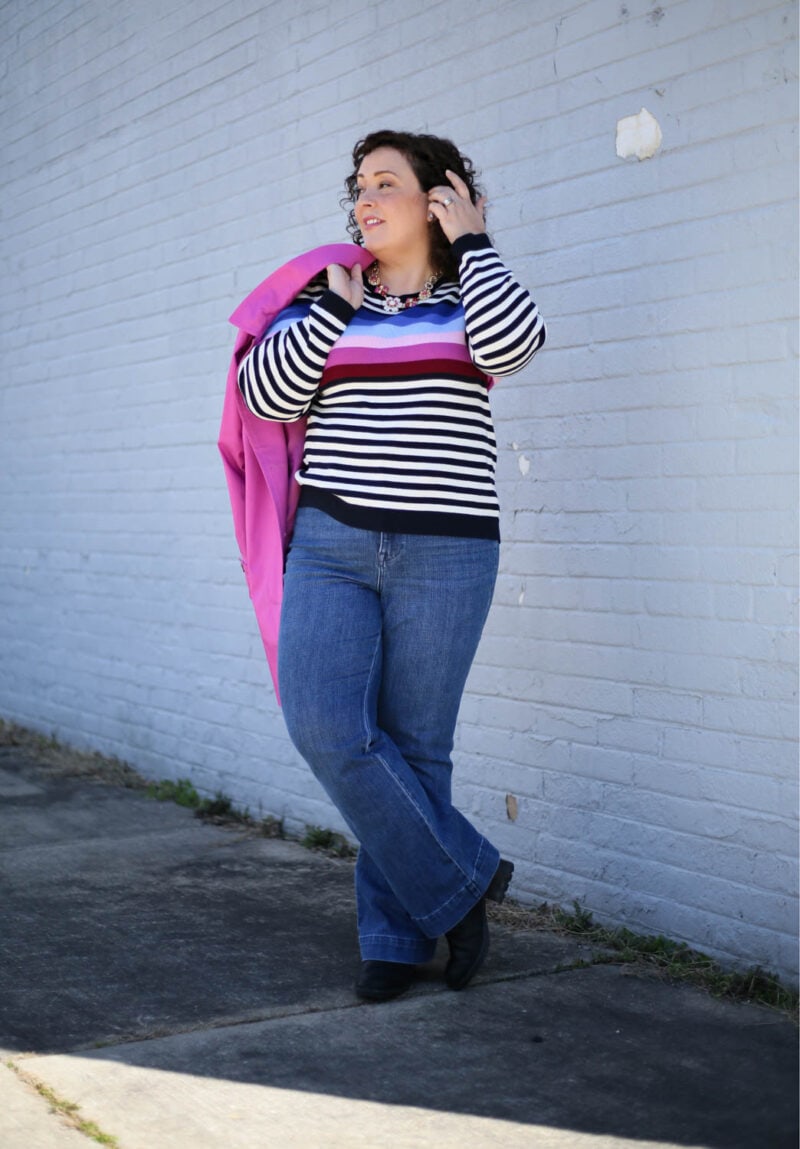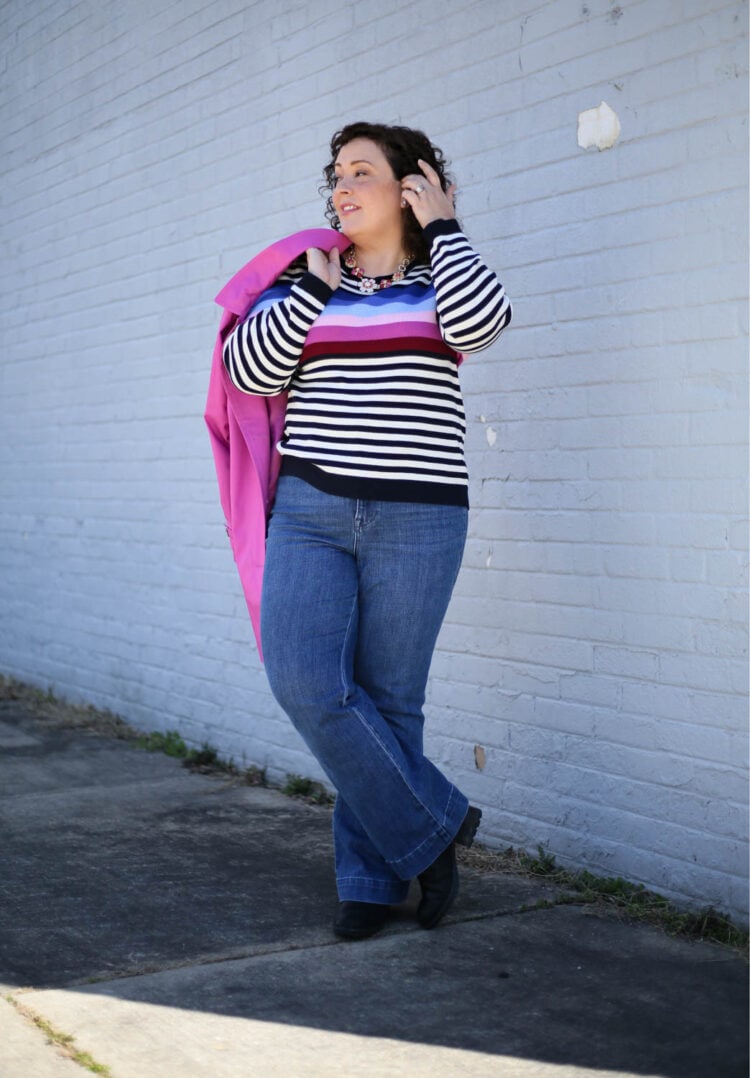 The jeans you have seen before in this blog post, this blog post, and many other situations. They have held up great, even when going through the dryer. I am wearing a 14 petite. They are on sale and sizes are limited but they have the same jeans in a few other washes (including white and cream) at this link.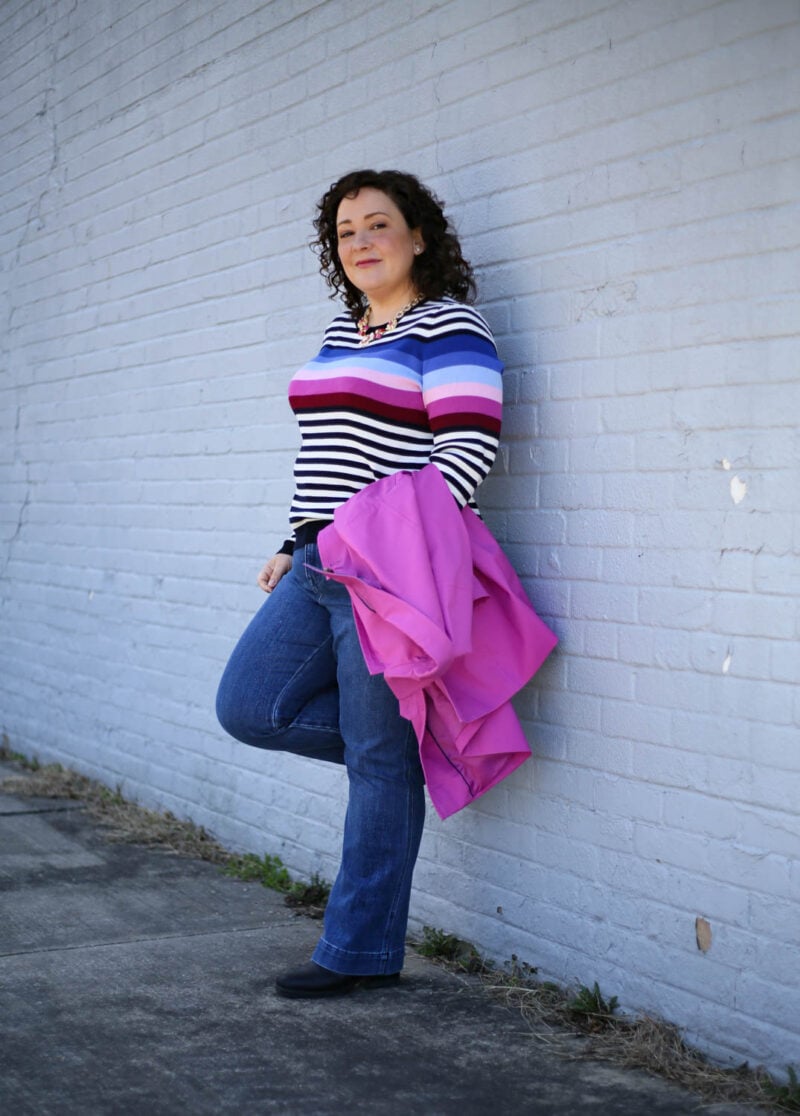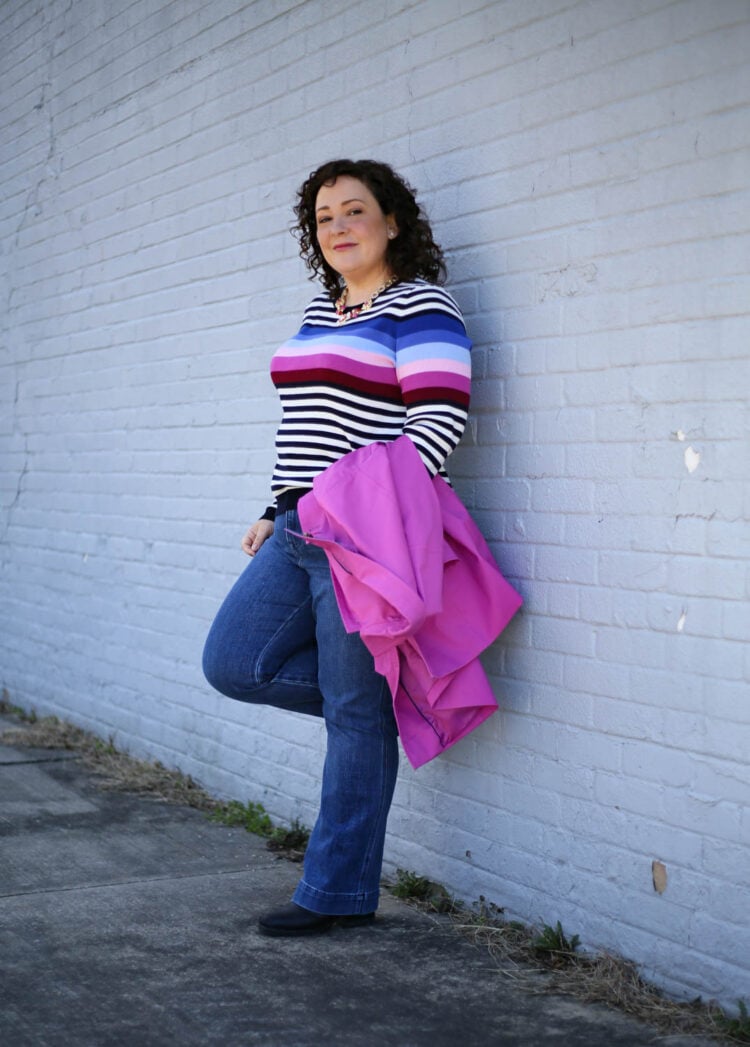 The sweater is also a new addition to the wardrobe; I am wearing an XL petite. This too has held up well to laundering and the colors are such gorgeous shades. It is called "Ivory Multi" but I've worn it with white jeans and it looks white enough to coordinate. This sweater also comes in plus and plus petite sizes.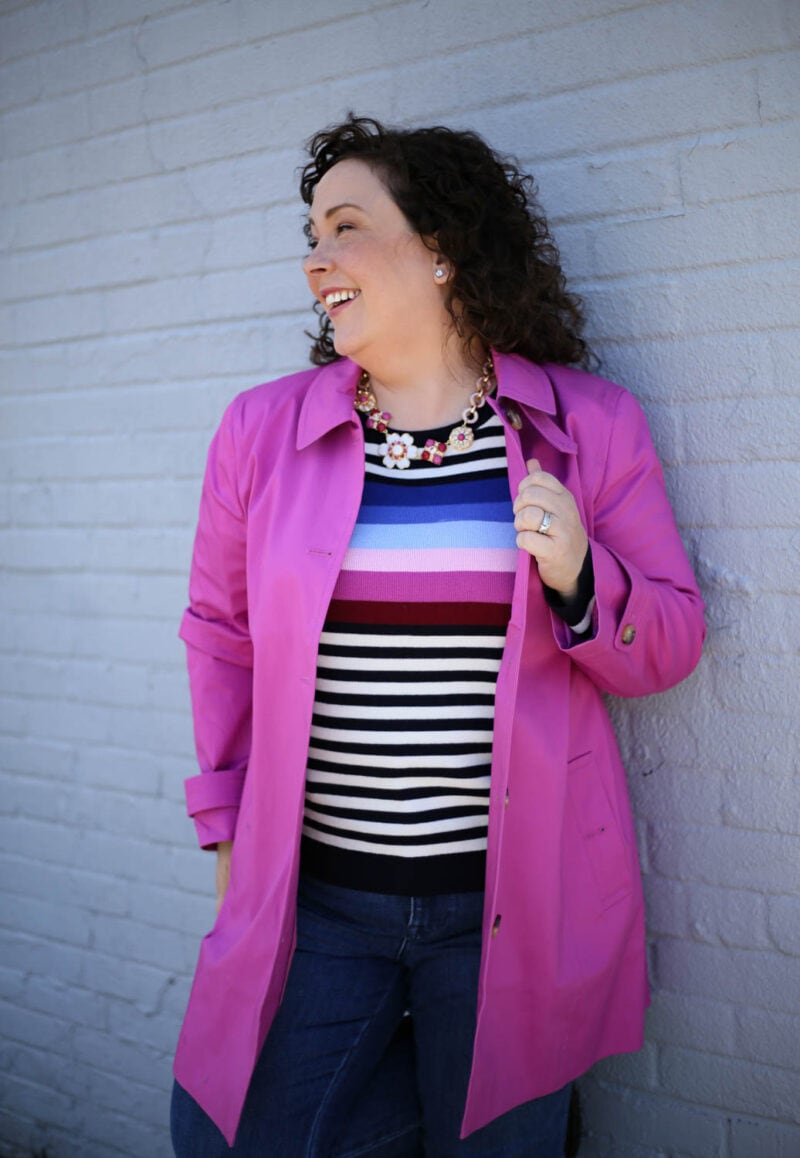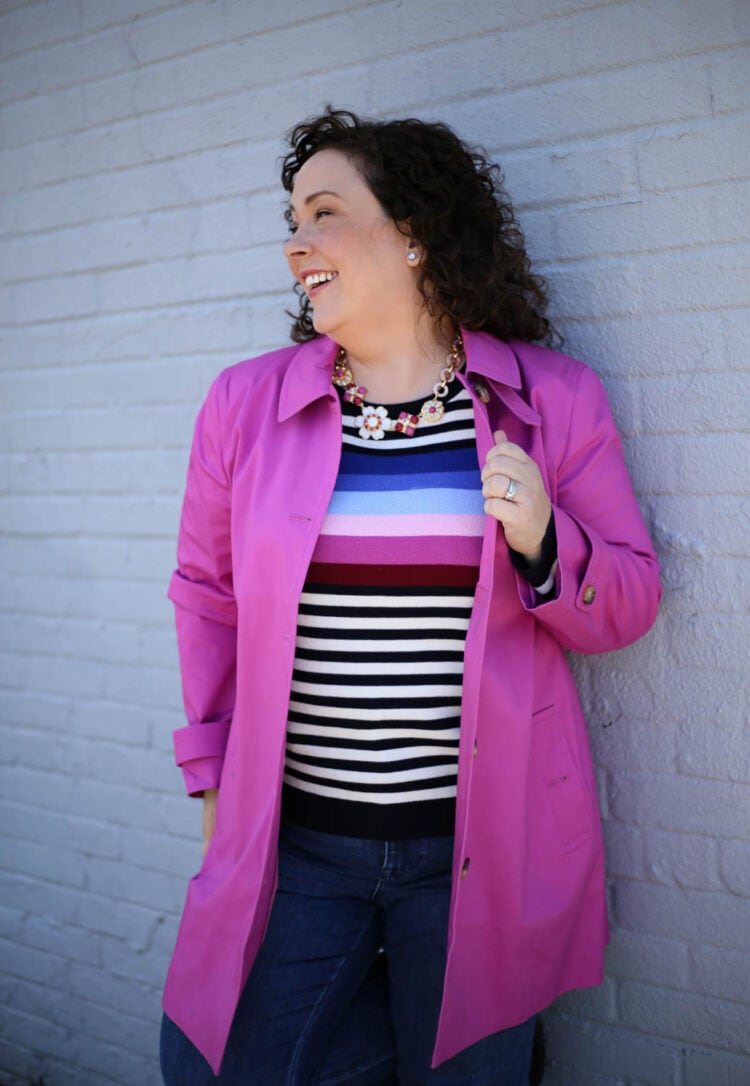 And finally, the necklace is pretty cool. It comes in a gift box with a card to make it easy to gift to a stylish person in your life, and 100% of the net proceeds from this necklace go to Dress for Success.
Shop the Post:

Jeans: Flare Jeans c/o Talbots (14 petite) | Sweater: Stripe Crewneck c/o Talbots (XL petite) | Coat: Contrast Detail Mac c/o Talbots (XL petite) | Shoes: SOREL | Necklace: Talbots Gratitude Necklace c/o Talbots