This article may contain affiliate links; if you click on a shopping link and make a purchase I may receive a commission. As an Amazon Associate, I earn from qualifying purchases.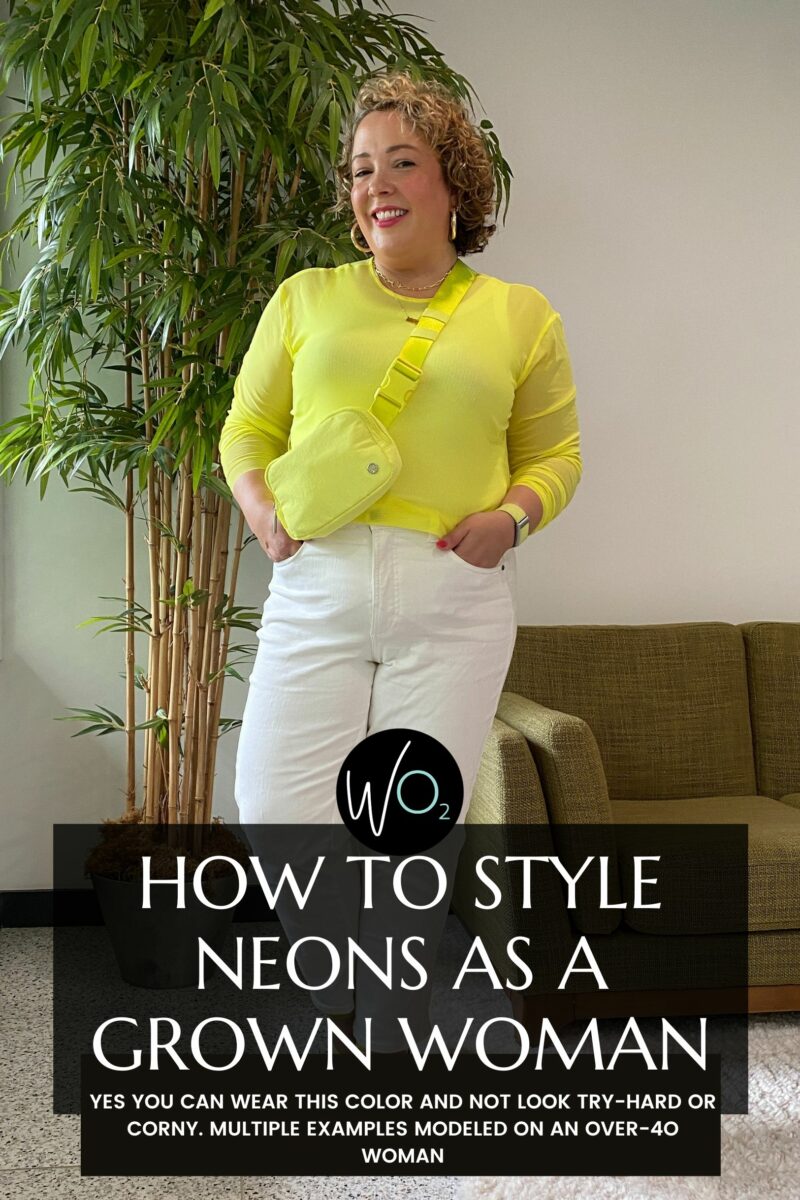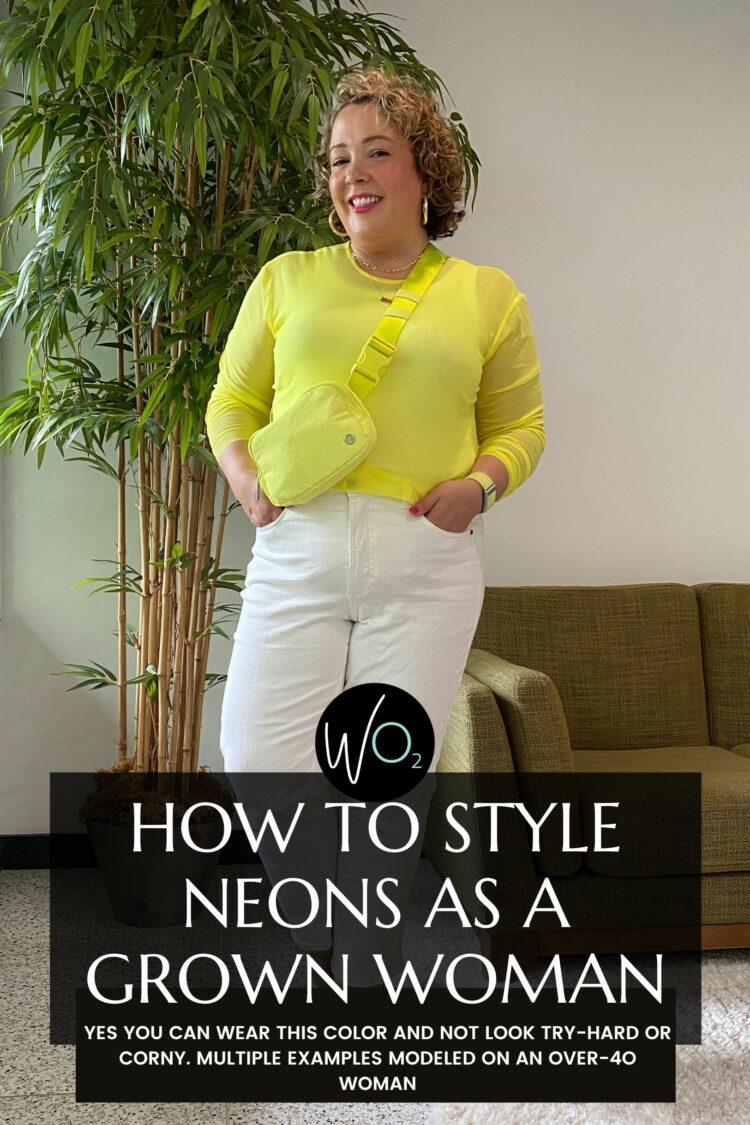 If you follow me on Instagram you know I am lowkey obsessed with highlighter yellow this summer. Actually, this love of neon yellow began last summer and has just grown in intensity. I'm thrilled to see this summer so many retailers have jumped on the neon train, as it's the perfect antidote to all the beige and earth tones that have been popular the last couple of years AND these brights look so good with those neutrals as well as black, white, and denim.
How to Style Neon and Highlighter Yellow
This summer, Universal Standard, one of my favorite retailers for quality apparel in sizes 00-40 came out with a shade they call Bright Melon but honestly, it's highlighter yellow. And you can bet I've nabbed up a bunch of pieces in this color to rock all summer and into fall. I know this is a hard color to style, and a lot of folks are intimidated by the bright shade and how it may not be one's "season" or appear to be very "flattering." I'm going to show you how to style neon and highlighter as a grown woman with some of my favorites from Universal Standard.
Universal Standard Promo Code
Through July 5th, 2023 use promo code INFS-ALISON50 at checkout to get $50 off your purchase of $120+. This is eligible on the entire Universal Standard site, including sale.
Style Neon with White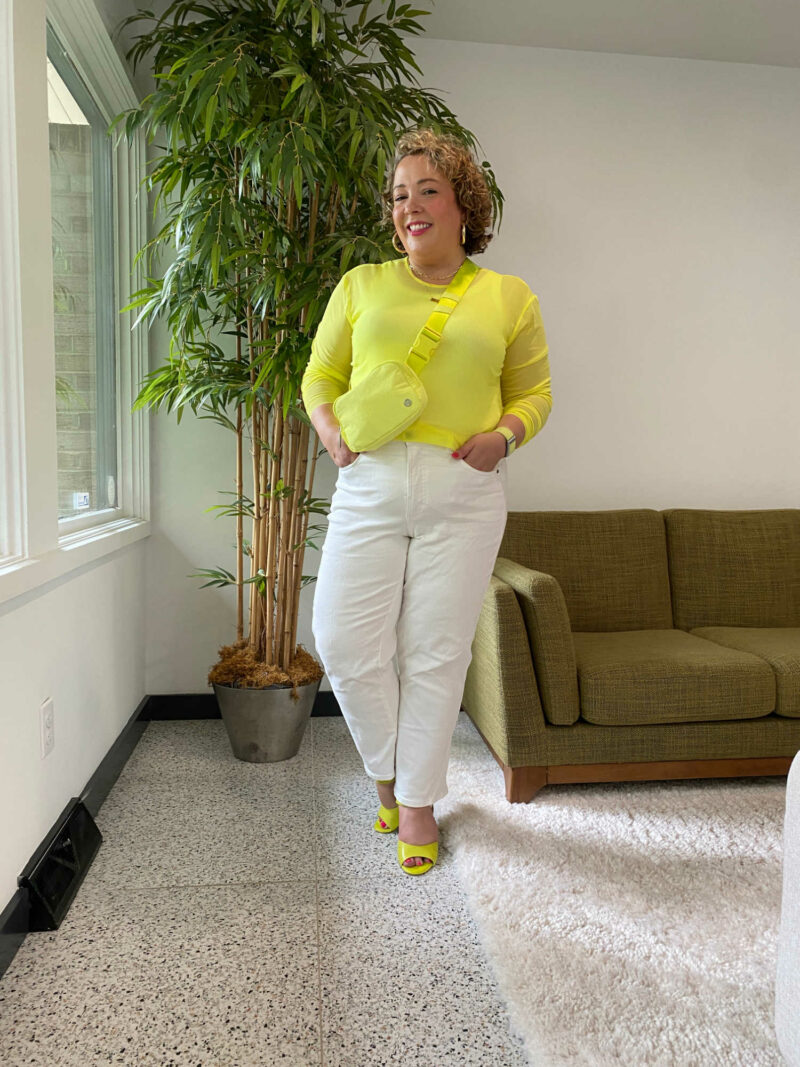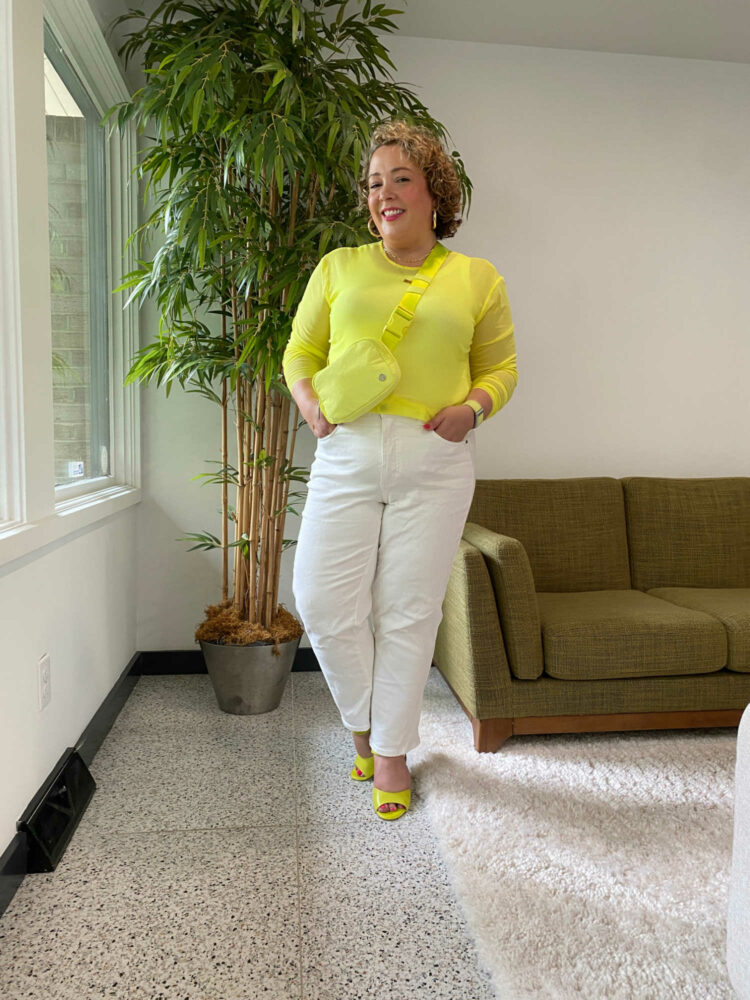 Styling the Thames Fog Top (XS) over the Roitfeld Tank (XS) with the Etta Jeans (14). The bag is Lululemon (this exact color is no longer available but you can find on resale sites like Poshmark), the shoes are SARTO by Franco Sarto.
I have been a Universal Standard customer since 2017 and bought their Thames Fog Top in black years ago… and could NOT figure out how to wear it. I think it was a top ahead of its time. So when I saw it back and in bright colors like Sanguinello and Bright Melon, I decided to get one in the highlighter yellow color in size XS.
Here I have it styled over a white tank (the Universal Standard Roitfeld in XS) and paired with white jeans (Universal Standard Etta in 14). Pairing the highlighter yellow with white tones it down and adds elegance without losing the brightness. Style over a skin-colored piece to emphasize the sheerness, and style over another color to tone down the highlighter and give a very modern effect.
I do not think it needs a base layer or to be styled over something of the same color; in fact I think that will ruin the modern vibe of this top. It doesn't even need a single other thing in the outfit to match. Neons are such a bold statement, it can be an accent like a leopard print shoe or belt, a red lip, or a metallic heeled sandal.
Envision this top under a buttoned-up suit in winter white crepe, olive green poplin, hot pink satin, a navy classic pinstripe. Try it under a beige boilersuit like this one from Target that I own (see it on me here). Come winter, wear under a cashmere sweater for both itch prevention, just a sliver of color at the collar and the mesh creating ruffles peeking out of the cuffs.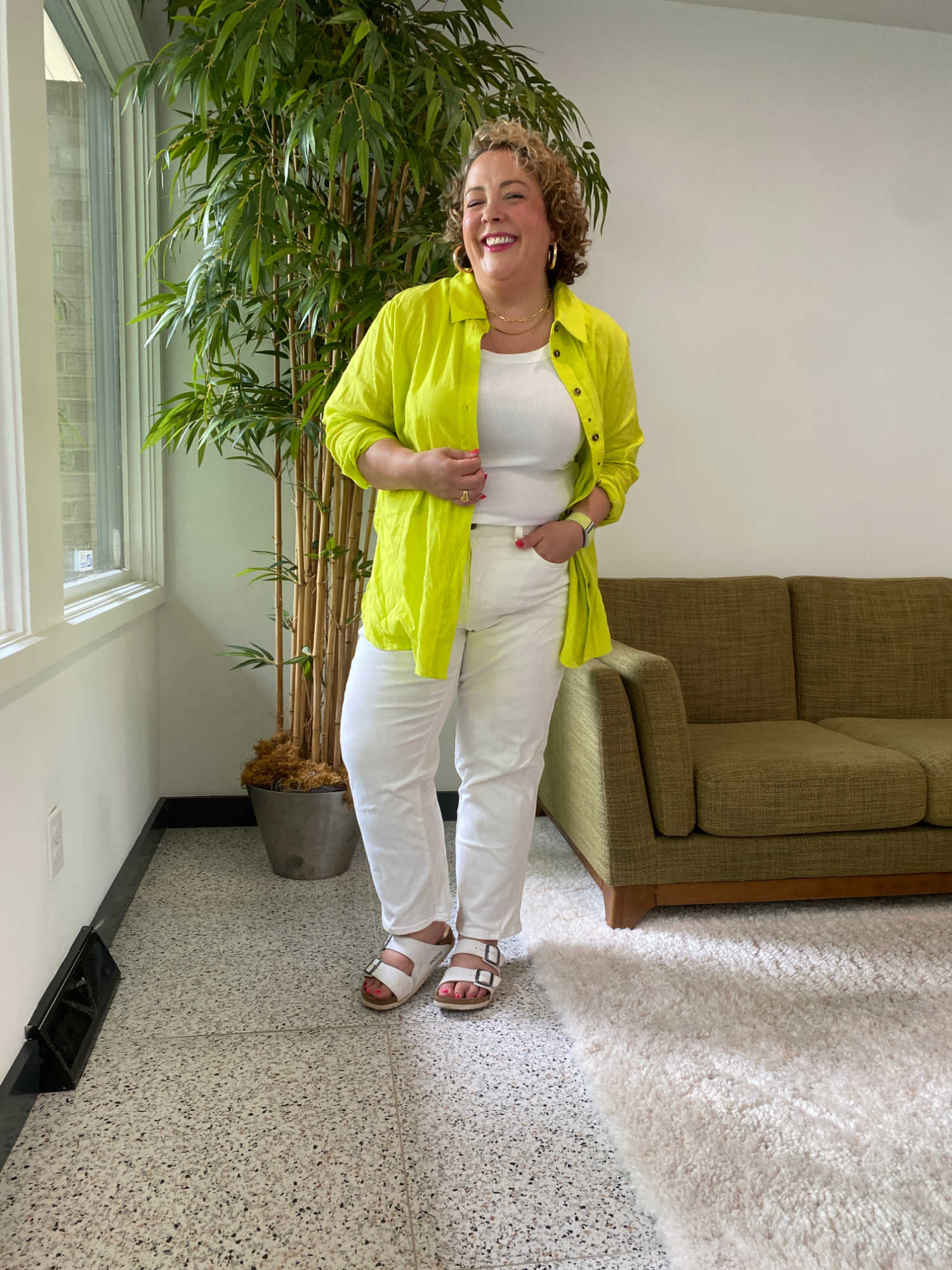 Styling the Dawn Linen Tunic (XS) with the Roitfeld Tank (XS) and Etta Jeans (14). The shoes are these from Birkenstock and I am wearing these hoops (surprisingly lightweight), this 20″ necklace from Gorjana, and this 20″ necklace from Gorjana.
Another example of pairing neon with white. This time, I took the same base white pieces from the previous outfit, and switched out the mesh top for a linen shirt (Dawn Linen Tunic in XS). You may have worn a similar look in your life, possibly with a denim or poplin version or even linen, though likely in a different color. I say why stick to blue, black, or pink when you can go bold? With the white base, the highlighter yellow looks refined, not cheesy.
By adding gold jewelry, the vibe is elevated resort. Not adding any other colors keeps the look clean, fresh, and summery. If you desire a belt, I would go with white, or keep the shine story with gold. You could elevate this look further by replacing the casual Birkenstocks with a gold metallic sandal (flat or heeled). The ribbed tank can be replaced with a more refined shell or cami (I'm a fan of these tanks from Chico's; go your size for a trim fit and up one size for a more relaxed effect without gaping under the arms).
Tying the shirt will elevate the look as well. Tie the shirt, and then button the button closest to the knot that is accessible, and then tuck the back shirttail up into the back of the shirt. The white jeans could also be replaced with white trousers of linen or cotton, anything from a slim cropped style to wide-leg floor-skimming trousers.
Go Head to Toe Color in Natural Fabrics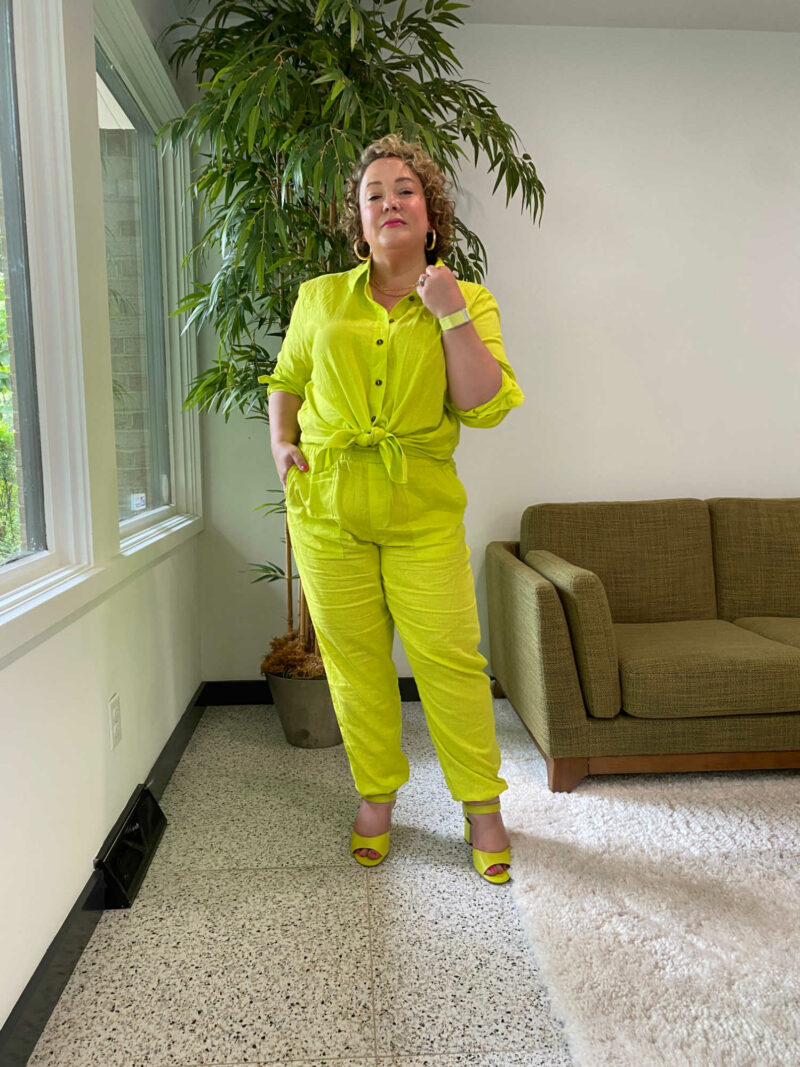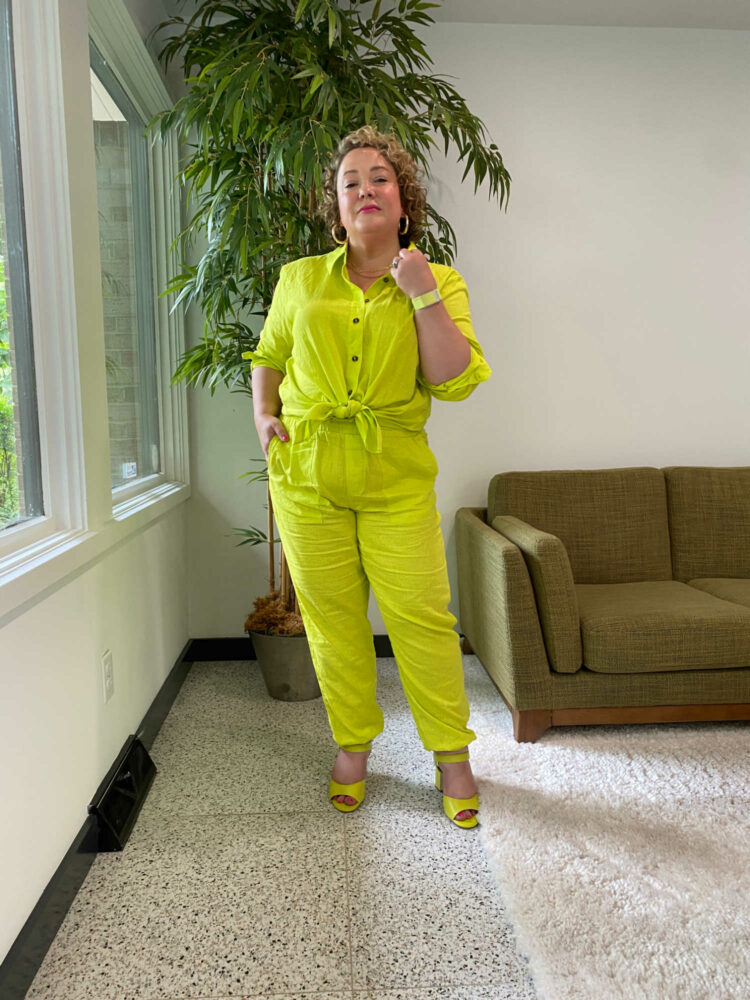 Styling the Dawn Linen Tunic (XS) with the Shoreline Linen Joggers (XS). The shoes are the same heels from SARTO by Franco Sarto. The earrings are these from Baublebar. I am wearing these undies from Soma which are seamless and virtually invisible under clothing.
Okay we're getting pretty intense with the neon in this outfit, but because it's a natural fabric (linen) and an elevated silhouette, it doesn't feel cheesy or try-hard. I tied the Dawn Linen Tunic and tucked the back shirttail up inside itself, and tucked the drawstring of the Shoreline linen jogger pants up into the waistband to create almost a jumpsuit effect. These joggers aren't too full, but roomy enough for comfort and movement, even when sitting. And this linen is a blend with subtle stretch so it doesn't wrinkle as much but is still breathable and cool. Let it get rumpled, it makes the neon color look more purposeful and surprisingly more elevated.
By having head to toe color without adding other colors or too many accessories, the neon is actually tempered. If this neon was paired with a colorful belt, or statement shoes, or a colorful layer under the shirt, it could get into Miami Vice or Wake Me Up Before You Go Go territory. But keeping it consistent, the eye doesn't see a Sharpie highlighter and reads it just like any other bright color. If you don't own matching shoes, choosing a low-contrast to your skin option (a soft metallic, a nude-to-you leather or a soft neutral like blush or rust) will keep the neon looking elegant, not extreme.
Pair Neons with Colors Found in Nature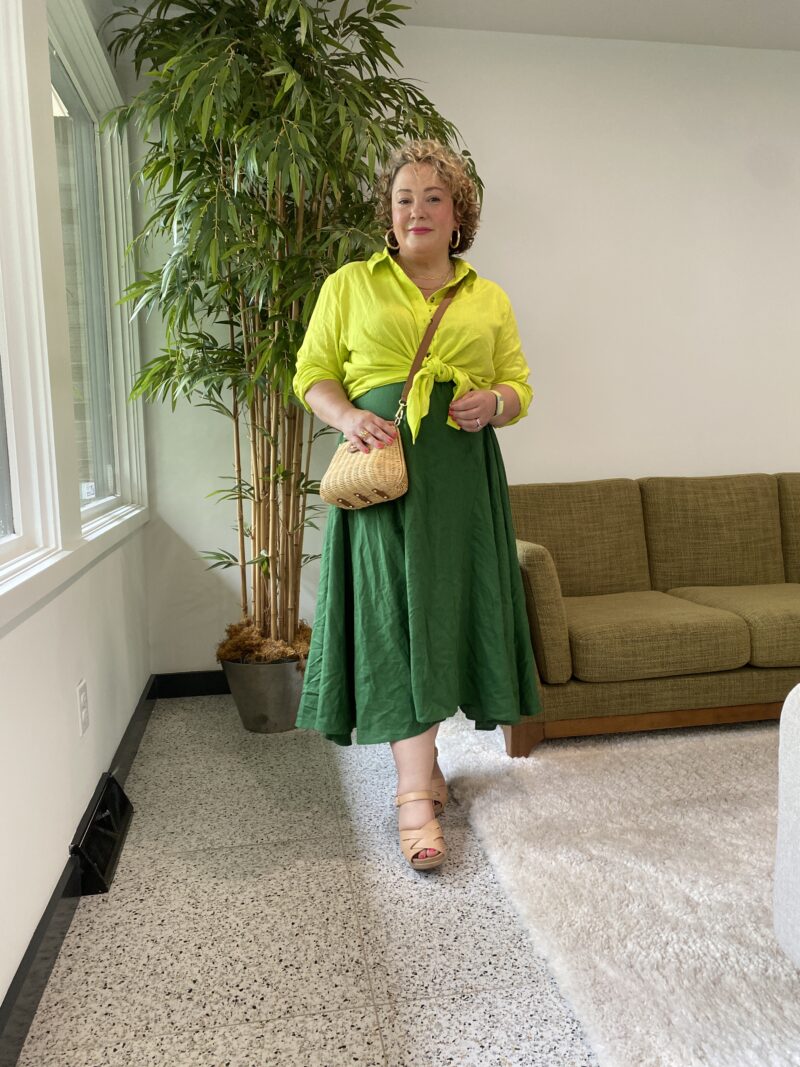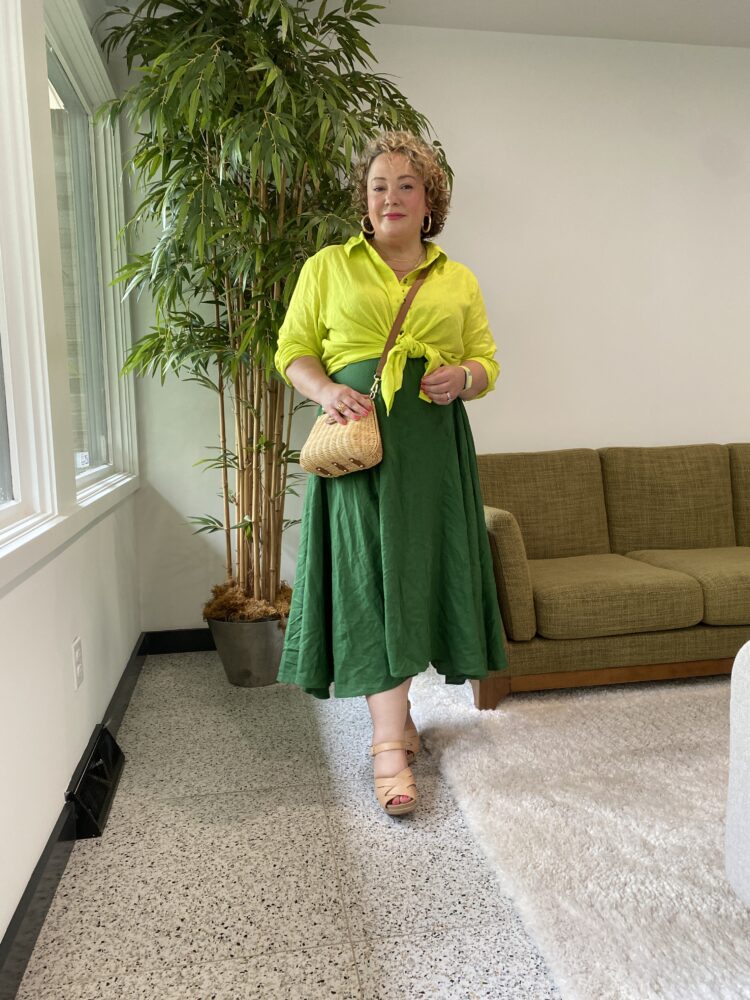 Styling the Sunshower Linen Dress (XS) With the Dawn Linen Tunic (XS), an old Talbots wicker bag (this is similar) and these Rockport sandals
For those who like to have some coverage with sleeveless dresses, my favorite style hack is tying a linen shirt over it. Have the shirt tied high near your ribcage and a trim fit so it creates an hourglass effect. Use the same method mentioned above to get the perfectly tied shirt. Casually roll up the sleeves; no need for perfect cuffs, especially with linen. In fact, the devil-may-care rolling looks more modern in 2023.
While white or black or beige are "safe" options, choosing a print or a pop of bold or neon color like this Bright Melon looks less like an upper arm apology and more like a style choice. Over a leaf green, this highlighter yellow color looks springy and fresh, not at all '80s. Adding neutrals like nude-to-me sandals and a wicker bag keeps this greenery/nature vibe going.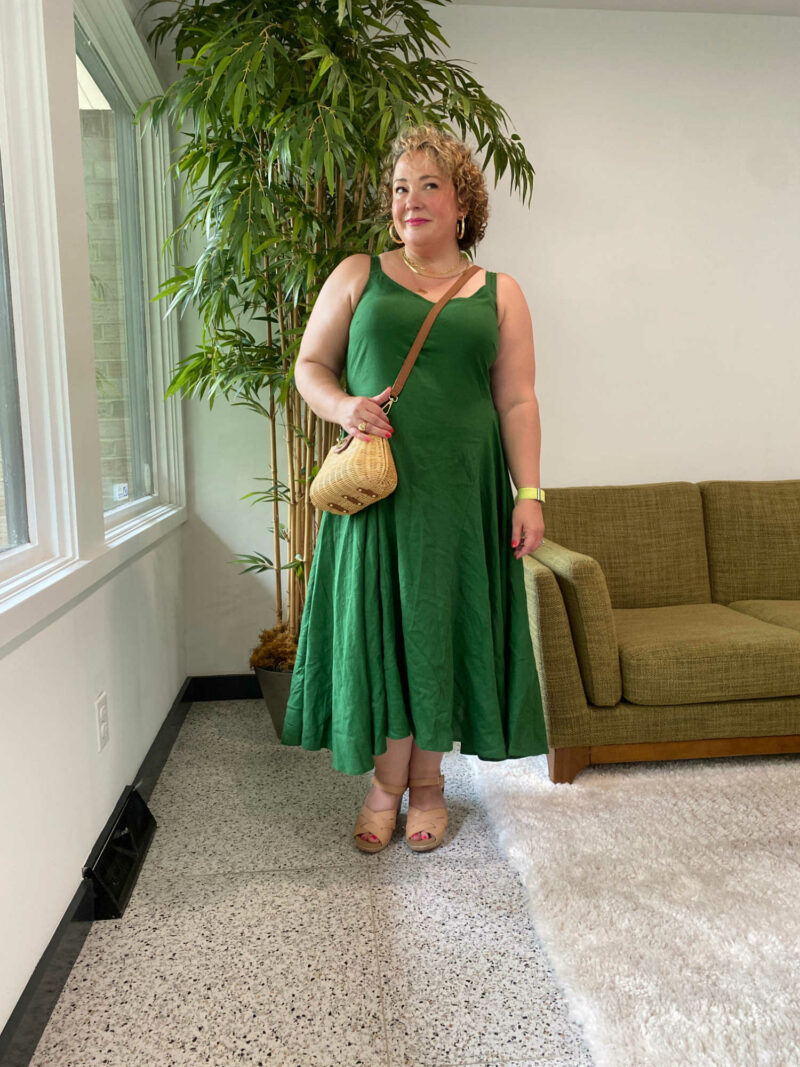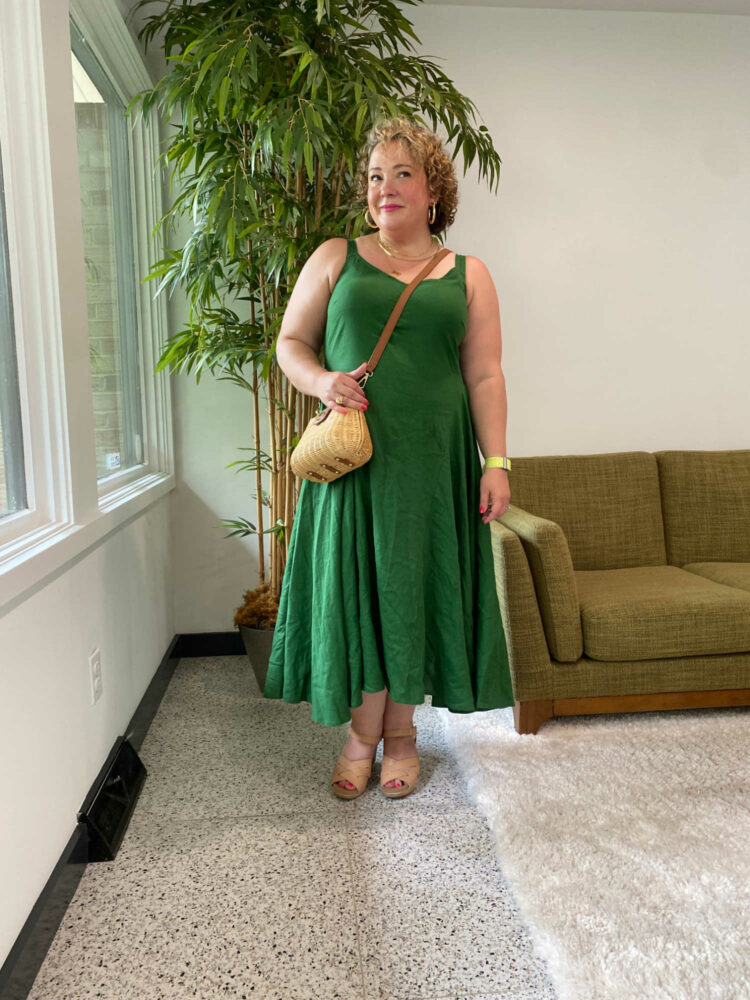 And because I knew folks would be curious about this dress, here it is without the layer. I ADORE this stretch linen dress, it has fantastic drape, adjustable straps, and covers my everyday bra. Guess what, it too comes in Bright Melon!
Pair Neons with Non-Neon Brights in the Same Color Family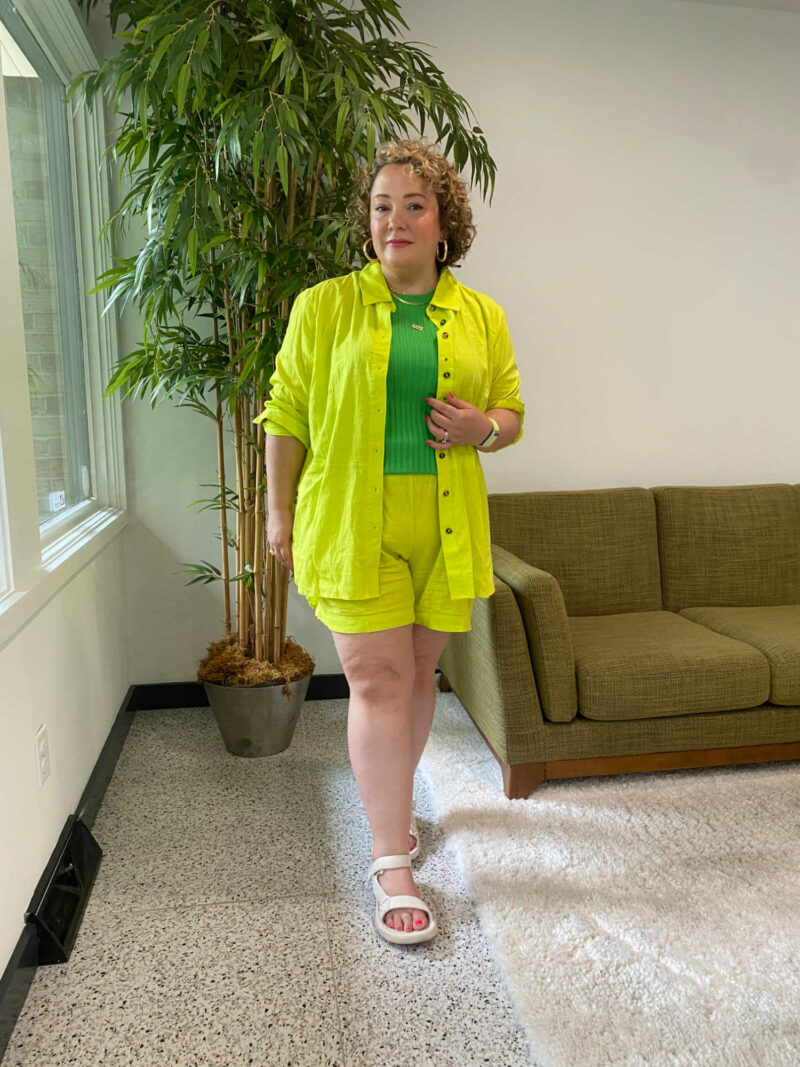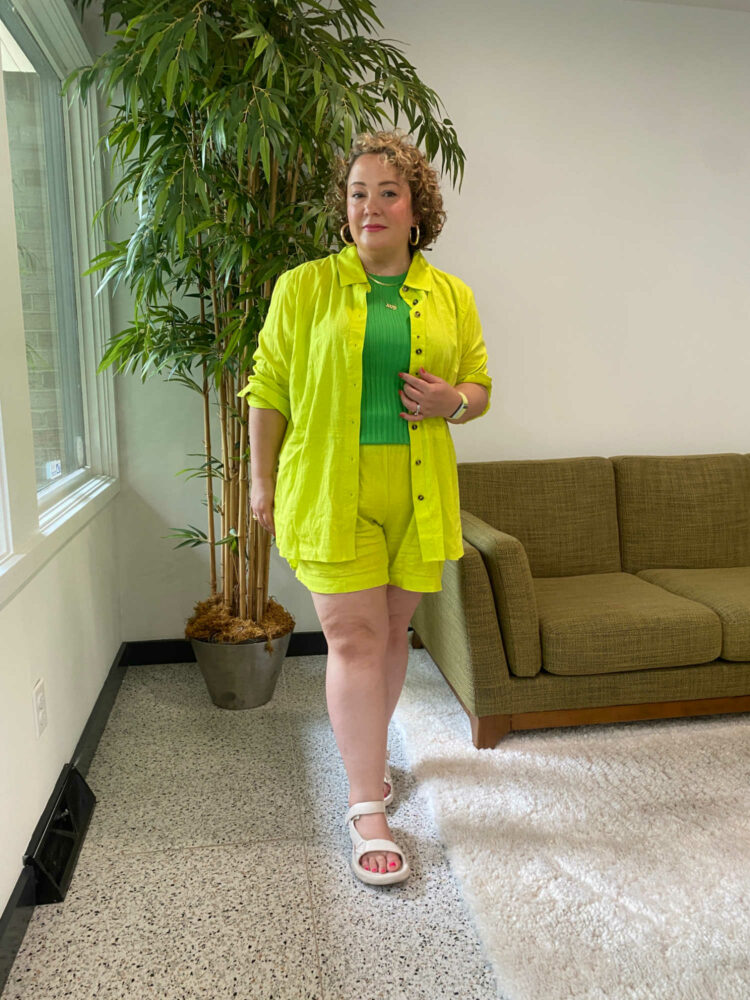 Styling the Dawn Linen Tunic (XS) with the Juniper Linen Shorts (XS, waistband folded over once) and the Knitted High Neck Tank (XS). The shoes are the Teva Hurricane Drift (wide-foot friendly and waterproof); my hoops are these from Baublebar and my 1975 necklace is from Etsy.
Two-piece matched sets are a THING this summer, and I can't get enough. A button-front top paired with pants or shorts is relaxed cool, and works for most shapes and personal style aesthetics. In linen, it's a breezy yet chic way to stay cool without clinging garments. While Universal Standard offers these two pieces in a range of colors and even a very cool stripe, I thought in Bright Melon it would be super fun.
I have worn the top buttoned up and untucked over the shorts, as seen above I wear the shirt separately from the shorts, and I have worn the shorts without the shirt, styled with a classic Breton-striped top. I have also paired this two-piece set with a variety of tanks and base layers: stripes, white, a white graphic t-shirt, lavender, and navy.
But I think neons looks really fresh when paired with non-neon colors in the same color family. Think neon pink with pale pink or red, neon orange with tomato or rust, and highlighter yellow or chartreuse with shades of green.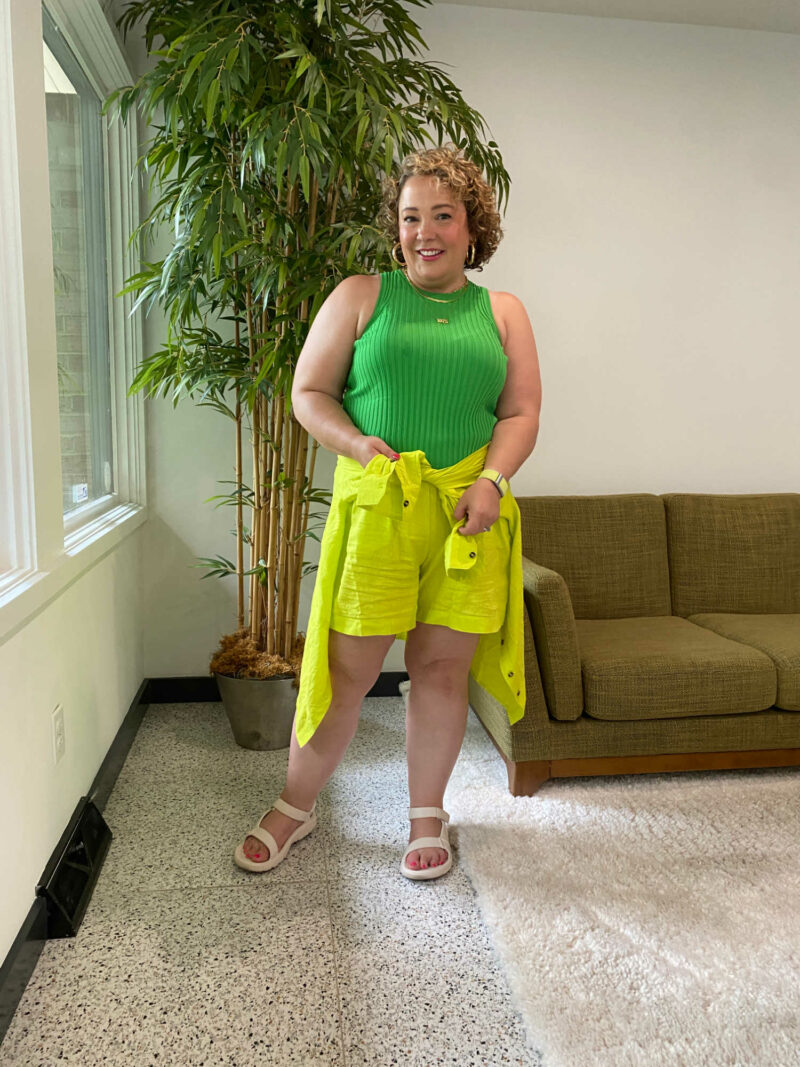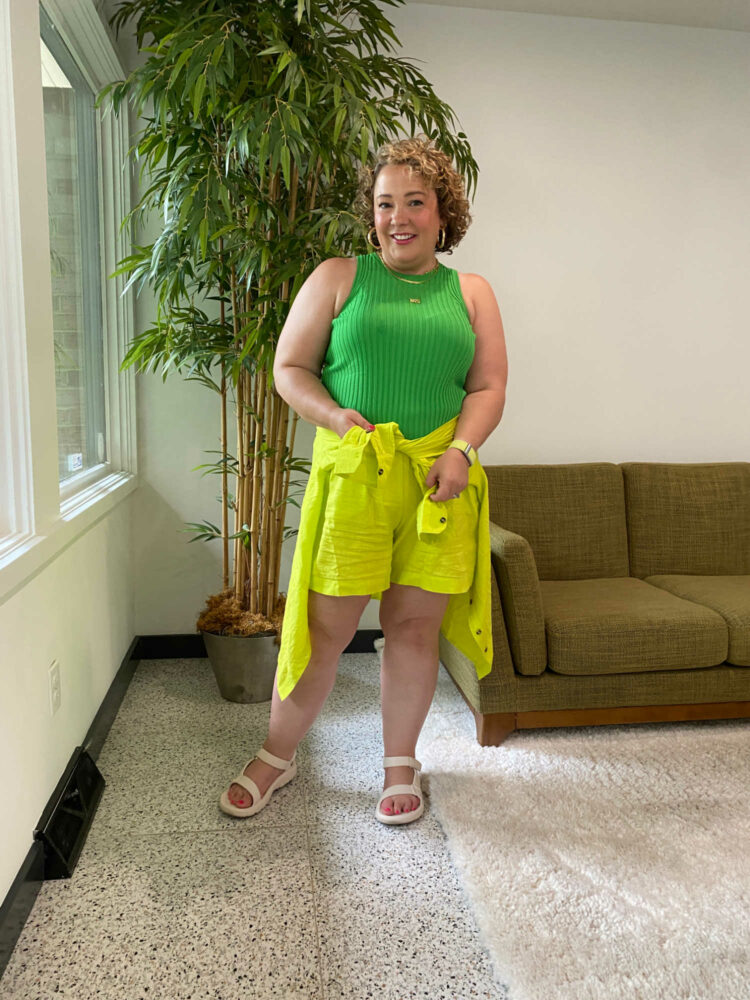 This tank has a cut-out shoulder look, so your standard bra may peek out. I am using one of these discs to take my favorite bra and make it a racerback. You don't need to buy a racerback bra for this summer's cut-out trend, though you may need to lengthen the straps a bit to accommodate the disc.
Here, I styled the pair with a high-neck elevated tank in Kelly green, again using a non-neon color to make the highlighter yellow color look less '80s and more natural. I sort of feel like a can of Sprite, but in a good way! The elevated tank elevates the entire look, making this something that could be worn to a casual office or to a summer party. You could dress it up further with a heeled sandal or dress it down with a pair of sneakers.
Styling Neon for Swimwear and Activewear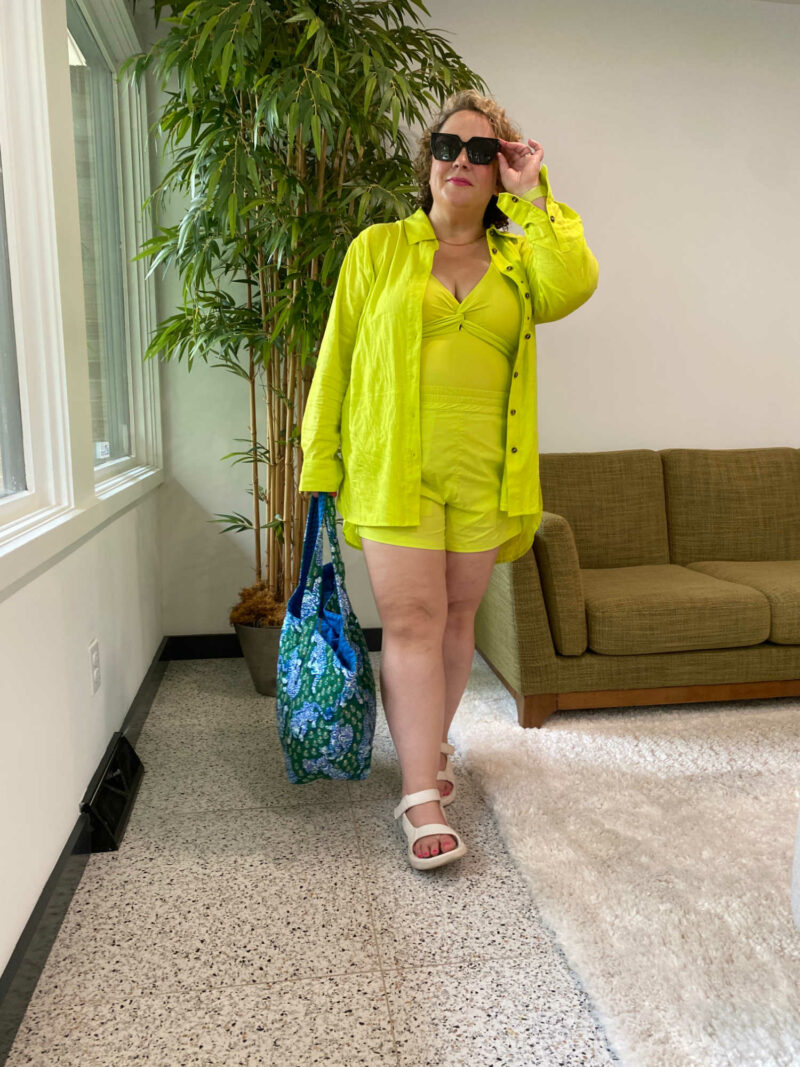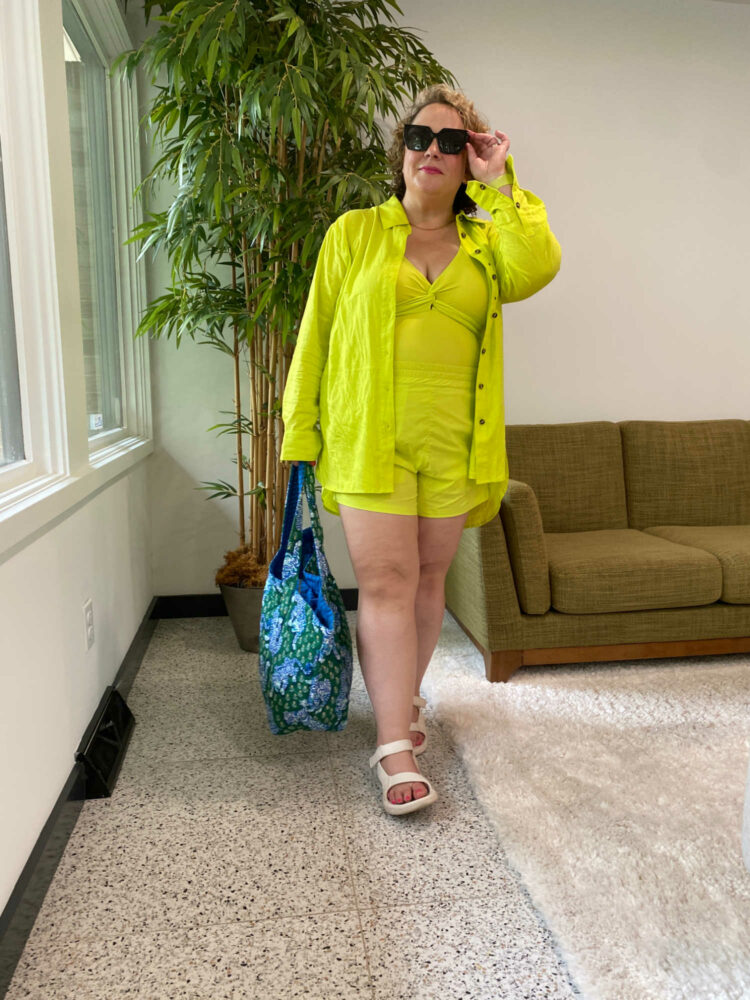 Styling The Swimsuit (XS) with the Sunny Shorts (XS) and the Dawn Linen Tunic (XS). The sunglasses are these from Amazon, the sandals are these Tevas, and the organic cotton bag is this from Printfresh. Use code WARDROBE_OXYGEN at checkout for 15% off your entire order at Printfresh.
You already saw me review this Universal Standard swimsuit, and I mentioned how it color matches the other Bright Melon pieces in the collection. I just had to show it! Universal Standard has done a great job of color matching this season; I have the Swim Dress in Jardin (review to come) and it matches the other Jardin pieces I own perfectly.
While being overly matchy can look try-hard or corny, for beach and pool looks, it ends up looking elevated and it makes the ensemble, not the figure wear it, take the spotlight. To have everything match is a MOOD, and this look is proof you won't sacrifice comfort or practicality to achieve it. These shorts brush off sand, dry super fast, and have pockets deep enough for your phone, your sunglasses, and your keys. And if this post hasn't shown you the versatility of the Dawn Linen Tunic and how it looks great even rumpled, I don't know what will.
No need to go all the way with matching shoes, bag, sunglasses, and hat. Just as with the other looks, you can temper the neon with white or neutrals (tortoiseshell, raffia, straw, wicker, and nude-to-you shades) or you can colorblock with classic colors like shades of blue (navy, cerulean, aqua, turquoise) or watercolor brights (coral, Barbie pink, orchid).
These same rules hold true for activewear. Don't be afraid of a matching neon top and shorts or leggings. You can temper the color with the same colors for swimwear. I often wear my neon pink sports bra and leggings with pale coral sneakers and a pale coral zip jacket. And I love pops of highlighter yellow with an all-purple or all-navy look.
Final Tips for Styling Neon as a Grown Woman
Yes, neon can be chic, and tasteful, and versatile. Colors like highlighter yellow are so bold, they don't have to be kept just for those who have the "right" coloring. Highlighter yellow can be a warning, or it can be an embrace of sunnier days and fun without looking try-hard. And for those who aren't down with going full-on neon fashion like me, consider a pop of neon to get things started with a sandal, a pair of earrings (I own these exact ones from Etsy), or a belt.
Neon and highlighter yellow have been on all the runways and seen in the ready to wear collections of the hottest designers. I don't see this neon trend disappearing any time soon, especially because colors like these work so well with neutrals, denim, and other colors. For example, highlighter yellow I love wearing with black, white, olive, navy, cerulean blue, Kelly green, teal, khaki, lavender, tomato, brown, and rust. From a whole dress to a pair of earrings, neon can be the boldness to give new life to your favorites in your closet. I hope these tips on how to style neon as a grown women help you try something new this season!