This article may contain affiliate links; if you click on a shopping link and make a purchase I may receive a commission. As an Amazon Associate, I earn from qualifying purchases.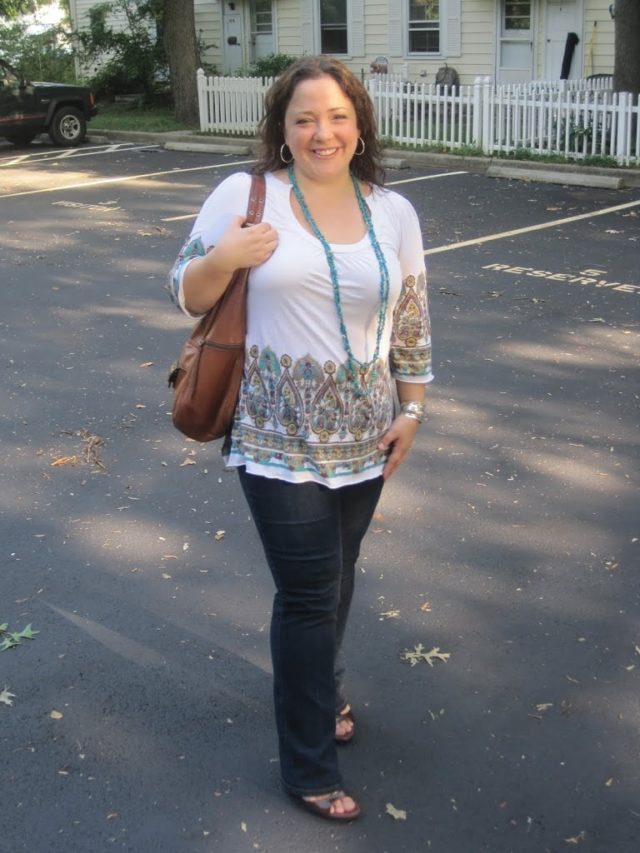 Lotsa oldies but goodies in today's ensemble!
The purse is my Banana Republic bag that I bought many years ago. I recently acquired the same one in black from a reader, but this brown one is more… casual/boho and I find it works best for my Casual Friday outfits.
The top is from Language Los Angeles – bought it last spring during the Nordstrom sale and I adore it because it's super thin knit, yet opaque. Today is surprisingly cool in DC and perfect for such a top. Jeans are the straight jeans from NYDJ, brown croco heels from Sofft, turquoise bead necklaces from H&M, silver hoops and cuff. Hair is still damp in this photo and it's as standard as standard can be with the makeup.
A reader asked me about my silver cuff. I bought it in 1997. I was in college, but had to move home because my scholarship ran out. I was working at a fraternity and sorority merchandise store off campus, but wasn't making enough. I stopped in Express for some retail therapy (back then 90% of my wardrobe was from Express) and my favorite salesperson Steph (who I have recently reunited with on Facebook – how crazy!) asked me how work was. And I told her. And she told me to apply for a job. A week later I was sitting in the Center Court of Laurel Mall with the District Manager of that Express, telling her why I should be their next Assistant Manager-in-Training. I remember what I wore – a black pinstriped sheath out of suiting fabric, and some super chunky black slides from Steve Madden (it was the '90s! This look was hot!). I felt the interview went well and to celebrate, I went into Hecht's to buy myself a present. I saw this silver cuff, it was on sale for $35. I bought it.
And I got the job. That was the beginning of my retail life – I ended up with Express for over five years, working my way up from part time assistant in training to full time management to becoming a visual merchandiser for the one of the busiest locations in the region. After that I got the idea for Wardrobe Oxygen and a couple years later started my blogs.
Maybe the silver cuff was my good luck charm which got me the job. I do know that it was my first piece of jewelery that I didn't lose or break within a year. I have had it for 13 years – it has traveled around the globe with me, been worn for some of the biggest events in my life. I think every baby that has been born into my family or one of my friend's families has played with it. It has gotten a bit bent and scratched over the years, but it is lightweight, contoured to my wrist and like a part of me now. Since having it, my jewelery tastes have adjusted to fit with the cuff – modern, big, full of impact. I think my wardrobe has also changed to work with it. May be a which comes first – chicken or egg sort of thing, but over the past 13 years I have seen my wardrobe get much cleaner lines, solid colors, very crisp and often modern. When I do like details, I see that I go for the hippie/boho sort of look, which also works with the silver cuff.
So that is the story of the silver cuff!