This article may contain affiliate links; if you click on a shopping link and make a purchase I may receive a commission. As an Amazon Associate, I earn from qualifying purchases.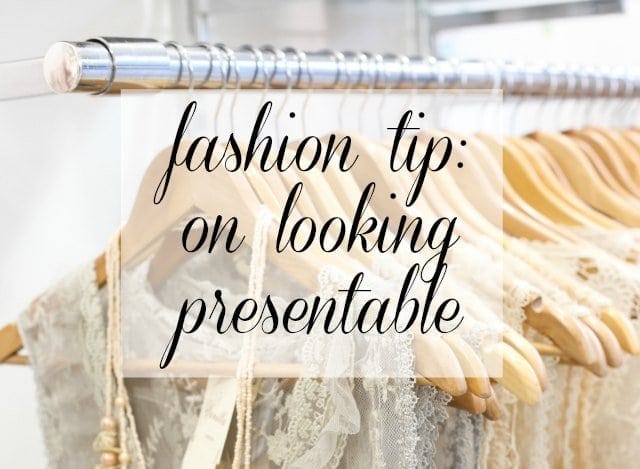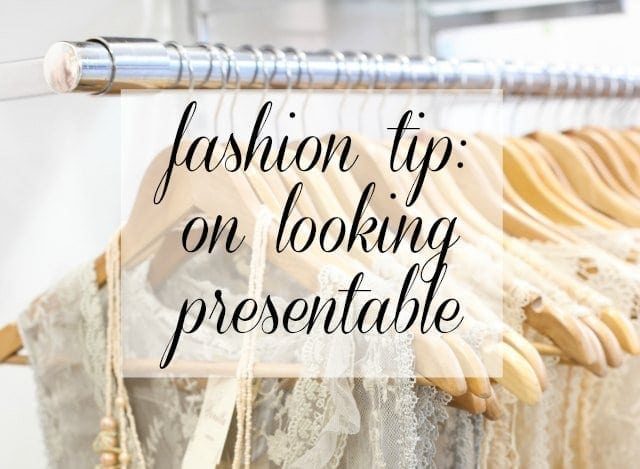 I was IMing with a friend on yesterday. We were discussing makeup. I was telling her about this new product I bought at Sephora last week that I have fallen in love with because it makes my skin have a healthy dewy glow without looking shiny. She said that she only uses makeup to look dressed up, and she believes she can "look presentable" without makeup when she doesn't have breakouts.
Looking presentable, what does this mean exactly? I know many women who keep items in their wardrobe because they find them to be "good enough," that they may not be the most flattering, but if they wear that piece they will at least "look presentable."
My friend met me for drinks last week after work. She is a high-powered attorney who spends the majority of her days in the courtroom. She met me at the bar in a collared shirt that looked to be washed a few too many times, a pantsuit that was a size large due to her recent weight loss, a low ponytail with sideswept bangs and no makeup. She did look presentable……
Looking presentable is right up there with a little bit pregnant, technically married and all those other fibs we tell ourselves. No one is providing an award for the largest wardrobe; why keep things in there that do not look great? If you look at yourself in the mirror and think, "well I guess I look presentable;" you are not doing anyone a favor. Presentable is just a step above horrible. Presentable means no one will stare at you in the grocery store, but no one will really notice you either. You won't look like a mess, but you won't look like yourself – a respectable, intelligent and attractive person who cares about herself. What image was she portraying to her client, to the members of the court?
We discussed this over glasses of wine. She admitted she hasn't been sleeping well, she didn't feel prepared enough for this case, and felt a bit depressed about the whole day. The bright point of the day was the end when she could meet her girlfriends for happy hour. She admitted that the suit was looking a bit frumpy since her weight loss, but hadn't gotten around to taking her better suits to the cleaners. And as for the top, she regularly considers donating it but figured it's "nice enough" and it would be waste to get rid of. She chose to wear it that day because she hadn't gotten around to laundry and was out of shirts.
I know many of you women are nodding to this. We all have tops in the back of our closet that we hang on to for days like this and bags of dry cleaning that sits in the trunks of our cars. We hold on to clothes that are too small or too big "just in case," and have drawers of stained and snagged sweaters for those days when we have nothing else to wear. We hit snooze a few times too many and have no time to do our hair, let alone apply mascara. Life is too hectic to get all this done.
Would you help your child with his homework, and rush through it, feeling confident that he will receive at least a C on the assignment? If you invited guests over, would you just wipe down the bathroom with a wet paper towel and not use cleanser because it would at least look clean? If you went to a restaurant and received your dinner to find out it was not what you ordered, it was cold and it was a dish you dislike, would you shut up and eat it because at least it was food and it was achieving the goal of filling your tummy?
I hope you would say no to all of these questions. There is no need to compromise when it comes to the important things. You want your house to be clean, you want your child to be successful, you want your money well spent. You are willing to drive an extra few miles for the better grocery store, wake up an hour earlier than usual to take your kid to swim practice, lose an hour of sleep at night to clean the house for guests the next day. Why then are we so lackadaisical with our appearance? Why do we feel that just a passing grade is okay for us but not for every other aspect in our life?
Toss that sweater that became misshapen the last time it was washed. Those pants that are a hair too short should be donated to a person shorter than you. If you don't have the time in the morning to do your hair, then wake up 15 minutes earlier. Which will make you have a better day, 15 minutes of sleep or being pleased with your reflection in glass doors, windows and the bathroom mirror? It's better to wear the same well-fitting pair of pants three times in one week than switch them out with a disaster of a pair. No one will comment on a sweater being worn repeatedly unless it is unattractive. But one day in a bad outfit and people will notice. So don't just be presentable, be great. Get rid of that which holds you back from greatness. A great wardrobe would let you dress in the dark and still come out looking lovely. A good haircut will require minimal time in the morning, and a good skincare and makeup routine will leave you with attractive and fresh skin; all which is far better than just being presentable.