This article may contain affiliate links; if you click on a shopping link and make a purchase I may receive a commission. As an Amazon Associate, I earn from qualifying purchases.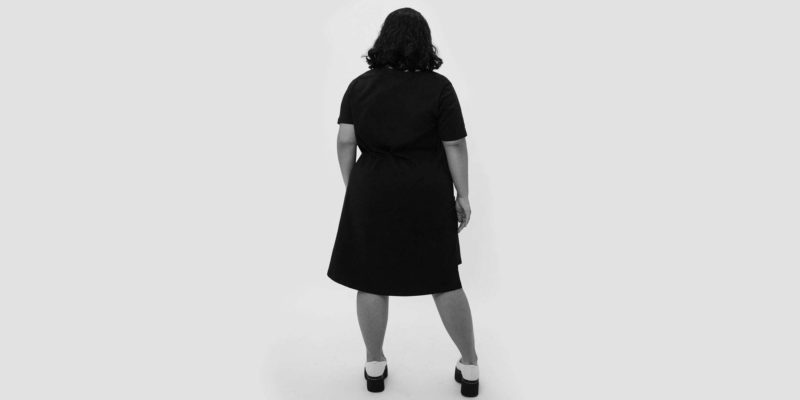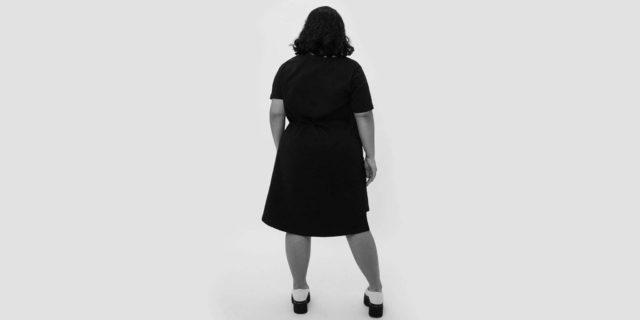 I don't think I've ever written a blog post with an exclamation point before, but this one deserves it.  I don't recall when I learned about the clothing brand Universal Standard, but I was instantly obsessed.  As a larger size, I was frustrated by the style and quality selection. I loved clean, minimalistic looks with an edge but the brands that offered such looks didn't carry sizes large enough for my frame.  I also had a hard time finding well-made pieces in quality fabrics; there's so much fast fashion in plus sizes and I wanted to build a quality wardrobe.  Universal Standard offered everything I was looking for, but the sizing was often off for my 5'3″ frame.  So yes, I am super psyched for the launch of Universal Standard petites!
Last week, Universal Standard brought me up to their New York showroom to interview me about being petite.  What were my shopping pain points and what did I wish that Universal Standard would sell in petite sizes.  I also had the opportunity to try on some of their petite clothing and I was THRILLED!  The pieces fit so well!  Some of the pieces I tried I have in their regular sizing and they're… okay but always seemed off.  In petite, they hang better, they go in and out at the right places, and really flatter.
UNIVERSAL STANDARD PETITES COLLECTION
I have the Geneva dress from Universal Standard, they sent it to me about a year ago.  It looked like the perfect spring and summer dress – throw on with some sneakers and look effortlessly cool.  However, on me it looked awkward.  I wore it in one outfit post but had such a hard time trying to find the right shoes with it.  Flat shoes and sneakers looked dumpy with the length, and the booties I wore with it was very try-hard.  At the Universal Standard showroom, they had me try on the Geneva in petite.  GAMECHANGER.  NOW I got why this dress was so popular!  It draped in this amazing way that made my curves look fantastic.  The asymmetrical hemline was more obvious, with the short side at my knee and the long side hanging at the perfect point on my leg.  THIS was a dress I could throw on with sneakers and look effortlessly cool!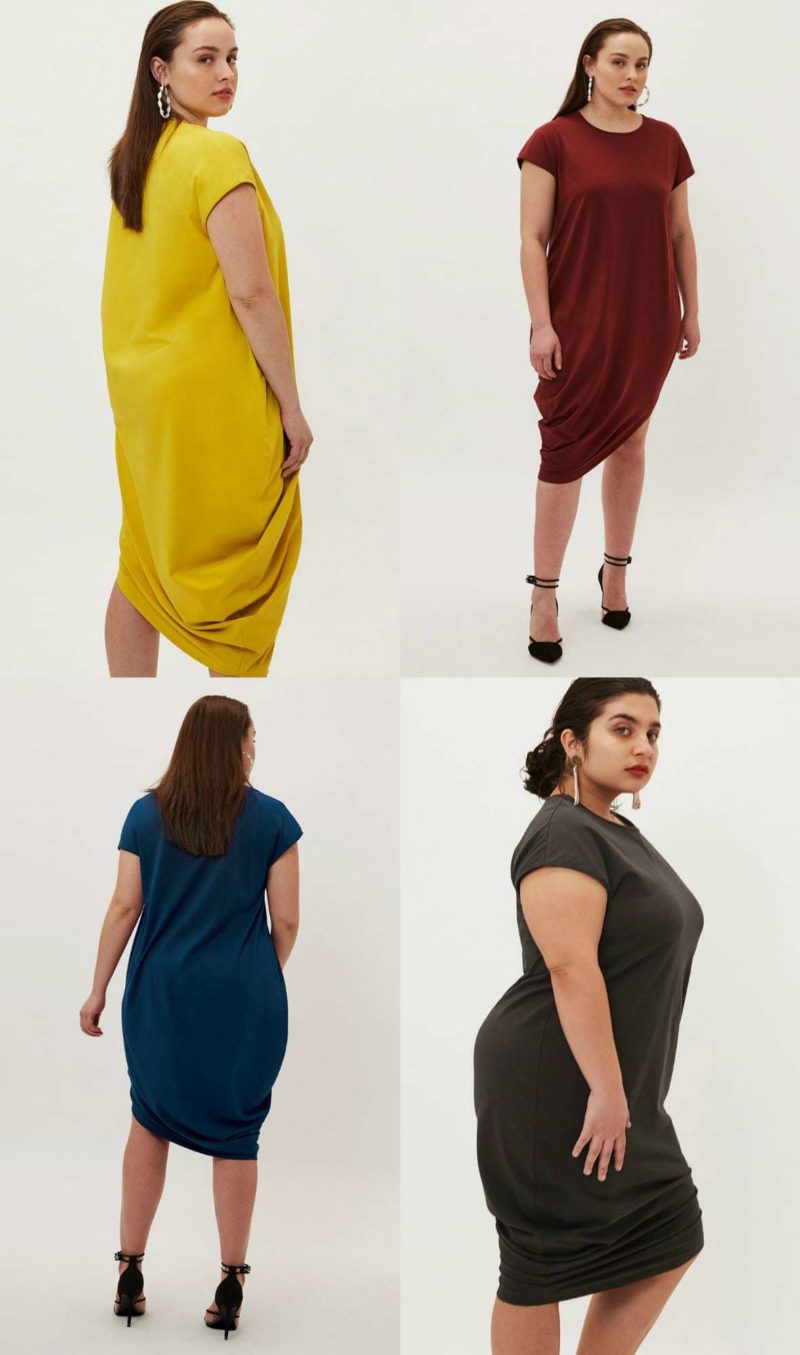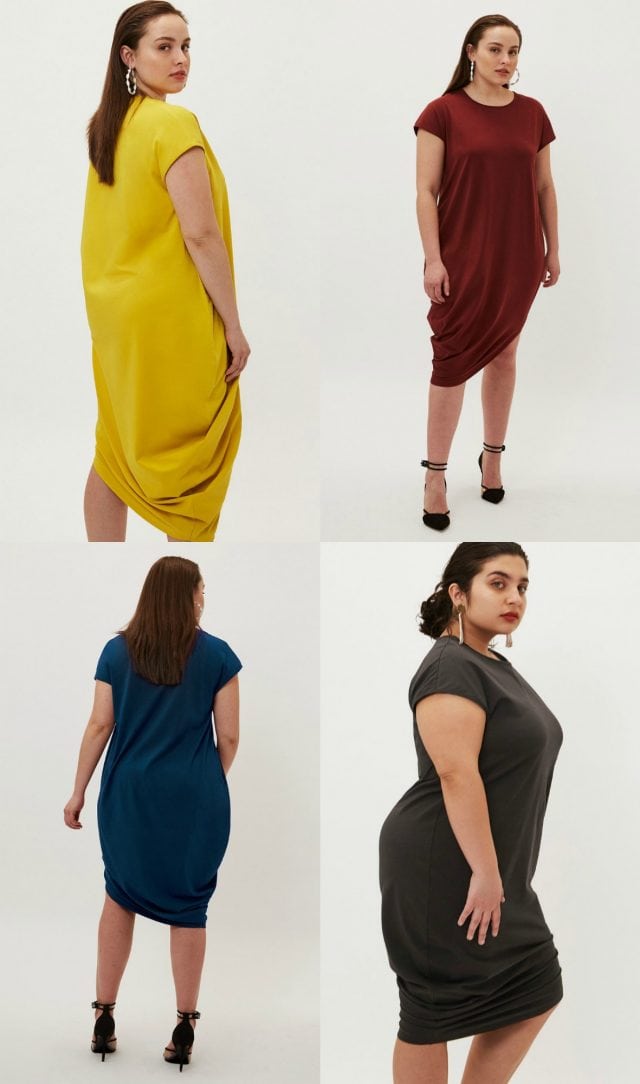 The Geneva dress is available in petites in seven different colors.  Those of you who have tried Universal Standard know the jersey is phenomenal and the design details really make this dress stand out from other t-shirt dresses.  Expect to see me in this dress a lot this summer.  It can also dress up for the office with heels or nice sandals, looks great under a jacket, and in black and some of the other colors could glam up for a special event. On the Universal Standard website they provide detailed measurements for each size to help you find the right fit.  I looked at the video of the model in this dress so many times because it was thrilling to see a body that looked like mine strutting around all fabulous on the Universal Standard website.  You don't realize how few bodies are out there that look like yours until you actually see them! As an FYI, I tried the petite Geneva dress in XS and liked it, it was more form fitting but not in a body con/not cool for work way. Comparing to the photos above of the women in the Geneva, I think the XS fit me most like the lower right photo and if I went with S it would fit more like the red. I find this with a lot of Universal Standard, you can vary between two sizes depending on if you want a more fitted or relaxed look.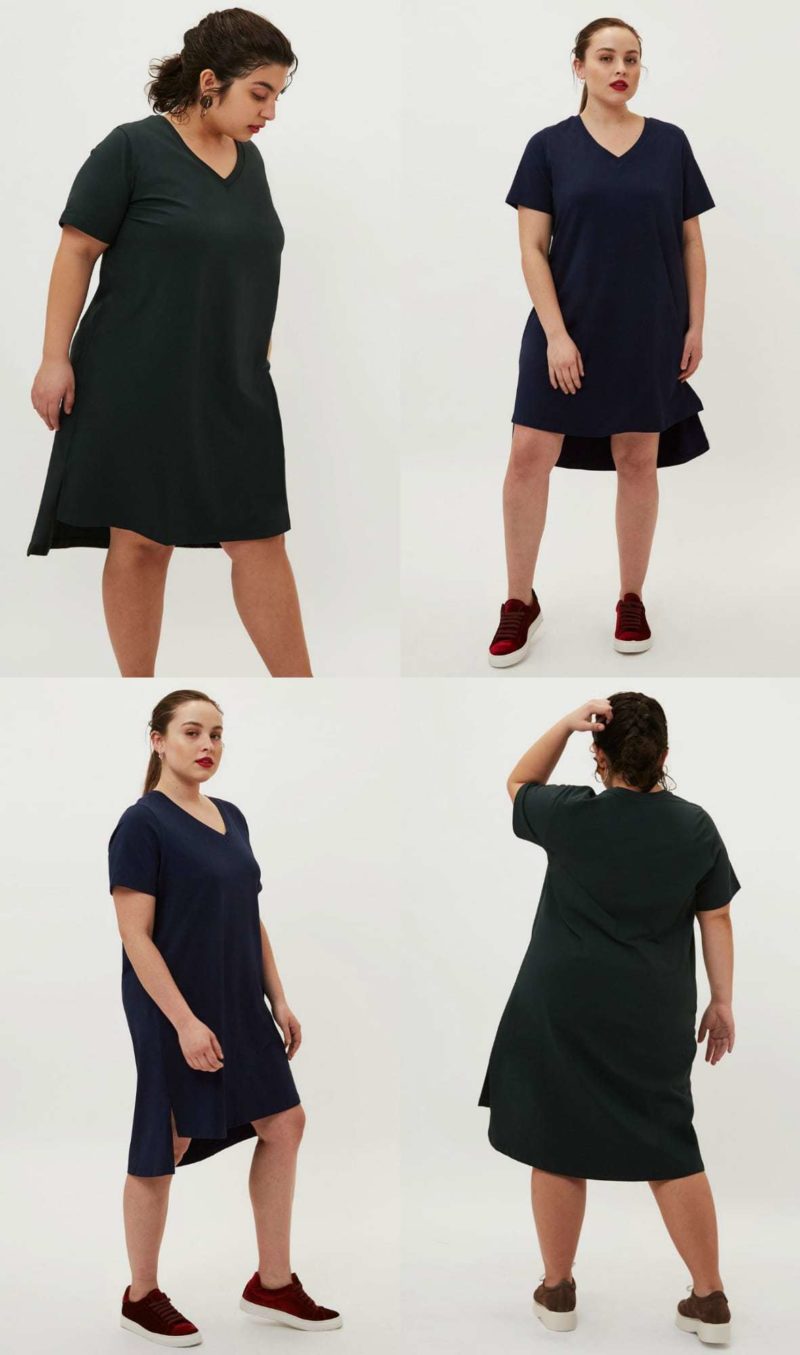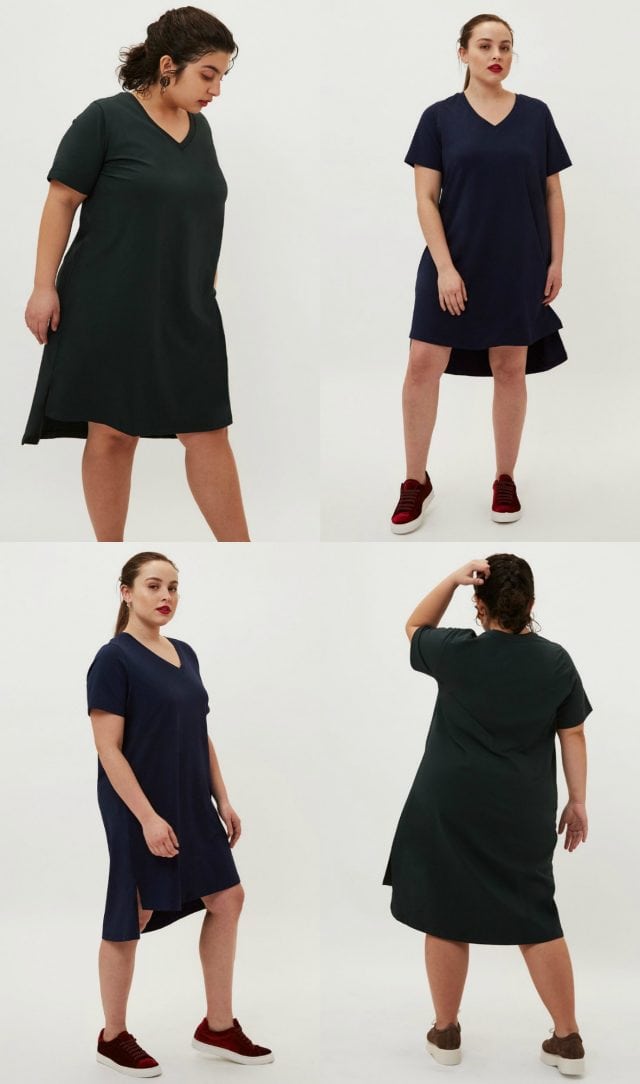 Today Universal Standard also launched their Tesino Washed Jersey Dress in petites.  I haven't tried this dress myself, but it's a pretty perfect summer dress to throw on with sneakers or add polish with pointed toe flats and a necklace for the office. The Tensio has been a US fan favorite this spring, and it's a style that would only work for petite women if it was cut for petites.  Available in black, navy, and forest green it also has detailed measurements available on the site. While I haven't tried this dress yet, the site also states a size up will give a more relaxed fit.
Universal Standard Petites will have additional pieces dropping each week over the next month or so.  Some of these pieces I saw and tried on, some will be a surprise, all I am looking forward to.  There's one that I am super duper PSYCHED about and can't wait to share! Universal Standard really took a lot of time, testing the clothing on petite bodies, tweaking here and there to ensure the pieces fit well, were functional, and worked on a shorter frame. I'll be sure to notify you when great pieces from the petite collection are available at Universal Standard.
It was great to meet with Universal Standard and see how much they love their customers and want to provide them with the best quality and fit. They really put a lot of thought into their collection of elevated essentials. Their fabrics and clothing are made in and sourced in the USA, Peru, France, and China and they personally vet all their factories to ensure that they meet and surpass all ethical standards of manufacturing and production.
Currently Universal Standard offers sizes 10-28 but they are expanding to sizes 6-32.