This article may contain affiliate links; if you click on a shopping link and make a purchase I may receive a commission. As an Amazon Associate, I earn from qualifying purchases.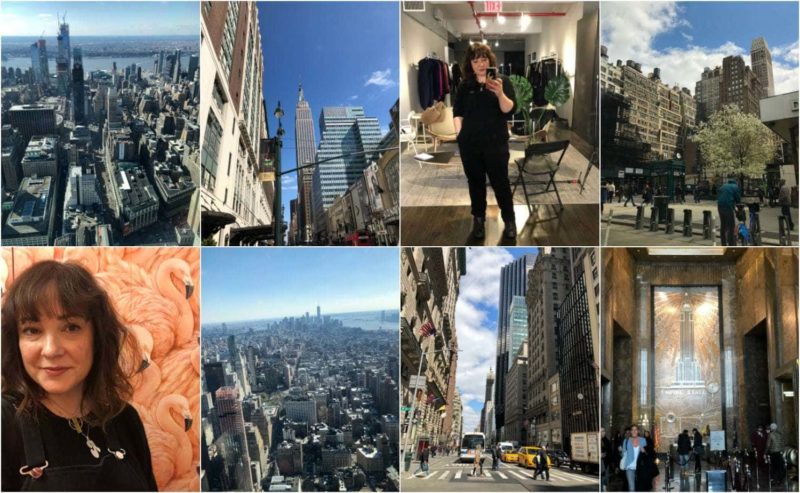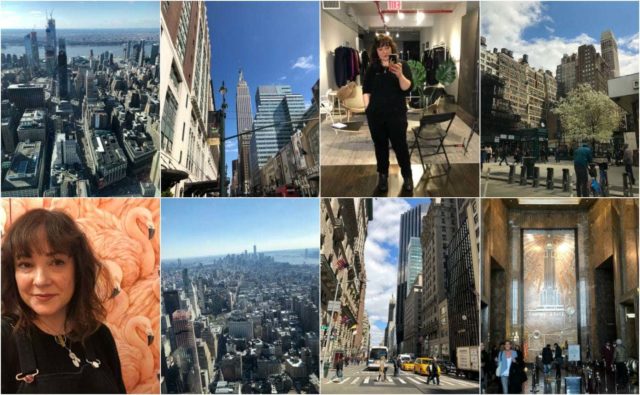 I've been sharing links like these on social, but decided to try them instead in a weekend blog post.  A mix of what I've read, seen, heard, liked, and want to try. the photos above are from my day trip last week to NYC. I was invited by Universal Standard to be part of their campaign for their new Petites line, and used the time up there to check out Christian Siriano's new boutique its opening day, visit the NYC Trunk Club, and finally go up in the Empire State Building. One of the best parts of blogging is having reasons to visit New York on occasion; I feel so lucky to only live a few hours train ride away!
And are you a member of the Wardrobe Oxygen community on Facebook? It's separate from the Facebook page and a different vibe. We chat about what to wear on travel, where to find great suiting and purses, share our Sephora faves, and much more. Come join us!
This piece from Racked delves into the costs for a beauty brand to be at a store like Sephora. Don't take those testers for granted!
Damn skippy, and I'm looking at you Everlane!
Speaking off which, And Comfort launched their line of minimalist clothing in sizes 10-28. It's a small collection right now, but it's a small company. I am excited to see more brands embracing plus sizes and offering elegant, well-made clothing for them and wish And Comfort much success and growth.
I finished all my novels and haven't been able to get to the library. I was going crazy and then remembered I had a bunch of books on my Kindle I hadn't yet read. This week I finished Crazy Rich Asians and it was SUCH a fun read. It was like Gossip Girl, Singapore Edition. Needless to say I am excited for the movie this summer; see the trailer here.
I'll admit I haven't seen the movie 'I Feel Pretty.' I was invited to host a screening in this area and declined because I found the premise of the movie problematic. I've read many think pieces on this film, and most are by people who haven't seen the movie and are basing their feelings on how they feel about the film's star Amy Schumer, or what they gleaned from a trailer. But this piece in The Atlantic seems to best get the feeling I have about this movie. I'm curious, have you seen this film? What do you think of it?
The other week I volunteered at my daughter's school to be a judge for the STEM fair. I sat next to another parent who had by far the coolest and most theme-appropriate outfit for the event. She was wearing silver atom earrings and a cute fit and flare dress covered with constellations. I complimented her on her look and she told me about Svaha Apparel, a website that provides gender-free STEAM-themed fashion for adults, kids, and babies. I love everything about this company – the products, their mission, and why Svaha Apparel came to be. Do check it out!
I love my Ray-Ban 62mm aviators, but I hate how they slide down my nose, especially in the summer when I'm a bit sweaty/T-zoney. My sister ordered these little ear grips on Amazon and gave me a pair… problem solved! I ordered a pack for myself and have added them to all my sunglasses. Now they stay on my face no matter what!
I love talking mascara. I've tried so many, so many methods, layering different products, different curlers and thickeners and serums. So when I saw two beauty buds Lara from The Glossarie and Sarah from Rascal Honey discussing mascara on Twitter, I joined in the conversation. Like me, Lara loves tubing mascara and had suggestions for brands I hadn't yet tried. Sure I like Blinc (just got a second tube during the Sephora sale) and Almay is okay, but neither are Holy Grail. She recommended DHC and I got it this week… and it's awesome! Not thick like Almay, not dry and matte like Blinc. It has a super tiny brush and it makes my lashes look a mile long and glossy black yet natural at the same time. No flaking, no smearing, utter perfection until I wash it off at night!
What to do with lingerie that is no longer your size or no longer wearable? I have been a supporter of Support the Girls for many years and donate my gently worn bras to them (FYI it is now a national charity). However, with underwear and beyond-wear bras I have never known what to do. Introducing Hanky Panky's Lingeriecycle. This is a program where you can fill a bag with your beyond-wear lingerie and they will keep them out of a landfill and recycle them. Metal parts are sent to a metal recycler, and fabric is finely shredded and turned into things like carpet padding. Click this link to learn more about Lingeriecycle and how to get bags, and for your gently worn bras or to donate feminine sanitary products, please visit Support the Girls.