This article may contain affiliate links; if you click on a shopping link and make a purchase I may receive a commission. As an Amazon Associate, I earn from qualifying purchases.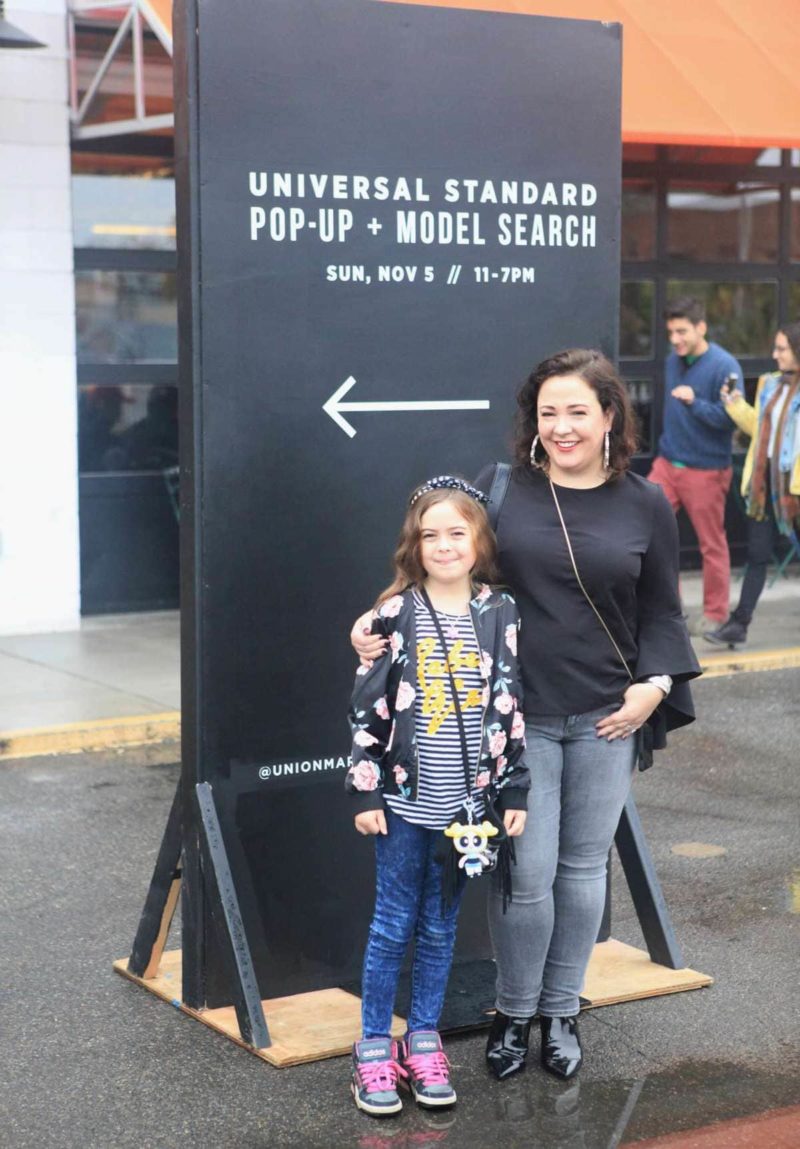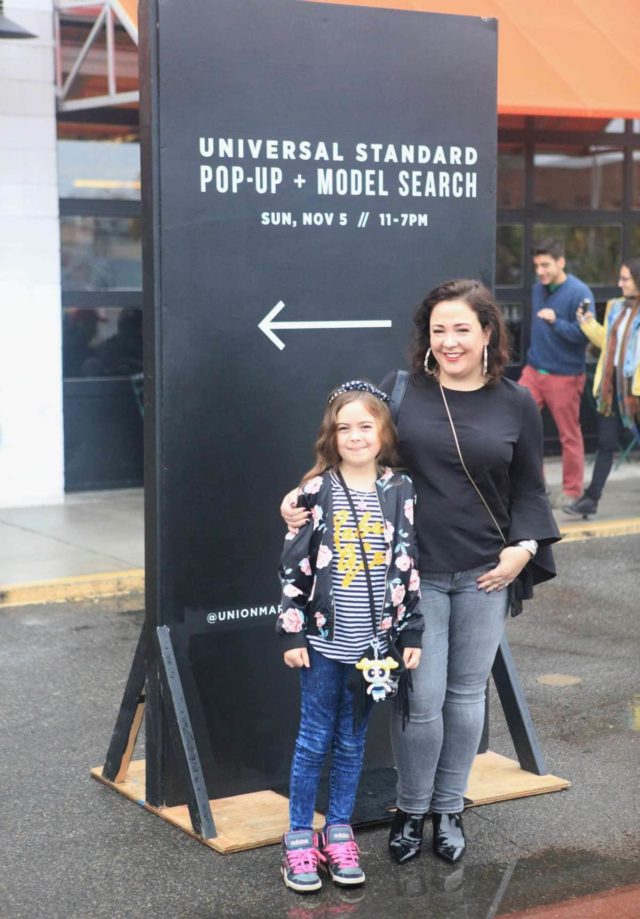 Universal Standard is doing a road trip across the country and this weekend they came to DC, with two days in the Pentagon City Nordstrom, and yesterday they made a one-day pop-up shop down the street from Union Market. I HAD to go, I've had mixed experiences with shopping Universal Standard online and wanted to be able to try a large variety of pieces to try for fit and quality. Also, I know Universal Standard is one of the brands you readers ask about the most. With chic minimalistic clothing in sizes 10-28 and their Universal Fit Liberty program, Universal Standard is an appealing fashion retailer for cusp and plus sized women.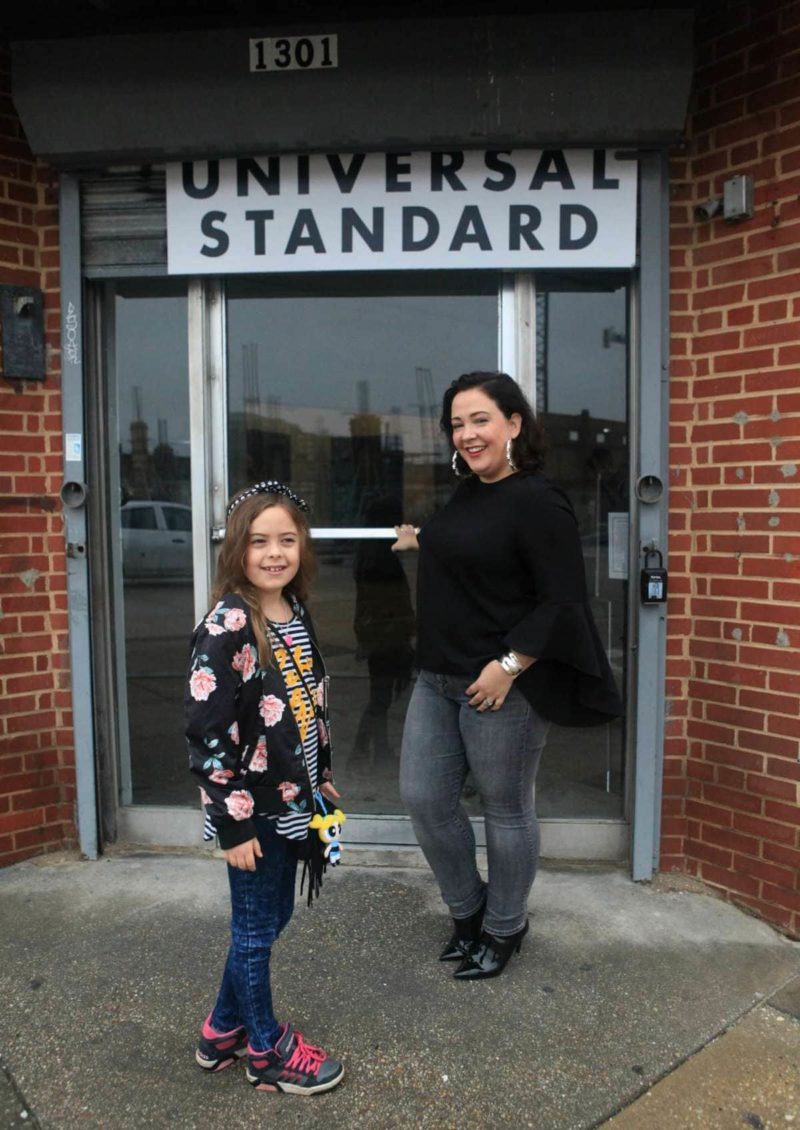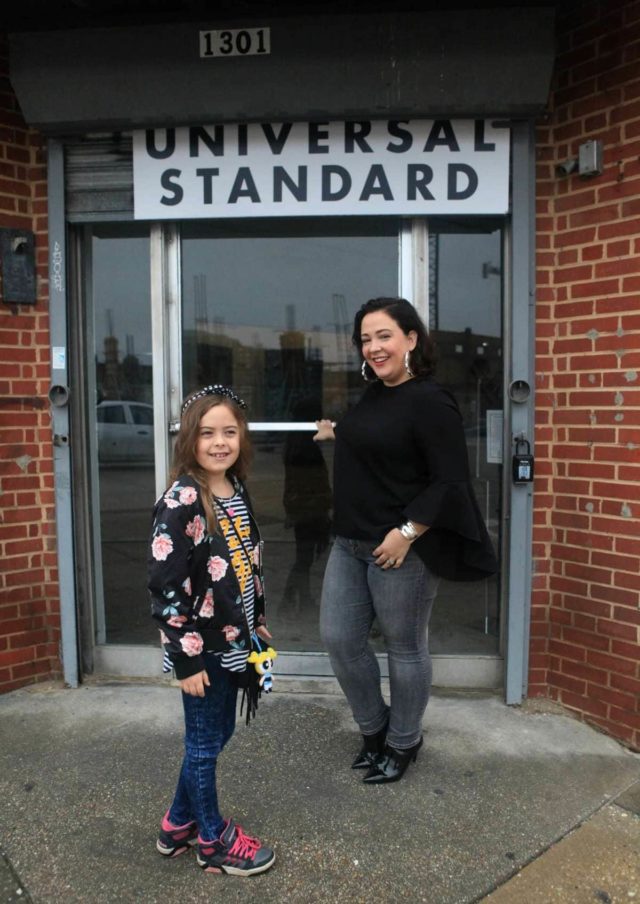 The pop-up shop was in an empty storefront and very bare bones. Two tables at the door to place orders, make purchases and chat with staff. A few cubes holding folded denim, and several rolling racks with just a handful of each of their pieces from their collection. In the second room was four dressing areas – large bent black boards making triangles of fitting areas with an IKEA LACK table in each to hold garments. Outside the dressing spaces were four full-length mirrors. Plenty of staff to help bring sizes, offer consultation, and keep the store very organized. They were all super nice, dressed in Univeral Standard, and clearly passionate about the brand.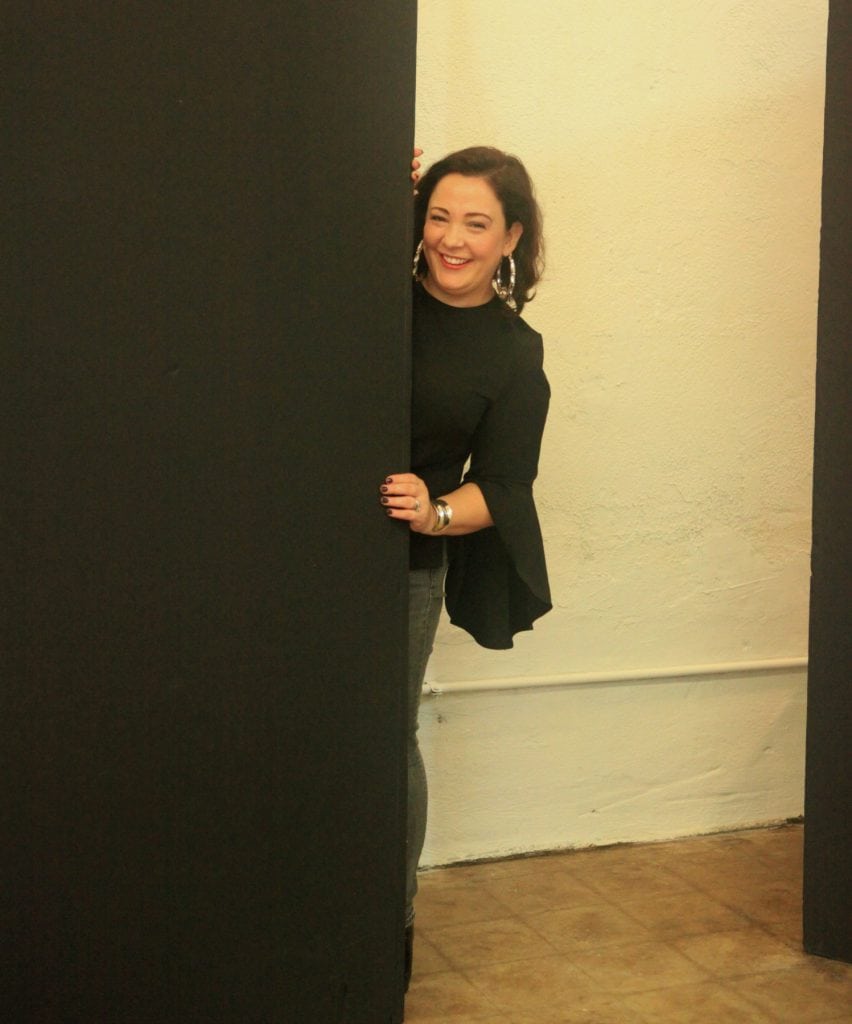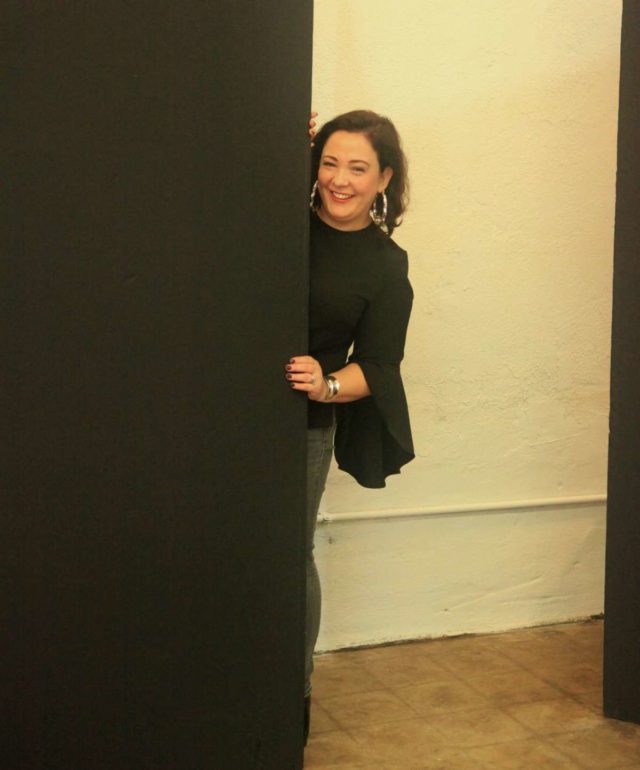 Since I had Karl and Emerson with me and there was a line for the dressing areas, I didn't try on everything in the store. I mainly stuck to things I could see myself buying and adding to my personal wardrobe, plus a few things Emerson picked out. For reference, I am 5'3″ and usually wear a 14/16, 14W, and usually need a short or petite in jeans and petite in tailored dresses or blazers.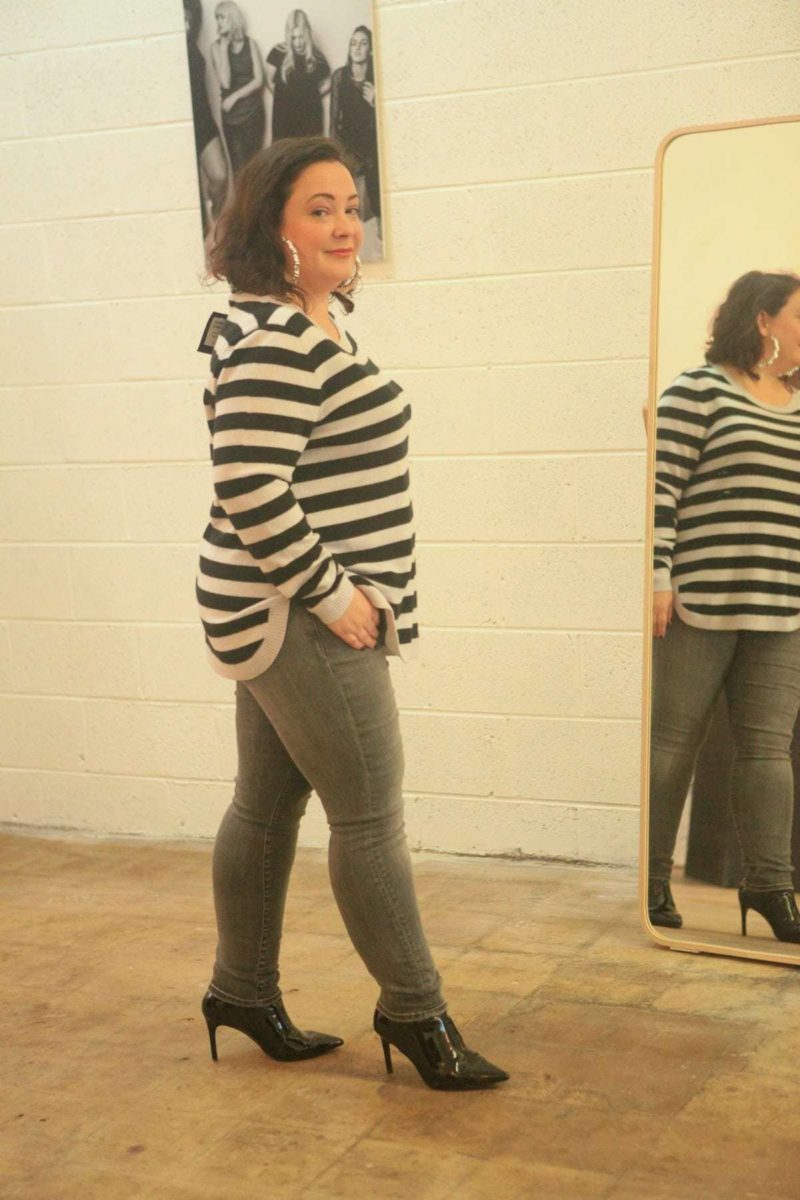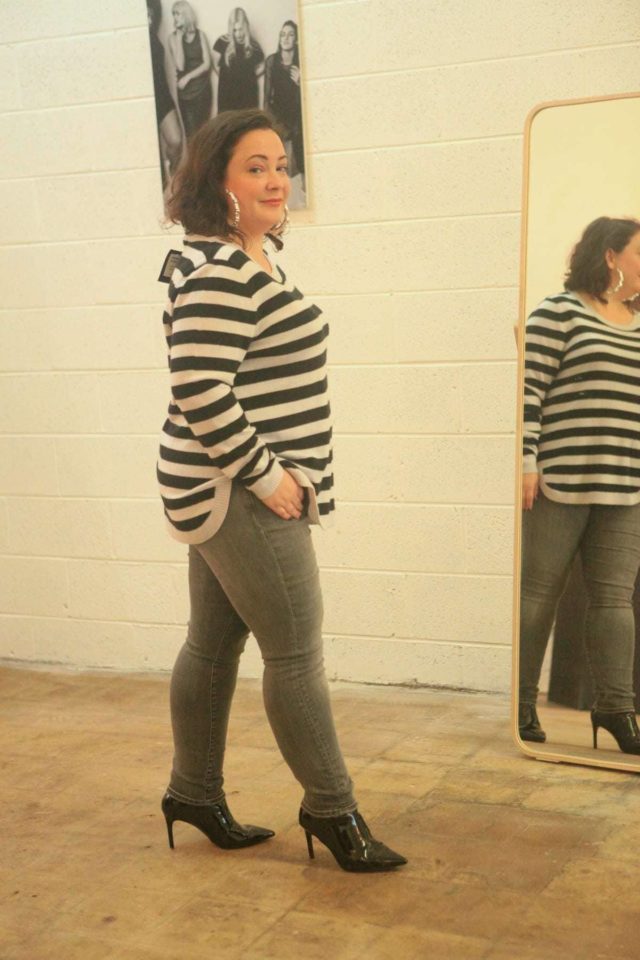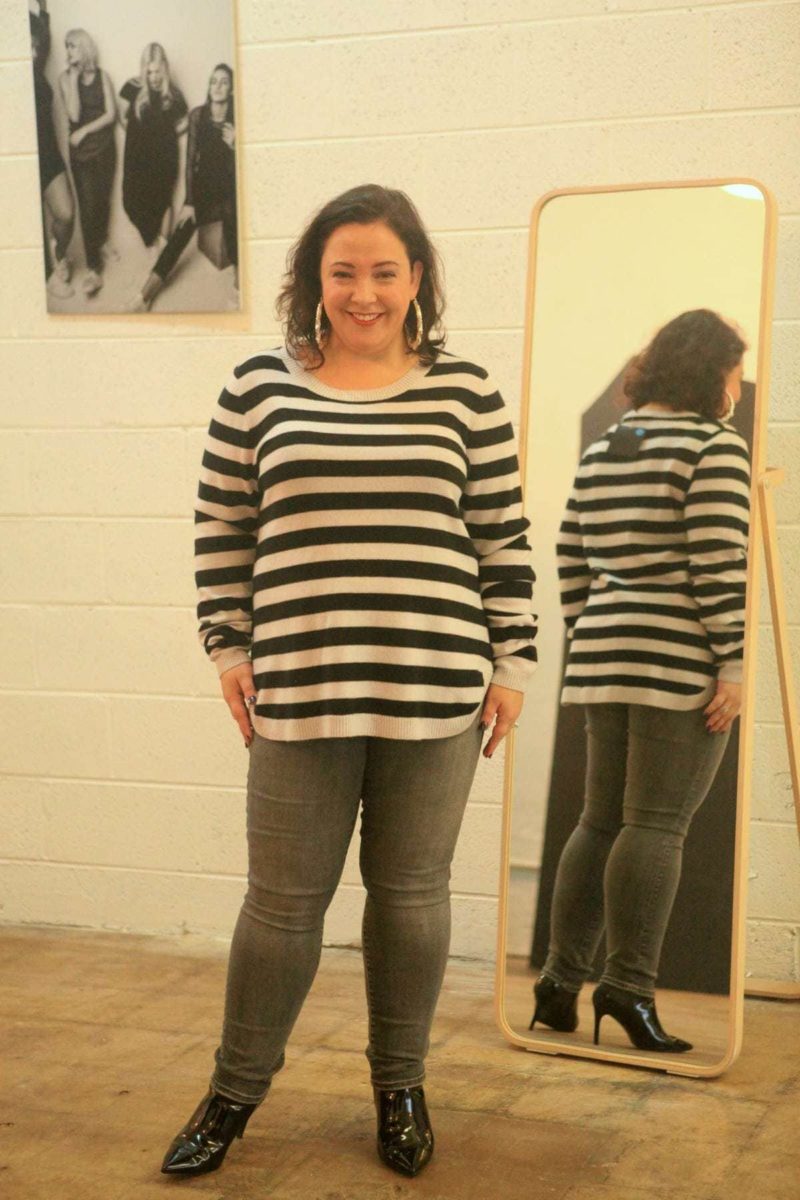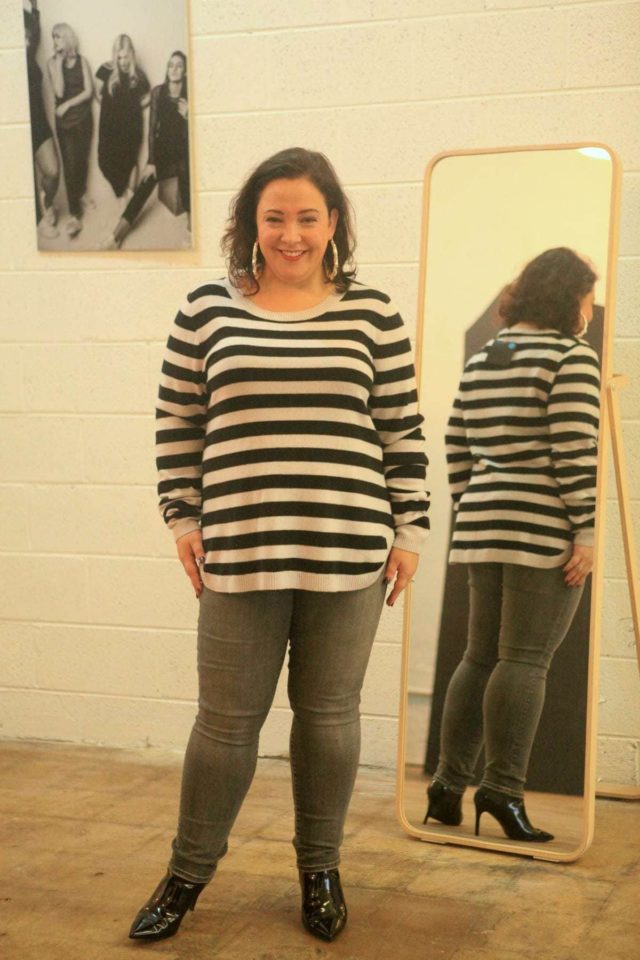 The Raquette Cashmere Stripe Sweater is a piece I've been drooling over for a while but was hesitant since online it looks black and white but the description says black and beige. They didn't have a Small available, this is a Medium. This is not like the Halogen Cashmere sweaters where you can see your bra if it's a lightweight color, this is thick but not stiff, super soft, and I rubbed it against itself and it didn't shed or pill. And yes, it is beige, or an off-white color with black but it looks chic, not dirty or weird.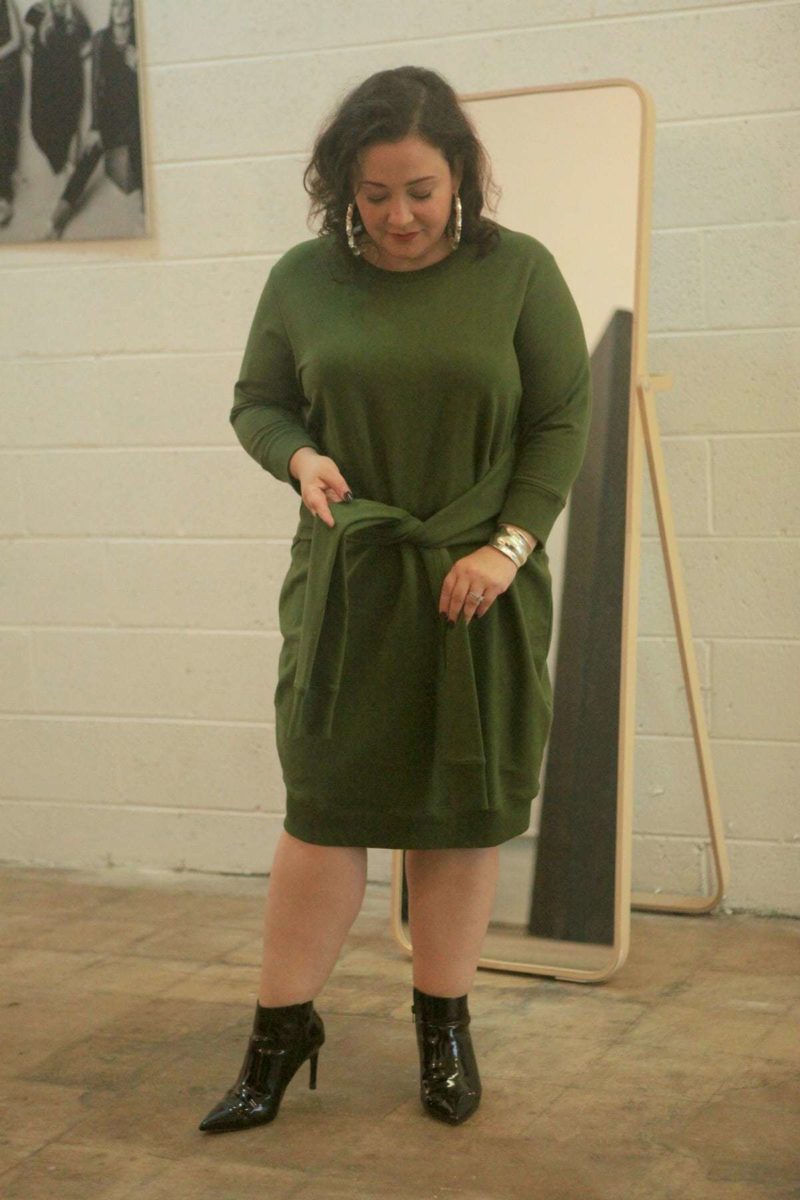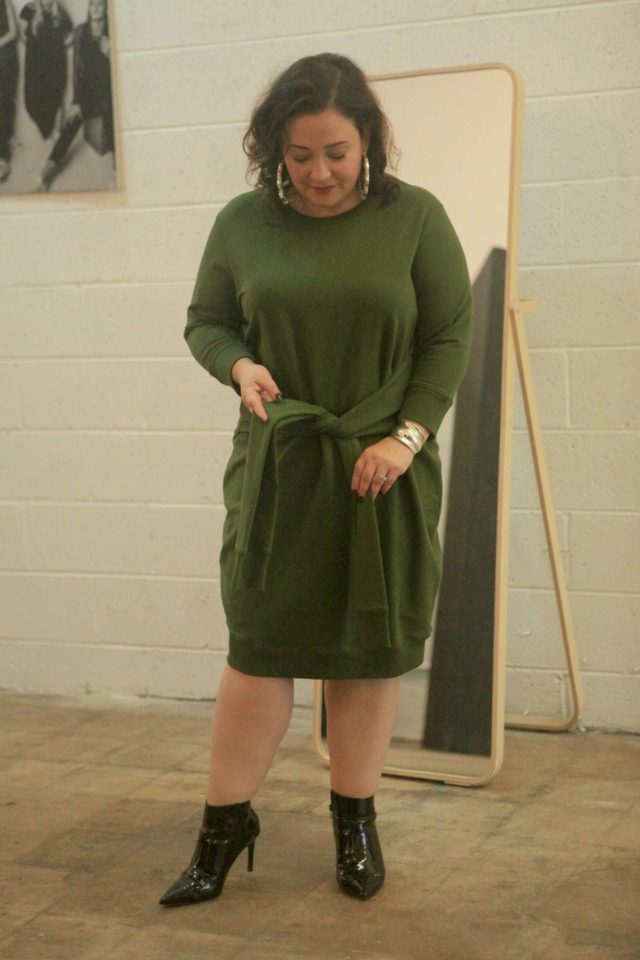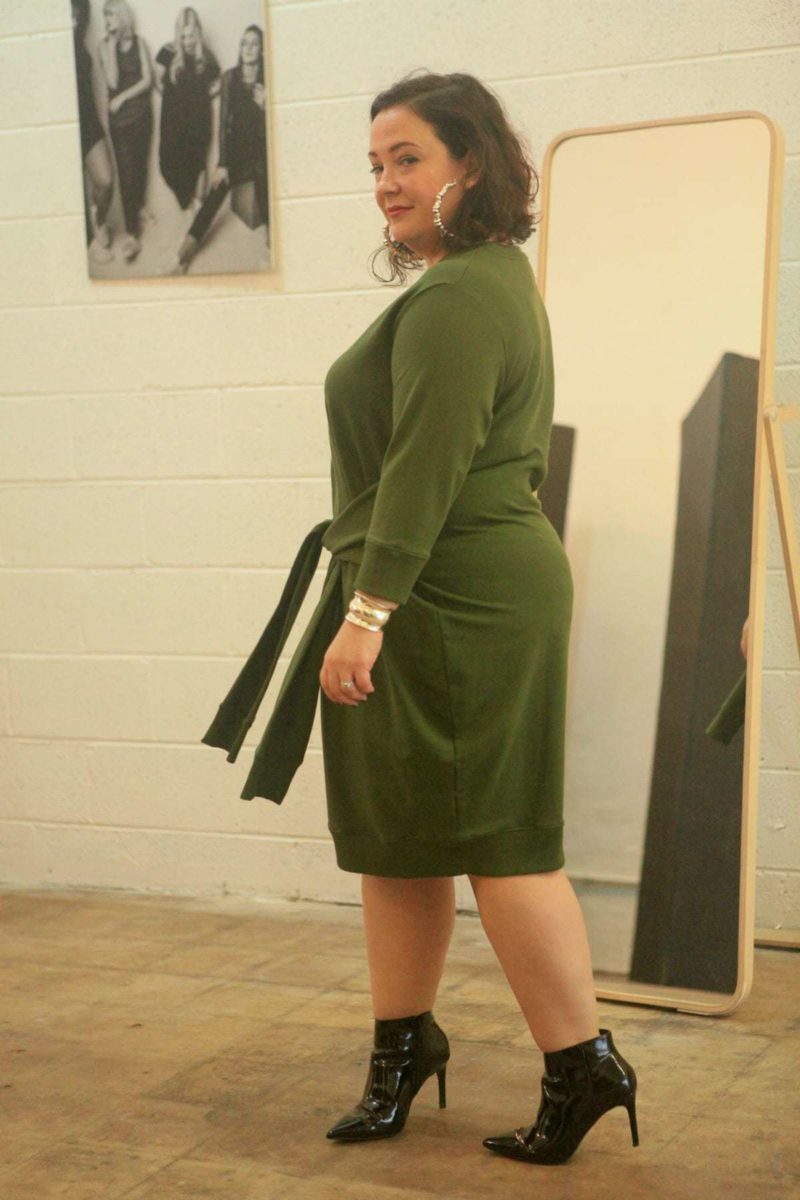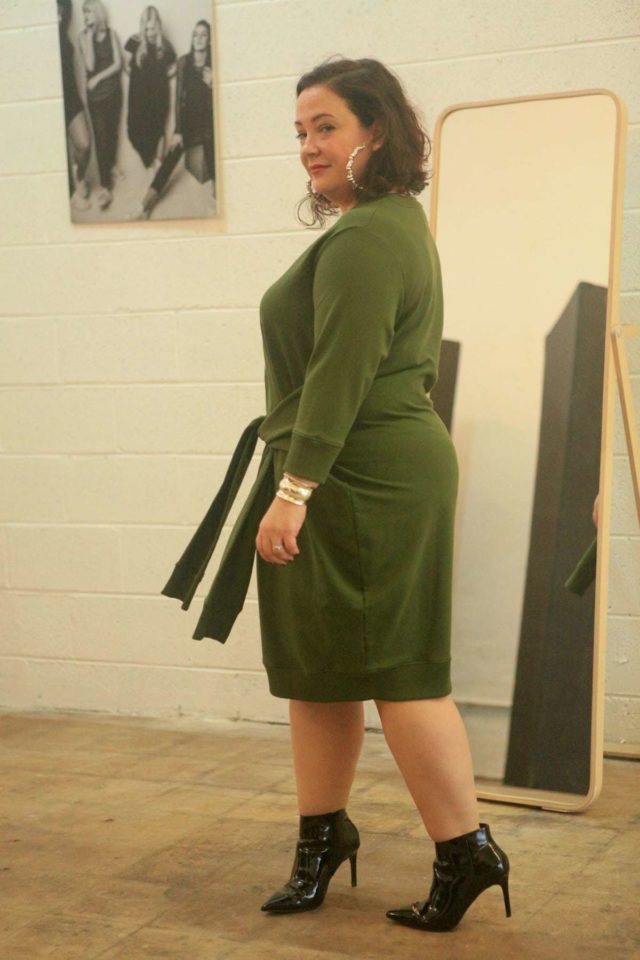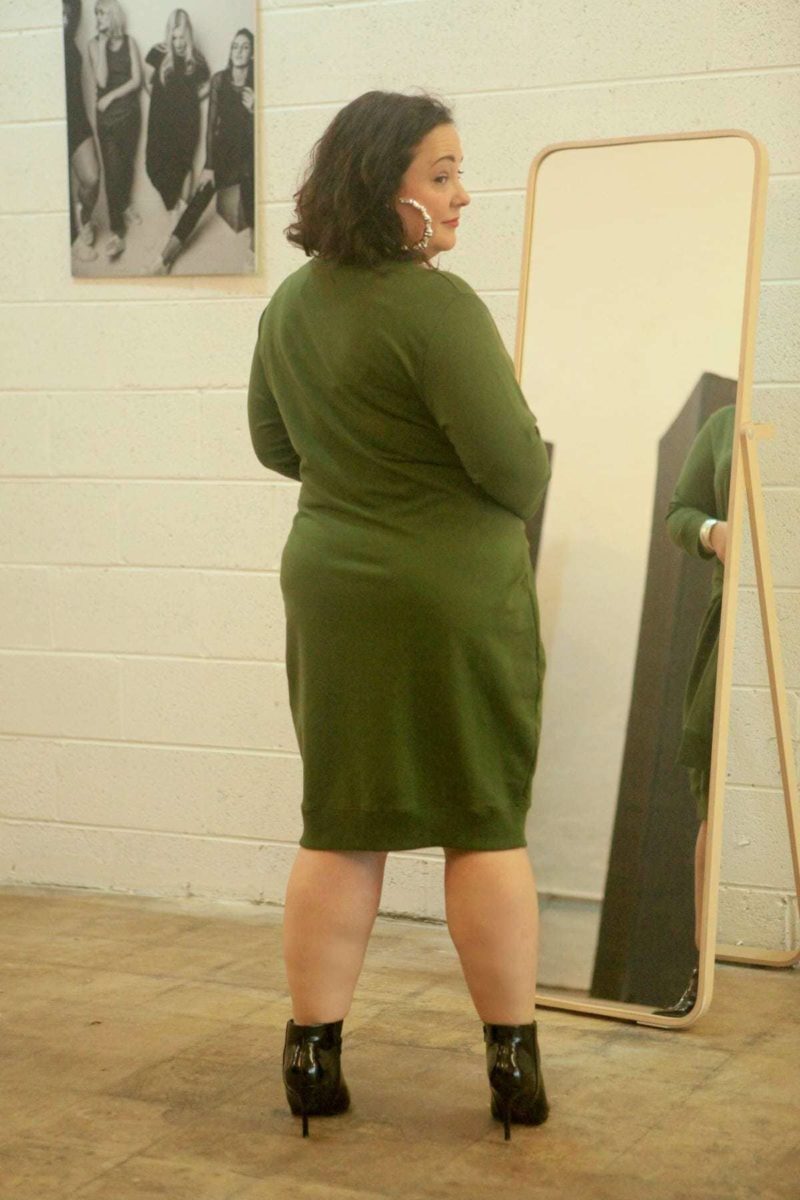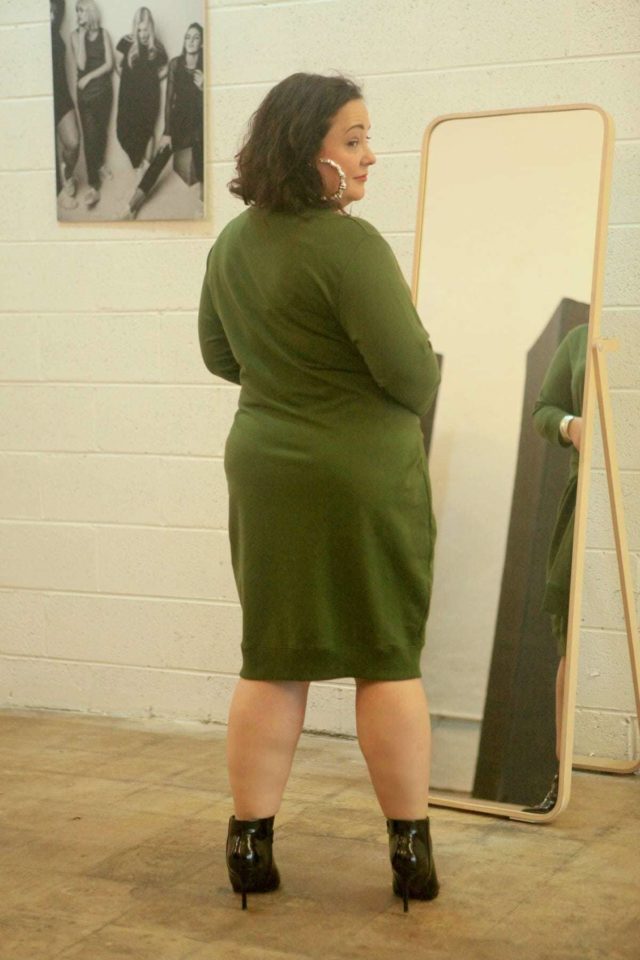 The Misa Dress, which comes in this olive/camo color, and black. First thing I wanted to know, do those sleeves as the waist actually work? Nope, they're sewn closed at the seam. This extra sleeve trend has become more commonplace this season while when Universal Standard first came out with it I found it weird… but intriguing. This is the size Small. It's soft yet thick, feels good, and it's one of those pieces that feels like sweatpants but looks cool and purposeful. The price seems high until you feel and see the quality. I really like this dress, I could see myself wearing it now like this with booties, in winter with black fleece tights and Chelsea boots or even with liquid leggings and boots.
I have the Geneva Dress and I think it's a badass silhouette, but the heavier knit and my short stature has made it hard for me to style in a flattering manner.  It's too casual for heeled sandals, stumpy with sneakers.  When I wore this on the blog, I struggled, like trashed my bedroom struggled and decided to just have fun with my favorite booties and denim jacket.  But I've not worn it outside the house since, I think it's a better dress for a taller woman.  I saw a woman at the pop-up wearing it in the same green shade I own, with a long-sleeved top underneath in the same color, bright magenta tights, and ankle boots that were… I think dark brown.  And this sounds wacky but the look was so fun yet so chic.  She said she has three of this dress and it's a uniform of hers, and it's a fabulous uniform for her.  It made me want to pull the dress out and give it another go.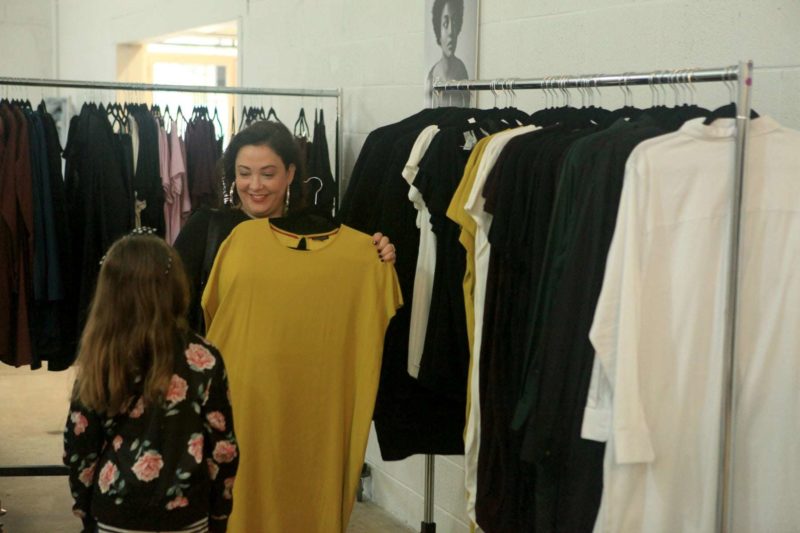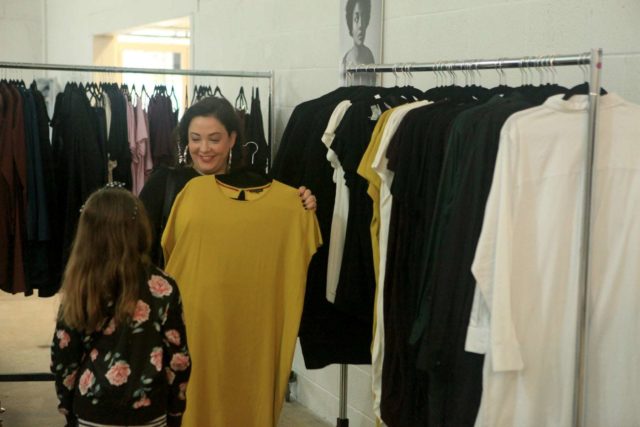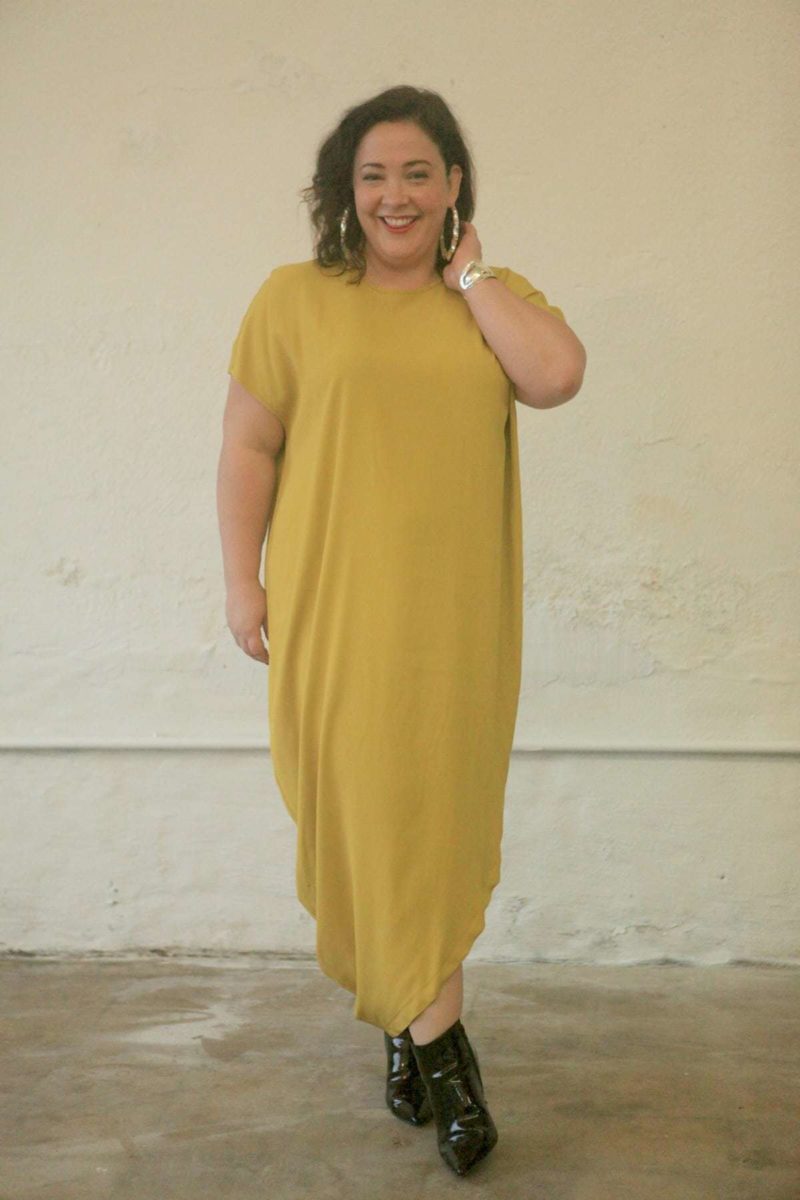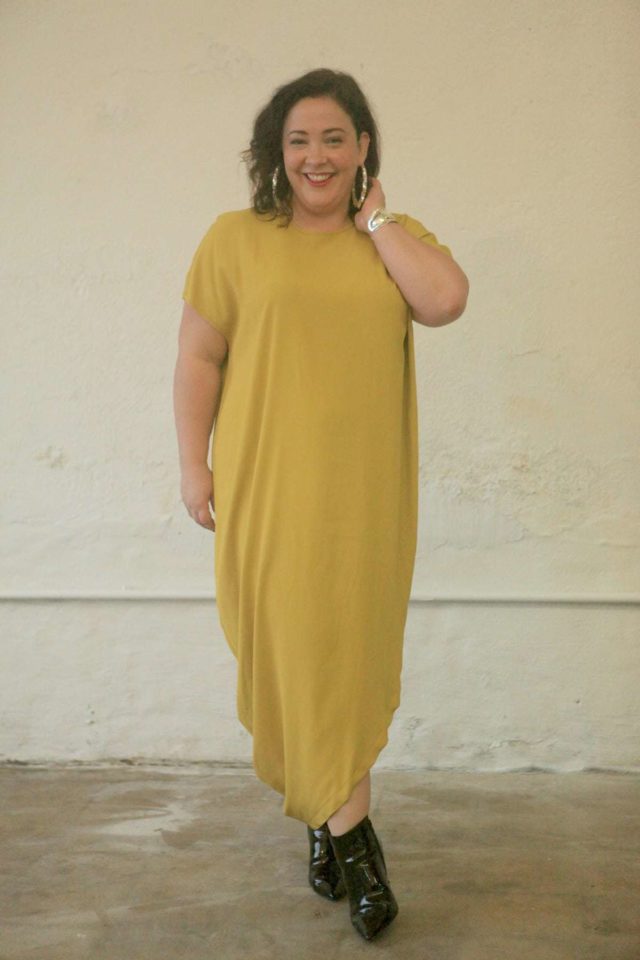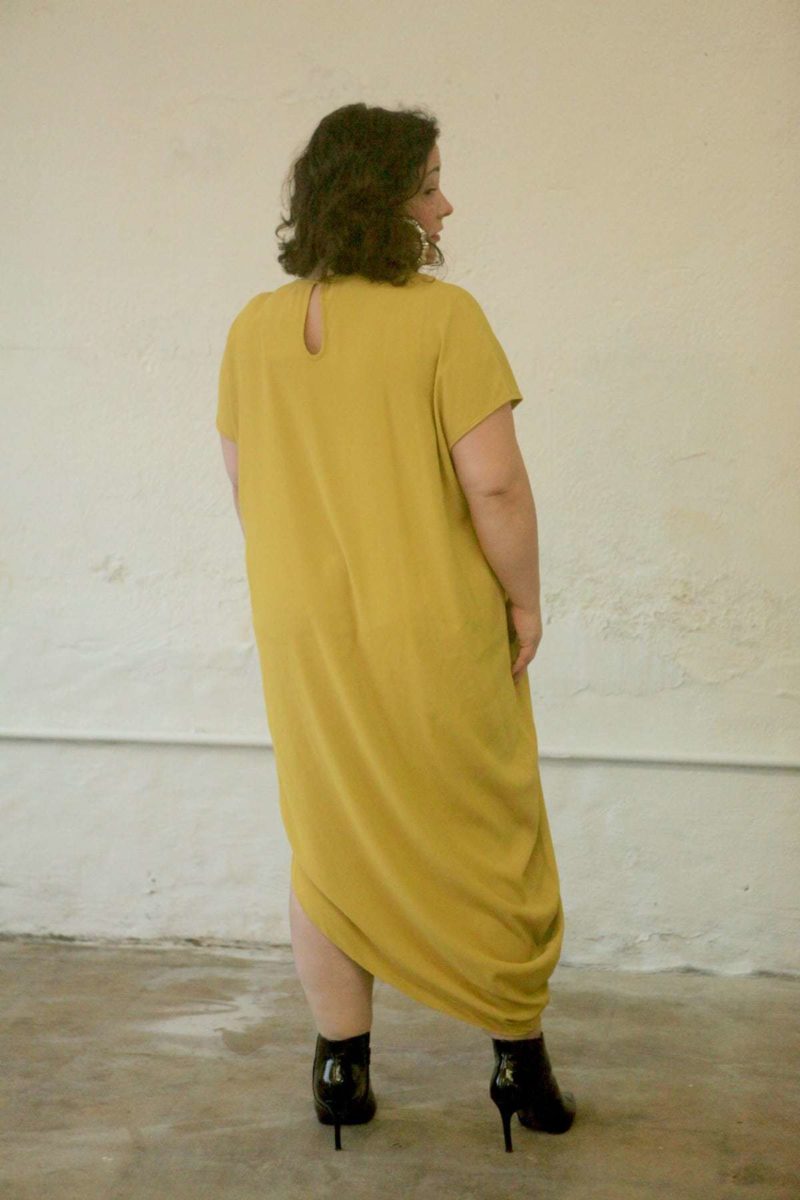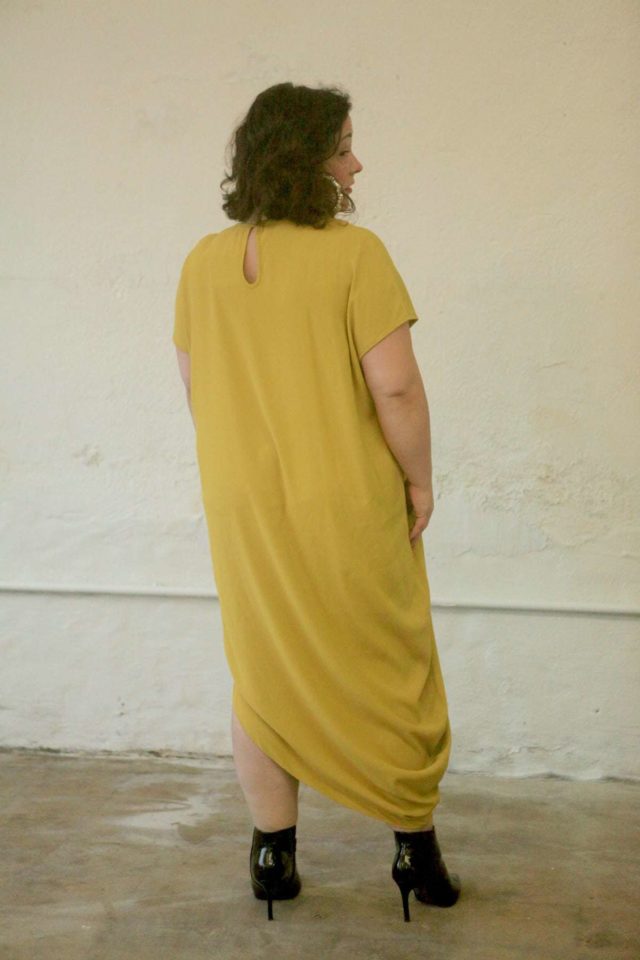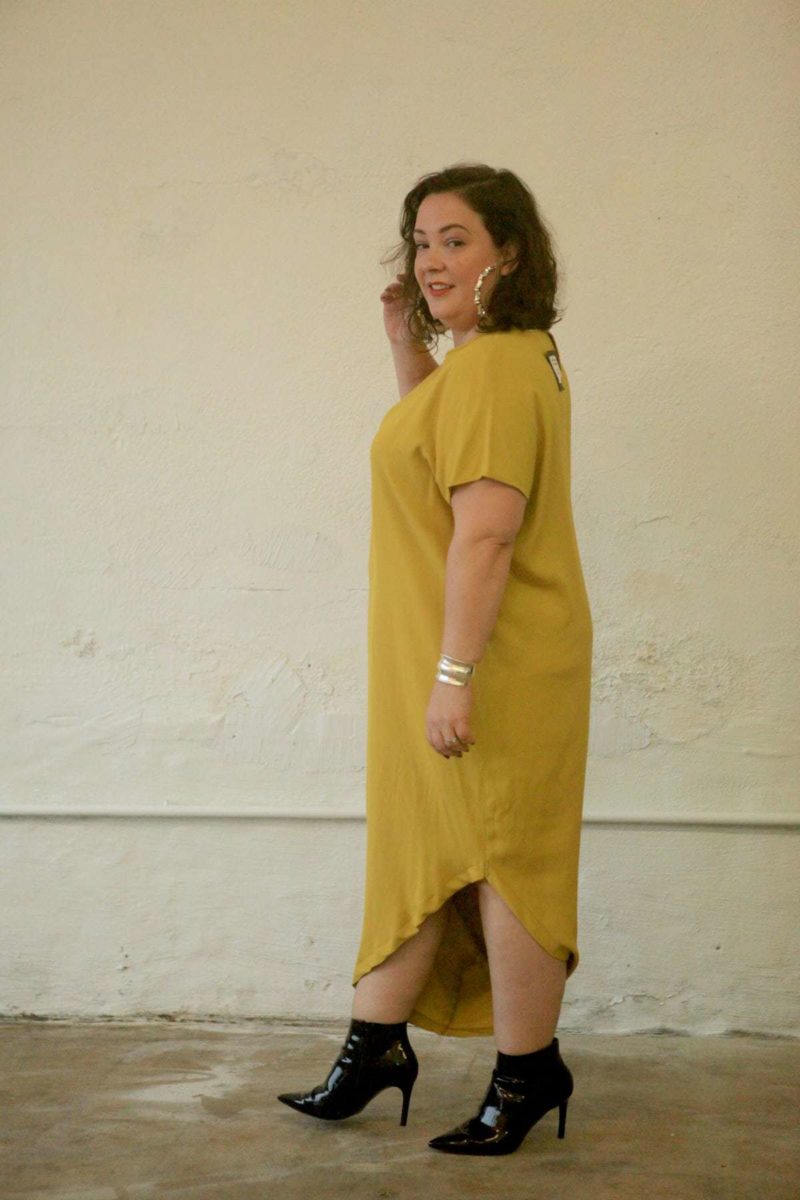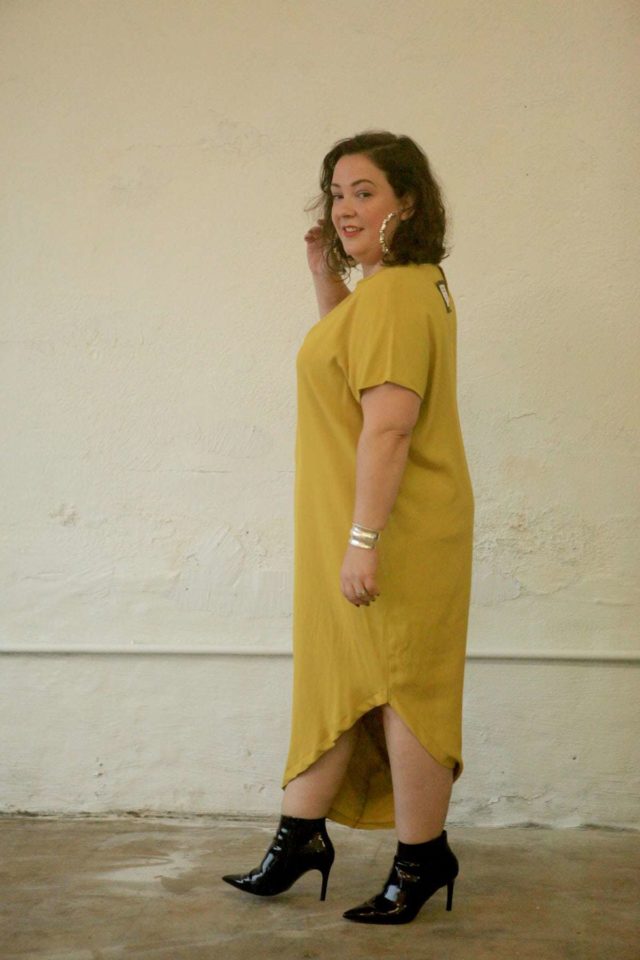 Instead, I tried the Crepe Augusta Geneva Dress.  Essentially the same dress as the Geneva but in crepe (with a hint of stretch) which makes the dress not only dressier but have a better drape.  The dress comes in Black, White, Aubergine, and Mustard.  After my post about how to wear citron and mustard, I just HAD to try the Mustard.  They didn't have Mustard in Small, this is a Medium.  I fell in love with this dress when I tried it on, and even loved the color (I thought it worked with my dark hair and red lipstick).  However looking at the photos I think a Small would be better.  Unlike the regular Geneva dress, this is one that could be a wardrobe workhorse.  Wear to work with heeled boots, out with friends with a denim jacket and pair of trainers, to a wedding with heeled sandals, in the winter with a blazer, scarf, and tall boots.  It would be a great travel dress because of its versatility and being a fabric that repels wrinkles.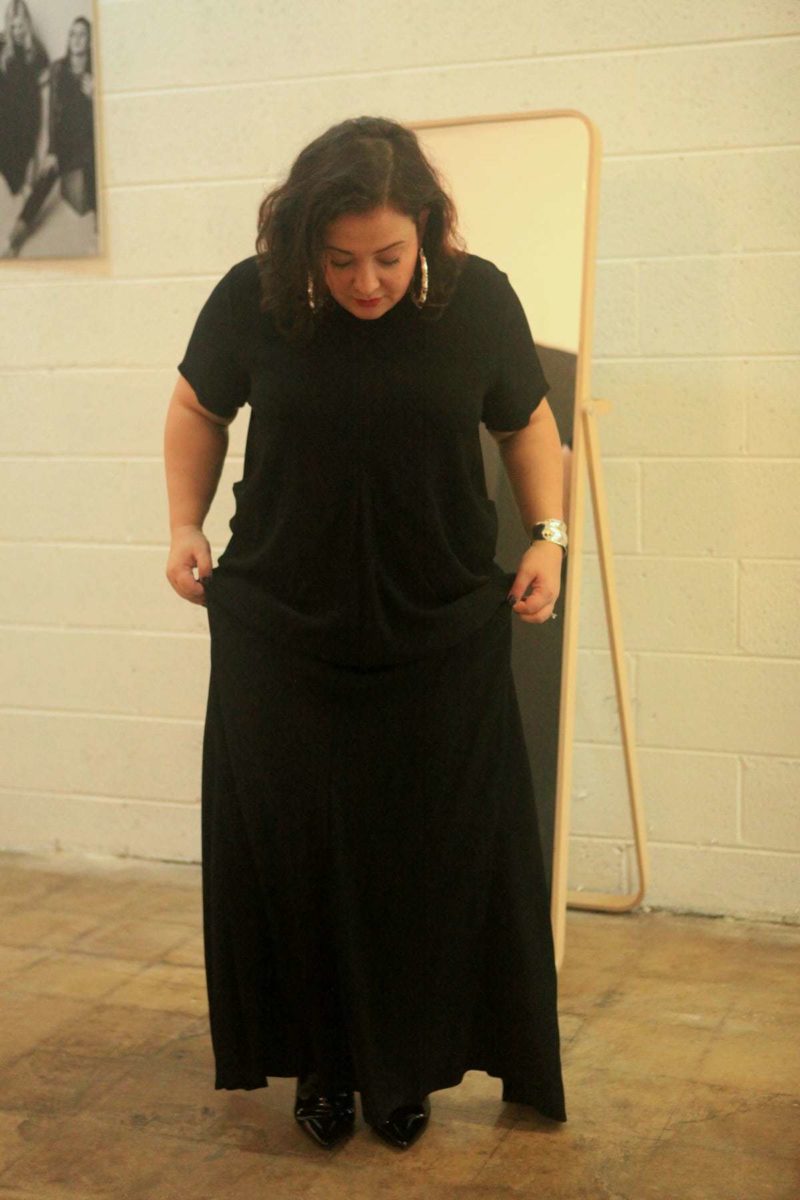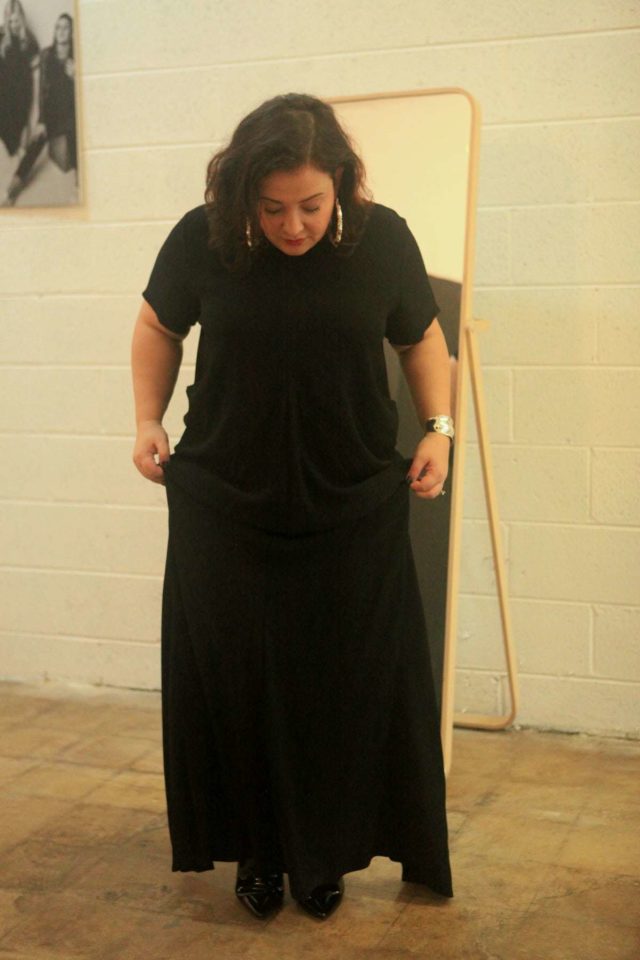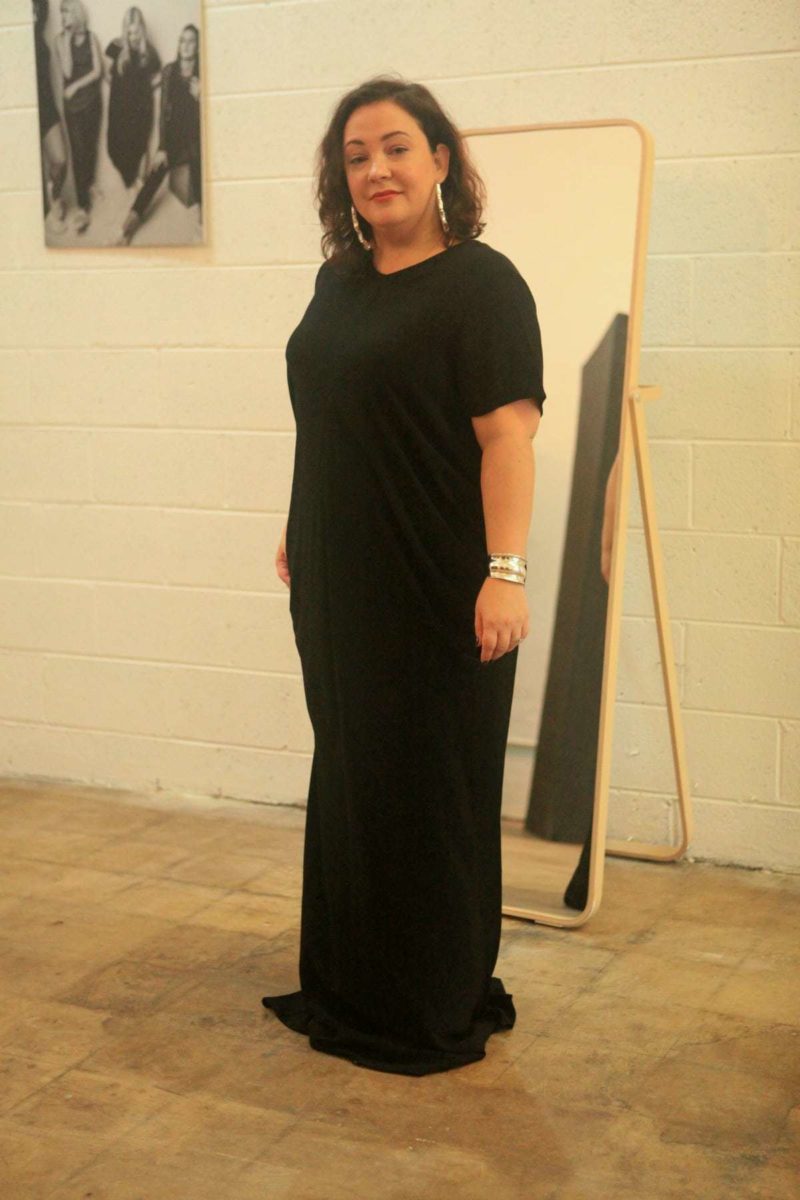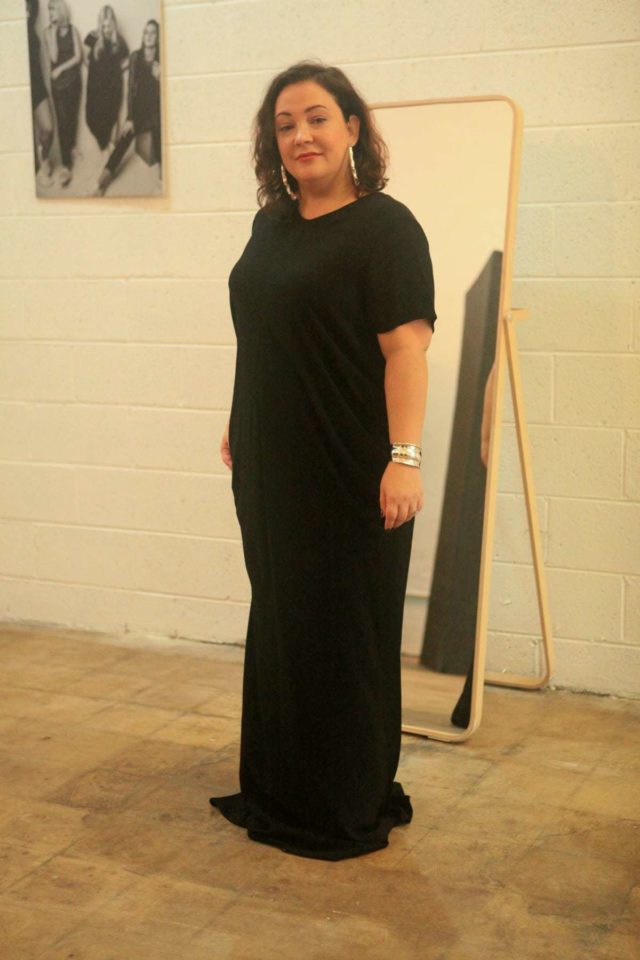 The Regina Gown intrigued me, the drape looked so beautiful. I should have known I am just too too short for it. This is a size Medium. This dress also comes in white and mustard. Because I am so short, I couldn't truly see the drape of the gown. I mean the model is 5'9″ on the website and the dress is a tad long on her too. If I hemmed it I would lose a lot of what makes it look so dramatic (as well as a lot of the back slit). But if you're taller, this is one of those subtle elegant dresses you can wear with sandals and hoop earrings to a beachside wedding, with a statement necklace and formal shoes to an evening affair, and the white one would be a gorgeous wedding dress.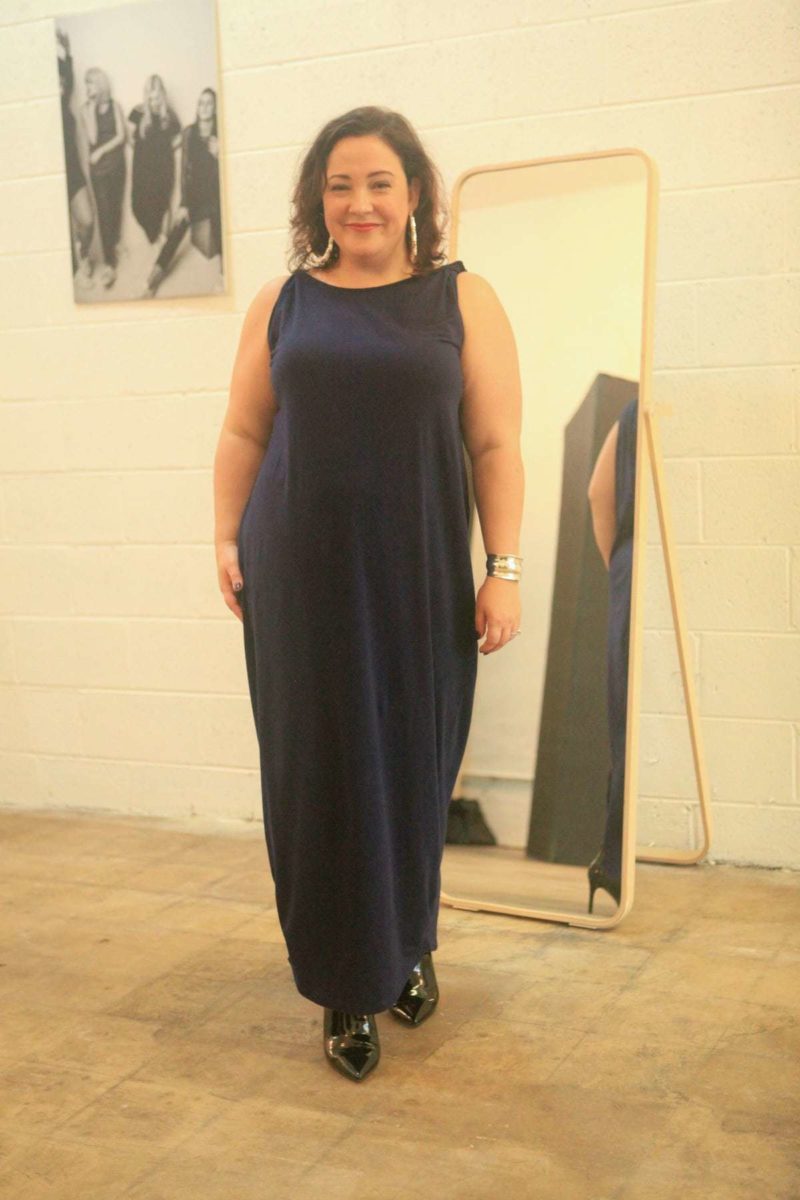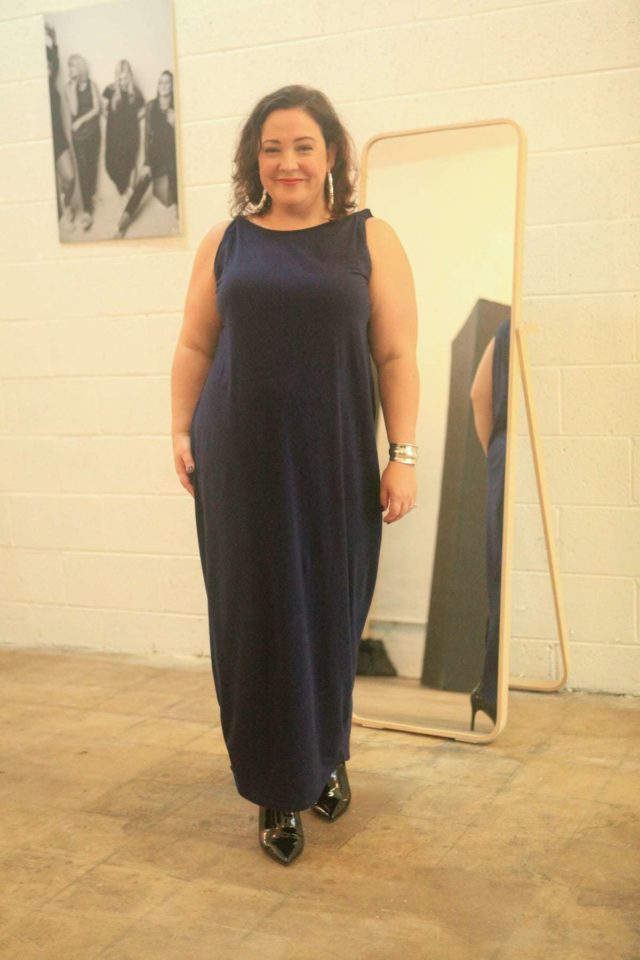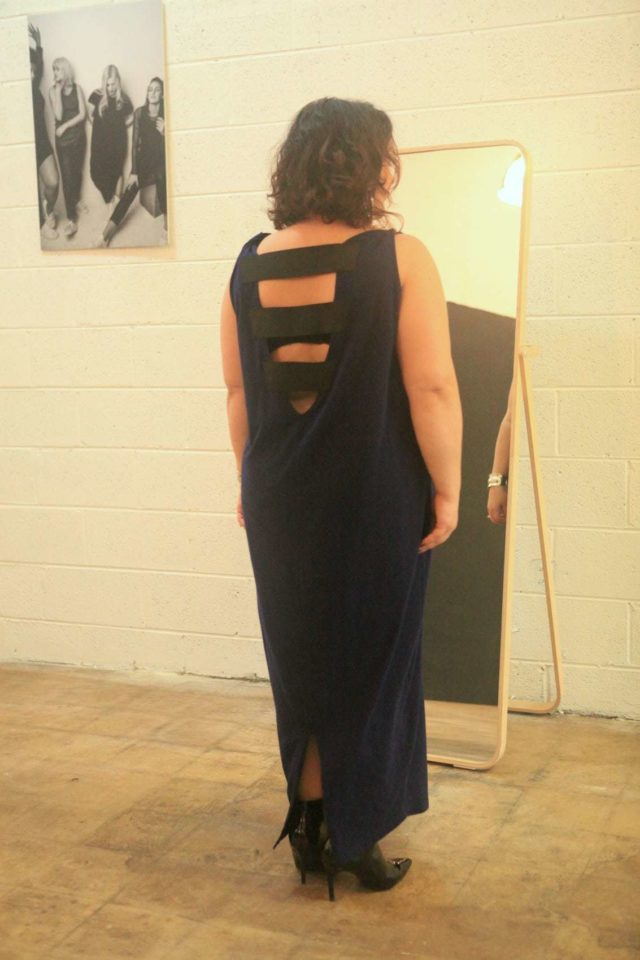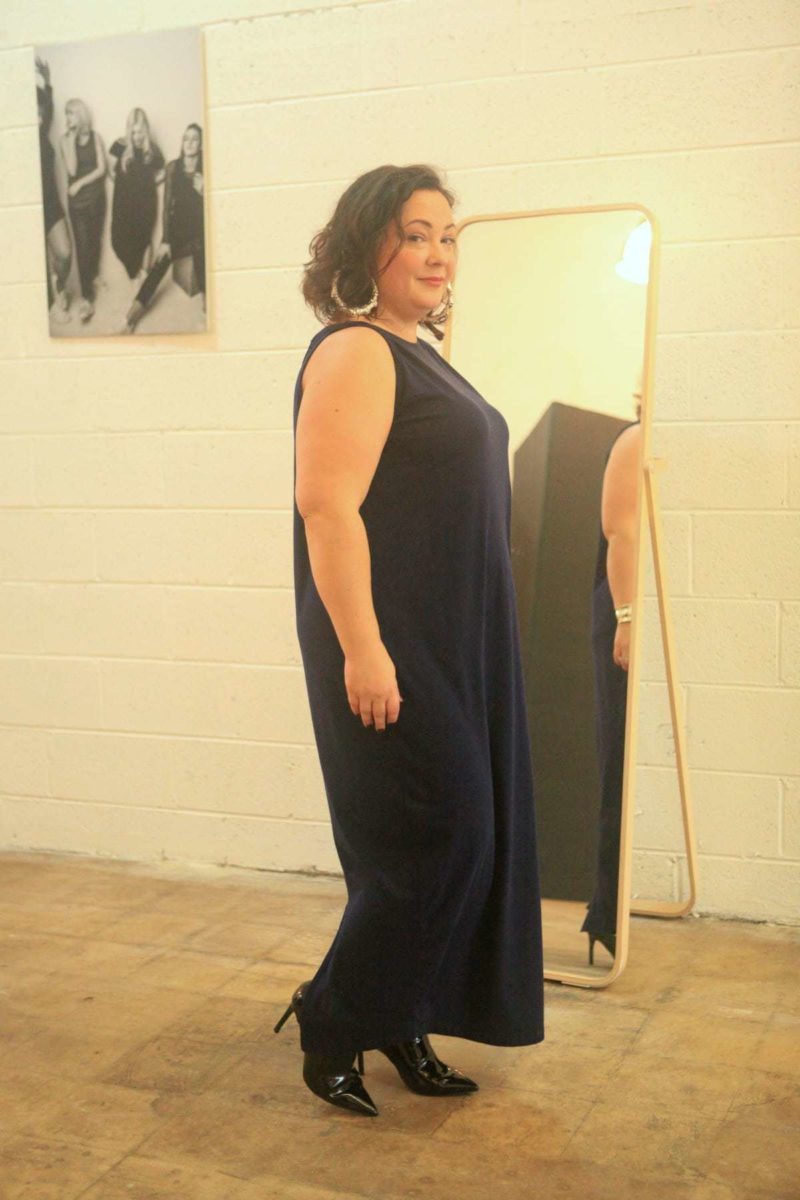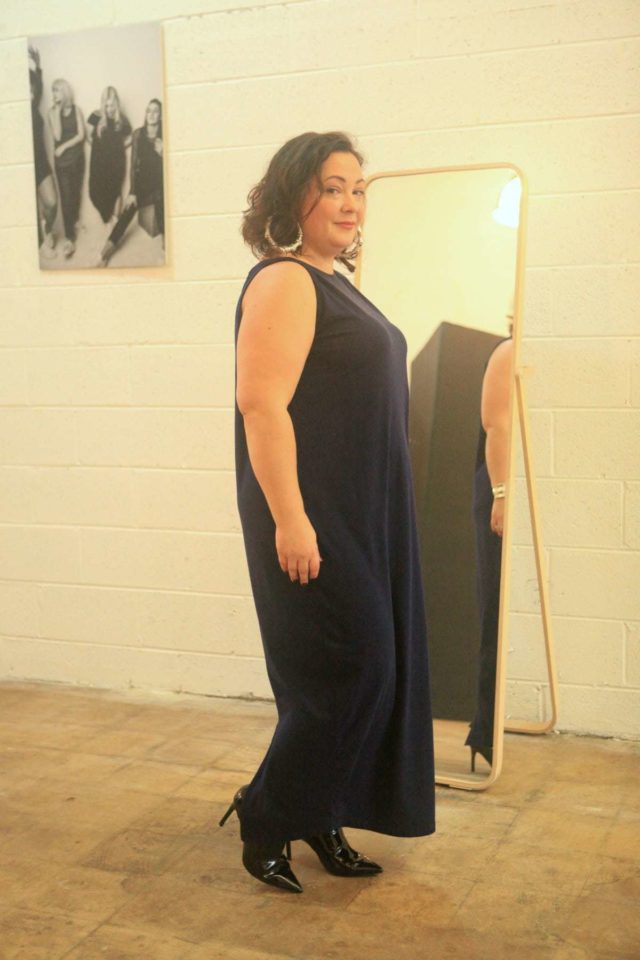 Emerson saw the back of the Tenna Washed Jersey Maxi Dress and wanted to see it on. Even on the hanger, I knew it wasn't going to work but was willing to take a chance. I believe this is a size Medium, I forgot to note it. Yeah, no this is not my jam. The shoulders are twisted, but instead of looking cool it looks like a sewing error. The straps on the back are cool, but they didn't line up for me to have my bra hidden. And the dress is too shapeless for me, I didn't like the effect. Also, the jersey looks casual, this is the kind of dress that I have no idea where someone wears it. Too casual for an evening affair, too exposed for daytime…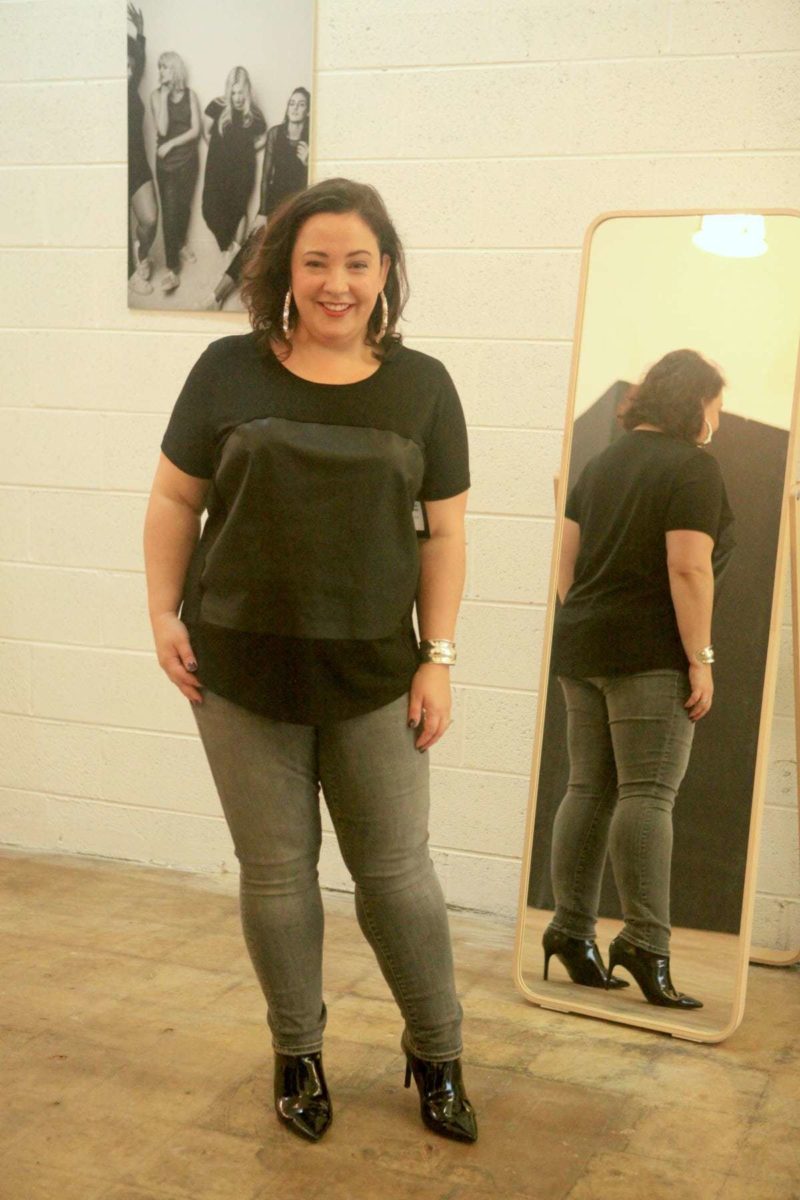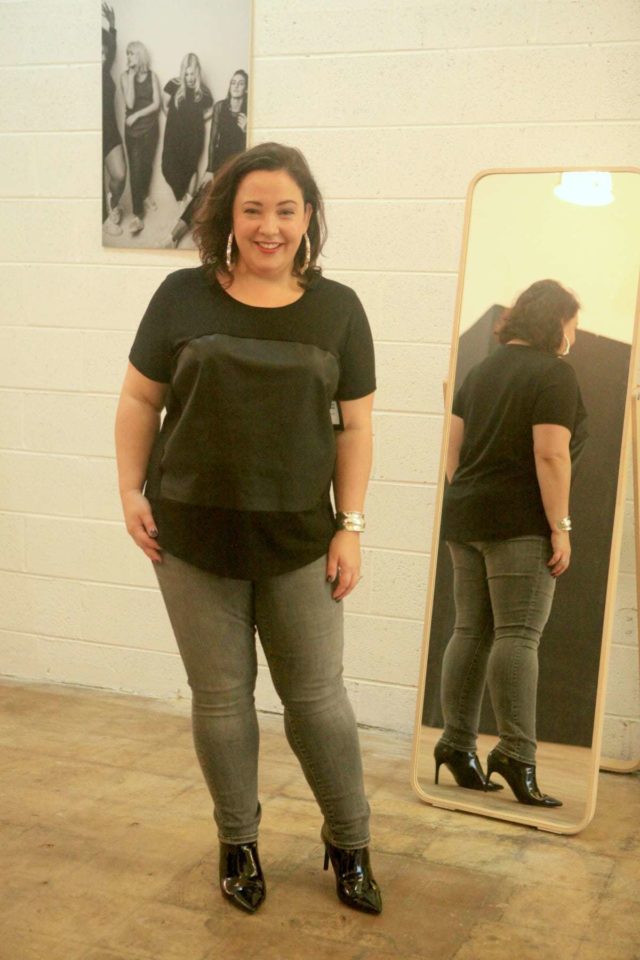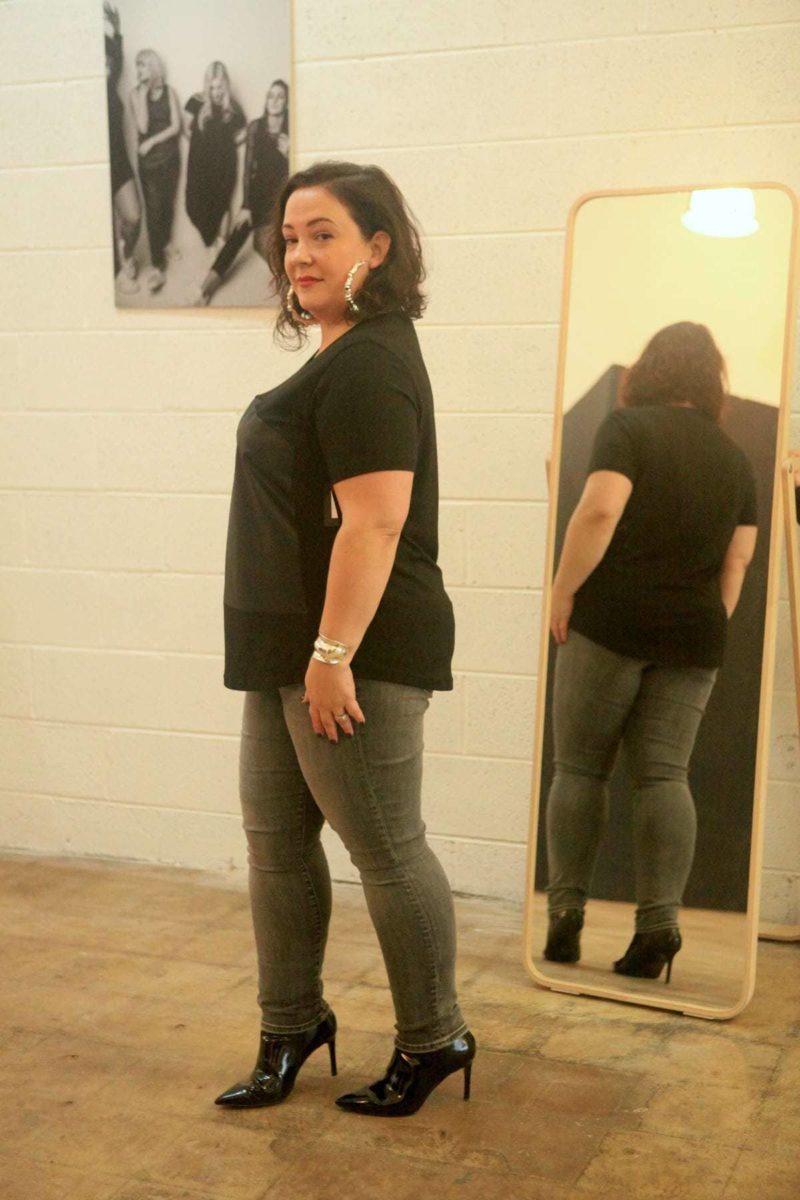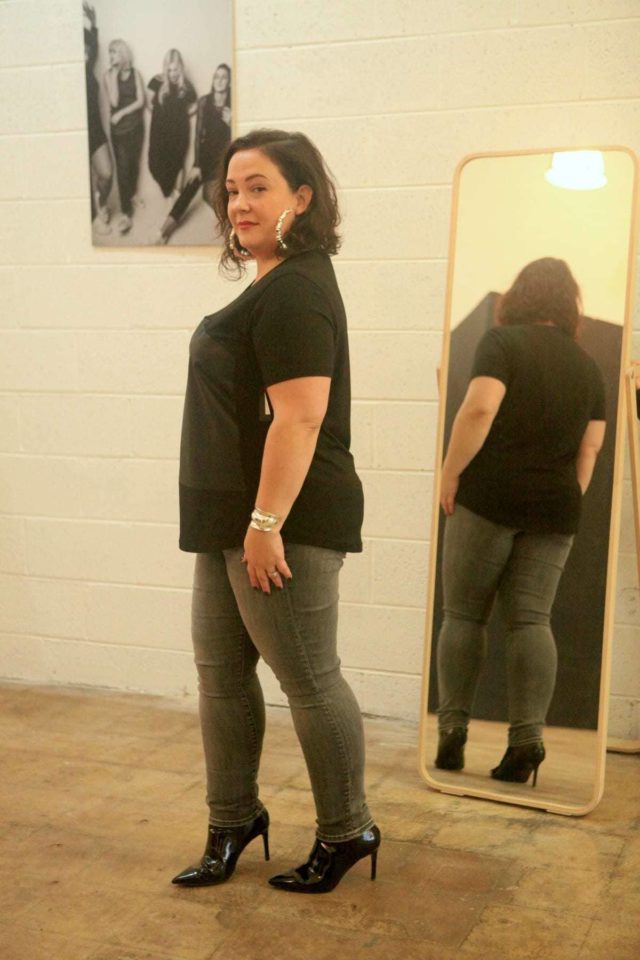 Emerson also asked me to try on the Carver Top, she loved the mix of jersey and leather. And this "matte resin block" on the top does look a lot like leather to point I had to double-check the material. This is a size Small. It's a pretty cool top, a nice alternative to a basic t-shirt and a good price too. It's refined, nice quality, it could possibly be worn over a white button-front shirt or a sheer turtleneck for a winter effect, and the top is long enough to wear with leggings or jeggings. This top isn't really my thing, but I think it's really nice quality and stylish for another.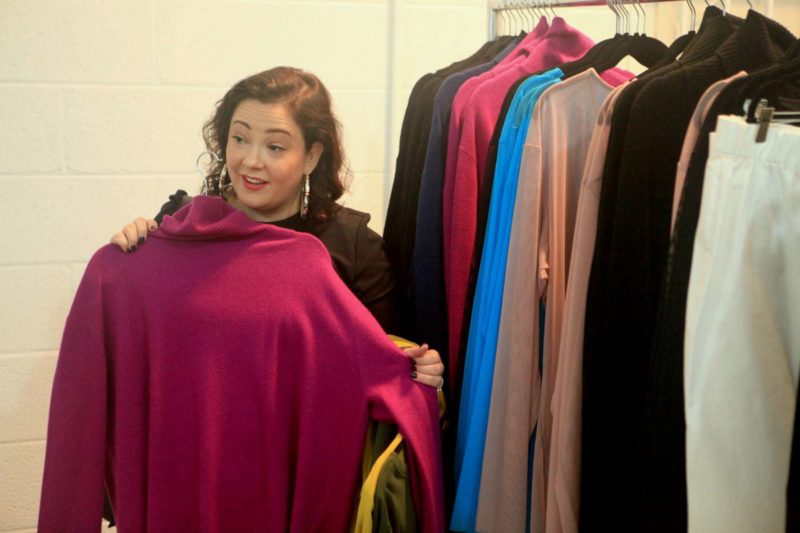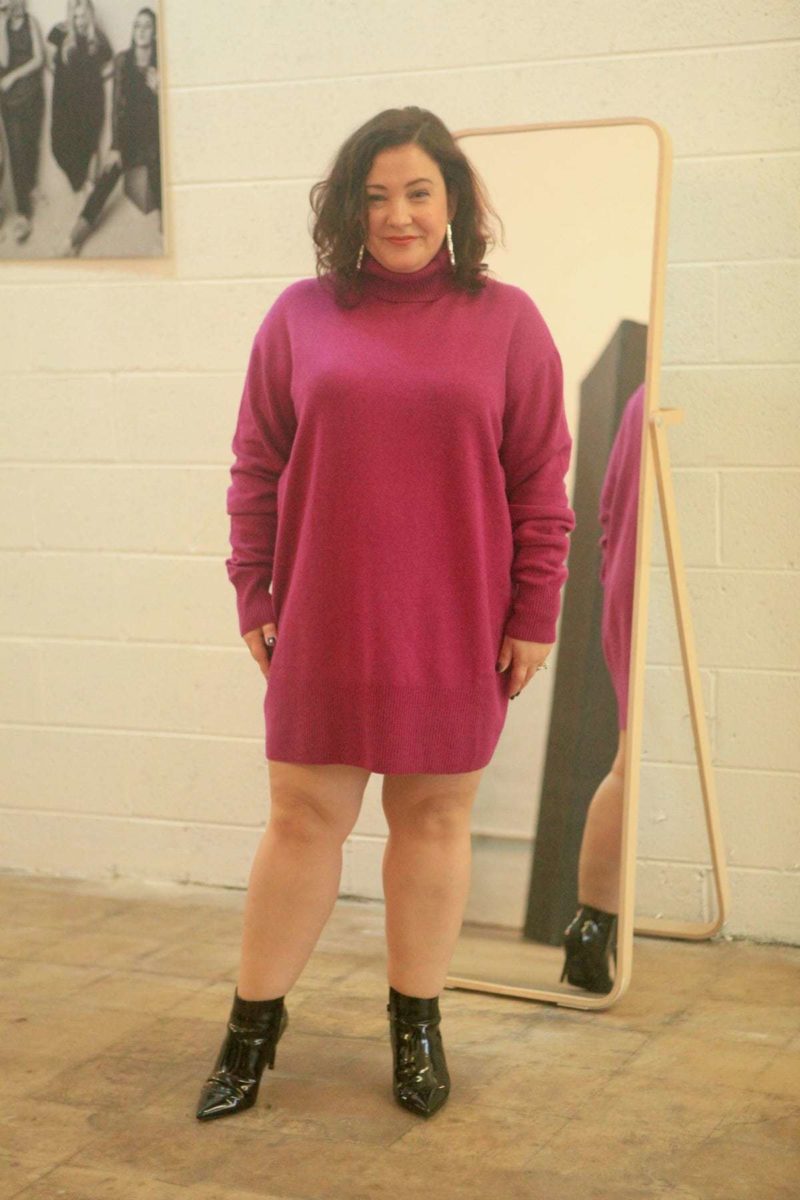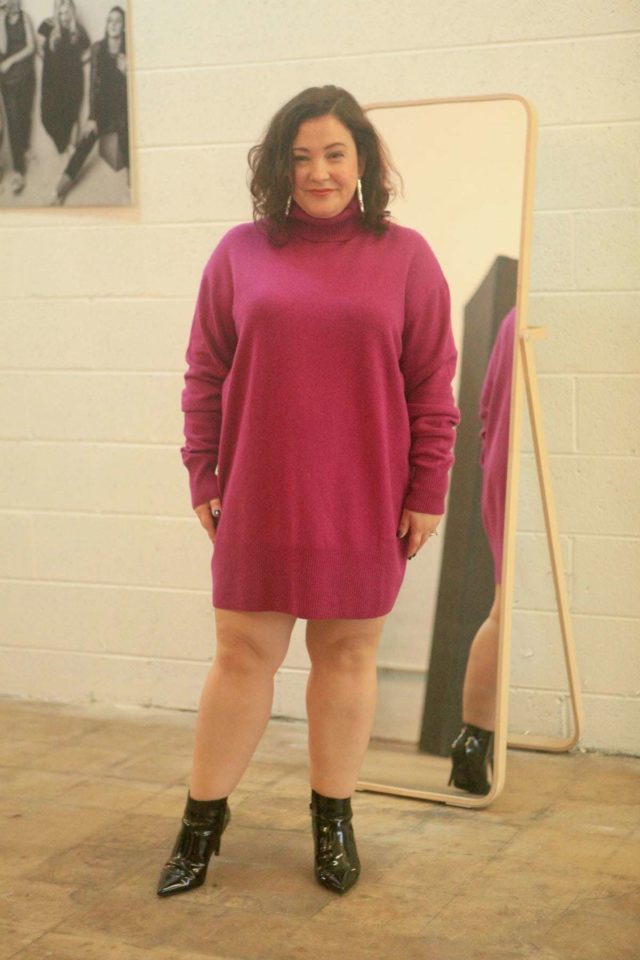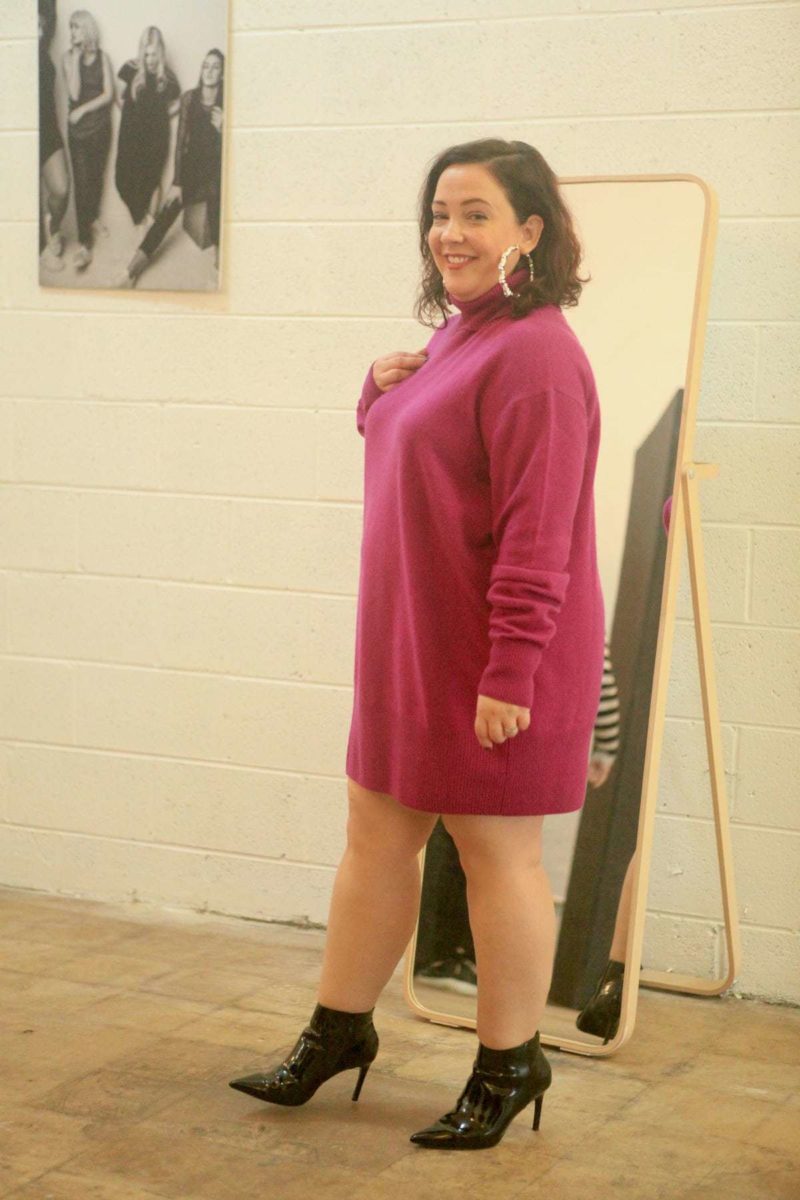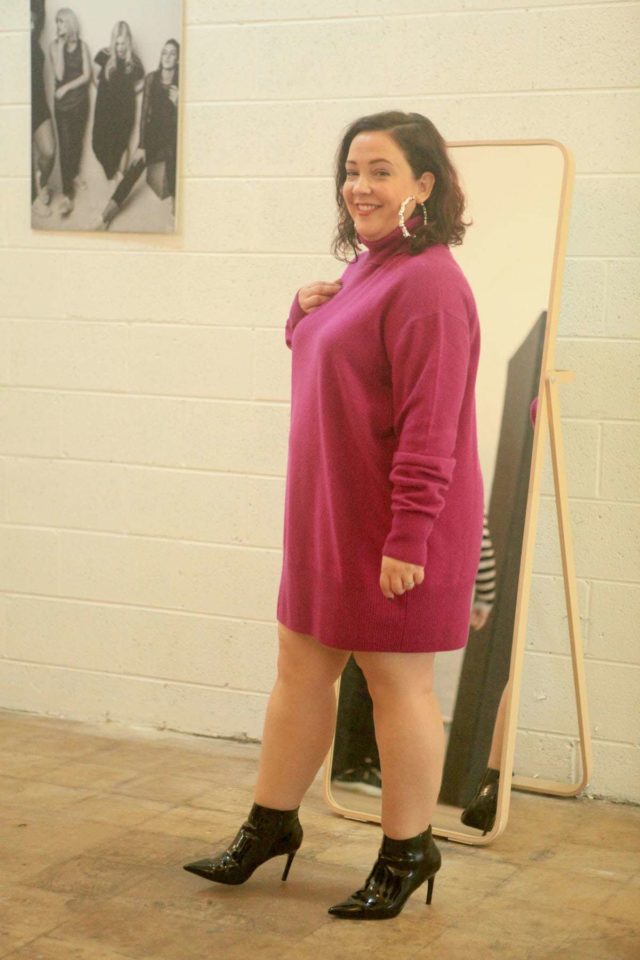 I've been checking out the Wheaton Sweater Dress in magenta for a while. I feared it would be itchy, and I didn't know if at my height it would be a tunic or a dress. Well it's not as itchy as I thought it would be, but if you get warm easily or have sensitive skin it may bother you a bit (it's no Raquette sweater). This is a size Medium. I would not feel comfortable wearing this with bare legs, but could see myself wearing it with opaque black tights or leggings. The color is even more stunning in person, but I wonder how the sweater would hold up after several wears and cleanings.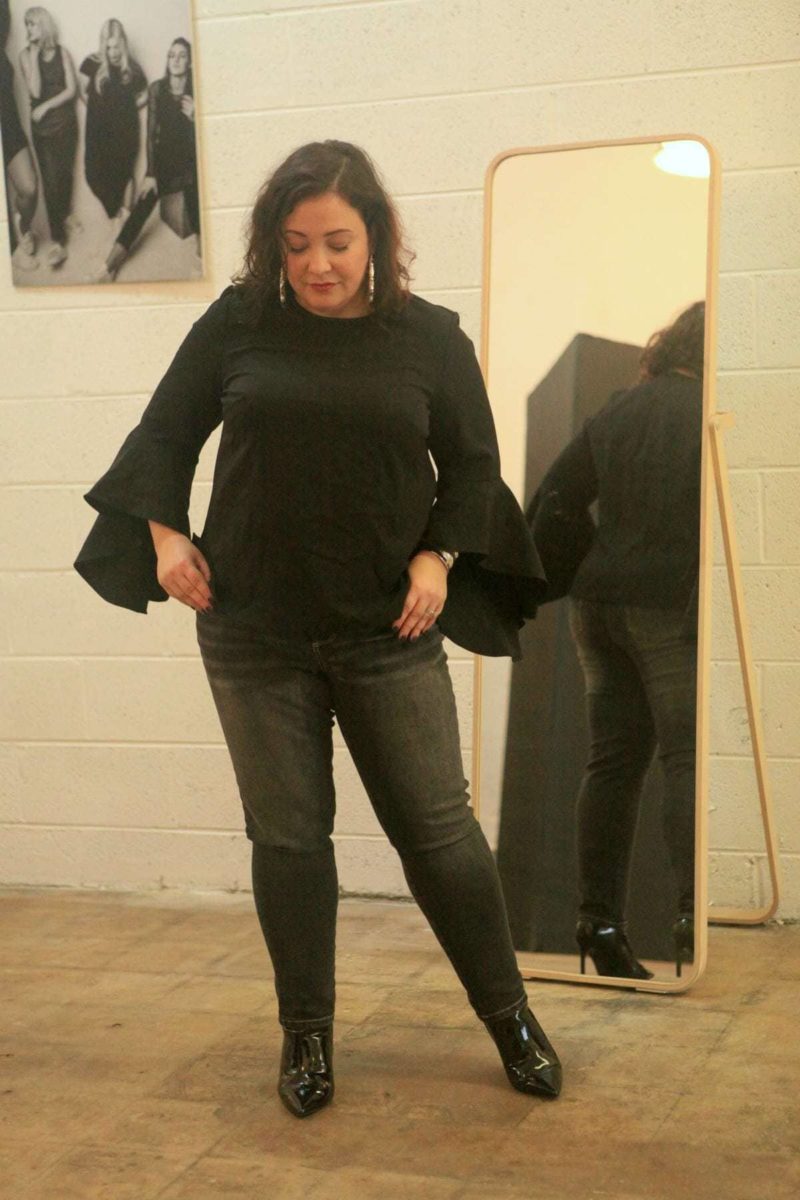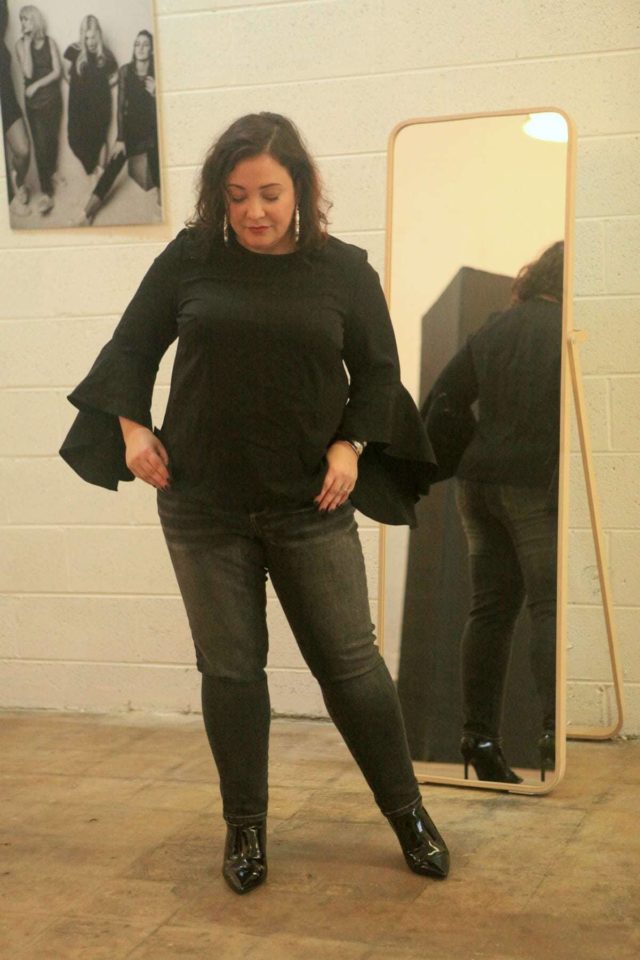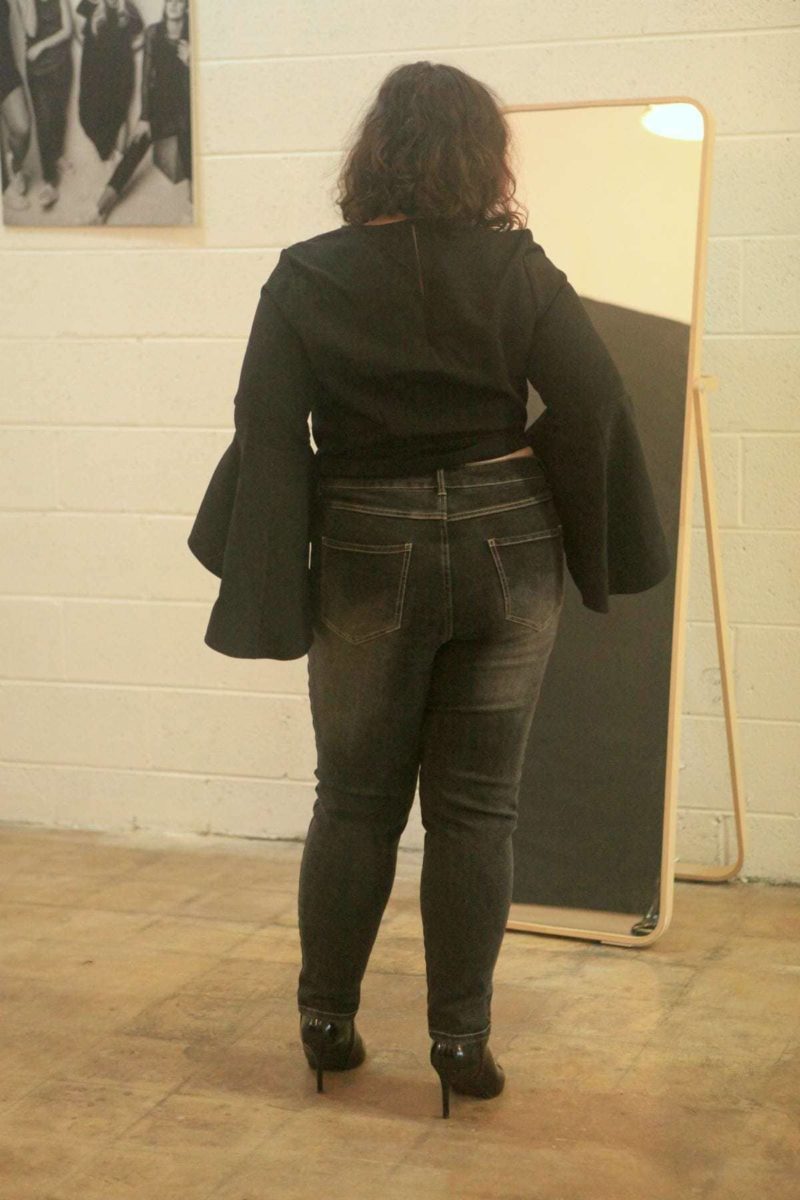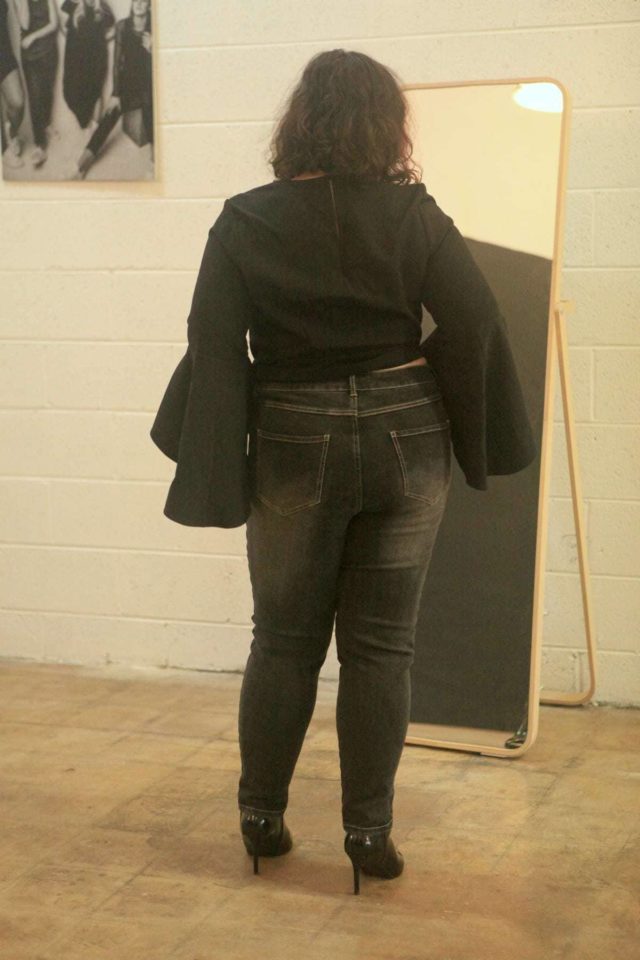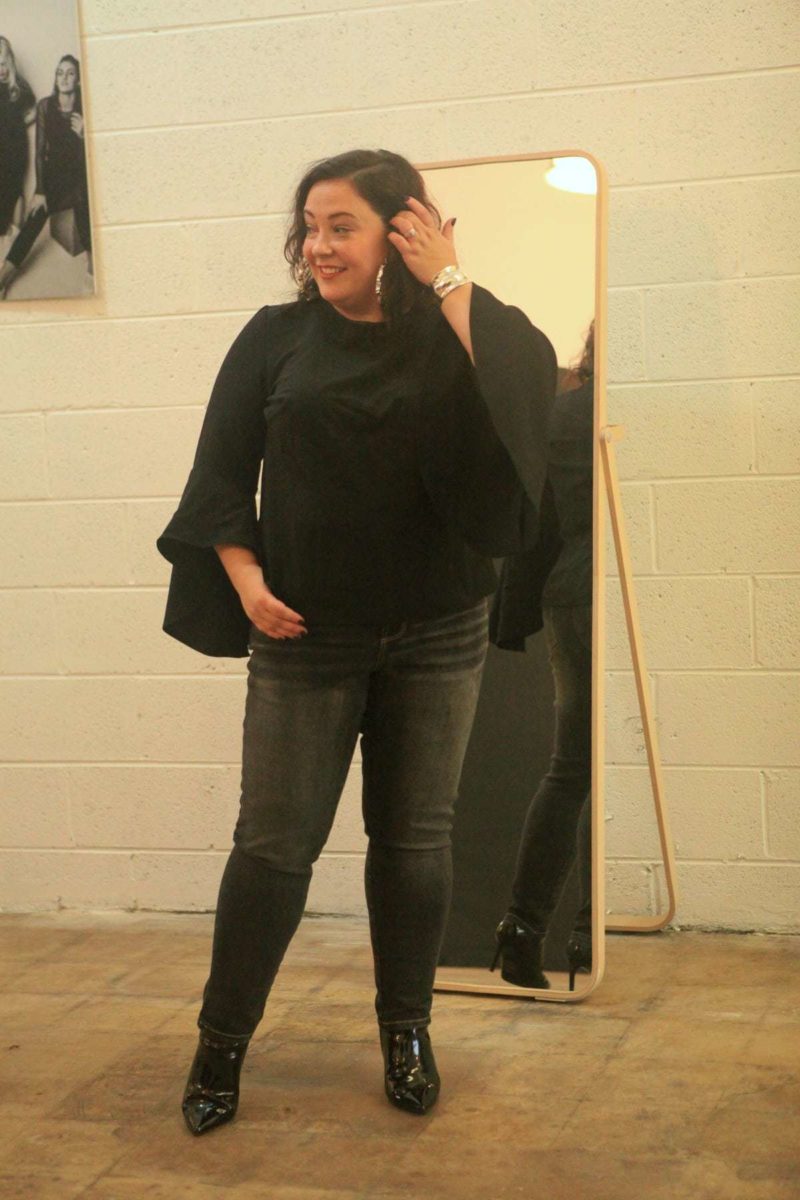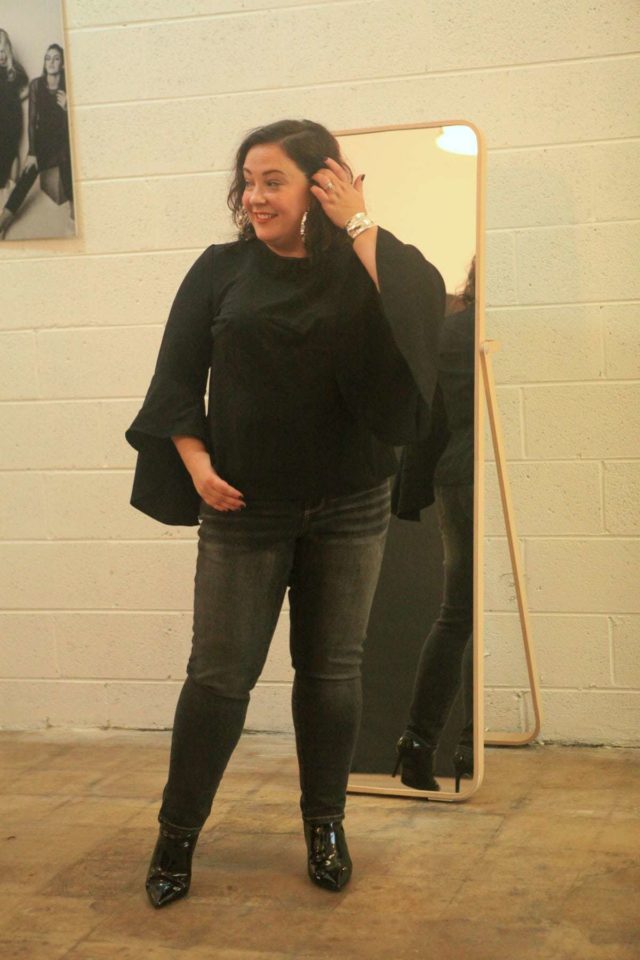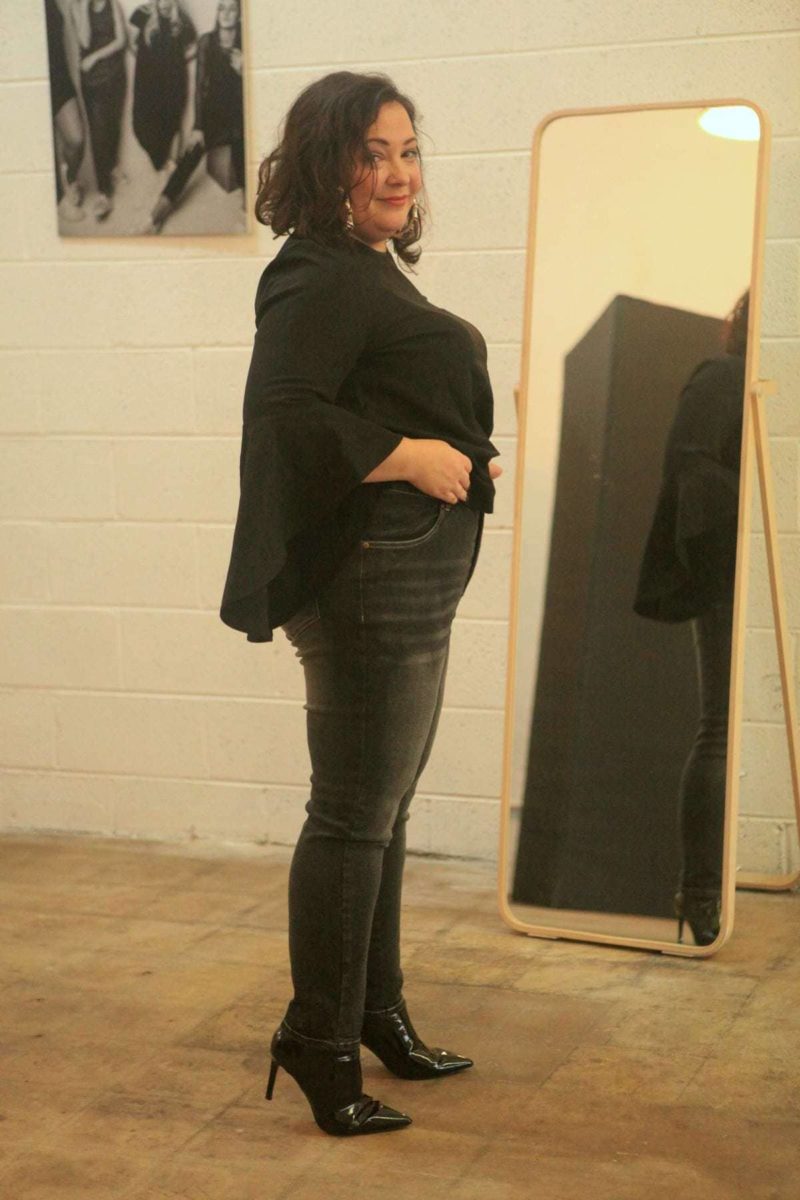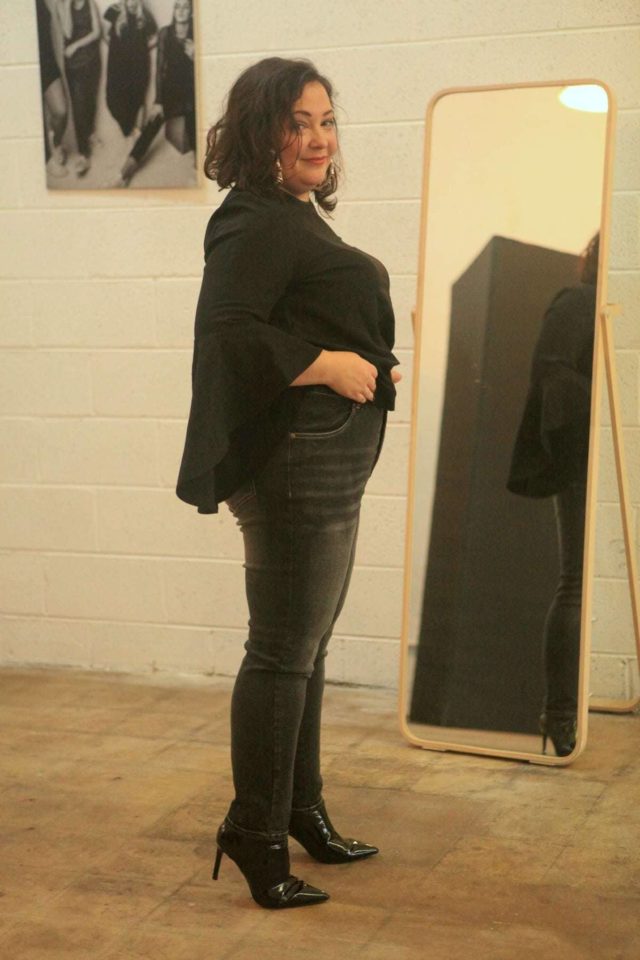 I tried Universal Standard Jeans before and just felt too short for them. However, at the Pop Up they had the Seine Jeans in both lengths and a ton of sizes. These are size 14 in the 27″ length, distressed black. These are some really well-made jeans, designed for curves. They are very high waist, but it felt really comfortable and I thought flattered my curves nicely The fabric is thick but stretchy and the jeans felt like they were molding to my body. The denim quality was really apparent when compared to the grey jeans I wore to the pop-up. The jeans I wore cost me around $65 and they looked a LOT cheaper than the Universal Standards. The only thing I didn't love was the pockets, which ended up looking a bit cheap due to size and placement. I know a lot of you have tried Universal Standard jeans, let me know if one needs to size down because of stretching out through the day so I know whether to get a 14 or 12. Because these jeans are AH-MAY-ZING.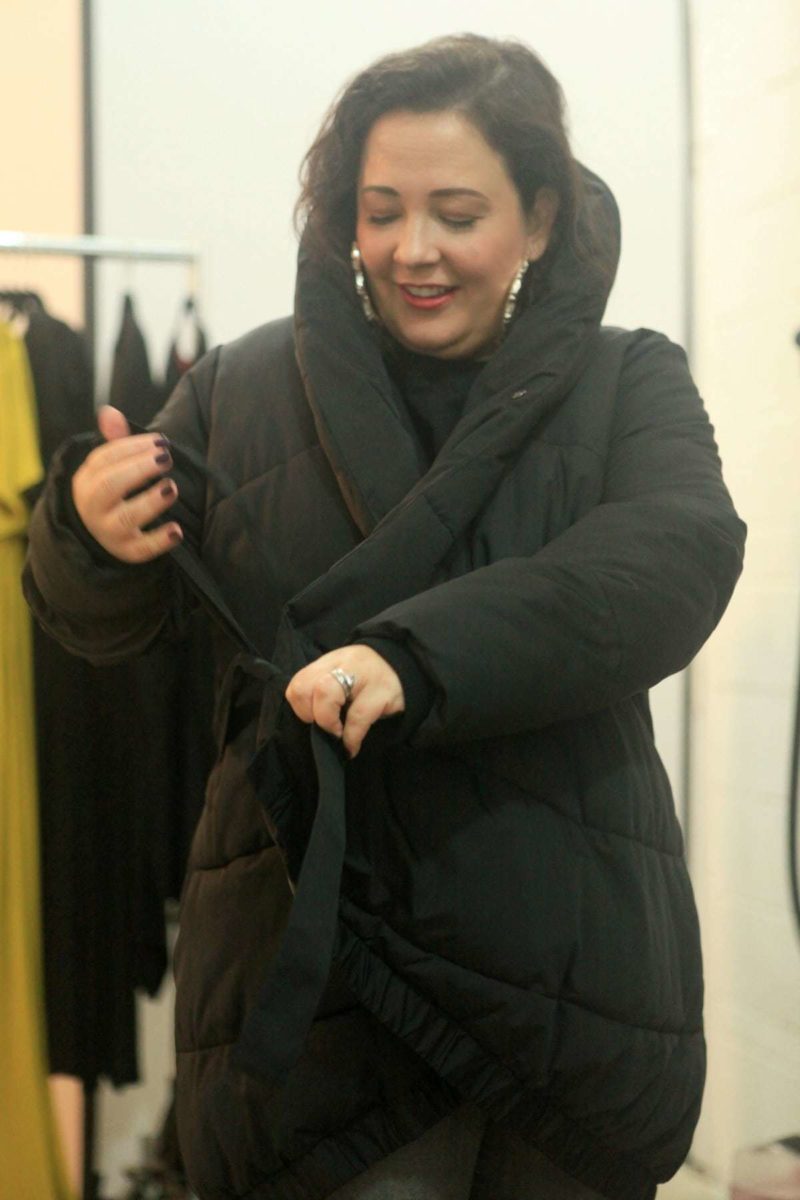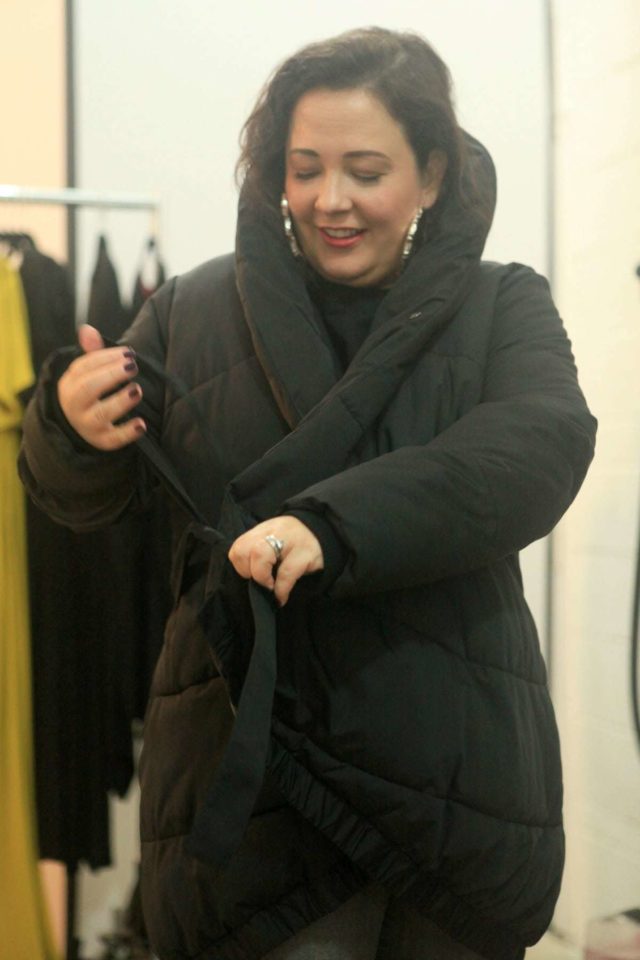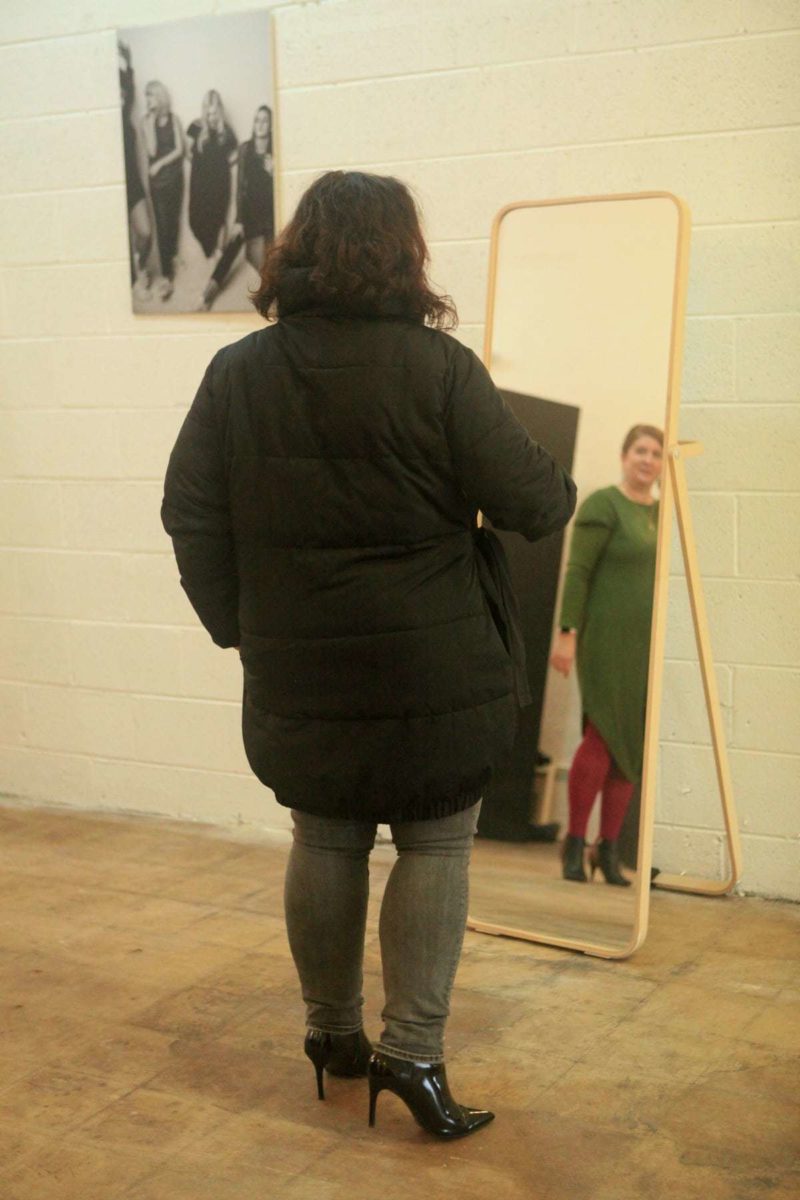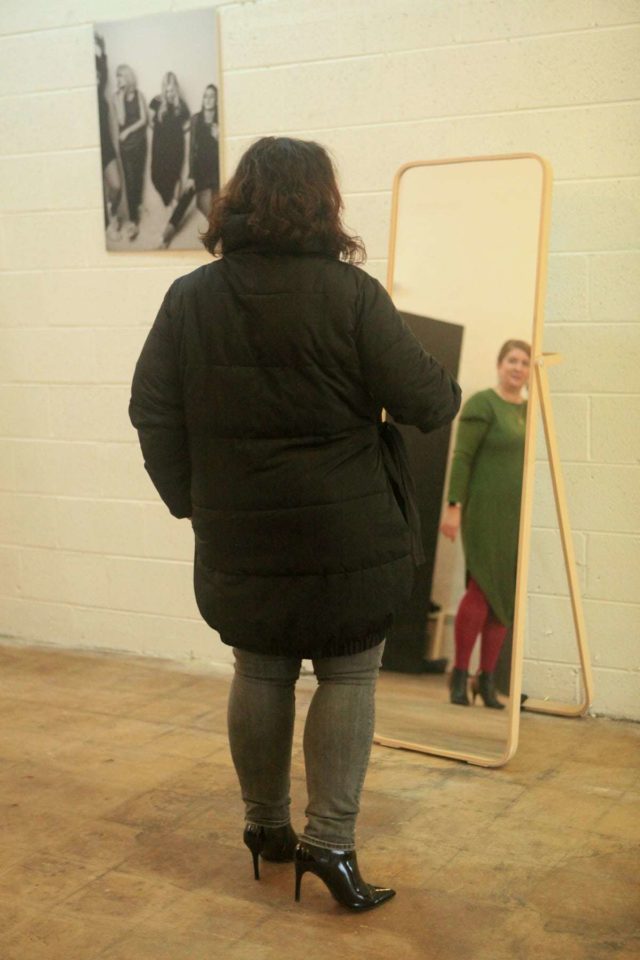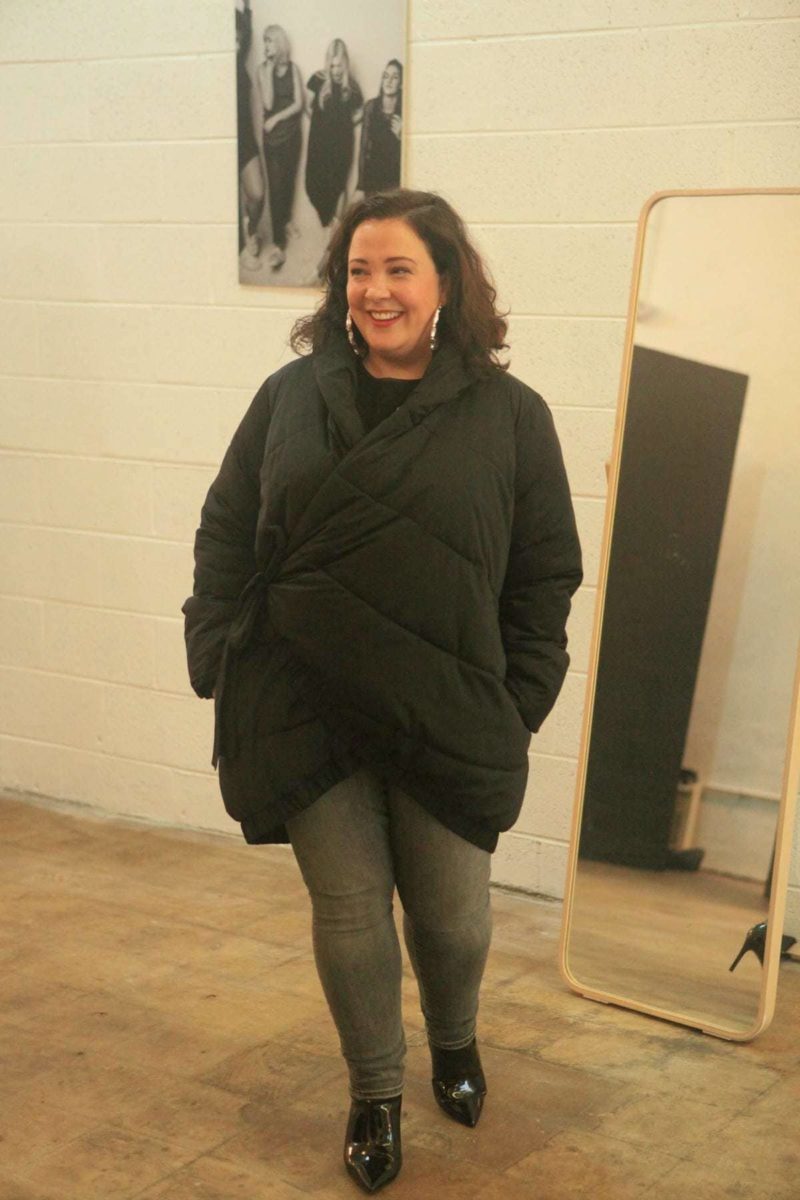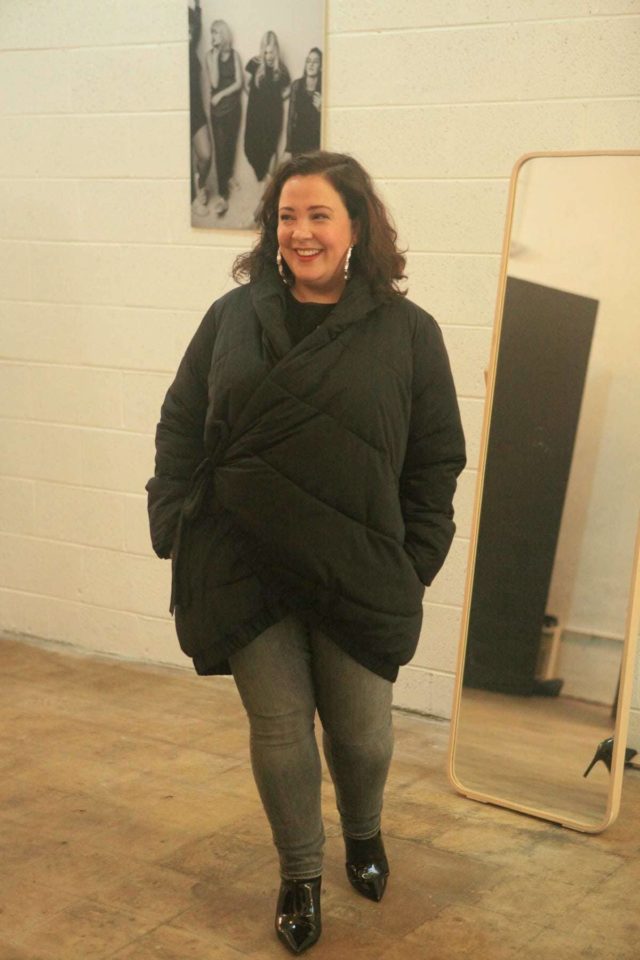 I bumped into reader Kate at the pop-up shop and she said I had to try the puffer coat. I tried the Kanda Puffer in black, size Small. This is a weird yet cool coat and brilliantly designed. While it looks like a kimono/wrap style, there's hidden snaps at the bottom and the neck to keep you bundled up and warm. I like that it covers the rear without looking like a sleeping bag. I found it more flattering without the neck snapped closed, but that is a good addition for when the temps drop and you care less about looking cute and more about preventing frostbite. This may not be everyone's cup of tea, but for those who desire a more avant-garde or styled winter coat, this is a well made, comfortable, and warm option.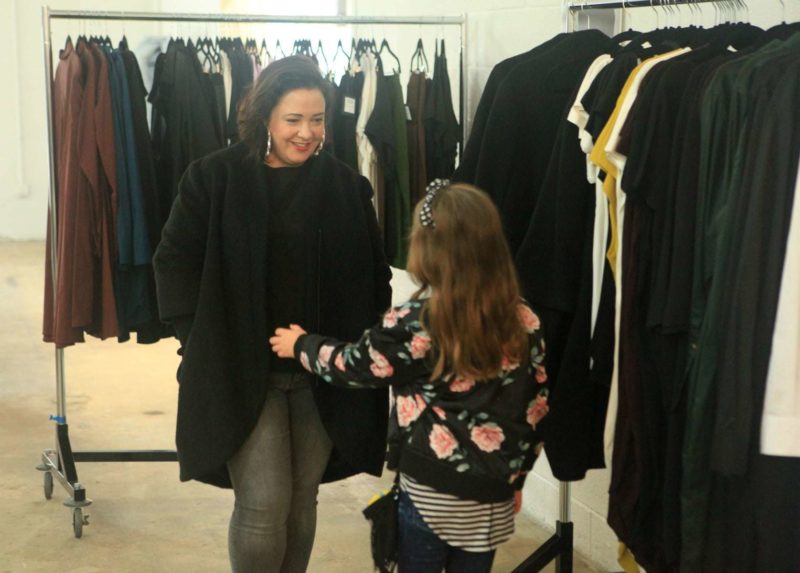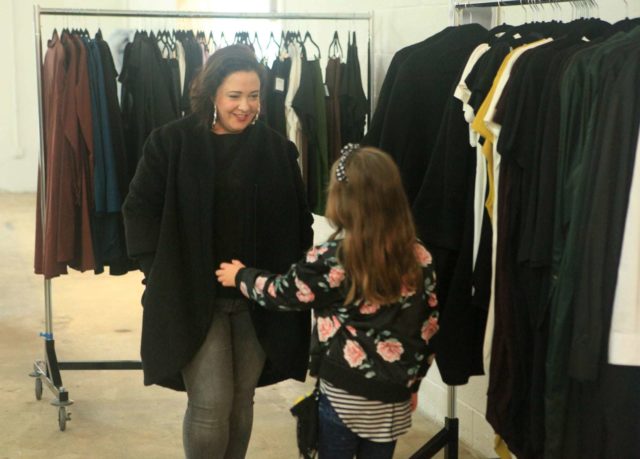 I have no full-length pictures of the Talfer Cocoon Coat but boy is it gorgeous. Emerson and I both rubbed it against our cheek it was so soft and no itch factor at all. I think it looks more expensive, elegant, and dressy in person. I like the elongated cuffs, it's a cool touch while keeping you warm in the winter. They seem longer on the model, they only seemed to go a third up my forearms on my body. The size Small was a great fit, even with a sweater underneath. On me, it hit just above the knees.
I didn't buy anything at the pop-up, but after I told you all about the pop-up on Facebook, US said they wanted to send me a gift card in thanks.  Whatever I get with it I will be sure to wear more than once, photograph, and give a full review here on the blog. Have you tried Universal Standard? What has been hits and what has been a miss for you? Share in the comments and provide your usual clothing size or height and shape to help others get a gauge for the fit. I'm excited about Universal Standard, and their pop up shop made me even more of a fan. I'd like to see them succeed, and from what I heard from the staff, it sounds like more cool offerings are on the horizon for the brand!