This article may contain affiliate links; if you click on a shopping link and make a purchase I may receive a commission. As an Amazon Associate, I earn from qualifying purchases. 
Hi Allie:
I live in a climate that is warm year-round and black is just too strong of a color for this town. Are there any other colors that are as versatile as black for a little black dress, or any of the other staples in your list?

Dear Allie,
I love the idea of having a LBD – such a versatile garment. Trouble is I really am too bony to wear sleeveless, too modest to show cleavage and black looks so aging on me. I noticed that most dark colours don't suit so well any more (I'm almost 59). Any suggestions for equally versatile colours/looks?
First of all, black doesn't mean a funeral, and having one or two black pieces is not going to make your entire wardrobe dark and dreary. However I do understand if you just do not like black in your wardrobe and do not feel comfortable with so many pieces in that color.
Colors like dove gray, taupe, navy and cadet blue are often just as versatile as black when it comes to a LBD. They can dress up or down and be appropriate for most any occasion or season. If you are a person who isn't comfortable in black, it's a good idea to find one of these colors as your new basic and try to find matching or complimenting pieces in that shade. I suggest a black dress, black pants, black suit, black pumps in my staples list… this can be changed to all gray or all taupe quite easily and still be as versatile. The key is to have it be your base color – don't purchase a gray dress, navy pants and a brown suit. What happens when you don't have a basic palette is that everything seems mismosh and it is really difficult to mix and match, maintain a small yet quality wardrobe, and pack for travel.
Companies like Chico's, Ann Taylor, J. Crew and Travelsmith often offer collections of pieces all in one color story and fabric. If they carry a non-black color that you like – stock up! You can easily find pants, suits, dresses and wardrobe staples all in one color that will work just as well as black but be more flattering to fair skin or tropical climates.
If you choose to make your base color taupe, navy or brown, know it will be harder to replace pieces in your collection and find appropriate accessories. Baby your clothes, buy duplicates if you worry about pieces wearing out, and be very very careful with purchasing shoes and belts. Brown does not look as dressy as black. You will be fine with pieces like casual boots, day bags and city boots, but for items such as classic pumps you may want to switch it up with a brown croco embossed pair (a fave of Jackie O), a more skin-baring style of pump (slingback, deep cut sides, etc.) or a color that is close to your skin tone for a leg-lengthening and more elegant look.
As for styles that cover the arms and decollete better, there are many options.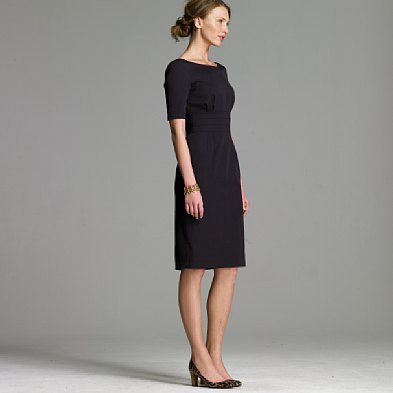 A style that is quite elegant and seasonless is the short sleeved or 3/4 sleeved dress with a boatneck. This style would offer a feminine silhouette while covering your cleavage and arms. This example from
J. Crew
shows how such a style can look elegant on s slender frame, yet still be quite conservative. Wool gabardine is a very versatile fabric, and this dress is available in petites, and some staple-worthy non-black colors like beechwood, navy and dark slate.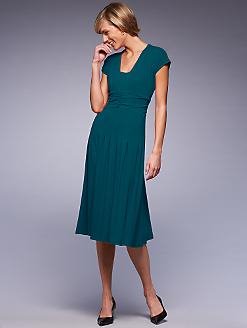 This crepe jersey dress from
Talbots
may not come in neutral colors other than black, but it has a sleeve, a higher neckline and a feminine style that will work from day to night and year-round.
Many stores will carry similar silhouettes in a bevy of colors and it shouldn't be too hard to find a color that works with your lifestyle and coloring!