This article may contain affiliate links; if you click on a shopping link and make a purchase I may receive a commission. As an Amazon Associate, I earn from qualifying purchases. 
Yes, YOU. The one who thinks that Nordstrom is too expensive and would never set foot in that place, who believes that Forever 21 only sells crap, Claire's Boutique only sells accessories for tacky teens and Talbot's only caters to conservative old ladies.
Yes, I fully agree that finding brands that work can save time and stress at the mall. You know what flatters your figure and caters to your lifestyle and budget – go there first. However if you have an extra hour to kill, I encourage you to enter a store you usually shun. Maybe you shun it because you are not a model size 4, maybe because you don't have deep pockets, maybe because your daughter shops there. We all have reasons for brand snobbery, but sometimes opening your mind and the door to an unknown store may offer you new ideas or styles perfect for you.
For those living under a rock, Nordstrom is having their Half-Yearly Sale and this is a not-to-miss. This morning as I was scanning the New Sale Arrivals (yes there is an option on the Nordstrom site for this, and yes new things are added every couple of days) I saw petite suits from high-end brands that were around $100 for the set (really, that's a price you would pay at a discount store), plus-sized cocktail dresses begging to be worn to a holiday party, workout attire, Oprah-famous Wacoal bras for $35 and everyone-famous Hanky Panky thongs $8 off. For those sorts of prices, you can't say that Nordstrom isn't a store you shouldn't consider. The sale is going on now in stores and online (and after this sale, do know there is always a sale section at Nordstrom – I have gotten designer jeans for 50% off, designer leather purses under $100, even my professional-style makeup case for 70% off when the Big Sale wasn't taking place).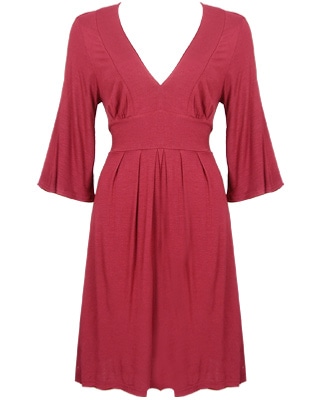 I am always preaching "quality not quantity" to you on this blog, but do know quality can be found most anywhere. I have dresses and tops that look as great now as they did a year ago that were purchased at Target, Kmart, H&M and Forever 21. They are also pieces that a year or two after purchase, still look classic and fit into today's styles. These stores can often be overwhelming – racks and racks of cheap faded cotton and slimy polyester in garish colors and prints that went out of vogue 15 minutes ago; take your time, shop the top of the rack (just as you would when thrifting) and look first for colors and fabrics that appeal to you, only then pull the garment from the rack and check to see if the cut is worthy of a trip to the fitting room. I have found lower-end items that were utter crap, but I have lower-end pieces that I have been wearing for near a decade and get far more compliments when worn than the designer duds in my closet.
As for jewelry, women often tell me they don't wear it because they can't afford it. It's true, if you wanted to invest in 14K gold hoops that are larger than a thin wire wrapping around your ear lobe, you're going to have to pay. But who says you have to wear that which is real? I'm not saying cover yourself in fake jewels and forearms full of gold-painted bangles, but a few pieces can be purchased at lower-end places for dirt-cheap prices to add to your wardrobe without looking chintzy. I find the accessory shops in malls like Claire's often have some great buys amidst the jelly shoes, feather-topped pens and mood rings. Each summer I invest in a few simple, thin, unadorned hoops in silver and gold from there.
Summer begs for hoop earrings, and by the end of the season, you have often lost one on a dance floor or in a hotel room on holiday. All the better to only pay $6.99 for them. If they are thin and simple, no one will really care or question the ticket price of the hoops. If you keep them dry and in your jewelry box when not in use, they should stay shiny for a long time.
Summer also is a great time to get more bold with other accessories. I find that in the Brass Plum section of Nordstrom, shops like Claire's, H&M and even shoe stores like Aldo I can find cheap yet stylish plastic sunglasses, cute totes for the beach or pool, and chunky plastic beaded necklaces and bangles to jazz up a simple tank or knit sundress. You'll see the almost exact same necklace or tote in the "adult" stores for three times as much.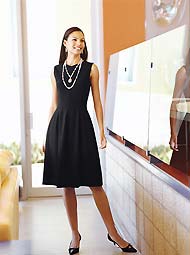 As for those stores you find are too old/too young for you… well it doesn't hurt to do a "figure-eight" through it on your way to the parking lot. I have a super cute navy twill blazer I wear all the time. I sport it with jeans and a ribbed tank for casual days, with chinos and a silk knit shell for spring work days. I always get compliments on its fit and style. Knowing my personal style, I am classic with a bit of funky/rocker thrown in and would never be the poster girl for a place like Talbots. However this cute blazer was found on their sale rack for only $14.99. My mom has pieces in her predominately Chico's/J. Jill wardrobe that are from Express, Ann Taylor Loft and Banana Republic. I may be in a conservative office environment and in my 30s, but I still stroll Brass Plum, Forever 21 and Charlotte Russe looking for pieces that could work in my simple wardrobe. You never know, that silk blouse you were eying in Bloomingdales may have a very similar cousin in the junior's section of Macy's!
Red knit dress, Forever 21; Black dress, Talbots.