This article may contain affiliate links; if you click on a shopping link and make a purchase I may receive a commission. As an Amazon Associate, I earn from qualifying purchases. 
A few things I have recently purchased or tried, and whether they are winners or losers for my closet: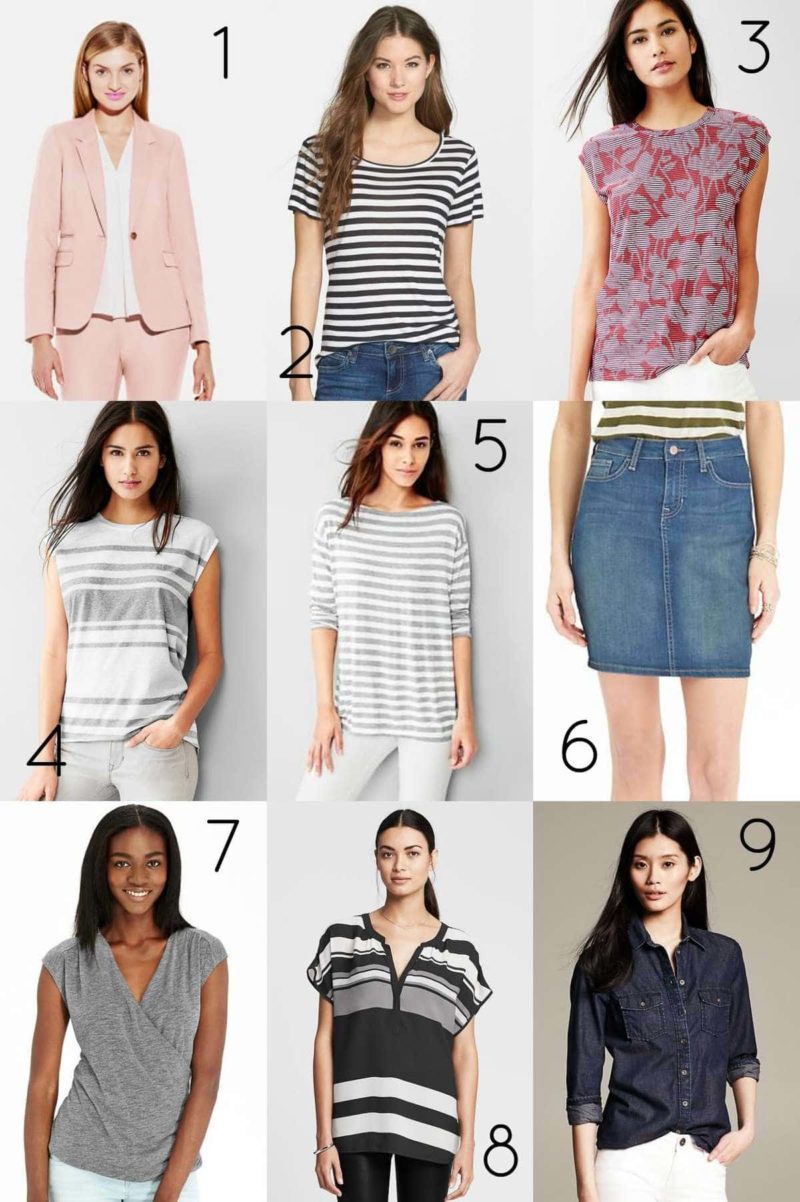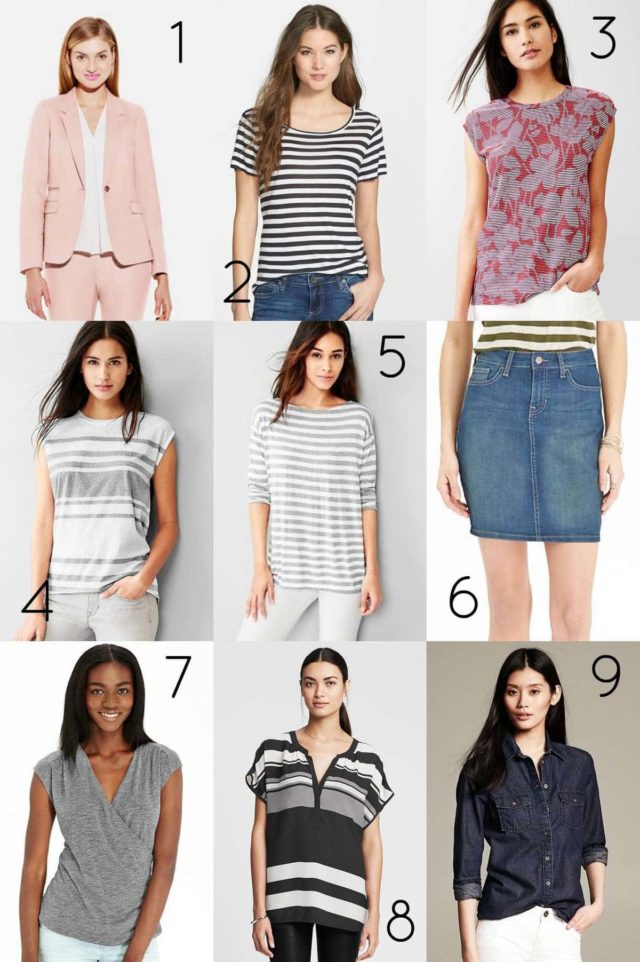 I owned this same blazer in neon yellow when the neon trend was hot (I wish I never sold it, I'd likely still rock the heck out of it), so I know how it fits. I'm not usually a pastels kind of gal, but blush pink has grown on me, especially when paired with denim, navy, and black and white. The jacket is nice – it's that kind of fabric you can wear to the office, but also style with boyfriend jeans. It has gold buttons at the cuffs and a single gold button in front.  I like rolling my sleeves for a more casual look and it worked even with the buttons (and the lining is the same color of pale pink).  The day I wrote this piece I wore it with the Caslon striped tee, my Jag Erin skinny cuffed jeans, and black pumps. I also wore it with boyfriend jeans, Converse Shorelines, and a white band tee and plan on wearing it to the work with gray or cream trousers.
I know, I know, all the stripes. It's my weakness in life. I liked that this one had a subtle scoop neck, that it wasn't going to be clingy and a slouchy lightweight fabric. I ordered the Large and it fits far more like an XL. It's fine with skinny jeans or shorts, but a medium would likely be better if you want to wear untucked with looser bottoms or tucked in. Though it's lightweight, it's not sheer. Though it says hand wash and dry flat, I washed on the gentle cycle in a lingerie bag and line dried it hanging over two hangers and it turned out fine.
Last year I bought a muscle tank from Free People and I loved the cut, the fit, and the effect. I was thinking these would be similar. Notsomuch. These are true muscle tanks – the neck is high, the sleeves are cut where they'd likely flatter a very slim or very muscular arm, neither which I have. They look like Fruit of the Loom tee shirts with the sleeves cut off and hemmed.
I got this in the gray and white stripe and I like it. The sleeves are fitted but not too much, the body is wide and fluid inn a good way, the neck is flattering. It's called a tunic but the large on me hit mid-fly on my jeans, nothing too long or too short. However, it just wasn't unique enough for me to justify it. The top now is on big discount online and few sizes and colors are in stock, but I bet there would be a few on the sale rack at your closest location.
Many of you recommended I try this skirt when I found the Madewell one (which I did return) fit strangely. I ordered this in the Gold Coast wash since I was looking for something more distressed or vintage looking. I have to agree, this is a great skirt. It has stretch so you get a better fit, and it's a classic cut that will go with so many things. However the Gold Coast color is terrible. It looks really cheesy; a weird blue that I remember my dad's gardening jeans from Sears were, and with bright gold stitching. I considered distressing the skirt to balance out the very crisp finish but didn't think it was worth the effort and worried I'd end up ruining it. So instead I sent it back. However if you want a rinse/dark denim pencil skirt, I would totally recommend this one from Old Navy.
This looked cheap. I have a similar top from Two by Vince Camuto and this one may be a third of the price of that one but it LOOKS like it. This top doesn't hang well, the armholes aren't flattering, the neckline gapes, the fabric is a weird texture. Even if it was on sale for $5 I wouldn't keep it because I just don't think it's worth it. I thought it could be a nice change from tee shirts, but it just isn't worth it.
This looked like something that I'd put on before I got my hair highlighted. It looked like a lady's blouse from the '80s that I would have thrifted in college and knotted and paired with denim cutoffs and clunky Steve Madden slides. Fail.
Reviews said this runs small so I got an XL. I'm glad I did because the arms (just like most everything from Banana recently) run narrow. The fabric of this shirt is soft enough that it drapes nicely, but has enough structure for a proper collar and clean cuffs that stay in place. This shirt actually shows the quality difference between Gap and Banana; I have two Gap denim shirts and while they're great, this one was just made with more attention to detail, higher quality fabric and finishings.