This article may contain affiliate links; if you click on a shopping link and make a purchase I may receive a commission. As an Amazon Associate, I earn from qualifying purchases. 
A gorgeous designer dress in your size and your best color. The perfect bracelet and earrings to compliment it. Fabulous shoes that make your legs look a mile long. Your hair is being very good to you – thick, shiny and manageable. Not a blemish on your peaches and cream complexion. Your trips to the gym have paid off – you are looking firm and fabulous. Then why do you look so discombobulated?
Most likely you have the wrong foundation garments under that designer dress. Nothing can ruin your look faster than the wrong undergarments. Ill fitting bra or visible panty lines will take a costly dress and make it look as though it was yanked out of a bargain bin. You may exude class and taste, but with the wrong underpinnings you can look like a gum smacking teen in desperate need of charm school.
All About the Bra
First things first – get yourself fitted. You read it in the magazines, you hear it on Oprah; most women in America are wearing the wrong size bra. This is a good excuse to venture into that high-end department store or lingerie boutique. No offense to Victoria's Secret, they provide wonderful training however they have quick turnover of part-time salespeople resulting in a woman wielding a tape measure who may have only sold bras for a week. Bra salespeople in boutiques and higher end department stores are heavily trained and often have years of experience under their belt. Even if you cannot afford a single pair of panties in these shops, walk in with your head held high, your shoulders back and ask for a bra fitting.
Once you have been fitted and sized, you still must try on the bras before you buy them. Just as a size 10 jean in The Gap fits differently from a size 10 jean at Express (or from another size 10 at the same store) so it is with bras. To endure an hour of bra fitting, make sure you have scheduled the time and have properly fed, hydrated and rested yourself. No one enjoys bra shopping, but with the right preparation, it can be less horrible. Ensure you are wearing or bringing a top that would be worn over the type of bra you are planning on purchasing. This being said, what types of bras are needed in your wardrobe?
The Tee Shirt Bra – This is a bra that is practically invisible under thin knits. The bra should have comfortable straps, a smooth satin or microfiber texture that does not cling (nor does it shine and shimmer through tee shirts) to knits and fully covers the bust, reducing the chance of the dreaded Quad Boob. This bra should lift, separate but be as comfy as your current Lazy Day or Weekend Bra. In fact, toss that ratty stretched out item and replace it with two tee shirt bras. Your figure will thank you.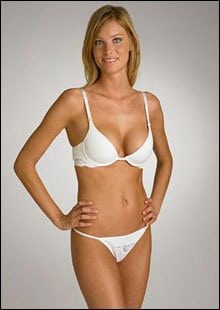 The Low Cut Bra – This bra is for your dresses and tops with a lower neckline. Often made of scalloped lace, this bra still supports, but is cut lower in the center at the cleavage line. I do not recommend demi bras for this purpose – unless you are very small busted demi bras can often change the shape of the breast, making it top heavy or look cut across the center. A bra can provide great shape, good coverage and plenty of lift while still working under lower cut tops. I have found much success with Chantelle and Wacoal brands for well-cut bras.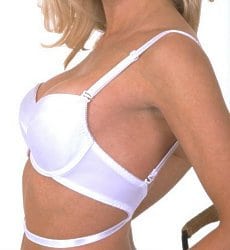 The Convertible Bra – Racer back tank? Halter dress? There is NEVER a reason to have your bra strap showing. Women of fashion NEVER EVER have their bras showing. Think of celebrities with class – Gwyneth Paltrow, Nicole Kidman, Isabella Rosalini, Condoleezza Rice, Diane Sawyer. Would you EVER see these women's bra straps? I think not. The way they are able to wear backless gowns, halter dresses, one-shouldered sweaters and racer back tops is due to convertible bras. These bras have special straps that can be reconfigured in a multitude of ways. Frederick's of Hollywood is a great company for larger-busted women. They have convertible bras from A to F cups.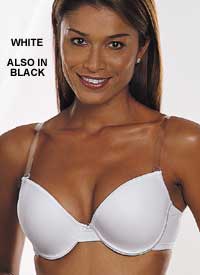 The Clear Strap Bra – A clear strap does not mean it is invisible, so don't attempt to wear it in place of your convertible bra. This bra is for those garments where just a hint of strap may be seen (sheer tops, wider v-necks, crocheted or lace straps). Clear straps adhere to the skin a bit so will stay in place if the garment requires the straps to be a bit wider set for a certain neckline. Again, do not confuse clear with invisible. Clear straps are noticeable to EVERYONE and look positively tacky when visible. Another thing to consider – clear straps pick up the light – you might as well wear a white bra at a nightclub. While on the subject of straps – the rhinestone, bejeweled and colored clear straps are not anything a fashionista or woman of class would have in her wardrobe. If your garment doesn't come properly adorned, invest in a Bedazzler, not a bedazzled set of bra straps.
The Strapless Bra – No matter how small you are, you still need a strapless bra. If you are over the age of 18, it is tacky and classless to go without a bra. If you are an A or a small B the shelf bras in some tops may be enough, but if you are larger than that, going without a bra ruins the feminine line of your figure and makes your breasts look like fatty tissue, not ladylike curves.
Unlike other bras, strapless bras often work if they are a size larger (if you usually wear a C consider buying a D). Strapless bras are often molded and that firm shape may not allow for the real shape of your breasts, causing a smooshed look or spillage from the top of the bra. No bra should make your breasts look like anything other than round and soft. Like the tee shirt bra, this bra should not be shiny, should not cling and should be near invisible under clothes. It's best to buy your first strapless bra in a color as close to your skin tone as possible. A black strapless bra is a good choice as well – strapless garments often slip down a bit throughout the day and it's better to have that little bit of bra showing to be as close to your garment color as possible (or as non-underwear looking as possible).
As with any other bra, a strapless bra serves no purpose if it doesn't lift and separate. Try a top on over the bra. If it doesn't hold you up, it goes back on the rack.
The Specialty Bra – Be it backless, tape, a certain color… if you buy the garment you must buy the proper undergarment. If you can't justify the cost for a speciality bra, then you should reconsider purchasing the garment.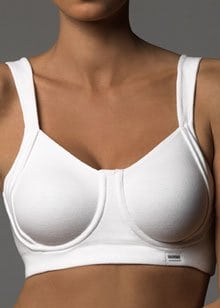 The Sports Bra – Sports bras are a necessity, no matter your size. They are breathable, they have elasticity, but compression to keep your breasts from painfully bouncing during aerobic activity, and they hold up better after repeated washings. For smaller breasted women, any style that is comfortable is appropriate. For larger busted women, consider the shaped bras. They look more like traditional bras and less like tank tops. They will keep your breasts separated (looking less like fatty tissue) but will still provide the security and compression of a traditional sports bra. Natori and Champion have good versions of this style.
Even if this sports bra lifts and separates, it is NEVER a replacement for an everyday bra. There ARE bras out there that can be supportive AND comfortable. Bras may be expensive, but if you buy well fitting ones and care for them properly (hand wash or use a lingerie bag on the gentle cycle and line dry) they will provide you years of supportive wear.
The Dreaded Panty Line
You don;'t have to go commando or switch to thongs to get rid of VPL (visible panty line). You just need to change your way of thinking and add variety to your current collection.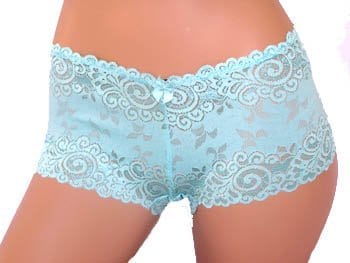 Boyshorts – Boyshorts are a cute and comfortable way to reduce VPL. Many have lace inserts at the leg opening, eliminating the heavy seam that shows under garments. Women with larger rears or hips often find these panties more flattering as well as comfortable than traditional briefs or bikinis. As with bras, invest in several pairs that match your skin tone as closely as possible – these will disappear under light colored bottoms and will be less risqué if by chance a hint of fabric shows when you sit or bend over.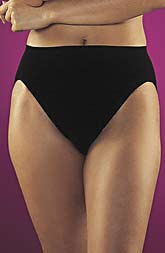 Microfiber – There are panties out there that say they reduce VPL, and there are ones that actually do the trick. Often the traditionally cut underwear that has the least amount of VPL are those made of microfiber. Full of stretch and able to create a very thin and flat seam, microfiber has become a fabric of choice for many underpinnings. They wash wear, wear well, stretch in every direction and often become invisible under knits and other VPL-encouraging fabrics. They are so comfortable, you may wish to replace your granny panties with these. In fact, do this. There is no place for baggy, stained, torn and unflattering underwear in a fashionista's wardrobe, no matter how glum the day, how baggy the sweatpants or what time of the month it may be.
Workout Briefs – Exactly what they sound like, workout briefs don't ride up, they don't bind, they move with you. They are made of a breathable fabric and are even better if they are moisture-wicking. You should have at least three pairs of these for all activities that cause you to stretch, sweat and be active. Your body will thank you.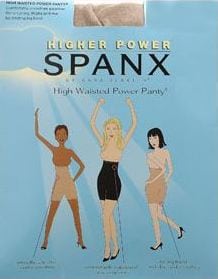 Spanx – Thank goodness for Spanx. This brand of control garments was made by a woman, considering a woman's needs. The line began selling footless pantyhose – a great product to have a smooth line under pants and long skirts. The line now carries all types of control garments, camisoles, pants and other garments with built-in control and even casual bras. If you desire a tool to help tuck your tummy and master your thighs, this could be the brand for you. My favorite product is Higher Power – a garment that starts right below the bra and ends mid-thigh. There is no binding, no cramping often caused by too-tight of control garments. Having the garment start at the rib cage eliminates the "muffin-top" that happens when a waistband is too tight and the flash pours over.
I am not saying you must buy Spanx and no other brand. I have control garments from a plethora of companies. Just ensure that your purchase is comfortable for at least eight hours, it does not cut into your waist, your bum or your thighs, it is invisible under your clothing (nothing less attractive then boning showing through a knit dress), it doesn't cause a "muffin top," and it doesn't create the "sausage effect" (so tight and binding that your torso is tight, round and firm, as though it is encased like sausage). Invest in one as close to your skin tone as possible, and if you desire a second one, consider black for the same reason that black is great for a strapless bra.
Sex Kitten Panties – Every woman is sexy, and nothing makes a woman feel more amazing than a fabulous pair of panties. Lace, silk, leopard print, fire engine red, or sleek black, there should be a minimum of two pairs (but should be more like six at least) in your wardrobe. These are to be worn under power suits, little black dresses, your favorite jeans or all by themselves. It is your little secret that helps you stand taller and walk with a bit more swing in your step. If you can, invest in a matching or complimenting bra. Nothing is more luxurious than a matching set. Treat yourself on your birthday, after a promotion and especially after a breakup with a great set of lingerie. Each time you put it on you will be reminded of how smart, sexy and special you are.

Final Points:
Your bra should NEVER be visible. A bra is not a top or part of a top. Designers may show tops that look like bras, but that does not mean you bra can peek out from the scoop neck of a tank, that the back can be seen on a string-tied camisole, that a traditional bra can be worn with a halter or racerback top. it doesn't matter what 'It Girl' has worn it on the cover of US magazine; when you become a millionaire you may wear what you wish. Until then, dress to be appreciated, respected and taken seriously. That means bras are kept under wraps.
The same holds true for underwear. If your pants are low rise, so should your underwear. Singers may flash bits of thong in videos, but that doesn't mean it is street appropriate. Undergarments are meant to be kept under wraps. Their job is to cover, smooth and be discreet.
If it is falling apart, TOSS IT. Bras should never be resewn, safety pinned or held together in a way that wasn't part of the original bra pattern. Same with underwear – if it is stained, torn, stretched out or just plain old, it must be discarded. Just as sexy lingerie makes you feel better about yourself, raggedy lingerie will only make you feel bummy.
VPL is not acceptable. It doesn't make your butt look better, it is not sexy and it IS visible to everyone, be it jeans or black pants or a skirt. Well-fitting underwear will make your rear look more shapely, your clothing hang better and you look far more elegant.
If your bra is cutting your breast in half or making you look smooshed/conical/droopy, it is either the wrong size or the wrong style. Your breasts are beautiful, round and soft. Your bra should accentuate your shape providing natural looking lift and separation while keeping a flattering shape.