This article may contain affiliate links; if you click on a shopping link and make a purchase I may receive a commission. As an Amazon Associate, I earn from qualifying purchases.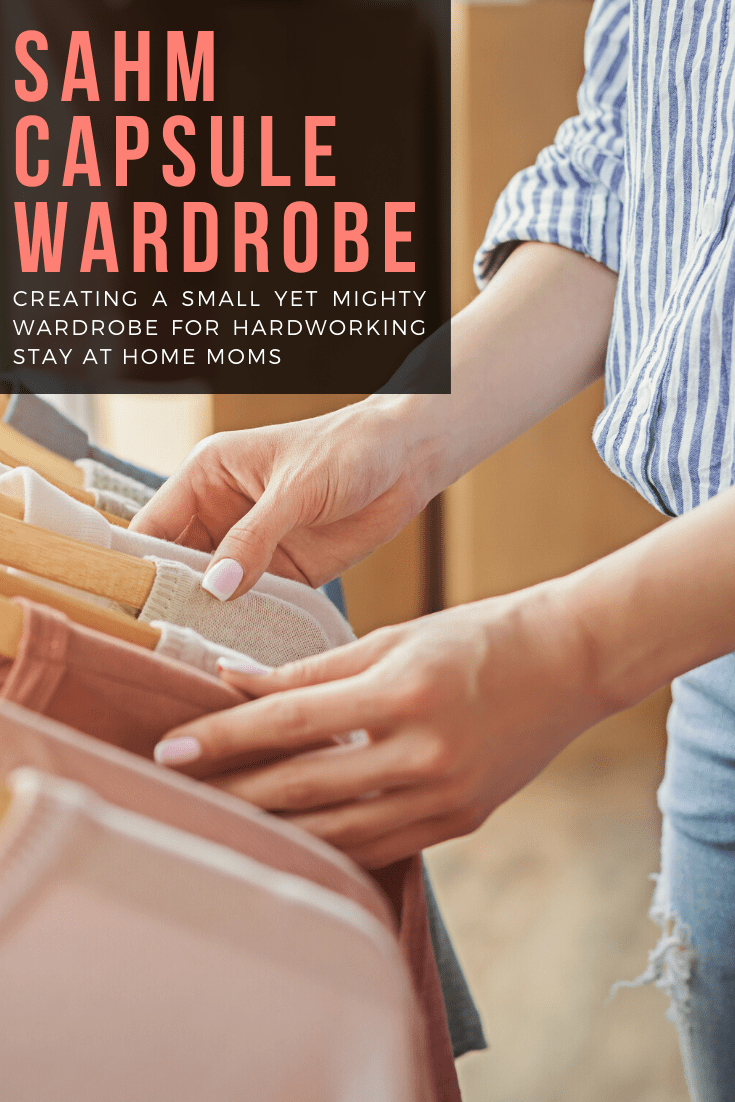 Staying at home with the kids, working from home 100% of the time, many of you have a very relaxed lifestyle where it just doesn't make sense to wear high-maintenance fabrics, restrictive silhouettes, or even the lowest of heels. Such a lifestyle is conducive to a capsule wardrobe. It makes sense to create a small yet mightly collection of clothing you can rely on while working at home. Below I share a capsule wardrobe for the SAHM and it is also a great capsule wardrobe for teleworkers and retirees.
Capsule Wardrobe for the SAHM or Teleworker
This capsule wardrobe is for the stay at home woman who wishes to be comfortable, able to move around easily, but not look like a slob. Part weekend wear, part loungewear, this collection is easy pieces that can layer and with a quick addition of budget-friendly (and kid-friendly) accessories, can look cool enough for a coffee date at the corner café or a Target run.
Sometimes it feels as though the choices are sweats or tailored clothing. However, with the popularity of athleisure, the options have increased so one can be comfortable and maintain some style. Since many of you mentioned you were home with babies and small children, I focused more on machine washable looks that can have you comfortably on the floor, reaching across the entire bench seat in the back of an SUV, and hopefully some that are nursing friendly. For those without children, this capsule is very similar to the kind of clothing I wear when I work from home for my day job.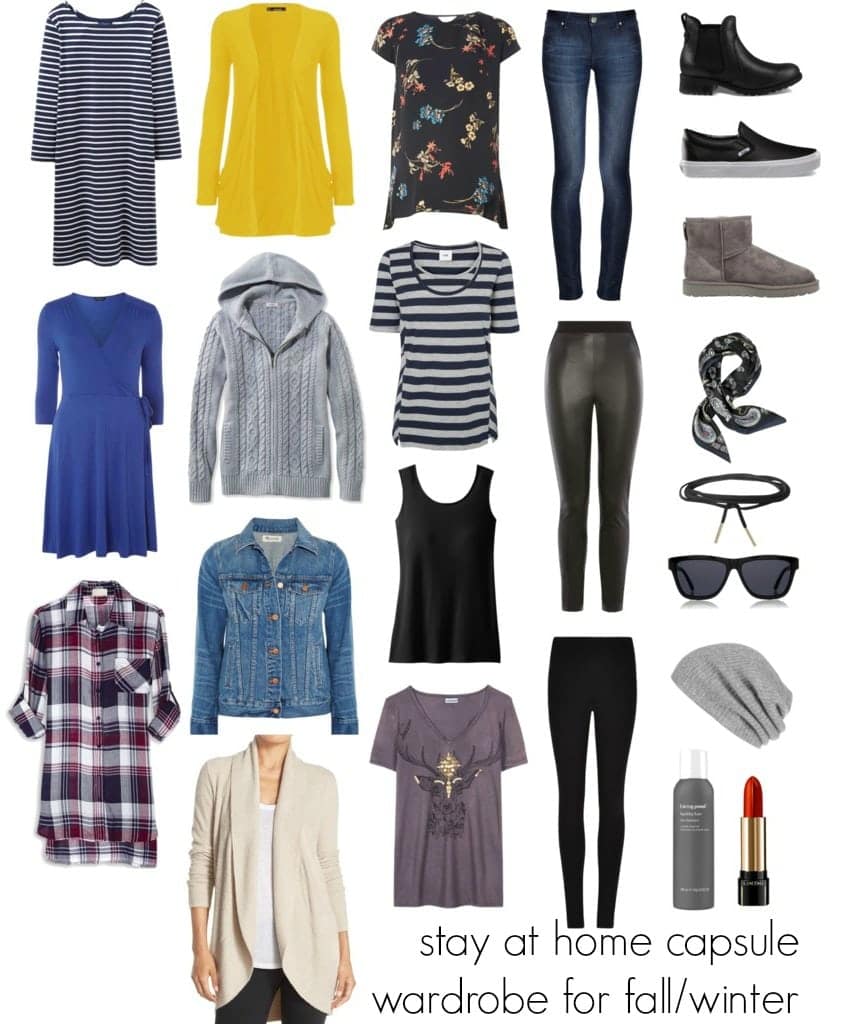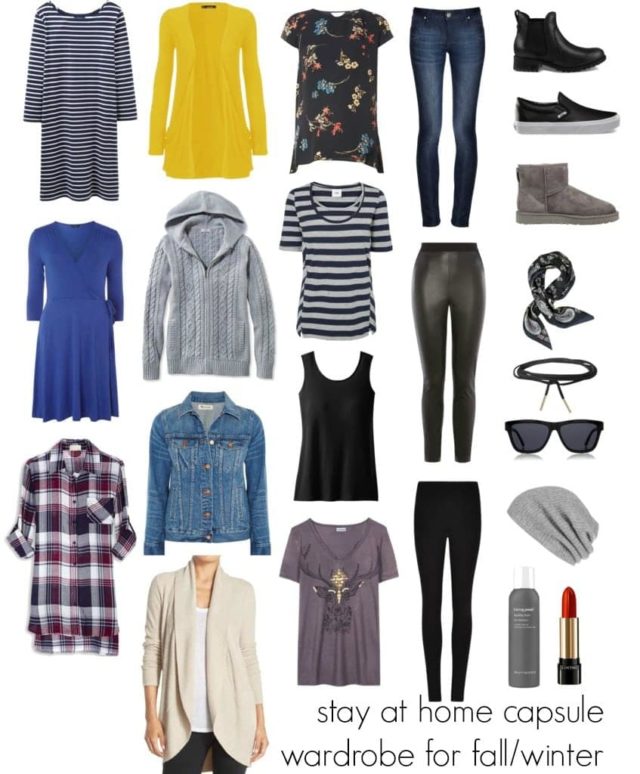 Shop Similar: stripe dress | wrap dress | plaid tunic | long cardigan | zipper cardigan | denim jacket | cocoon cardigan | nursing-friendly printed top | stripe tee | tank | printed tee | stretchy skinny jeans | faux leather-front knit pants | ponte leggings | water-resistant Chelsea boots | slip-on sneakers | shearling short boots | bandana | choker | sunglasses | beanie | dry shampoo | lipstick
A tee shirt dress is a wonderful piece for a casual wardrobe. I like stripes because they're perennially chic and look as though you put forth effort. Also with such a style of dress, stripes will make it look less like a nightshirt. When it's warmer out, style with bare legs and sandals or sneakers. Come fall and winter, style with leggings and flats or tights and flat ankle boots. Add warmth with a turtleneck underneath or a long cardigan or denim jacket over it. For those who are nursing, reader Roselyne highly recommends this dress from Boob Maternity; I had a dress from this brand and wore it to DEATH through pregnancy and the first year of nursing and pumping so I can attest that their dresses are fab.
A wrap dress is one of those items that looks fancy, but is essentially a well-designed tee shirt dress. In matte jersey (a stretchy poly blend that has a nubby crepe finish), it could be worn to a wedding, but also holds its shape and is machine washable perfection for working from home. When I was nursing and pumping, I lived in wrap dresses since they were easy to slide to the side, flattered my figure, and didn't stretch out. They hold up so well, one of the dresses I bought back then is STILL in my wardrobe and worn on a regular basis! Like the tee shirt dress, style with leggings and flats or tights. Add warmth with a cami underneath, a scarf, or a cardigan or jacket on top.
Plaid shirtdresses in cotton or flannel are popular this year and able to be found in any pricepoint. Also available are tunic-length flannel shirts, which are more comfortable to wear with leggings and stretchy skinny jeans. Earlier this fall I received a plaid flannel tunic from JAG Jeans and it has become a weekend favorite because it's comfortable, warm, machine washable, but on trend. I can throw it on over a tank and leggings, slip on my Adidas Superstar sneakers, throw on my biker jacket and look cool, not like reality which is that I'm frantic, short on time, and need a coffee and shower. If plaid isn't your jam, this can be replaced with a button-front shirt in jersey or mixed media, denim or chambray, or a washed oxford. The key is to have a feminine silhouette – not too big and baggy but a length that keeps you comfortable and moving.
Layering is key as it makes looks more purposeful and also keeps you warm. Here I show my four favorite styles of layering pieces when working from home. A long cardigan is more on trend than one that hits right at the waist. It looks better with shift and tee shirt dresses, provides more coverage with skinny pants, and gives more of an effect of a jacket, which can add polish to a simple tee and jeans. It can be a classic "grandpa" cardigan with a v-neck, patch pockets and buttons; it can be a waterfall style that has a drapey front, it can be a style without buttons… it's up to what appeals to you as any of them will be a versatility layering piece. This is a piece where you can incorporate a statement or signature color to add personality to your capsule and make basics look more fun. In place of a zipper or athletic hoodie, consider one out of a more polished fabric like sweater knit. Same comfort and ease but with more polish. A cocoon style cardigan or soft jacket is a favorite for me when I am working from home; the wide collar keeps my neck warm and the silhouette is cool yet comfortable. Some may find a denim jacket too restrictive for relaxed attire, but if you get one with stretch, it can be a great layering piece. I've worn my J. Crew Factory denim jacket on the blog a lot, and wear it even more at home. With washings and wear it has molded to my body and I throw it on over my casual clothes when I head out to the grocery or take my laptop out to work on the deck.
Now we get to the nitty gritty, the basics. Tops and bottoms. This is where your look can go one way or the other pretty quickly. Not every tee shirt is equal, nor is every pair of stretchy pants. But as I state at the beginning of this post, the options have increased and you have comfortable, easy care choices. Some suggestions:
Check out crepe and woven tops in place of knits. This slight difference can drastically change the look of your outfit. A tunic tee that isn't clingy and stretchy looks polished and is more figure flattering. A woven tank won't stick to your grandpa cardigan or a layering cami; it will drape nicely and provide a better effect. Such a top can still half tuck or full tuck, and if you choose a print or darker color and a synthetic blend, you don't need to worry about wrinkles.
Stripes are chic. I know, I am stripes obsessed and already raved about them in this very post. But it's an easy, budget-friendly way to add style. Go classic – black, navy, or red stripes on a white or ivory ground. This way, it's a piece you can wear now or a decade from now and it can work with most any other color, texture, and pattern in your closet.
Spend on printed tee shirts. If you buy great shirts with great designs, great fit, great fabric you won't need as many. When crafting this capsule wardrobe I thought about my Make Art Not War shirt. A friend had a similar shirt and I googled it. I couldn't find hers, but I found my version. I had to pay a pretty penny for shipping but that shirt… well it's almost the same age as Emerson, it's still worn weekly and survives the washer and dryer like a champ. With the pattern, it gets worn more than my plain v-neck tees (and a pattern is better at hiding stains and your figure). Sure, you can find great tees at Target, and sometimes the best shirt in your drawer cost the least, but don't be afraid to spend on a casual piece if it's pretty perfect. In the long run you'll likely save by needing to spend less.
Go a bit longer. When I'm wearing jeans, skirts, and cute little outfits I want tops that end just after the waistband so they look nice tucked or untucked and hit at a flattering length. But when I'm at home on my laptop or when I used to be on the floor with a younger Emerson, a bit of length makes more sense. Luckily the trend is for slouchy longer, almost-tunic tees and knit tops so it's easy to find a variety of longer pieces that work better with leggings and being active.
Steer clear from true athletic gear. Sure it's comfy and it comes in great colors, but it's not street clothing. It's one step from just wearing your pajamas all day, and we know that's not good for the soul. Sure, buy the cute activewear for the gym, the yoga studio, and the jog down the street but keep it, just like your sleepwear, separate from your day clothes.
Thick and solid. This should be your mantra for your pants, leggings, jeggings, and jeans when building a casual capsule wardrobe. I know there's a very popular company out there filling up your Facebook feed with leggings in all sorts of wacky prints. They're fun, they're soft, they're comfy, they're NOT fashionable. Go ahead and wear them to bed or as true loungewear, but don't think they're a valid replacement for real clothing. I'm ready for you to come back and tell me I'm wrong and provide an example. If you feel that strongly, rock them. If you're coming here for fashion advice, it's not going to include wacky printed leggings no matter how soft and comfy they may be. Instead, look for heavier fabrics. Ponte is awesome because it's a tight weave, thicker, and looks more refined than jersey or activewear. There's nothing wrong with a pair of stretchy jeggings or skinny jeans. If you're like me and they are great everywhere but the waist, consider a Beltaway which won't bind but will keep your jeans from sliding down. If you want interest, check out the faux-leather and suede detail, front or full leggings that are currently available at most any retailer. Not only do they add interest and style, they also add thickness and warmth.
Go easy on the dryer. Especially with the pants and jeans, consider washing them inside out and hanging them up in the bathtub to dry. No need for a drying rack or anything fancy, just some clip hangers and your shower curtain bar. Not only will it extend the life of your clothing, it will reduce your utilities bill and add moisture to your home in the dry winter months!
And finally, the finishing touches. The footwear, accessories, and beauty products I included are all about ease, speed, and comfort with style. Details as to what I chose and why:
This is a base capsule for the stay at home woman. Based on your lifestyle, personal style, and personal needs you can adjust it, build on it, and customize to make it your own. The goal is to have functional, comfortable clothing that still maintains some of your personal style so you look great but also feel great, no matter what comes your way.