This article may contain affiliate links; if you click on a shopping link and make a purchase I may receive a commission. As an Amazon Associate, I earn from qualifying purchases.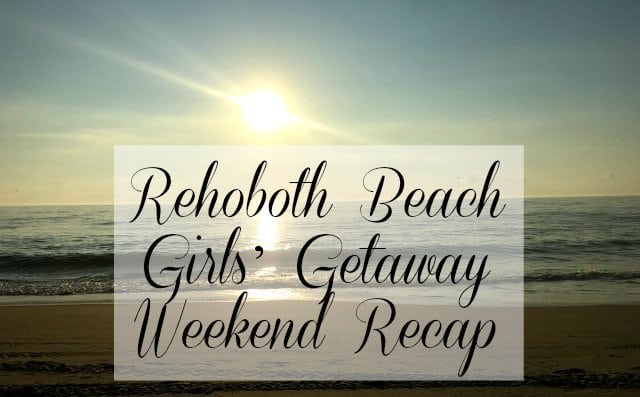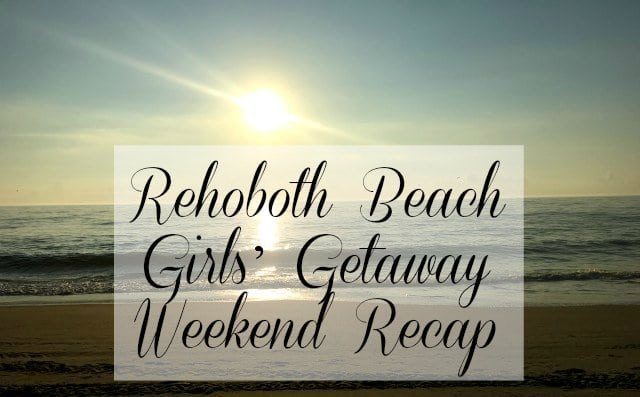 For over a decade, my mom, sister, and I have been getting together for a long weekend to Rehoboth Beach, Delaware. Once Emerson came on the scene, she joined us on this girls' getaway. This is often the only time we see the Atlantic Ocean all summer; I've always loved the beach and look forward to this trip all year long.
Usually the four of us ride down in one car, and that car is usually my Kia because it has plenty of room for us and our luggage. My sister has a job that gets pretty hectic at the end of the year, so when she saw she had a light week before our trip she took advantage by heading to the beach a day early. Karl's car broke down the week prior, so I ended up driving my mom's car. It's usually a very chill ride to Rehoboth Beach, going through plenty of farmland and small towns but there was serious construction delays. Thanks to Waze, I was able to find a shorter route that took us through even more rural roads, which was a blast.  For the drive I wore this exact outfit that I featured on the blog.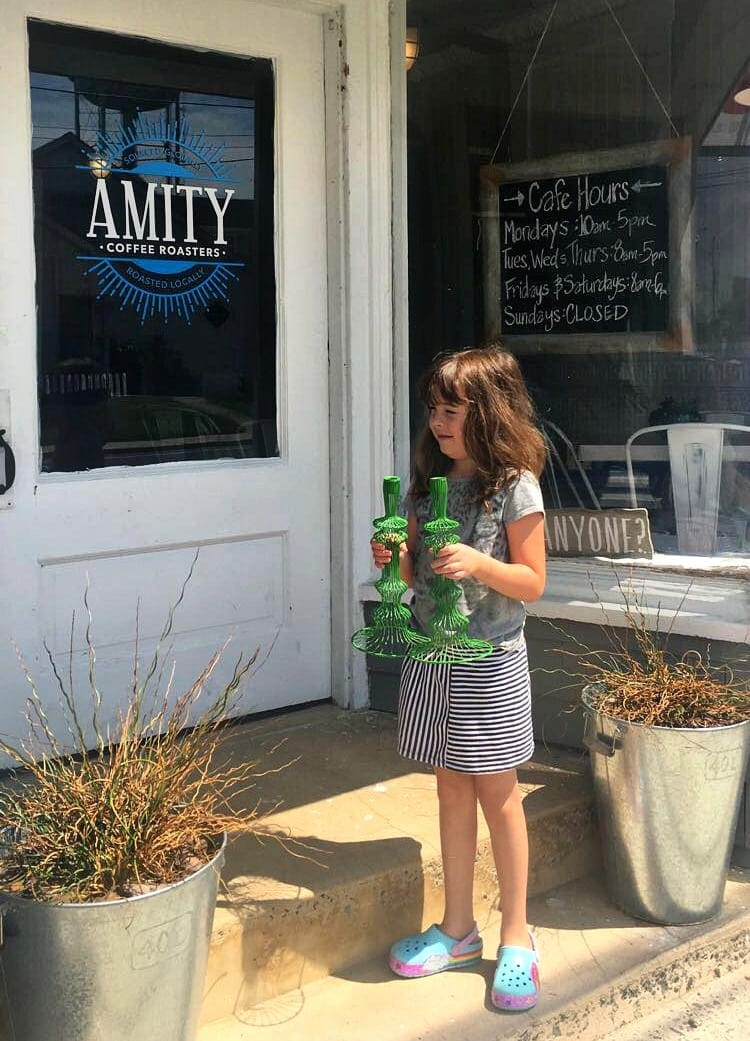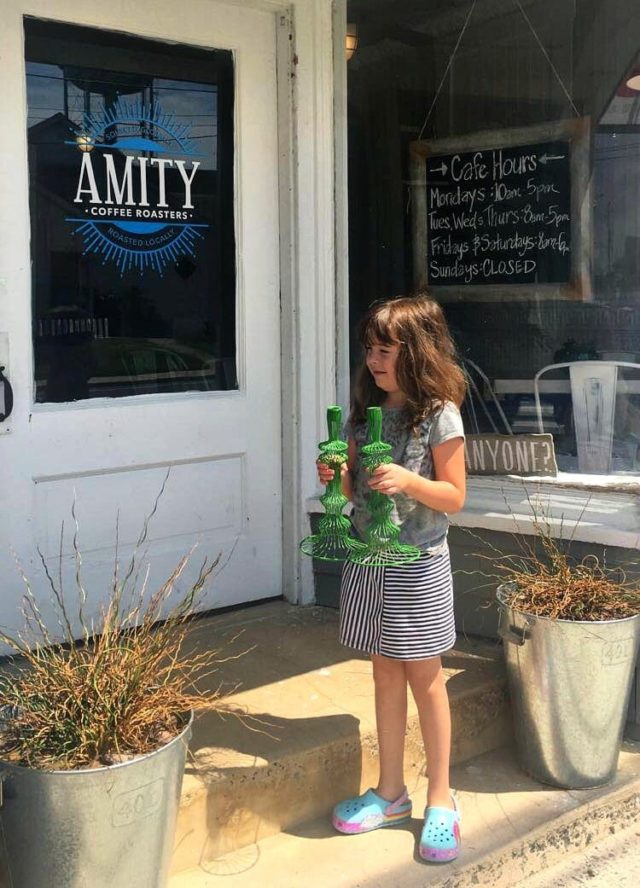 En route, we needed a bio break. We were driving through Greenwood, Delaware and saw a sign for coffee and pulled into a parking lot, thinking some caffeine would also be a good idea. We ended up at Amity Coffee Roasters, the darn patootin' cutest bio break ever. Coffee roasted in-house, beverages made with skill and care, plus it's a vintage shop with antiques next door! I could have bought the entire shop, but showed restraint and left with only an iced latte and a pair of retro green wire candlesticks.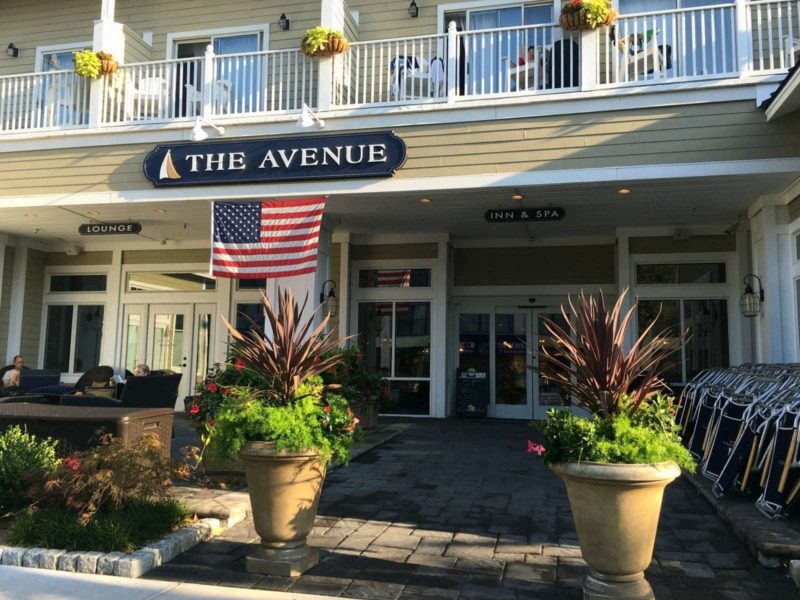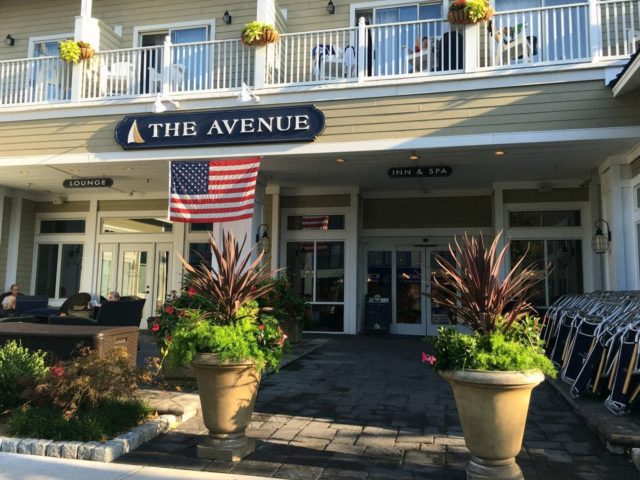 We made it to Rehoboth Beach around 1pm and headed straight to our favorite hotel, the Avenue Inn. The Avenue Inn recently underwent a major renovation adding several more rooms to their hotel, more parking in their underground garage, yet it's still a homey relaxed hotel that is always so clean, comfortable, and welcoming. We've stayed at other hotels in Rehoboth in the past, but The Avenue has proven to be our favorite – clean, comfortable, welcoming, and so many amenities without costing a ridiculous amount.  Since my sister got there a day earlier, we were able to check in earlier.
Since Emerson goes to bed before the rest of us, we usually stay in a suite… and hate it. The original Avenue Inn suites were very poorly designed. You'd have a standard double queen room with the bathroom and closet near the door, then a pocket door to the second room which has a sofa bed and a second TV. The second room is the only place with a window… and A/C. There's a vent in the wall between the two rooms to get air into the main room which you can imagine is not efficient at all. Poor air circulation and no window makes for a grumpy set of gals.
Luckily, we scored a suite in the new wing for this visit to The Avenue Inn. Far smarter in design, you enter to the living room section. This room has the sofa bed, a TV, and the closet. A cool barnhouse-inspired door takes you to the bathroom, which has a large and well-lit sink and vanity and a pocket door to the large shower and toilet. Another pocket door takes you to the main bedroom, which has the two queen beds, a sitting area, TV, and A WINDOW! We were all so excited; Emerson loved the roomy and modern living room which was her bedroom for the weekend (and had its own air vents), and we loved circulation, space, and sunlight.
Since we got to the beach so early, we were able to have lunch there instead of on the road. When at the beach, we HAVE to have crabs, so we headed to our favorite crab shack in Rehoboth – Claws. Claws is a red house right on Rehoboth Avenue and it can get pretty busy at dinner time. But 2pm on a Friday? We walked right in and had our choice of where to sit. Though it was hot out, we asked for a seat out on their front porch. My sister and I got blue crabs, Emerson got the kid's crab leg meal, and my mom got a lobster roll.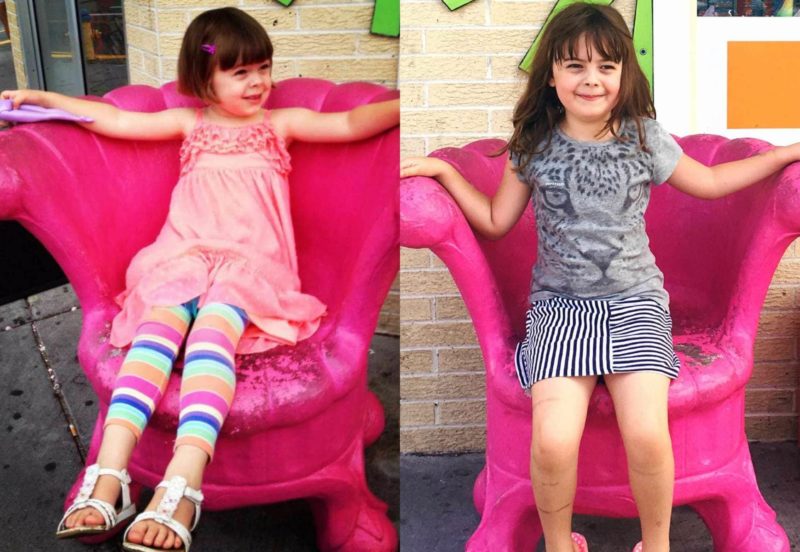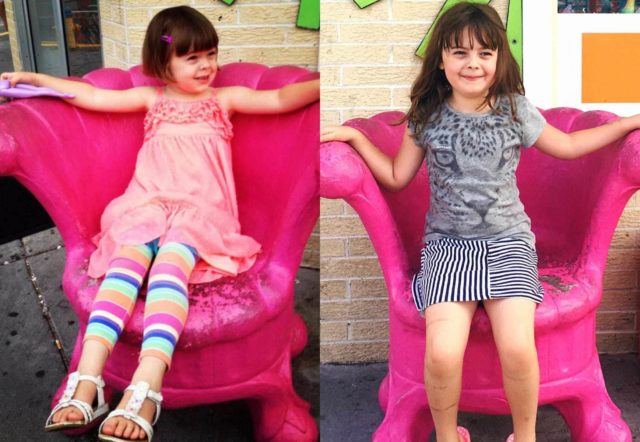 After we went to Emerson's favorite place in Rehoboth – Candy Kitchen.  Each year she knows she can get one toy from there and she'll spend up to an hour analyizing them, talking to them, weighing the pros and cons.  After we always get a picture of her in the chair outside.  This is her three years ago and now… time flies!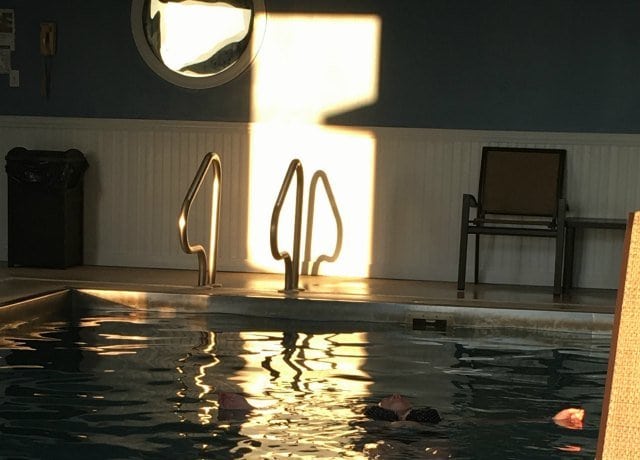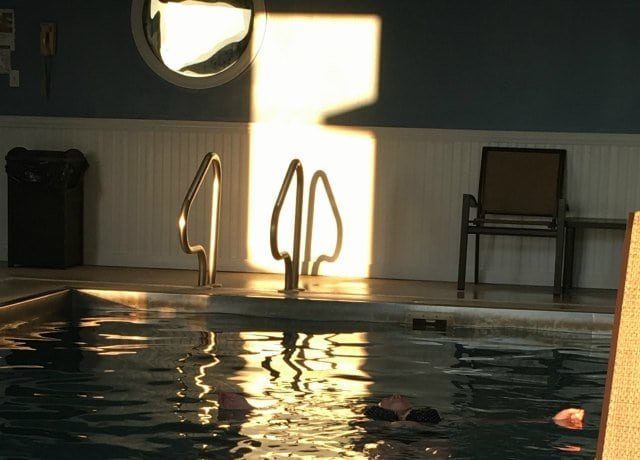 While my favorite part of Rehoboth Beach is the beach, Emerson comes for the pool. The Avenue Inn has an indoor pool, but has a wall of glass doors that slide away in warm weather to open to a large sundeck and hot tub. Since we had so much time Friday, the four of us headed there and stayed a good amount of time (I spent a good portion of that taking a nap in a lounge chair or floating on my back).  I wore the Freya bikini top and MiracleSuit bottom I featured in this post.
We got back and showered and were hungry around 7pm. We were creeping close to Emerson's bedtime so we decided to steer clear of the fancy restaurants that have few tables and long waits and headed to Nicola Pizza.  I wore the Gap Girlfriend Jeans in this post (though I cuffed them) with this silver top from Etsy and my silver Birkenstocks.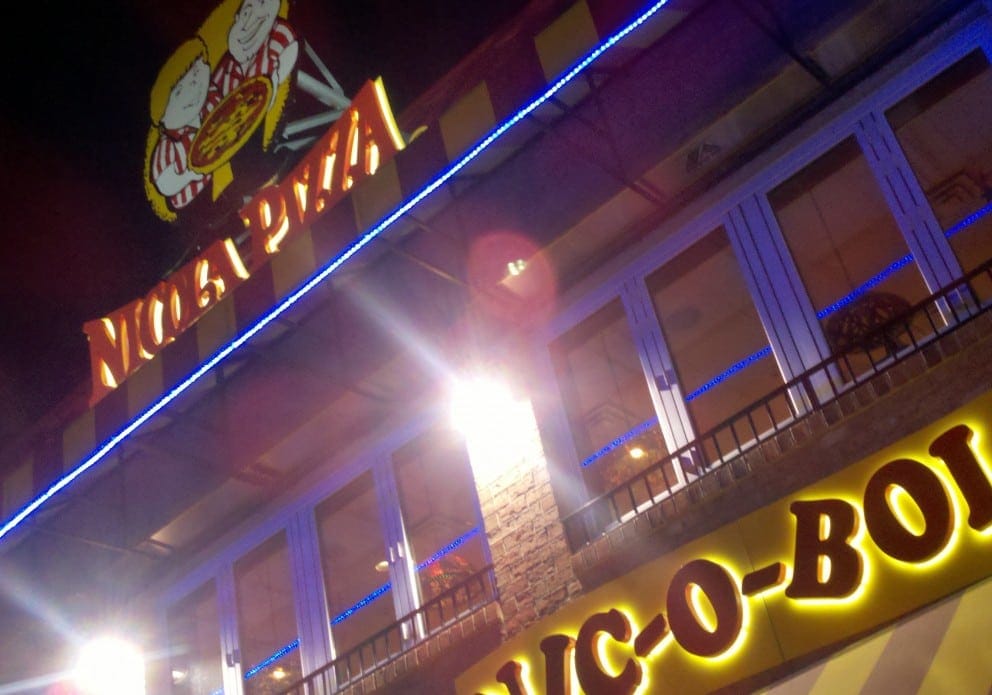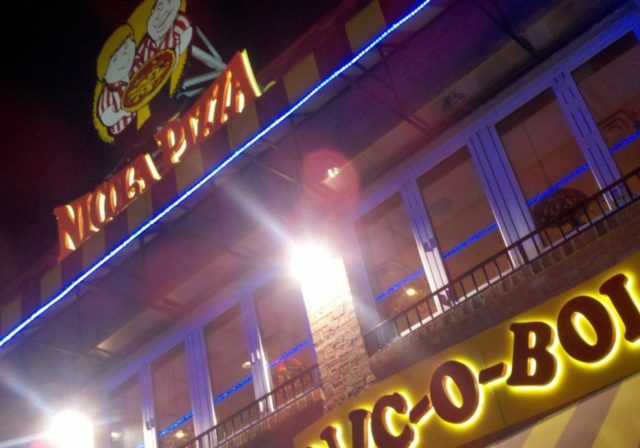 Though I've been going to Rehoboth for years, the first time I ever had Nicola Pizza was this past March when Karl, Emerson, and I went to Rehoboth for a couple days. We sat on the main floor and found it utterly charming. A Friday night in August is drastically different than a Tuesday evening in March. Since I was ready before everyone else, I dashed over to Nicola to get our name on the list. I came at just the right time because there was no wait and I was taken right upstairs. Upstairs has higher ceilings and is brighter lit that downstairs, but still is a comfortable hometown hangout sort of place.
Nicola doesn't have dedicated waitstaff; they split all tips and any employee who walks by can help you with your order, drink refills, and more. I grabbed a glass of wine and a glass of water and waited for my family. There's about 3,000 TVs in there, a different sport on each one. The Olympics were still going on, there was pre-season football, soccer, and baseball. The room doesn't have the best acoustics and the combination of cheers for the home team (or country) and children crying and screaming had me downing my Pinot Grigio pretty quickly and asking for another. However, it was near bedtime for many kids so it started clearing out and calming down.
Nicola Pizza is a great place to go with kids, as it's a comfortable atmosphere but also has tasty food. It's not fancy, there's a napkin dispenser in the middle of each table, but the pizza is tasty, the strombolis are ginormous, and the staff is friendly. We got back after dinner and had high hopes to put Emerson to bed and then Debbie and I would go to a bar or three but we were all pretty wiped out and went to sleep.
The next morning we got up and had the hotel's free breakfast.  The Avenue Inn's breakfast is pretty robust with a variety of heated dishes, pastries, and some fruit and yogurt.  Nothing gourmet, but a hearty start to the day.  My mom and I had a few things to finish up so Emerson and my sister headed down to the beach before us.  The Avenue Inn not only has towels and chairs to borrow for free, Lou at The Avenue Inn has a multi-seat golf cart and shuttles guests and all their chairs and stuff to and from the boardwalk.  My mom and I chose to walk as we hadn't seen much of Rehoboth yet.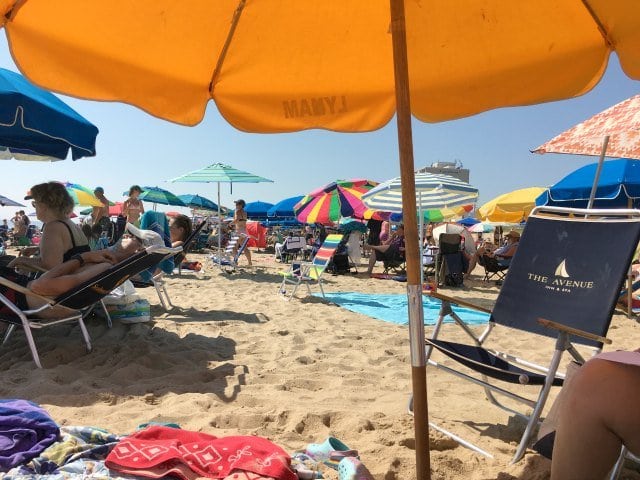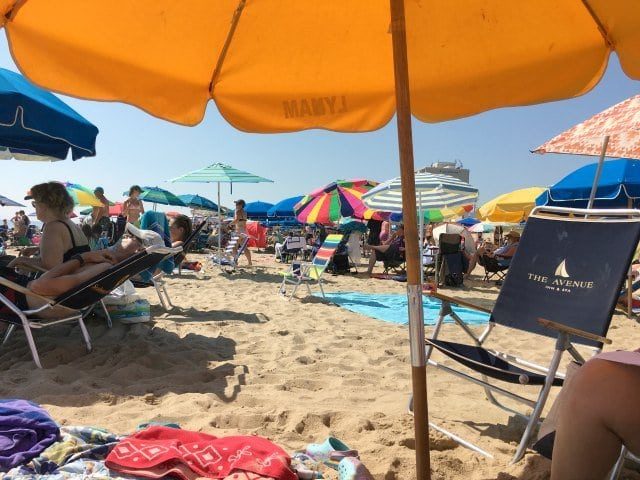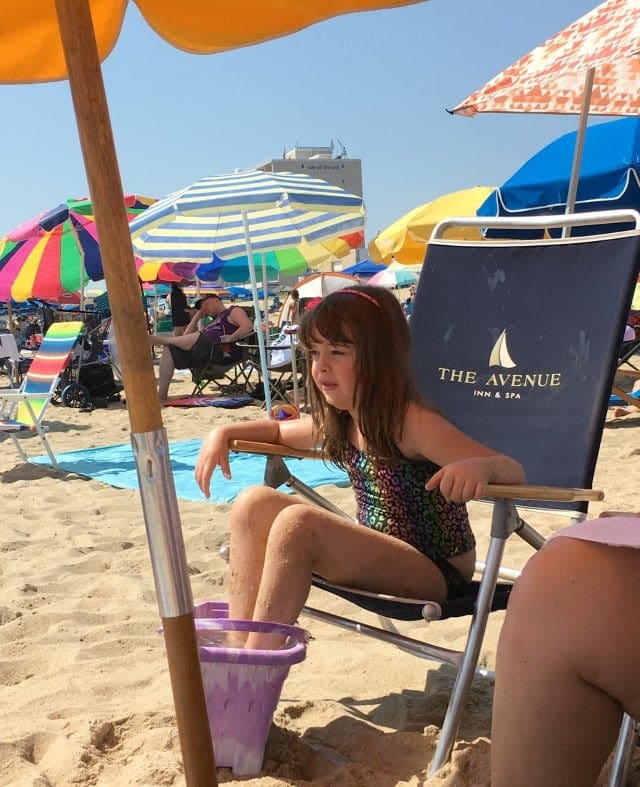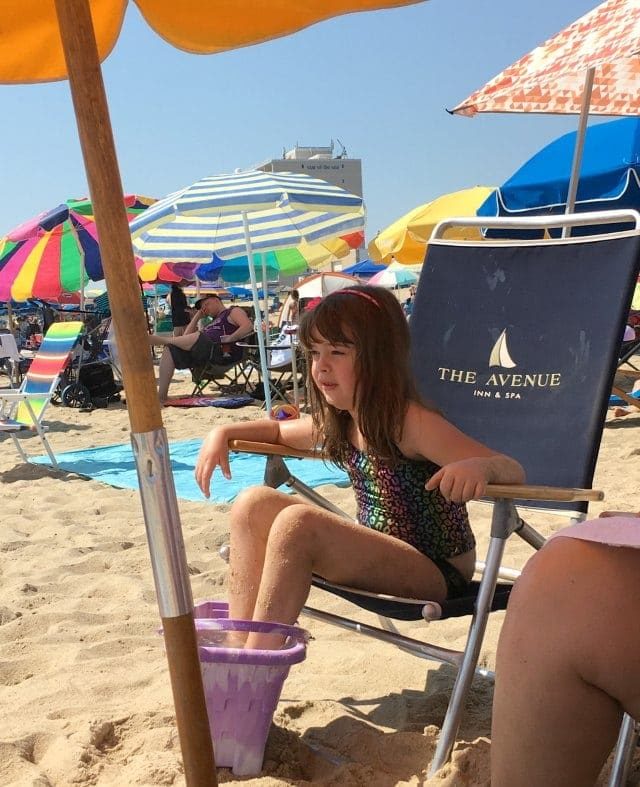 We rented an umbrella and set up camp. I positively absolutely adore the ocean, Emerson does not.  Each year I walk with her down the beach to it and hold her hand as she gets her feet wet, but I have yet to have her do more than that.  Hopefully some day!  She spends her time digging holes and building sandcastles.  My sister will go in the water with me, my mom usually only gets in up to her thighs.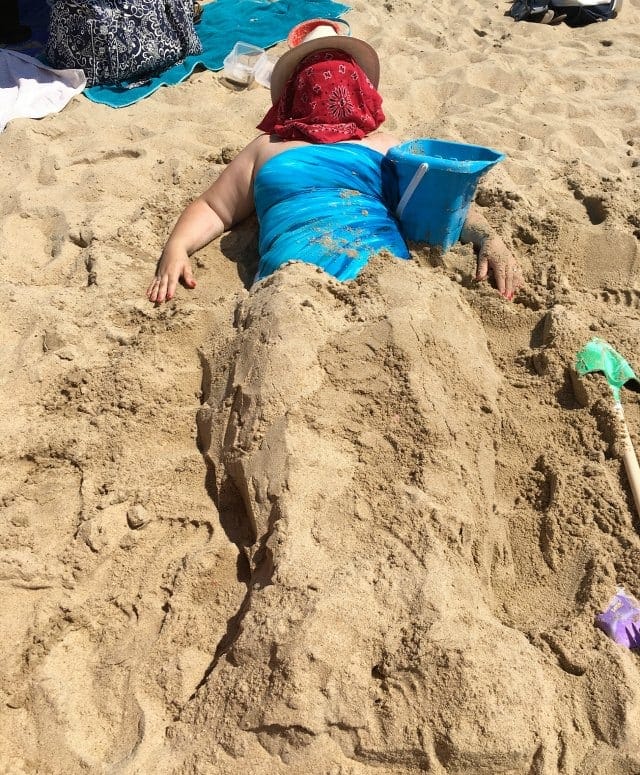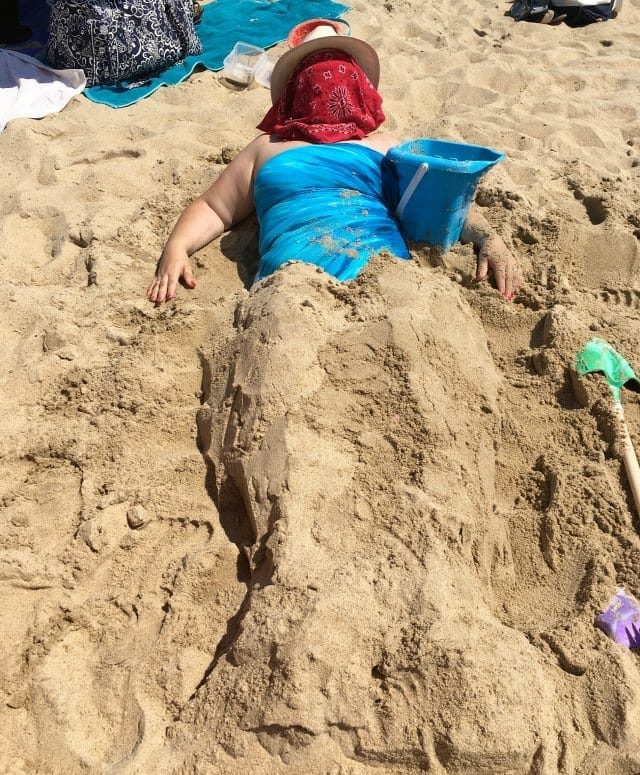 We take turns bringing buckets of water up to Emerson to build her castles, we nap, we read, we talk, we let Emerson bury us (that's me under the bandana, I was trying to protect myself from the sun and from sand getting in my eyes and mouth!).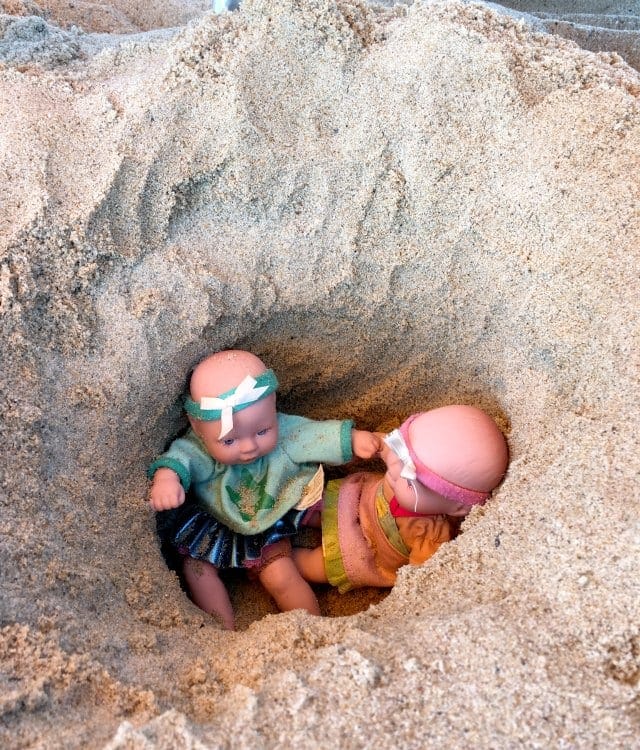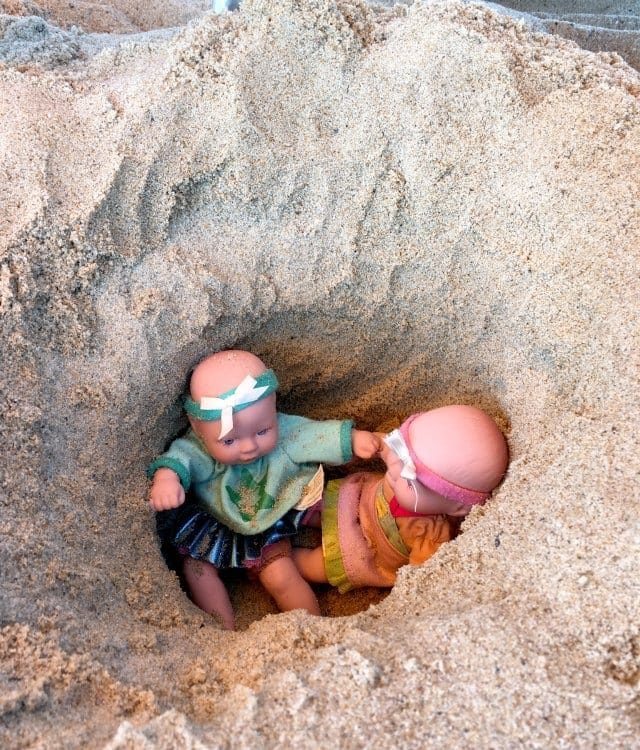 Emerson brought "Waffles" and "Daisy" to the beach and while she had a blast with them, they were quarantined for the rest of the trip until we could de-sand and de-saltwater them once back home.  I think these dolls are so creepy looking but she LOVES them.  They're Circo from Target and there's a set in stores where you can get the two babies and a bunk bed and some other gadgets for them all for $25.  Best purchase ever.  We have a third of these dolls at home ("William") who stayed at home.  When Emerson was maybe three, she saw one at a friend's house and fell in love. It doesn't hurt that her favorite YouTube channel AllAboutMeep has these same dolls! And a random aside – I despise these YouTube videos of people (often adults) playing with toys, but this channel is really creative and so funny I will even watch the videos.  But because of it we have dolls named Nunya (as in Nunya Business) and Waffles in our home!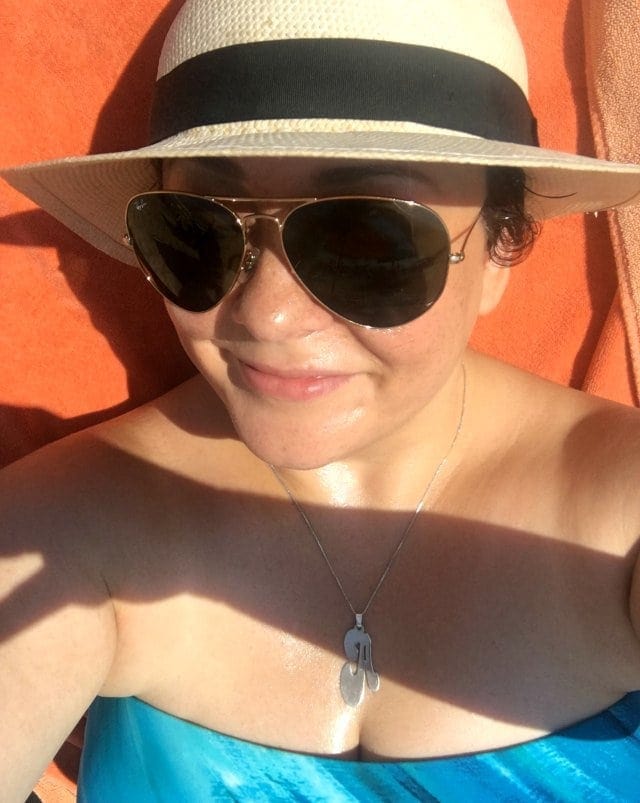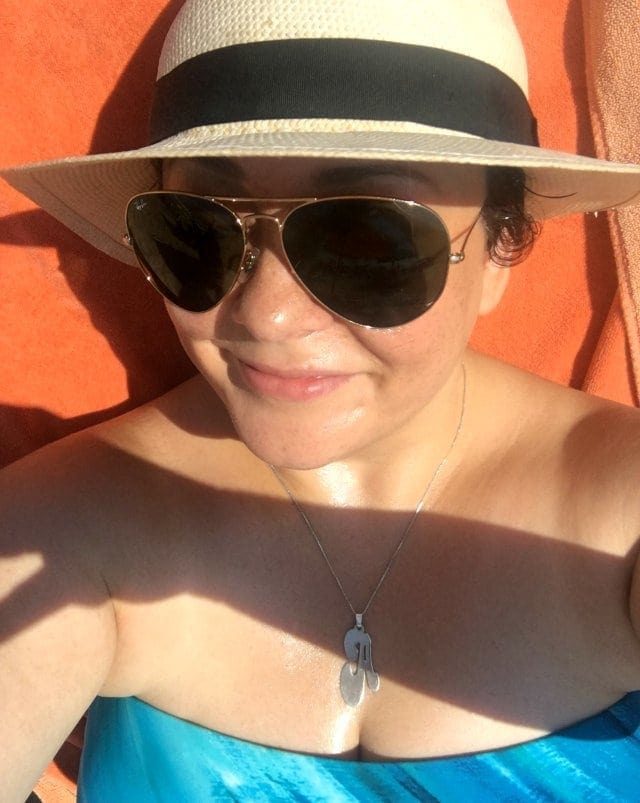 I'm a sun worshiper.  I've written many times in the past about how I used to bake in the sun and use tanning beds.  When my boss (who was like a father figure to me) died of melanoma, I quit my tanning ways.  I still love being in the sun, but I apply sunscreen regularly, usually wear a hat, and sunglasses.  Here I'm wearing the same hat I wore in this outfit post with my gold and green Ray-Ban aviators and this one-piece bandeau swimsuit from MiracleSuit.  For a beach coverup, I wore Karl's Gap denim western shirt (since he's an XL tall it's long enough to cover everything and since it's not knit it doesn't hold sand or cling). I had just had my hair colored the day prior, so I wore an XL bandana over it under the hat and also saturated it with Aveda Sun Care Protective Hair Veil so it wouldn't fade.
We try to check out new restaurants for lunch, but decided to eat at the Greene Turtle.  We realize while we've been to many near home, we've never gone to the one right on the boardwalk.  We knew we'd all find something we'd like to eat and there would be bathrooms and a nice view of the beach.  It was pretty good – I had ahi tuna and some cocktail with chunks of watermelon in it.  However after lunch Emerson was DONE DONE DONE with the beach.  She had sand all over her and the boardwalk outdoor shower didn't cut it.  About an hour later, she and my mom headed back to the hotel.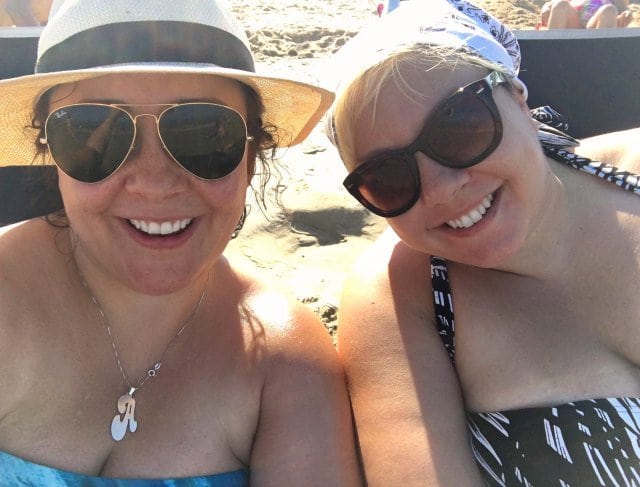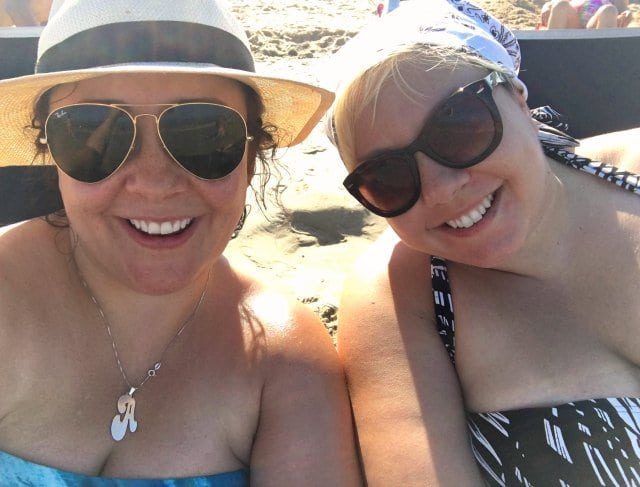 My sister and I grabbed our books and chairs and headed down to the water to read and let the waves roll over our feet.  I swear, I could be at the beach for 12 hours straight and it wouldn't be enough.  It was nice to have this QT with my sister too.  But as it got closer to dinner time we knew we had to head back.  When we got back to the hotel, Emerson and I went to the pool again for about an hour, then we all got dressed for dinner.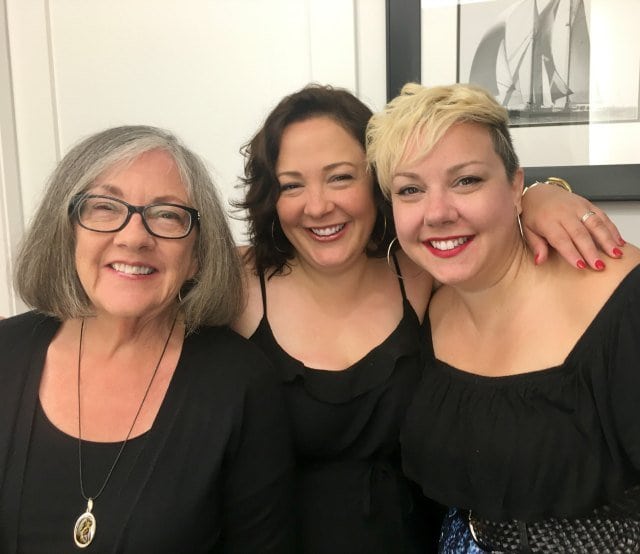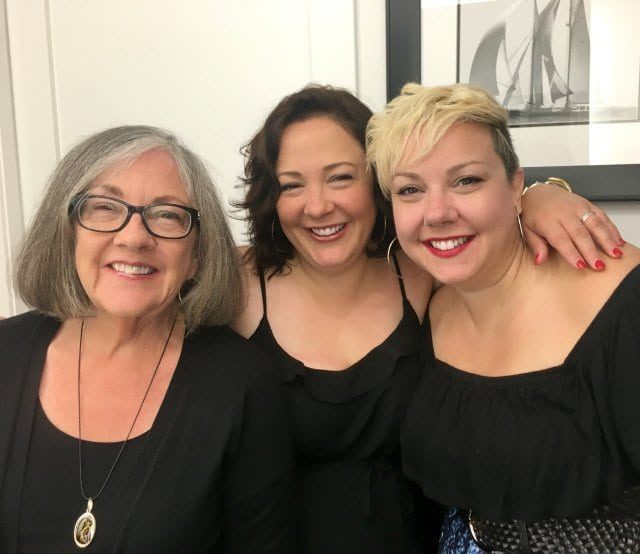 I swear we didn't all plan to wear black!  Great minds think alike!  The lighting at the sink of our hotel room was so flattering, we had Emerson take this picture of us! That evening, I wore the outfit I wore in this outfit post.  Henlopen City Oyster House doesn't take reservations, and it's not a large restaurant.  They told us there would be a 90-minute wait, took my cell number to text when our table was available.  Emerson and I decided to head to the boardwalk and visit the other Candy Kitchen location and some various shops.  It's fun that she's an age where we can go in a kid or adult store and chat about necklaces or books or dolls.  We headed back to the hotel, where they put out home baked chocolate chip cookies for the guests.  We each grabbed a cookie and cup of water and went to the outdoor seating area where my mom and sister were relaxing.  We FaceTimed Karl and soon our table was ready.
Emerson is used to going to bed at 8:00.  We have later bedtimes on vacation and special events, but two late nights and a day in the sun caught up with her.  She was fading fast and not feeling that great.  By time my entree came I knew she was dunzo so I gobbled some of it and took her back to the hotel (good thing it's just up the street from the restaurant!).  She went right to sleep and I fell asleep next to her.  When my mom and sister showed up, I just washed up, changed into my pajamas (these from Soma) and went to bed in my bed.  Two early nights in Rehoboth, it's like I've become an adult or something.  Sheesh!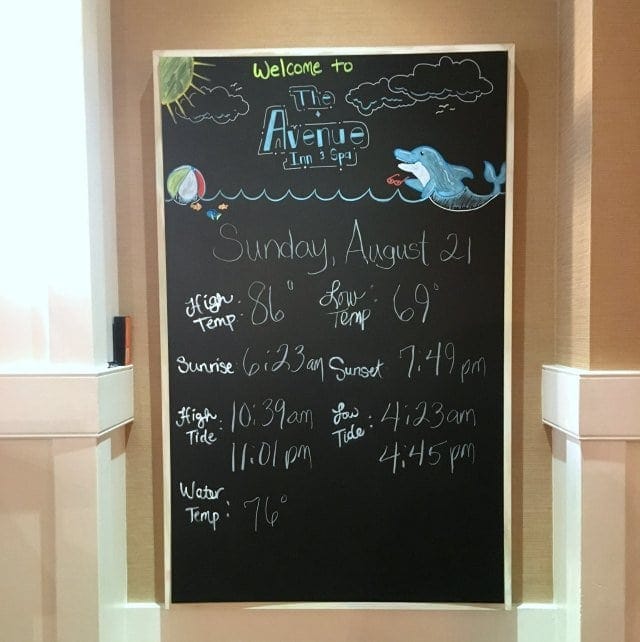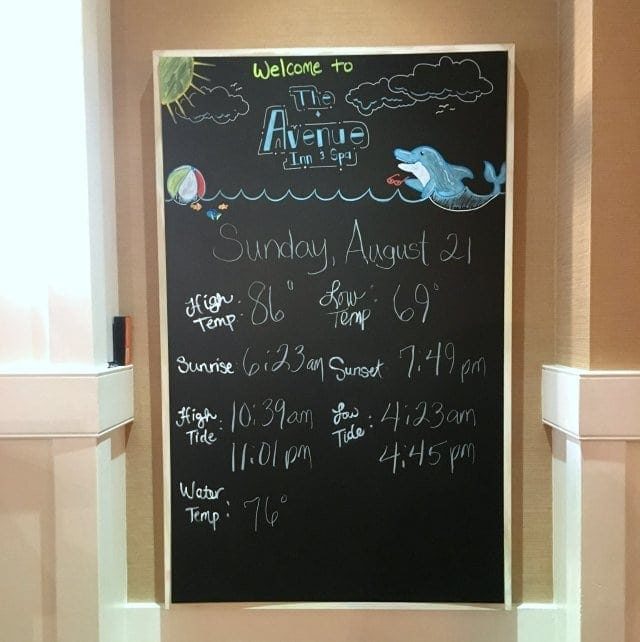 The next morning I did my regular Rehoboth Beach tradition of waking before everyone, grabbing a cup of coffee from the hotel lobby and heading to the beach.  I wore my sneakers with these Zella shorts and this Zella top.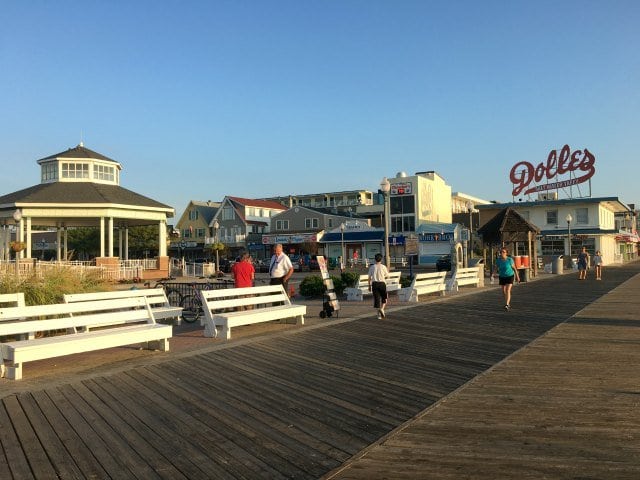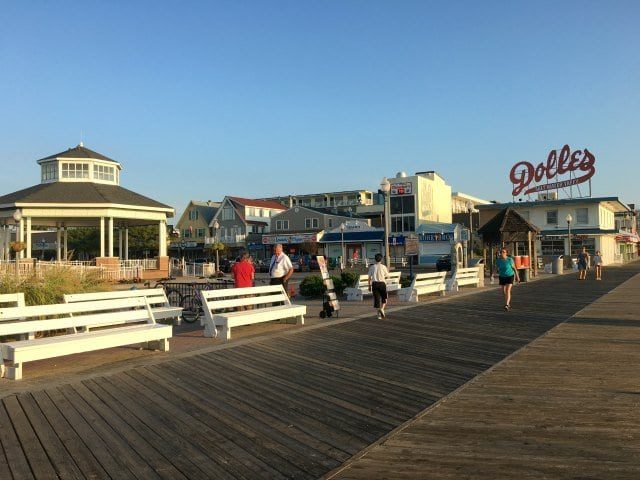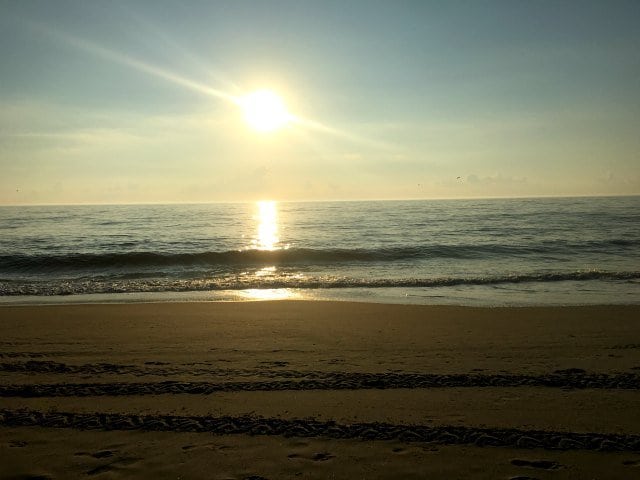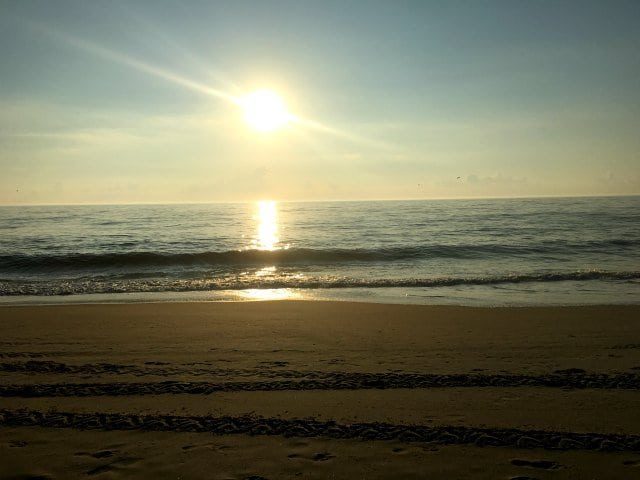 Usually I'm at the beach by 5, but I slept in and ended up there more like 6:30.  Usually I'm almost alone on the beach, just me and maybe one guy with a metal detector and one or two other early risers.  An hour and a half makes a big difference and there was a good 50 people out on the beach and tons of folks out on the boardwalk.  It still was glorious and relaxing.  I walked farther down the beach to a less popular spot and sat down and watched the waves (if you follow me on Snapchat or Instagram you saw my video of it).  Then, as I usually do, I toss the coffee cup and go for a long walk through the neighborhoods admiring houses and dreaming of owning one for my family.  My sister texted me when she was awake and I headed back to the hotel.
Usually we shop around downtown Rehoboth, but we all saw a few shops during the week and weren't looking for anything.  However, we did have some shopping to do.  Emerson had her first day of school that Tuesday and still didn't have a First Day of School outfit.  Starting second grade, Emerson said she HADDDDDD to have an outfit from JUSTICE!  We'd never shopped there before, the only Justice clothes she had were hand-me-downs so I said we could stop by Justice at the outlet mall.
There's three separate outlet strip malls in Rehoboth, most any store you can imagine.  We checked out the map at breakfast and plotted out our mission and luckily all the stores (including Justice) were in the same strip.  I didn't really need anything but checked out Gap, Banana, and J. Crew and got this sweater at the J. Crew outlet (Emerson approved!).  And then we went to Justice.  Justice's outlet store is a true outlet with a real hodgepodge of… well pretty fugly stuff.  But right in front of the store was what looked to be new clothing and luckily it was clothes that both Emerson and I really liked.  She got a pink plaid kilt, a baseball tee that said "GIRLS ROCK" in silver sequins, and a denim vest with a built-in hoodie hood and trim.  She also got some socks, a pair of printed leggings, pajamas, and Grandma spoiled her with a black crossbody bag with a glittery silver E on the front.  She felt very grown up and cool with her purchases!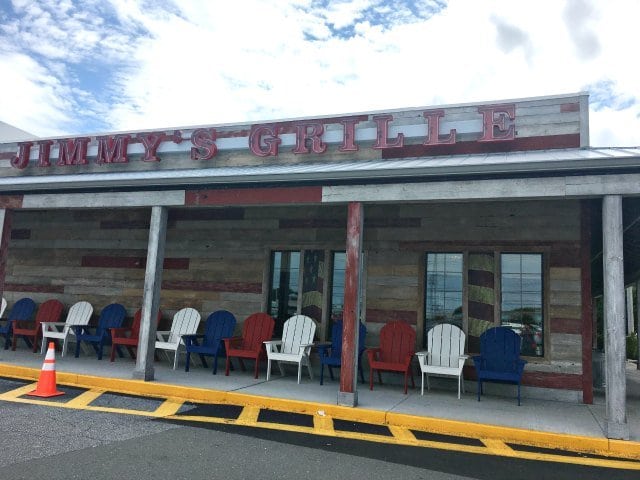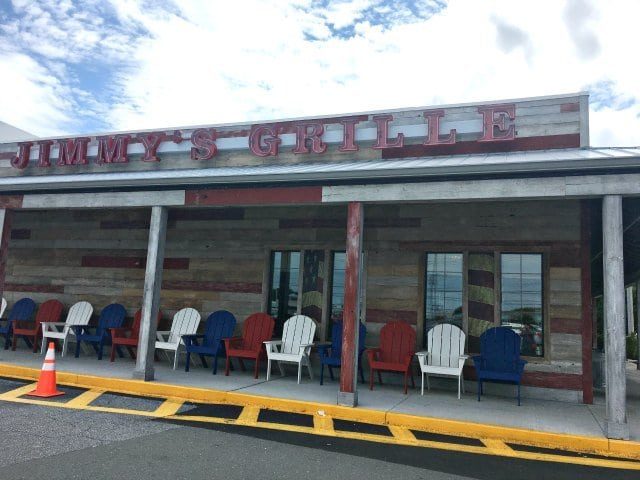 All that shopping built up an appetite.  We looked across the street and saw a sign that had "Grille" in it and decided to check it out.  We didn't recall seeing it on previous trips.  From the exterior it looked like a Cracker Barrel knock-off but we found out Jimmy's Grille is a unique and delicious place. Jimmy's Grille Family Restaurant opened in Bridgville in 1993, and became famous for its fried chicken, and homemade desserts. In May of 2009, they opened a second location in Dewey. This location in Rehoboth opened earlier this year, hence why we never saw it before. Jimmy's Grille uses as many raw unprocessed ingredients as possibly and strives to source food from local vendors and farms. All this, and the portions are generous and the prices extremely reasonable.
When you enter there is a little shop a la Cracker Barrel but it's mainly logoed merchandise and desserts. We were told there was a 15-20 minute wait and they took my cell to text when our table was available. The hostess had a huge bowl on the counter and when she saw Emerson she brought it down and saw it was full of packaged lip glosses in the shape of tiny cupcakes. She let Emerson pick one to have, which thrilled her to no end. We went outside and sat in the Adirondacks; our table was ready before the estimated time. After reading that Jimmy's Grille is famous for their fried chicken, we all felt we HAD to try it. I got two wings (I'm not a big chicken fan but I love me some chicken wings!), mashed potatoes, and iced tea and it tasted homemade. The staff was super friendly, the restaurant sparkling clean, and the bathroom one of the cleanest public restrooms I have ever encountered. We'll be sure to visit Jimmy's Grille again!
After a harrowing drive home (torrential rain and we drove over the Chesapeake Bay Bridge during it), we were happy to see our home, our dog Cindy, and of course Karl. Already looking forward to our next girls' getaway to Rehoboth!
Save