This article may contain affiliate links; if you click on a shopping link and make a purchase I may receive a commission. As an Amazon Associate, I earn from qualifying purchases. 
If you live on the Eastern Seaboard, the past week has left you feeling a bit like a wet mop. If it isn't raining cats and dogs, the air is thick with humidity. This weather may be delightful for the roses and hydrangeas, but wreaks havoc on the beauty rituals of us women. How can you live in a humid or rainy climate and still look fabulous?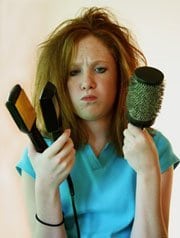 Try Air Drying
You spend all morning in front of the mirror, ceramic straightening iron in one hand, silicone anti-frizz product in the other. You yank, comb, smooth and slick your hair as straight as a board and then head outside and your hair stands on end. Little fuzzies appear everywhere, a cowlick you never before had sprouts up in the front of your hair and either you lose all shine or look like an oil slick. If you curl your hair, you diffuse, again pull out the silicone products, and even try to control curl with an iron to no avail. You walk outside and suddenly look like a member of Bon Jovi circa 1986.
Why waste the time and electricity? Try letting you hair air dry, if at least for a bit. I know it's a scary thought – try it the first time after work or on a weekend where if the final result is horrific you can hide it under a scarf or hat. After washing and conditioning with a frizz-reducing set of products, apply a styling lotion, a serum or some product that does not have alcohol in it (alcohol will only exasperate the frizz problem), scrunch it a bit if you have the least bit of wave and let it run it's course. The look may be a bit more casual/beachy but it will be more consistent when it interacts with the air outside.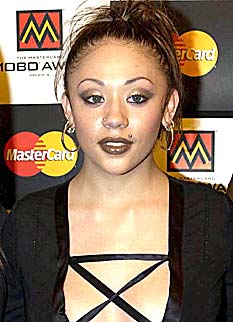 Tone Down The Makeup
When you apply a lot of foundation, concealer and powder and head outside, it all gets sticky and melts away. You feel icky, you keep applying powder to combat the meltdown and the sweat and end the day looking cakey and false.
Consider switching to a tinted moisturizer – one less layer to your face and less color to smear over the hours. Apply it first, then dab on concealer with a brush. Using a brush add less oils to your face, reducing meltdown (even if you wash your hands, applying makeup with your fingers adds oils and spreads oils, good for the winter and even application, bad on humid days). Use a touch of loose translucent powder – loose powder doesn't have the oils that pressed powder does (something has to keep that stuff caked together!). Throughout the day, instead of applying more powder, invest in some blotting tissues. I have a pack from Clean and Clear that I picked up at Target – great price and a complexion savior (the less makeup on your face, the less chance for breakouts).
If you must have great coverage (special event, pictures being taken, etc.) consider mineral makeup. I have survived every summer for three years thanks to Bare Minerals (can be bought via QVC or Sephora). There are now variations sold by major brands at your local drug store and other mineral brands that are available through specialty stores and online boutiques. Mineral makeup seems to hold up better than traditional cosmetics. It is also less likely to clog pores and cause breakouts. Just know a little goes a long way so use a light hand!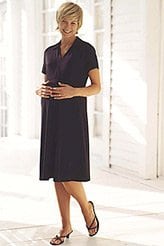 It's All In The Fabric
Hold off on the linen, the 100% cotton and the heavy knits. These fabrics will crease, show moisture (sweat, dampness from jumping puddles, rain splattering on your shoulders) and will end up looking like a crumpled paper bag by the end of the day. Cotton and heavy knits hold the tiniest bit of moisture, leaving you feeling soggy and gross after a short period of time.
Come the humid days I reach for matte jersey. Matte jersey, also called travel knit or slink knit is a synthetic fabric with a matte texture and a bit of stretch. This fabric moves in the breeze, doesn't cling to the skin and handles a trip in the gentle cycle of your machine. It doesn't show perspiration or rainfall and mixes nicely with knits, silks, and many other fabrics. Invest in some lightweight dresses than can go from work to a backyard barbecue with ease. Matte jersey shells can be paired with suits, capris or a lightweight skirt. I have a set – cardigan, shell, knee-length skirt and gauchos all in black. I can mix and match for any occasion and know I will end the day wrinkle free. Currently Ann Taylor has a few simple pieces in matte jersey; I have found pieces in most department stores and specialty stores like The Limited, Chico's, J. Jill and Banana Republic.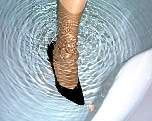 Wear Weather-Appropriate Shoes
Nothing will ruin your day faster than stepping in a puddle wearing your new silk heels. Plan accordingly. I invest in a few pairs of sandals from discount retailers like Target and DSW just for these days. Ankle straps and thong styles will stay on better even if the footbed gets wet from a splash. By paying less you feel less pain when the shoes do get wet. Additionally cheaper leather seems to handle more wear and tear without affecting it's look. My black leather heeled sandals from Target have been in many puddles, muddy yards and rain storms and still look great. For $16.99 I can handle it if they have worn out come Labor Day.