This article may contain affiliate links; if you click on a shopping link and make a purchase I may receive a commission. As an Amazon Associate, I earn from qualifying purchases. 
Sorry but black is NOT flattering to most women especially those of us who are of a certain age, have silver or gray hair and drier skin. I find it frustrating that you constantly recommend black when the majority of your audience would look atrocious in such a shade.

What if you cannot wear black near your face. The colors I look the best in are fall colors.

I am very fair with light eyes and hair. When I wear black I feel it is too extreme of a contrast. I like being fair and delicate in complexion and would love suggestions on what to wear in place of black to flatter my complexion.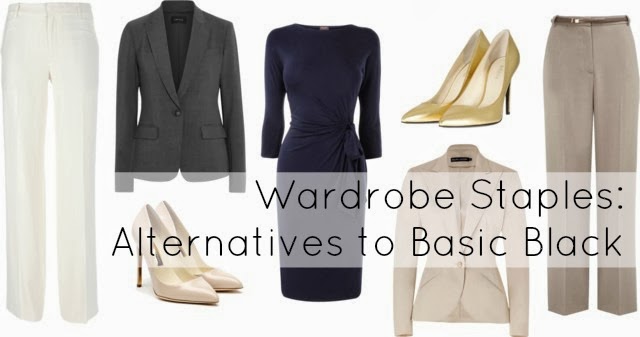 The goal with this blog is to provide advice that will work for the largest percentage of its audience. Black is a color that is available year-round, at all types of retailers, in all sizes. Black is a color that can dress up and down with ease, is less likely to look dated after a few seasons, and can look more luxe even at a lower pricepoint. I have written more about my love of black in my piece, "Wardrobe Staples: Why I Promote Black."
That being said, you all are correct, not every woman looks good in black. It can be too harsh for some complexions and hair colors, and just be too severe for some personal styles. I have a list of wardrobe staples for women that I often refer to on this blog; below I will offer non-black alternatives to them.
The Pantsuit
I think a black pantsuit is a great wardrobe piece because the color can be worn to a job interview with a blouse, on a date with a silk camisole, or even to a cocktail party with a beaded shell. Few colors are quite as versatile.
An ivory suit can be a great choice and be as versatile if you have the right lifestyle. While I don't think an ivory suit is the best choice for most interviews, it can be quite chic with a black shell if you're interviewing in the creative field. Ivory isn't the best to wear to a wedding, but it can look elegant for evening with a beaded shell or camisole. Pair the ivory blazer with everything from denim to black; the trousers would look chic with a sweater in an autumnal hue or another neutral like taupe or gray. Right out of college, I had a silk twill pantsuit the color of French vanilla ice cream that I found incredibly versatile; I wore for business meetings with a black blouse, and wore it to a holiday party with a cream beaded bustier. It was hard to find shoes that finished the look; I usually wore black with a black blouse, and for evening had a pair of dyable crepe pumps tinted to the right shade after searching forever and not finding a good choice.
Gray is an elegant color, but can be hard for a versatile pantsuit. While classic gray suiting fabric is perfect for the office and any interview, it's not really a fabric that can dress up for evening. A softer and solid dove gray can work for the office and could be paired with a pink silk shell for a day wedding, or possibly a gray beaded tank for evening, but you would have to be very careful with accessories to ensure it doesn't look like a work suit. A pale tan, beige, or taupe would work the same as gray; with very careful choice of color, fabric, and cut it could possibly be as versatile as black. With soft neutrals like tan and gray, you need to be extra careful about quality, construction and fit as every seam is visible and they are colors that can easily look cheap.
The Trousers
Use the advice for a pantsuit and consider your current wardrobe. A pair of camel, ivory, or soft gray trousers for you can be just as versatile as black if the rest of your wardrobe complements such a shade.
The Not-so Little Black Dress
I've written about this before, but your LBD or NSLBD doesn't have to be black to be versatile. I'm not a big fan of navy since it's hard to find matching shoes, but a deep espresso brown, dark plum, rich teal, indigo, or dark gray can be a great alternative. All of those colors would still work for the office, a day wedding, or an evening affair. However when you choose a color that is not black, you need to be careful about shoes, bag, and hosiery. Black should work for most of the colors I mentioned, but it's more important for you to gauge the pairing than assume black goes with everything. Again, a paler color will show quality and fit more, so be sure to buy the best quality you can find and afford, and consider having the dress tailored for a custom fit.
The Classic Pump or Court Shoe
A pair of black leather pumps with a single sole and slim heel is a classic. My MICHAEL Michael Kors "Flex" pumps are a walkable heel height, and the slightly pointed toe makes them look great with a skirt or peeking out of a pair of trousers. Heck, I've even worn them with boyfriend jeans!
There really isn't a color that is as versatile as black. Choosing a pair of versatile pumps for your wardrobe will really have to do with what you already own. A "nude" shoe can be pretty versatile (that is if the color available is anything similar to your skintone), but doesn't work with opaque hosiery or with a dark colored pants-based ensemble. Dark brown can be a good alternative, but I wouldn't suggest it for evening affairs. A soft metallic is a great alternative for evening affairs, but can be too flashy for the office and should not be worn for interviews. Again, I suggest black for those who are sartorially challenged because it is so easy to mix and match.

The Leather Boot
From my wardrobe staples post from 2005, "'Fashionable' browns change from year to year. One year it's distressed, next year it's glazed. It's a reddish brown, then a chocolate, then more of a tan. It clashes with the belt, the purse, the coat."
If you have a brown-based wardrobe, a pair of brown boots can be quite chic. I'd choose a dark espresso brown that veers more towards a cool or black-brown than something warm. This way, it will be more of a neutral and less likely to contrast with other neutrals.
For more information on this subject, please check out these other posts on the blog:
Follow Me | Twitter | Facebook | Instagram