This article may contain affiliate links; if you click on a shopping link and make a purchase I may receive a commission. As an Amazon Associate, I earn from qualifying purchases. 
Dear Allie,

I see you wearing your black patent leather Mary Janes all winter long – I was told that patent leather is a material that should only be worn in warmer months. I am from New England, maybe the rule is different in the South?

Hi Allie,

I am seeing lots of suede sandals, and I have several pairs of suede pumps, including peep toe. Is suede in summer OK? (I live in Florida, btw.) It always seems like a "winter" material to me, but maybe I'm wrong.
Ah, yet another situation where I believe rules are often meant to be broken!
When rules like these (and the ones about navy or brown pairing with black) were created, fashion was far more black and white. Trends were far more specific, there were fewer options available for purchase, and fewer True Fashionistas who pushed boundaries and changed the rules for the rest of us.
Patent Leather
Unlike what many fashion Websites and bloggers state, it was NEVER considered a material specific to fall and winter. The original fashion rule was that unless you were under six years of age, patent leather was only to be worn from Easter to Labor Day.
Women who wear patent leather in winter: Keira Knightley, Michelle Obama, and Mary-Kate Olsen
These days, patent leather shoes come in a variety of styles, many far more appropriate for the winter months. With patent leather, the style more than the fabric dictates whether the shoes is seasonally appropriate. I have a pair of black patent peeptoes that will not see the light of day until Spring, yet I wear my black patent Mary Janes with a dark red chunky heel almost weekly during the colder months. The difference is that the Mary Janes have a wintry feel with the heavy heel in a dark color and the closed toe.
Mary Janes are the perfect cold-weather patent shoe. In black they are a fun option for dresses and tights, and a dark color like plum or Bordeaux will add a much-needed pop of color on a dreary December day. Patent leather booties can add dimension to a monochromatic pants ensemble, and croco-embossed patent heeled loafers are a great contrast to tweed and heavier fabrics.
Pairing patent leather shoes with opaque hose continues the wintry feel and makes the shoe even more seasonally appropriate. This does not mean you can "winterize" any patent shoe with a pair of heavy tights – consider the silhouette first, then accessorize. A rule of thumb – if there is the opportunity for a lot of exposed foot (slingbacks, peeptoes, strappy, etc.), the shoe would probably look more appropriate come spring.
Suede
Suede was another fabric that collected dust in the back of the closet until the Tuesday after Labor Day. However the past decade has turned this rule on its head. Suede these days has become a big player in Spring runway collections and now the appearance of suede in stores usually means that spring is right around the corner.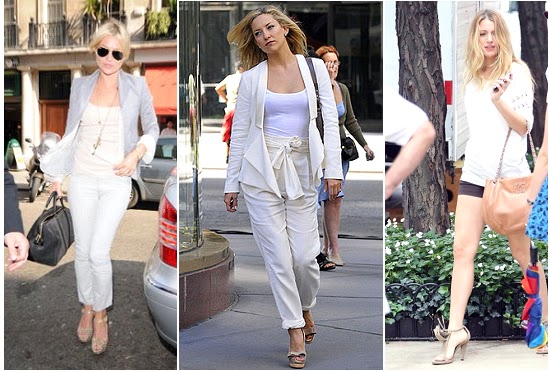 Women rocking suede in summer: Kate Moss, Kate Hudson, Blake Lively
The way to make suede look appropriate for summer months is to look to the designers who have made is warm-weather appropriate. They haven't used suede willy-nilly, but have been very specific with the use.
For suede to look appropriate in summer, it needs to feel light. Colors like tan, beige, and light gray; strappy open styles that expose a lot of skin; lightweight suedes that drape on the body and are truly comfortable and wearable in warmer months.
I have a pair of nude suede platform peeptoes that I can't wait to wear come spring – they are the perfect shoe for brightly colored sundresses, and look great with denim. I used to have a tan suede "denim" jacket that was my favorite spring coat – it was soft, lightweight, and looked great over dresses or paired with casual jeans.
This doesn't mean all suede looks great for warmer months – again it's about making it look seasonally appropriate. A pair of black suede boots or brown suede platform pumps would look terribly out of place when paired with bare legs and breezy cotton dresses – keep the silhouette appropriate to the season and the fabric will usually work as well.