This article may contain affiliate links; if you click on a shopping link and make a purchase I may receive a commission. As an Amazon Associate, I earn from qualifying purchases.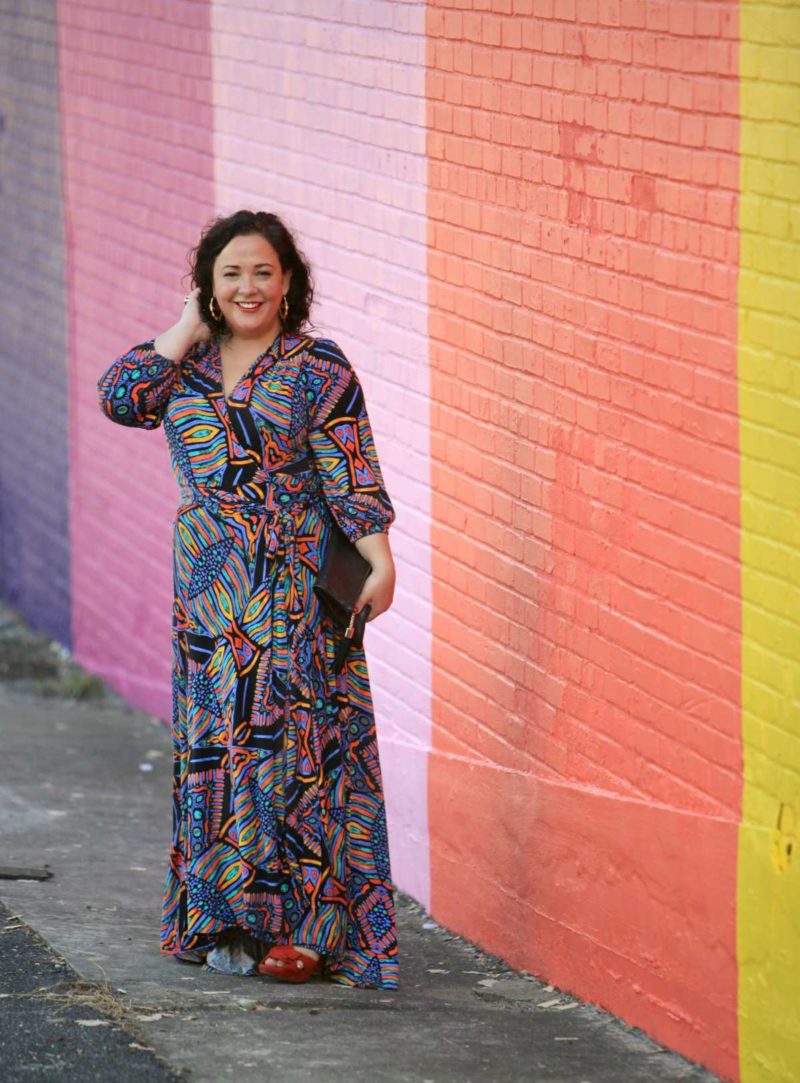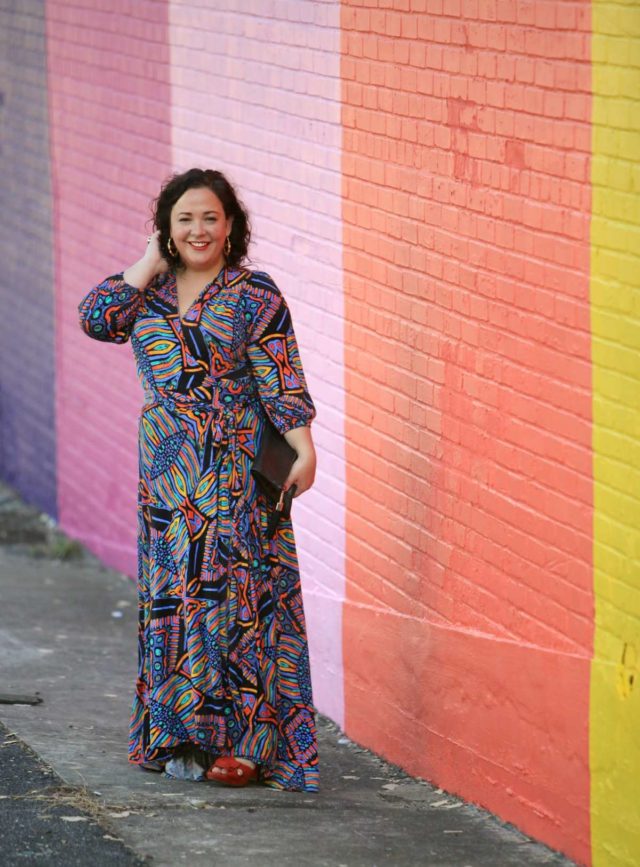 I saw this dress arrive at Gwynnie Bee and immediately added it to my virtual closet. Then I saw it look so good on my friend Emily and look good on my friend Jamie and I was so anxious for it to finally arrive so I could enjoy it. Finally last week it arrived!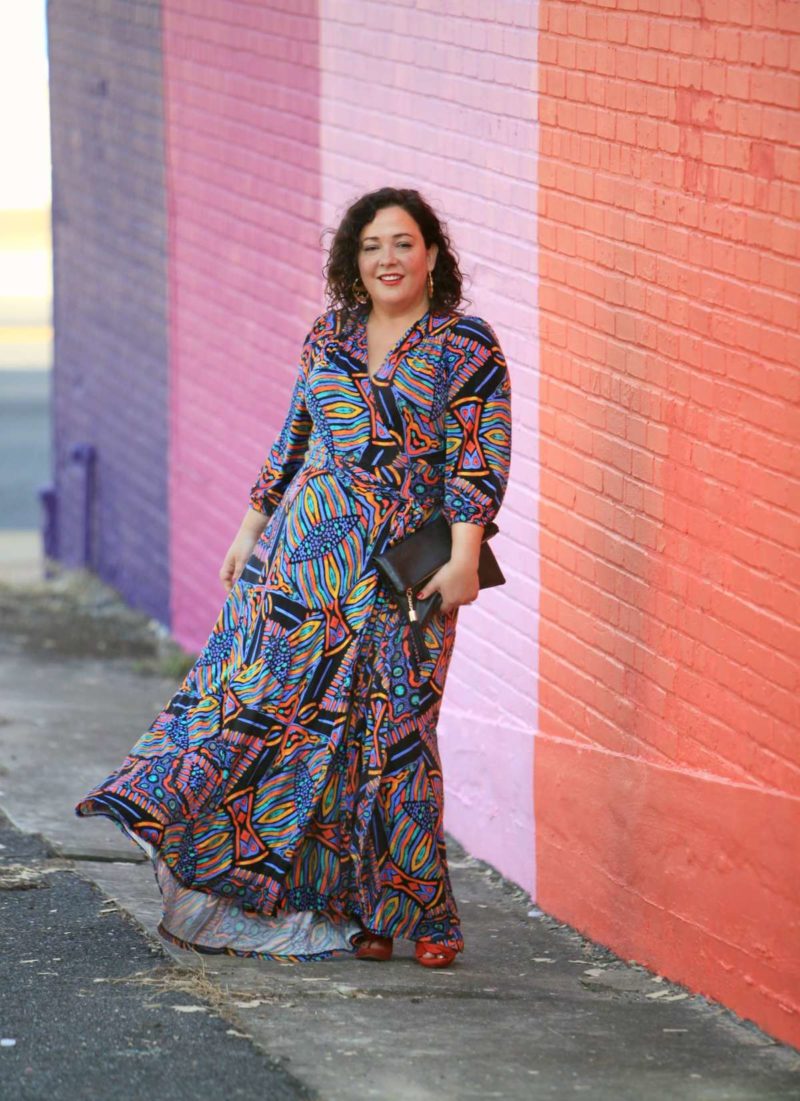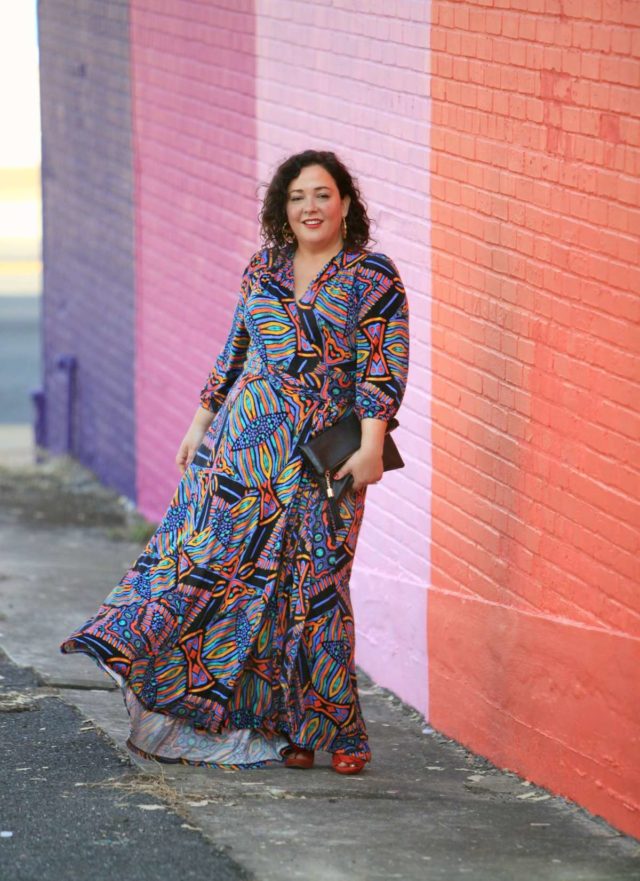 Dress: Melissa McCarthy Seven7 via Gwynnie Bee | Shoes: Naturalizer | Bag: Received in a Dia & Co box | Earrings: eBay (similar) | Sunglases: Kate Spade c/o SmartBuyGlasses | Ring: Etsy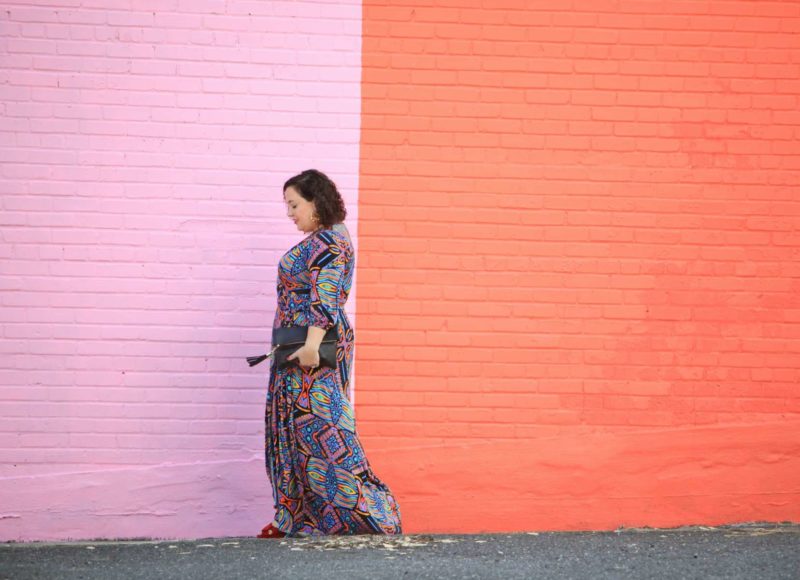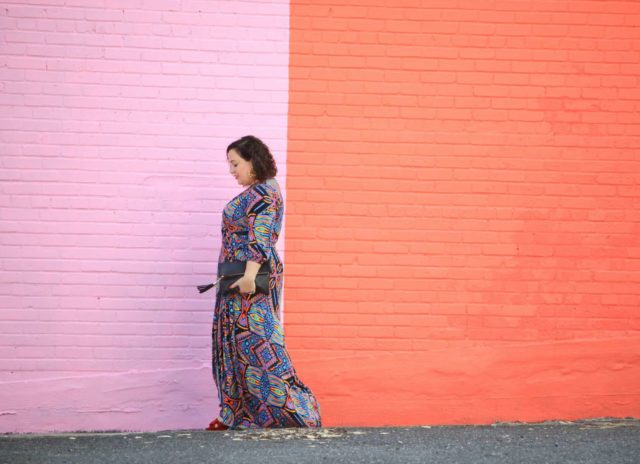 With Gwynnie Bee, you have the ability to rent and return to your heart's content… but you can also borrow a piece and decide to buy and keep it. When this dress arrived I put it on and thought, "Oh yeah, this is a keeper." I loved the print, and you all know I love a wrap dress.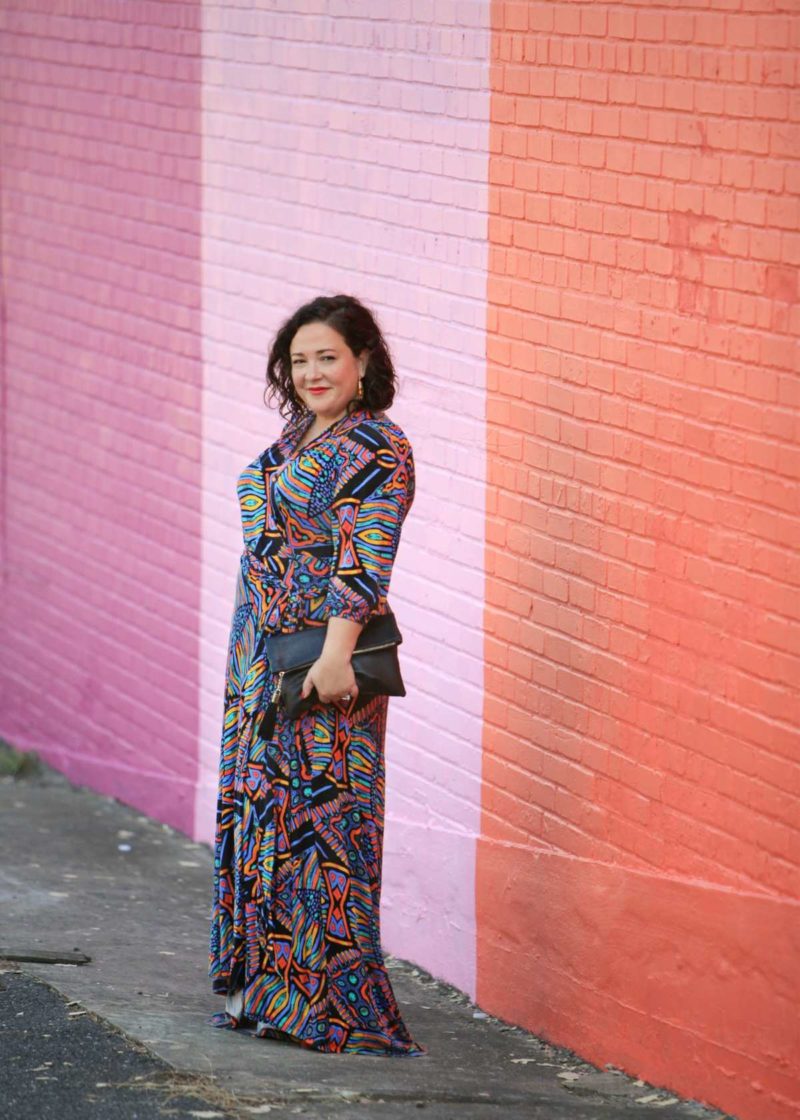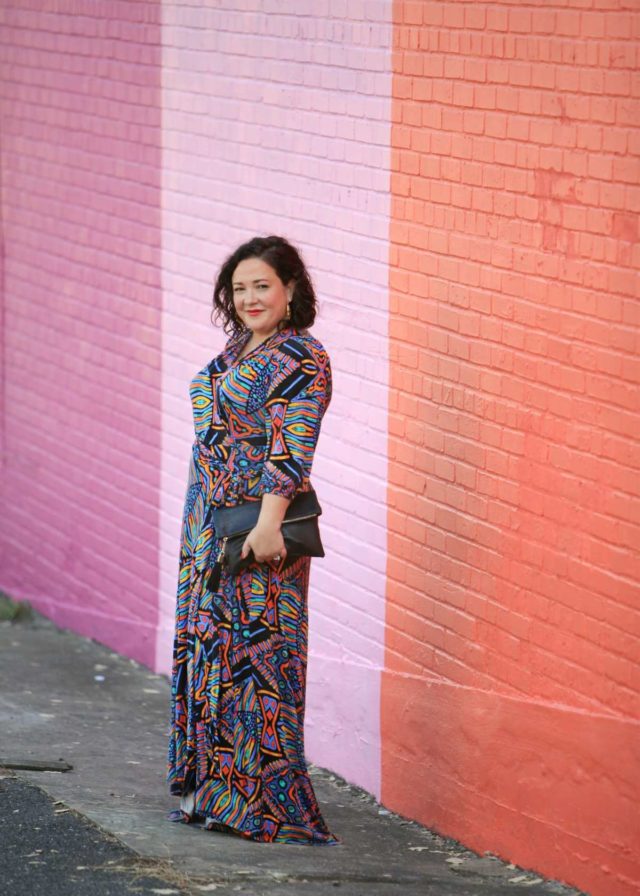 But then I wore it… and realized it's an amazing dress, but not a keeper for me. It's a high/low hemline and the back is like a train on my 5'3″ self. A little behind the scenes – a bunch of photos from this shoot encompassed me detangling the skirt from my shoes. The neckline of this dress is brilliant for those who find wrap dresses to expose too much – it's gathered a bit at the neck providing more fabric and therefore more coverage and not as low of a neckline. However, such a dress I'd likely wear out to a blogger event, wedding, or dinner… and I don't mind a bit more neckline. Also… the dress doesn't have pockets. And I love pockets.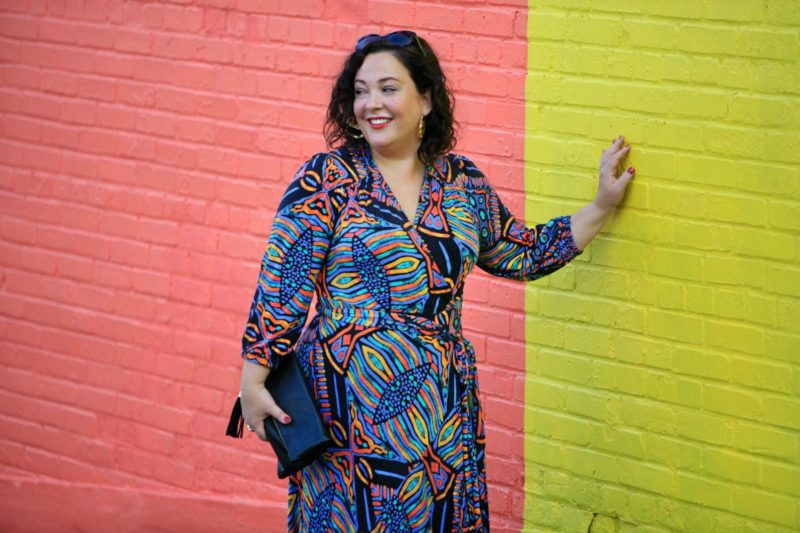 These are factors that if I purchased this dress from a department store I'd make do with these issues. It's not bad. I'll wear a higher heel or get the back shortened by my tailor. I'll carry a crossbody. And honestly, do I need to always show so much boob? But that's the beauty of Gwynnie Bee. If I'm not 100% in love… I send it back in one of their pre-addressed purple bags and in a couple days have something else. It's made me a more discerning shopper.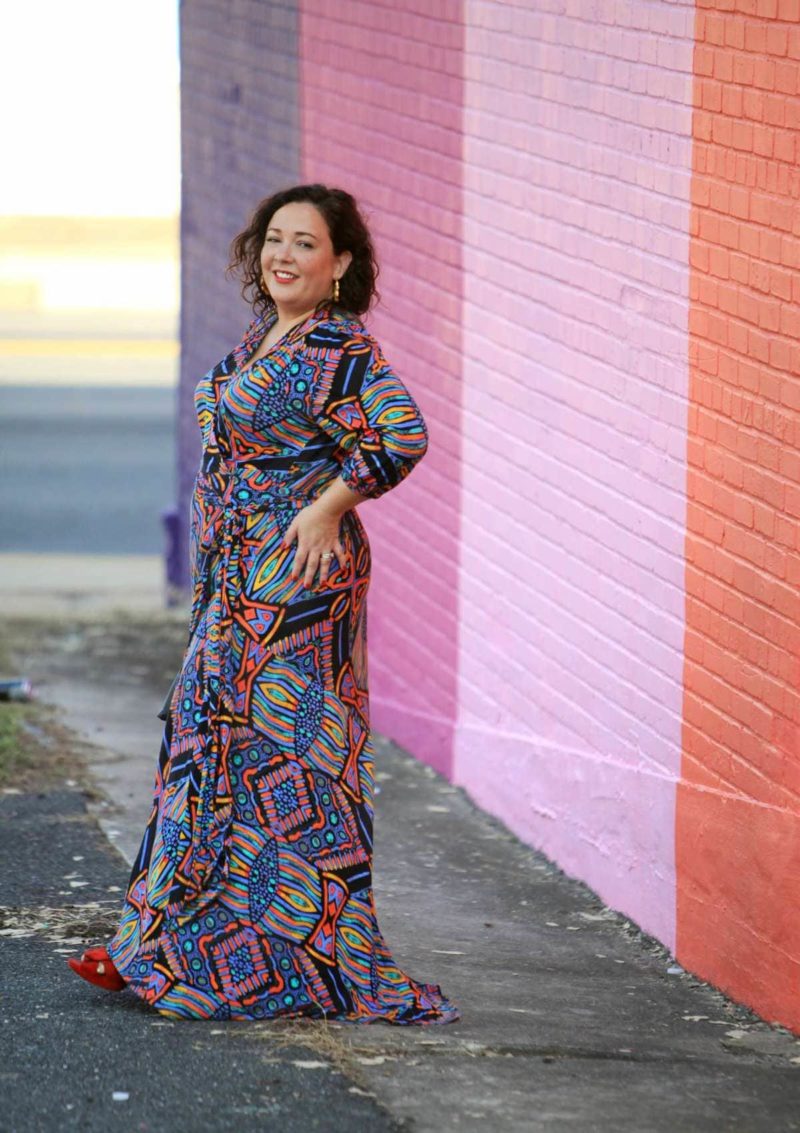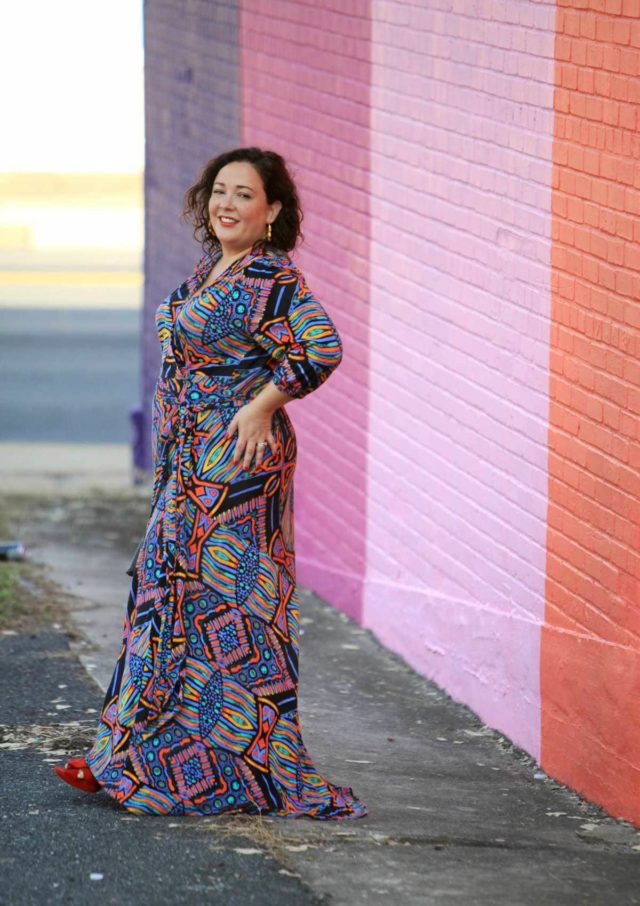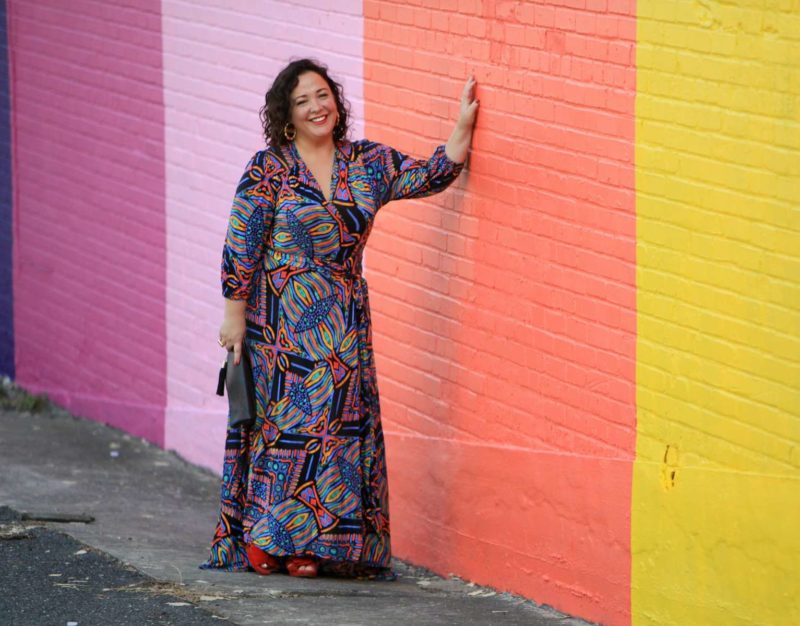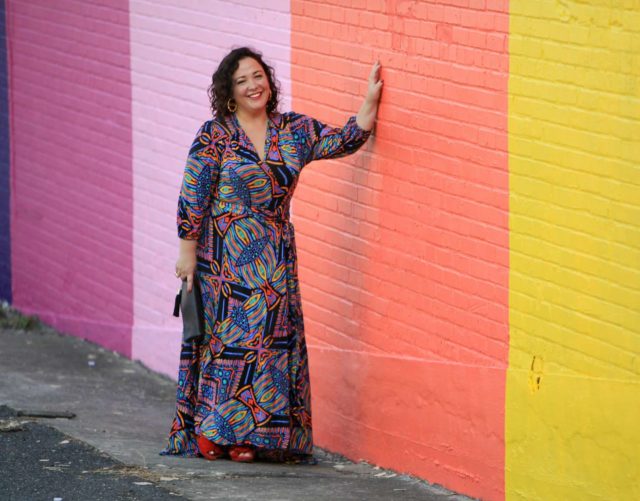 I have a free membership to Gwynnie Bee, and have enjoyed it for over five years. I feature Gwynnie Bee because I truly love it and use it, but I want to be completely transparent that I do get these items free, and I do receive a commission if you use my affiliate link to join the program. If you would like to try it, you can use this link here and get your first month free. And if you're two inches taller than I and wish to not have all your cleavage on display… rent this dress. You won't regret it!
These photos were taken in the Hyattsville Arts District in Maryland.  This is a community in transition, with many old buildings condemned and empty.  Green Owl Designs is painting these buildings so they aren't such an eyesore until they're demolished and replaced by new buildings and businesses.  It's so awesome to drive down Route 1 and see color and design, such a cheerful way to #fighttheblight. And hey, it provides lots of fun backdrops for this and future outfit posts!