This article may contain affiliate links; if you click on a shopping link and make a purchase I may receive a commission. As an Amazon Associate, I earn from qualifying purchases.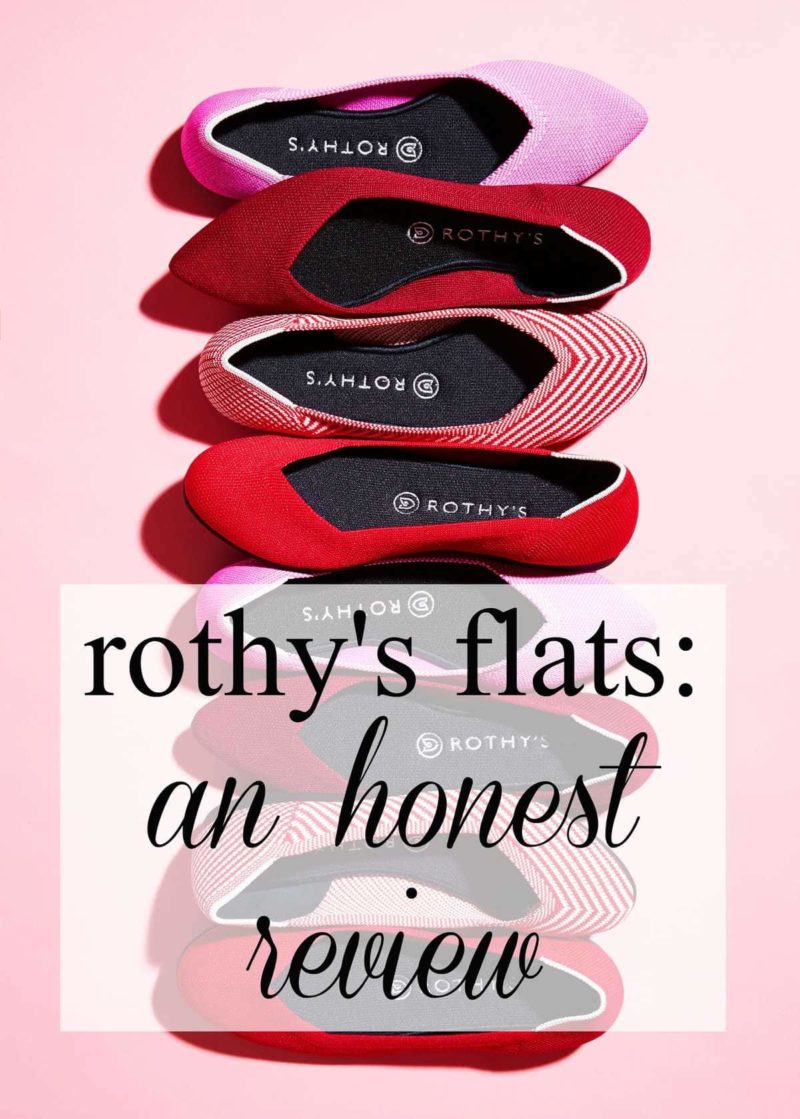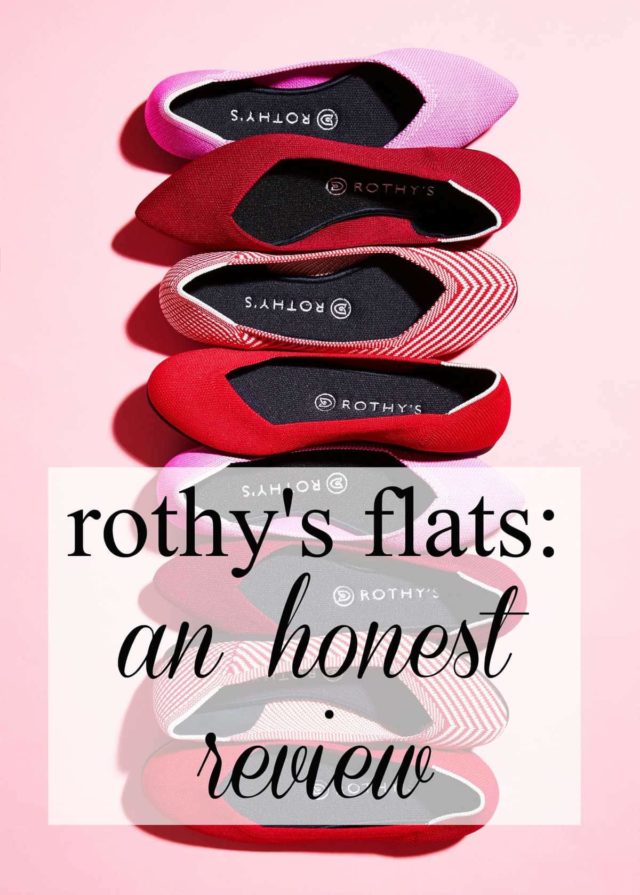 You've likely seen Rothys flats. They advertise on Facebook, they're promoted on Pinterest, and if you google you'll find tons of reviews for Rothys flats. But are those reviews legit? I decided to purchase a pair of Rothy's shoes with my own money, give them a beating, and report back to you a complete honest review of Rothys flats.
MY HONEST REVIEW OF ROTHYS FLATS
For those who haven't heard of Rothy's they're flats made from low-waste, low-impact materials and hand made into a stylish and comfortable shoe. Created from recycled water bottles 3D-knit into a stretchy yet dense fabric, Rothys flats are machine washable (and line dry), the insoles are removable (and washable), all the packaging is recyclable and Rothy's even has a program to recycle their shoes when you no longer want them. With their flats, Rothy's has repurposed almost 6 million water bottles. Sounds pretty awesome, but how do they fit and how do the hold up?
I have wide feet and short toes, and hardly any curve in my Achilles'. Put all of this together and flats are terrible on me. They're usually too narrow or too wide, and if a pair does fit it will tear up the backs of my ankles and if I wear them too long in a day they stretch out and my pinky toes escape. I didn't have high hopes for Rothy's but was willing to take one for the team.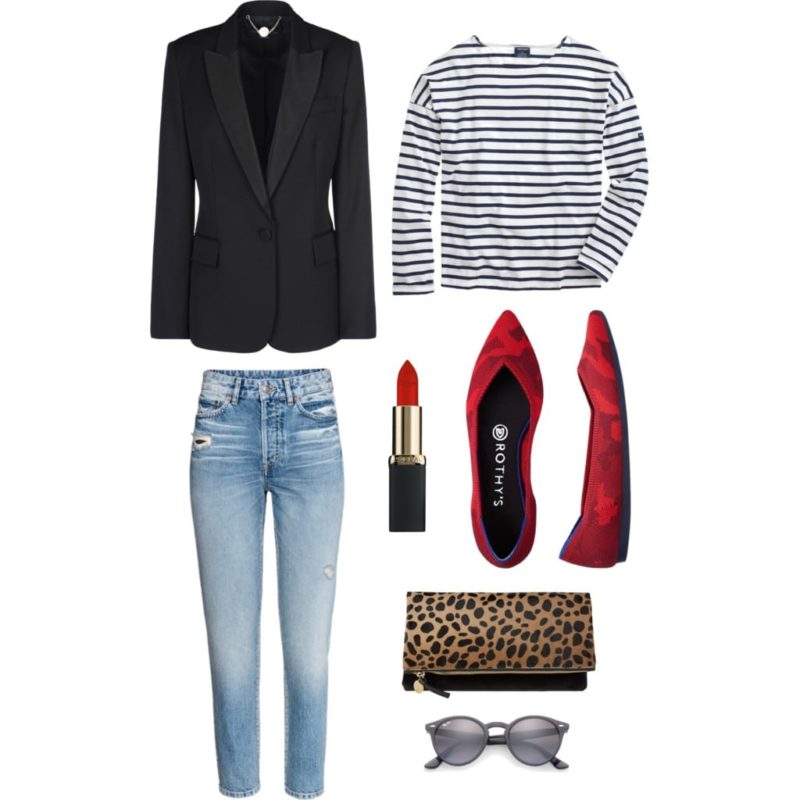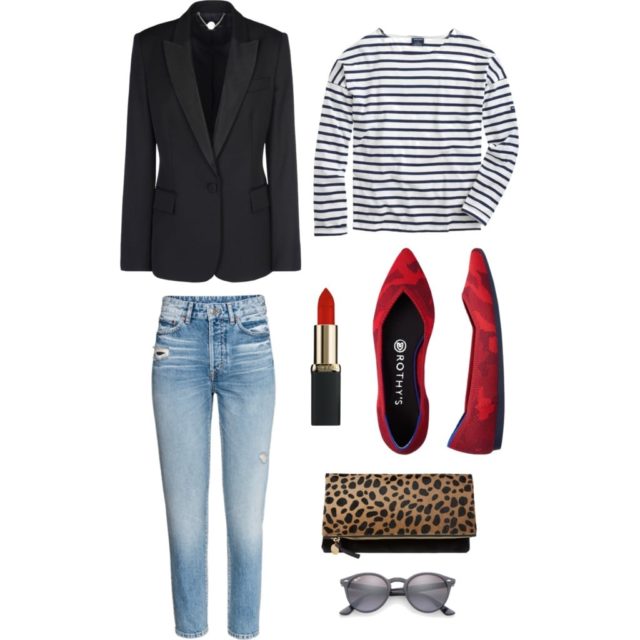 Styling Rothys Flats for the weekend with ankle-length jeans and a blazer. Consider pattern mixing – the Red Camo is neutral enough to pair beautifully with other prints like leopard and Breton stripes. A red lip ties the look together.
Shop the look: blazer | striped top | lipstick | flats | clutch | sunglasses | jeans
Rothys flats come in two styles – round toe and pointed. I am of the mindset that pointed-toe flats look better – more structured, elongate the figure, look cute peeking out of trousers as well as styled with shorter pants. The Point has 20 different colors to choose from. I thought I'd do basic black, but it was out of stock and I was glad because some of their prints and colors are unexpected neutrals that may be more versatile. Liking the camo pattern, I decided to get a pair in Red Camo (red IS the color of the season!). I wear an 8 in everything except sandals, when I go with 7.5 super duper wide. I ordered the Rothys flats in 8.
My Rothys Flats arrived in just a couple days. They came in a sturdy cardboard box that had a self-adhesive strip to make returns easy. The box was the type you can unfold into one piece which makes it easy to recycle or reuse. The packaging inside was simple – one sheet of paper wrapped around the shoes, a small card about the brand, and some stuffing inside the shoes all made from paper and recycleable.
The next day I worked from home but I put on the shoes anyway, Super comfortable. They didn't slip, they didn't rub, they didn't dig, they didn't feel like it feels when you wear fishnets and you take off your shoes and have a pattern embedded into your skin. But the most walking I did was around the house and to the mailbox, so it wasn't a good test of these flats.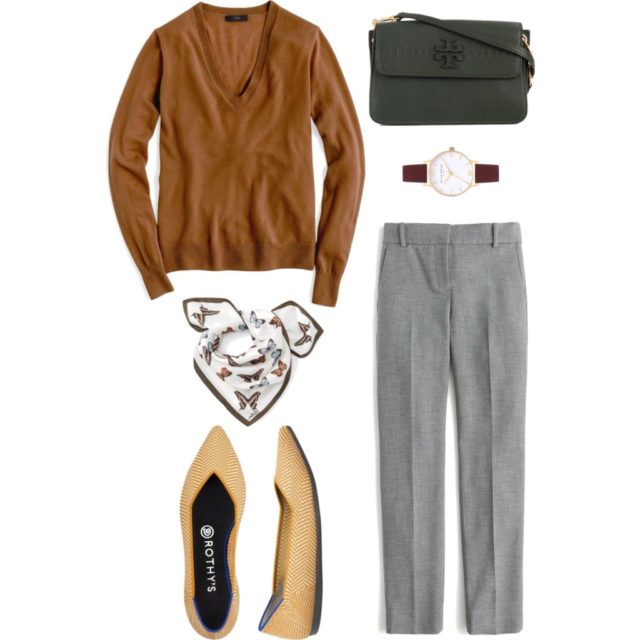 Styling Rothys flats for the office: Rothy's The Point look great styled with ankle-length trousers. With neutral tones, the shoes and accessories shine. Adding a silk scarf elevates the look and helps the flats look more office-appropriate.
Shop the look: sweater | scarf | flats | bag | watch | trousers
Last week I had the perfect opportunity to test Rothy's flats. I woke at 1:30 am and threw on my Rothy's and caught a train from DC to NYC. I arrived at 7:30 to grey skies that soon opened up sending sheets of rain on the city. It was the kind of day that will destroy a pair of shoes. My friend and I walked all over Soho, we headed to Brooklyn, we walked miles. We got sopping wet, we ate lunch, we shopped, we got a glass of wine, we walked some more. I stepped in puddles that were grey and had things floating in them. I raced to make lights, I stood for long periods of time, I wore my Rothys flats for over 10 hours straight, giving them a straight-up NYC beating.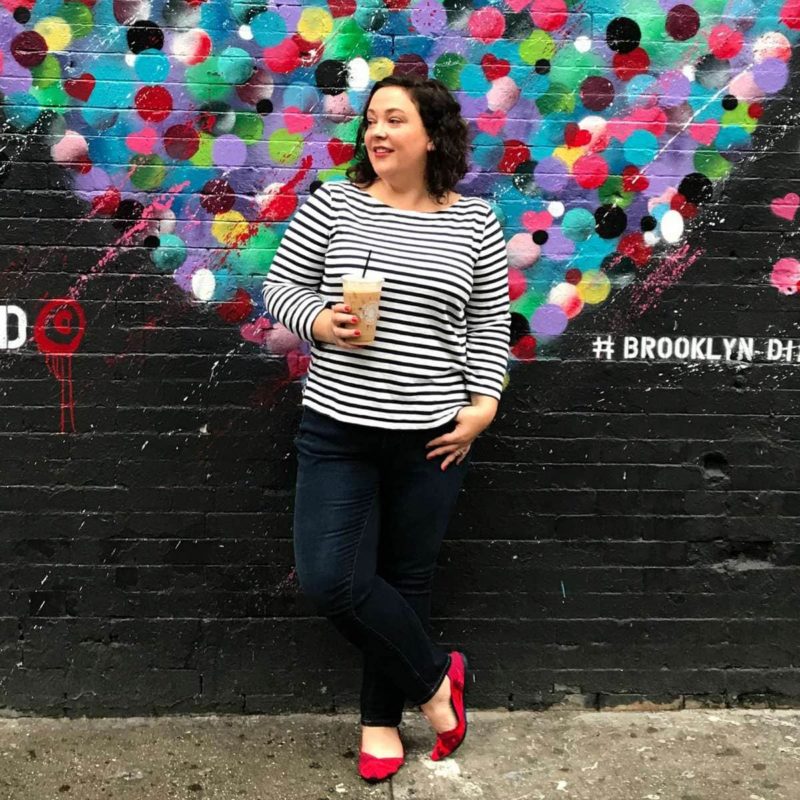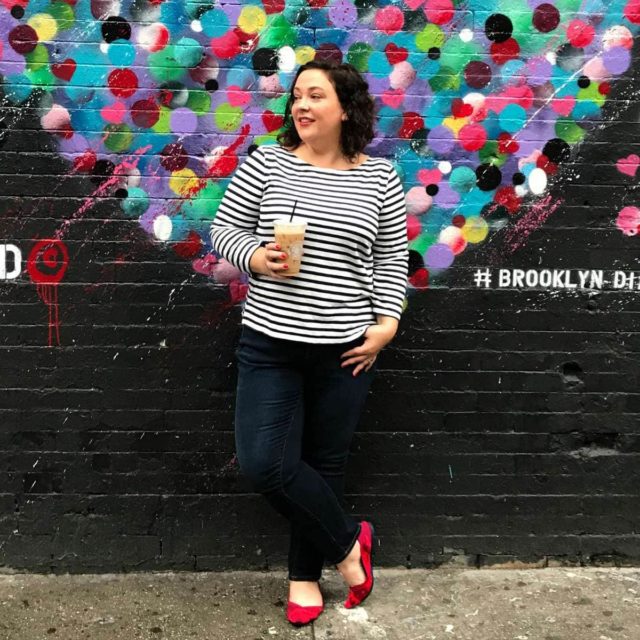 In NYC wearing my Rothys flats
When I finally took my shoes off around 5pm they were wet and soggy and stunk. I took out the removable insoles to help them dry faster. An hour later we were to go back out and I had no desire to wear heels so I put back on the Rothy's which had dried 99% and wore them for a couple more hours walking around Brooklyn.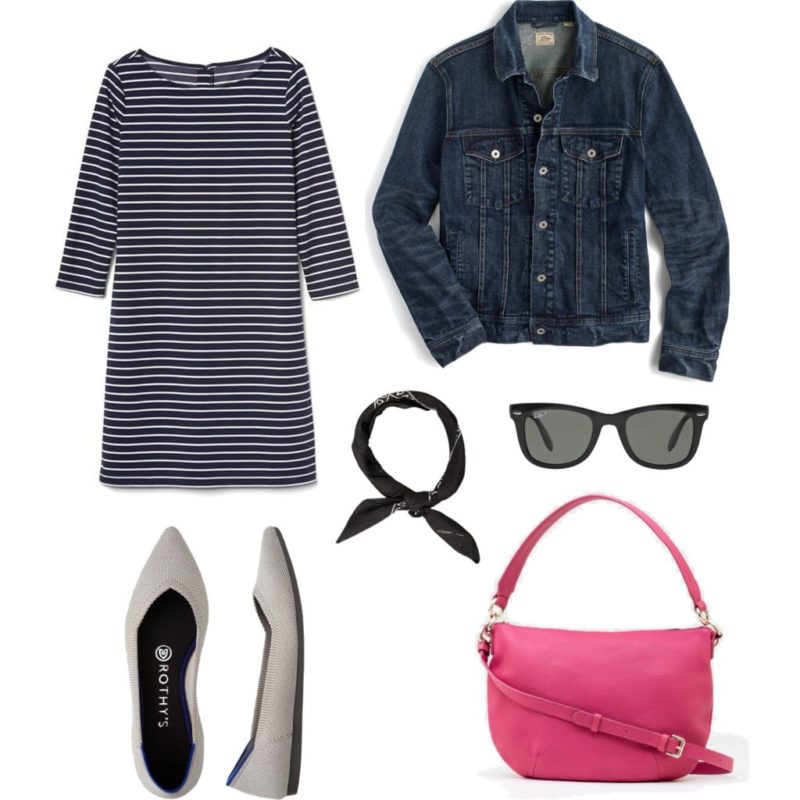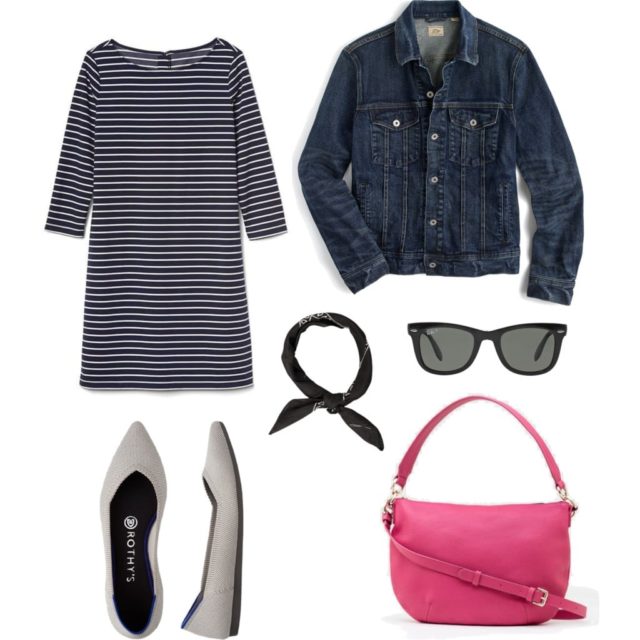 Styling Rothys flats with a dress: The best silhouettes of skirt or dress with flats is a shift style like above, or a below the knee flowy style in a knit like ponte or a heavier jersey. A t-shirt dress and denim jacket gets a pop of color with a cheerful shoulder bag; add a bandana at the throat to complete the look.
Shop the look: dress | denim jacket | flats | bandana | sunglasses | bag
No hot spots. No blisters. No sore feet from pounding the pavement (a little bit in the arches due to lack of arch support but no wore than most shoes). The Rothys Flats shifted a bit with wear and there was some pinky toe cleavage happening, but never did I fear my toes would slip out. Since the shoes are essentially made out of elastic, the shoes moved with me and didn't stretch out when they got wet. After taking them off, they shrunk back to the original shape. If you have stinky feet, these aren't going to stop that. My feet stunk after the day, and the shoes smelled pretty bad, even the next day. However, I think with such a day and no socks any shoe would have been stinky.
When I got home I took out the insoles and put the insoles and the shoes into the washing machine along with old towels and knock around jeans and knits. Normal amount of detergent, cold water. The shoes came out and looked like new. The red color was still vibrant, the knit still tight, the shape back to the original fit. I hung the shoes from clip hangers to air dry and they were completely dry the next day. What impressed me is that all the funk was gone – no smell. Even when I wore them again and heated them up… no smell.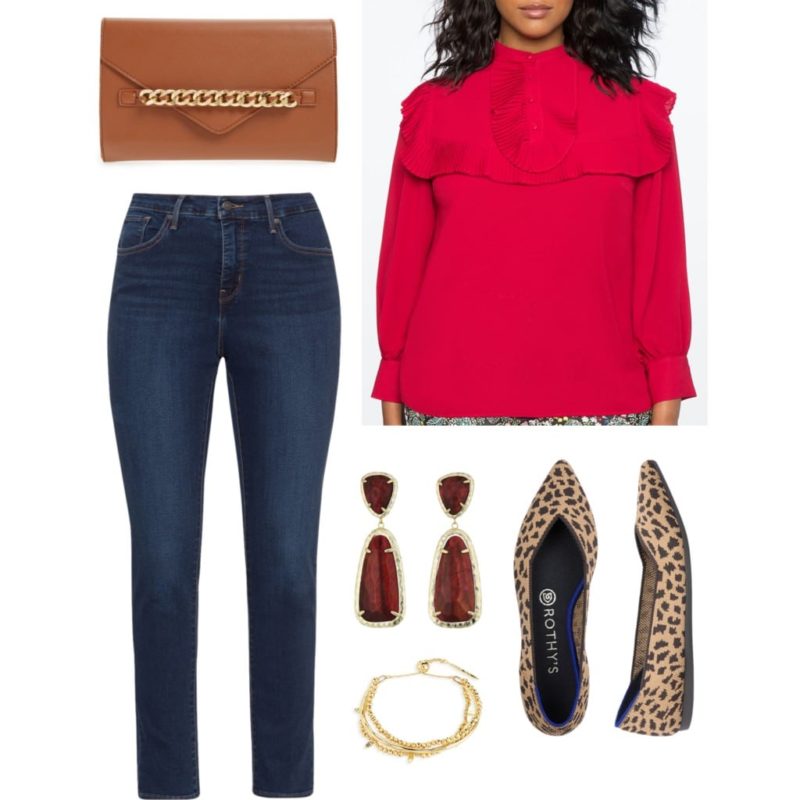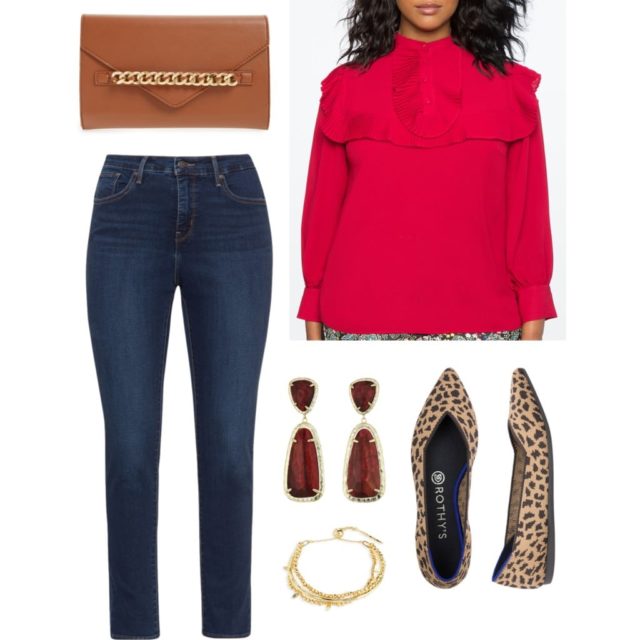 Styling Rothys flats for a night out: with the pointed toe and fun patterns, Rothy's flats can work for a night out with the girls or dinner with your date. A pair of dark slim jeans with some stretch and a silky blouse with ruffle detail will look chic with leopard-inspired pointed front flats. Add gold jewelry and a clutch to glam up the ensemble.
Shop the look: clutch | jeans | blouse | earrings | bracelet | flats
Because Rothy's are made from a knit, these are not dressy shoes. Depending on the color and shape, you may be able to carry these off in a business casual workplace. I've worn mine with ankle pants and a sweater or dark skinny jeans and a blazer to work. I've shared a few ways to style Rothy's flats for the weekend, work, an evening with friends, and with a skirt. These are great shoes for the weekend, an upscale alternative to sneakers or flip flops. I know these will be my go-to for travel since they're so easy to slip on and off, super flexible, great for a flight but also for light sight seeing. These shoes are lightweight and flexible, the kind you can toss in the bottom of your tote to change into after a day in heels.
I paid for my Rothys flats. I've never communicated with the brand and they have no idea I wrote this post. However, all links in this post to Rothy's are affiliate links and I may make a small commission if you click on the link and make a purchase. With Rothy's, if you make a purchase you will get your own URL to share with friends that will give the friend $20 off and yourself $20 credit towards at future Rothy's order. Email me if you'd like a code as the code only works once. Please note one user's Rothy's code only works 15 times within 30 days so my code may not work at the time you receive it. If you have a Rothys code you may share it in the comments as long as it is provided along with a detailed review to benefit readers (what width are your feet, do you wear insoles, any foot issues, where do you wear these shoes, which style did you get). I am using all referral code credits I earn to buy Rothy's flats for my readers, so I will try to share my credit as often as I can. Thank you!
If you've tried Rothys flats do share your experience in the comments to help others. And if you have any questions let me know I'm happy to answer them to help you make an informed purchase if Rothys shoes are for you!