This article may contain affiliate links; if you click on a shopping link and make a purchase I may receive a commission. As an Amazon Associate, I earn from qualifying purchases. 
Dear Alison,

 

I've been trying so so so hard to find my own personal style…and it's not working. I don't know what I'm doing wrong. I get dressed in the morning, sometimes several times before I find an outfit that I think works, and feel okay about. And it seems like the second I get to work I feel disgusting and hate what I'm wearing and wish I could go back home and switch into something that would make me comfortable, namely a pair of old jeans and baggy shirt. Is this normal??? I read your blog and several other style blogs every day. I watch What Not to Wear marathons. I see things I like. I try to keep my wardrobe simple, like you suggest. But it has me in tears. I don't know what to do. I feel like something is wrong with me!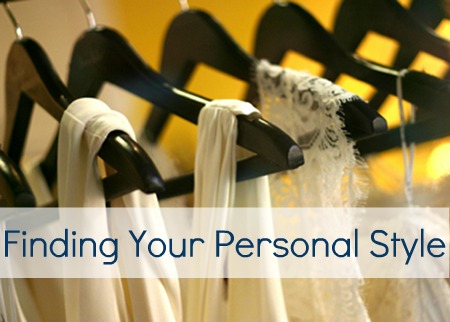 Everyone has days where they feel fantastic in the mirror, but feel disgusting by time they arrive at their destination. Me included. It's really bad when I think I put together an outfit that feels so awesome, get to work, look at the memory card from my husband's camera and think, "Why in the world did I allow myself to leave the house in this?" I look awkward, I feel awkward, and I can't wait to dash home and get into my version of your old jeans and baggy shirt (which is my favorite tee shirt and a pair of lightweight cropped cargo pants from Express circa 1999 – here's a pic of the winter version with a cardigan). The best thing to do is learn from these days, what I call wardrobe mistakes.
Learning from Wardrobe Mistakes
What made you feel disgusting? Was it the fabric? The print? The silhouette? Was it too fussy? Too boring? Too extreme? I often feel the worst when I wear an outfit that is too… done. Too matchy-matchy, too complicated. Button-down shirts in stiff cotton often make me feel awkward, short flippy skirts make me self-conscious, flats remind me that I have very thick ankles and calves and feel even more short and squat than I already am. While I love blue and it flatters my complexion, I don't feel as… me in it come mid-day as I do when wearing a warm color.
Take these wardrobe mistakes and use them as lessons on what not to wear, and what not to purchase. Don't let history repeat itself.
To Thine Own Self Be True
I often feel wrong when I try too hard to embrace current trends. I see another blogger with a similar figure carry off cropped jeans with ballet flats so I try it, wear it, and feel miserable. Every store seems to be selling a certain style of skirt and I buy one to find I wear it only once for feeling so out of my element. It's hard to know where to draw inspiration, when to embrace a trend, and when to let it pass.
When trying out a new trend or silhouette, I recommend doing it solo. This is not a time for your girl friend's opinion in the fitting room at Macy's or the saleswoman's suggestion at LOFT. Peer pressure can steer you off course and make you spend money you shouldn't. Hit the restroom, freshen your makeup, get a cold drink and spend time alone in that fitting room. If it's a crummy, stinky, cramped fitting room get the heck out of there. Try the trend in another shop that has more space, better energy, better lighting. Then if you do indeed like a mullet skirt or cropped boyfriend jeans you can return to the first shop and get the exact style/price you desire. I often shop places with flexible return policies so I can take pieces home, try them with the proper shoes and undergarments and see how they work with what is already in my wardrobe.
Point is, your best friend may tell you that you look great in pink, but you feel like Petunia Pig in the shade. A saleswoman doesn't know your lifestyle and may suggest a white linen dress when you know it will end up creased and covered in marinara by noon. If a trend, color, silhouette or brand makes you feel wrong, don't buy it. I really believe it's better to wear what you own which may not be exciting rather than spend money on clothes you have to force yourself to like or feel right in.
Baby Steps
I adore What Not to Wear and as I mentioned before, I have totally drank the Stacy London Kool-Aid. However, makeover shows and books make one feel she needs to do a complete makeover all in one whirlwind weekend in New York City. Even Stacy and Clinton would agree that such a drastic change is not a good idea. Take baby steps. Assess your current wardrobe – what are the worst offenders or the biggest holes in your closet and tackle those first. Don't go out and purchase 5 pairs of shorts, instead buy one pair and see how you like them and how the color and silhouette works with your body, your wardrobe, and your personality. Let new pieces marinate in your wardrobe before you bring in new garments. See how they resonate with you, how they improve or don't improve your personal style. Personal style is a marathon, not a sprint. The reason the personal style of the women on the blog Advanced Style is so awesome is because these women have had a lifetime to hone it!
Seek Professional Help
If you were building a home from scratch, you would consult an architect. If you're building a wardrobe from scratch, consult a personal stylist. While I try to provide advice, it is very generalized to assist multiple people at once. A personal stylist will come to your home, get to know you as a person, assess what you already own and help you build a strong foundation.
When many think of stylists, they think of Rachel Zoe dressing celebs for awards ceremonies and red carpet events. However, stylists have become more commonplace and have prices that the average person can afford. I wrote about the Westfield Style Lounge and Style for Hire here, and I think they are great services to help everyday women get on the right track. Many of your favorite fashion bloggers are also stylists; see if there's one in your town you can hire for a closet consult or shopping trip. Many malls and higher-end boutiques will know the names of reputable stylists in your area.
The difference between a stylist and a stylish best friend is that a stylist is trained to not project their tastes on you, and will guide you in the right direction when you feel that everything in your closet should be burned. A personal stylist doesn't usually work on commission with a store, so he or she will find the stores that fit your body, your budget, and your personality. A personal stylist also knows where to shop in your area, being quite familiar with the merchandise and staff. While a personal stylist may seem like a crazy expense, an hour or two may be all you need to move in the right direction towards finding your personal style and can cost quite less than several wardrobe mistakes.
Follow Me | Twitter | Facebook