This article may contain affiliate links; if you click on a shopping link and make a purchase I may receive a commission. As an Amazon Associate, I earn from qualifying purchases.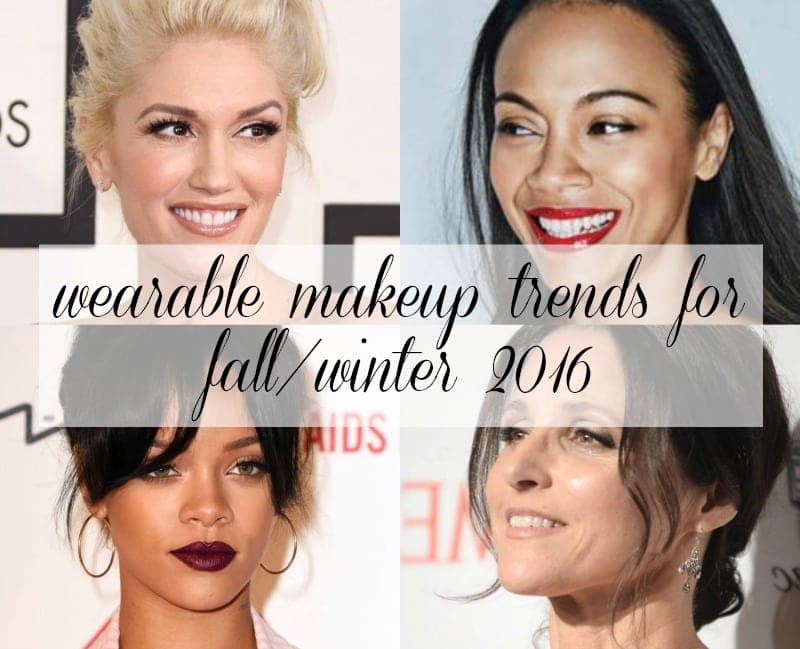 There's a lot of statement-making beauty trends this fall and winter. While some can rock red eyeshadow, extreme cat-eye liner and ruby slipper lips, Wardrobe Oxygen is about real-life style advice. Below I share my favorite makeup trends for Fall/Winter 2016 that are truly wearable for everyday, and look chic on women of all ages. I purchase a good portion of my makeup and beauty products from Nordstrom. With extensive customer reviews that include the reviewer's age, free shipping, free returns, free samples with every order, and plenty of gifts with purchase and Nordstrom-exclusive products and colors, Nordstrom is not just a favorite fashion destination of mine but a beauty destination. When they asked me to share some of my favorite fall trends, I knew I had to write about the wearable makeup trends for the season!
Bold Lips with a Fresh Face

For those who love a statement lip, you are in luck this year. Take a cue from magazine editors and fashionistas and balance a bold pucker with an otherwise fresh or "no makeup makeup" face. While a red lip is always chic, this season all sorts of autumnal shades are stylish: berry, wine, brownish-mauve, chocolate, terracotta, even dark purple. Don't be afraid to go very dark; my personal favorite this fall is "Bette" by NARS; a shade I've worn in several of my recent outfit posts.
Replace Contouring with Strobing

Thank goodness the contouring trend is fading away. It's being replaced by strobing, which is adding a highlighter where the face naturally catches the light. I received a free sample of MAC's Strobe Cream with a recent Nordstrom Beauty order and am a convert I've written about other highlighters before that I thought were great, but Strobe Cream looks more natural, and far less sparkly than others I've tried. It's something that could be worn on its own yet plays nice with foundations, tinted moisturizers, and BB creams. Just add a dab to your cheek bones, brow bone, and the cupid's bow of your lips. Blend by patting with your ring finger or get a very blended look easily with this brush from Sigma Beauty. and look as if you had a full night's sleep, 40 ounces of water, and a day at the spa!
Smudged Eye Liner

For those like me who are not skilled at creating a perfect line with liner, or those like me who have allergy-prone eyes that water during the day REJOICE! The '90s are back and with it some of that decade's fashion trends. Smudged eyeliner was achieved back then with a cheap kohl pencil and often sleeping in it; now there's ways to make it look cleaner and not have to risk and eye infection. Those who are skilled with the pencil likely already know how to get the smudged look with their finger, a Q-tip, or their favorite makeup tool. If you're wobbly with a pencil, I love and use Trish McEvoy's 'Eye Definer' powder liner with the #11 Precise Eye Lining brush. Press the brush into the powder then press against your lash line and wiggle a bit. It provides a clean but not too sharp line that is natural and is on trend. If you're more comfortable with a pencil, I like Burberry's Effortless Blendable kohl pencil. It's thicker than a standard liner pencil and a creamy formula that glides and blends nicely. I like to put on my lash line and use my ring finger or a smudge brush like this one from Sigma Beauty (their brushes are high quality but reasonably priced) to blend out into shadow. No need to stick to black or grey; this season shades of brown, copper, and rust are popular and can be more flattering to certain skintones and can create a more natural effect.
Natural Brows

Instead of previous seasons where brows have been penciled, powdered, gelled and stenciled within an inch of their lives this season the brow is full but looks natural. By pass the stencils and dense formulas for solid brows and consider tinted gels or creams like this product from Bobbi Brown and pomades like this one from Anastasia Beverly Hills for fullness and fine-tipped pencils to sketch in thin spots.
This post is sponsored by Nordstrom, however the topic and all ideas and text are completely my own.