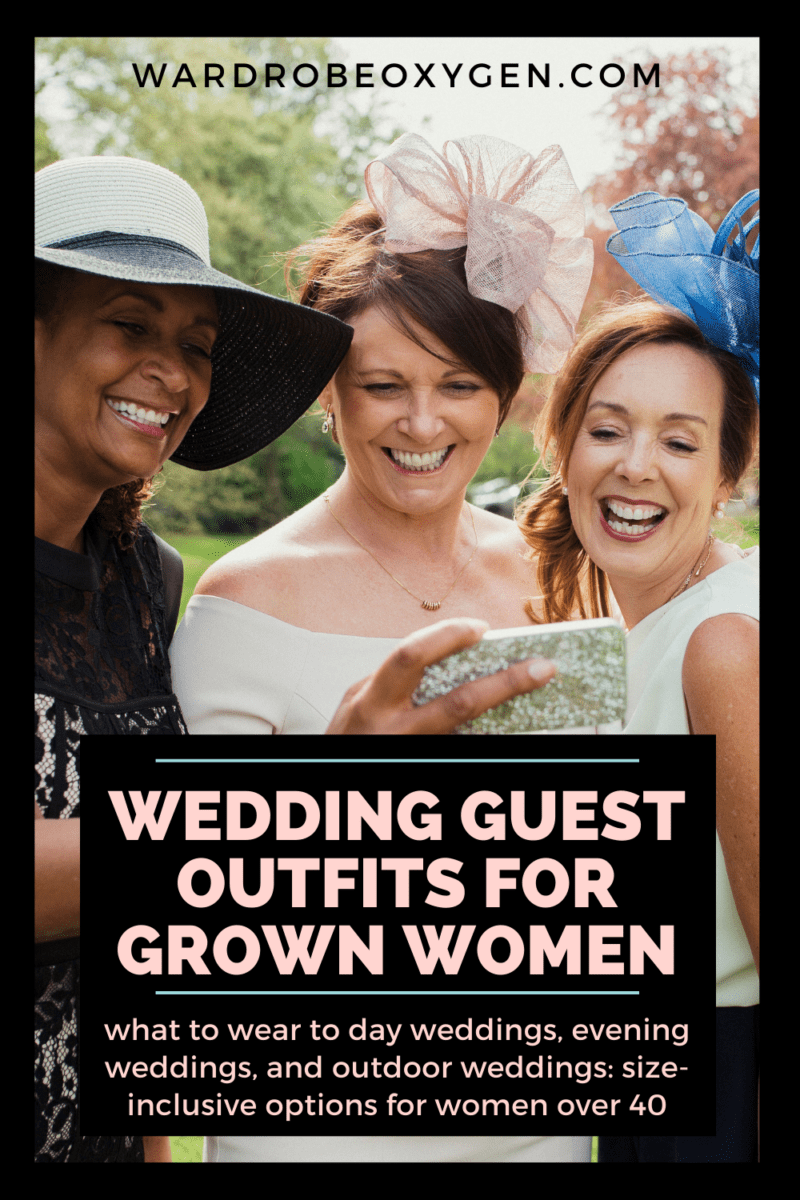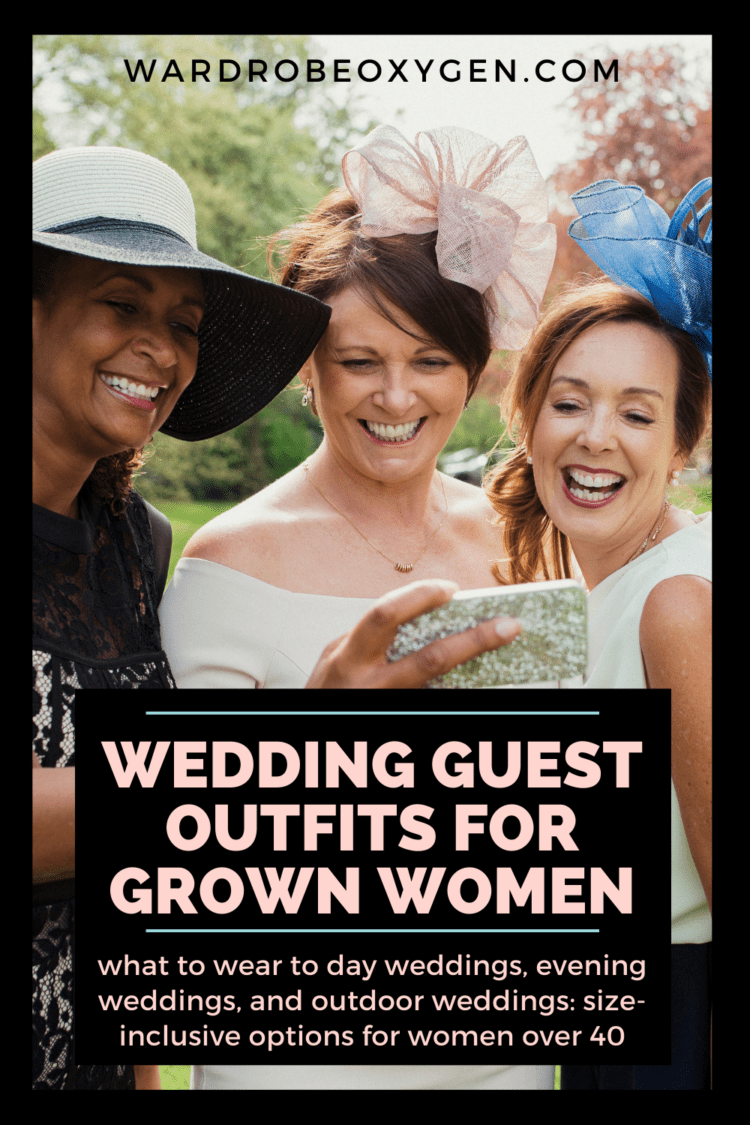 With our country opening up, many of us are receiving wedding invitations in the mail. After a year at home and such a drastic change in fashion trends as of recent, it's hard to know what a grown woman should wear to a wedding this summer. What is considered stylish, and what looks too try-hard? Is it possible to be chic and comfortable?
Wedding Guest Dresses for Grown Women
Women of all ages can wear whatever the heck they want to a wedding, as long as they're not trying to upstage the couple. But we grown women have fewer f*cks to give while still giving a sh*t what we look like. We desire comfort with our chicness, to not overheat, get gas pains, struggle to walk in our shoes, and have to sit and stand weirdly to keep things under wraps.
All of this is possible; you can be true to your personal style and beliefs, have clothes that work with not against your body, while being stylish and appropriate for a wedding. Below I share some options of wedding guest attire for grown-ass women. Looks that are chic, seasonally-appropriate, and hopefully a bit different from the traditional suggestions for grown women to wear to a wedding.
Just because you're old enough to be the parent of the bride or groom doesn't mean you have to dress like one. It is possible to look tasteful, sophisticated, and festive without a single bit of mauve chiffon or dove gray polyester crepe. Below I share some great wedding guest dresses for grown women (plus some dress alternatives!).
What to Wear for a Daytime Summer Wedding
A daytime wedding can be hard to know what to wear. What is too casual, what is too dressy, and with current trends, will it look too try-hard on a grown-ass woman? My suggestion is a breezy dress that hits somewhere between knee and ankle. Wedding guest dresses for grown women attending a day wedding in the summer: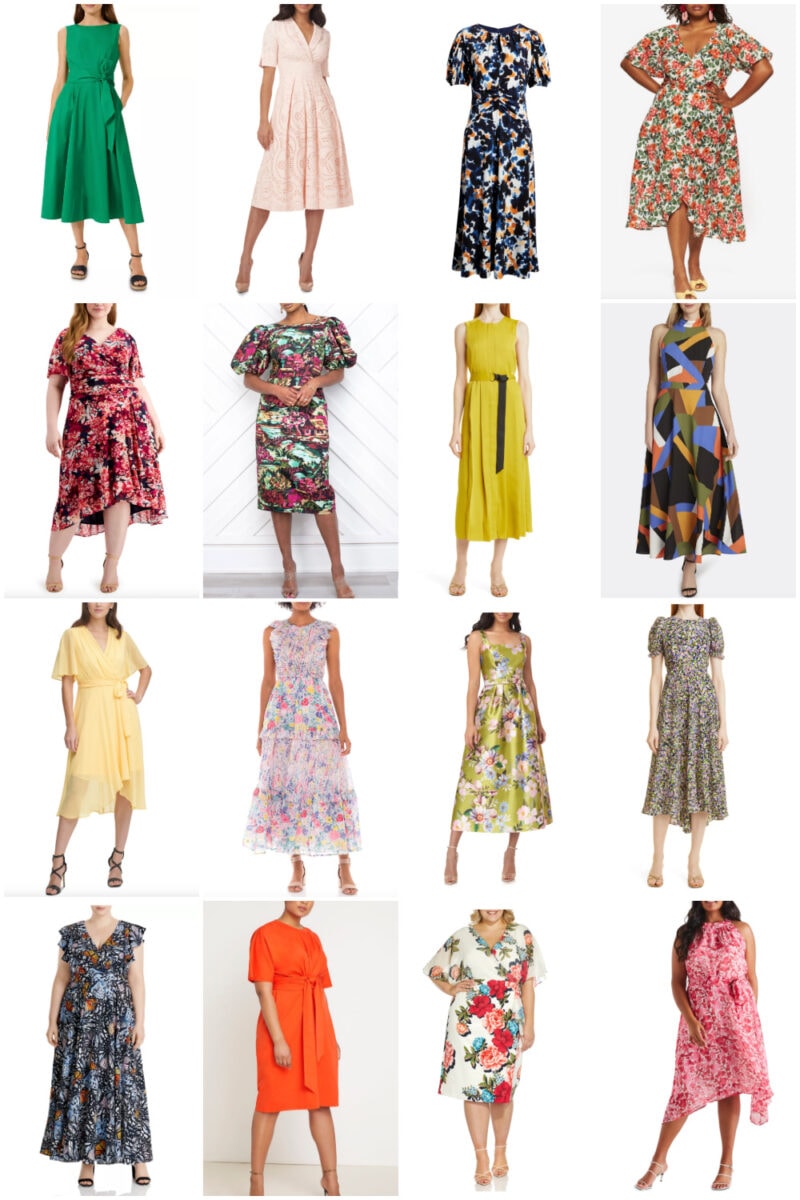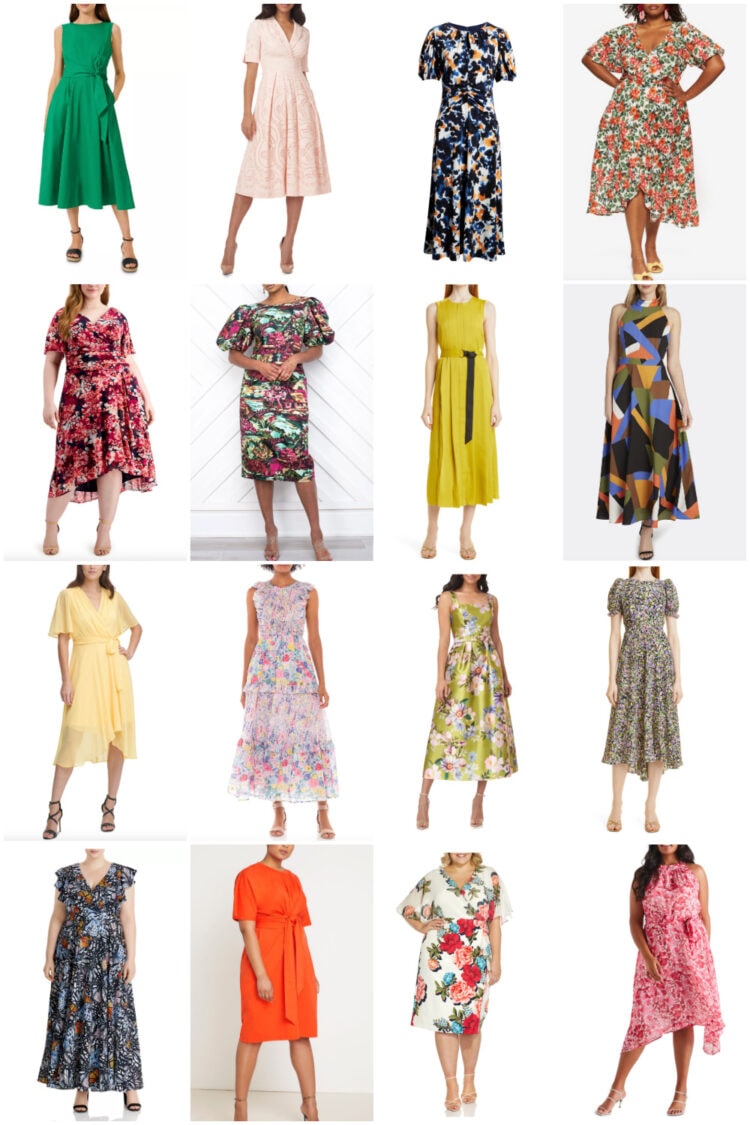 The dresses above (they are also below in a carousel; scroll through and click the dress you're interested in and it will open in a separate browser window) are great choices for a grown-ass woman to wear to a daytime wedding this summer. Embrace color, prints, and interesting architectural details like strategic knots and twists, halter necklines, and asymmetrical hems.
Shop Summer Daytime Wedding Guest Dresses:

You don't have to wear a dress. A jumpsuit achieves a similar look as does a coordinated set of top and pants or skirt in the same fabric and color or print. A summer suit is also chic; a silk linen blend will look festive and seersucker is always a smart option.
Keep the shoes feeling summery. If you prefer a closed toe, choose a shoe that is low-contrast to your skintone so it feels light and breezy. A nude-to-you shoe or a soft metallic is a safe bet with most any color, print, and style of day dress.
What to Wear to an Evening Summer Wedding
Evening weddings can run the gamut of being a post-sunset casual get-together or a black-tie affair. In general, when a wedding takes place after 5:00 pm it is dressier than a day wedding. Look for dressy fabrics – crepe, silk, beading, chiffon overlay, and metallics. Wedding guest dresses for grown women attending an evening wedding in the summer: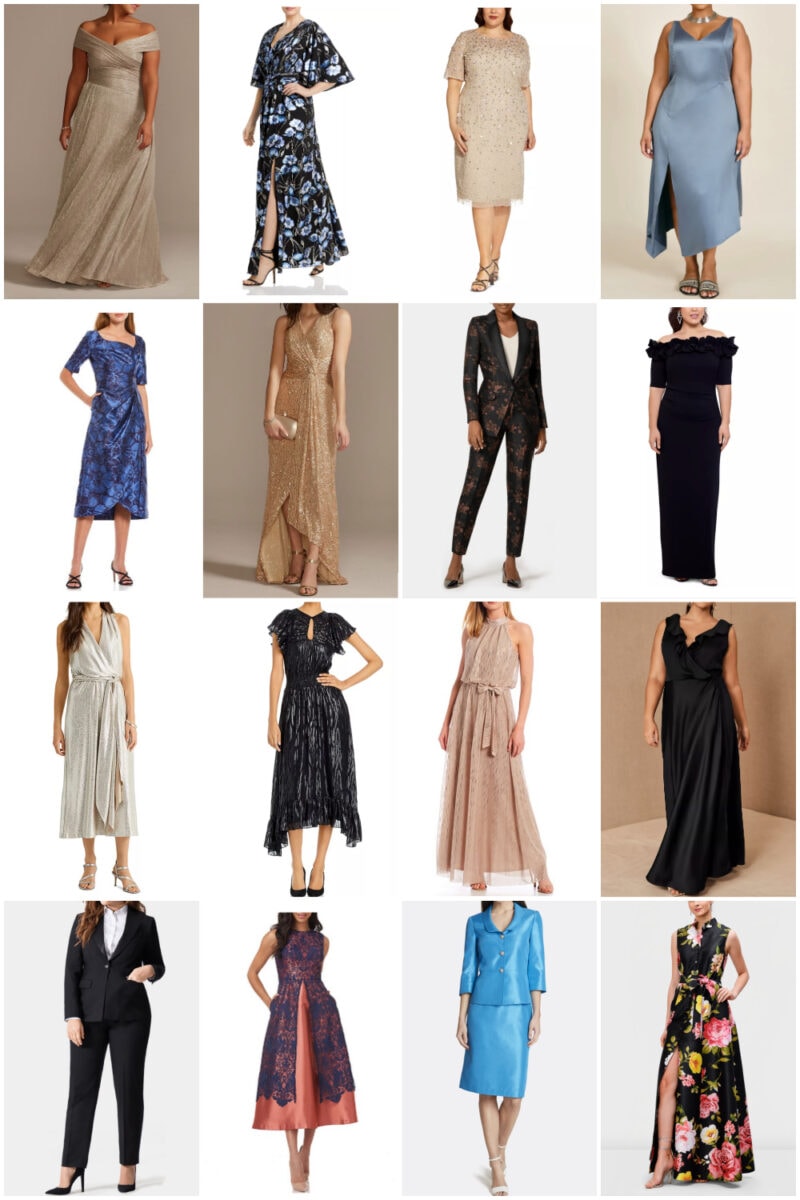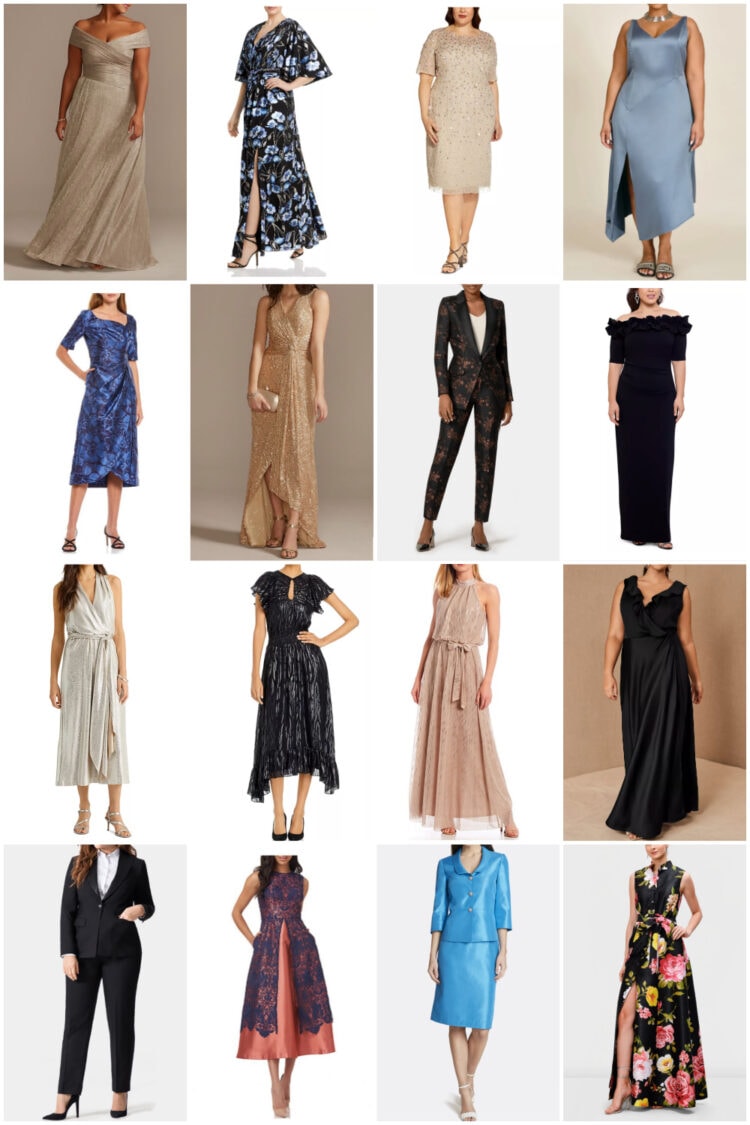 From above the knee to skimming the ground, most any length works. This is an opportunity to dress for what matters to you. Love your gams? Choose an above-the-knee cocktail dress. Is it going to be hot and you wish to be comfortable? Consider a maxi-length dress where you can wear comfy flat sandals and slipshorts to prevent chafing and still look formal. A midi-length dress with a subtle to strong fit and flare silhouette will offer coverage when sitting but will still be a blast to wear spinning on the dancefloor. Above I focused on dressier looks because I know in general they are more difficult to find.
Shop Summer Evening Wedding Guest Dresses:

Again, it is not necessary to wear a dress to look appropriate at an evening wedding. While formalwear stores carry plenty of matte jersey chiffon-overlay pants outfits known as a popular look for mothers of brides and grooms, that isn't the only option if you don't like wearing dresses.
Again, jumpsuits are a popular choice found at most any price point or size; many are easy to alter with a quick hemming of the legs and maybe lifting up the torso from the shoulders; most dry cleaners can achieve such alterations.
A proper two-piece pantsuit is a stylish alternative to a cocktail dress. One in a dressy fabric will feel festive instead of corporate. Underneath wear a crisp white shirt, a silk blouse, or a satin camisole. Summisura is a site that offers a variety of dressy suits custom-designed to fit your unique measurements. The Tailory NYC is a woman-owned company that offers virtual fittings for custom made suits.
A dressy pair of pants or a formal skirt can be paired with a crisp white shirt or even a cashmere tee for an eternally chic alternative to a dress.
For an evening wedding, a safe bet is a delicate-strap sandals in a nude-to-you dressy fabric, or a metallic. If you prefer a shoe without heels, a flat in a dressy fabric in the color of the dress or low-contrast color to your skin is a lovely option.
What to Wear to an Outdoor or Beach Wedding
An outdoor wedding may have as much fanfare as an indoor event, but the dress code is slightly relaxed for the guests due to the conditions. Shoes can't be sinking into soft earth, clothes need to breathe and keep you cool (or have a layer to ward off an evening chills), and you'll likely want a pair of sunglasses and even a parasol if there aren't shaded areas. Wedding guest dresses for grown women attending an outdoor garden or beach wedding: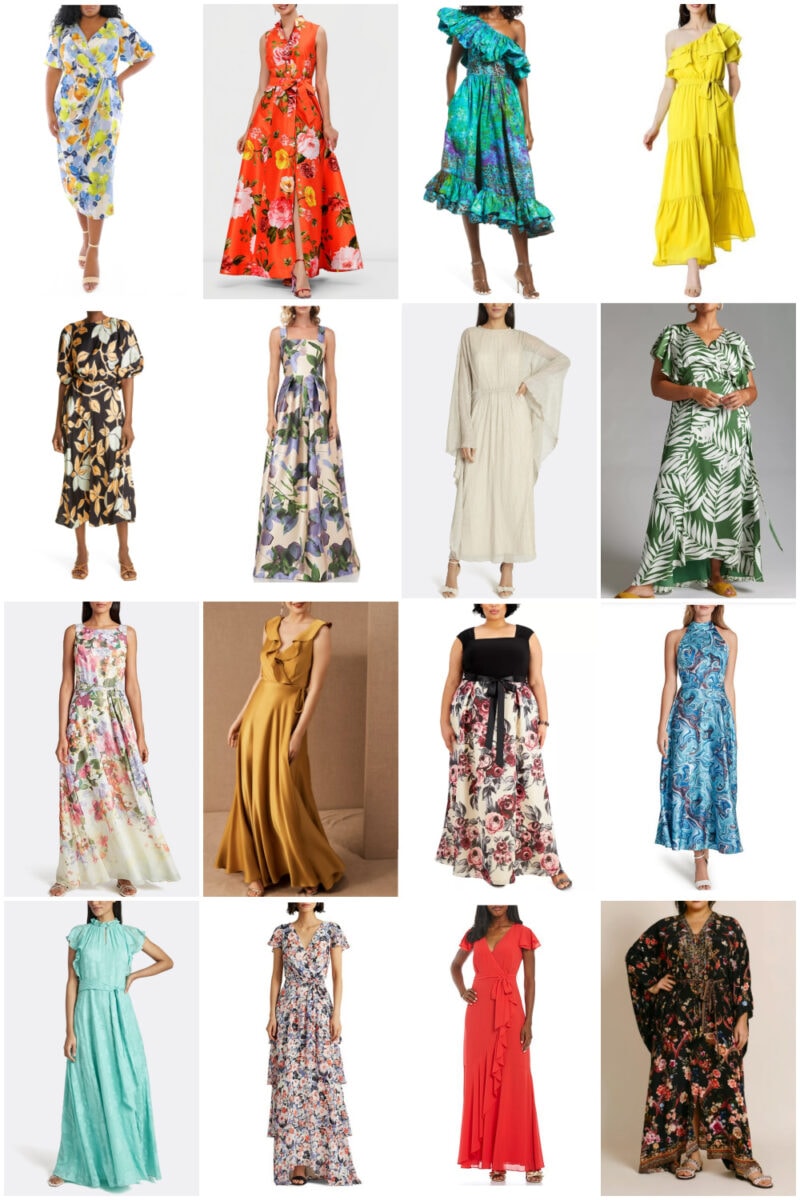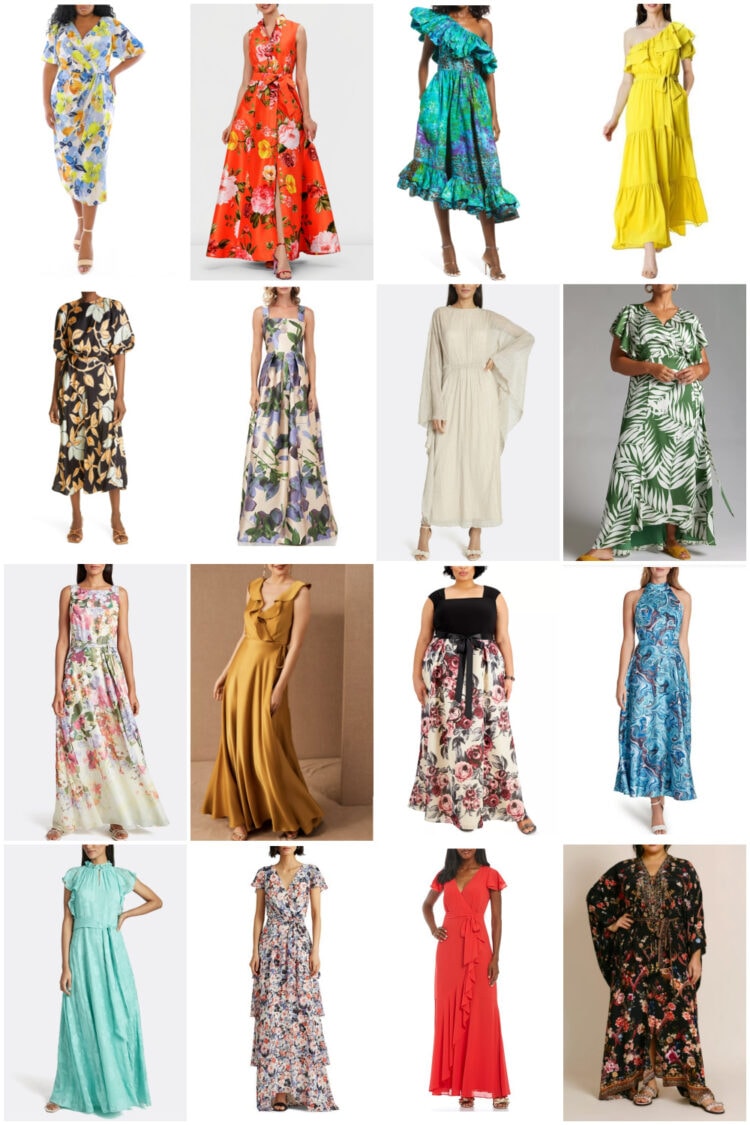 The outdoor location lends to more of a tropical vibe with your ensemble. Colorful florals, chiffon overlay, maxi dresses, wicker and raffia purses, and espadrille-inspired shoes will fit the aesthetic. A pair of flat metallic sandals may be your best choice for comfort and the ability to walk and dance on grass, sand, and any other outdoor surface.
Shop Wedding Guest Dresses for an Outdoor Wedding:

If the event is in the evening, tuck a pashmina into your bag to cover your shoulders if it gets breezy. And if it's during the day, don't forget to apply sunscreen and bring backup (I love this convenient powder) for touch-ups.
Have you done any shopping lately for wedding guest attire? Seen any great wedding guest dresses for grown women that I may have missed? Do share in the comments!