This article may contain affiliate links; if you click on a shopping link and make a purchase I may receive a commission. As an Amazon Associate, I earn from qualifying purchases.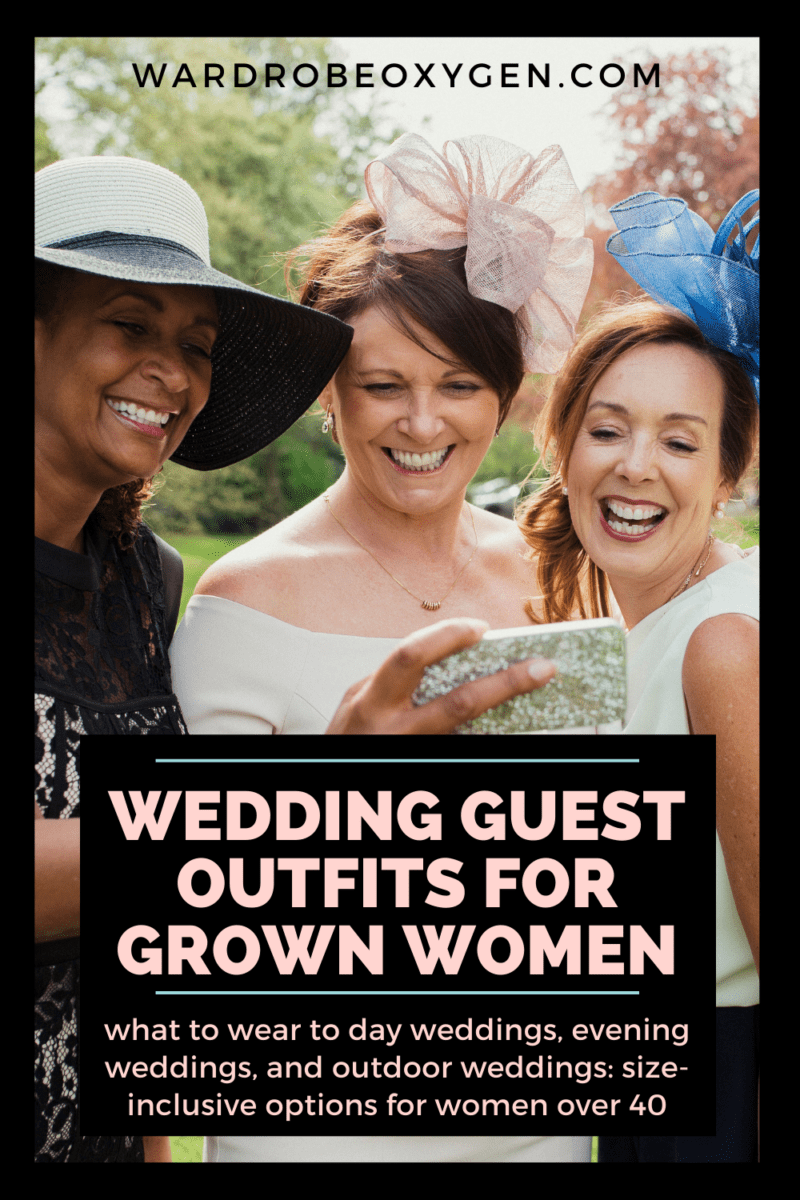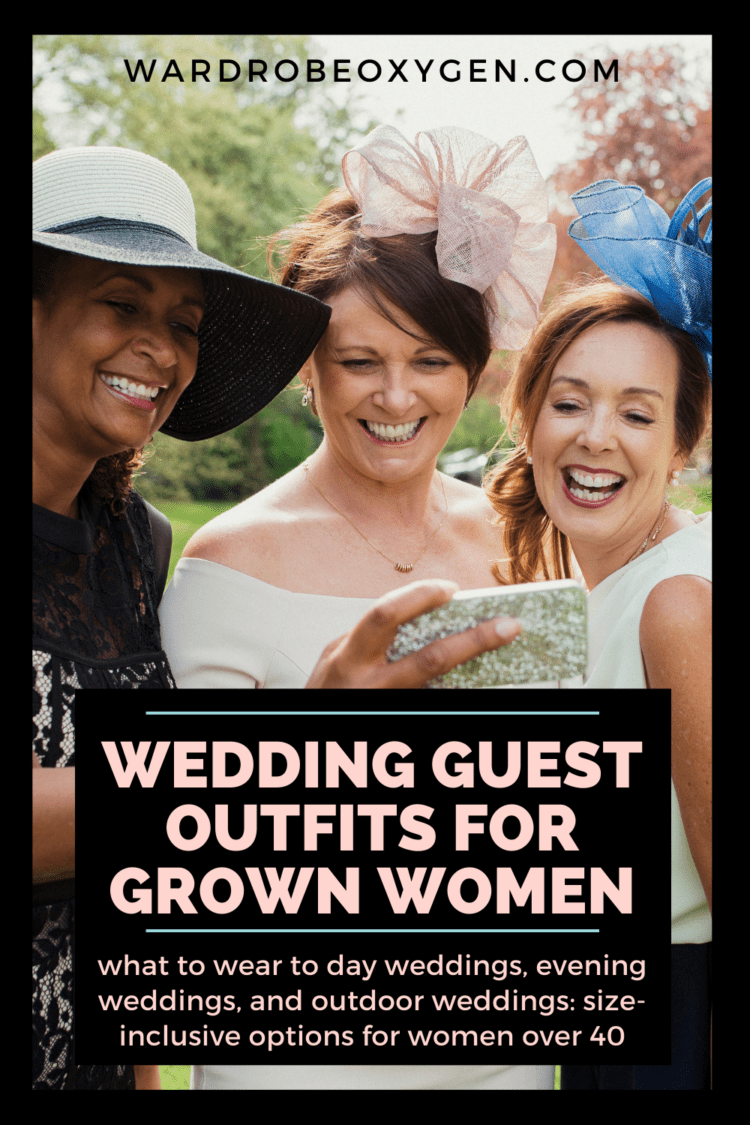 The seasons are changing, if your social calendar in the coming months includes any weddings, reunions, or other dressy occasions, you may be looking for what to wear. I've been looking at what was on the runways and how it has been translated into what is available this season at retailers… and things look good for us grown women. We're going to do better this season for finding stylish wedding guest dresses that we may actually enjoy wearing than we have in a very long time.
This post was originally published in 2021; it was updated to feature current offerings and the latest trends in wedding guest dresses and cocktail/formal attire in general.
Wedding Guest Dresses for Grown Women
Women of all ages can wear whatever the heck they want to a wedding, as long as they're not trying to upstage the couple. But we grown women have fewer f*cks to give while still giving a sh*t what we look like. We desire comfort with our chicness, to not overheat, get gas pains, struggle to walk in our shoes, and have to sit and stand weirdly to keep things under wraps. All of this is possible; you can be true to your personal style and beliefs, and have clothes that work with not against your body, while being stylish and appropriate for a wedding.
Just because you're old enough to be the parent of the bride or groom doesn't mean you have to dress like one. It is possible to look tasteful, sophisticated, and festive without a single bit of mauve chiffon or dove gray polyester crepe. Below I share some great wedding guest dresses for grown women (plus some dress alternatives!).
What is In Style for Wedding Guest Dresses This Season?
This season, whatever your favorite color, you are likely to find it. From icy pastels to rich jewel tones, color is impactful and often the most interesting detail in the ensemble. Prints are still a thing, but we've moved forward and they won't be as ubiquitous as the past decade. See this as a plus: it's easier to thrift, rewear, make yourself, and find at smaller businesses when it's not a print that determines trendiness.
Unlike this summer when cut-outs reigned supreme, fall fashion is more… solid. You will find far more looks that can be worn with the underpinnings of your choice. Necklines and arm openings that work with a standard bra, waistlines that permit undies of any cut and fabric, silhouettes that don't show every bump and line.
Formal fabrics are everywhere. You're going to see velvet jeans, sequined shirts, and plenty of pantsuits in dressy fabrics like silk, satin, and taffeta. Since dressy fabrics are popular this season, you're seeing more variety of color, silhouette, and actual types of garments within the formalwear niche.
Don't feel you need a specific hem length to be a stylish wedding guest this season. Wear what feels best to you, but don't be afraid of alterations. This season, with fewer prints and embellishments to hide behind, poor fit is more obvious. Spend less on the actual dress to leave funds for a tailor to achieve maximum style impact.
Stylish Wedding Guest Dresses for Grown Women
Below I share some stylish wedding guest dresses that caught my eye. Use this as a guide, not gospel. Fashion is very fluid right now; most anything works if it fits well, is styled well, and is an appropriate fabric for the occasion.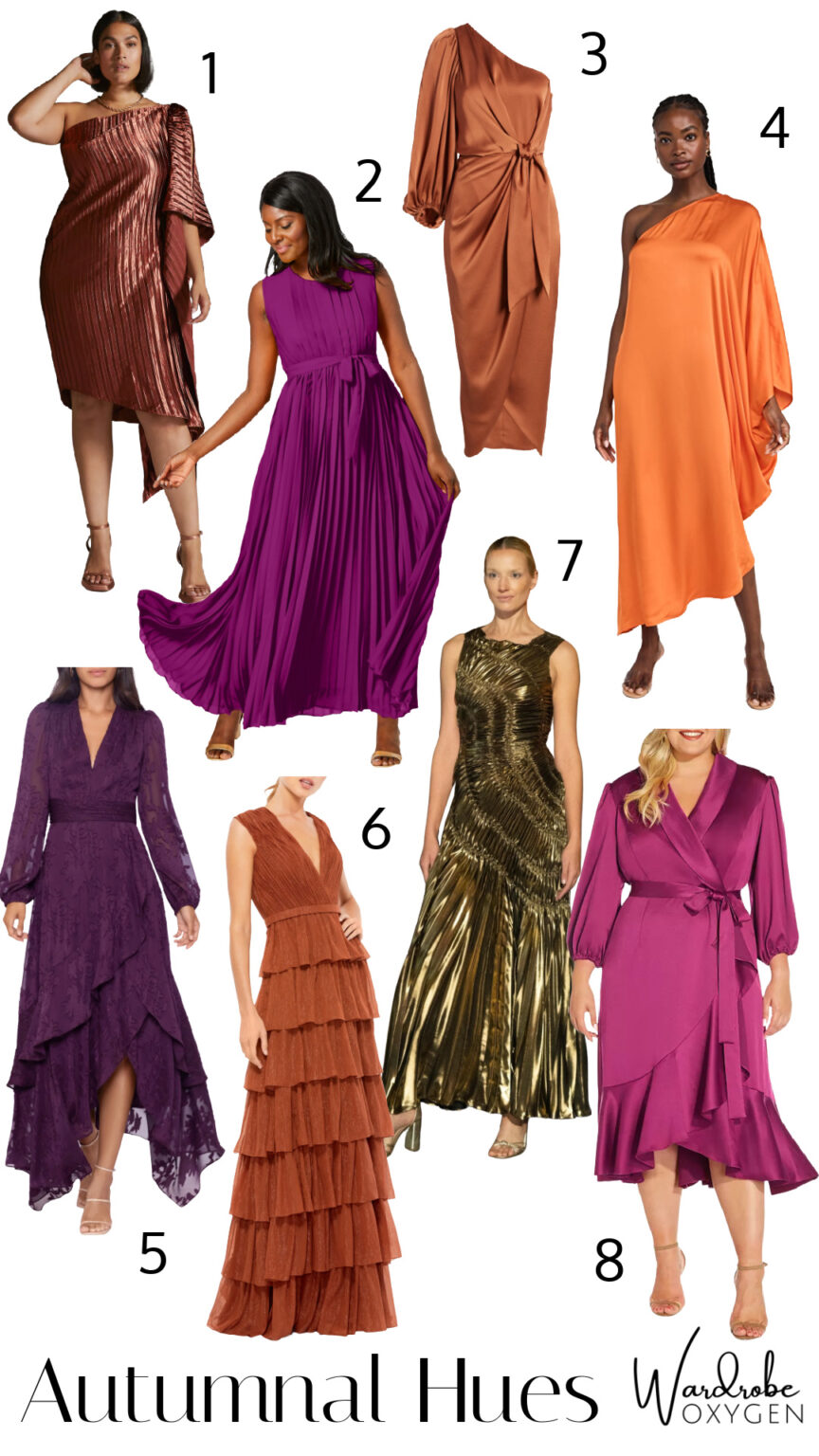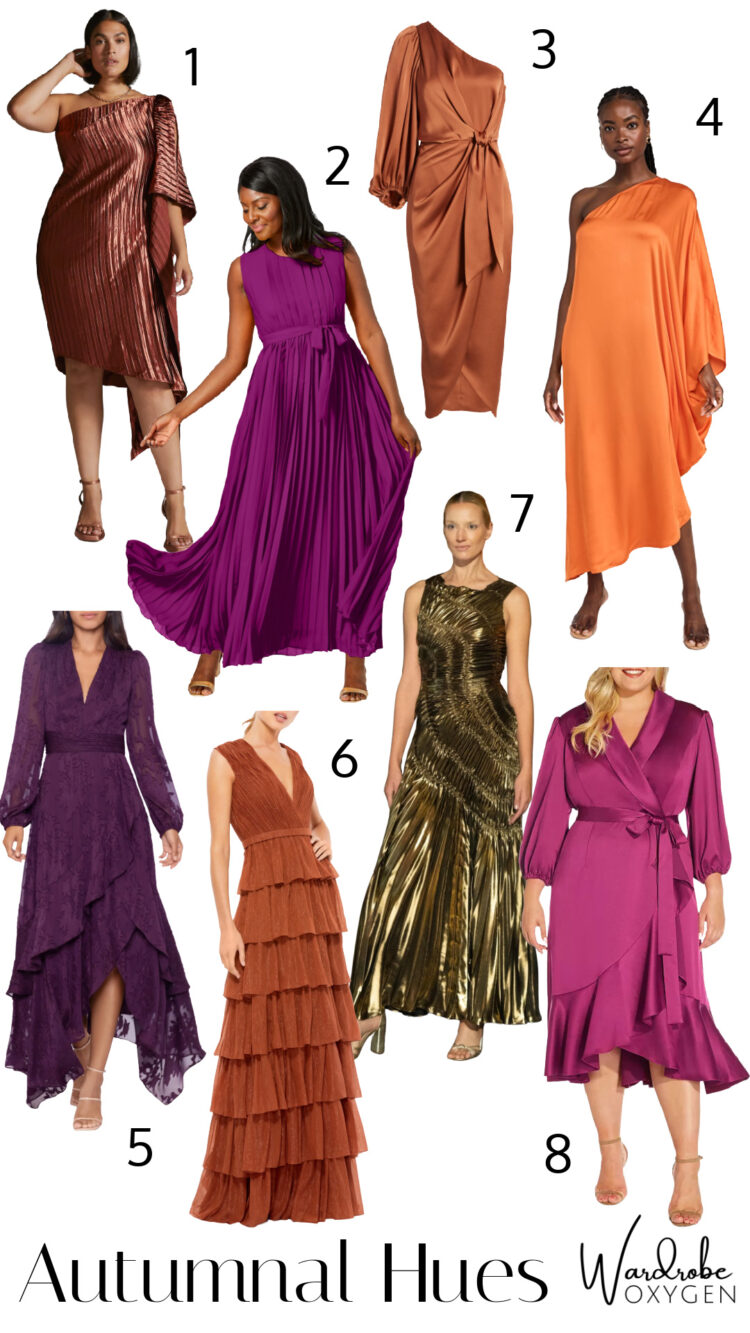 one (00-26) | two (12-28) | three (2-10) | four (XXS_XL) | five (0-10) | six (2-14) | seven (UK6-16) | eight (14-24)

If you loved the warm tones from summer, you'll be thrilled to find they have continued in popularity for fall and into winter. Shiny fabrics positively gleam in these shades. Keep your accessories close to your skintone or in a complementary metallic so the dress can steal the spotlight.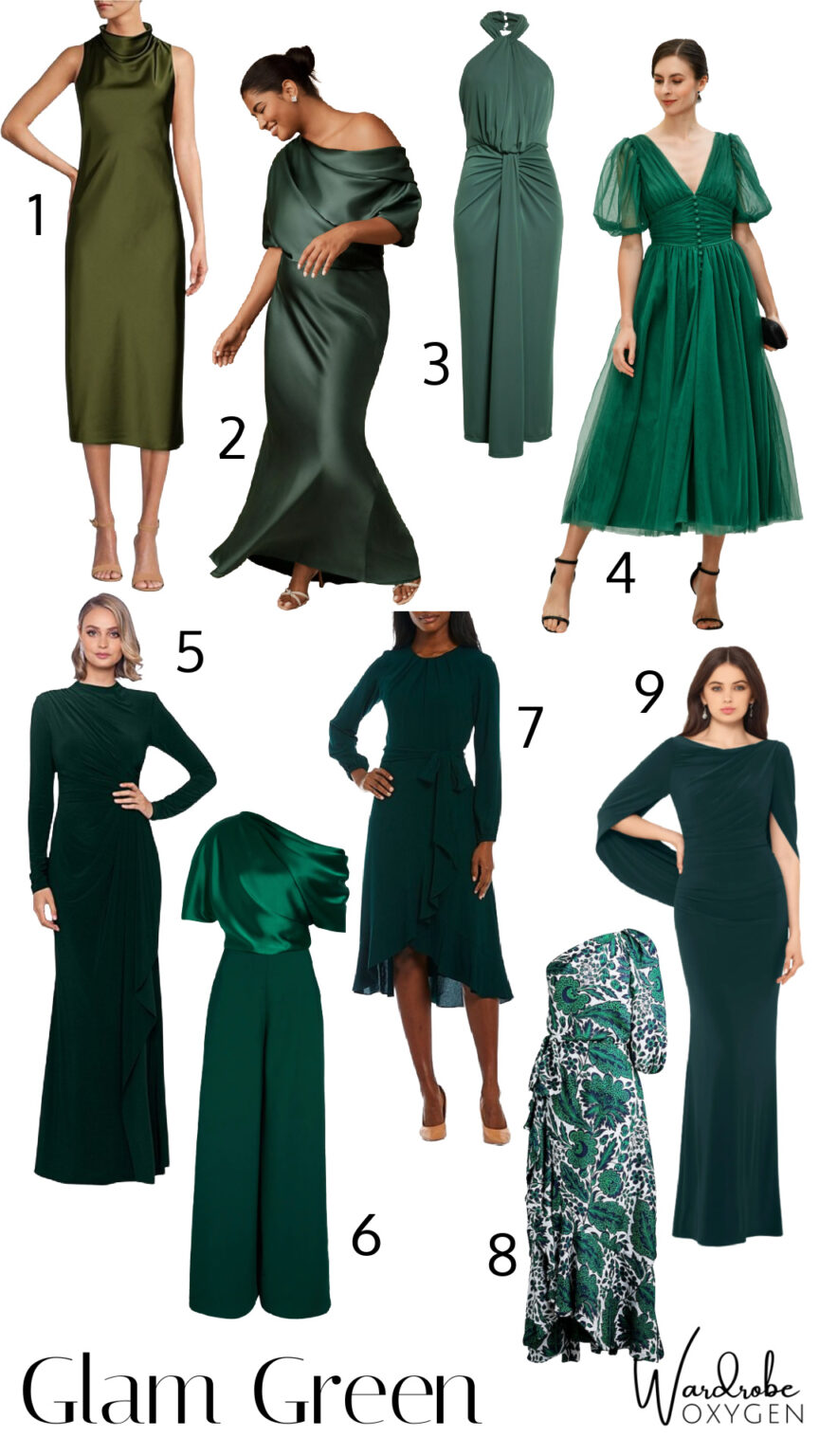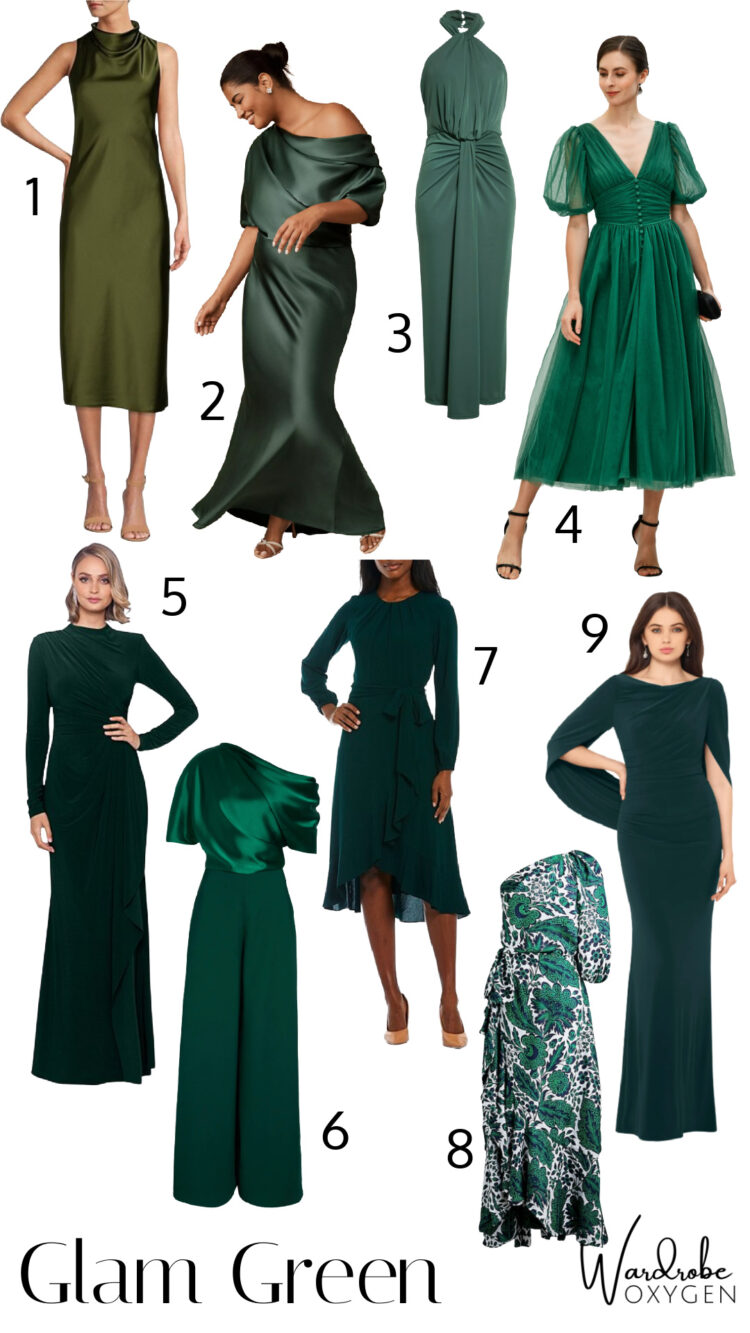 one (0-16) | two (0-24) | three (0-10) | four (0-36 and customization available) | five (4-14) | six (2-12) | seven (4-18) | eight (00-24) | nine (4-16)

Fall through spring, green is a great color for weddings, cocktail parties, and other formal events. Through October and come late March, pair green with skintone or soft metallic shoes and bags to keep it seasonal. Come winter, pair with black and brighter metallics for a more holiday/winter vibe.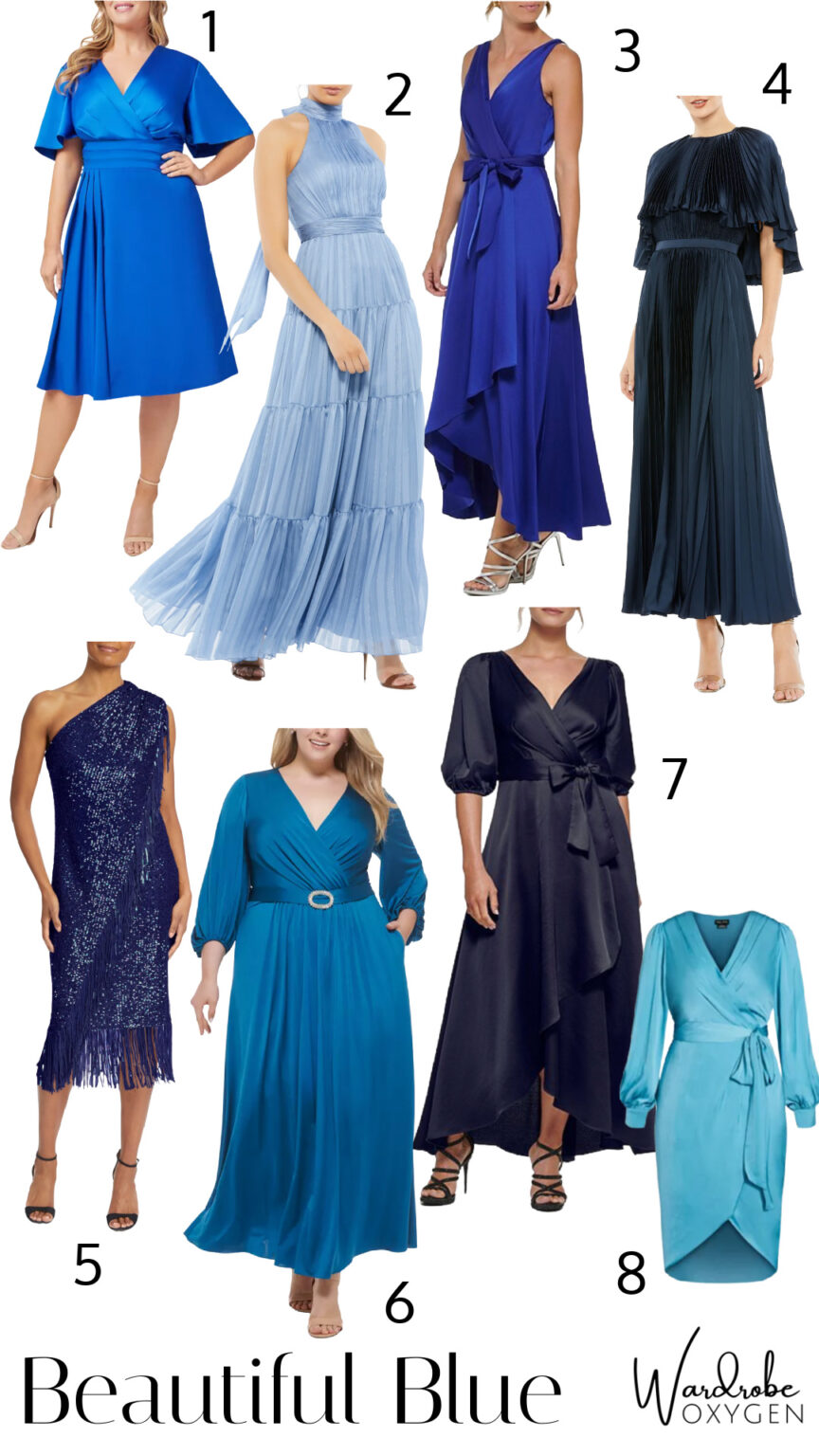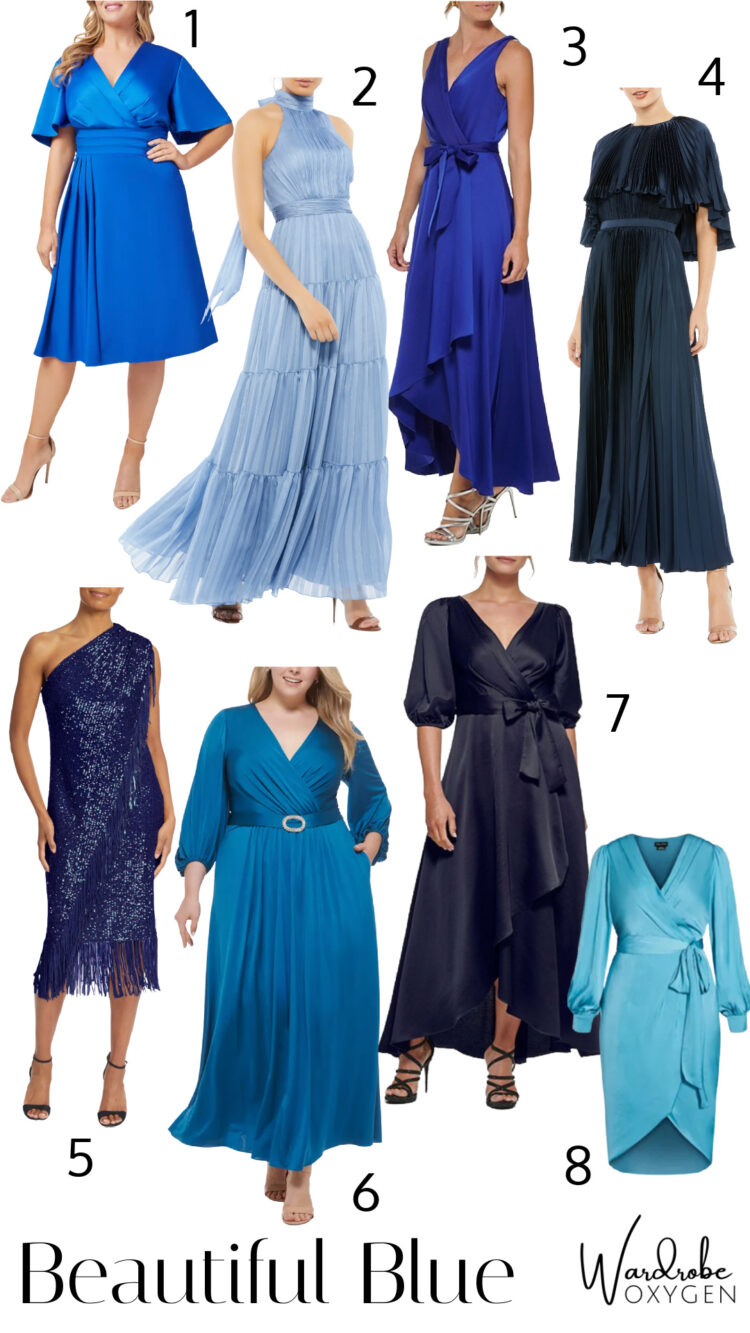 one (14-22) | two (0-16) | three (2-16) | four (2-18) | five (0-12) | six (14-22) | seven (2-18) | eight (12-22)

Blue is a beautiful color any time of the year and this season you should find everything from bright cobalt to rich navy, powder blue to cerulean. Pair with metallics to keep it looking fresh and modern and don't be afraid of more architectural details like micropleats and asymmetry in such a classically chic color.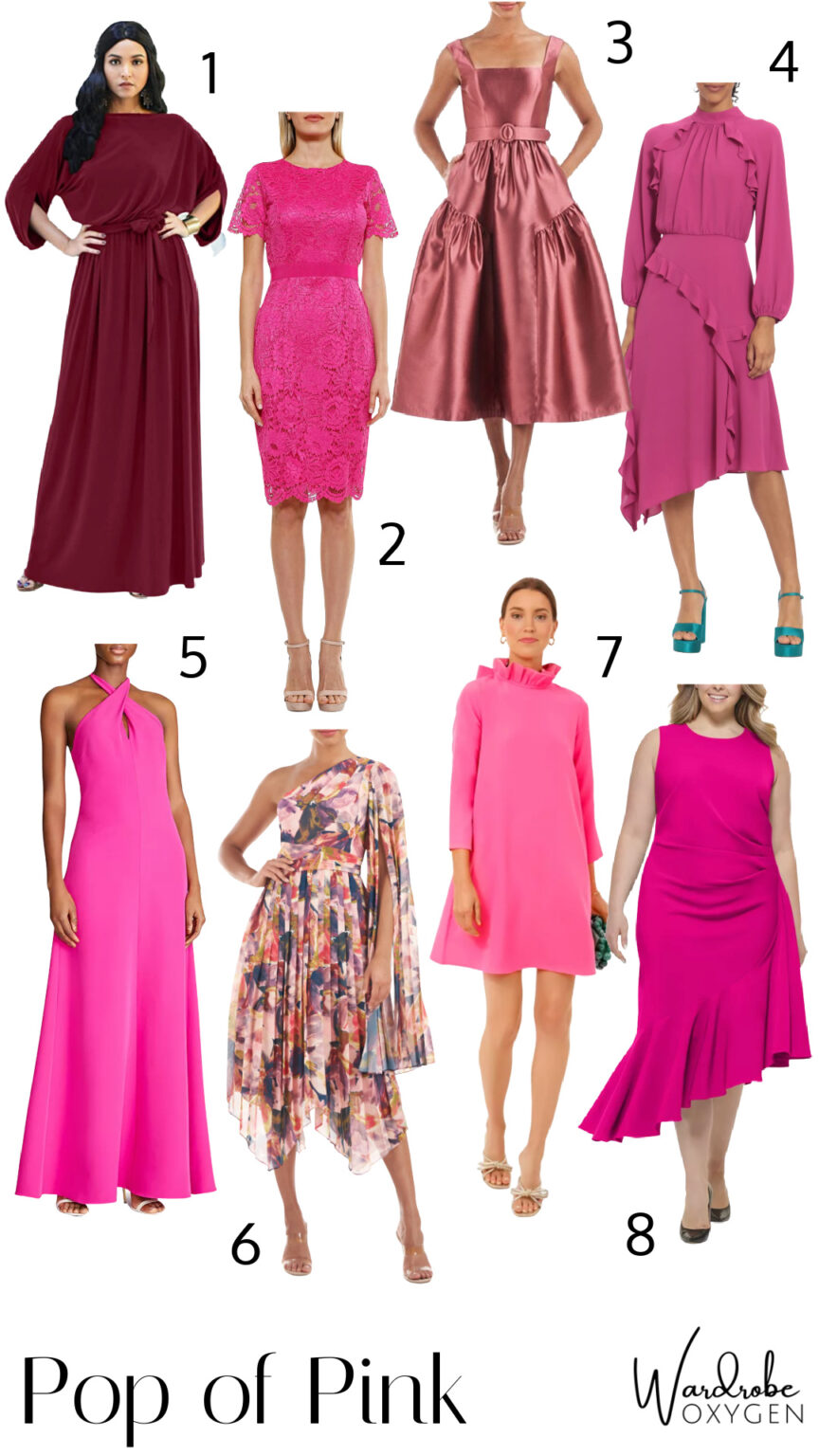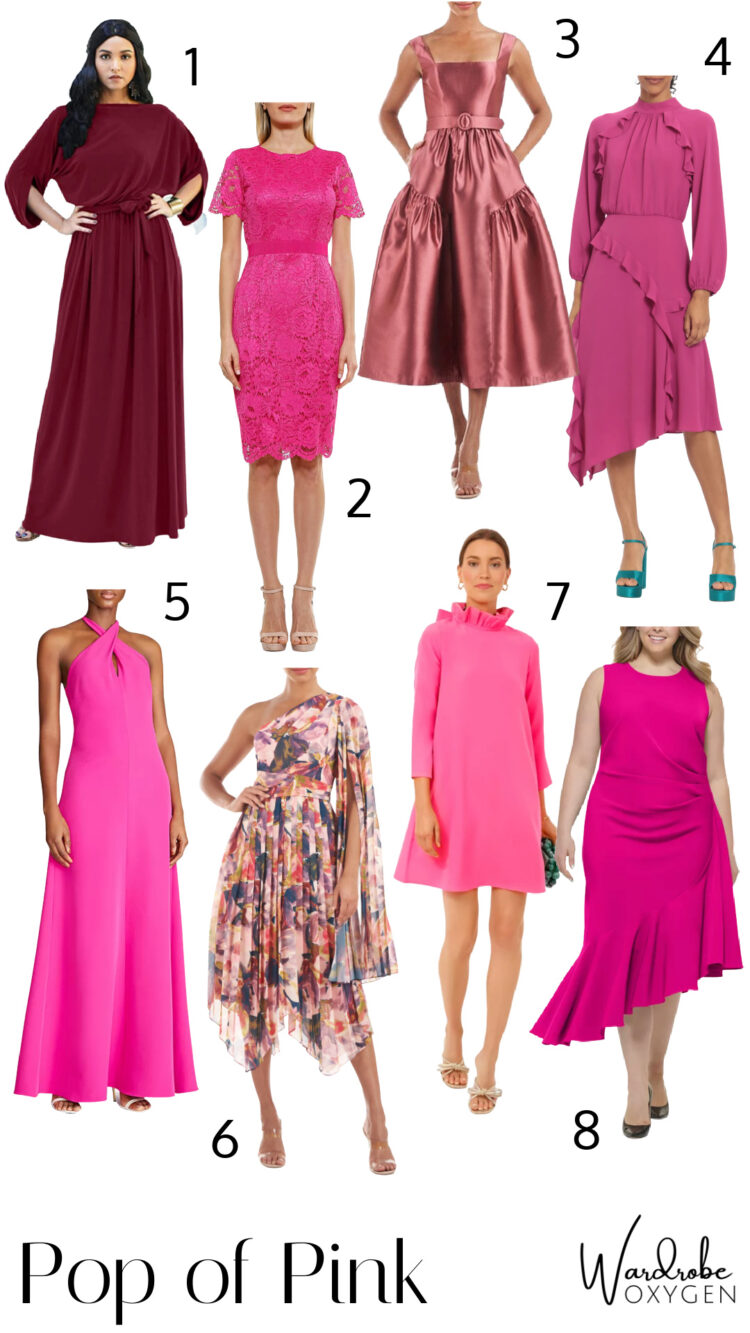 one (S-5X) | two (2-12) | three (0-18) | four (2-18) | five (0-16) | six (2-12) | seven (2XS-3XL) | eight (14-22)

Pink is a cheerful color that is a great choice to wear to a wedding. From blush to fuschia, pink works well year-round, day or evening. As with other bright colors, choose a low-contrast shoe so the dress takes the spotlight. However, if you like to have fun with color, for festive and day weddings don't be afraid to add a pop of contrast color with your bag or your shoe.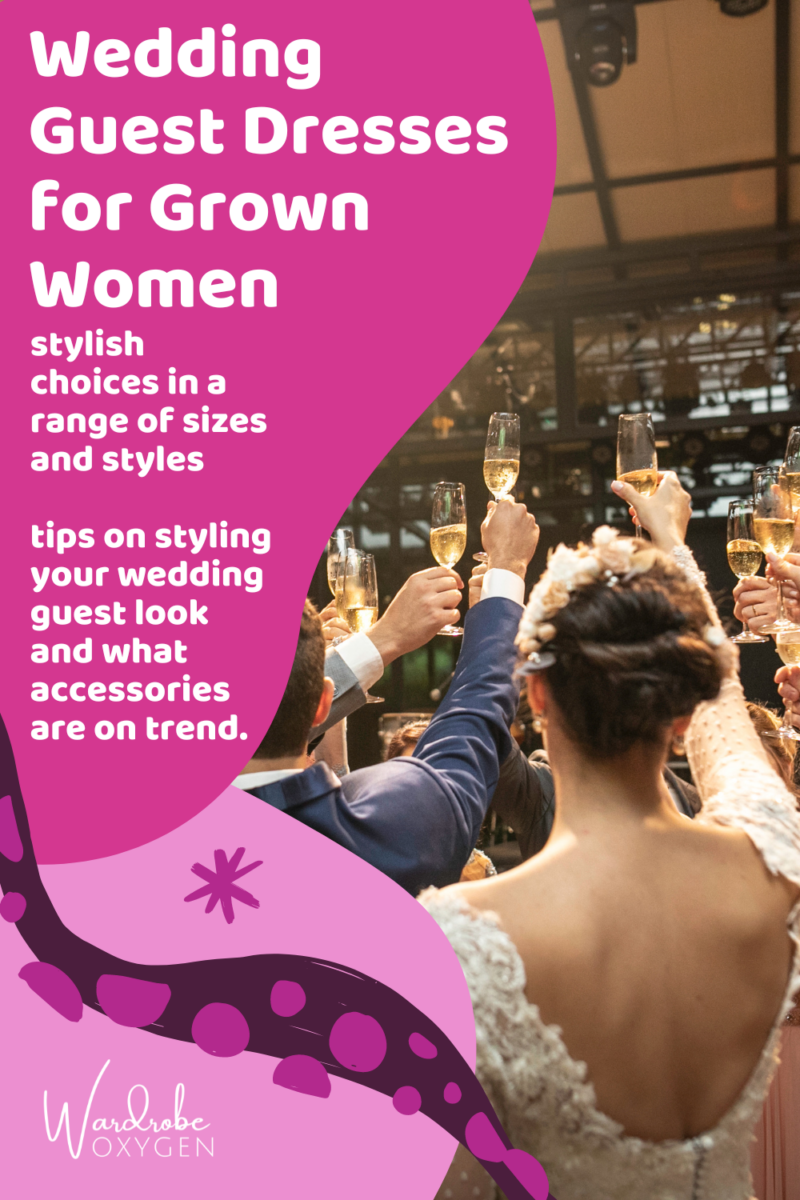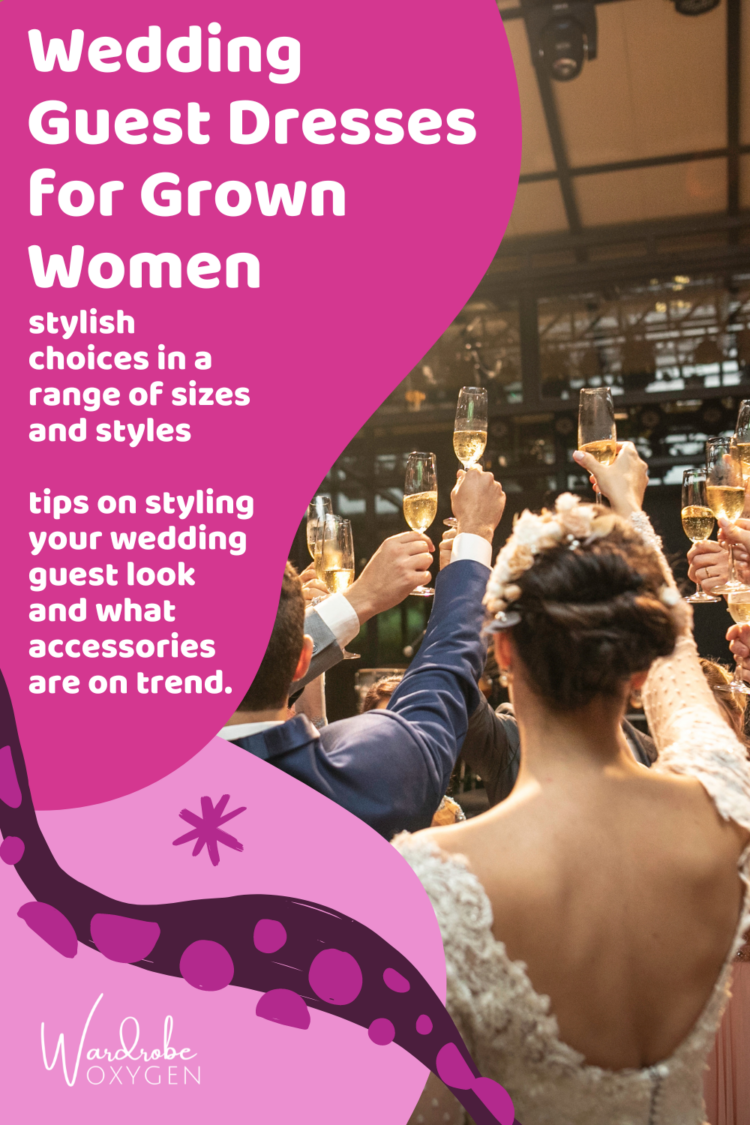 Style Advice for Wedding Guests
I can't understand this dress code. What in the world should I wear?
These days, wedding invites can have some pretty creative dress codes. Specific colors, themes, even costumes may be requested. If in doubt, reach out to a member of the wedding party or parents of the betrothed. But if you're not able to do that, here is a general overview:
Daytime Wedding: Wear something similar to what you'd wear to a house of worship on a special day. A nice dress, a blouse and skirt with dressy pants, a jumpsuit, or a suit. To keep it from looking corporate, switch out your work shoes for something in a lighter or festive color, or with more foot/skin showing and switch our your handbag for a clutch or smaller purse. If it is an outdoor ceremony and/or reception choose flats, wedges, or block heels that won't sink into grass.
Semi-Formal: This is very similar to a daytime wedding. For evening, choose darker and richer colors and for daytime go with brighter and lighter.
Beach or Destination Wedding: Go breezy! Floral prints, flowing fabrics, midi- and maxi-lengths that offer coverage during a bay breeze, and flat sandals or wedges that are easy to slip off in sand and wear on docks and onto boats.
Cocktail: Cocktail is the most popular dress code for evening weddings and late-afternoon weddings at historic mansions, hotel ballrooms, and museums. Choose dressy fabrics in dresses that are not floor length. Cocktail pantsuits and separates in formal fabrics are also appropriate. If the ceremony is in a house of worship, be sure to have some sort of covering if your dress has an exposed back or shoulders.
Festive: Very similar to cocktail in formality, but this is an opportunity to have some fun. Wear a statement shoe, a bold lip, a silk flower in your hair, you can even choose to coordinate with your date!
Formal: You can get away with cocktail attire, but you can also choose a dress or skirt that goes down to the ground. Shoes and bag shouldn't be leather unless it's metallic and a formal style; instead choose a metallic or a dressy fabric like satin.
Black Tie Optional: Essentially, this is the same as formal.
Black Tie: This is when you can go all out. Folks will be wearing everything from a cocktail dress to a full-on evening gown. I recommend choosing a fabric that immediately reads dressy. If you could switch out accessories and wear this dress to work, a local restaurant, or a night club, it's not Black Tie.
Can I wear red? How about black? What about a print on a white ground?
If the couple is of a religion that frowns on wearing red or black, then don't wear it. Otherwise, both colors have become more acceptable. Black is appropriate for most weddings in this decade, no matter the time of day. Red may still be seen as inappropriate by guests at the wedding; if you love red I recommend choosing a red that is more orange, pink, or burgundy so it doesn't look like you're trying to steal the show.
As for wearing white to a wedding, I don't recommend it unless the dress code requests it. Dresses with a white ground can work for day and destination weddings, as long as around 50% of the print is a color that contrasts with white (AKA don't wear a white and blush or white and beige printed dress or a dress with a delicate print that from farther away just looks white or off-white).
What if I don't like showing my arms? Can I wear a shawl/shrug/bolero/jacket?
Instead of finding some layering piece you'll end up wearing the whole night, look for a dress with sleeves. As you can see from the collages above, there are plenty of sleeved dresses in a range of formalities. Check out eShakti, which offers sizes 00-36 with custom measurements and the ability to modify styles like adding sleeves. And there is nothing wrong with wearing suit; a suit can be pants, a skirt, or a dress with a coordinating jacket/duster.
What if I don't like wearing dresses?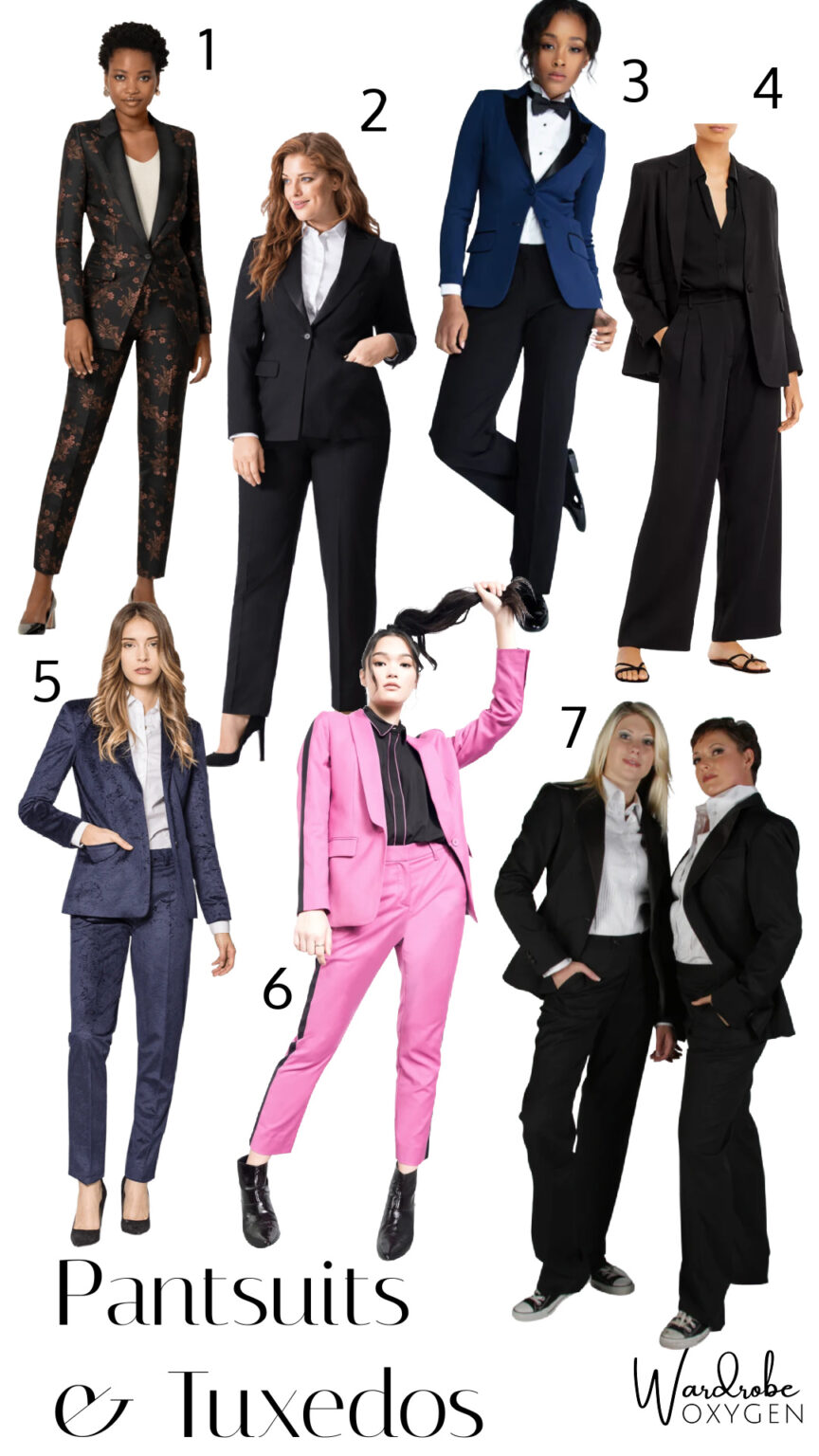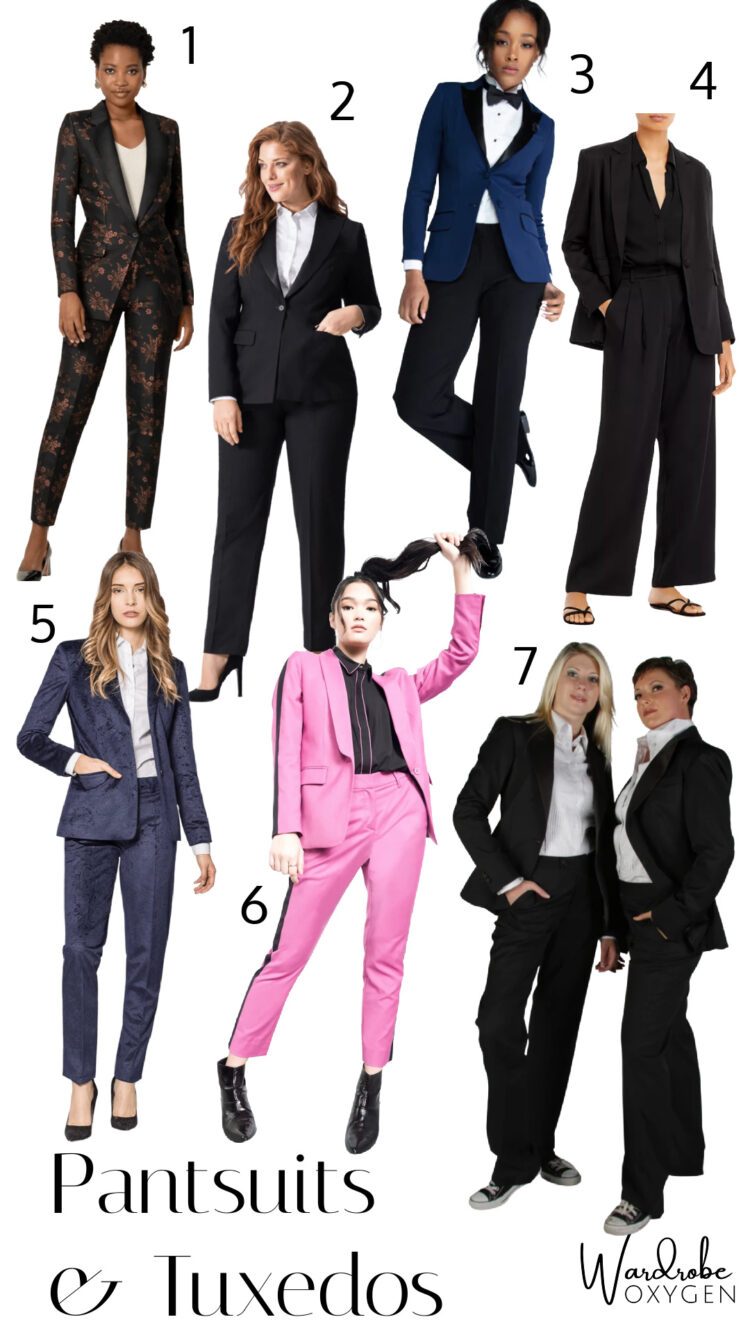 one (all sizes; made to measure) | two (all sizes; made to measure) | three (0-20) | four (XS-XL) | five (all sizes; made to measure) | six (XXS-XXL) | seven (4-20)
If you don't like wearing dresses, this is your season! There are so many retailers carrying suits and dressy pants-based looks for in misses, plus, and nonbinary sizing. Look for cocktail pantsuits, cocktail jumpsuits, and suiting in dressier fabrics like satin, taffeta, dupioni, velvet, crepe, silk, and cupro.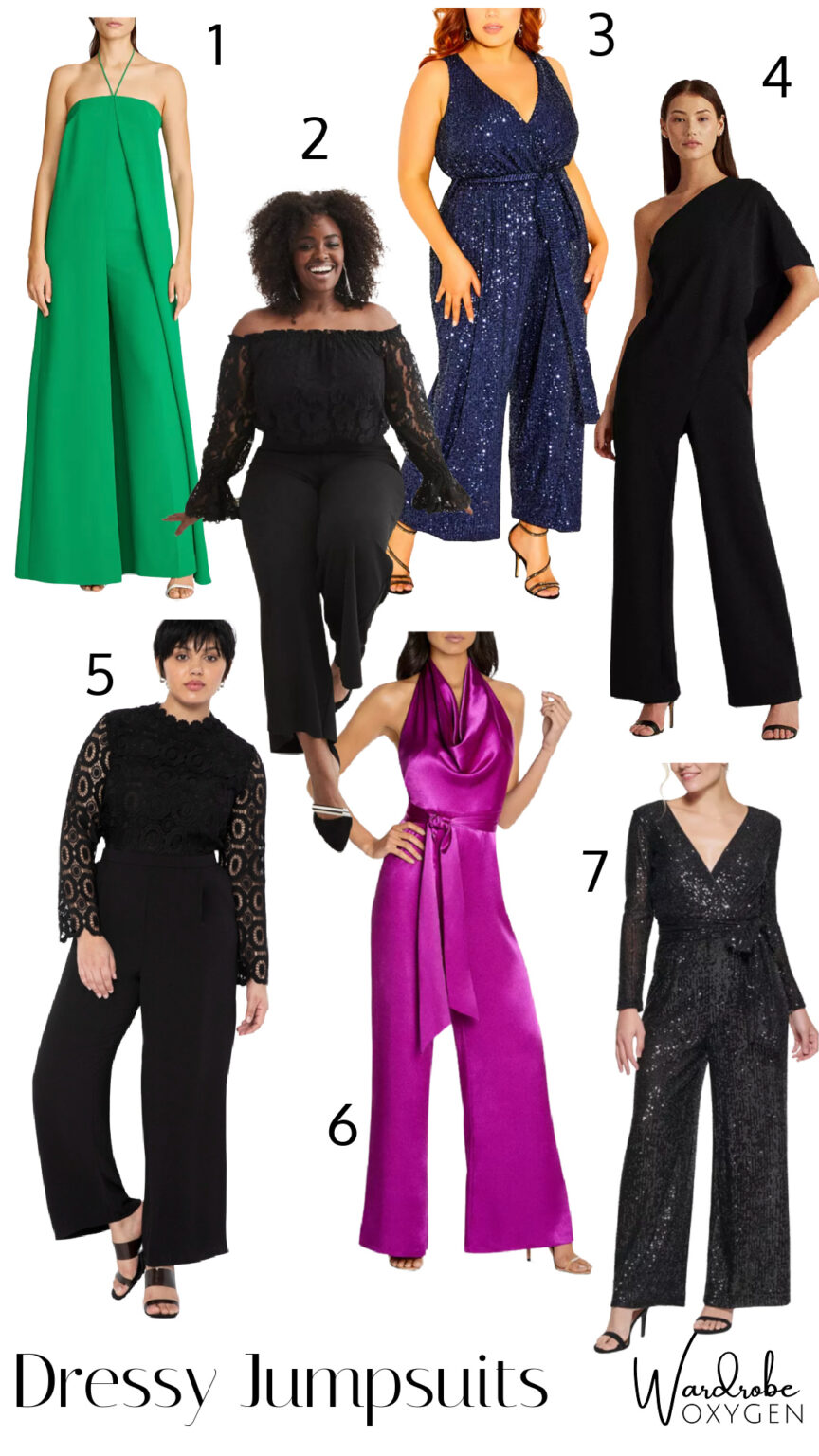 one (0-16) | two (14-22) | three (14-20) | four (00-18) | five (14-28) | six (0-18) | seven (2-12)
What color shoes should I get? Should my shoes match my dress?
Unless you're a serious fashionista, don't attempt to match your shoes to your dress. Instead, look for a low-contrast shoe appropriate to the formality of the occasion.
For day and more casual evening events, a skintone shoe in leather, a silky fabric, or a metallic leather-like fabric are great choices. For evening, consider a metallic. A soft gold shoe can go with most anything and isn't too shiny or too casual to transition from day to night.
Do I have to wear heels?
Absolutely not, but you do want your shoes to feel dressy. Beading and crystals, dressy fabrics like silk and velvet, details like rhinestone buckles and satin bows, delicate metallic straps… these details will elevate your shoes and make them feel evening. Just make sure to take these shoes with you to the tailor if you need to have your garment shortened.
If you have fussy feet and can't find "dressy" shoes that are comfortable, take time to polish up your shoes so they look their best. Consider shoe clips, which can easily be added to simple flats and pumps and give a dressier vibe.

What dressy bags are in style?
If you haven't updated your dressy bag collection in a while or are looking to buy a dressy bag this season, you're going to find a great selection of bags that are creative, fun, versatile, and functional. Bags big enough for more than your lipstick and credit card, bags that tuck into your armpit, the crook of your elbow, bags that dangle off your wrist and leave your hands free.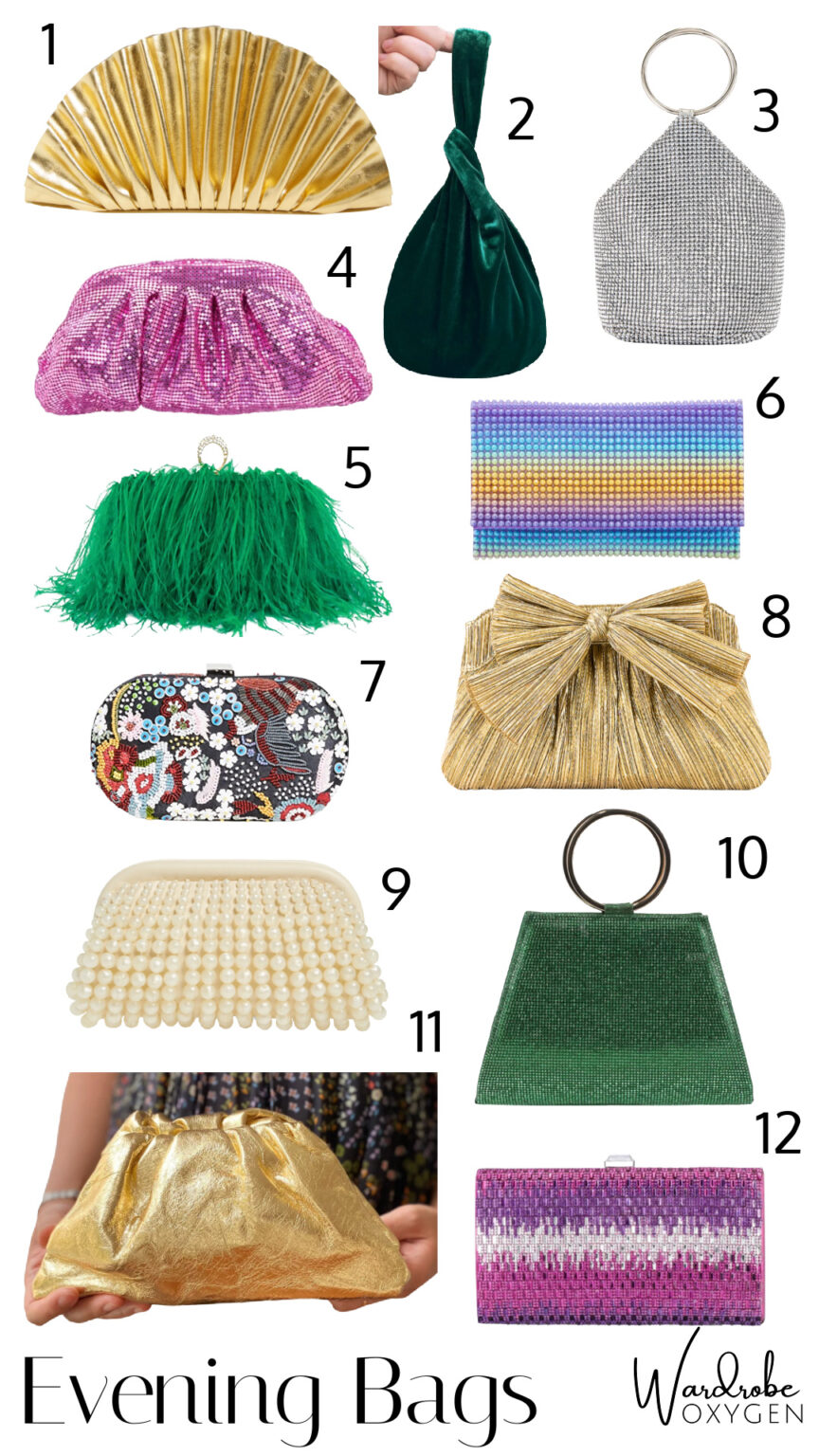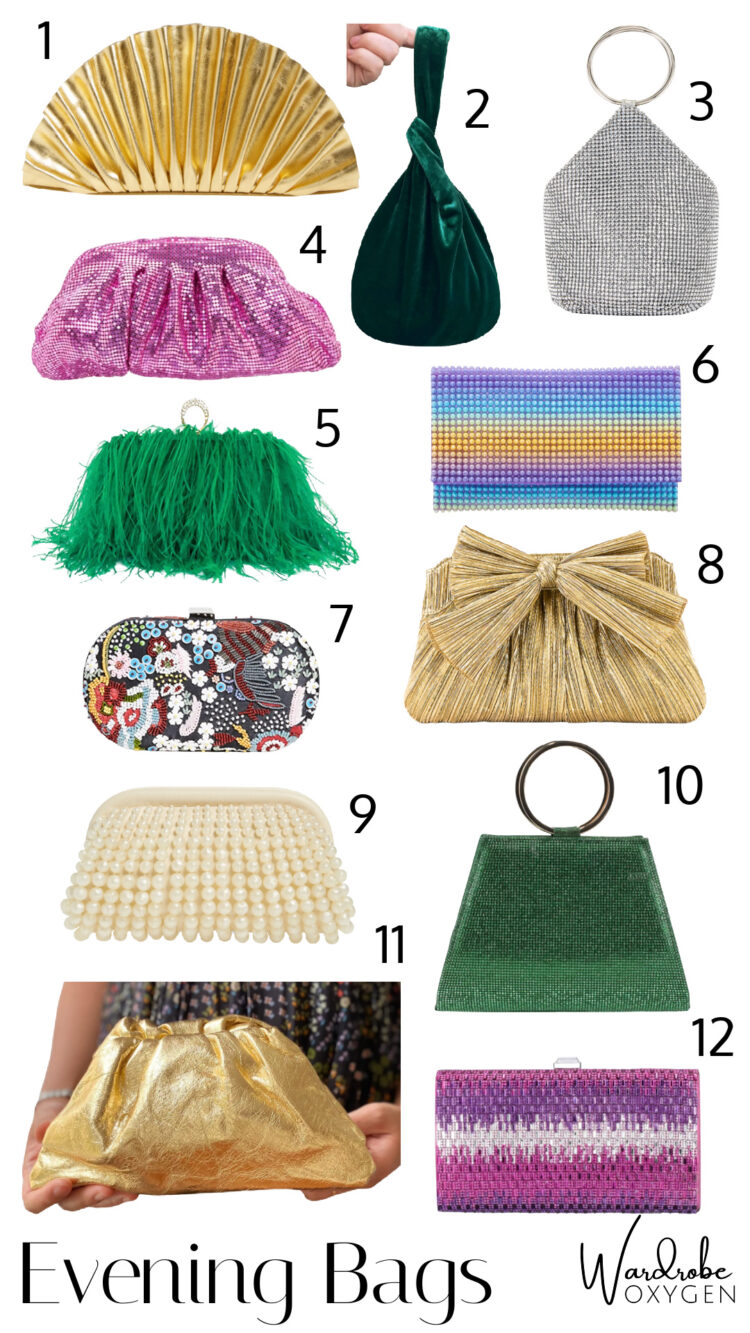 one | two | three | four | five | six | seven | eight | nine | ten | eleven | twelve
I think shoes and bags make an outfit and as a grown-ass woman, it's time for us to upgrade from the black pleather clutch touched up with Sharpie. Instead of going with black, choose a color, texture, or metallic that fits with the rest of your wardrobe. It can be a signature color, a fun print, or a dressy fabric in a modern silhouette. Consider checking out small artisans and sites like Etsy for unique bags that transcend trends and looking at vintage styles but know that bags are larger now so you have to be more discerning.

Get one that will fit your phone, lip product, reading glasses, medication, face mask, hand sanitizer… whatever you need to carry and feel comfortable for an event. Do not be dependent on another to carry your essentials; now more than ever we women should be prepared and in control, even when we're all glammed up as a wedding guest.
I hope this guide assists you as you seek looks to wear to your next wedding, cocktail reception, or formal event. If you have any brands you recommend for this kind of fashion that is not mentioned in this article, do share in the comments! It may be exactly what another reader is looking for!