This article may contain affiliate links; if you click on a shopping link and make a purchase I may receive a commission. As an Amazon Associate, I earn from qualifying purchases. 
This past weekend my dear dear friend Shelly got married and I was her Matron of Honor! It was a fun-filled couple of days and Shelly was a gorgeous bride!
I took off work Thursday and Friday because I have been very tired and busy and wanted to be sure I could properly attend to my Matron of Honor duties AND have fun while doing it. Luckily those days were slow at work so Mr. Bossman was happy to let me take some PTO and get some R&R! Needless to say, no pictures from those days. I did exciting things like buy groceries, get my shoes for the wedding reheeled, get a brow wax and pedicure (OPI's I'm Not Really a Waitress
), watch Emerson log roll her way from the living room to the dining room (no crawling yet but she is quite mobile with her DIY movement!).
Friday was the rehearsal and rehearsal dinner. I wore a red print matte jersey dress from Max Studio (originally $118 but I got for $24 from Marshall's) with a stretchy belt with black patent buckle that is from Ann Taylor, and my black patent T-strap heels from Sofft (BTW saw these in red at Marshall's when I visited this past week).
I knew I needed my hair slightly dirty for the next day to hold my Wedding Day 'Do, so I washed and conditioned it, added some Bumble & Bumble Styling Crème and dried it upside down. Then I took big sections into my curling iron to create soft waves. I finished it with a small bit of Jonathan Silky Dirt.
Makeup was Philosophy The Present, Laura Mercier Secret Camouflage
in SC-2, Estee Lauder Nutritious mineral foundation in Intensity 3.0, Revlon ColorStay shadow quad in Neutral Khakis (the ivory in inner corners and a tough of khaki on the lids), their ColorStay lipcolor in Rich Raisin (my go-to red color), Cover Girl LashBlast mascara in Rich Black and Maybelline UltraLiner in Black.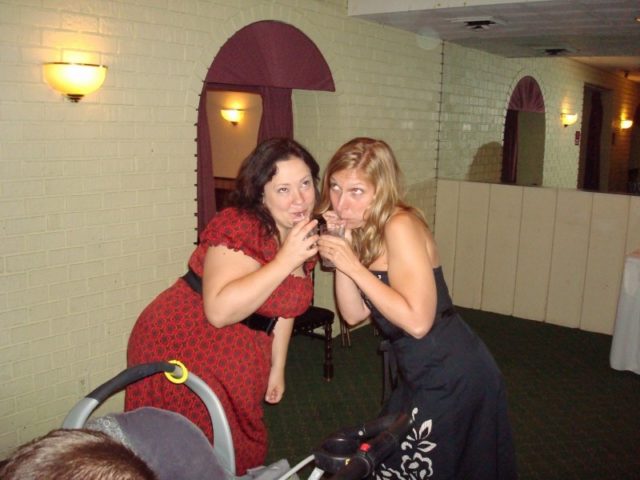 This was a great look if we didn't have an outdoor rehearsal. Dag, it was HOT! On top of that, my husband was taking pictures at it and I was being assistant so I was dashing to and fro getting people organized while taking care of Emerson. Needless to say by the end of the rehearsal my hair was a sweaty, scraggly mess and my makeup was almost completely gone (except for that amazing Maybelline UltraLiner!). We headed to the restaurant for dinner, and I headed straight to the bathroom where I attempted to comb my hair with a tiny claw clip (forgot my Sephora detangling comb which is usually a purse staple) and I used Urban Decay De-Slick and a fresh swipe of lipcolor to fix my face. This picture is from the rehearsal dinner – the Bride and I sharing Malibus and Sprites – the drink we shared the night we first met.
Emerson was getting slightly fussy because it was her bedtime so we headed home a bit earlier than the rest of the crowd. However it was a nice party – the Groom's Mom and Step Dad hosted a lovely meal and fun time!
The next day I headed to the Bride's hotel suite around 11am. We hung out, sipped champagne and got our ducks in a row until the hairdresser/makeup artist arrived. The bride and I had our hair and makeup done, she also styled the Flower Girl's hair and helped apply lashes on the Mother of the Groom. I realized I forgot my necklace at home so my sister and husband arrived and brought it before heading to the ceremony. Whoops!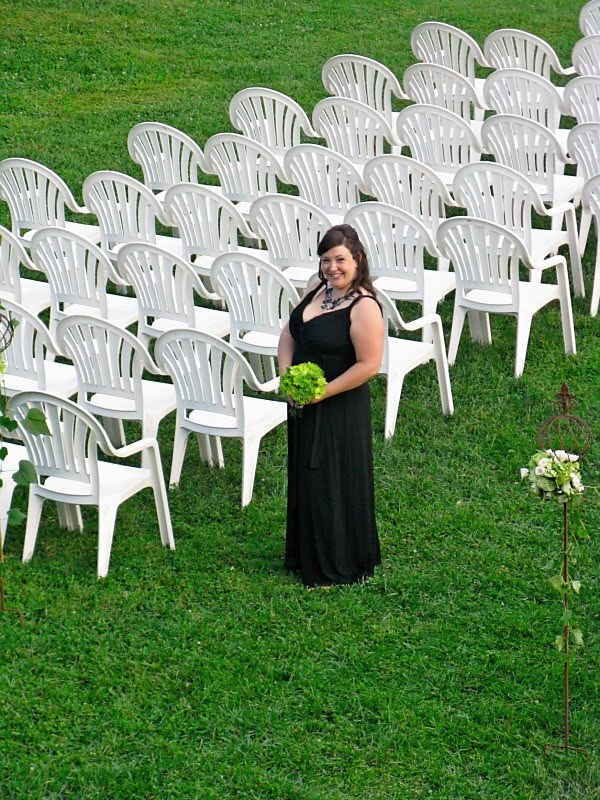 The Bride let me choose my own dress, and I found a lovely black matte jersey number from Calvin Klein at Macy's. Unfortunately it seems this dress is no longer available anywhere for purchase; too bad because it's such a cool style that can easily be dressed up and down (and it also came in blue). Also to be able to wear matte jersey is awesome – so comfy, great drape and easy to launder and alter! I had the straps shortened, the bodice tacked so I didn't look like Pam Anderson on the Big Day, and a couple inches taken off the bottom.
I truly think I will be able to wear this dress again – I envision it with a bunch of gold bangle bracelets and some gladiator sandals. However for this day I only wore a necklace – my black Ann Taylor statement necklace. I had a few necklaces to choose from, including a current AT necklace that has pave and pearl baubles from a chain… but this necklace ended up giving the best effect (and didn't make me look like Matronly of Honor). For shoes I wore my Banana Republic strappy kitten heels because it was an outdoor ceremony and I didn't want spikes digging into the grass. Good thing also as that I had to walk down a long flight of stairs to get to the ceremony. Kick-step, kick-step kept me from tripping over my dress!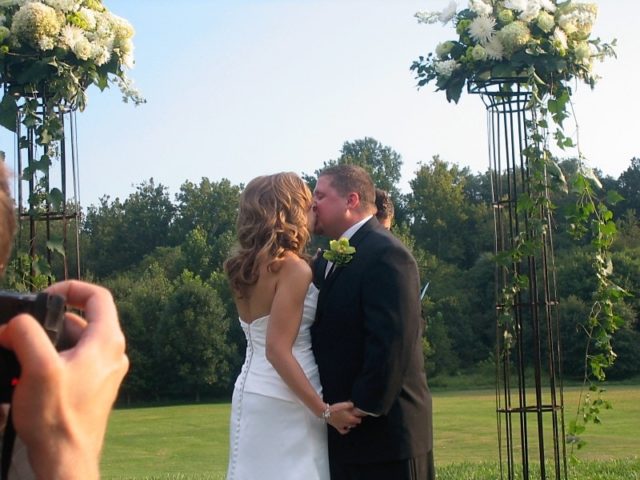 The lovely KC Felton did our hair and makeup – and yes, I got to wear individual lashes. I SUCK at applying false lashes myself so it was a very fun treat! All the makeup was MAC (except the mascara which was Cover Girl LashBlast!) and it did a great job at staying in place through the entire evening.
The wedding was AMAZING. My friend Shelly has magnificent taste and really planned a gorgeous affair. It was an outdoor ceremony in the most picturesque setting, and a reception in a wooden lodge with a large deck and stone fireplace. Her wedding was black and white with touches of spring green (hydrangeas, dendrobium orchids, etc.) which was a perfect accent to the natural setting. She looked amazing in a dress by Mikaella.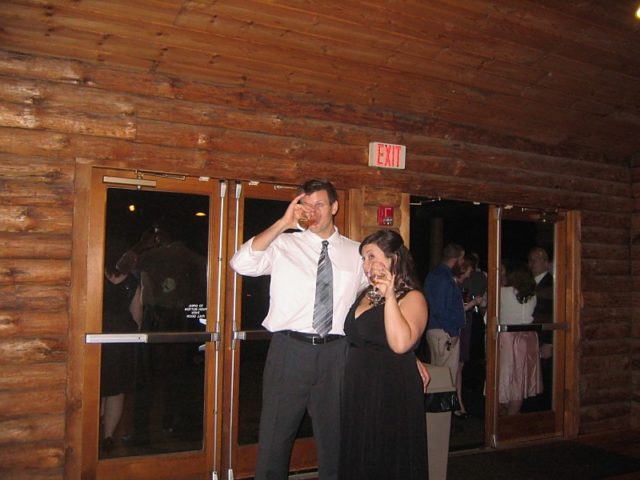 The bride and groom's gift to me was a hotel room for the evening. Omigoodness, the first night with both parents away from Emerson! We had our great friends Jamie & Mike watch Emerson until my mom left the wedding – then she stayed at our house overnight with E. This meant we could party until the end of the affair and ALSO head out to the afterparty at a nearby bar! Here's a picture of us parents getting wild and crazy and having more than one drink thanks to having a limo cart us around and drop us off at the hotel afterwards!
The wedding was amazing – everyone had so much fun and the couple was so cute. I adore my friend Shelly and she found a phenomenal man in Mike. They are great friends, a great couple, and I wish them a lifetime of happiness!
The next day we headed right home and missed the wedding brunch because we couldn't stay away from Emerson any longer. She was awesome with her babysitters and when we arrived she was napping in her Pack and Play. Luckily she was feeling drowsy and snuggly that day so she happily napped with us while we recovered from the previous evening.
Sunday afternoon we went to our friend Gail's house for her annual Labor Day Tiki Party. We took Emerson, and many other couples had their little ones. I don't have any pictures from this day, but I wore a recently purchased dress from Ann Taylor Loft with black flip flops, a long silver bead necklace from H&M and my hair naturally curly/frizzy. Very simple makeup, sort of a casual/hippie/beachy look.
My husband was feeling like a party animal but after all the wedding hullabaloo and being sick the week prior, I headed home with E around 7pm. We took a bath, read a book or two and fell asleep within an hour. My husband was going to meet up with my sister and friends at the town fair, but it began to rain so he headed home. I got up to hang with him for a bit, but we both retreated to bed by 11pm.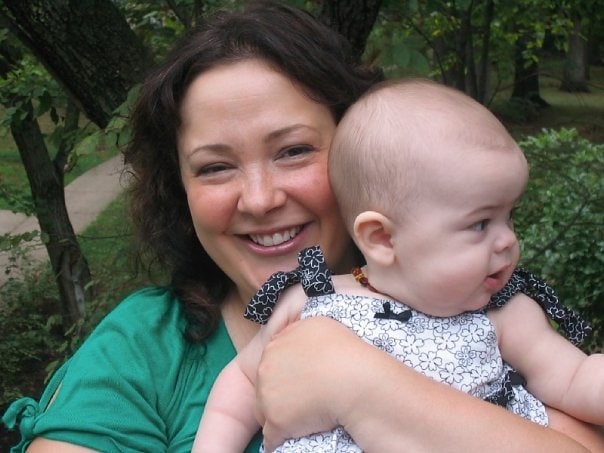 Monday, my mom, her boyfriend and my sister started off early for the town's Labor Day parade. Our town's color is green so I wore a green short-sleeved sweater from Banana Republic with my Gap Essential jeans. Hair was second-day curly/frizzy/air-dry after the bath and the humid/rainy weather didn't help things. This is a picture of me with Emerson at the parade.
Emerson was QUITE the hit at the parade, all the politicians wanted to hold her and get their picture with them! She loved the bagpipers best and was having a blast for almost the entire parade. She started to get a bit cranky/hungry toward the end so we headed back to my house where my husband had a big breakfast ready for us. The rest of Monday was spent at home – just me, Hubby and E.
All in all, quite a fantastic weekend!