This article may contain affiliate links; if you click on a shopping link and make a purchase I may receive a commission. As an Amazon Associate, I earn from qualifying purchases.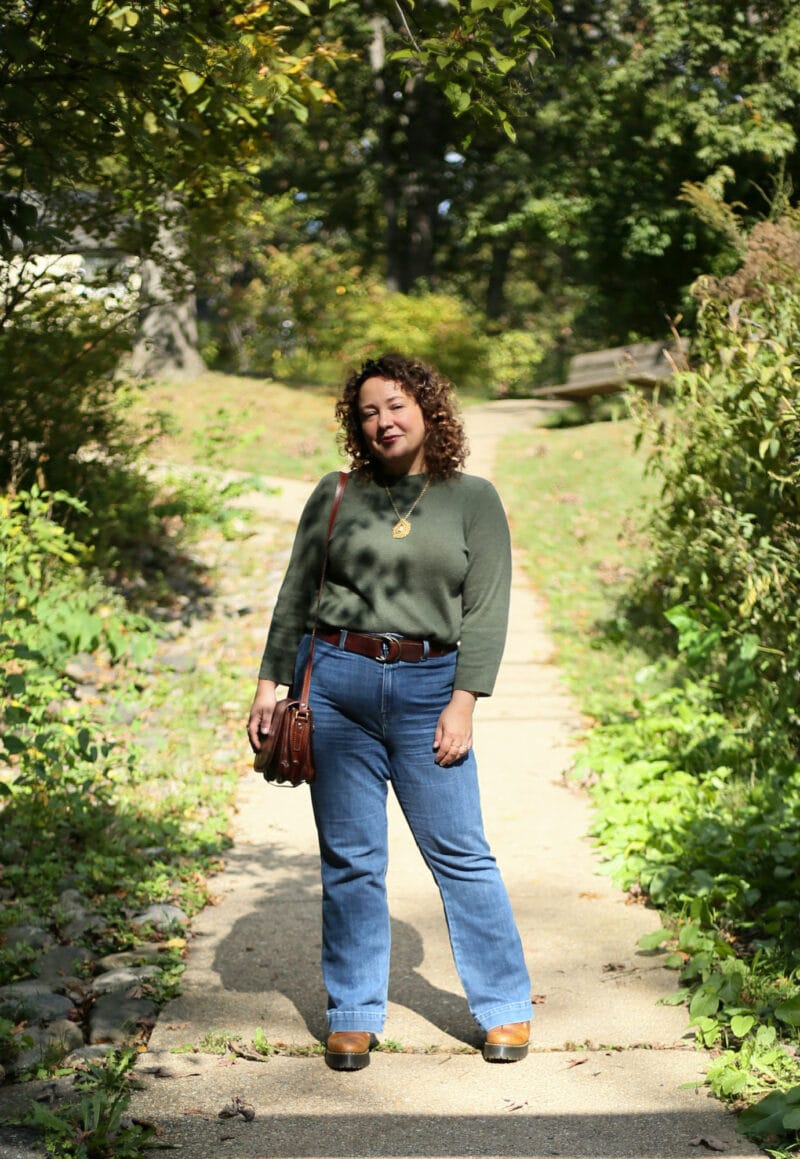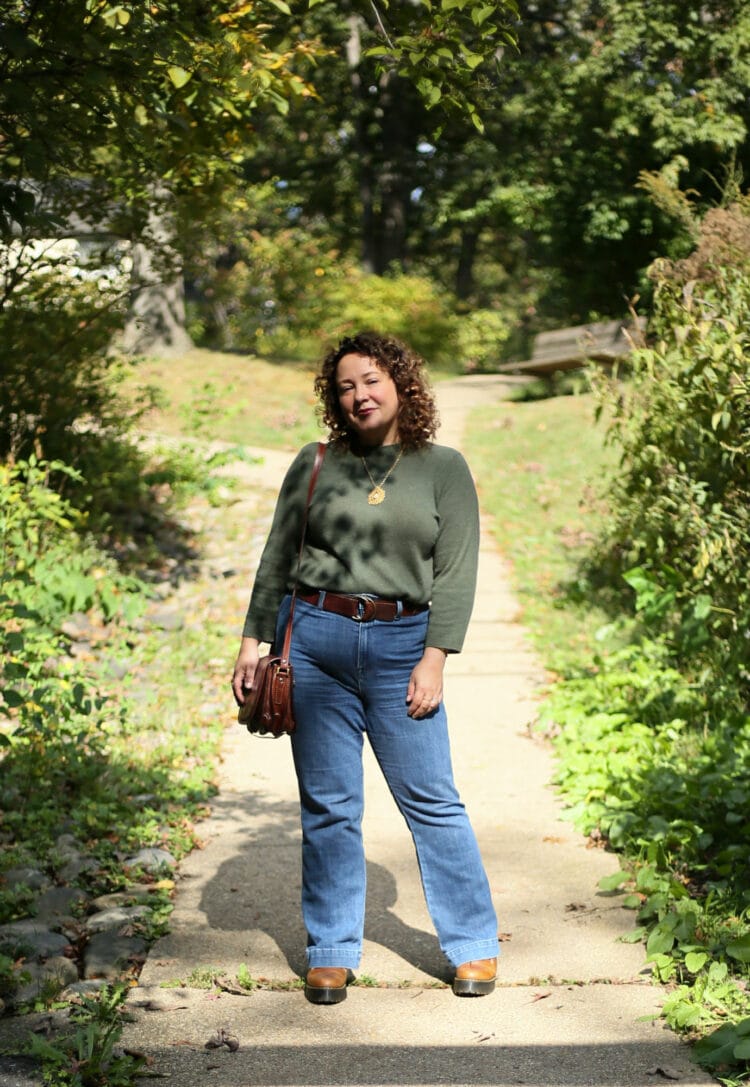 I shared this look on Instagram earlier this week, but with homeschooling and administrative needs of this business and life in general, the look from Sunday didn't make it to the blog until today. But it's almost like a weekend uniform for me these days: cozy and soft on top, rugged and practical on the bottom. It's officially cashmere and stompy boots weather!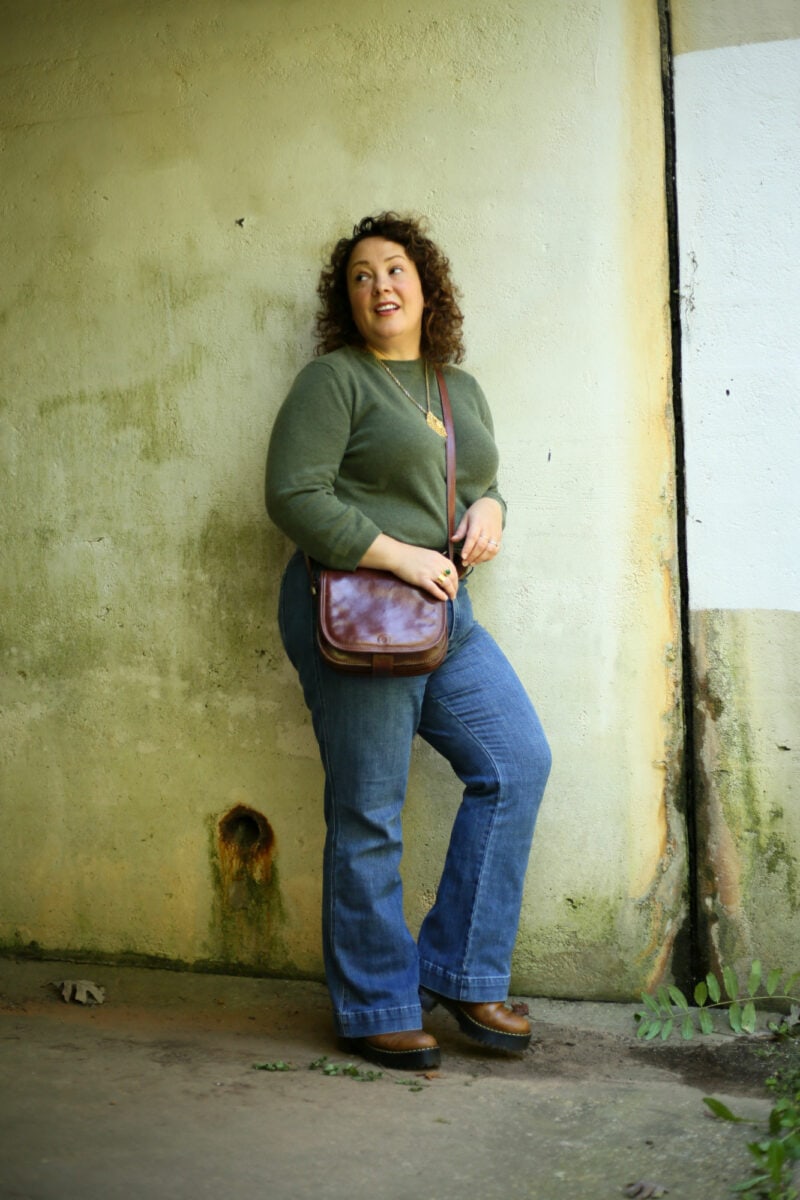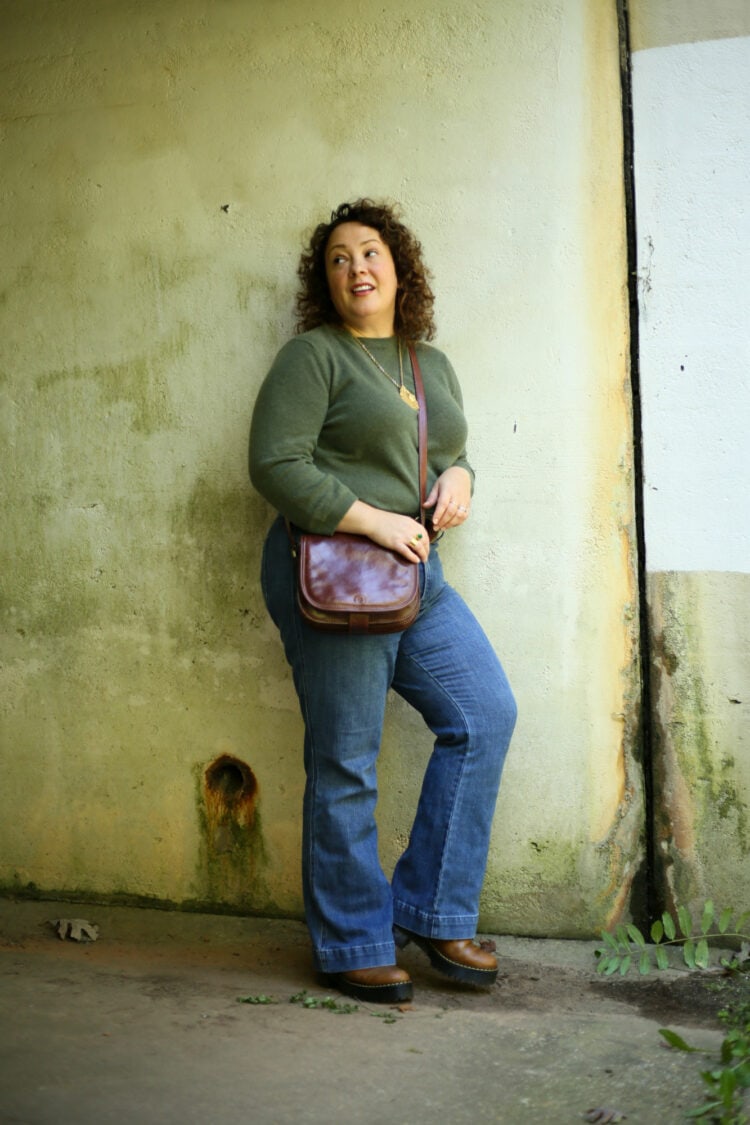 This sweater is the Audrey cashmere sweater from Talbots, which you have seen on me soooo many times. This year I showcased it in a bright highlighter pink, but I've featured it in past years in navy, red, and teal. I like the higher neckline, the bracelet-length sleeves, and the thick lofty cashmere. I reached out to Talbots to see if I could try some of their other cashmere pieces to see if they're equally as thick and durable… stay tuned!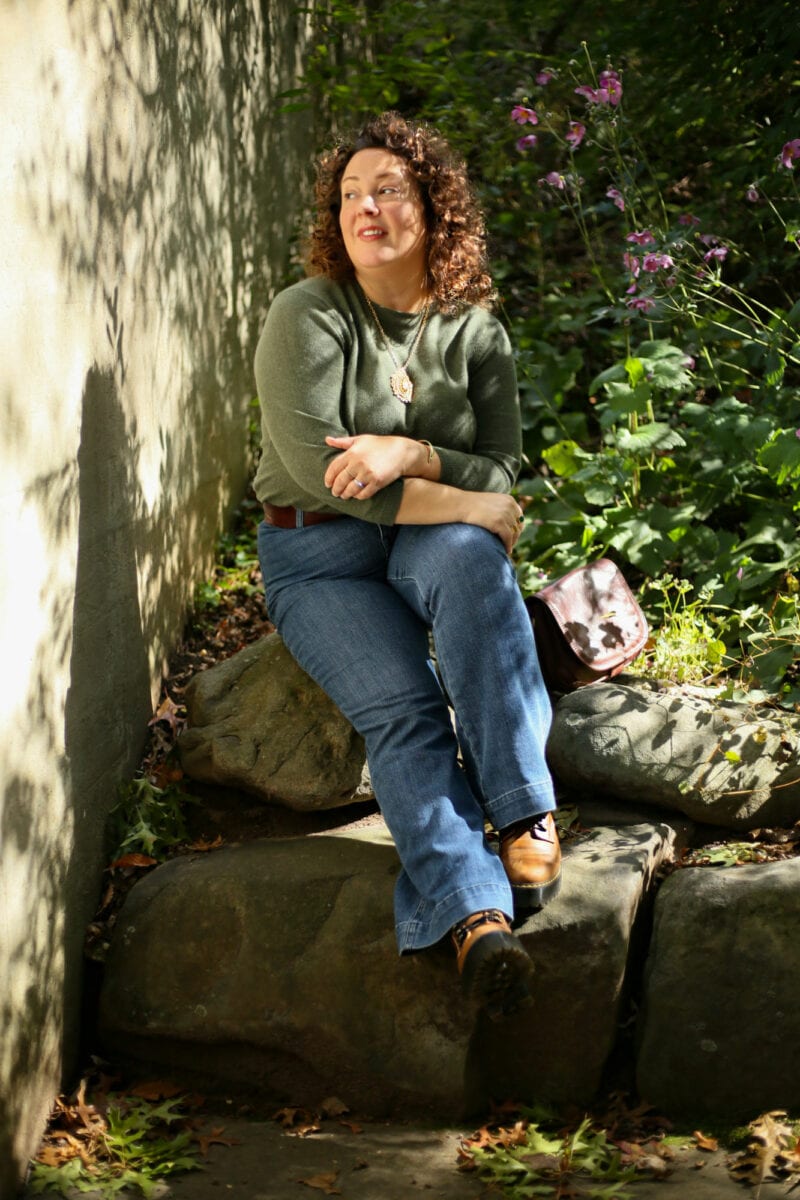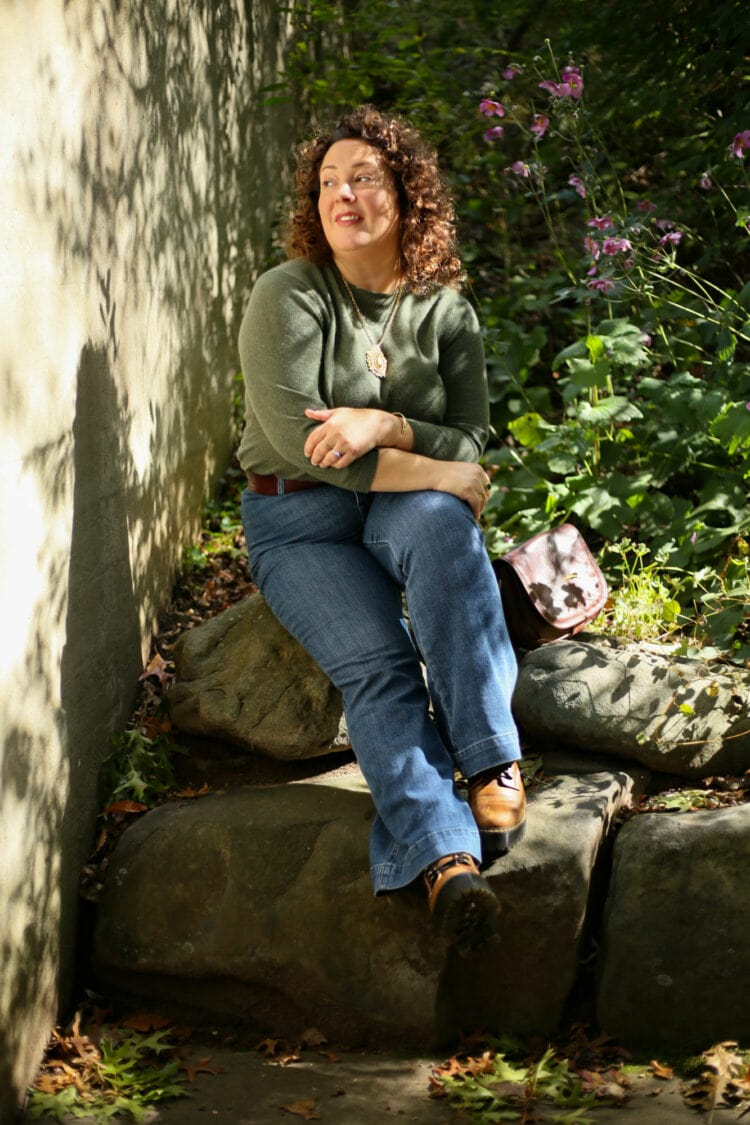 This isn't my typical choice of color, but it felt so fall 2021 and I just loved the idea of the heathered green with cream, camel, denim, and unexpected colors like berry and plum. It also just looks so good with gold jewelry!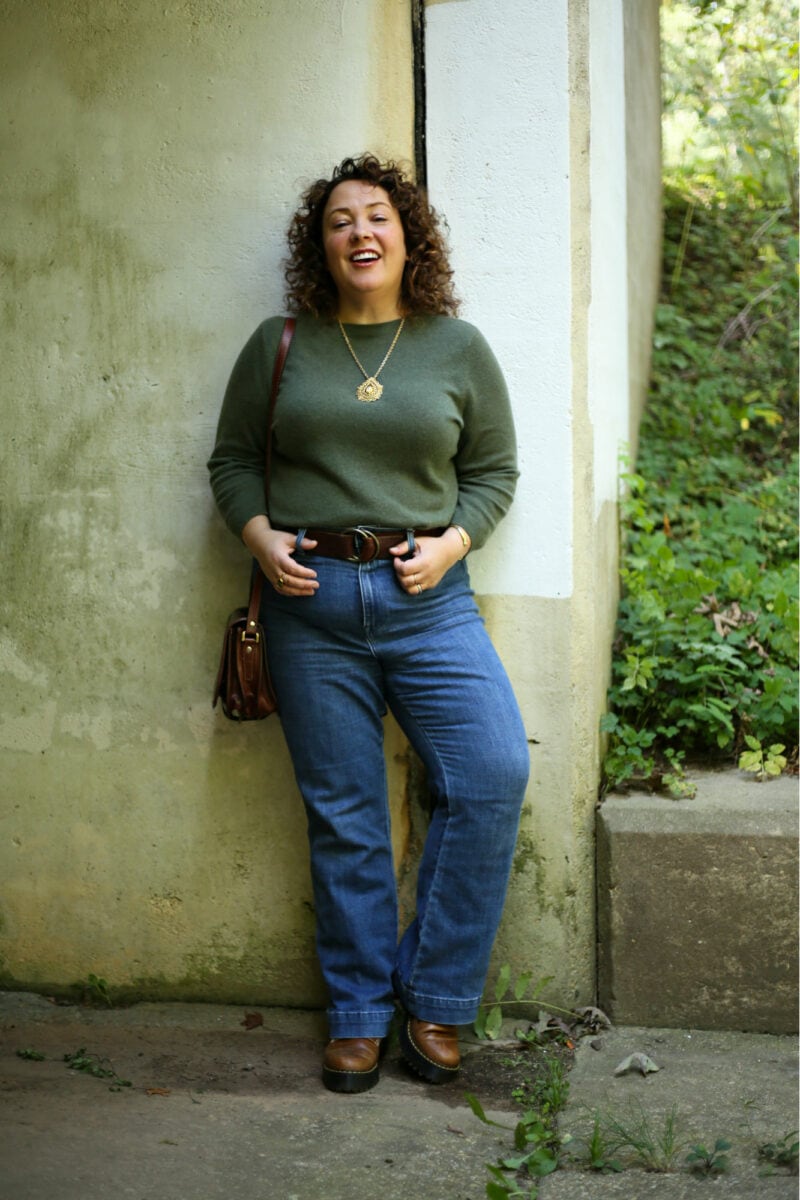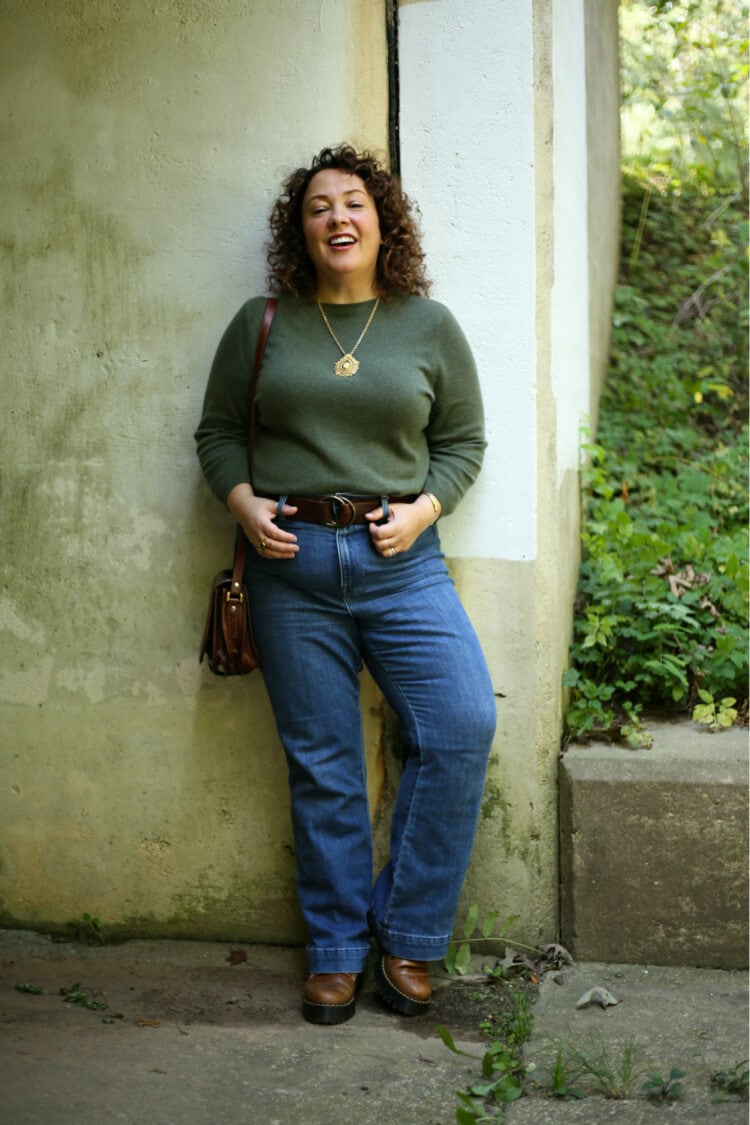 The jeans you may be sick of by now, but I just love them so much. They are the high-waisted flares, also from Talbots, that I got last year. They're no longer available which is a shame. I'd recommend checking on Poshmark and other resell sites as well as the Wardrobe Oxygen B/S/T group on Facebook to see if you can find a pair. The belt belonged to my mom and is from the '60s I believe.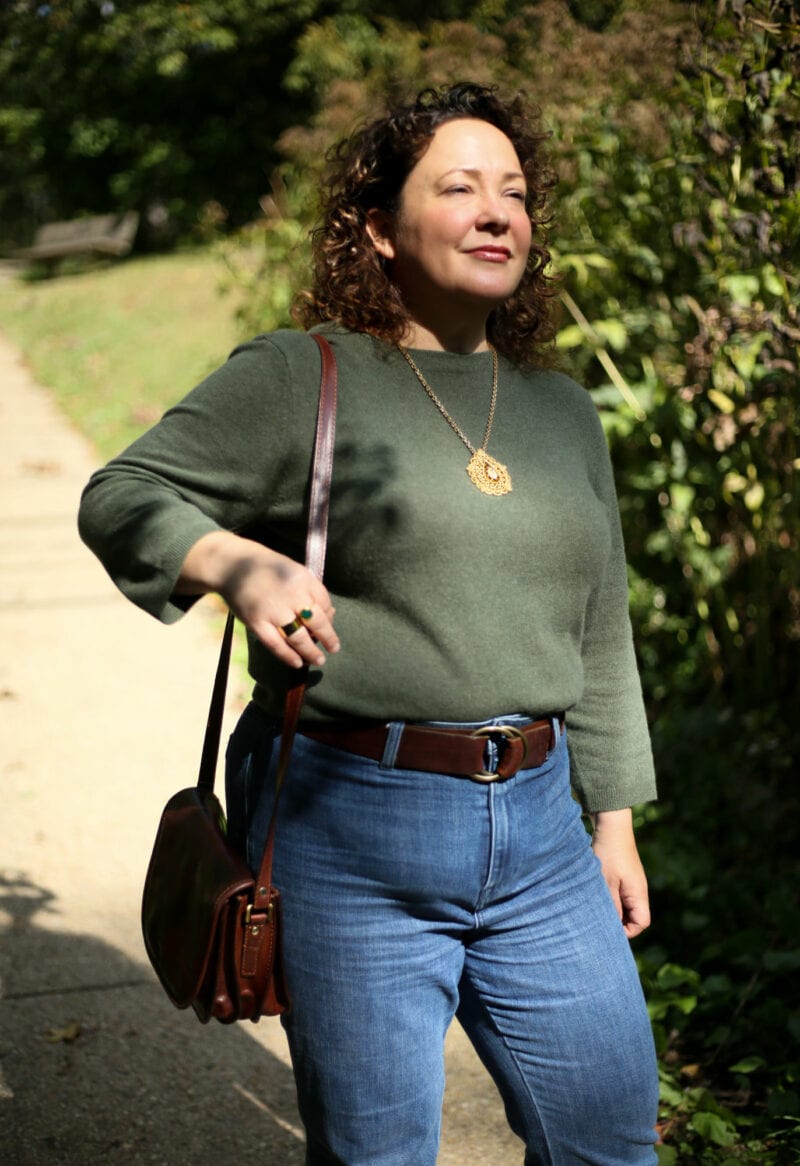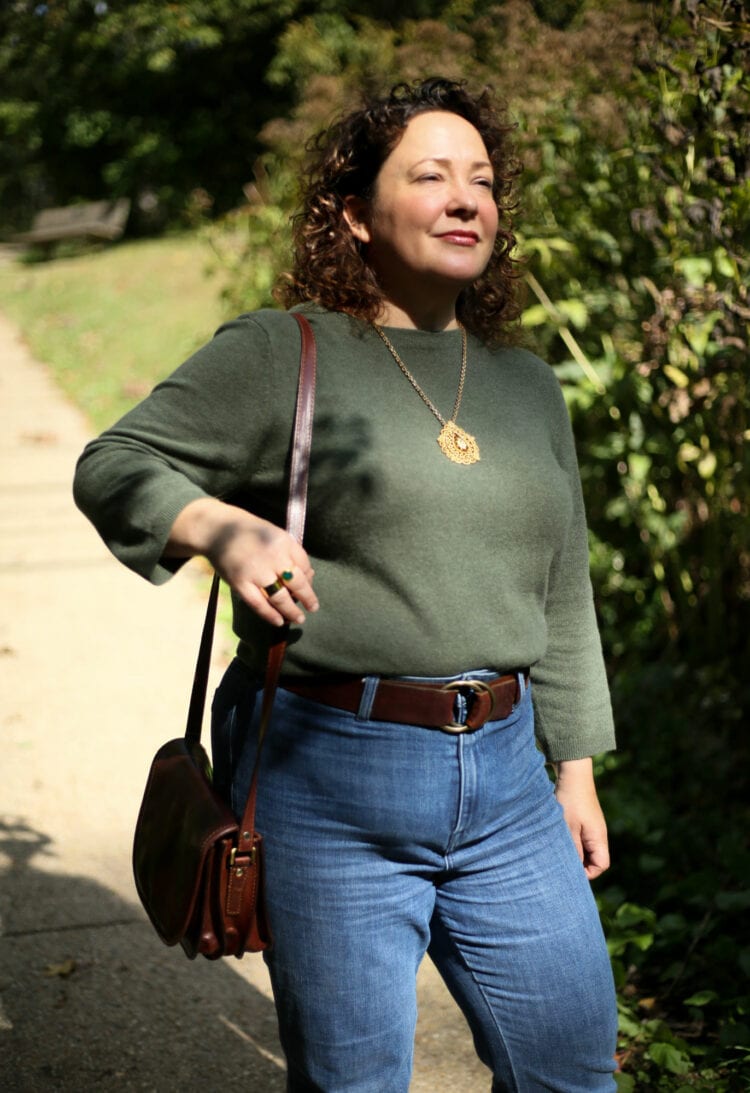 The necklace is vintage and I have had for many years. It's not a piece that gets regular wear, but sometimes is the perfect something for an outfit. The last time I wore it on the blog was almost exactly a year ago.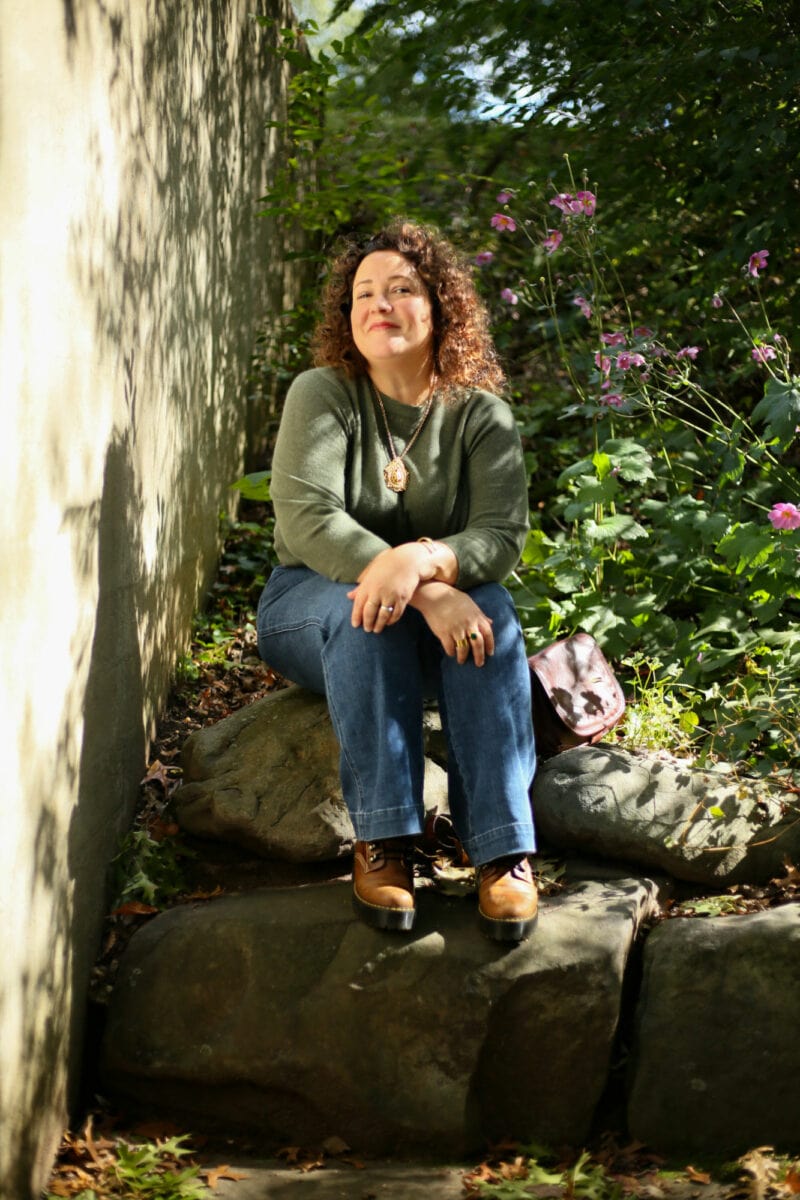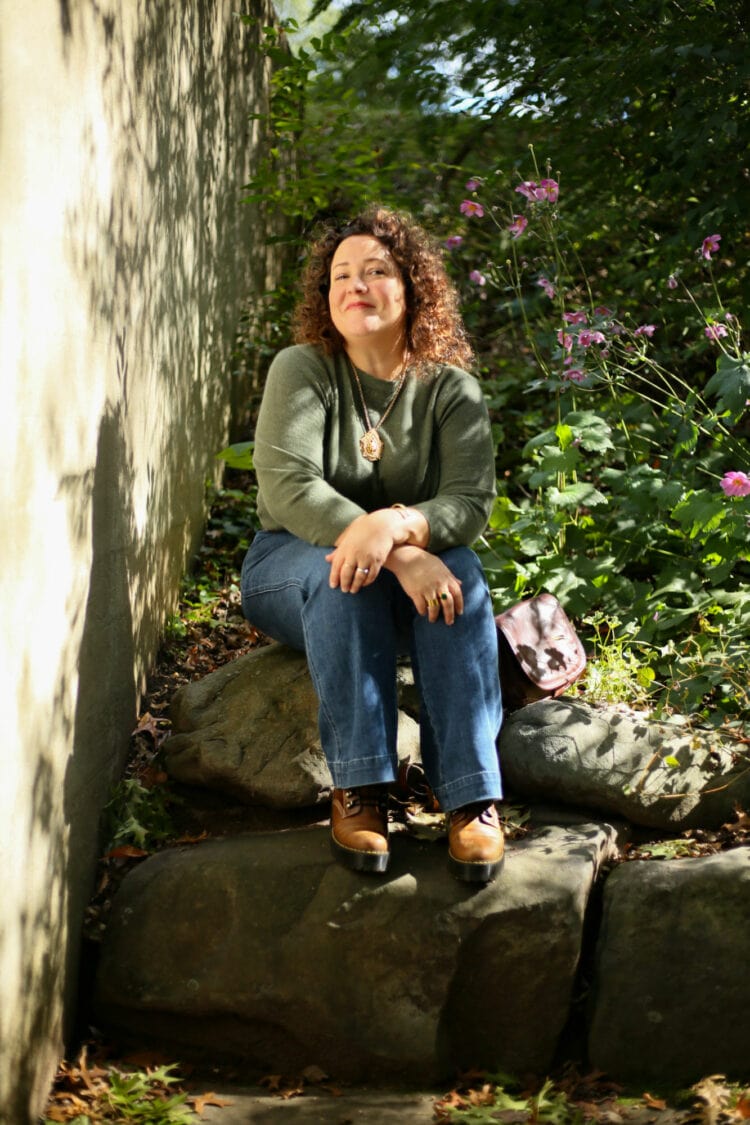 The boots are my Doc Martens Leona which are extra stompy but not terribly heavy and didn't require a break-in period like most Docs. I was taking a risk choosing brown as I don't wear a lot of brown, but I've paired them with black and I like how they look with my brown purse. These boots are sold out most everywhere. I got them at Zappos but they only have black left. I previously linked to them on American Eagle but now they're sold out there too. I did find them at Lulu's in brown and black, Amazon in brown and black, Shopbop has them in black, and Dillard's also has them in black.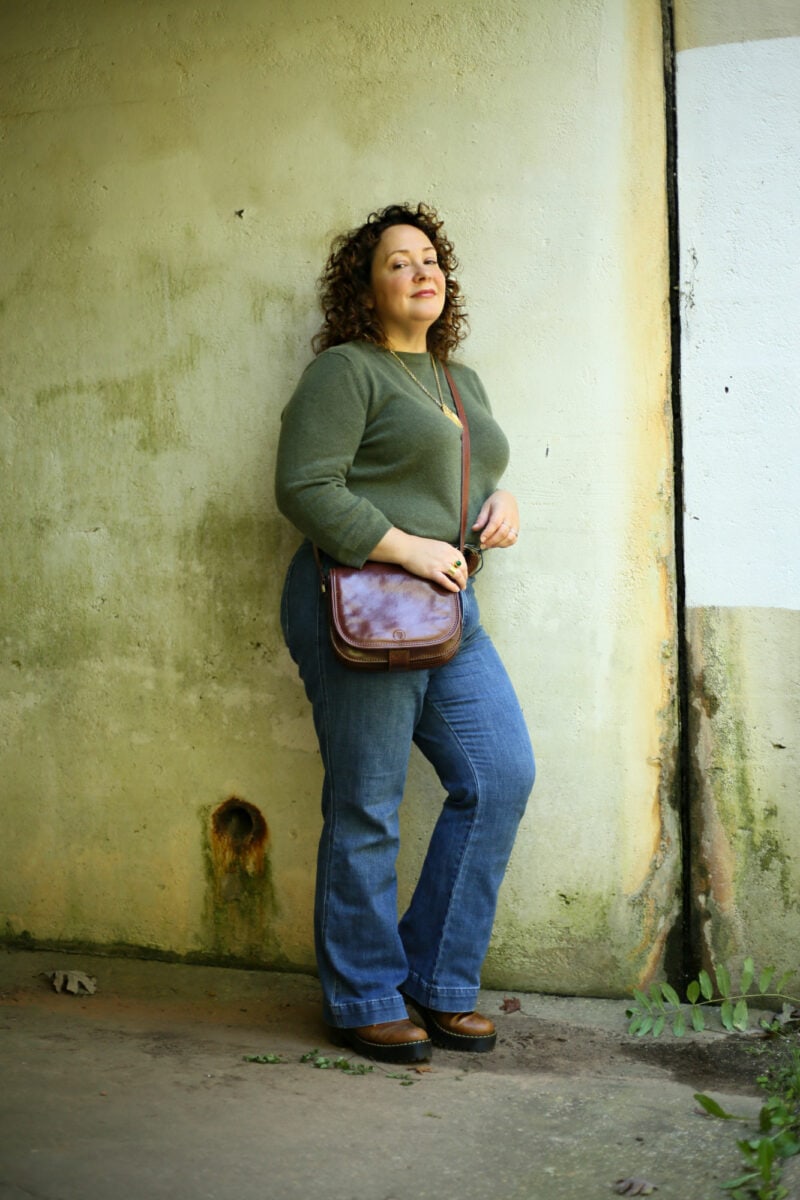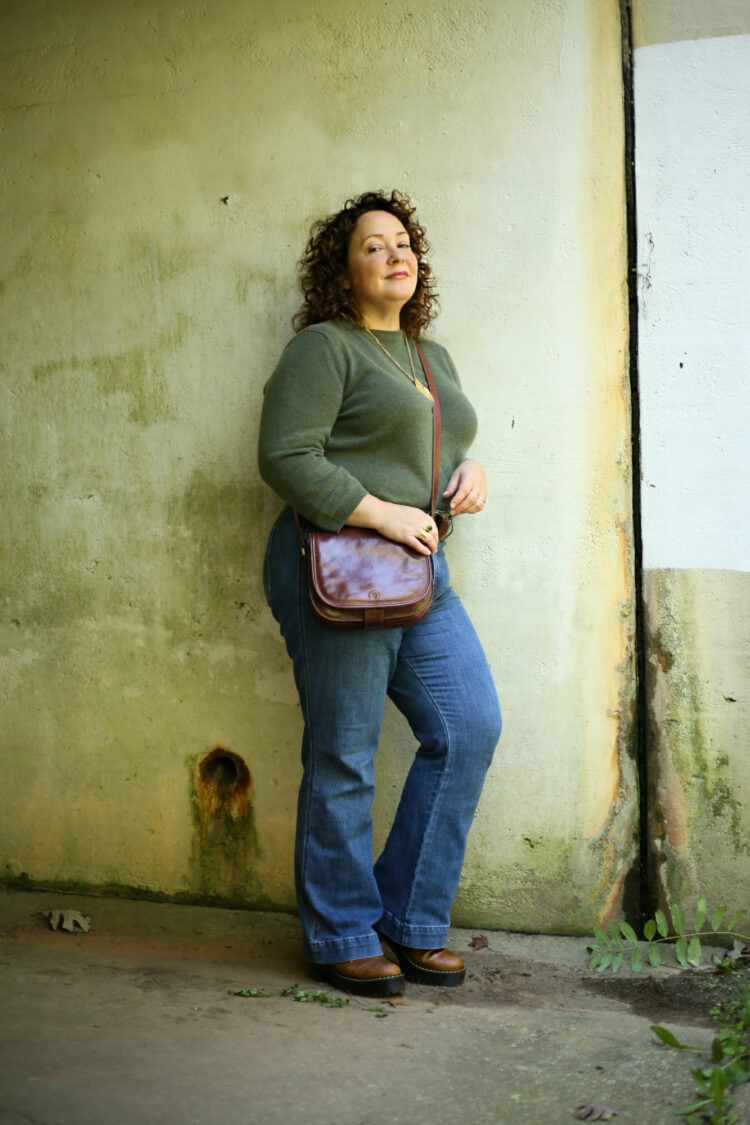 The brown purse is this one from Maxwell Scott, a UK bag company that makes some of the most luscious high-quality leather goods. This bag can even be monogrammed and comes in other colors. It's not cheap, but I am hard on my bags and still love this bag several years later, it's the perfect size, great organization, and an adjustable strap that made for a comfortable crossbody even when I was a fuller-busted size 16 wearing a winter coat. If you consider this bag, promo code ALISON10 gives you 10% off everything, not just this bag, at Maxwell Scott.
Shop The Post: