This article may contain affiliate links; if you click on a shopping link and make a purchase I may receive a commission. As an Amazon Associate, I earn from qualifying purchases.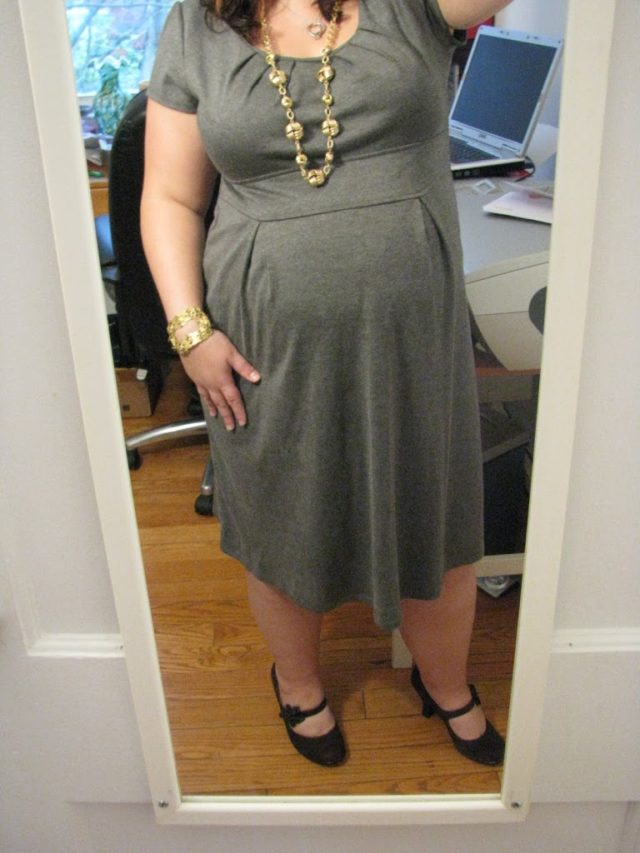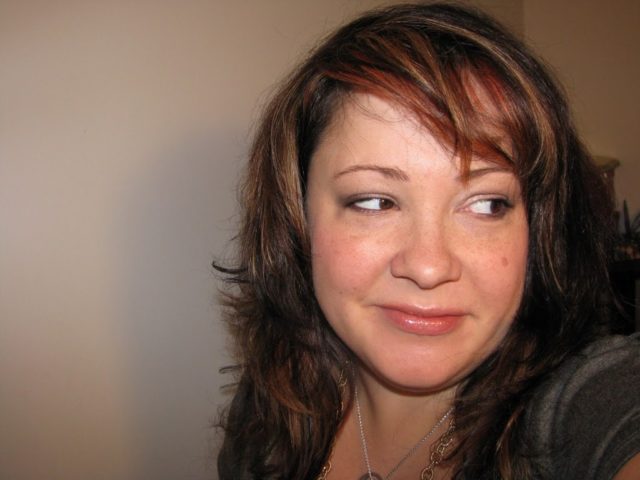 Attire:
Merona for Target – Gray heavy knit dress (not maternity, just a size larger)
Sofft – Brown suede Mary Janes with flower detail
Ann Taylor – Gold necklace and hoops
Twisted Silver – Gold bracelet
Hair:
Washed and conditioned
Pureology Bow-dry amplifier
Dried with round brush
Beauty:
Laura Mercier – Flawless Face Kit in Sand
Nars – Blush in Orgasm
Body Shop – Shimmer Cubes in Warmth: Peach on lid, Chocolate in crease and along lash line
Victoria's Secret – Lip gloss in French Kiss
Cover Girl – LashBlast mascara in Rich Black
Well I am back to work, and actually glad about it. It felt good to get back into a routine and care about what I look like, etc.
I bought this dress on Sunday; I am trying to not buy any more maternity clothes but this dress was super cheap and I think would work post-maternity if I shortened the hem. I also think it could look cute in colder months with a black turtleneck and tights.
These shoes are AMAZING – I have been on the hunt for comfortable shoes and these have really fit the bill. I wore them all day on Monday – we went to visit my husband's grandparents, did a lot of walking in town and at the cemetery, was away from home about ten hours and my feet never hurt and I never got a blister or any chafing. The heel is higher than I would think would be comfortable, but I think the heel puts my back more in alignment, and the chunkiness of the heel makes me feel very stable. The strap has elastic hidden behind the flower so it doesn't cut the circulation off on my swollen feet. They also have a super padded footbed that doesn't make me sweat or slip around. They aren't cheap… but man are they heaven for the tootsies!
I also want to thank all of you for your well wishes and prayers. It has been a very tough week – my father-in-law's death was completely unexpected and you may have realized from my stories that he lived very close by (a block away), worked with my husband and was one of my husband's best friends too. I have been with my husband for 15 years, so I have known his dad that long. We have gone on road trips together, vacations, in college I stayed at his house any weekend my husband (then boyfriend) had leave from the military, he was over a couple times a week and was my friend as well. We are getting through things, my husband is coping ad your positive thoughts have really assisted with us healing. Thank you!