This article may contain affiliate links; if you click on a shopping link and make a purchase I may receive a commission. As an Amazon Associate, I earn from qualifying purchases. 
Sorry I have been gone for so long. I thought I would have more free time and fancy outfits over my vaca, but it wasn't to be. Let's see, what did I do over my vacation? You saw my Friday and Saturday outfits.
Sunday – Christmas Eve. We visited friends and then went to my Mom's house. And I wore my teal Paul and Joe dress from target that was made into a tunic with jeans and my teal suede wedges from Seychelles.
Monday – Christmas. Went to my mom's for breakfast and present opening, and then to my husband's aunt's house for a get together. I wore my blackberry dolman-sleeved tunic sweater from Ann Taylor Loft, my black wool trousers also from ATL and my black round toe high heel pumps from Jessica Simpson.
Wednesday – Went to get hair cut and colored. Wore a black merino v-neck from Ann Taylor and my denim trousers from Gap and my black Aldo city boots. Big silver hoops, silver cuff, smokey eyes. She did the same cut but for color added much more red and some blonde again.
Thursday Evening – Went to a party at a friend's house. Very casual affair. Wore my charcoal and black striped angora/wool blend stretch v-neck tunic sweater from Banana Republic, under it a heather gray ribbed tank from Old Navy, and then my lowrise bootcut jeans from Gap and black city boots from Enzo.
Friday – My husband and I left for the beach for the holiday weekend with a bunch of friends. For the drive down I wore my gray CBGB tee shirt, my red and blue marled turtleneck that originally belonged to my father, and my curvy bootcut jeans from Gap with Enzo city boots in black.
That night we chose to stay in and drink wine and play board games. I showered, let me hair go curly (love the water at the beach, not so hard and my hair gets wavy just with a bit of product and air drying!). Changed into my black merino crewneck sweater from Banana Republic and my same jeans.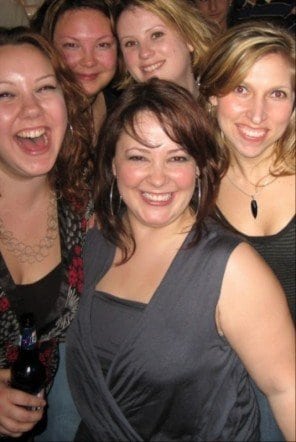 Saturday Night – Went to our favorite beach bar. I wore a cadet blue silk drapey sleeveless top from Banana Republic, silver cuff and large hoops, denim trousers from Gap and my black Enzo city boots. I did my hair straight but textured, my eyes smokey and Revlon LipGlide Sheer in Sheer Burgundy on the lips.

Sunday Morning – Breakfast at our favorite spot. Violet fleece from L.L. Bean and my lowrise bootcut jeans from Gap with my New balance trainers. Everyone dresses a bit bummy and bundled up for a hangover breakfast at this spot.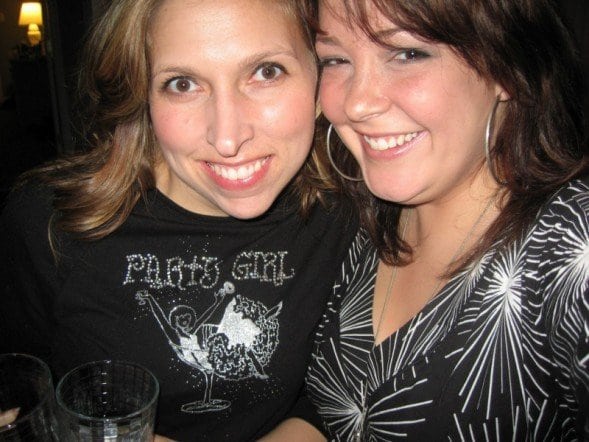 Sunday Evening – We had a party at our beach house. The black and white cotton kimono top from H&M that I wore to the holiday party, worn with the Gap denim trousers. Hair was done relatively straight (the soft water at the beach leaves me with a shaggy rocker look instead of straight), smoky eyes, Revlon LipGlide Sheer in Sheer Burgundy.
Monday – It rained and was gross out. Spent the day in my Curvy Bootcut Gap jeans and a Jack Daniel's tee shirt and my turquoise pashmina. Did a lot of reading, a little bit of drinking. That night when we went out to dinner, I slipped on my city boots and my merino crewneck in black.
Tuesday – Drive home. Nothing fancy. that night we took my father in law out to dinenr to thank him for dogsitting. Black cherry tissue-weight merino v-neck from J. Crew, heather gray ribbed tank from Old Navy, black wool trousers from Ann Taylor Loft and black city boots from Enzo.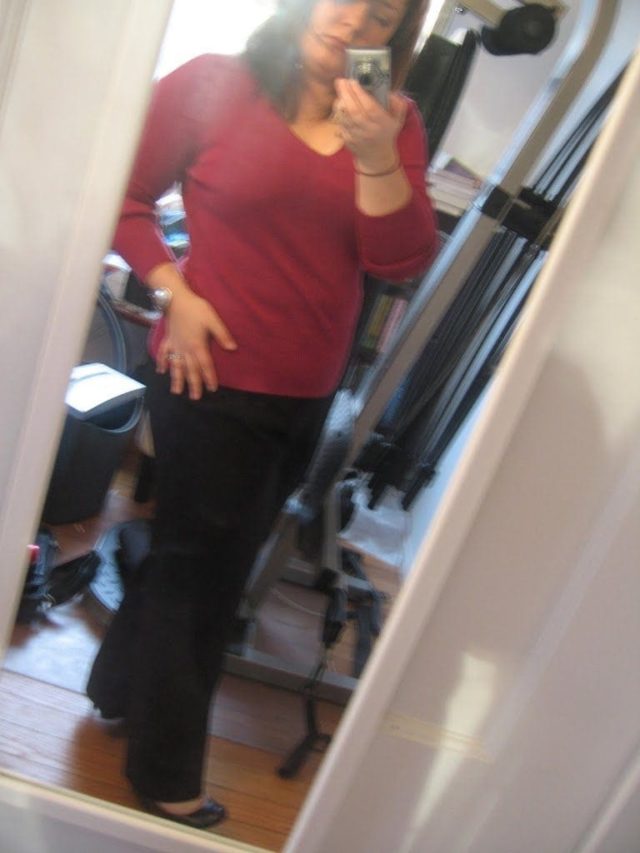 Wednesday – Back to work! Raspberry merino v-neck from Ann Taylor Loft, black triacetate suiting trousers from Ann Taylor that are too big and dowdy looking (but everything is dirty or at the cleaner's). Silver dangle earrings from Nordstrom, silver cuff, black round toe high heel pumps from Jessica Simpson.
Hair is air dried yesterday, and then straightened with a round brush and dryer today. No additional product.
Makeup is L'Oreal True Match foundation in C3, True Match concealer in W4-5, Body Shop bronzer in light, Smashbox Soft Lights in Tint. On lips is The Body Shop's Damson lipcolor lightly applied and blotted. On eyes is Maybelline ExpertWear shadow quad in Mocha Motion – the top right color (a bit mauve) on the lid and The Body Shop's Slate shadow on the crease and lash lines. On lashes is L'Oreal Full Definition Voluminous (just as thick and dark as the original but not as clumpy).