This article may contain affiliate links; if you click on a shopping link and make a purchase I may receive a commission. As an Amazon Associate, I earn from qualifying purchases.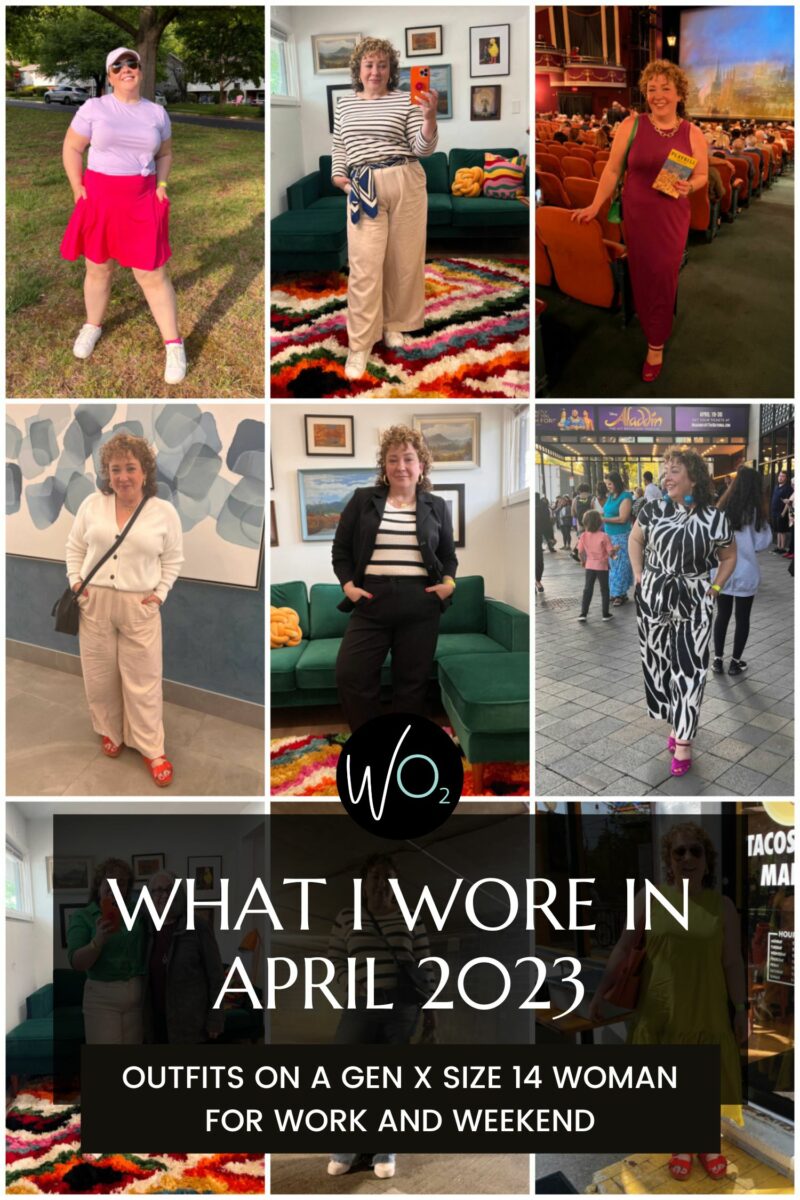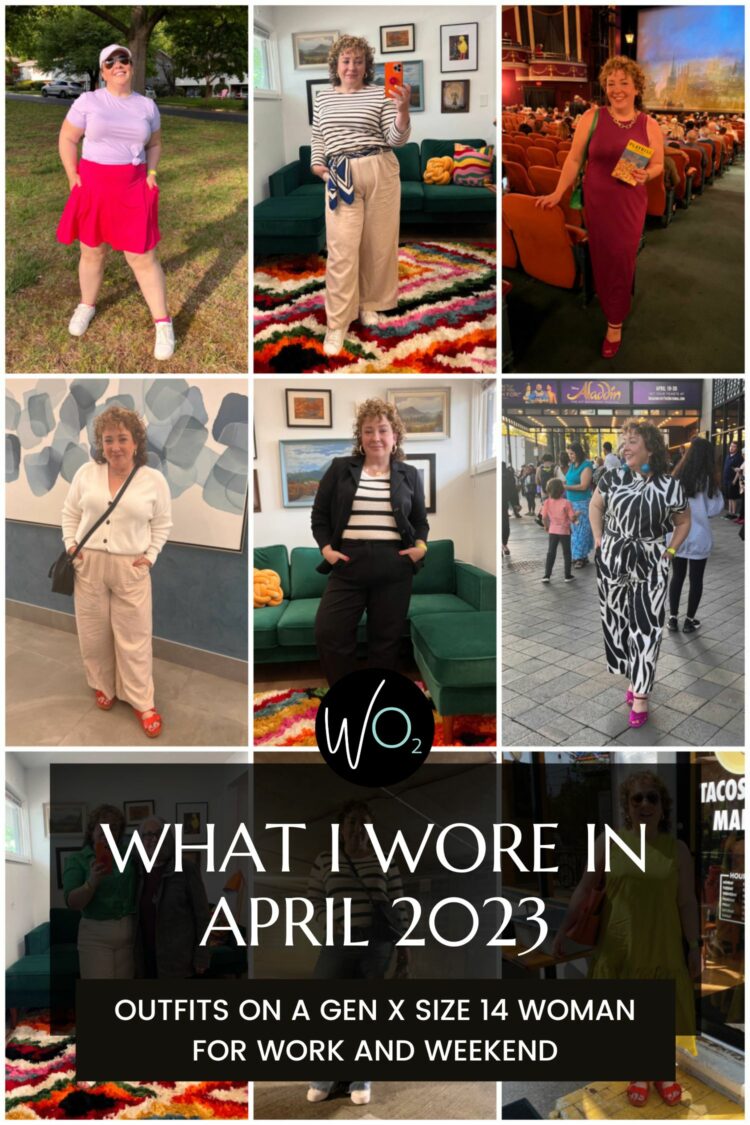 May is flying, I can't believe I got around to writing about what I wore in April until now! But I think anyone with a student who is heading to the next level of school can relate. My daughter is finishing up middle school and heading to high school so there are so many activities. On top of that, she has been working on her Girl Scout Silver Award and had a piano recital so we've had back-to-back activities. I've blinked and gone from winter to almost Memorial Day! Anyway, some of my outfits in the past few weeks:
What I Wore Recently: Belated April (and a touch of May)
I am sort of categorizing my looks so you can see how I wear the same pieces in different manners. We have The Pants, then The Stripes, then The Color, then All About Town.
All About The Pants: The Madewell Harlow Wide Leg Pant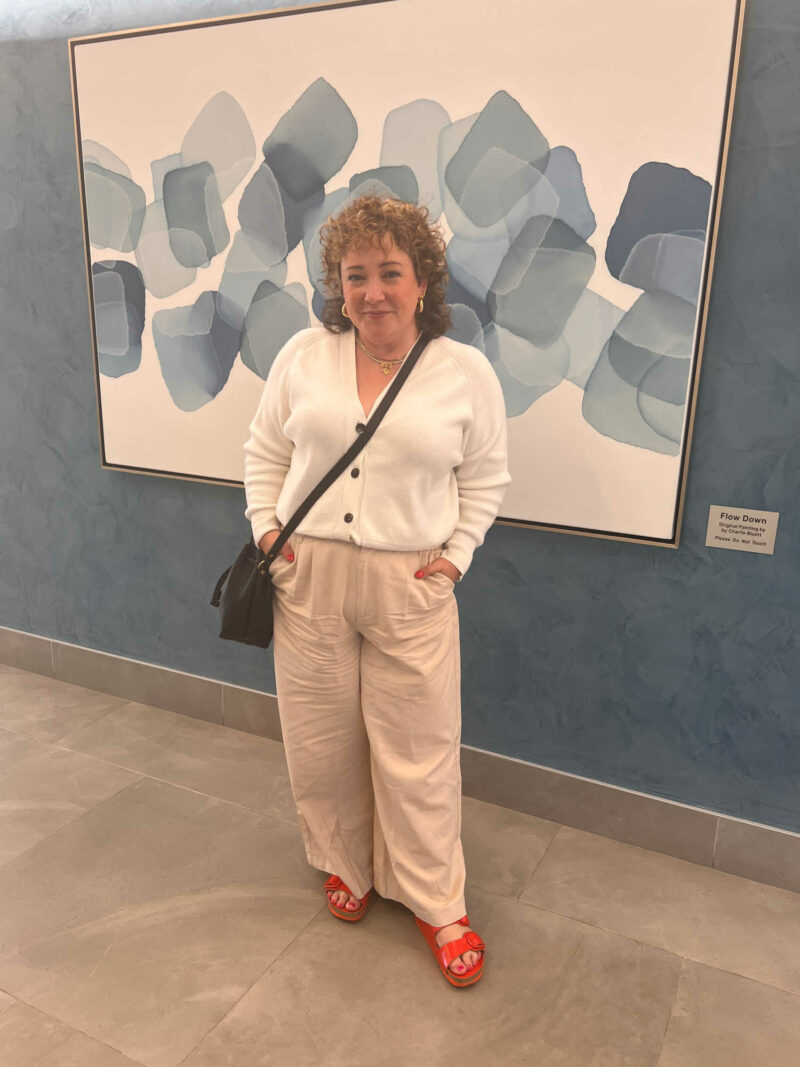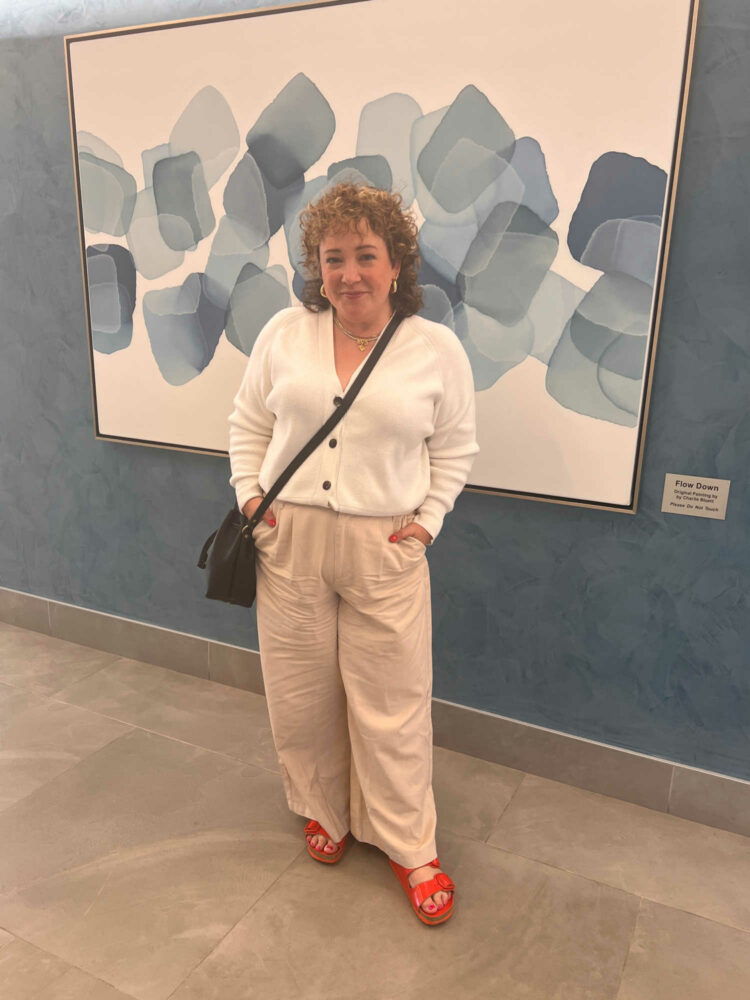 Let's start with a look that sort of is a continuation of last month's outfit recap. This is the Universal Standard Better Than Wool cardigan I wore several times last month. I am wearing size S. I LOVE this cardigan, I have washed it so many times and it still looks amazing.
With it, I am wearing the Harlow Wide-Leg Pants from Madewell (14 Petite). A member of the Wardrobe Oxygen Community recommended them and I am so glad, I wear them all the time. In fact, I'm wearing them right now as I write this! The bag is the small version of this bucket bag from Portland Leather, and it's a great bag that holds everything. The sandals are Birkenstocks and the perfect pop of color for summer!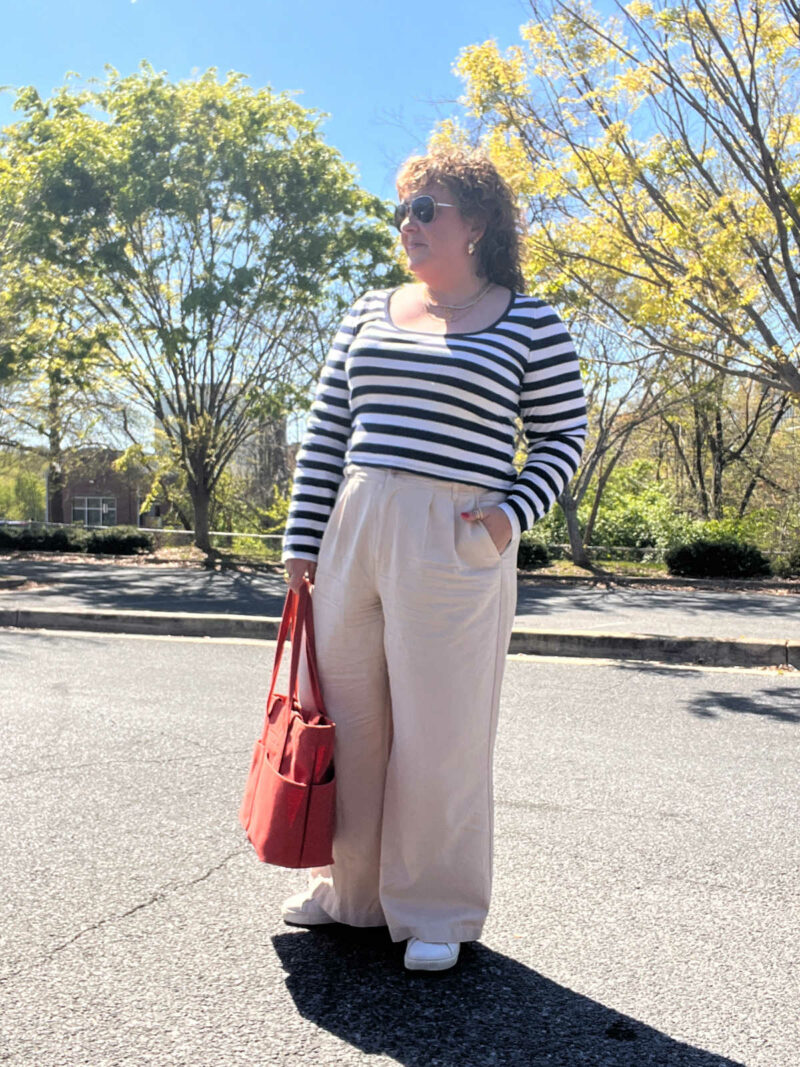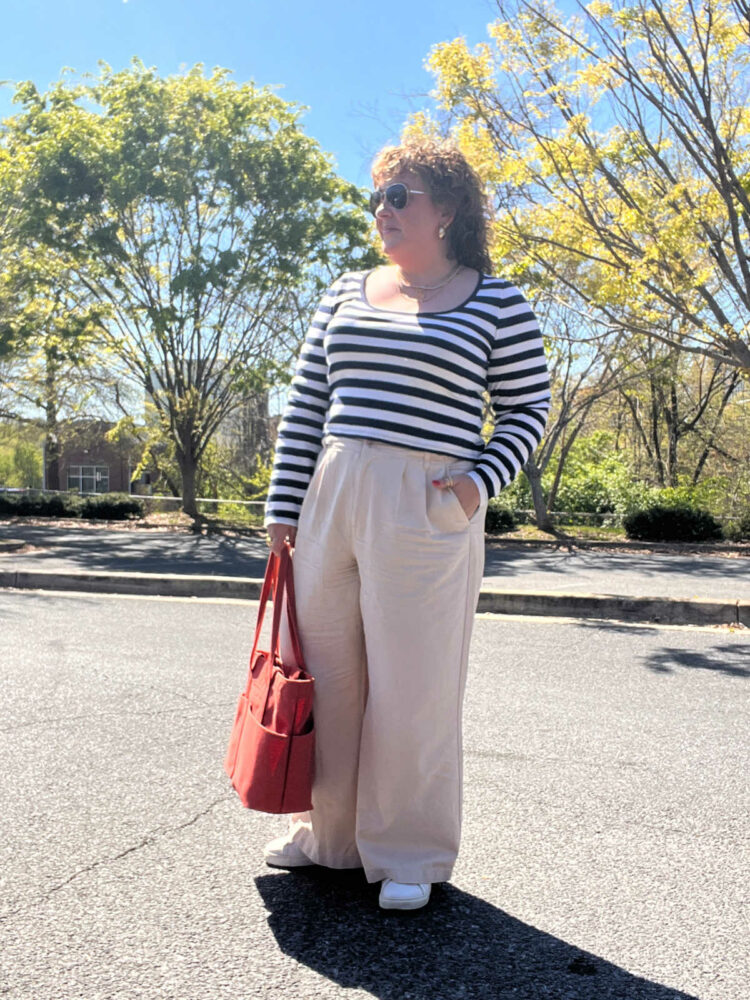 Same pants, with my Birkenstock Bend sneakers and a cropped striped top I got from J. Crew two years ago. The bag is the Small Vida Tote from Dagne Dover. I've had this bag for a few years now; this exact color isn't available but other colors are!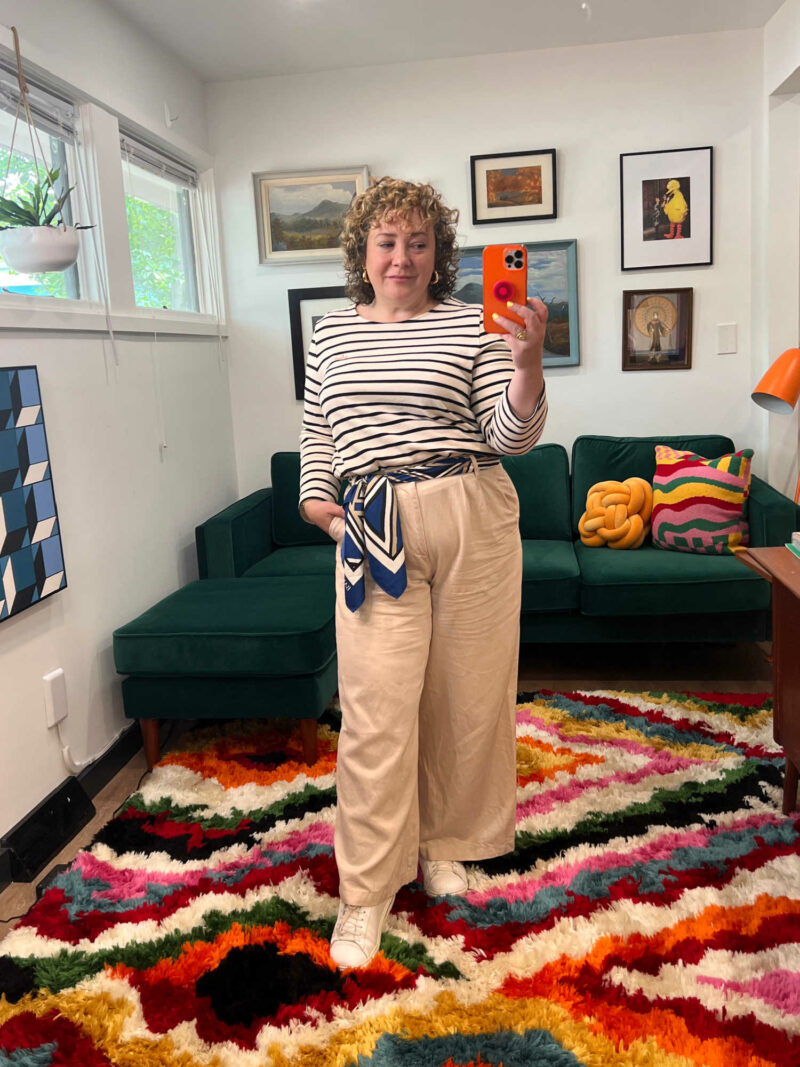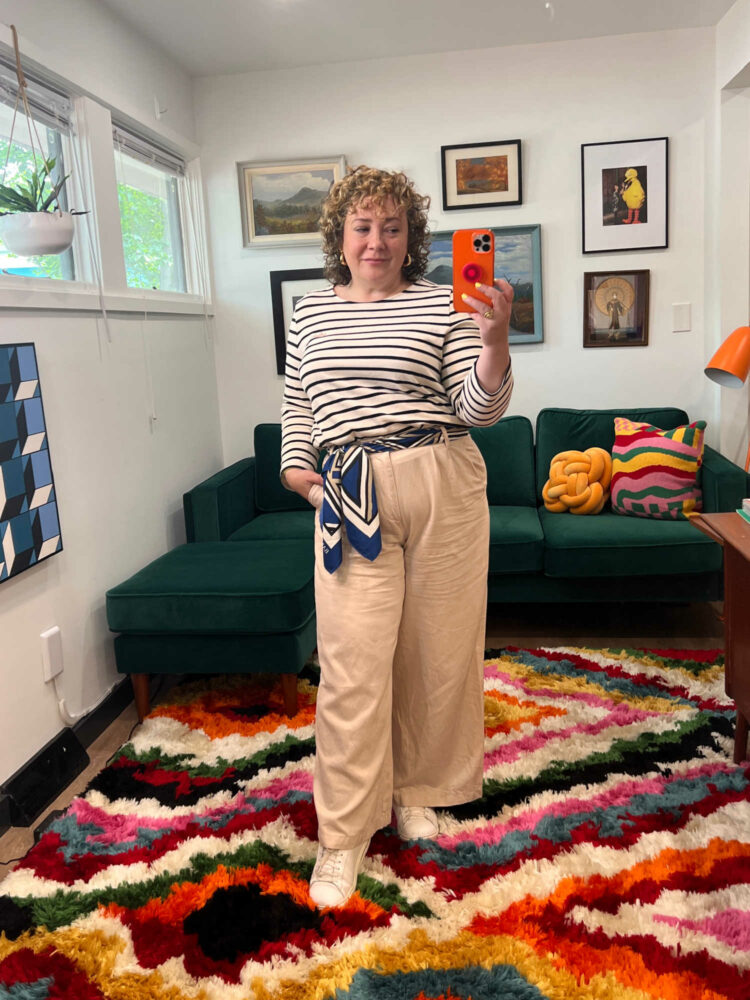 Again the Madewell Harlow wide-leg pants and Birkenstock Bend sneakers, but this time with this striped top from Sezane (I sized up to XXL; this runs narrow). The top offers free personalization; I have mine say "Alison." The scarf at the waist is this scarf from Banana Republic Factory. It's silky and so big it can be used a bunch of ways.
All About the Stripes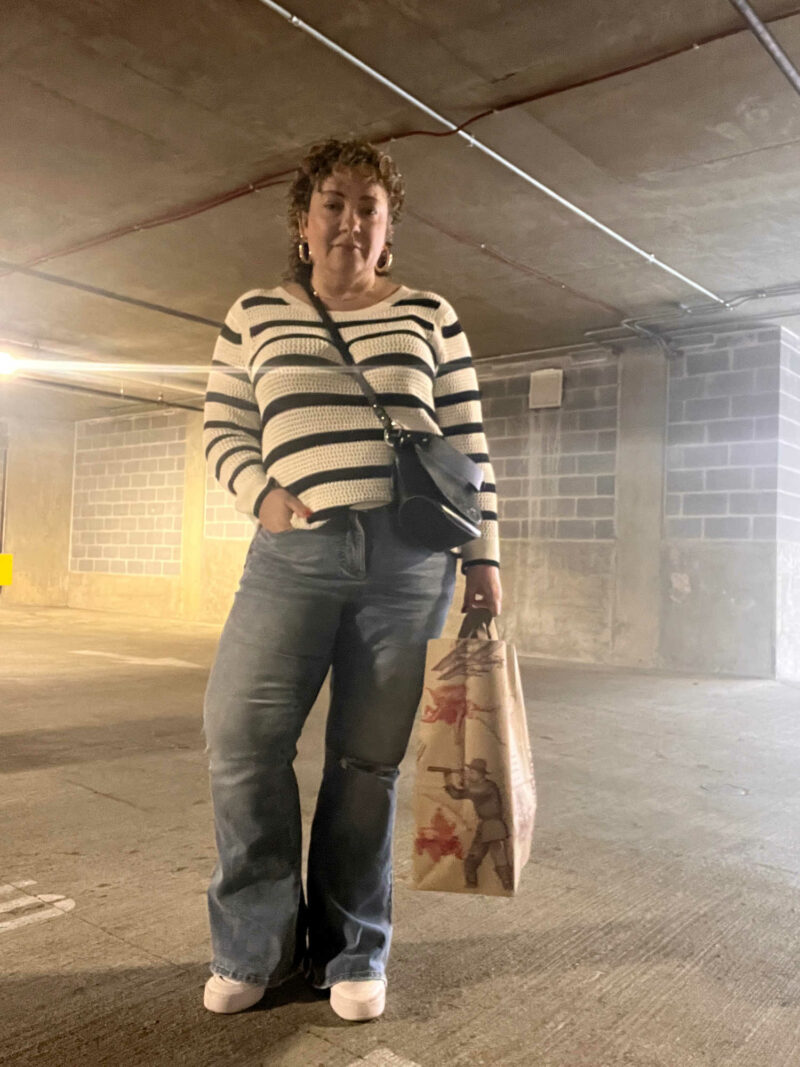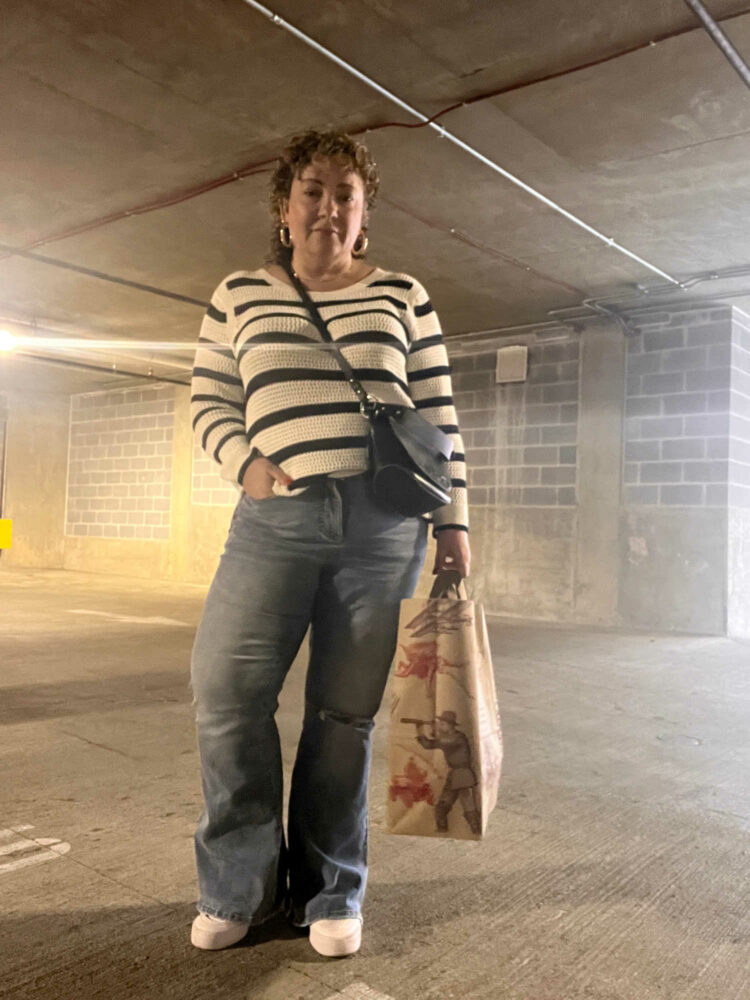 Sticking with stripes, this is an open-weave sweater from Talbots I recommended before and wore last month. I am wearing XL petite. With it are the Farrah flared jeans from Universal Standard (size 12), a pair of Adidas sneakers, and an old GANNI bag (this bag is similar).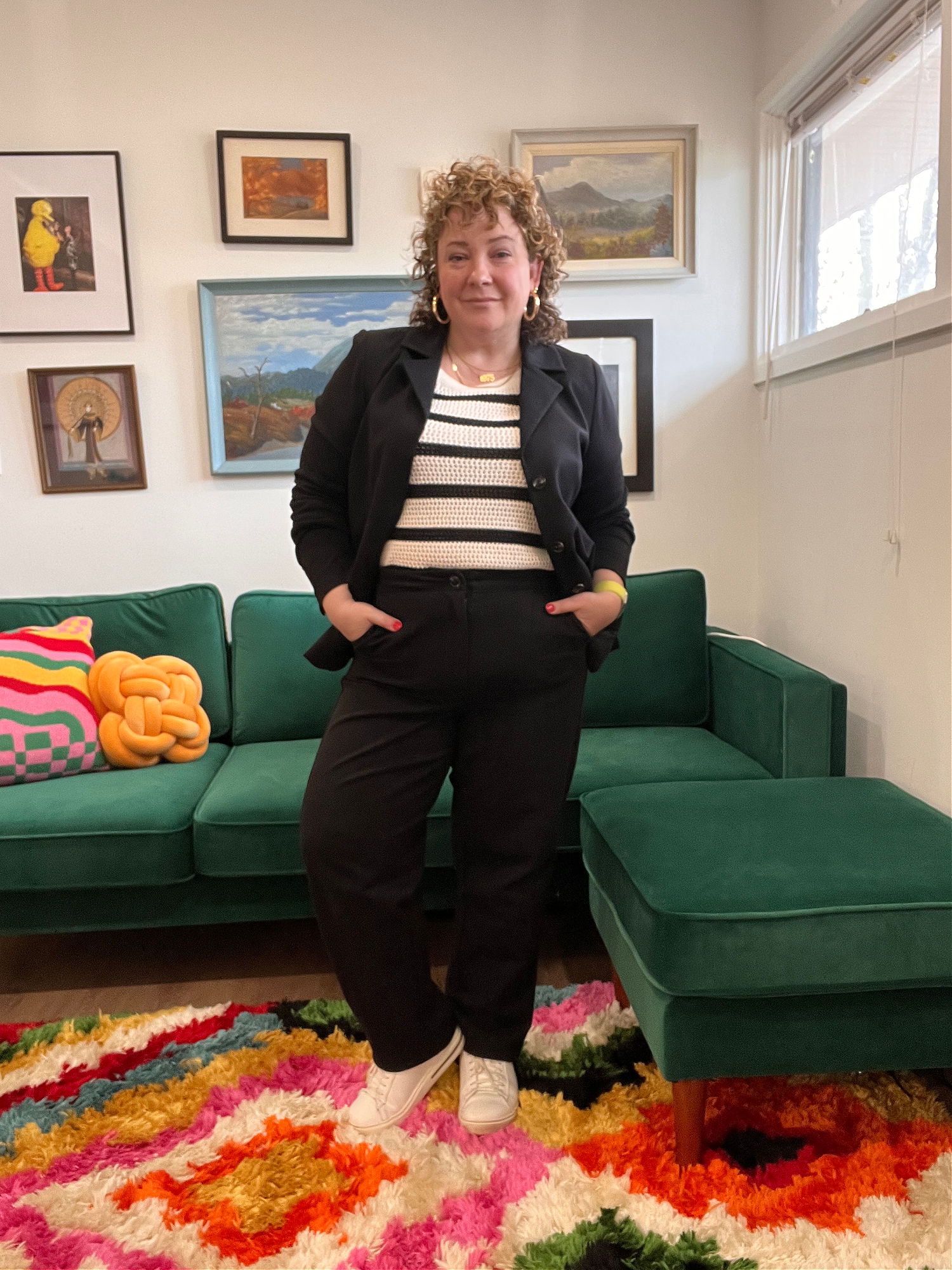 Same sweater, but this time it's with these ponte pants from Universal Standard (XS) and the matching blazer (also XS). And with it, the Birkenstock Bend sneakers I recommend! The hoops are from Baublebar.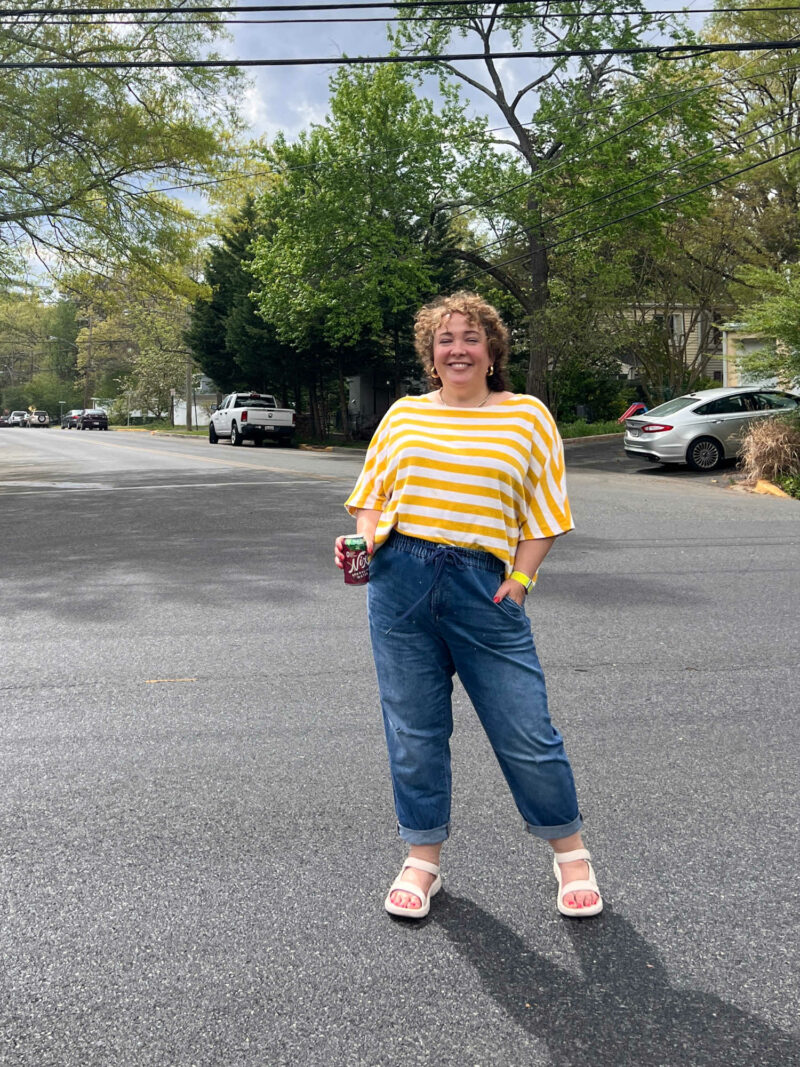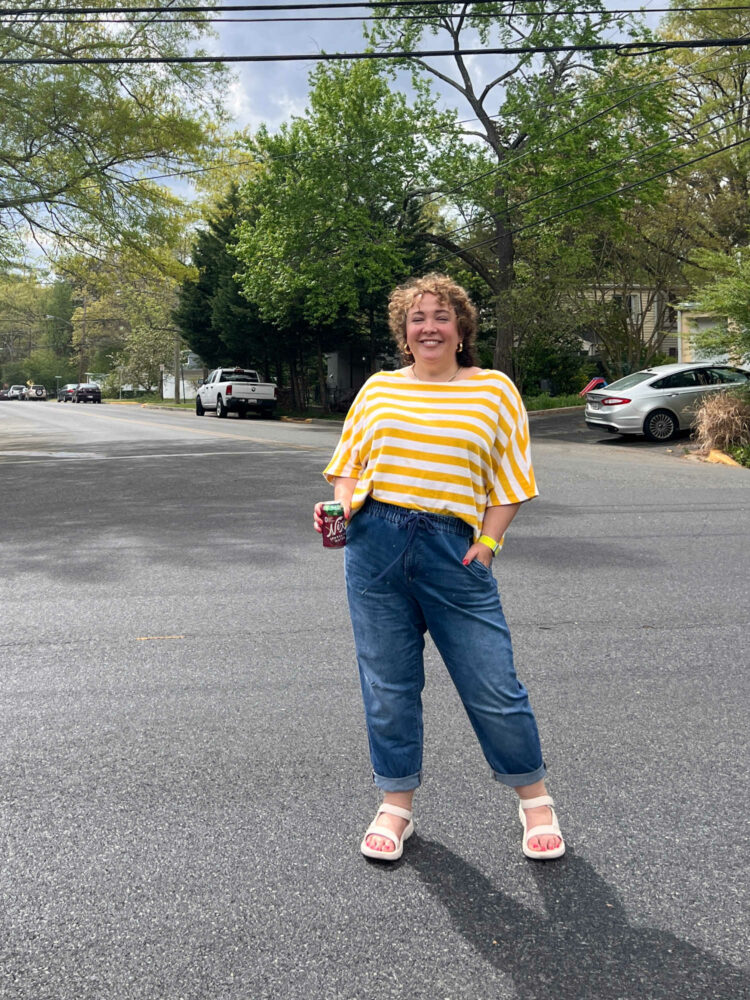 MORE STRIPES! Y'all know I am a fan, and stripes really do jazz up an otherwise basic outfit. This top is from MERSEA, I saw it in the spa store when I visited The Greenbrier, but found it on the MERSEA site on sale. It is no longer available in yellow, but they have a blue stripe and solids.
The pants are these jeans from Universal Standard. I distressed them a bit with scissors (tutorial to come) and cut off the hem and cuffed them twice for a beachy vibe. The sandals are these from TEVA which can get wet, and fit my wide feet quite nicely (even contain my little pinky toe which always tries to escape!).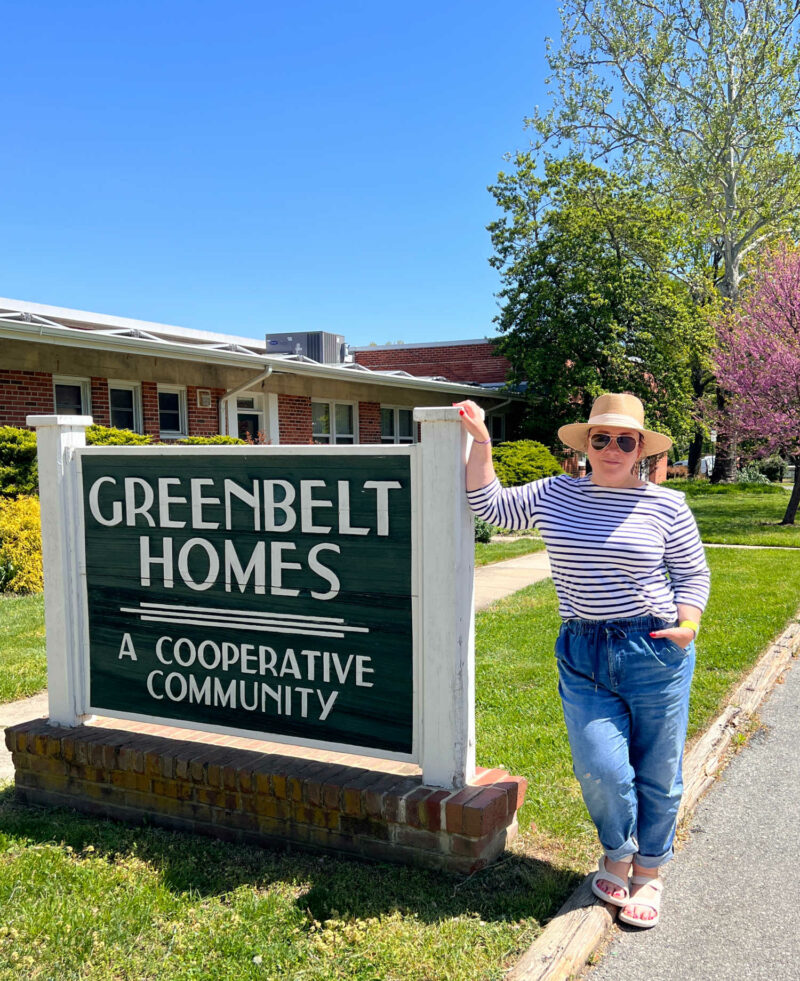 Same jeans and same sandals, but with the Amazon Breton stripe tee I love so much (my favorite breton stripe shirt review at this link). The hat is this hat from FURTALK; it had an adjuster as well as a chin strap and comes in a range of colors.
All About the Color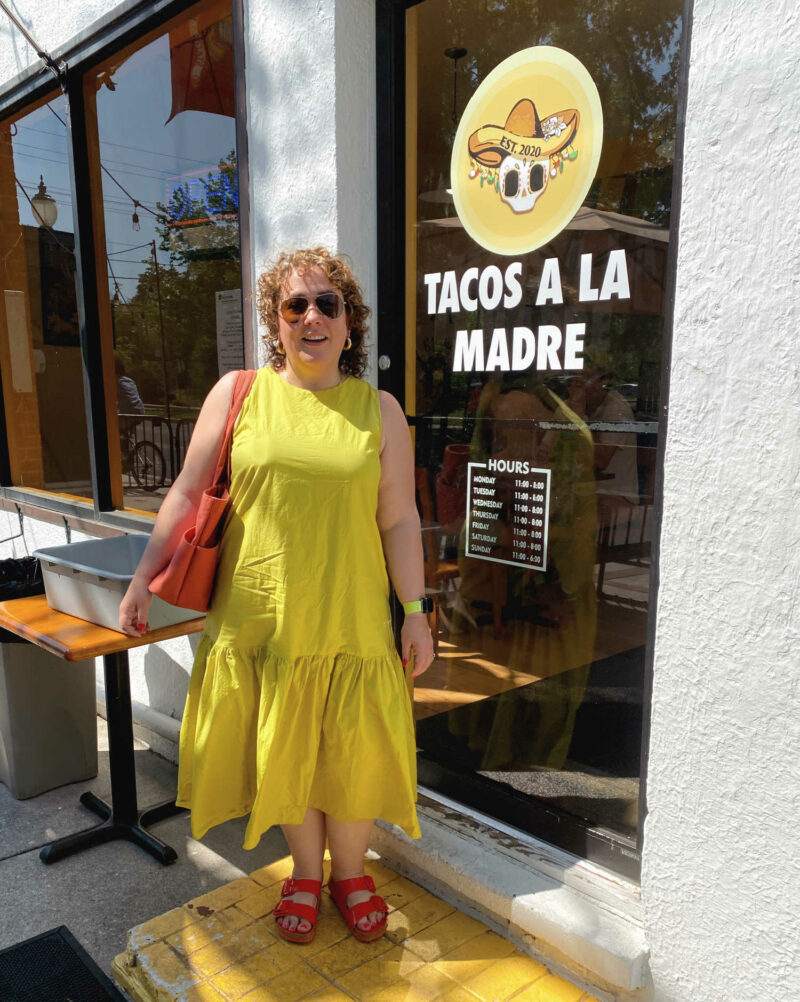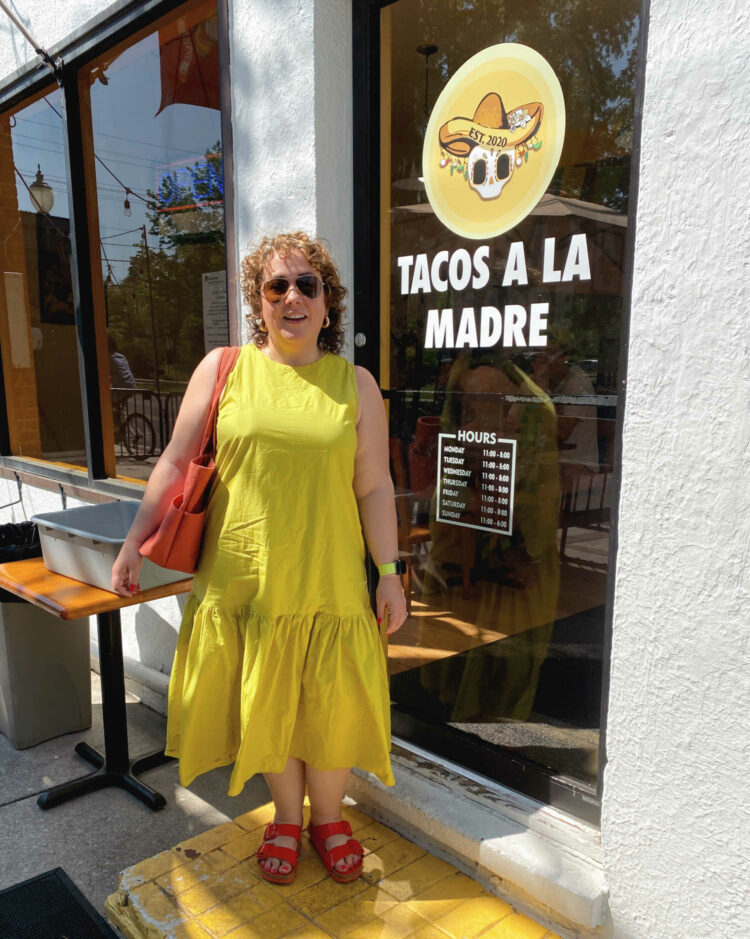 I've raved about this dress quite a lot, especially over on Facebook. It's this dress, which I previously owned in black. The black was great, but I got a size Large and it was too snug over my bust. This year, I tried it in this fun color in XL and was pleased to find it didn't gape under the arms but gave my bust plenty of room. Again the tomato red Birkenstocks and the Dagne Dover organic cotton tote.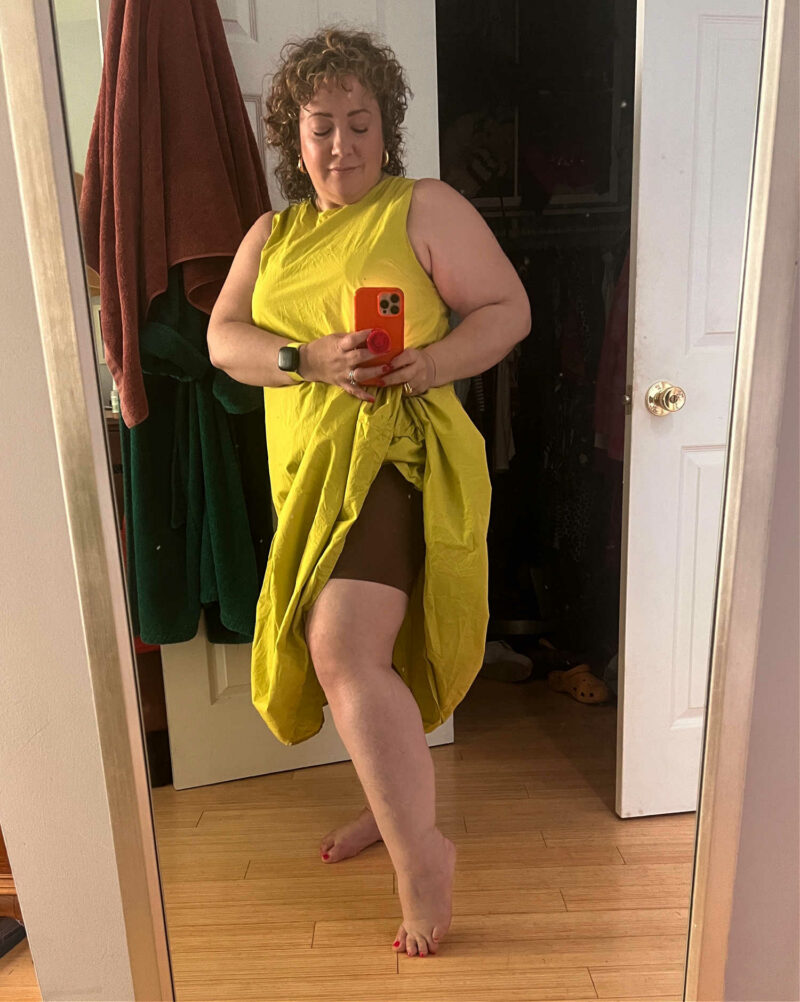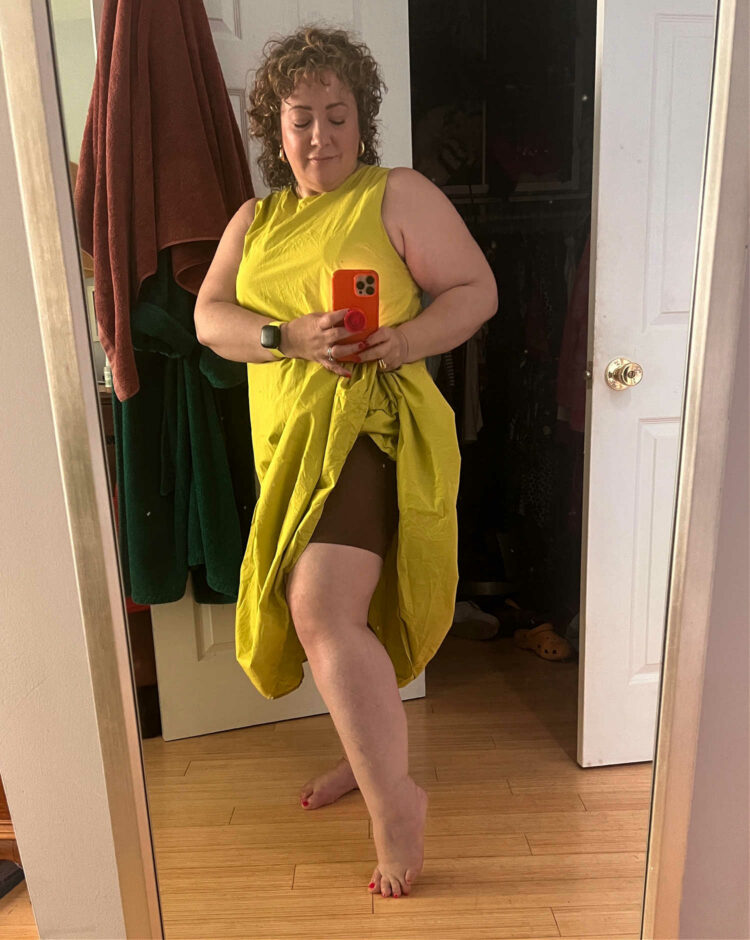 And underneath the dress, I have my Thigh Society slip shorts! You can read my Thigh Society review here, where I also have a discount code. These are the 5″ Cooling Shorts which are my absolute favorite. They don't roll, don't slide down, and feel like nothing but keep me cool and chafe-free all summer!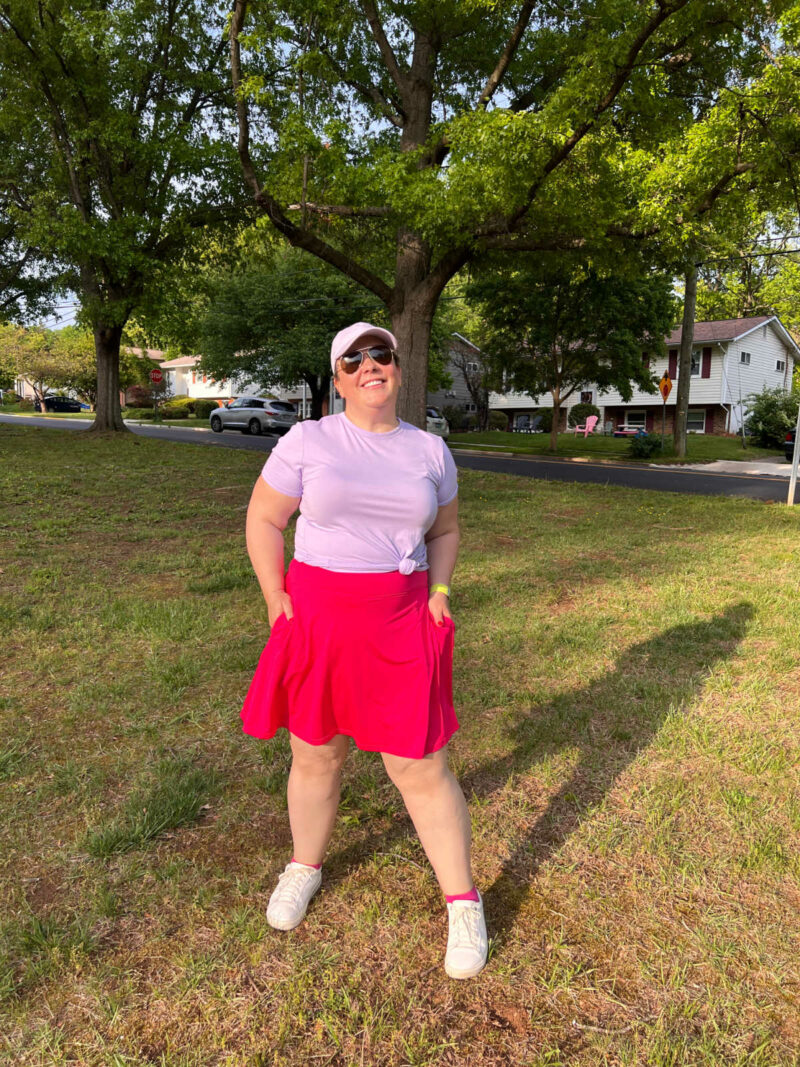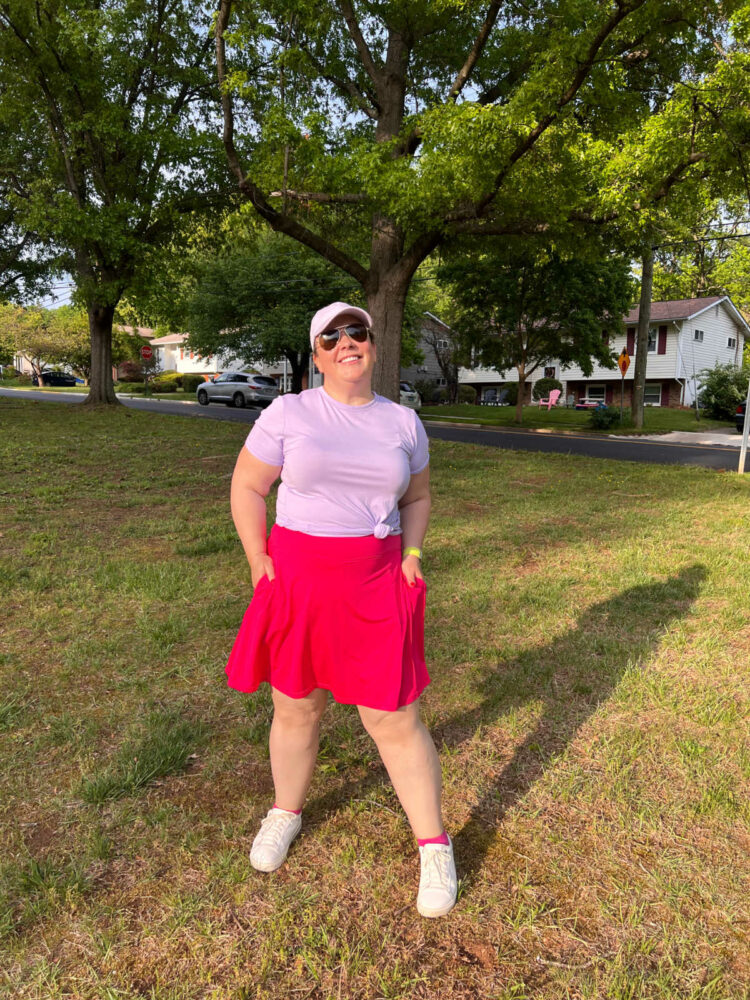 Went for a walk with my sister and she caught this photo. I am wearing this T-Shirt in size Large with this skort in size Large, and this cap from Old Navy. The skort you have seen many times before and was part of my review of the best skorts for grown women. It continues to be a favorite!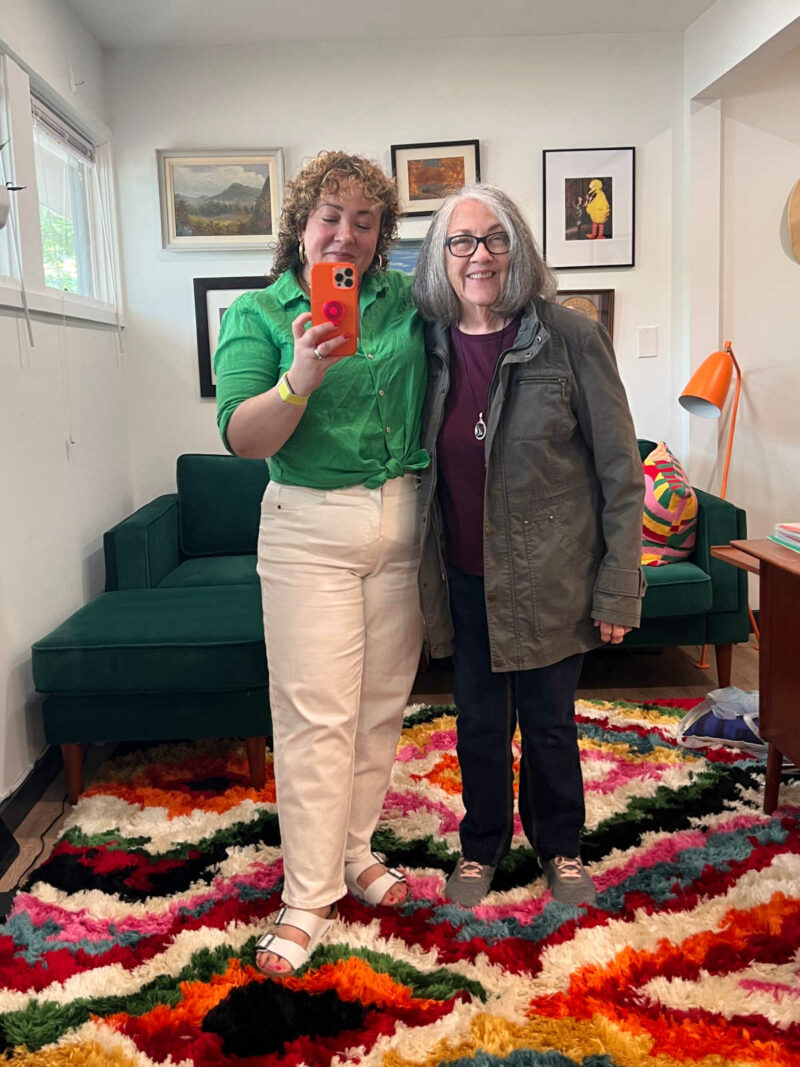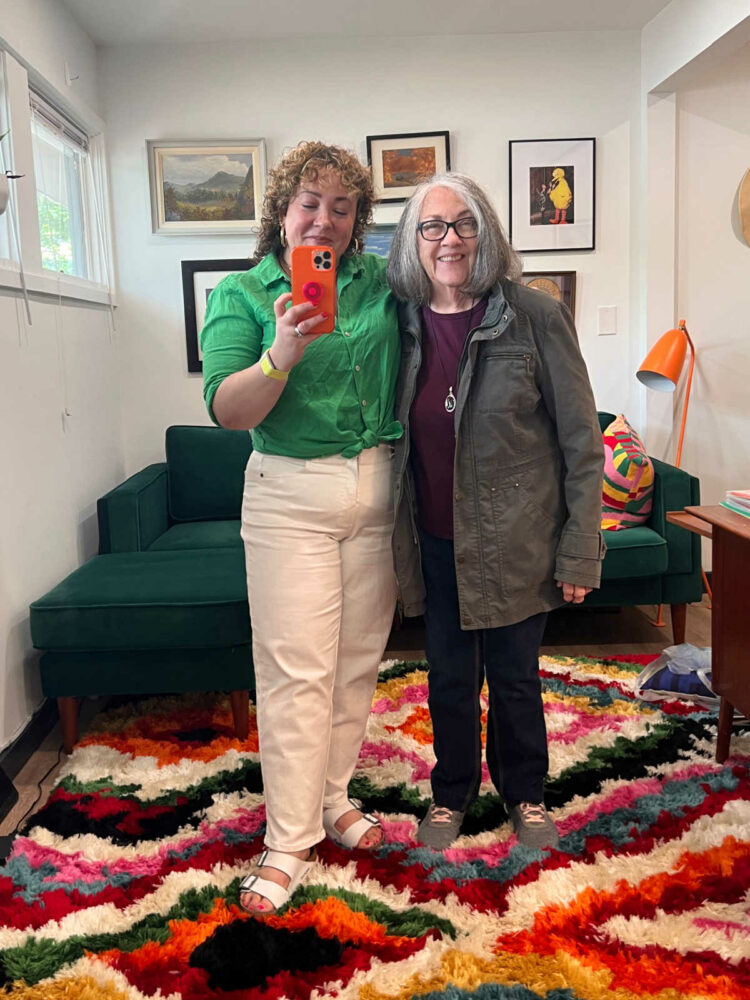 My mom stopped by my office one day and I had to get a mirror selfie of us together! I am wearing a Chico's no-iron linen shirt from last year (this year's version) with the Universal Standard Etta jeans in size 14 (I always size up with white jeans) and my white Birkenstock Arizonas. And again my Baublebar hoops.
All About Town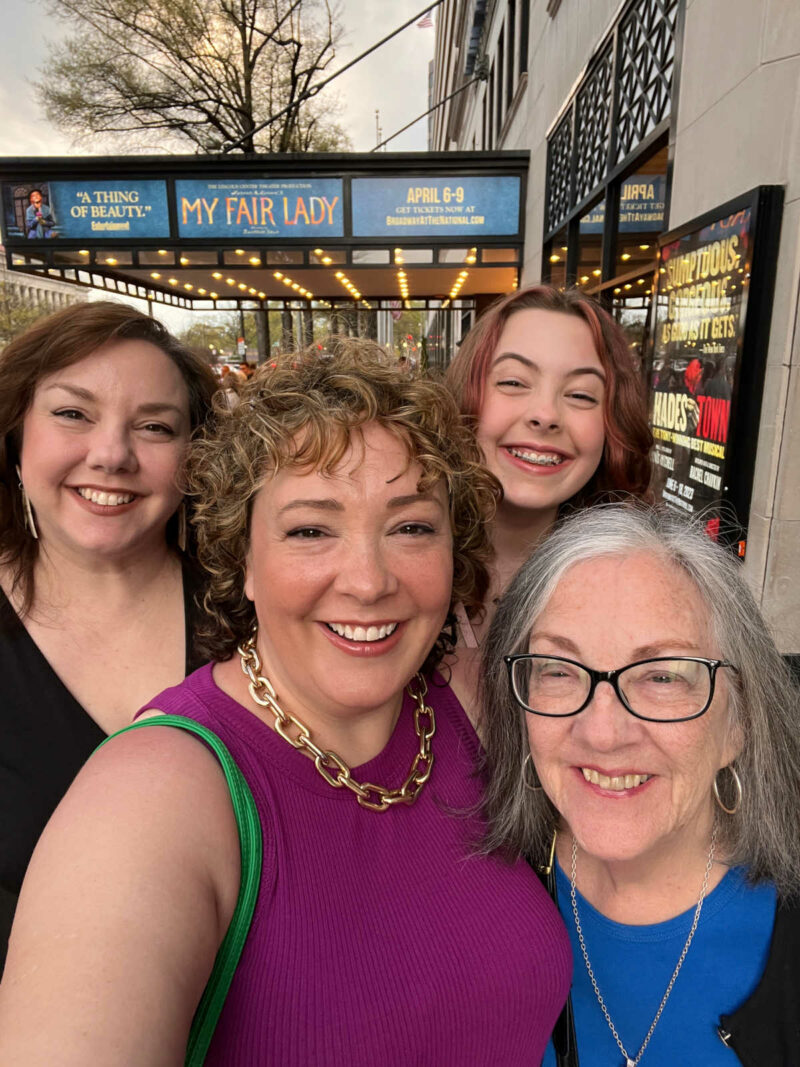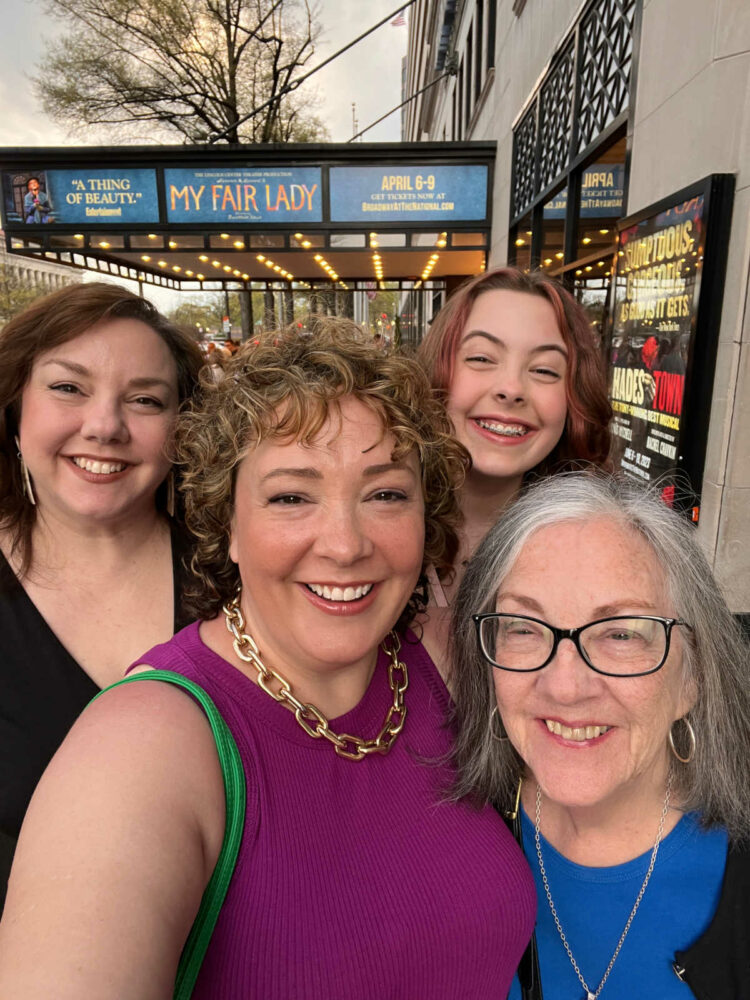 My sister, mom, daughter, and I went to see My Fair Lady on Broadway at The National Theatre in DC. I have a partnership with Broadway at The National where I am able to see shows in exchange for promotion, and this time I was able to bring three guests. Lady date!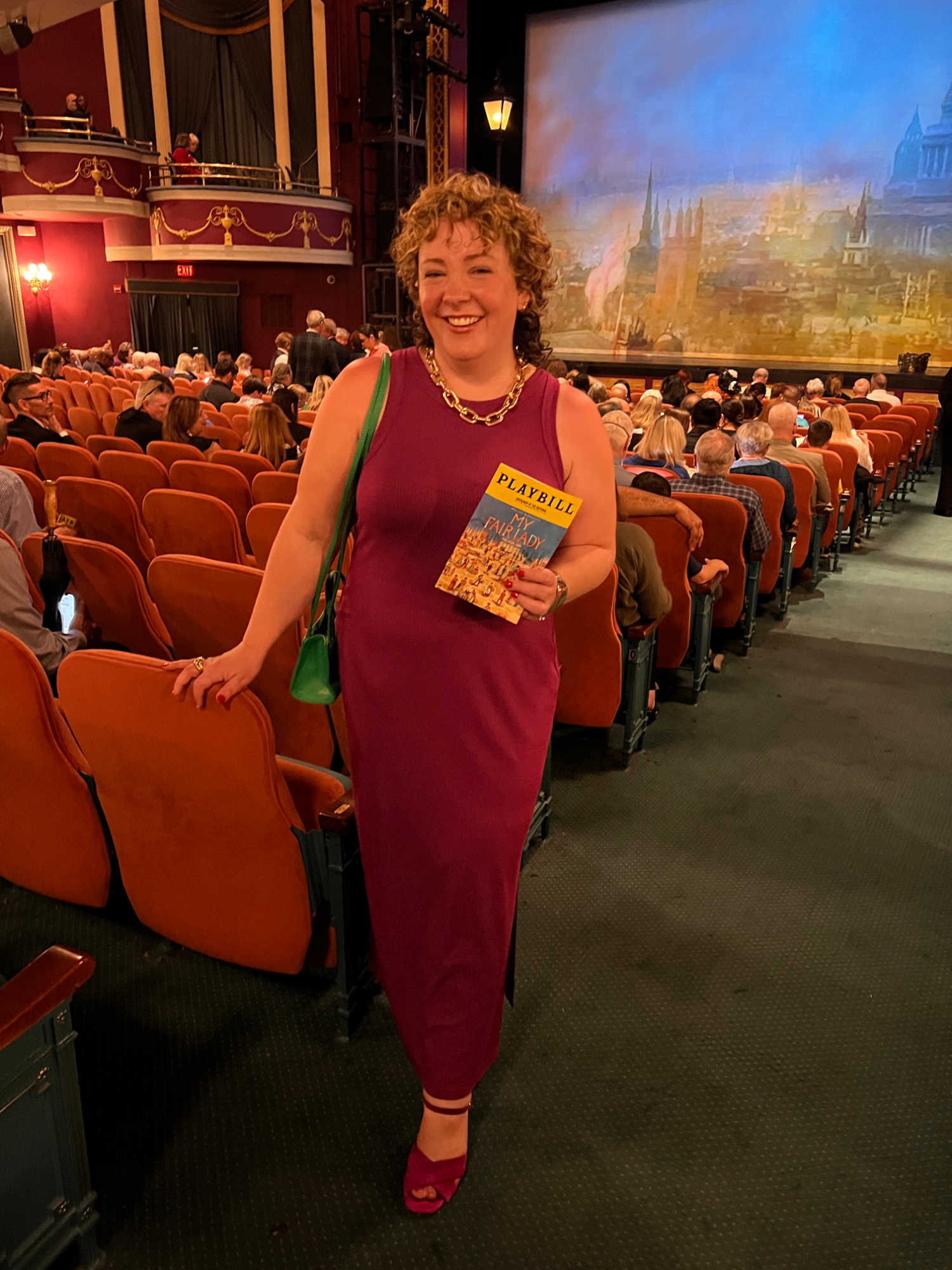 I wore this ribbed knit dress from LOFT (XL petite). This is a dress that can totally be casual with sneakers and a denim jacket or a pair of sandals and a baseball cap. But I dressed it up with a pair of magenta suede heeled sandals that have been in my closet for several years and matched perfectly. This specific color is on clearance but LOFT has more of the dress in summer colors. My bag is the small TELFAR shopping bag in the color Greenscreen. My necklace is old from Chico's but this necklace achieves a similar effect for a lower price from a brand I trust.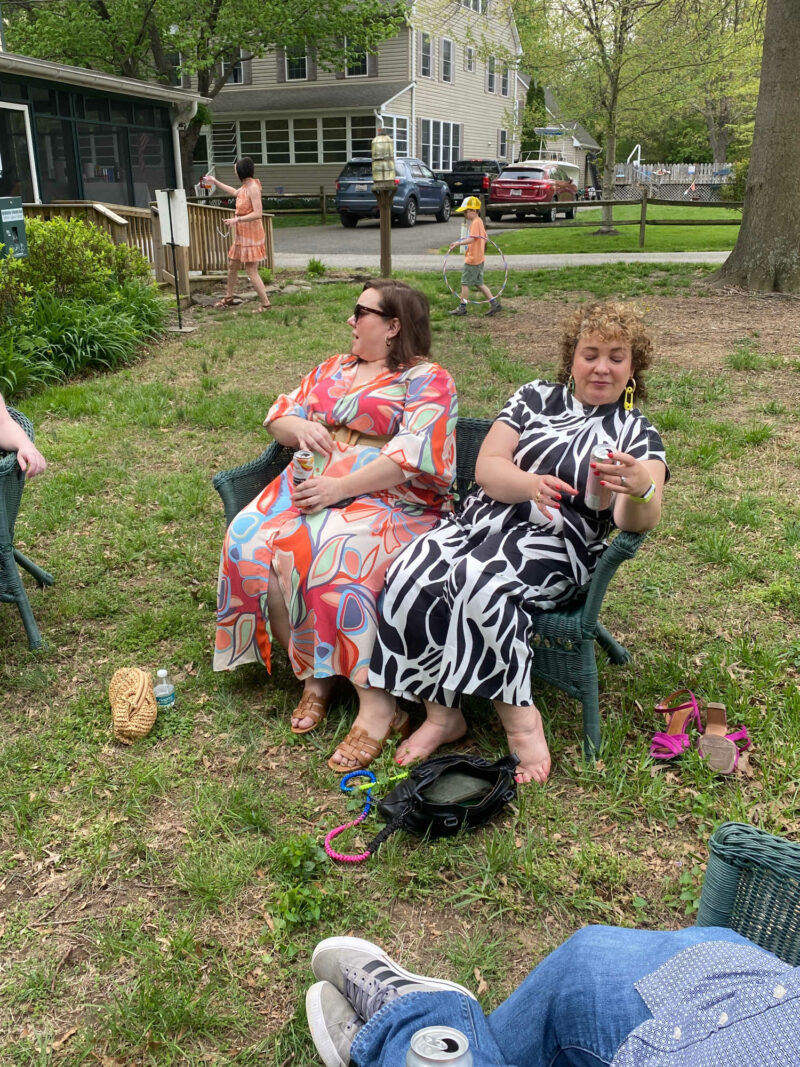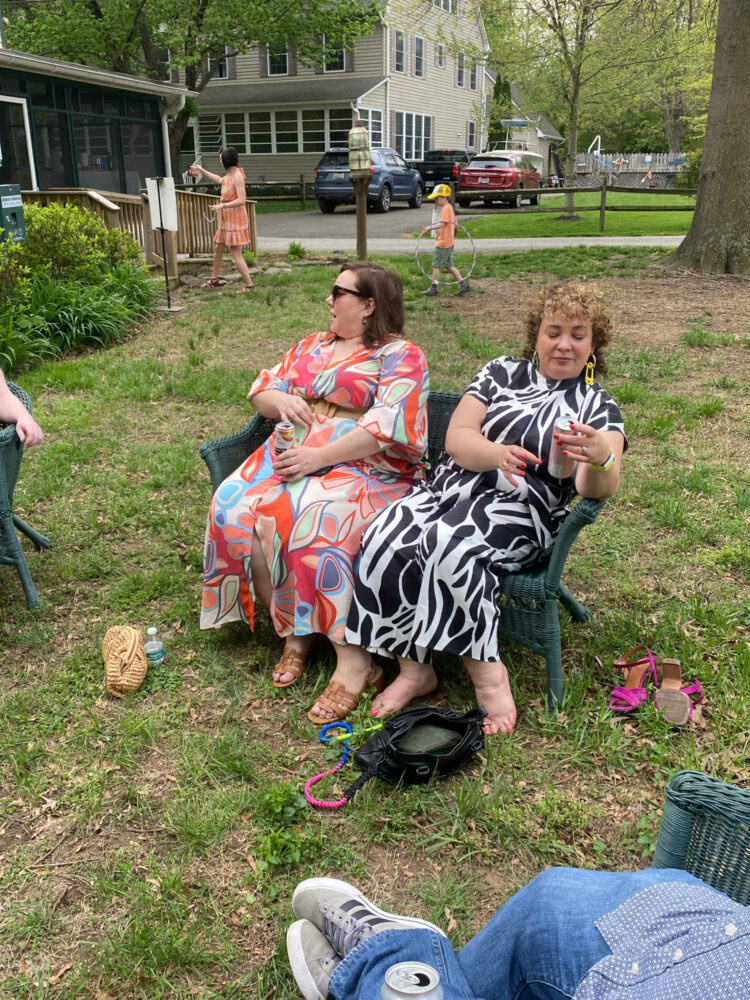 Our dear friend Tiffany is expecting and her family threw her a lovely coed shower at an historic house on the Chesapeake Bay. My husband captured this photo of me and my sister (she's wearing the dress she mentions in her Miami getaway capsule wardrobe). We look so… us! She's chatting up a new friend, I have my shoes off reading anything I can literally get my hands on!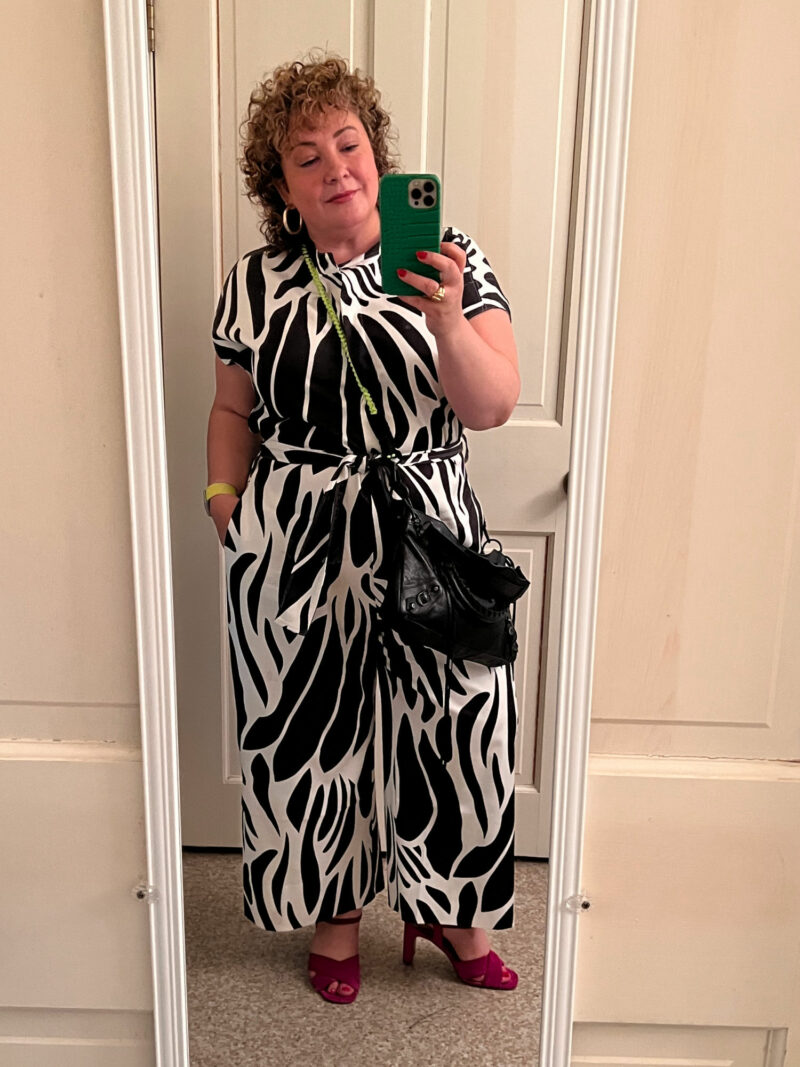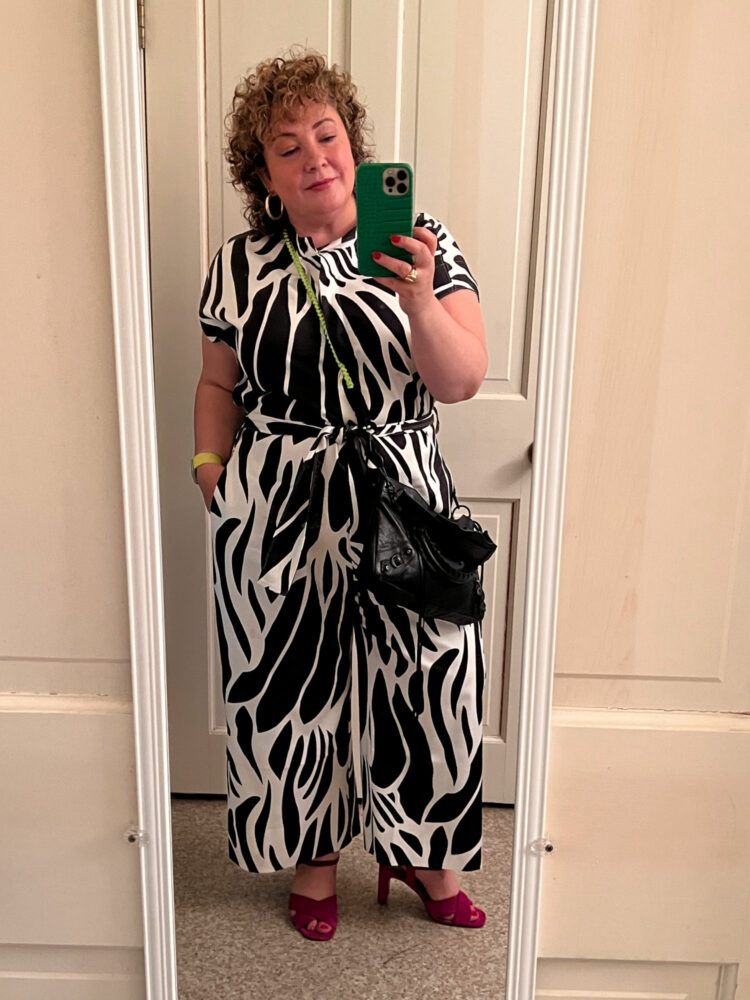 Natori sent me this jumpsuit and it's so luxe. The photo doesn't show the cool architecture on the top half, or the heavy yet silky cotton fabric. I am wearing an XL. It buttons down the front but the buttons are large and easy to maneuver. With it, I am wearing the same magenta sandals I wore to the theater, my Baublebar hoops, and my vintage Balenciaga city bag, with a crossbody strap I made from paracord.
I always wished this bag had a crossbody strap. I saw an influencer on Instagram with a paracord strap. I went to the online shop she tagged and the cords were well over $100 and none were the colors I really liked. I figured it couldn't be that hard. So I ordered this kit of different colors of paracord and this bag of swivel hooks and sat down with my laptop one evening to watch YouTube tutorials. It's a bit long and I think a thicker strap would be more comfortable long-term but I'm thrilled with the results and carry the bag more often now!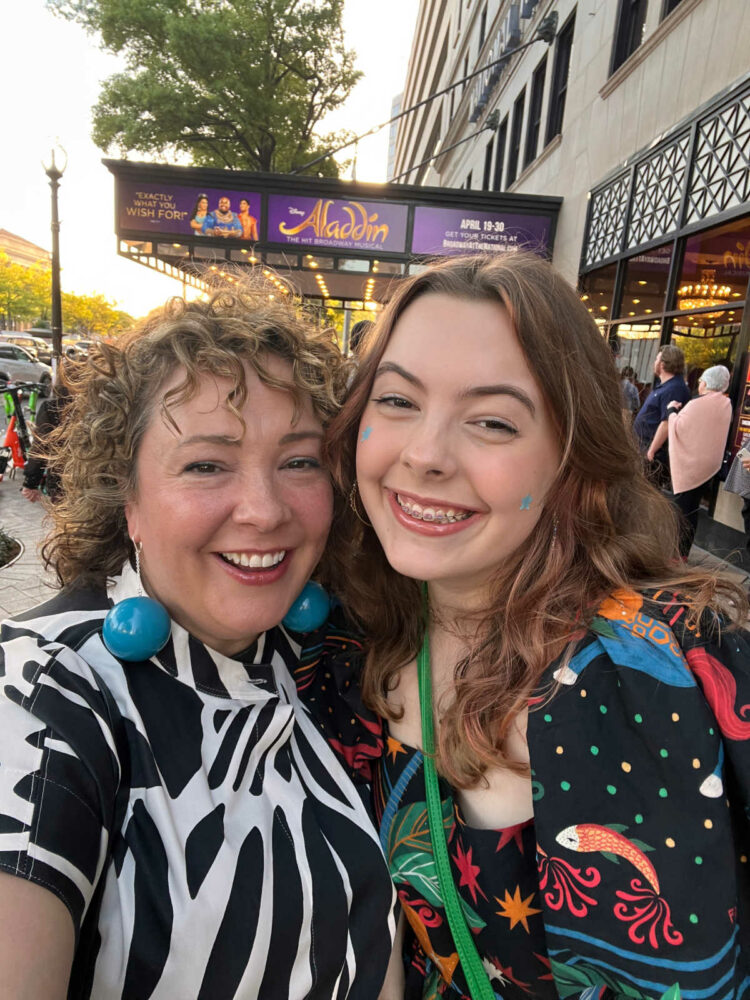 I had the chance to see Aladdin the Musical at Broadway at the National and took my daughter. I am wearing these earrings from Simon Miller. They're not cheap, but unlike a paracord crossbody strap, I truly don't think I could make anything similar or find similar for less. They're lightweight and make such a statement!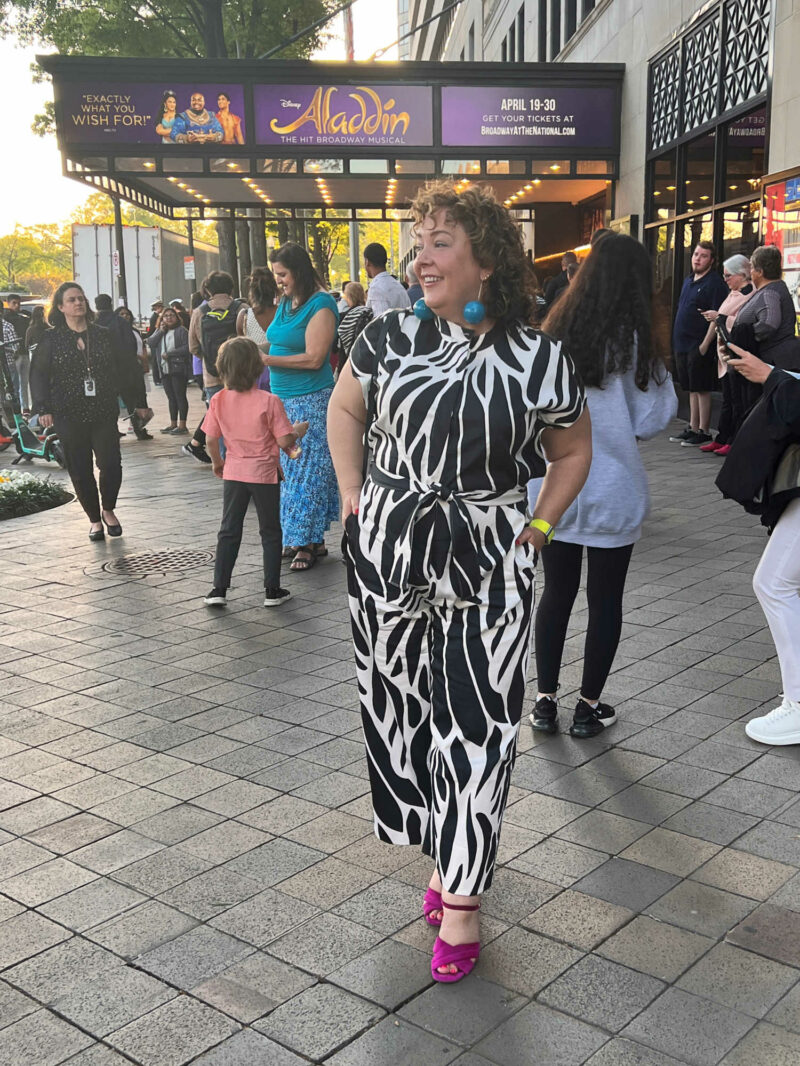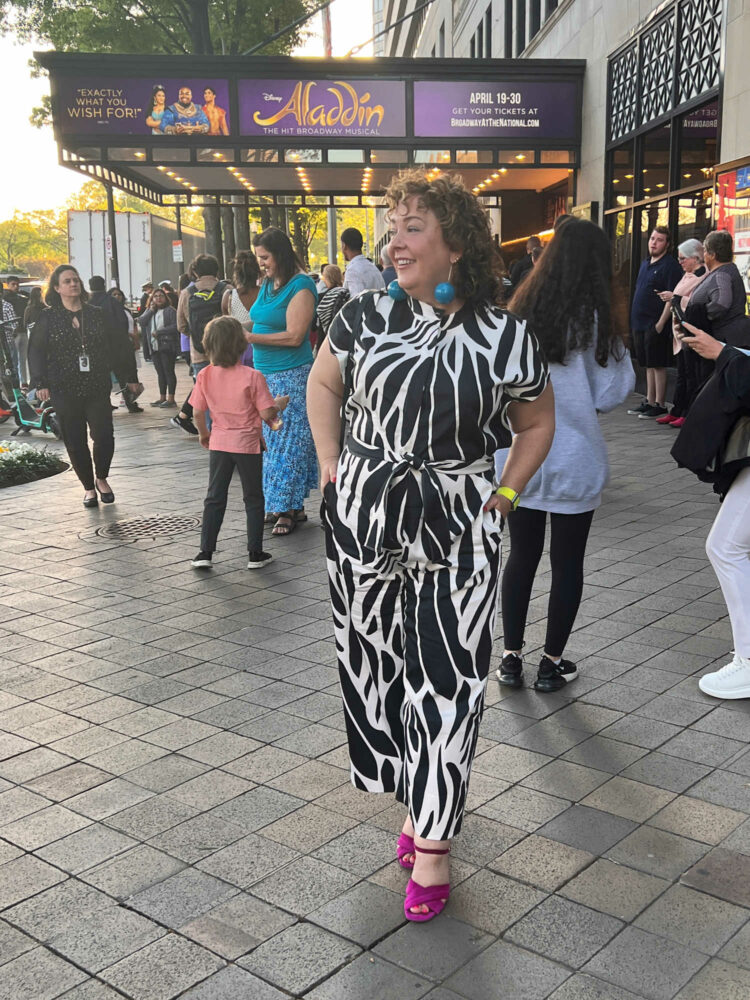 And again I wore the same Natori jumpsuit with the same magenta suede heels! If it ain't broke don't fix it, right? I love how this jumpsuit doesn't crease, even when sitting in the heat, and it doesn't cling so it's comfortable as the temps rise.
Shop These Looks:
I most consistently share my outfits on Instagram Stories. It's the social media I use the most. I am sporadic with sharing Reels and photos in-feed, but I share Stories almost daily which includes outfits from nights out to random WFH days. Hope to see you over there!