This article may contain affiliate links; if you click on a shopping link and make a purchase I may receive a commission. As an Amazon Associate, I earn from qualifying purchases.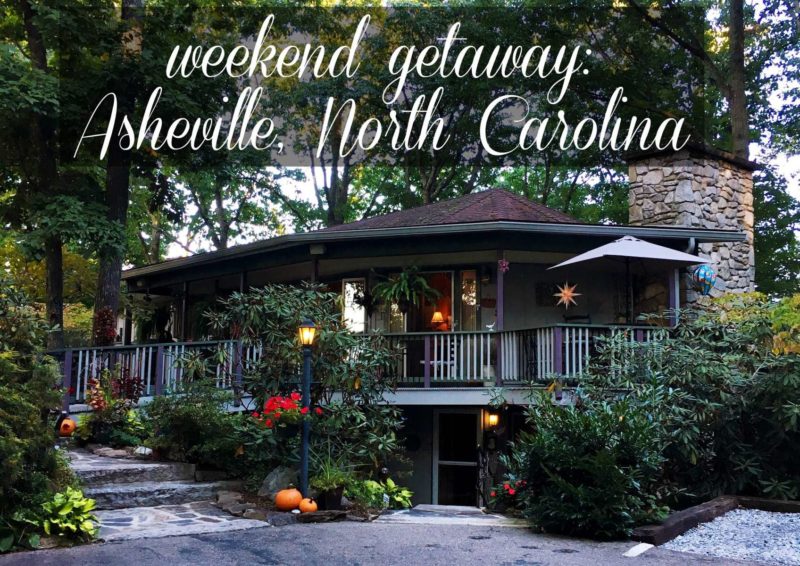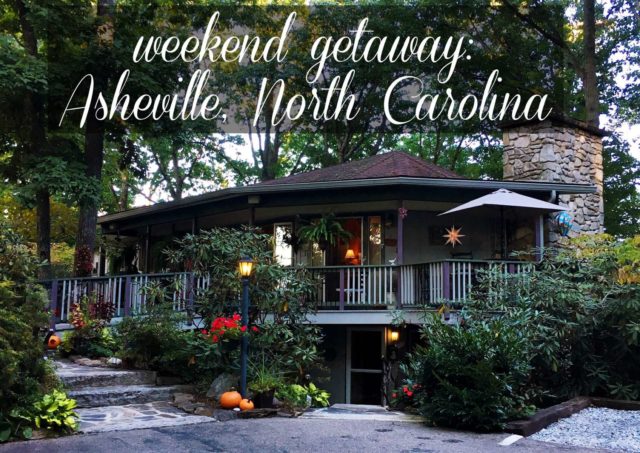 On our summer road trip, we had no definite plans between Memphis and home. As we sat in our hotel room in Amarillo plotting our return trip, Karl mentioned he had always wanted to visit Asheville. It wasn't feasible on our road trip as we had to be home by a certain date. But I knew now what to do for his birthday at the end of September!
I reached out to the Asheville Convention & Visitors Bureau and they got me in touch with the Asheville Bed & Breakfast Association. They connected me with the Crooked Oak Mountain Inn a highly rated B&B just four miles from downtown Asheville but feels like it's in the middle of nowhere. I loved the idea of something different from a standard hotel for our couple's getaway and neither of us had ever stayed in a B&B before.
Little did I know at the time of scheduling our trip that staying at a bed and breakfast is the perfect way to experience a new city.
When scheduling our weekend at Crooked Oak Mountain Inn, I got on the phone with Patti, half of the couple who runs the B&B. We discussed the reason for the trip, if we have any dietary restrictions, and other details to ensure it would be a wonderful experience for us. She also provided driving directions different from the GPS which would be an easier drive up the mountain. We let her know we'd be arriving late afternoon. Patti let me know they were having friends over for a happy hour on their patio and we'd be more than welcome to join them.
Friday
The drive from Washington, DC to Asheville, NC is seven hours and a beautiful, non-I-95 drive at that. The leaves were beginning to change, and there was very little traffic on the tree-lined roads leading to North Carolina.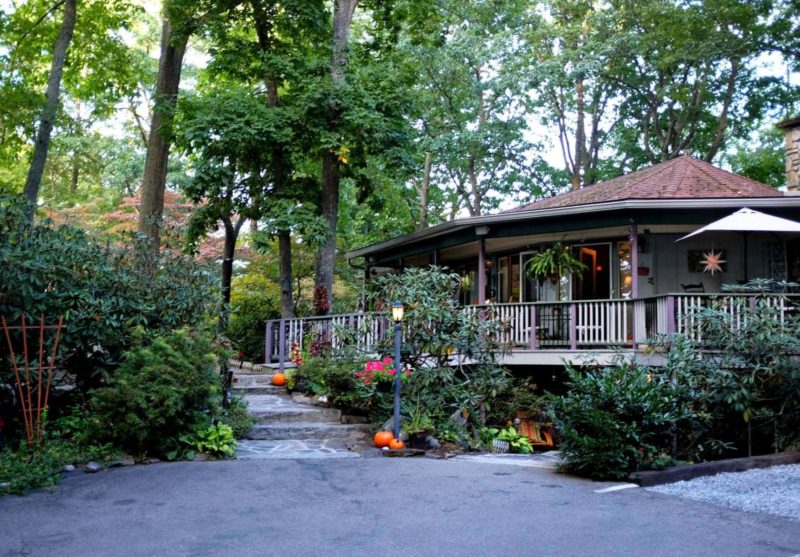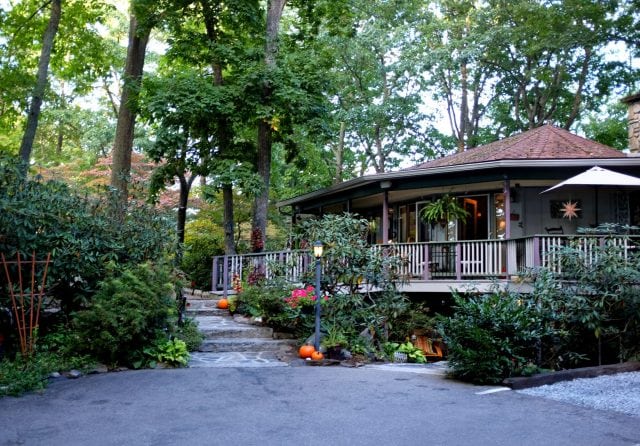 Crooked Oak Mountain Inn is set on three wooded acres atop Town Mountain, which overlooks downtown Asheville. While the road there is winding, all the drivers know and respect it and drive accordingly. Our car had no trouble getting up the mountain and next thing we knew we were pulling up the drive to Crooked Oak.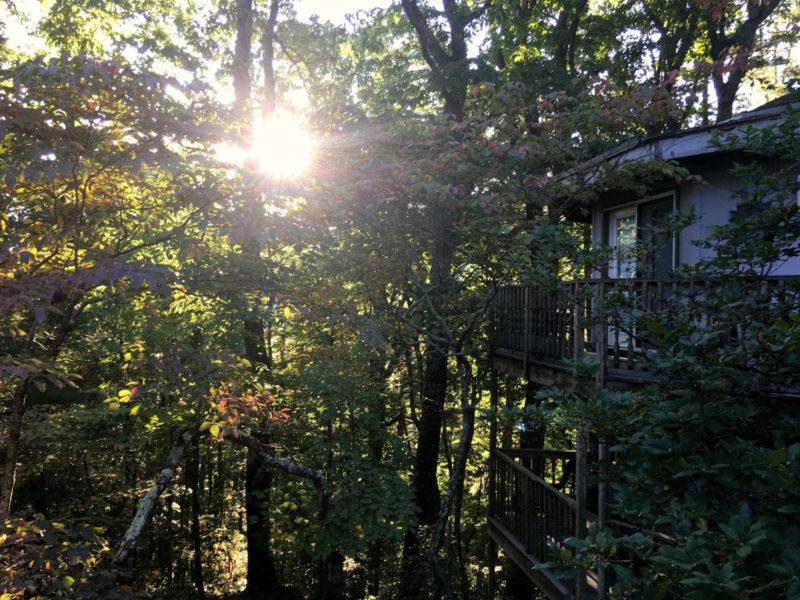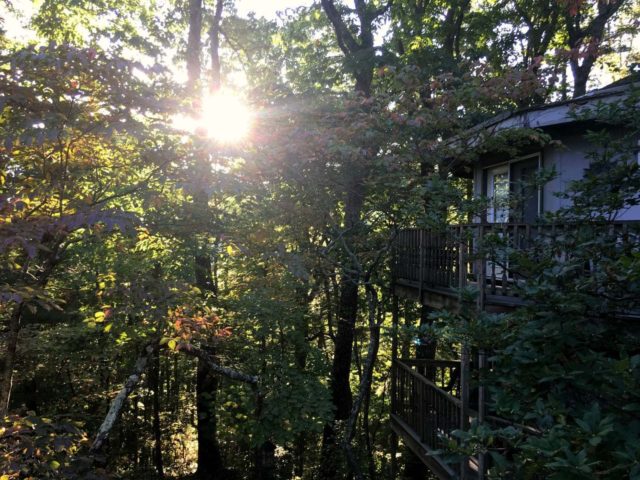 The house is utterly charming. One of the "rounder" homes Asheville is known for, it almost looks like a tree house. Patti and Bear came out to greet us and instantly made us feel at home. Another couple arrived around the same time we did; Patti and Bear split up to give each of us a personal tour of the inn and show us our rooms.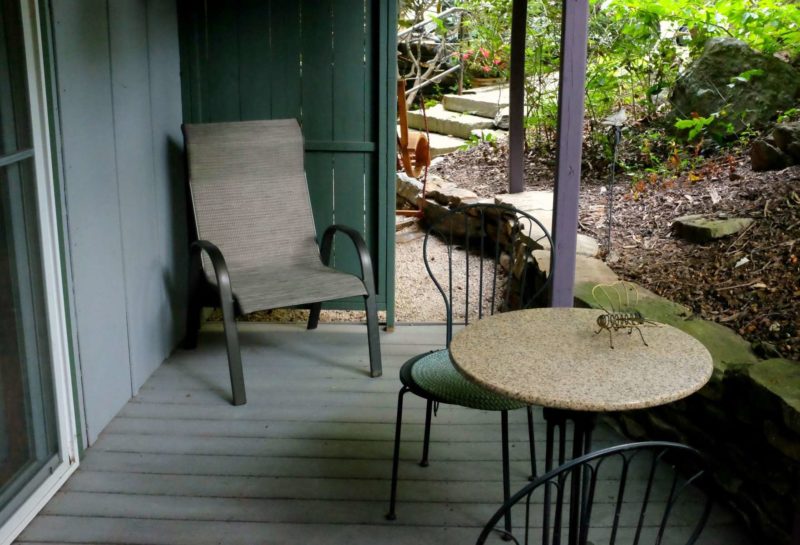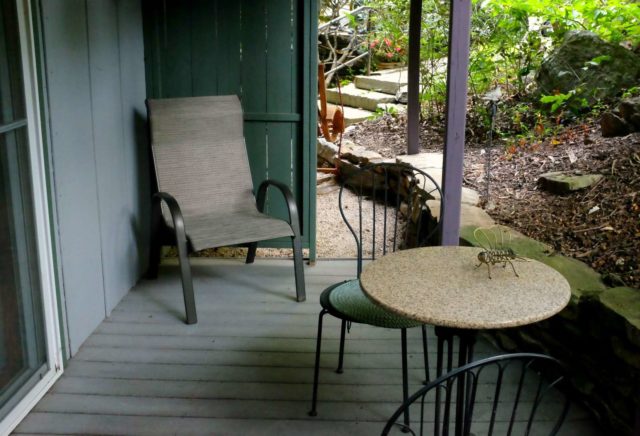 We stayed in the Mountain Laurel room, which was recently redecorated. On the bottom floor of the inn, the room was utterly charming with a wood ceiling, king sized bed, two upholstered chairs, a closet, private bath with large shower, and sliding doors to a private patio with two armchairs and a small table and chair set. It was decorated in soft neutrals of cream and ivory and the bed and linens were so soft and luxe. Patti and Bear invited us to join them on the patio once we got settled in.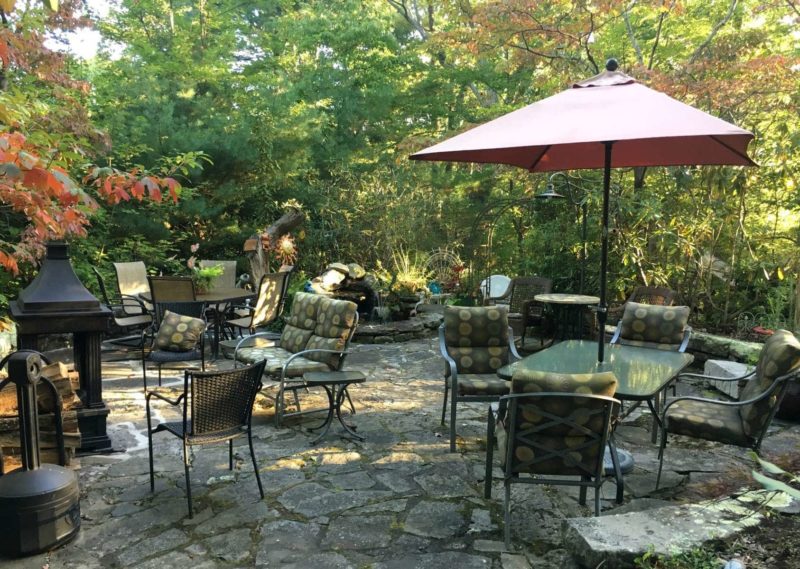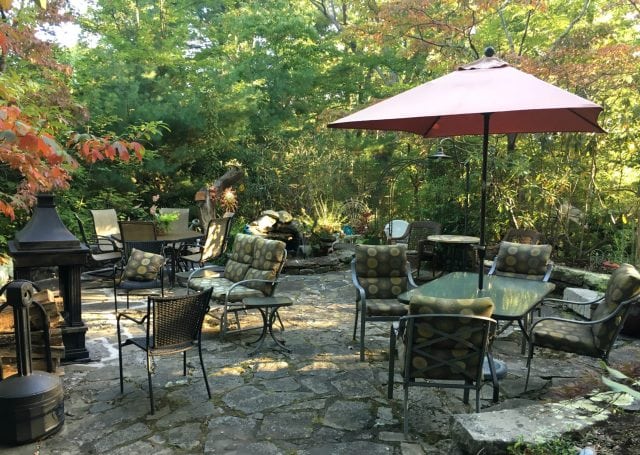 The evening was perfect; a clear sky and around 65 degrees. I changed from my traveling clothes (Spanx faux leather leggings, Ellos tunic tee in heather grey, this Talbots ruana and my silver Superga slip-on sneakers) into a long-sleeved heavyweight striped tee and my denim shorts. Karl and I headed out to the patio where the outdoor fireplace was going, light music was playing, and a mix of Patti and Bear's friends and inn guests were sitting drinking wine and enjoying appetizers.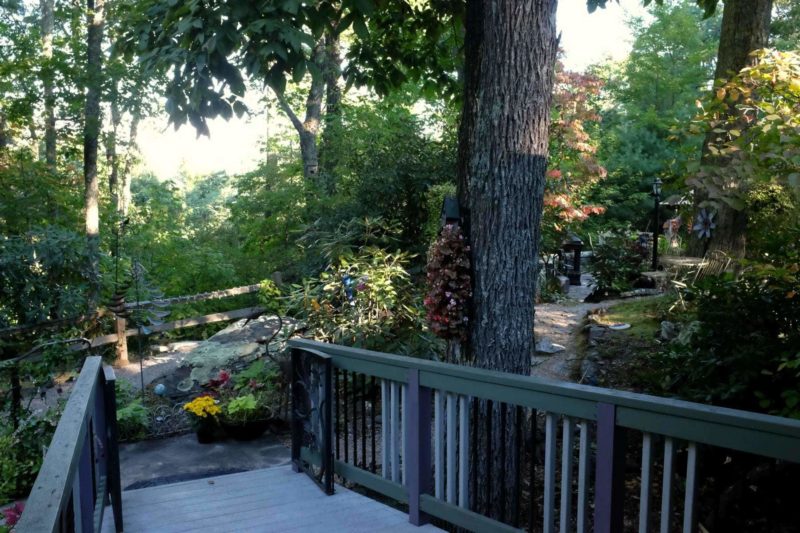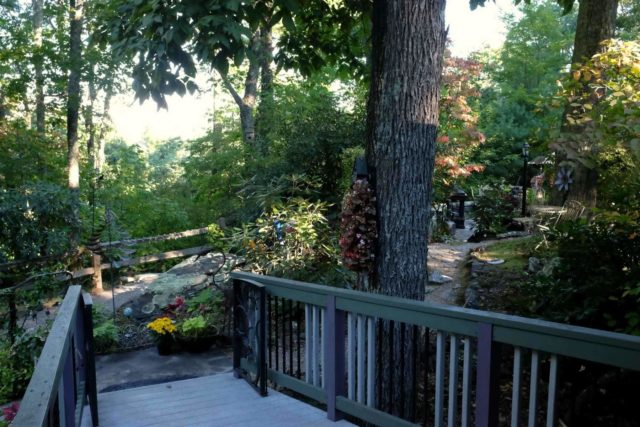 Patti and Bear guided us to the main room of the inn where Patti had cooked up an amazing variety of dishes for us to enjoy. Knowing ahead of time that Karl was lactose intolerant, she let us know which items were dairy-free. Bear asked us what to drink and brought us glasses of wine and iced tea.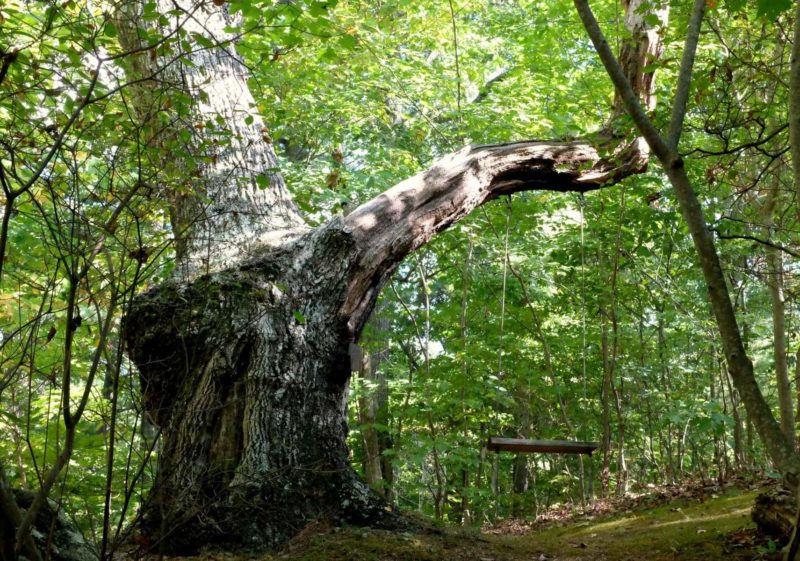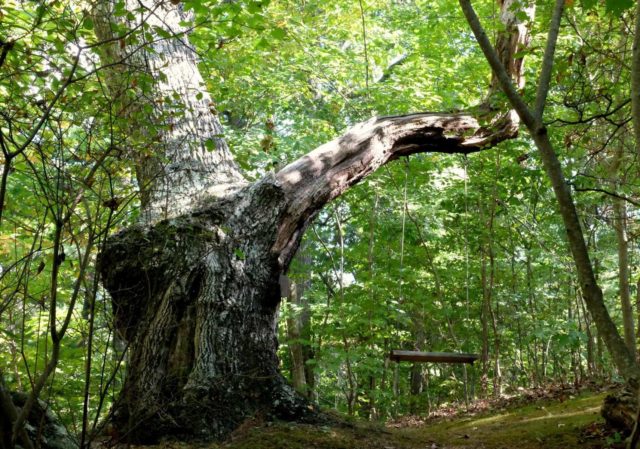 We proceeded to have the most lovely evening with the most fascinating mix of people! Some of the friends met Patti and Bear when they were guests at the inn. Some previous guests fell in love with Asheville so much from their visit they moved there. Some of the guests were repeat visitors, loving the serenity and warm welcome vibe they experienced. In conversation it was mentioned that it was Karl's birthday that day and everyone sang Happy Birthday and toasted him. Soon the sun was setting and we realized we hadn't eaten a proper meal since breakfast!
Asheville has a bustling foodie scene and it's strongly recommended to get reservations on weekends. Since we weren't sure of our arrival time, we only made them for Saturday. Patti to the rescue; asking us a few questions about our tastes and dining style, she went inside and secured us a reservation at Isa's. This is the first time we realized the benefit of staying at a B&B – a hotel can't provide as personalized of service and the staff isn't as likely to have personal connections with restaurant owners to score last-minute reservations. Patti and Bear also told us the best way to get there and where to park so it would be free and convenient. We said goodbye to our new friends and went back to our room to change.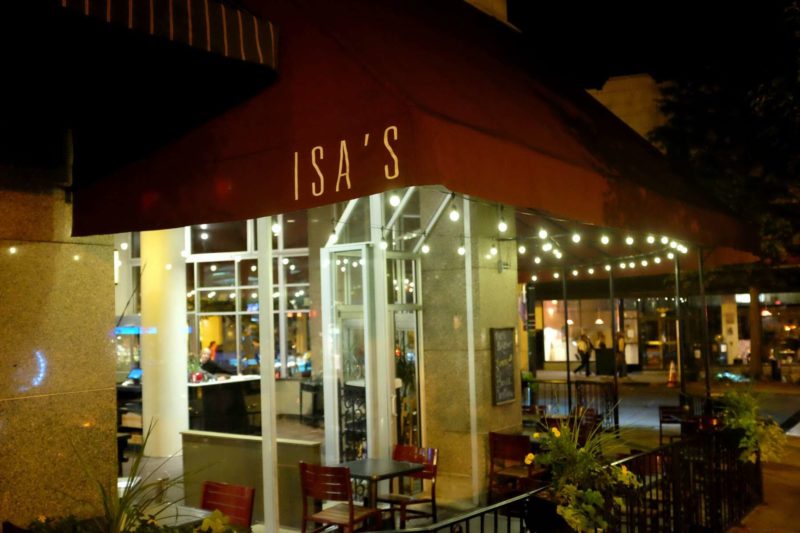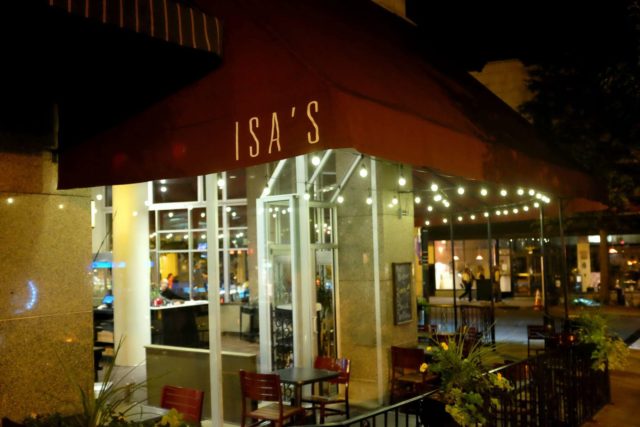 Asheville isn't hoity toity; even though we were dining at a nice restaurant there wasn't a need for the dress I packed. I wore my white ASOS off the shoulder top with my JAG skinny jeans and my Clarks suede ankle booties. Since it was chilly, I grabbed the varsity hoodie I borrowed from Gwynnie Bee (seen in this post).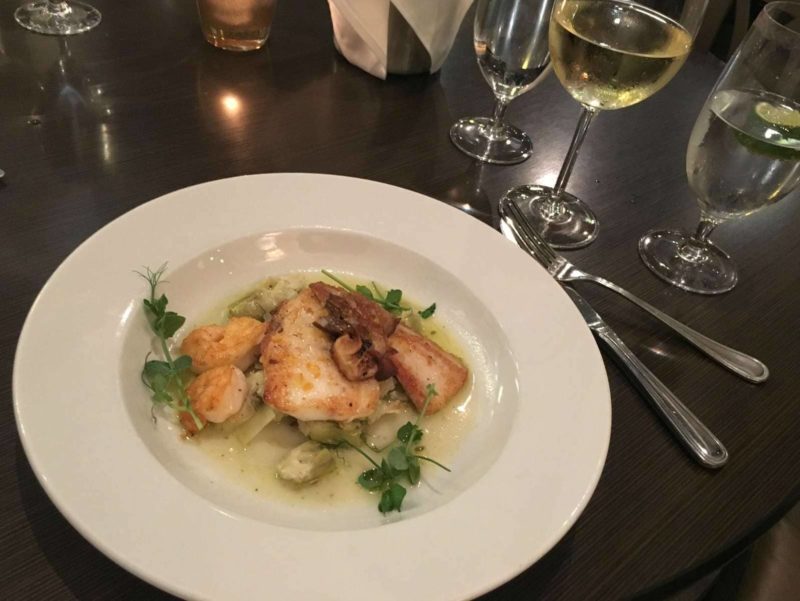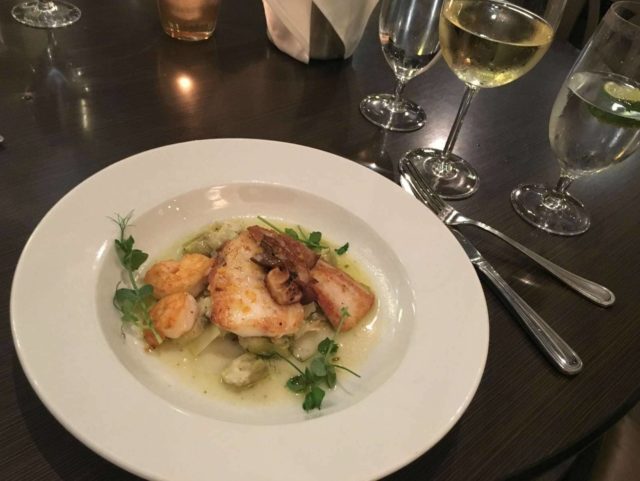 Focusing on the freshness of Western North Carolina's seasonal harvest and fresh local produce, Isa's Bistro is a beautiful restaurant right on the corner of Haywood Street and Battery Park Avenue, it's right in the heart of Downtown Asheville. They placed us in a corner booth where we had a great view of the restaurant as well as a large window to enjoy People Watching on Battery Park. The service was friendly and warm, our appetizer wasn't the best but the amazing entrees made up for it. We shared a bottle of wine but couldn't finish it; our waitress corked and bagged it for us to take back with us for no additional fee.
As we headed to Isa's we had grand ideas of going out after dinner and enjoying Asheville's nightlife. However, after seven hours in the car and a very busy week, we were both pooped and decided to finish Karl's birthday with a final glass of wine on our private patio and a luxurious night's sleep without an alarm to wake us.
Saturday
Even without an alarm, we were up by 7am. Karl headed upstairs and got each of us a cup of coffee from Bear, who started brewing it around that time. I have no idea what Bear does, but that was the best coffee I had tasted in a long while. So good I drank it black! I got dressed in my black and white striped long-sleeved tee and girlfriend jeans and my Clarks booties and we headed up for breakfast.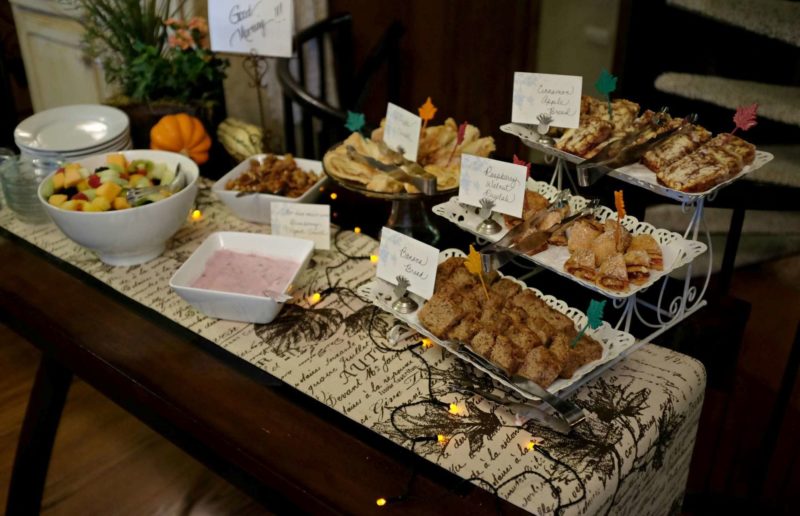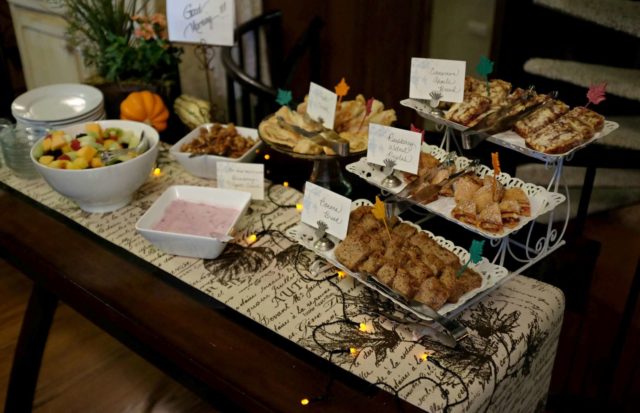 Breakfast is served in the main room on the main floor of the inn. Since the base part of the house is round, this room is a semi-circle. There's a spiral staircase in the center that goes down to the floor where our room is located. This main room is wood, with large windows overlooking the woods beyond the house. A fire was in the large fireplace, and there was a buffet of fresh fruit, homemade pastries, yogurt, and Patti's Mountain Granola.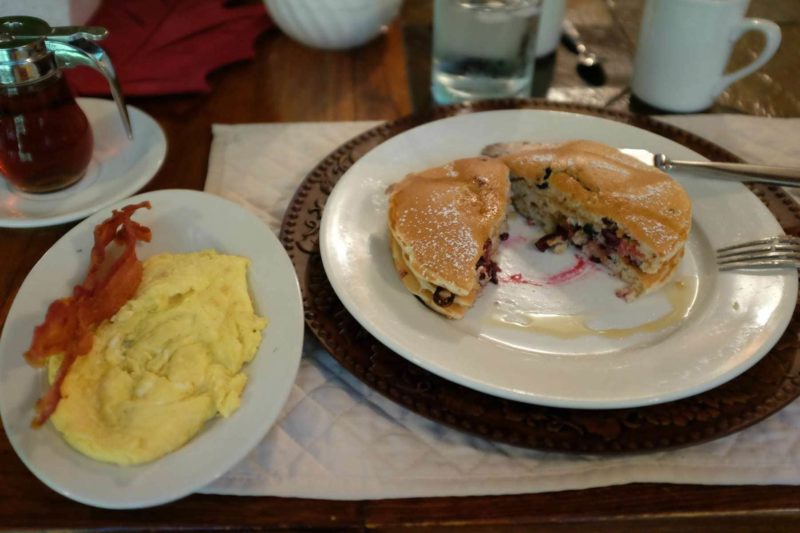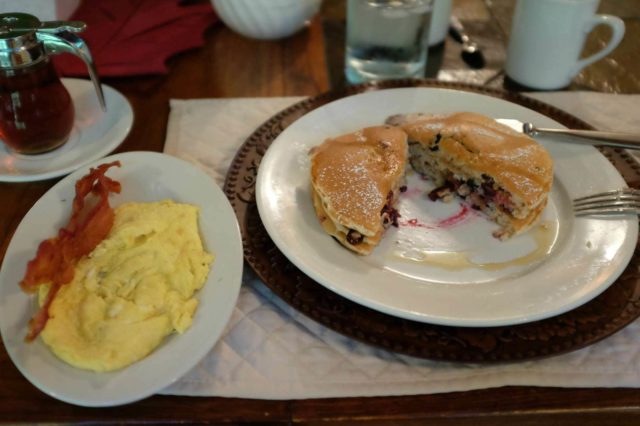 On top of this, there's a special breakfast served each morning as well as the ability to just have something simple like eggs and toast. Our morning, the breakfast was pancakes with your choice of filling; Karl got a mix of Craisins and blueberries.  Patti and Bear provide each group with their own carafe for unlimited coffee refills and have an extensive selection of juices.
We considered getting tickets to visit Biltmore Estate, but Karl looked forward to a weekend of nothing. We asked Patti for suggestions on how to spend the day and she had plenty of ideas. She suggested the trolley, which is a great way to see Asheville, learn some history, and you can hop off and on all weekend. I had promised the Asheville Convention & Visitors Bureau that I would stop by the Visitor's Center that day and that's where the trolley started. Perfect, we got in the car and headed that way.
The Asheville Visitor's Center is a destination itself. With a gift shop, local vendors, and plenty of marketing and research materials, the large building is a great place to start when visiting the city. The city was kind enough to leave me a care package with some information about Asheville and gifts by local artisans and merchants. In that building is where you can buy your passes for the Gray Line Trolley.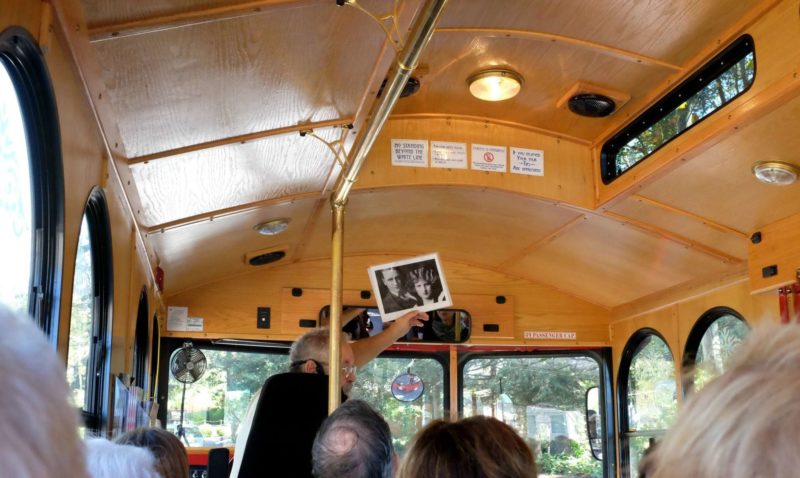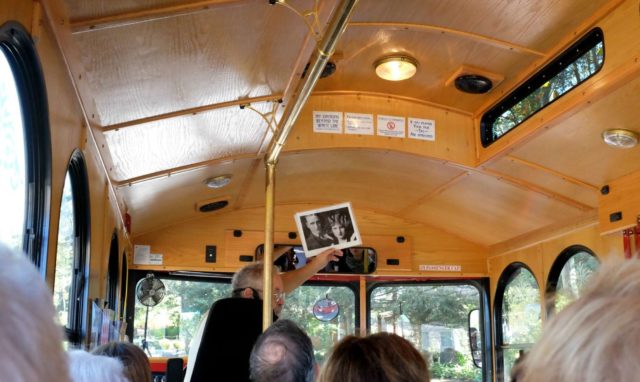 Think a trolley ride of a town is lame? Think again. I think this was a highlight of the trip and has inspired us this spring to do one around DC. Our guide was this amazing man who teaches folklore in the local schools, so you KNOW he was a great storyteller! We learned so much about Asheville's history, architecture, famous residents, and more. This photo shows the guide holding up a photo of Zelda and F. Scott Fitzgerald when he was discussing their time in Asheville.  We were so entertained we never got off the trolley!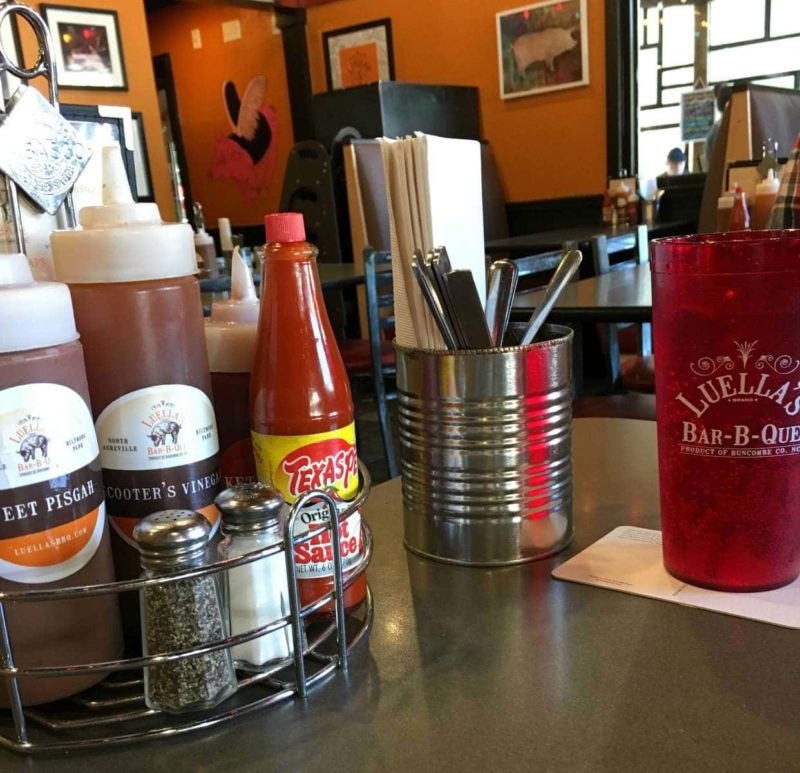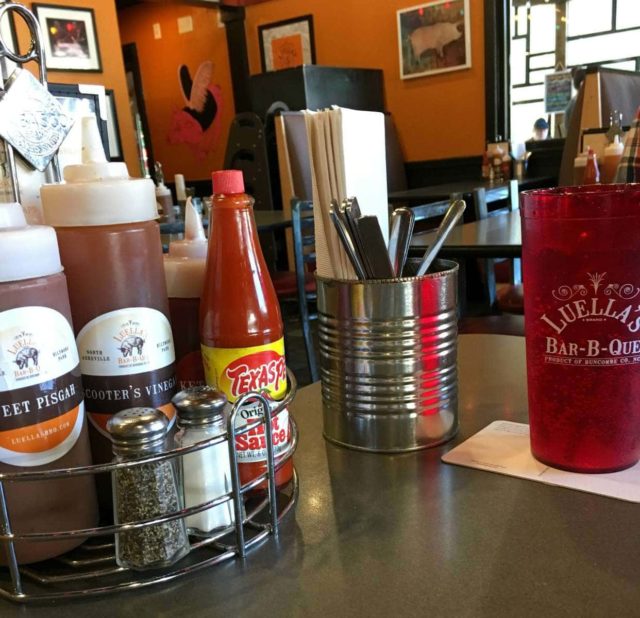 Our guide mentioned that Luella's had some of the best barbecue in town, so after our tour of Asheville we headed there. I regretted not having any barbecue when I visited Raleigh last month, and Karl's a barbecue fan. All the rave reviews for Luella's are justified. It's a relaxed, sunny spot with a friendly staff. I got the pulled chicken sandwich with hush puppies and fried okra. They have alcoholic beverages and a fab soda selection including RC Cola and Cheerwine. We didn't feel rushed and left with full and happy bellies.
The weather was picture postcard perfect. We opened the sunroof and decided to go for a drive on the Blue Ridge Parkway. We couldn't believe how utterly beautiful it was; not a cloud in the clear blue sky and the trees looked unusually vibrant. We cranked the music and enjoyed the ride down the iconic road. We saw signs for the Folk Art Center and decided to stop in.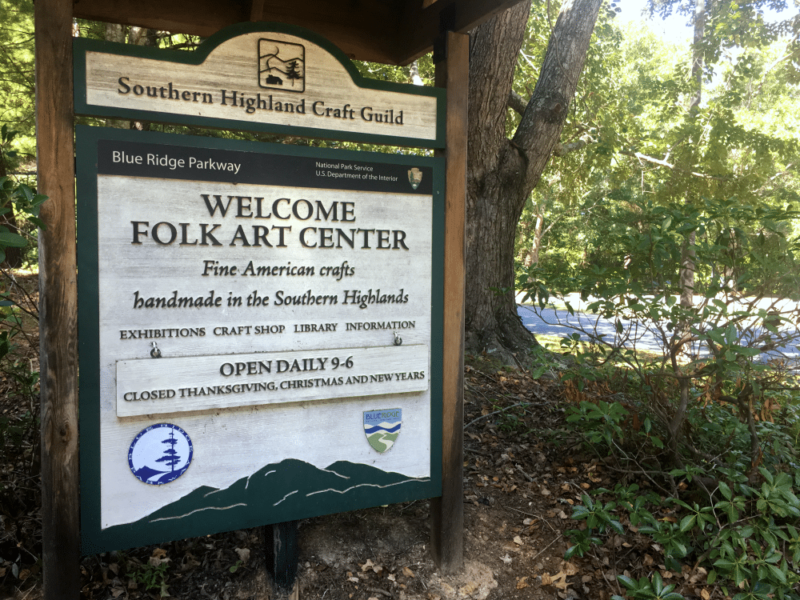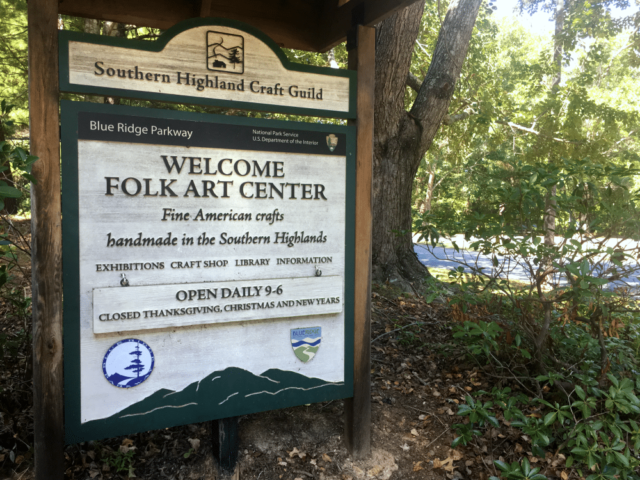 Upon entering, a gentleman was carving intricate designs into a piece of pottery he created. There was a small gift shop for the Blue Ridge Parkway where I bought a postcard to send to Emerson (we do this on all our trips, no matter how long they are) and a magnet for the fridge. There's a large store with all sorts of work from artisans – block prints, glass, pottery, clothing, wood, furniture, baskets, and more. Upstairs is a gallery with folk art. If you think folk art is just baskets and quilts you'd be very surprised by the modern and sophisticated pieces both in the gallery and for sale in the store below. There were amazing pieces of work that I could only dream of having in my home; I took notes of all the artists I loved as photography wasn't permitted but accidentally deleted it.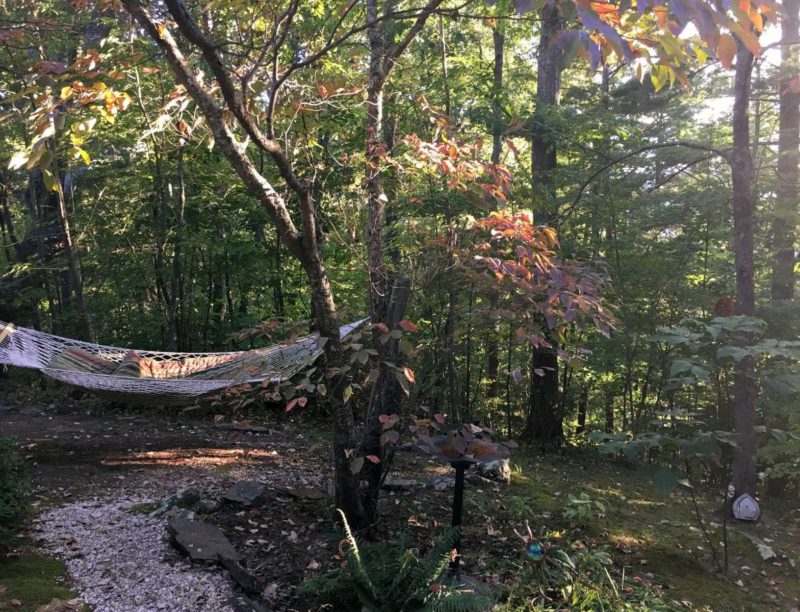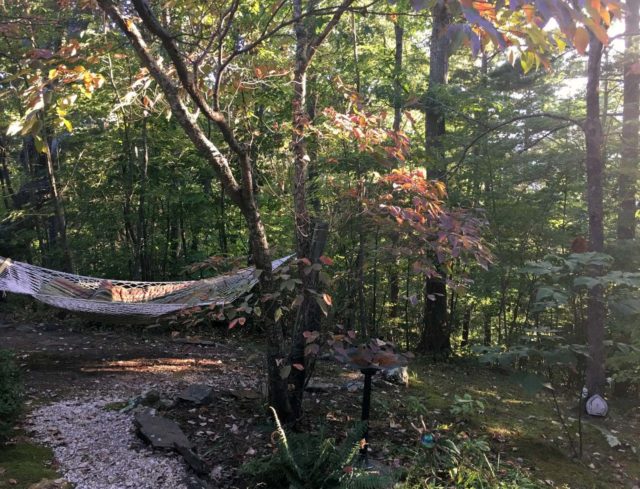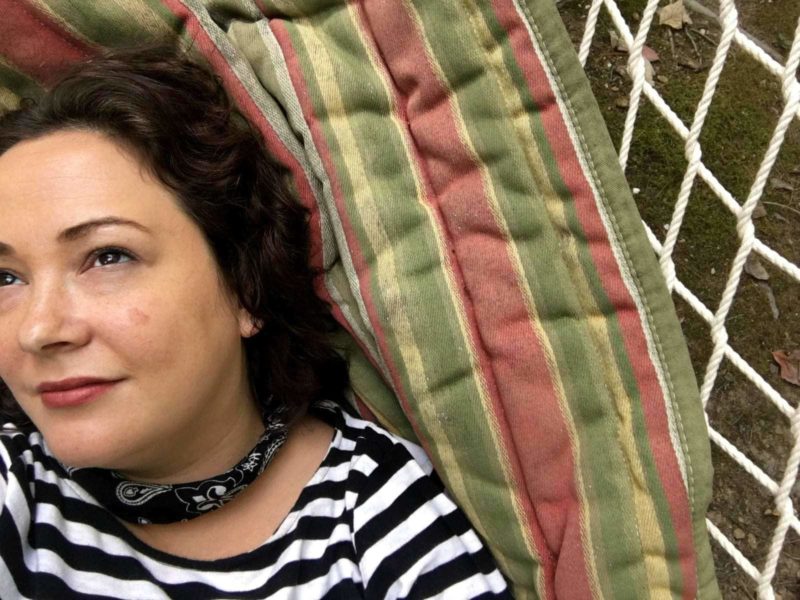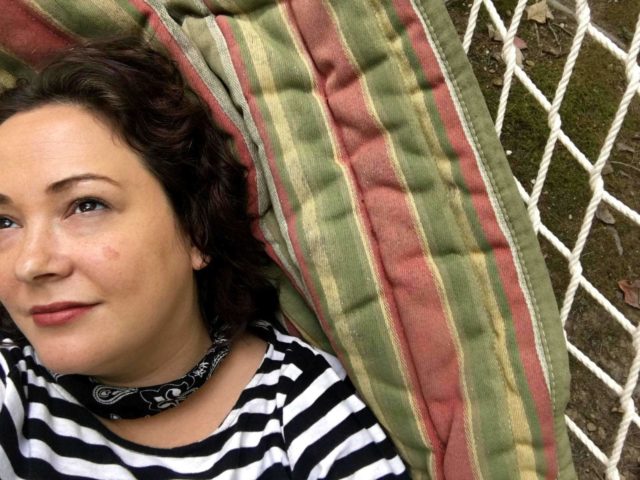 We then drove around a bit more. We went through Biltmore Forest and checked out the big fancy homes. We came closer to town and imagined living in one of the adorable Sears Craftsman homes. There's this conundrum when on a weekend getaway to a new city – do you go go go and see everything you possibly can? Or so you relish in the fact that you have no schedule, nowhere to go, and you can slow your pace and go with the flow? Karl was feeling a bit under the weather which helped us decide on the latter and drove back to the Crooked Oak Mountain Inn. We walked along the wooded paths on the property and then grabbed our books and enjoyed the hammock and the gorgeous weather. I ended up taking a short nap.
I had 8:45pm reservations at The Admiral, a restaurant many friends told me we had to visit when in Asheville. However it was afternoon and we were starting to get hungry. We decided to head back to downtown and have a happy hour somewhere and then check out the city more in depth before dinner. We asked Bear for suggestions and he recommended Zambra, a tapas bar and restaurant and even let us know the best place to park.  For dinner I just switched out my jeans for my denim jumper.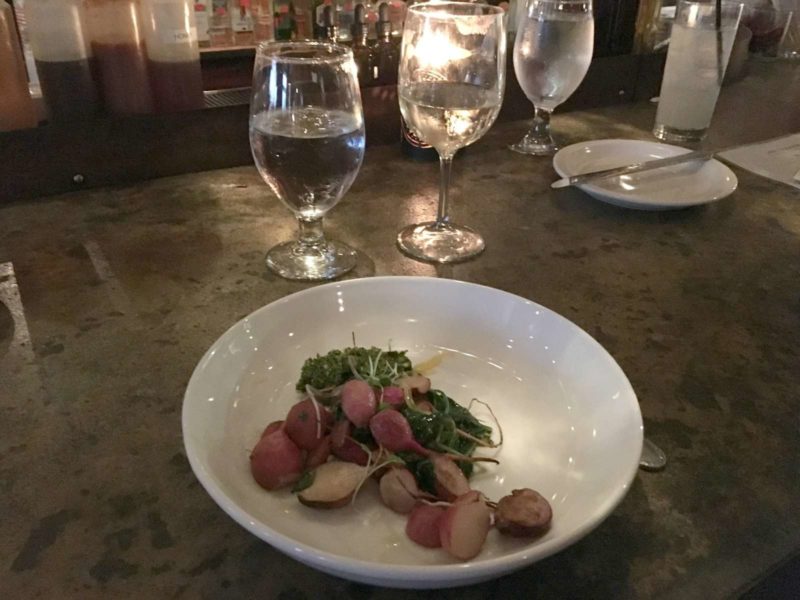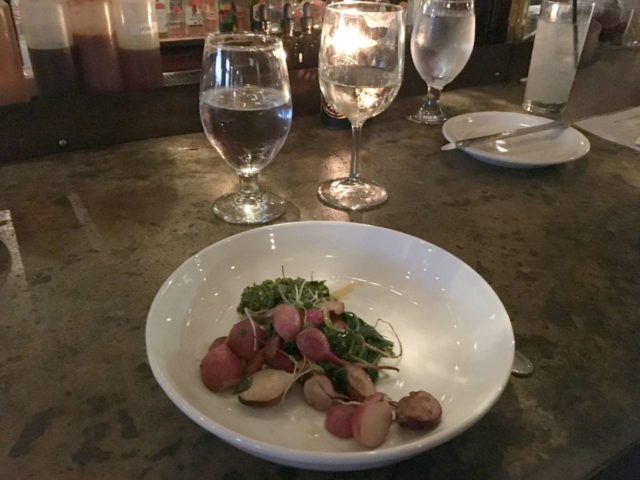 Yet again, Patti and Bear hooked us up with a great recommendation. Zambra was exactly what we were looking for. The atmosphere is often rated as one of the most romantic in Asheville; I found it super unique and quirky. It looked like the basement of a monastery, with part of the bar made to look like a confessional, wine caskets above the taps, and faux exposed frescoes on the ceiling. The dim lighting added to the experience. Bear was right, the menu is creative for both food and cocktails. We each got a small plate; I had a glass of Vinho Verde with an order of radishes (which were insanely awesome) while Karl had a handmade ginger ale and some sort of spring roll. Zambra had a lot of customers but wasn't crowded; it was a mix of what seemed to be regulars and newbies and all were treated with equal respect and care. The patrons varied in age from young 20-somethings celebrating with champagne to older couples enjoying a quiet early dinner.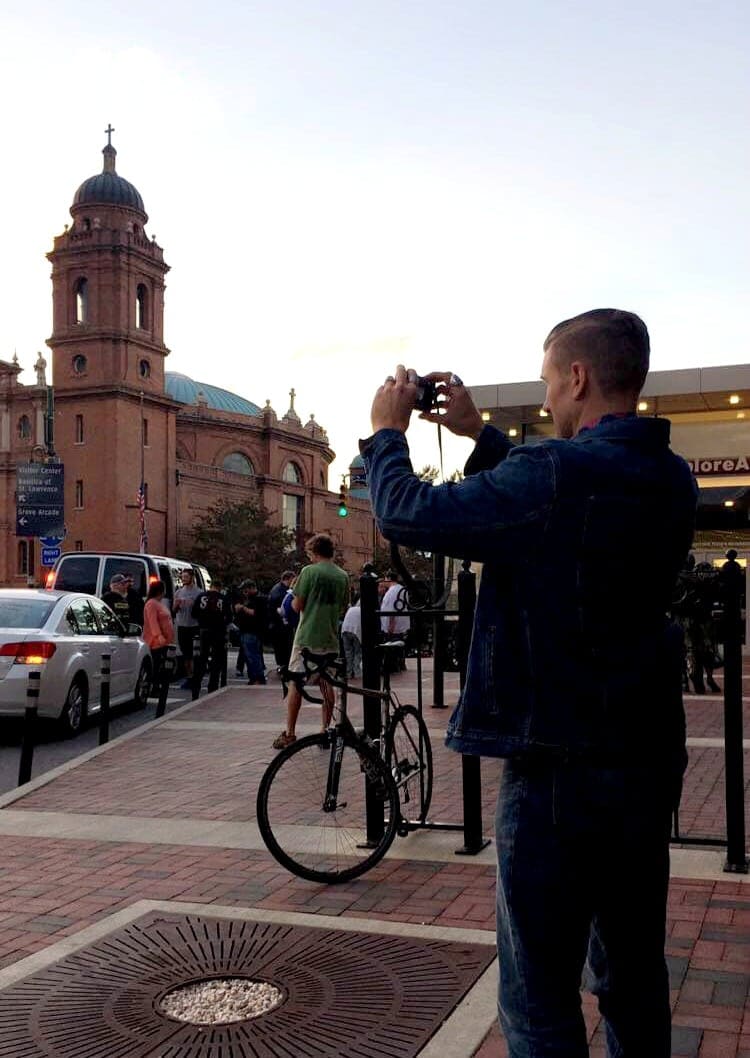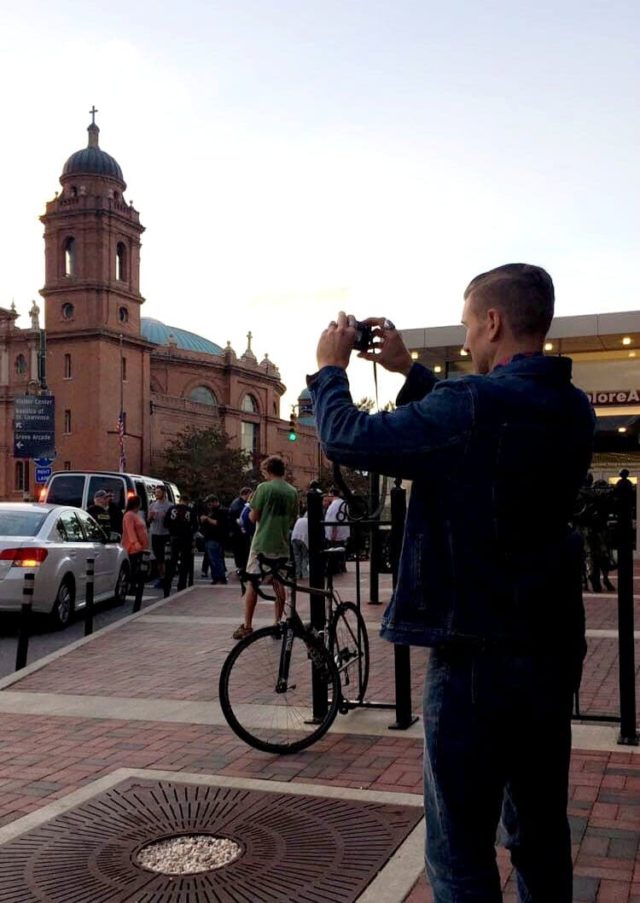 After our light meal, we headed out and walked around to better acquaint ourselves with Asheville. Can I just tell you how much I love this place? I've been all around the United States and many cities across the globe. I've liked many of them, but Asheville is one of the few cities I've been to where people have looked me in the eye, have smiled, and are polite to one another. No one shoved through the crowds, no locals rolled their eyes at us tourists, people were quick to offer directions, hold doors, make space. This wasn't just southern charm, it was a relaxed way that all, men and women, young and old, seemed to respect one another. It was a huge culture shock from DC and NYC where you pretty much pretend there's no one around you.
The variety of shops, restaurants, and bars rivals major cities. All sorts of ethnicities of food, plenty of sustainable fashion, local artists, cool vintage treasures, and chic modern style. I got me and Emerson tops from Spiritex, an organic and sustainable clothing boutique. There's buskers of all types, from playing the spoons to an accordion to singing. Plenty of people taking advantage of the weather and dining outside. The sun started setting and Karl suggested we get the car and drive around, especially since we'd have to drive to get to our dinner location. There was a festival, people were protesting and rallying for a variety of causes. There was music and the smell of barbecue in the air and a festive feeling. The sky was purple and pink and orange. We didn't even turn on the stereo, we just listened to the sounds of Asheville.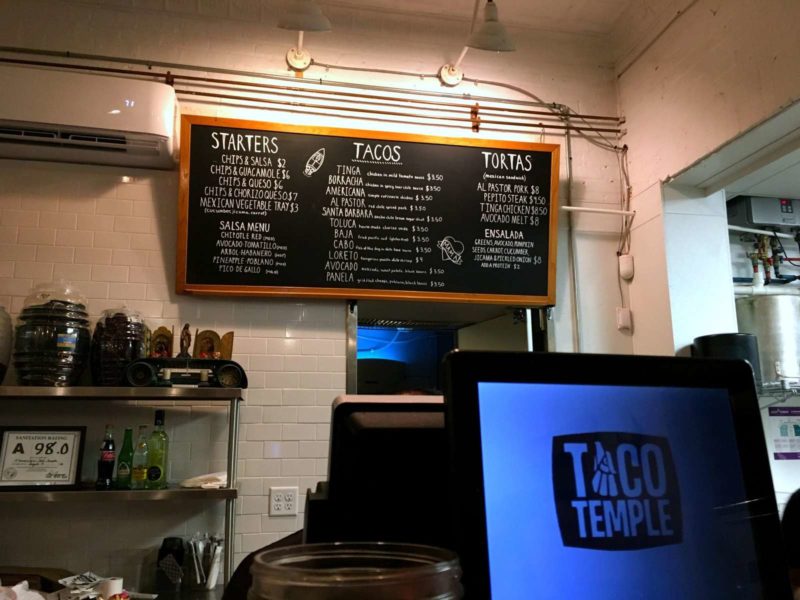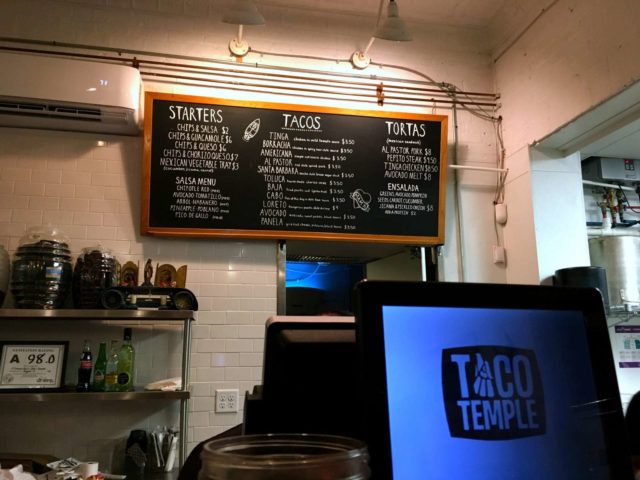 We drove past Taco Temple, a restaurant we saw on our trolley tour and as we came back from our afternoon drive. It had looked appealing to me, but I never made mention to Karl because it was his birthday weekend. Without speaking, he pulled into the parking lot and admitted he too had been craving tacos since seeing the place. We went in and Karl said, "I don't think I feel like going to a restaurant this weekend. How about we get an order to go and eat it at the inn?" So I cancelled our reservation, we ordered tacos and a ceviche tostada, and headed back to Crooked Oak Mountain Inn.
It was dark but Bear was up and saw us arrive. He gave us napkins and glasses of wine and we enjoyed our tacos under the stars on the stone patio. We may have not experienced all the amazing experiences that Downtown Asheville has to offer, but we had the most lovely romantic getaway together.
Sunday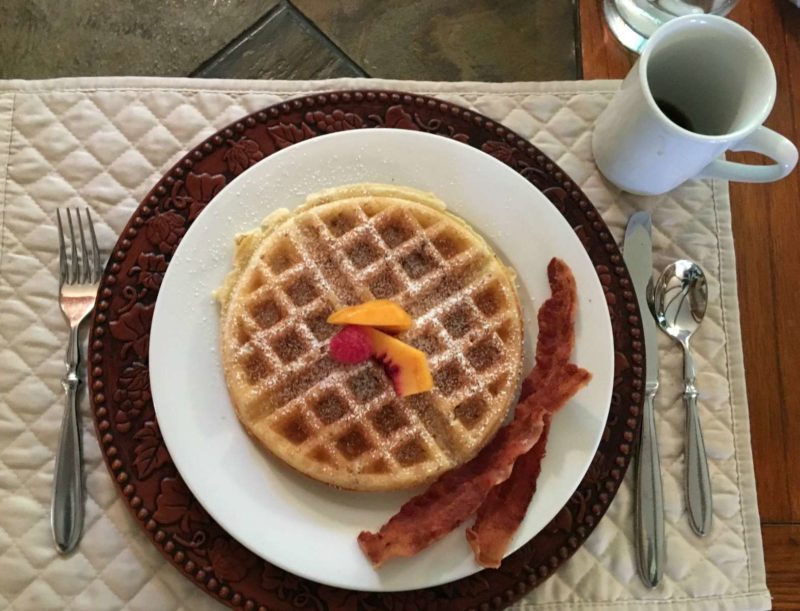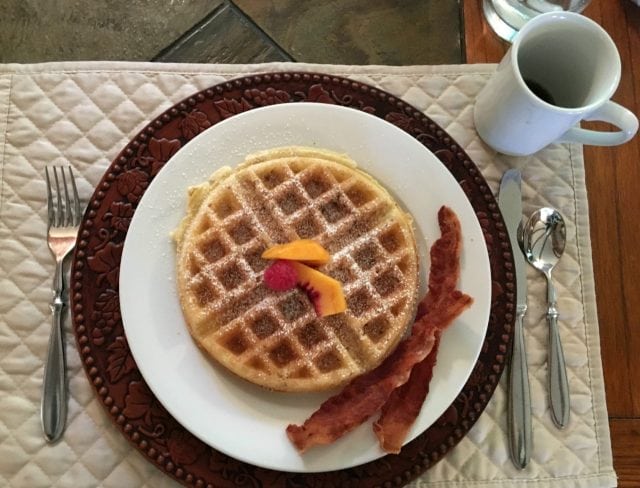 The next morning we fueled up with Bear's light as air Belgian waffles and plenty of his fabulous coffee and got on the road. We know this will not be the last time we visit Asheville, North Carolina. We fell in love with the climate, the history, the culture, and the people. I think we fell in love with it so quickly thanks to Bear and Patti of Crooked Oak Mountain Inn. Their knowledge of Asheville and love of where they live rubbed off on us and it made it an even more special and personalized trip to this city.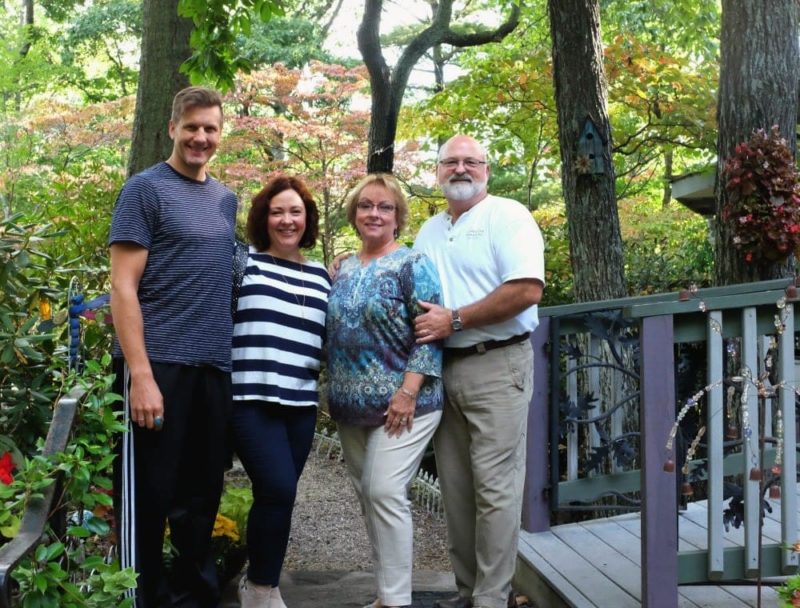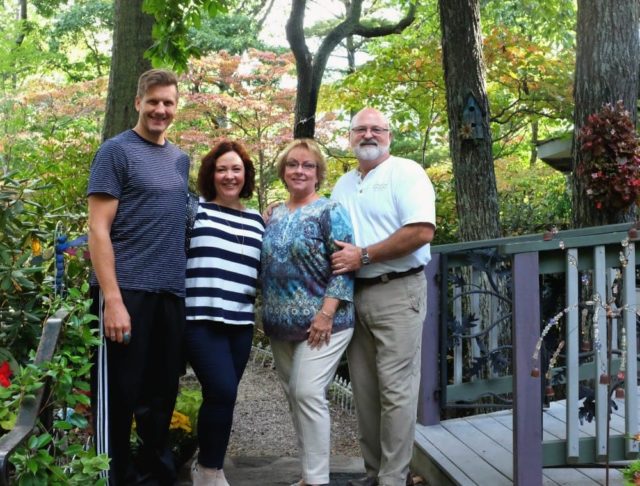 Thank you to the Asheville Convention & Visitors Bureau and the Asheville Bed & Breakfast Association for helping us experience such a magical weekend getaway in Asheville. And thank you to Crooked Oak Mountain Inn for hosting us. We can't wait to return!