This article may contain affiliate links; if you click on a shopping link and make a purchase I may receive a commission. As an Amazon Associate, I earn from qualifying purchases. 
Have you heard of the Rebelle Con? It's a conference for women who are defining and creating their own version of success.  Founded by Shannon Siriano Greenwood, Rebelle is for those who are sick of the "go hard or go home" messaging that causes so many to burn out, get discouraged, or confirm feelings that they are not enough.  It's not just a conference, but a community and a support system.  I've wanted to go for years but my schedule never permitted it.  This year not only could I fit it in my schedule, but I was also invited to speak on a panel! My friend Rosana was also asked to speak on the panel so we decided to make it a girls' getaway road trip.
Day 1 of Rebelle Con
I picked up Rosana around 9am and we headed to Richmond, Virginia. Only about two hours and less than a tank of gas from the Maryland suburbs of DC, Richmond is an easy trip for a weekend getaway.  We got ourselves settled in our hotel room at The Quirk and dressed for the first event of Rebelle Con – the welcome cocktail party! The dress code for the event was, "Cocktail. Bring on the sequins, ruffles, high heels or lady tuxes – basically, anything that makes you feel fabulous."  It took place at Casa Del Barco, which closed up for the event.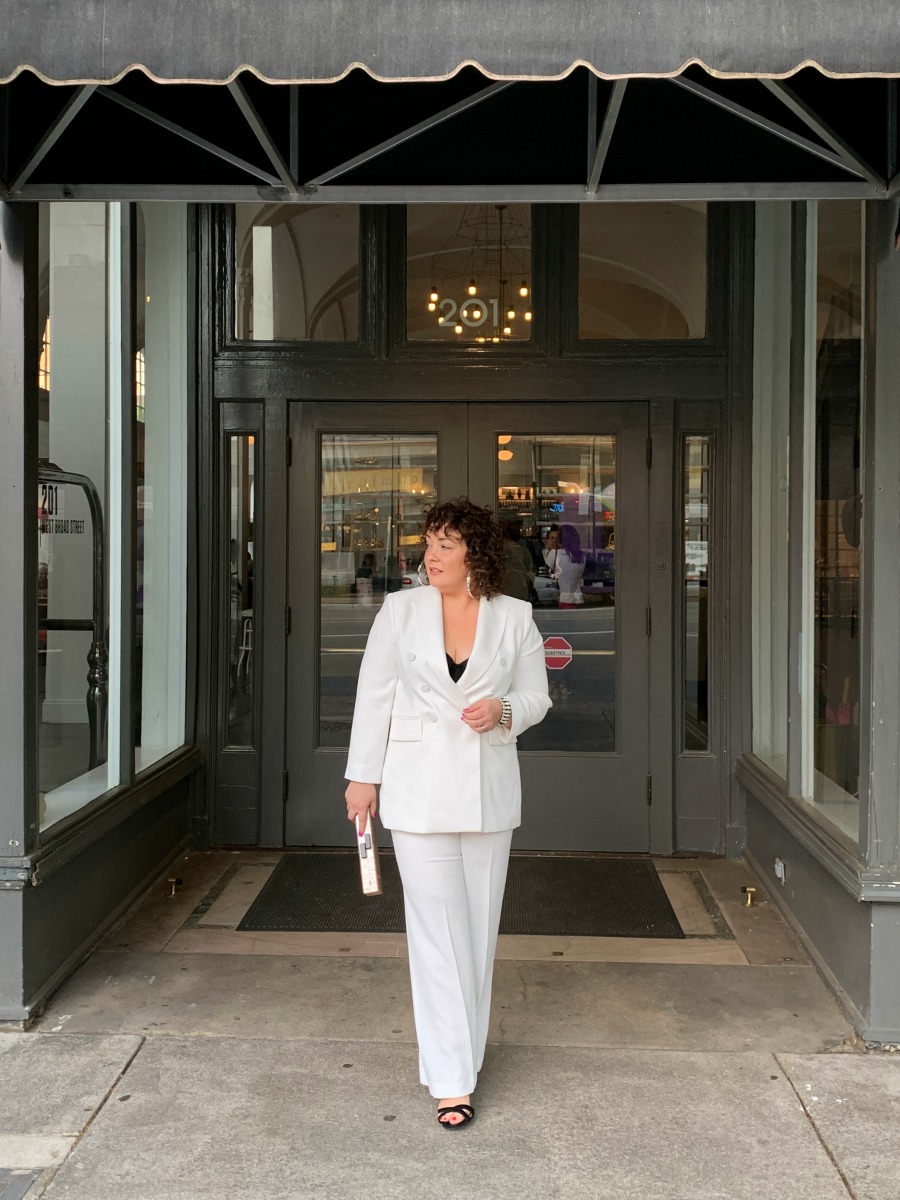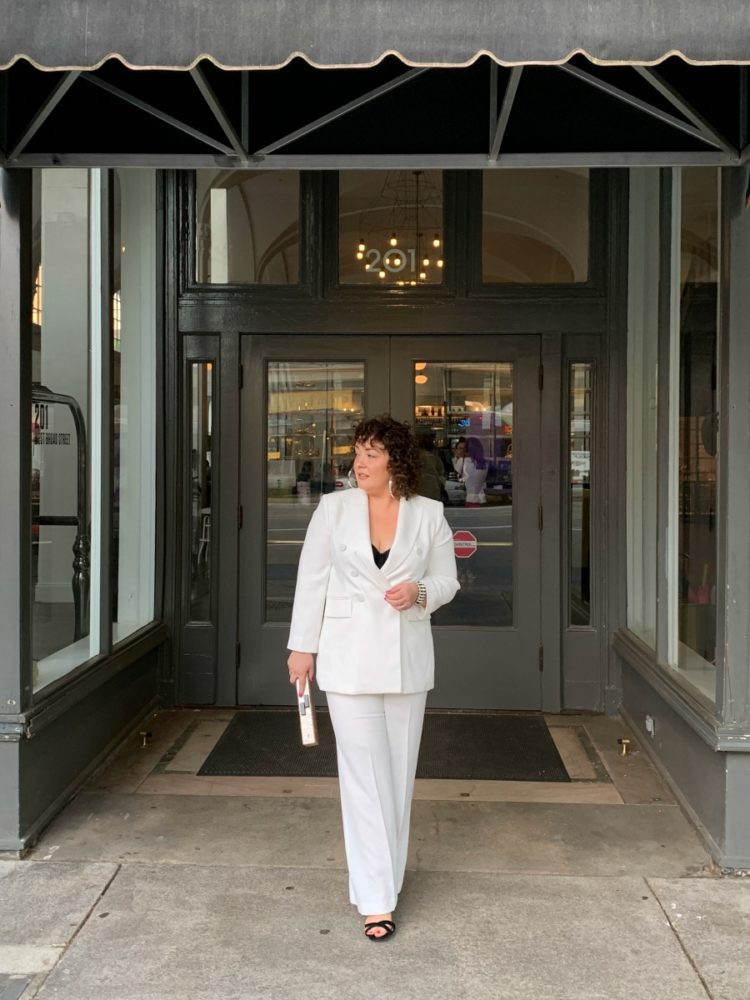 What I Wore: Zara blazer (XL, sleeves shortened), Zara pants (XL, shortened), Fantasie bra, ASOS heels (similar), lucite clutch (gift; similar), Jenny Bird 'Cober' hoops (gift from the brand), Ann Taylor rhinestone cuffs (old; similar)
Y'all know I love a lady tux. I saw this white double-breasted number at Zara and ordered it. This is the first time I've found something from Zara that actually fits. Since the pants aren't lined and the jacket doesn't have buttons at the cuffs getting it tailored wasn't too pricey. Going with my favorite look for a lady tux, I chose to just wear a plain black bra. I didn't like any of my sparkly earrings with the suit so I went with my big shiny hoops and added sparkle with these clearance rack cuffs I've owned for years. A colorful clutch seemed too cutesy, a black clutch too stark, a sparkly clutch also didn't feel right so I went with my Alison clutch which seems to work with most everything! I added a glittery eyeliner and some shimmery bronzer but otherwise wore my everyday makeup as I felt it looked more right with the suit.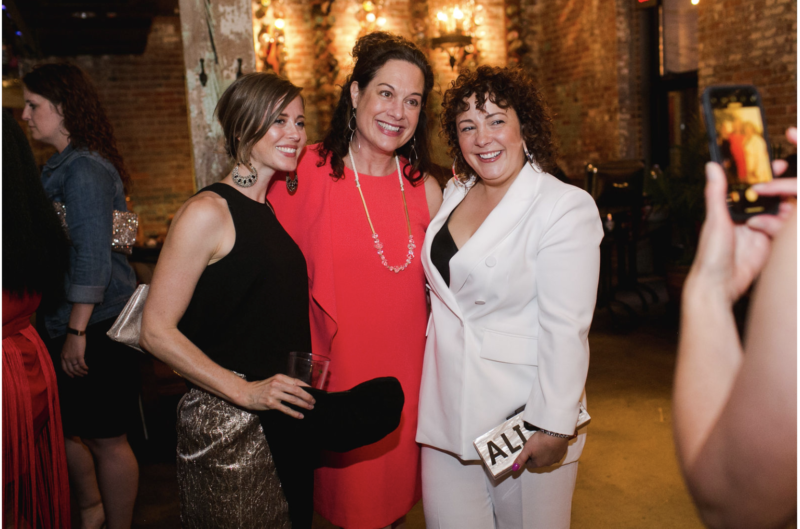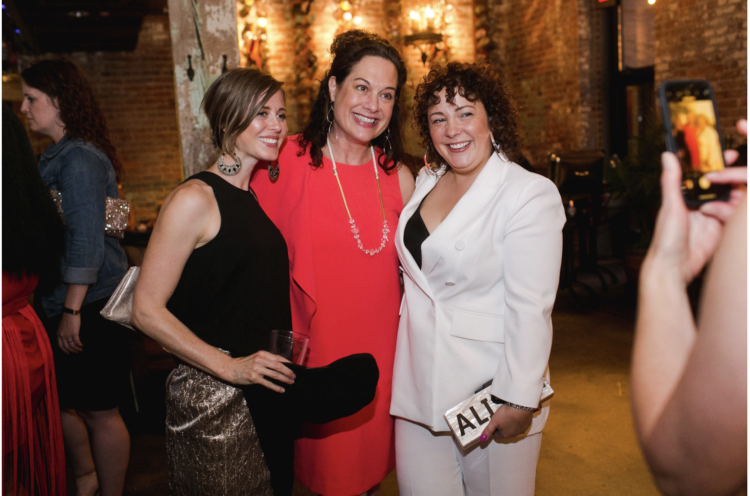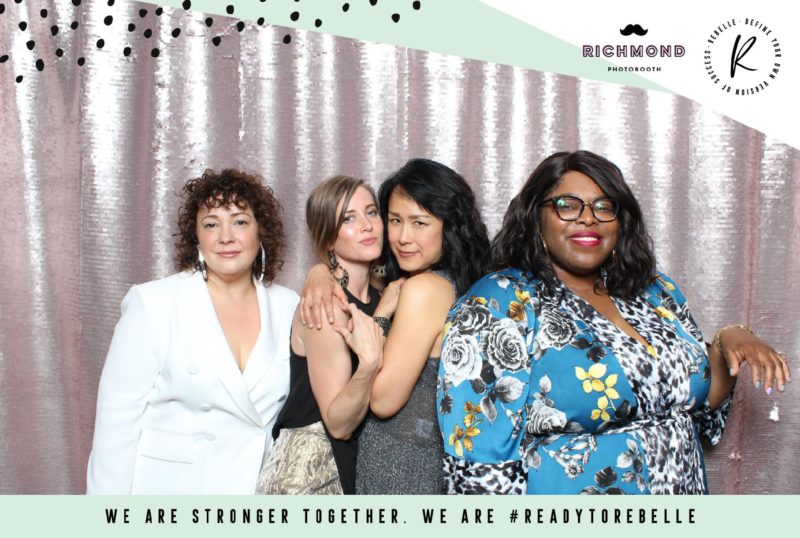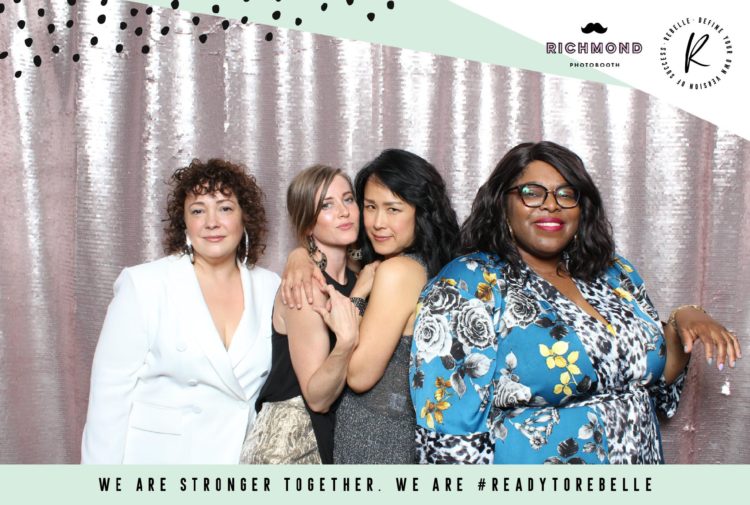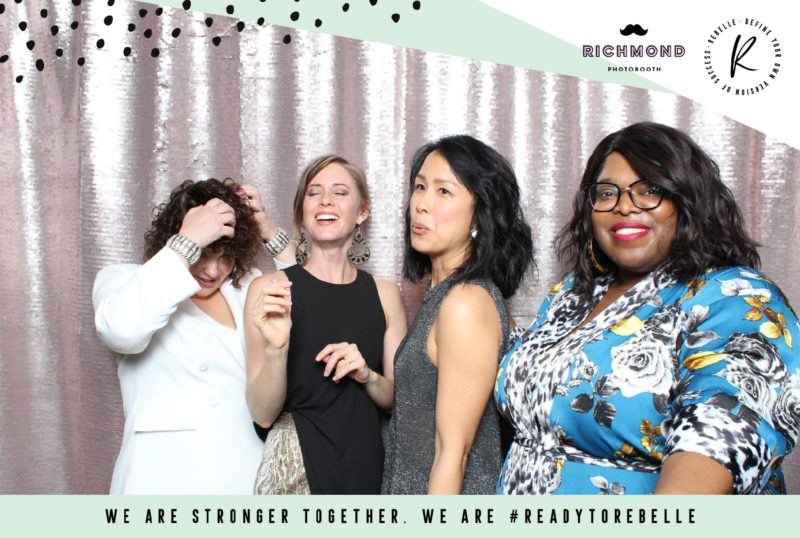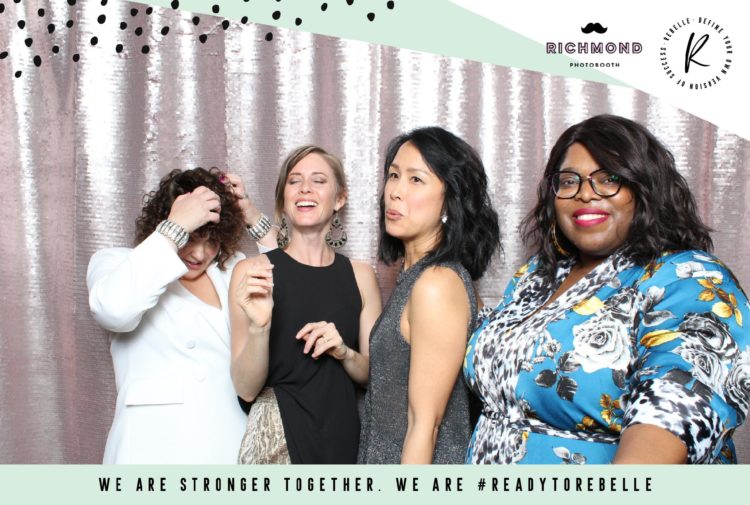 The cocktail party was awesome, over 100 women laughing, networking, dancing, and having a good time together. With the clothing, everything went. There were some who wore what they had on for that day at work, some in jeans, some amazing women dressed as Flappers, some in floral sundresses, some in trousers and fun blouses, others in sequins and cocktail dresses. It was a really positive environment, easy to be a stranger and introduce yourself to others and make new friends. I met some amazing women like Wendell and Tricia who knew me through Wardrobe Oxygen; it was so awesome to meet readers in real life and have the time to chat and get to know one another IRL. I laughed, I cried, I left feeling as though… I have purpose. Wardrobe Oxygen isn't some vanity project but a site and a community that is beneficial and inspiring and unique.
Day 2 of Rebelle Con
Rosana and I had breakfast at our hotel then caught an Uber to the historic Hofheimer Building for the full day of the Rebelle Con.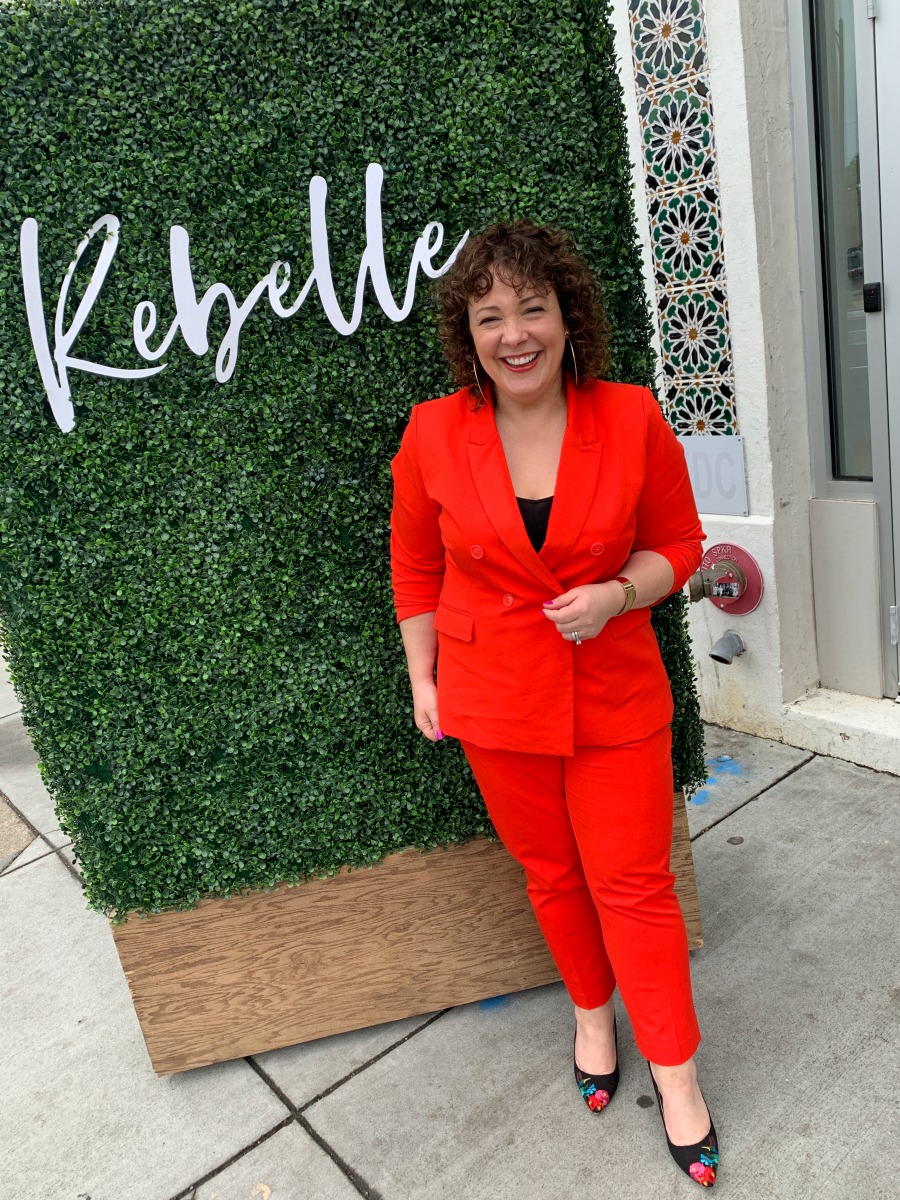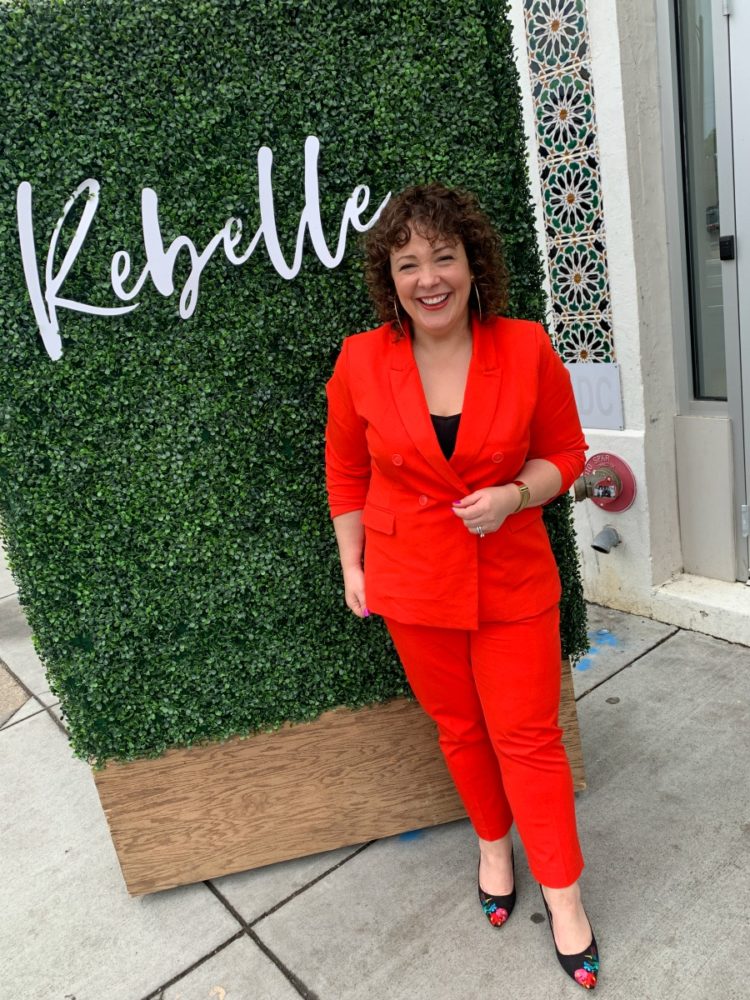 What I Wore: You've seen this suit before in this post. This time I wore it with a black knit cami from cabi (L; a gift from the brand) and a pair of black embroidered pumps from Nine West (old; similar). Jenny Bird Monogram hoops and Chloe Large Cuff (gift from the brand). I brought along my Clare V. tote.
The conference was all day, but it was so well organized with such interesting and varied speakers I would have easily enjoyed another hour or so. It was a great size, not too large, and an audience of women who had such different goals and lives but all with the desire to see one another succeed. The day started with a bowl singing session with Natasha Foreman from Lucid Living. We heard from Bethany Meyers who created the become project, a body-neutral approach to fitness through an app. One of the best talks was from Tashira Halyard who is a "recovered attorney" who survived breast cancer and has made it her life's work to pursue happiness and guide others on the same path.  Full disclosure, Tashira is a friend of mine and the woman behind the blog Politics & Fashion.  However, I've never seen her speak and she absolutely blew me away and inspired me.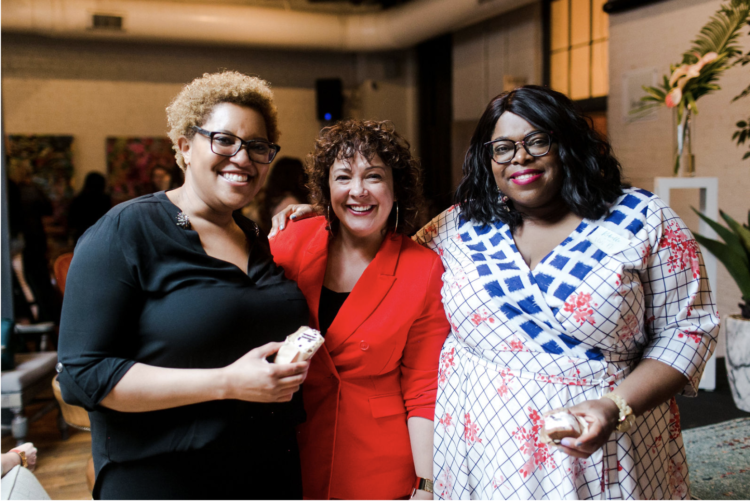 I really enjoyed Nikki Nash's talk, it made me ask good questions about my goals to drive me in the right direction. One of the last talks was Ashley Beaudin of The Imperfect Boss, who was so powerful there wasn't a dry eye in the room. I'd love to attend one of her Imperfect camps! The last talk of the day was with Polina Veksler, the CEO and co-founder of Universal Standard. I met Polina a few days prior at dinner Universal Standard hosted for the top DC customers and it was cool to learn even more about this company I love. Honored she made a little shoutout to me and Wardrobe Oxygen during it! Christian Siriano joined her on stage and it was a cool discussion on creativity and business with the two of them, Shannon Siriano moderating.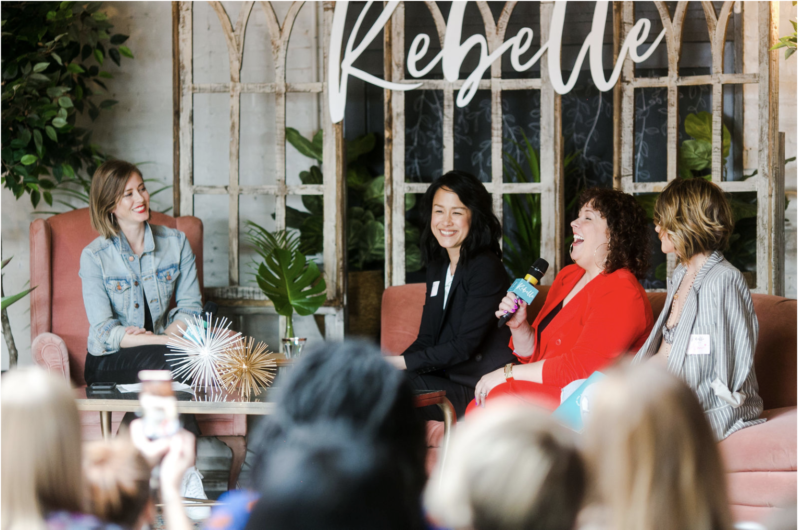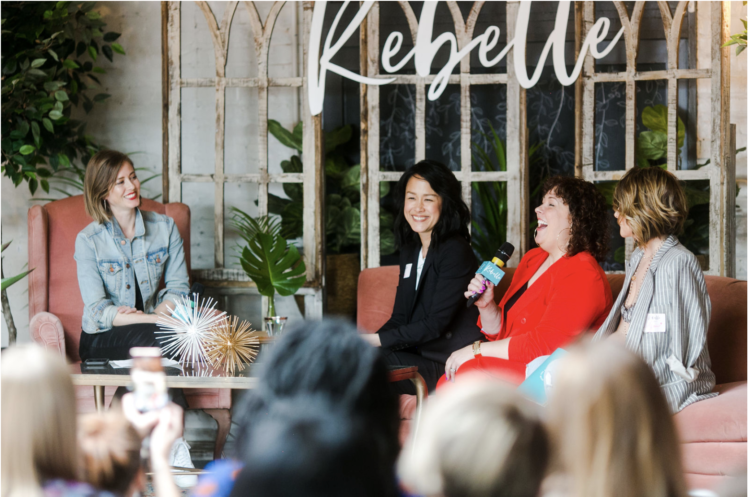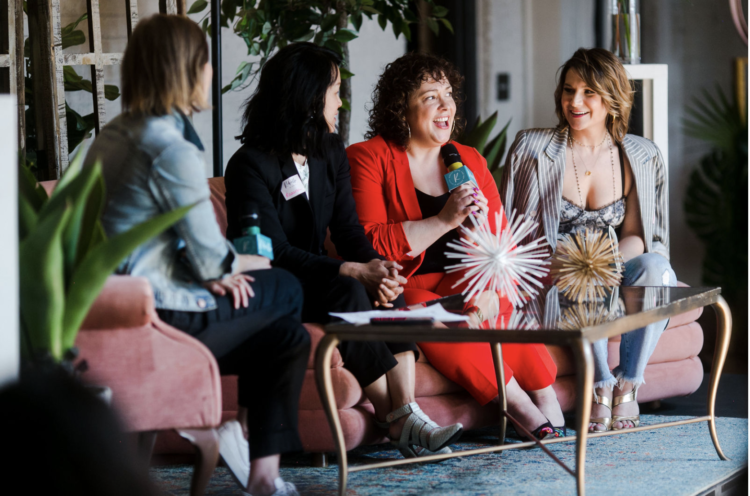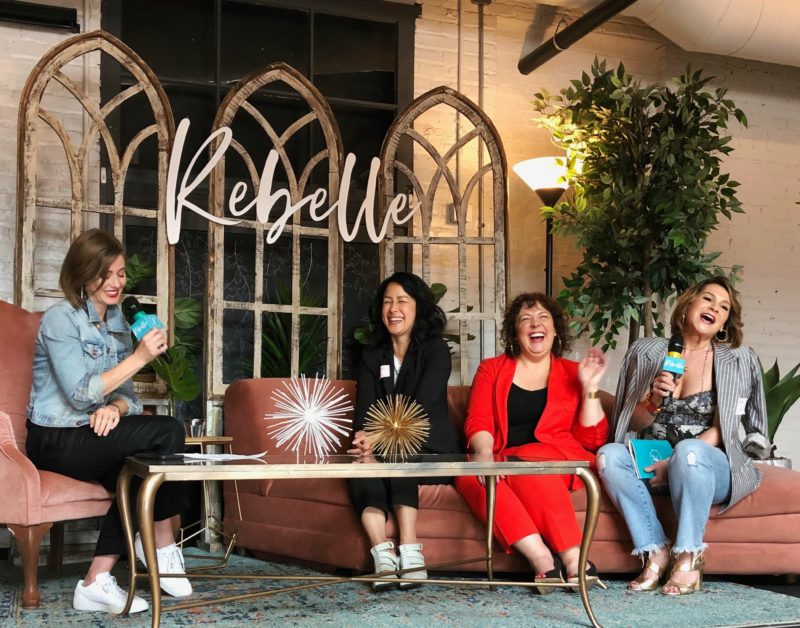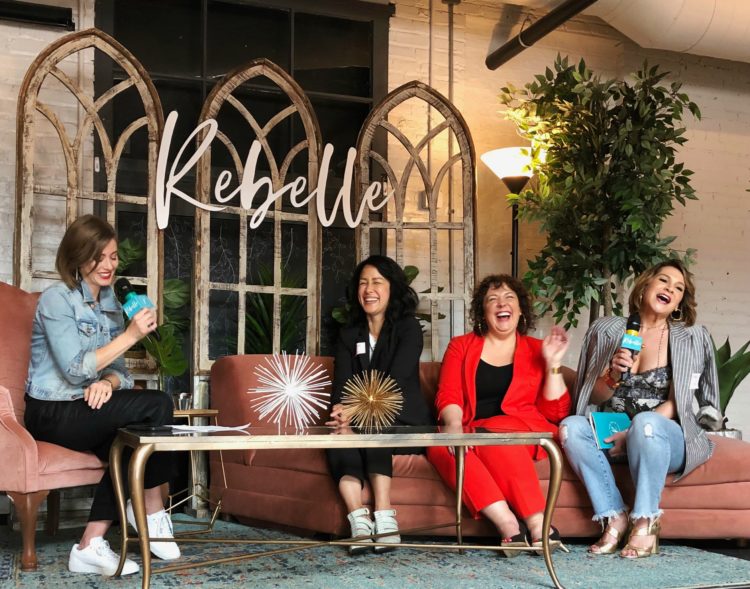 I spoke on a panel after lunch. It was moderated by Sydney Lester of Chic Stripes and I was on the panel with Rosana Vollmerhausen of DC Style Factory and Jenn Mapp Bressan and it was so much fun though I wish we had more time. It was so cool how strangers came up and said what I discussed inspired and motivated them. That was a surreal experience. I've met readers before, when I worked in DC it was a monthly occurrence but it was usually someone in District Taco who would point and say, "You're Wardrobe Oxygen right? I've read your blog!" and then moved on. And equally as often I'd get, "Oh you're Wardrobe Oxygen right? You're a… blogger," and smile that tight-lipped sarcastic/pitying/trying not to laugh smile. So to have individuals take the time to come up to me and share with me was an experience that was shocking, thrilling, and a bit overwhelming. I left feeling as though I need to do more, I need to take this further, and I need to do it while giving back and helping others.
Day 3 of Rebelle Con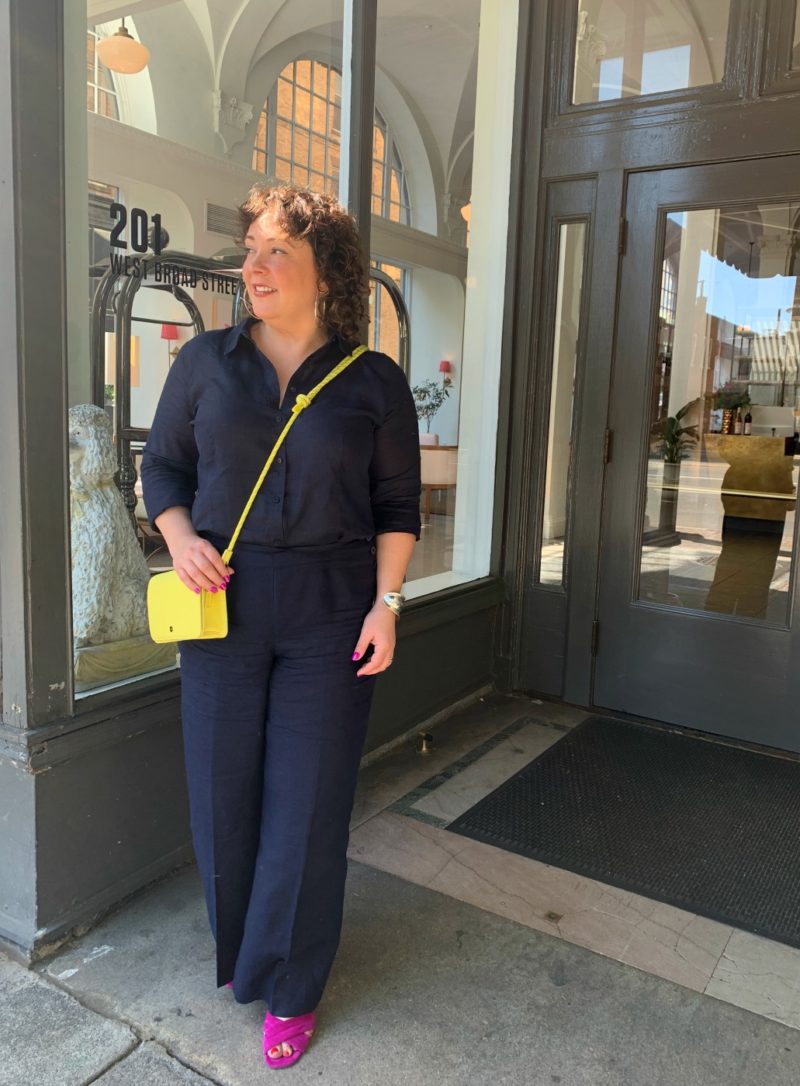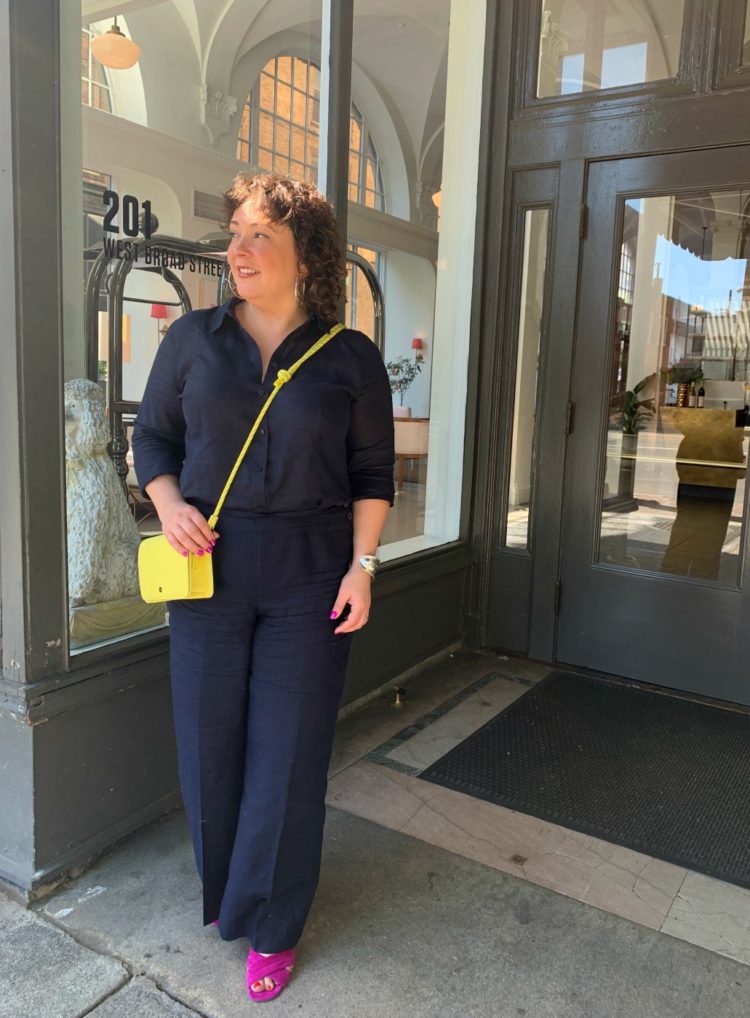 What I Wore: navy linen shirt by Talbots (14 petite; gift from the brand), navy linen trousers from Talbots (14 petite; gift from the brand), Dagne Dover bag (gift from the brand, this is size medium), Vince Camuto sandals (similar), Jenny Bird hoops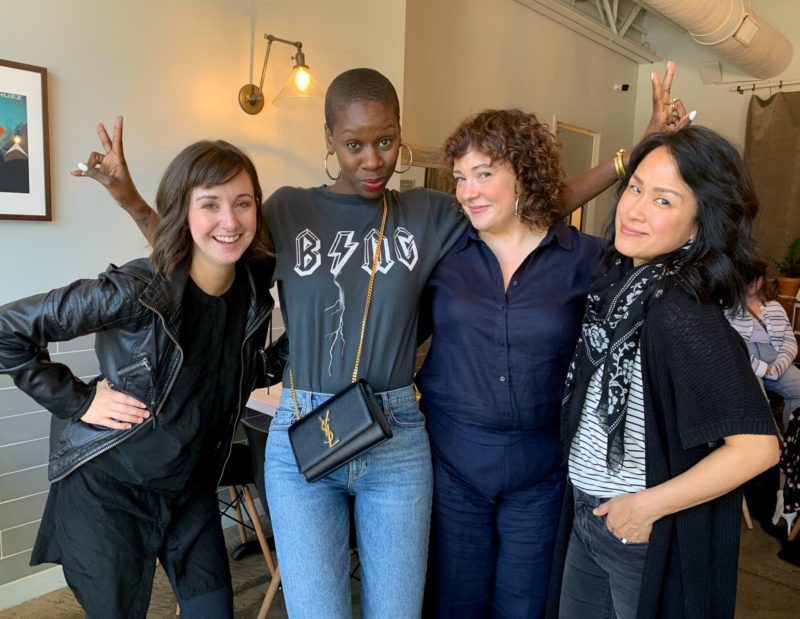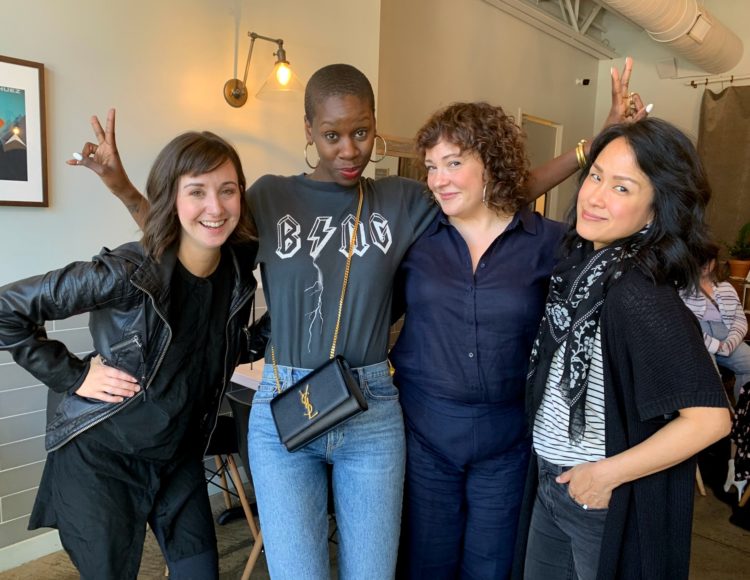 After breakfast, we headed to Chairlift, a coffee shop that was hosting my meet and greet. It was a chill morning where I got to talk to readers, conference attendees, and fellow conference speakers while drinking alllll the coffee and enjoying yummy bites. It was a great way to end my first Rebelle Con, and I know it won't be my last.  Thank you Rebelle Con for letting me be a part of your inspiring event!
Stay tuned, I'll be sharing a separate post about the rest of my time in Richmond, where I stayed and where I ate!
Shop What I Wore:

Dagne Dover Promo Code
Use ALISON10 at checkout to get 10% off your order at Dagne