This article may contain affiliate links; if you click on a shopping link and make a purchase I may receive a commission. As an Amazon Associate, I earn from qualifying purchases.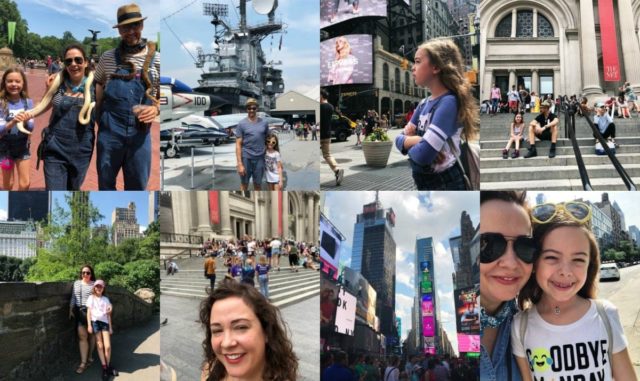 This was a short week for me as my family and I took a trip to the Big Apple from Friday until Tuesday afternoon.  We had absolutely no plans and that was so wonderful.  Each morning we ate a leisurely breakfast and thought about what we wanted to do, and we had perfect weather for it. I worked hard last week so I could get away with little work while on the trip.  I think in total I worked an hour and a half while on the trip, so this was the first true vacation I have had in a very long while.  I'll be doing a recap soon, but for now I'm still catching up on emails!
I don't even know how to process the atrocities happening at the immigrant detention centers in the US.  A child died possibly from a neglected respiratory infection she contracted while at a facility, a judge had to intervene to stop having these children be given psychotropic medications without their parents' consent, and most recently a facility employee was fired for sexually assaulting a young girl. If you can, donate to organizations helping those who have been detained and are separated from their families.  I have donated profits from this blog as well as family money to RAICES.  Call Congress, and don't stop calling.  Not sure who to call and what to say? The ACLU has you covered; click this link, fill in a bit of info and they will call your representative for you and provides a script for the call.
I'm excited that Universal Standard partnered with J. Crew for a collection sizes XXS-5X. J. Crew is a brand that has been struggling and I have for years thought if they extended their size range they would again find success.  Brands like Universal Standard have proven that women of all sizes desire high-quality stylish clothing.  While I haven't had a ton of success with pieces from the line I know many others have and I'm curious to see how this collab changes the plus size market.  This article delves into this very subject.
Proof how one woman can make a difference.  An inspiring piece about Susan Unterberg who has donated over 5 million to female artists, most who are over 40. She did it all anonymously until now.
Oh my gosh, have you seen the YouTube series Bogus Beauty? It is SO MUCH FUN. I saw someone mention it on Twitter and binged on a few episodes while I was supposed to be taking a nap after a long day walking around NYC. I even let Emerson watch a few with me as it combines science, fairy tales, and humor (do note, some adult language is used and while it's bleeped out it's clear what words are being said, watch an episode alone to gauge whether you find it appropriate for kids).
Current obsessions?  This gorgeous shirtdress, the green color of this camisole, these wallet-friendly resin earrings, and these ankle booties in gold.
Just the other day I was wondering about Civil War reenactors, and how hard it must be to find younger generations interested in such a thing. Guess I wasn't the only one wondering, an interesting piece on the topic.
And for your musical enjoyment, Troye Sivan and Ariana Grande's latest song, "Dance to This." Likely most of you have heard of Ariana Grande, but Troye Sivan may be new to you. He sings, he acts, he's a YouTube personality, and in 2014 Time  named him one of the 25 most influential teens of the year. He's one to know and I feel won't be a flash in the pan.  This song is super catchy and while the video isn't my fave I do love seeing how much fun the two are having together.