This article may contain affiliate links; if you click on a shopping link and make a purchase I may receive a commission. As an Amazon Associate, I earn from qualifying purchases.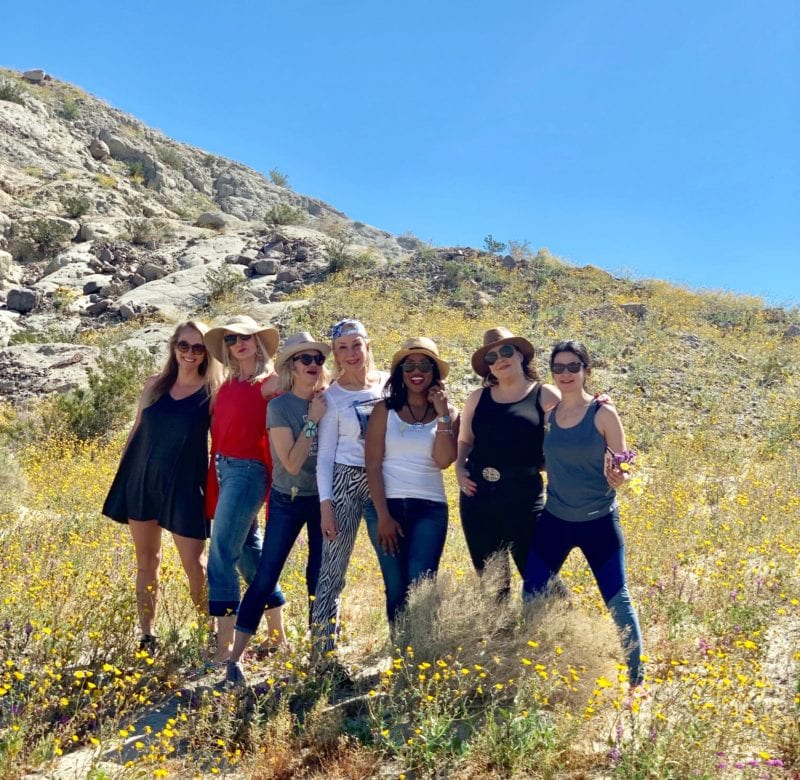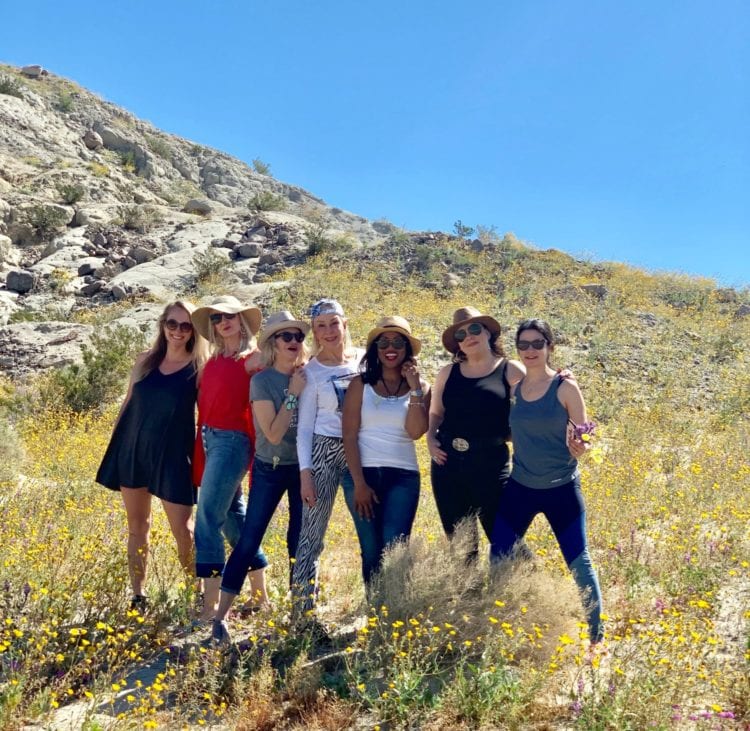 This past weekend I went to Palm Springs, California with the clothing brand Chico's. Along with four other over-40 influencers (Sheree of  SheSheShow, Dawn Lucy of Fashion Should be Fun, Tonya of The Real Chic Life, and Jamie of More than Turquoise), we had a weekend of fashion and adventure.
I was not paid or required to post about this trip. However, the entire trip and activities were covered by Chico's. There are also affiliate links in this post; if you click on a link and make a purchase I may receive a small commission.
If you've read this blog for a bit, you know I am a fan of Chico's. I appreciate their size range, their quality, and how they craft clothing that is comfortable, stylish, and creates solutions for many fashion situations (no stain, no need for iron, UPF, etc.). As an influencer, I love Chico's even more because I get a big of the behind the scenes: I have visited their headquarters and seen how they create collections and work with fit models, I know how they do so much to help women, and how amazing they are to work with on a business level. So when they asked me if I would like to visit Palm Springs with them and attend Fashion Week El Paseo I didn't hesitate in emailing a reply of YES YES YES!
Day 1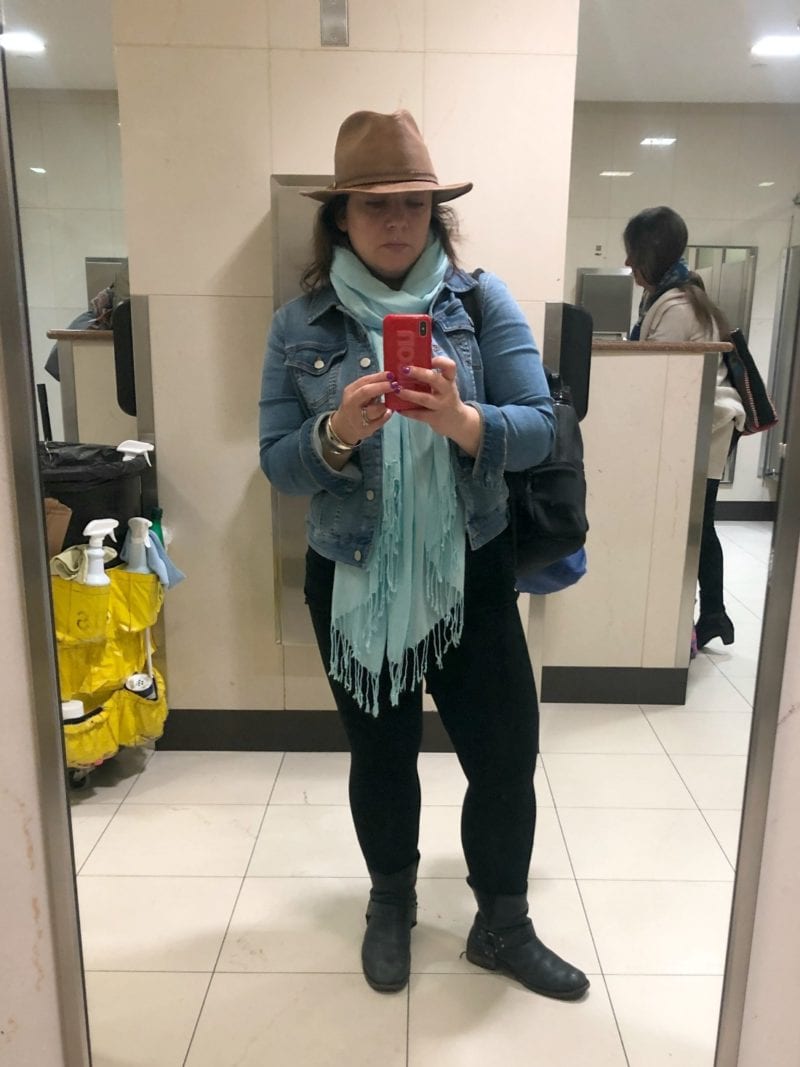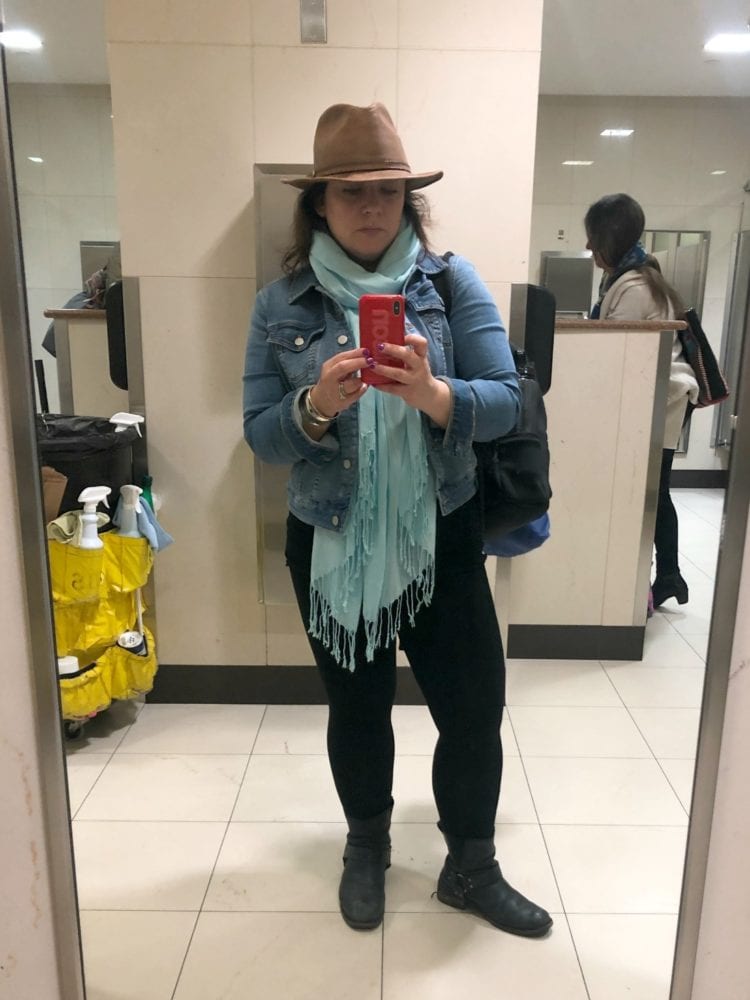 What I Wore: cami c/o cabi | leggings c/o Soma | denim jacket c/o Soma | scarf c/o Chico's | Hat: Stetson c/o Tenth Street Hats | Backpack: 'The Dakota' c/o Dagne Dover (review here) | Boots: L.L. Bean (old; similar)
For the flights, I dressed for comfort as I'd be transferring flights and traveling all day. A simple black cami and leggings which were comfy but looked relatively sleek. I wore my heaviest shoes to keep my luggage light, a lightweight pashima in case it was chilly on the flight, a hat to hide hat head and also keep the hat from being crushed in my suitcase, and a denim jacket because of all of the pockets.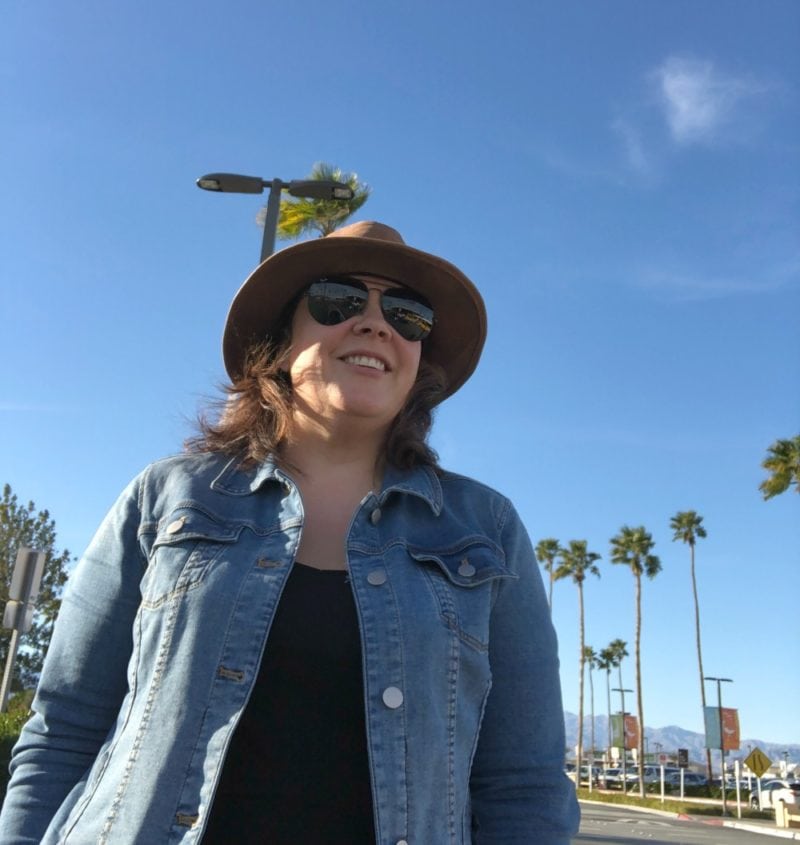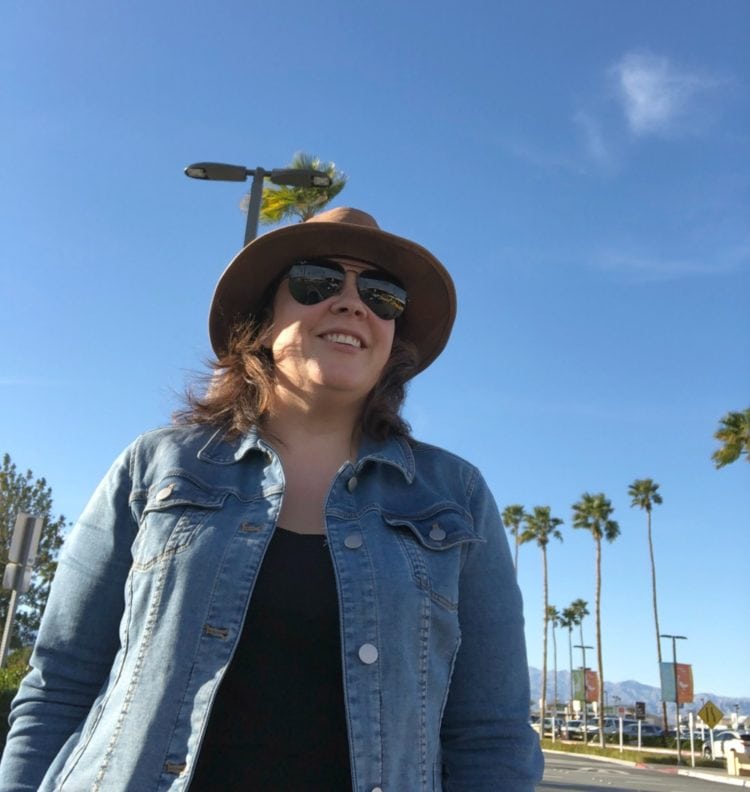 Major shoutout to this denim jacket. My old favorite denim jacket no longer fits. I saw this one at Soma (yes they have clothes as well as underpinnings!) and asked if I could try it. I am officially obsessed. It's super stretchy but you'd never know because looking at it and touching it, it looks like regular denim. It has the regular pockets but they're sewn so you have two deep interior pockets. I could carry my phone, my small wallet, a phone charger and cord, lip balm, my tickets, and more in those pockets without issue. I wore that jacket multiple times during the trip and it wasn't planned for my return outfit but I wore it again because it was so great for the flight there.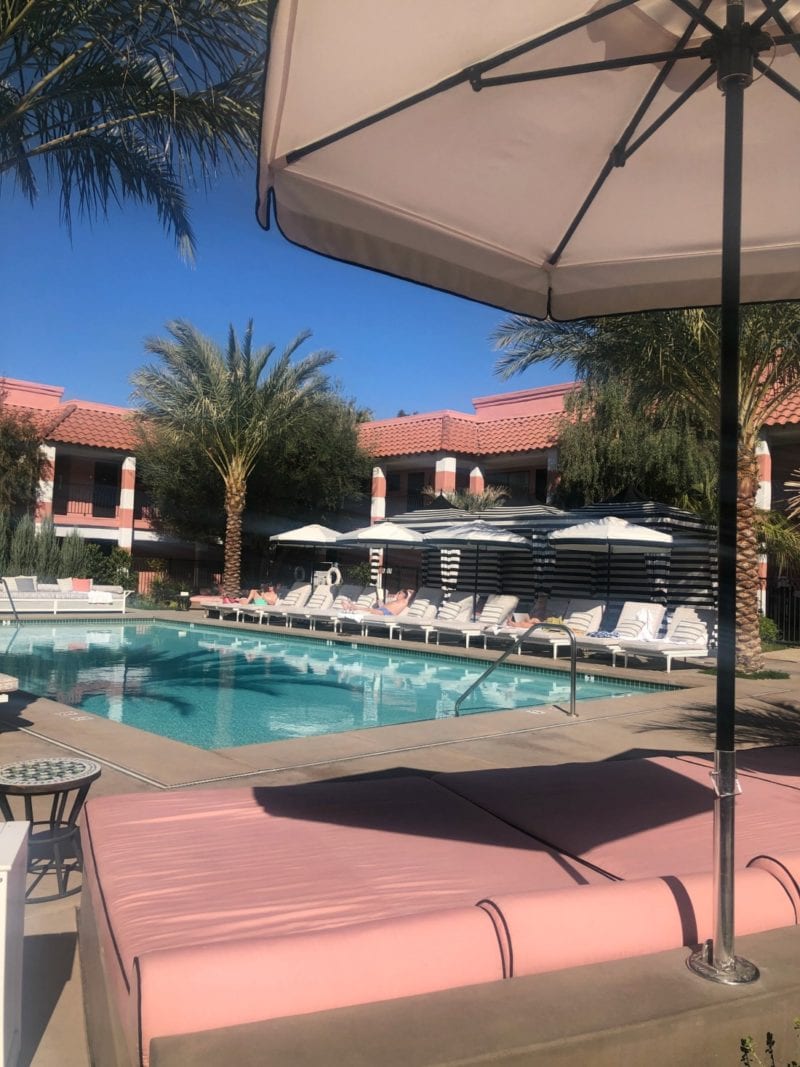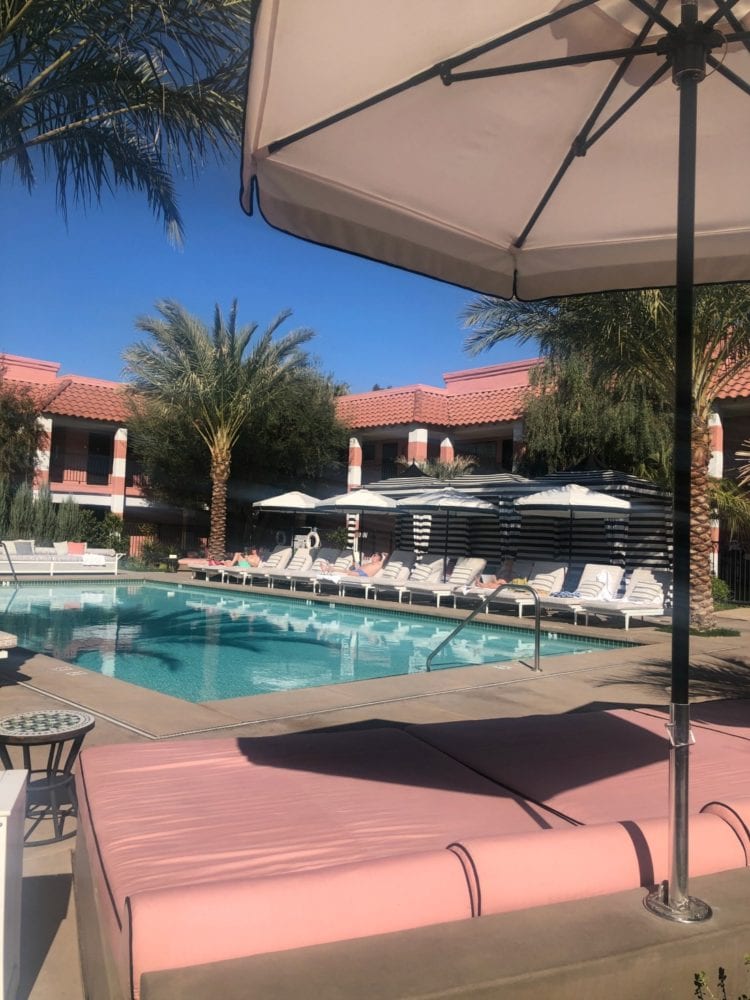 I arrived in Palm Springs around 5pm on Friday. It was in the low 70s, there was a slight breeze, and not a cloud in the sky. A car met me at the airport and took me to Sands Hotel and Spa. Originally built in the '50, Sands closed for a bit and reopened just last year becoming one of the chicest places to stay in Palm Springs. A beautiful rose pink with black and white tile trim and a gorgeous pool in the center of the compound, Sands is totally charming and totally gram-able. I received a glass of Moroccan tea upon check-in, and their pale pink polo-clad staff assisted me in bringing my bags to my room.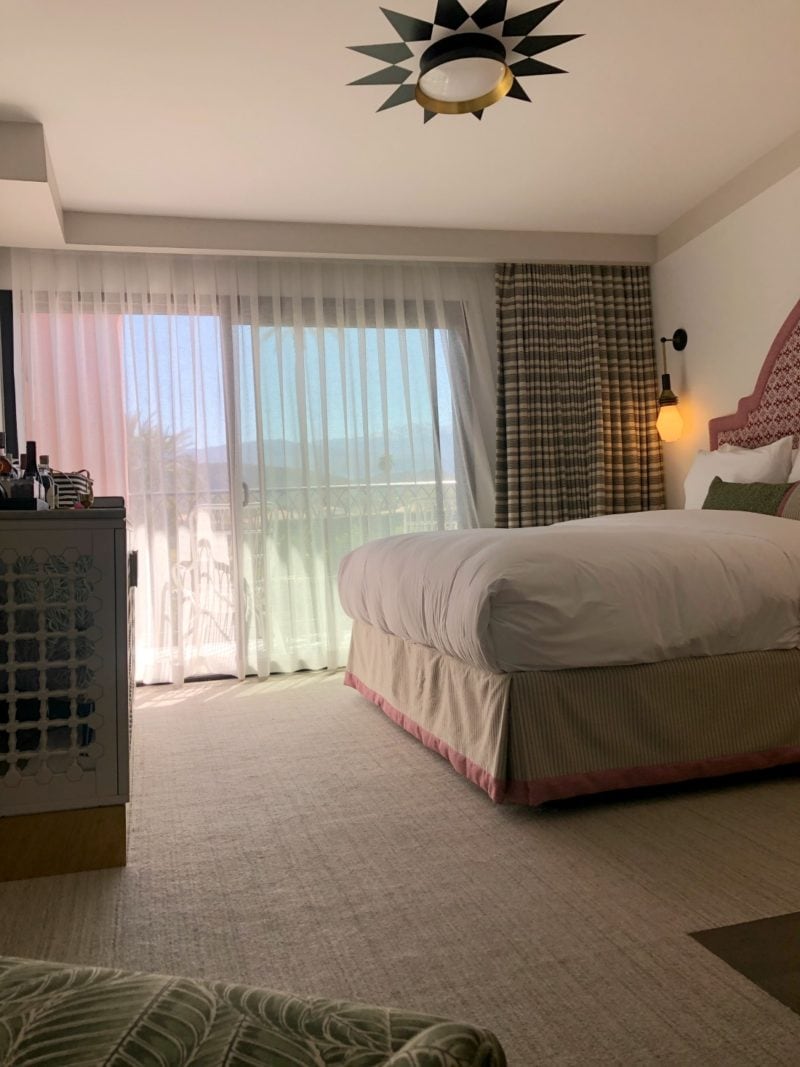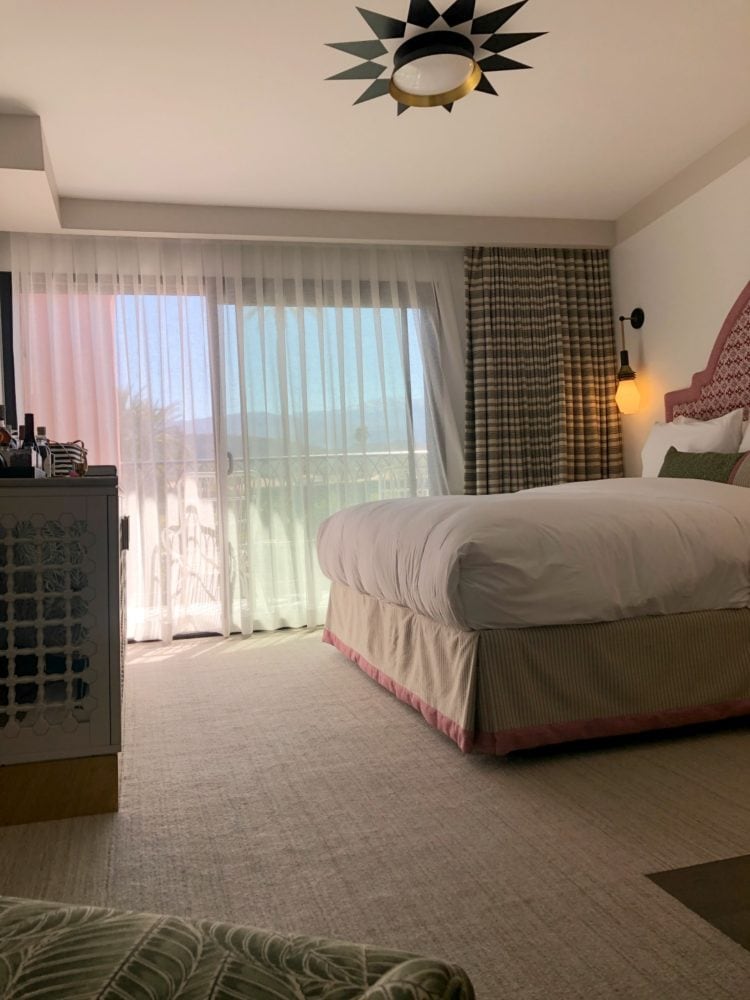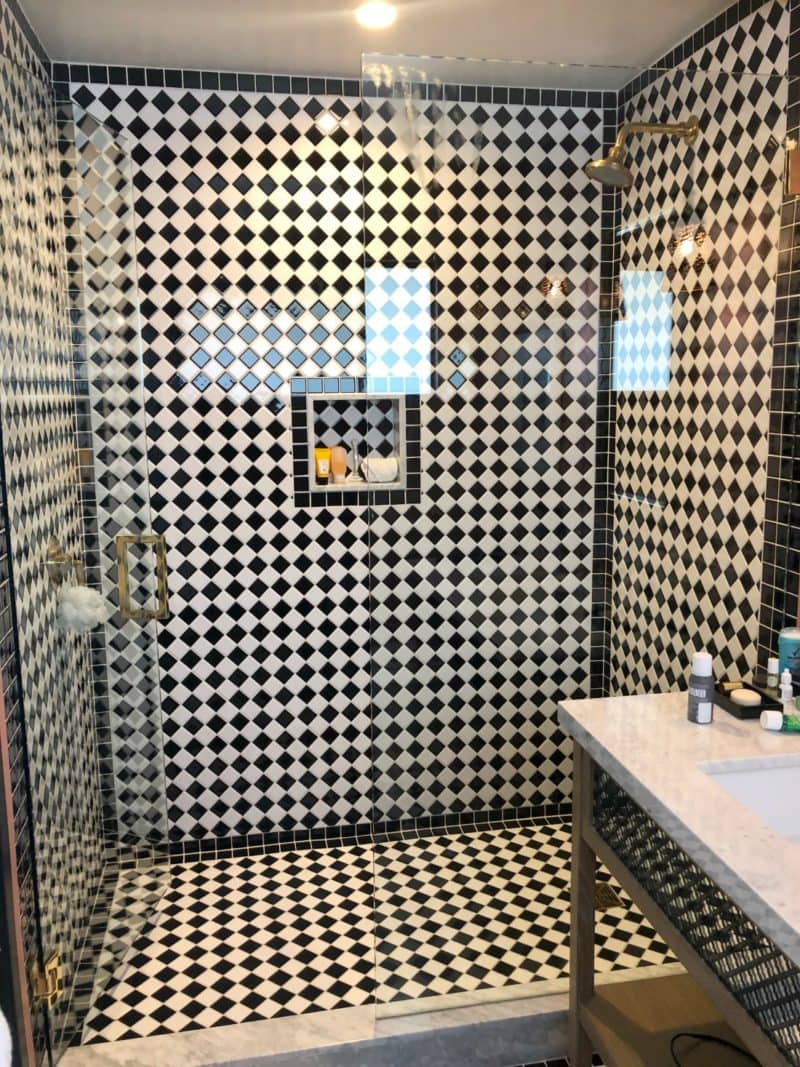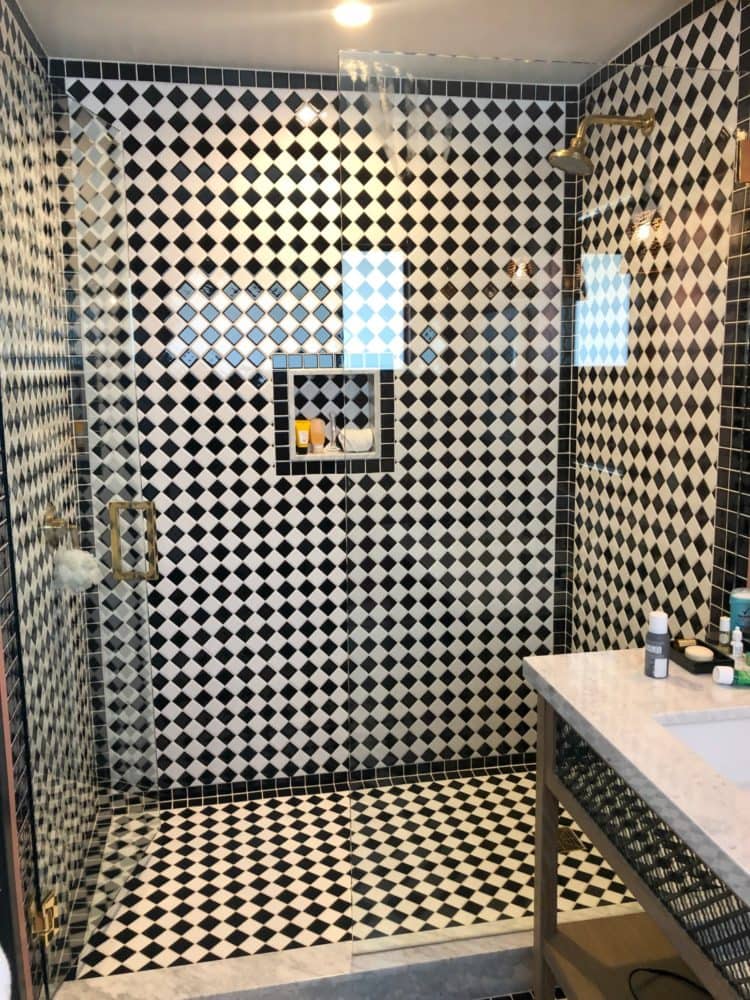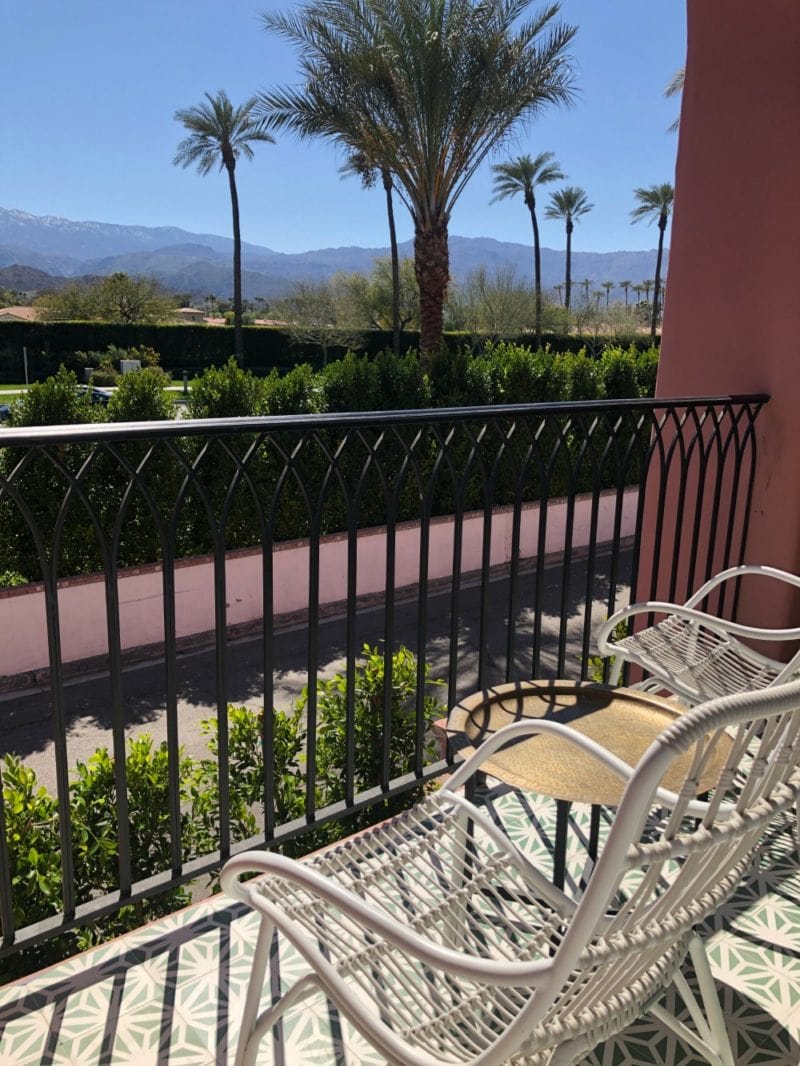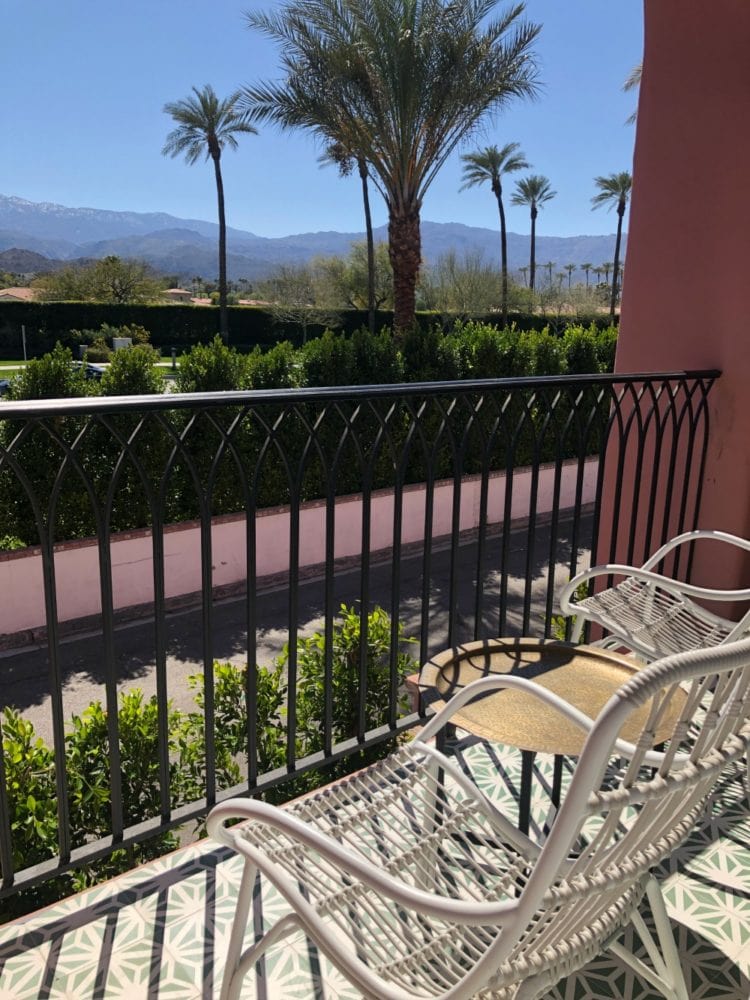 The room was just as gorgeous. The bathroom had a huge shower tiled in black and white, the bedroom had a Palm Springs meets Morocco vibe, and there was a large balcony with a spectacular view.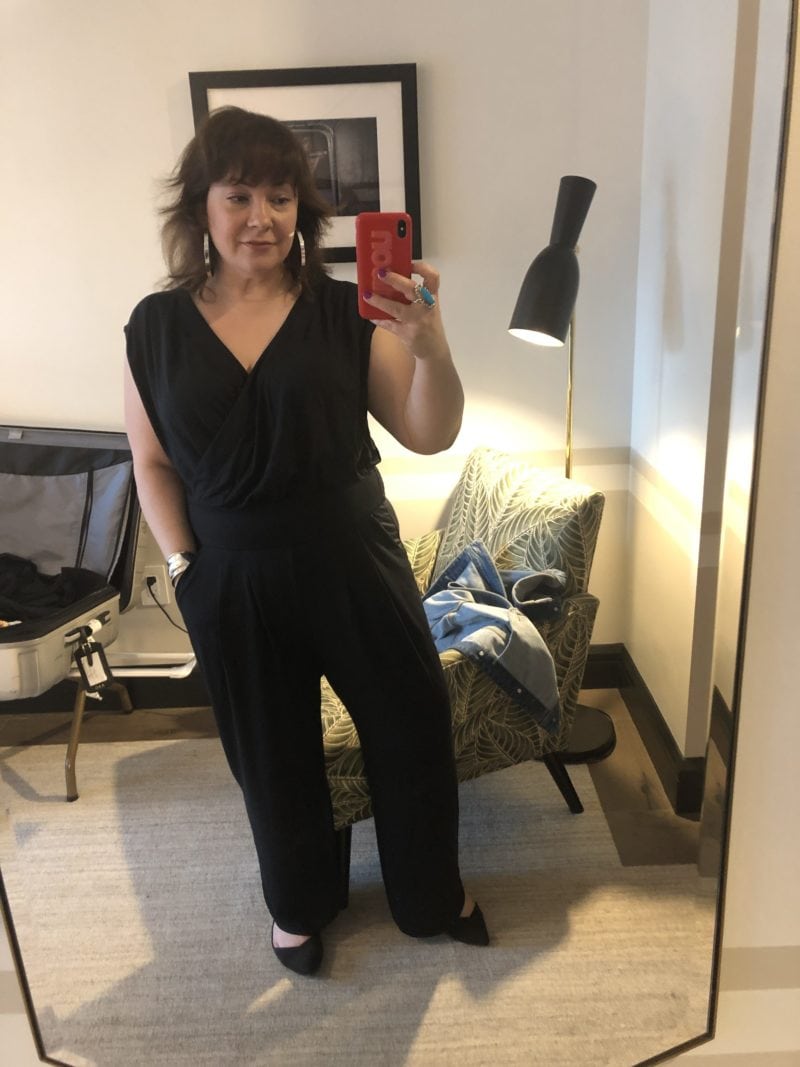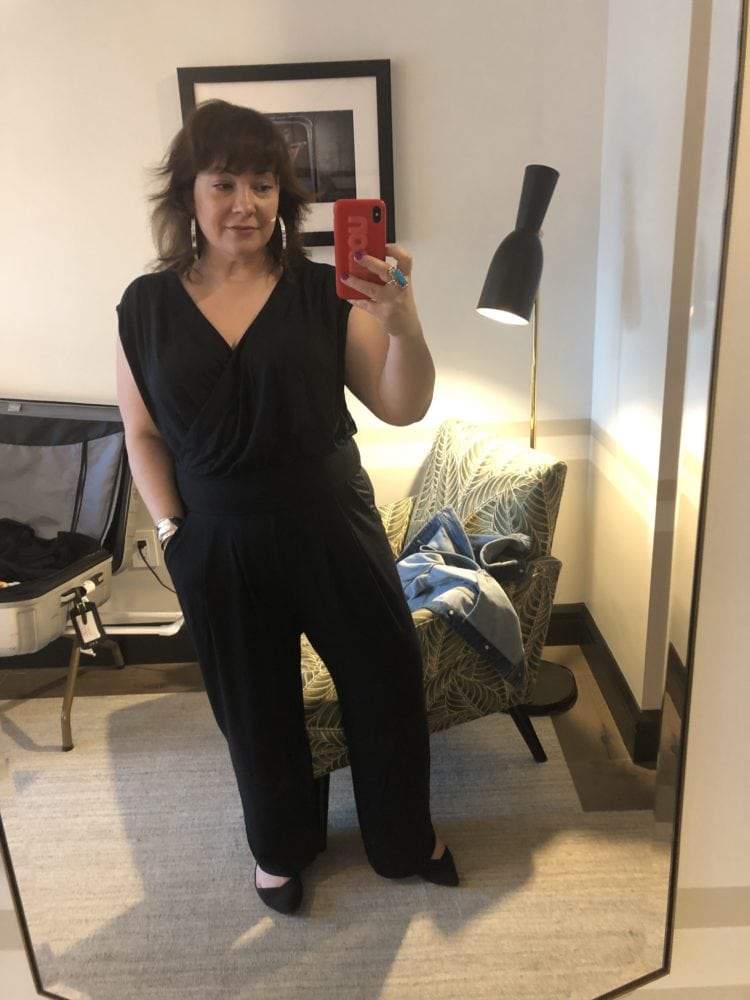 What I Wore: jumpsuit c/o cabi | Rothy's 'The Point' flats | 'Cober' hoops c/o Jenny Bird
I didn't have time to shower after my flight, so I cleaned up as best I could and put on the easiest thing I brought – a jersey jumpsuit and a pair of flats. Simple, comfy, and chic and totally appropriate for the venue. Tonya and I were the two influencers coming from the East Coast so we were flown in the first day so we could rest up; the two of us and three from Chico's had dinner together at the hotel restaurant, The Pink Cabana, and caught up.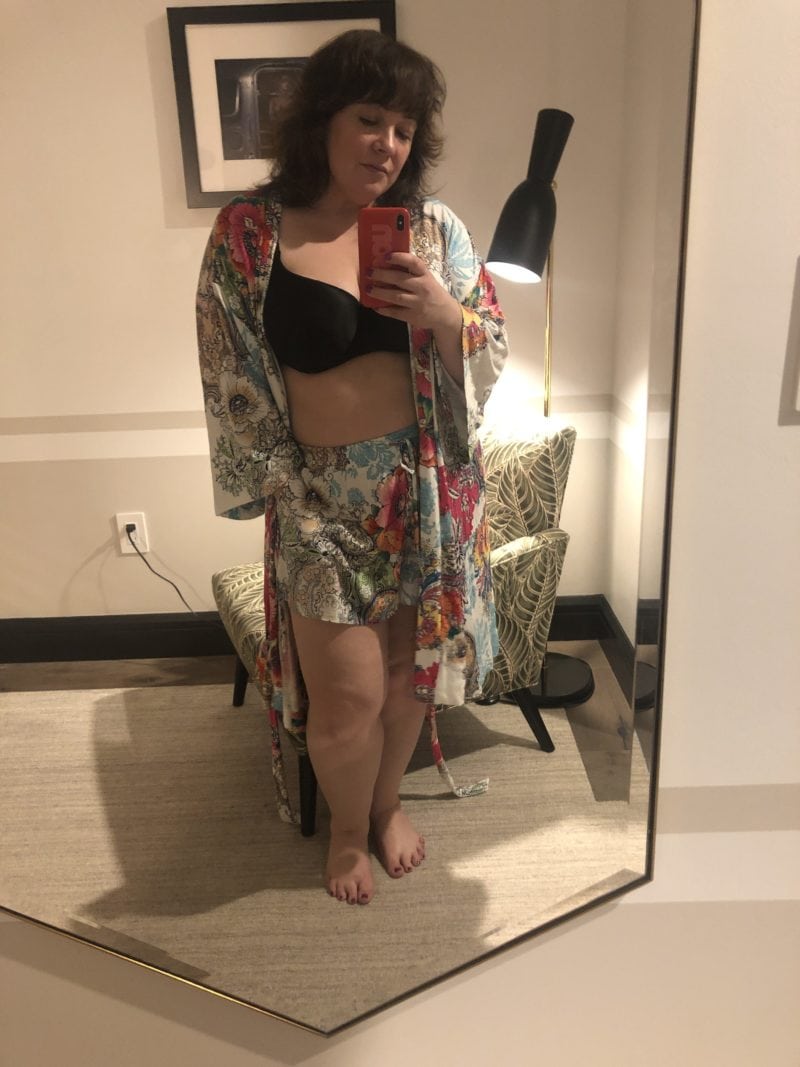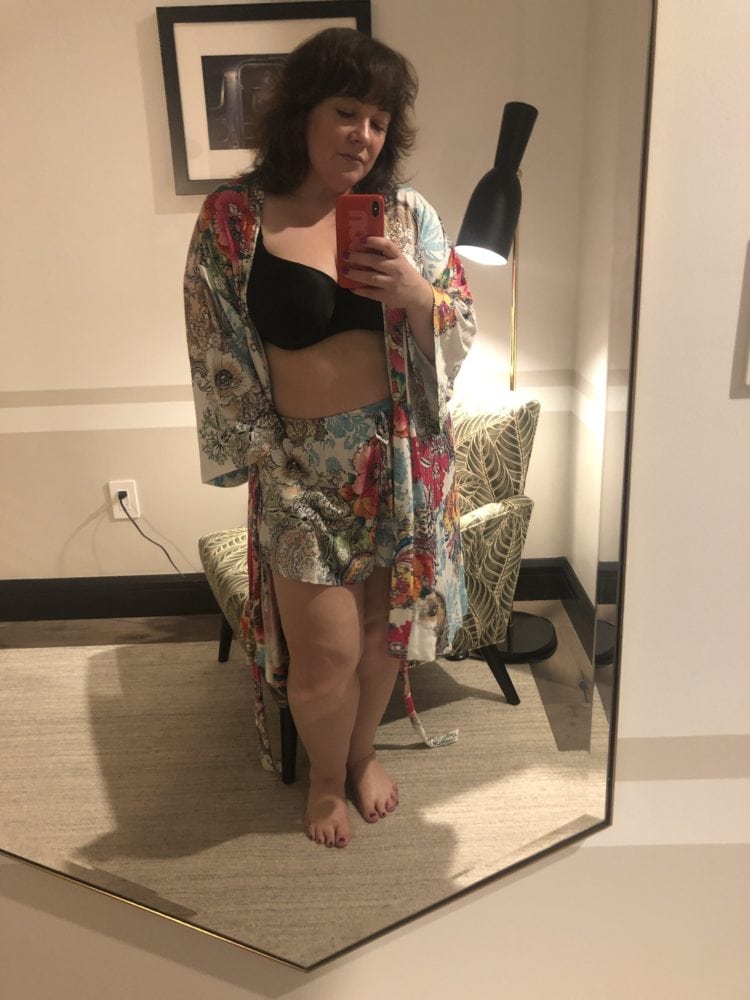 What I Wore: robe c/o Soma | shorts c/o Soma | Fantasie bra
I actually ended up going to bed in the shorts and a black cami, but since I wrote so much about this bra decided to get all sassy and show it off. These two pieces from Soma are from their Cool Nights collection. Super lightweight, feel cool and silky, and are favorites at home and on travel. And this print is just too fabulous.
Day 2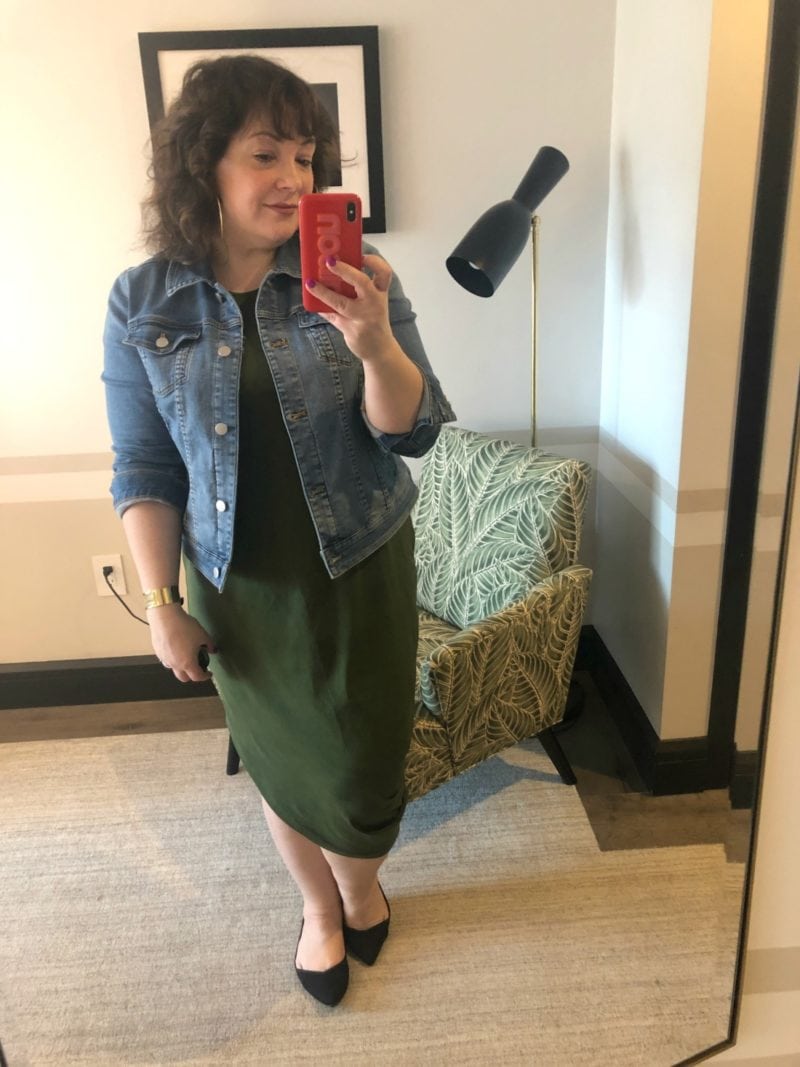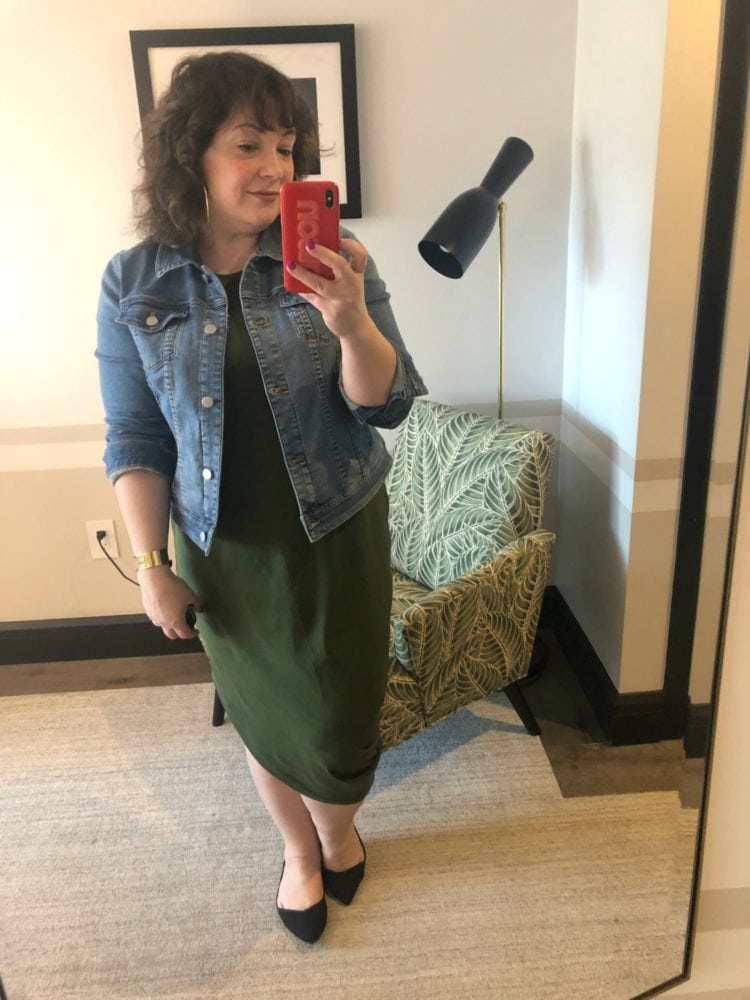 What I Wore: dress c/o Universal Standard | denim jacket c/o Soma | Rothy's 'The Points' flats | Large Monogram Hoops c/o Jenny Bird | bracelet c/o Jenny Bird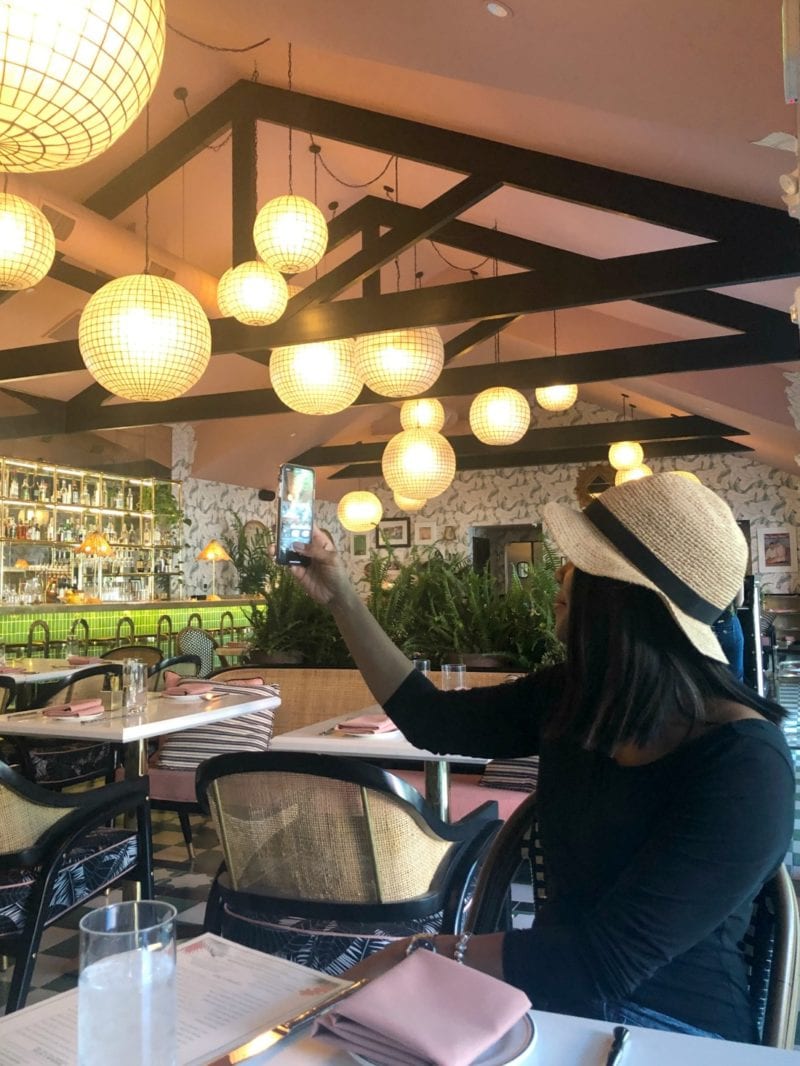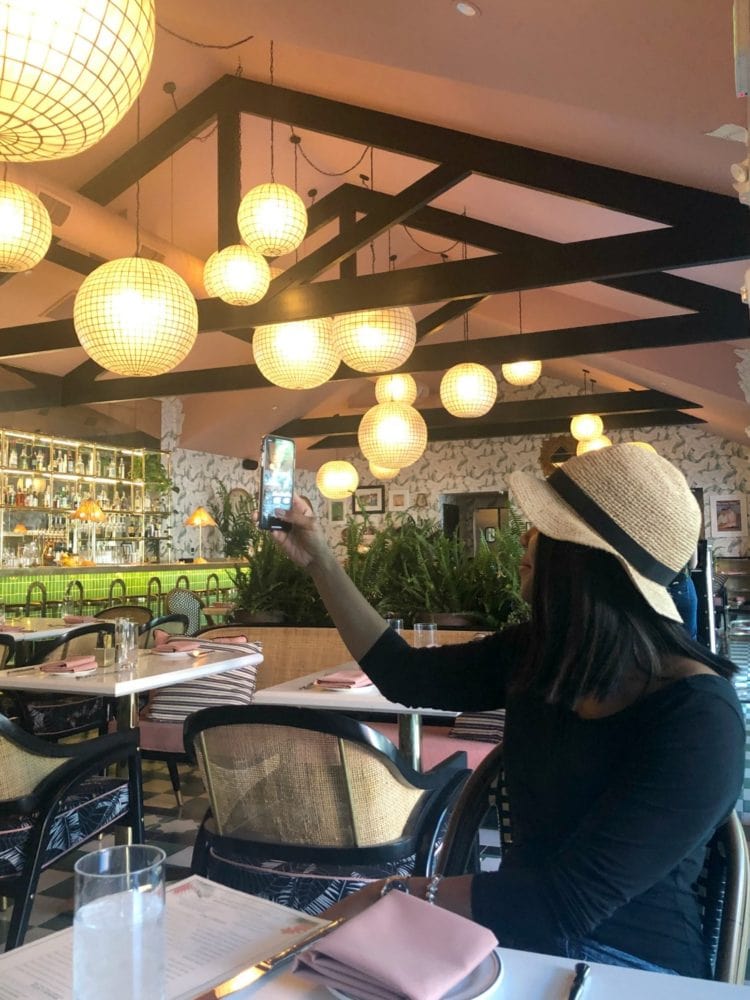 I met Tonya for breakfast at the hotel restaurant, an adorable place with a delicious menu. I had the avocado toast and about a gallon of coffee. Tonya and I met in Florida last year.  Once back, we had lunch together before she moved farther away; she's such a joy to be around and I was glad to see her.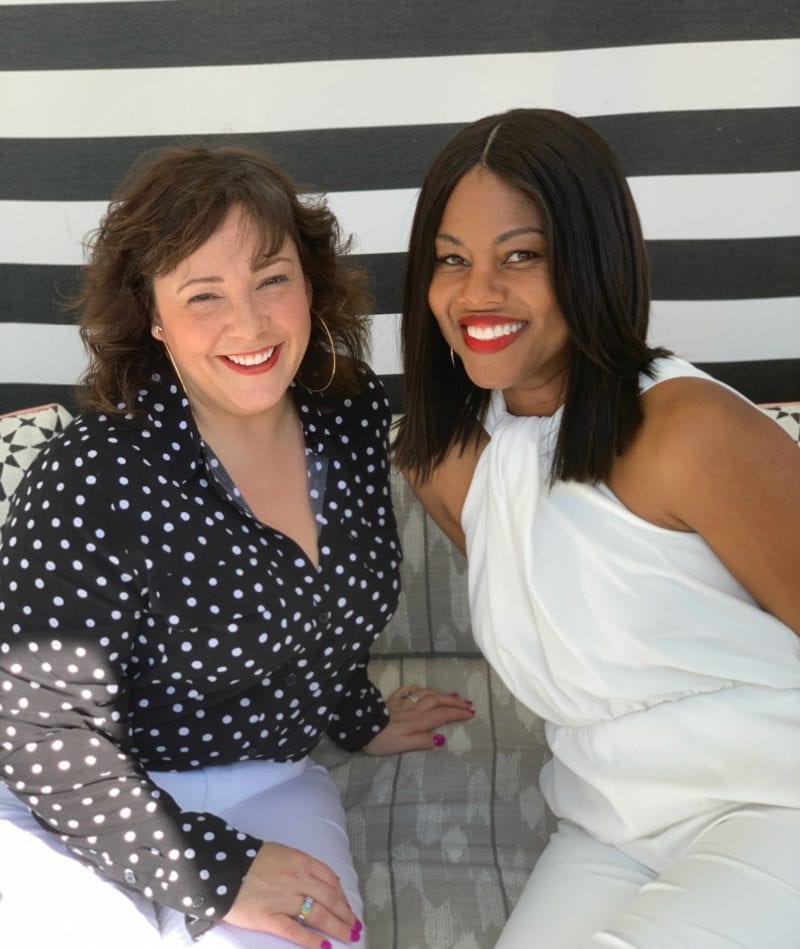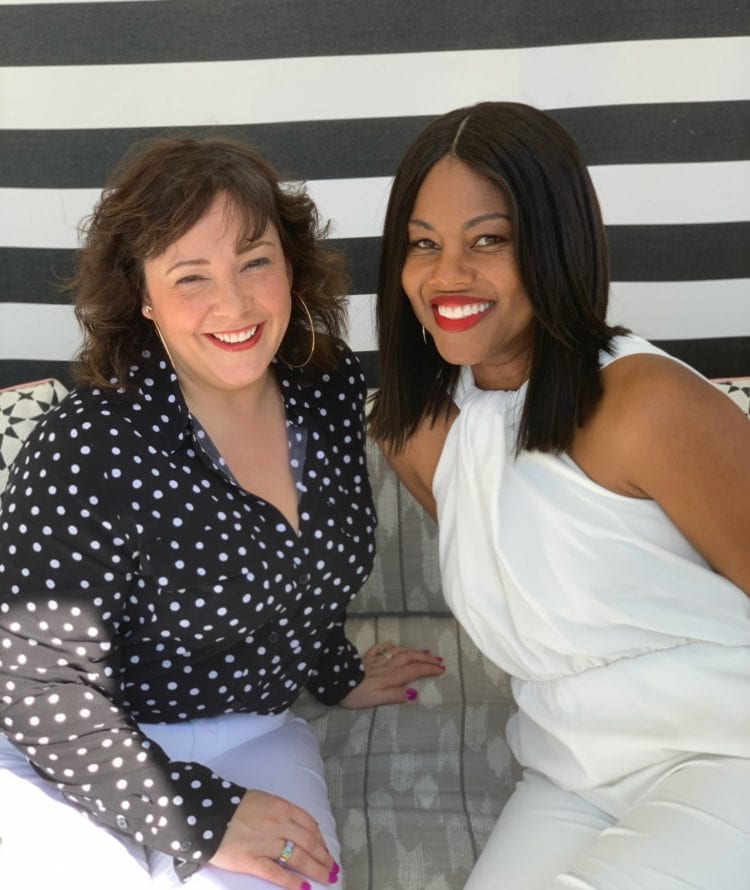 After, we had free time in our schedule. Tonya and I took some pictures of our outfits, scoped out the scene at the hotel pool, and met up with the other influencers as they arrived.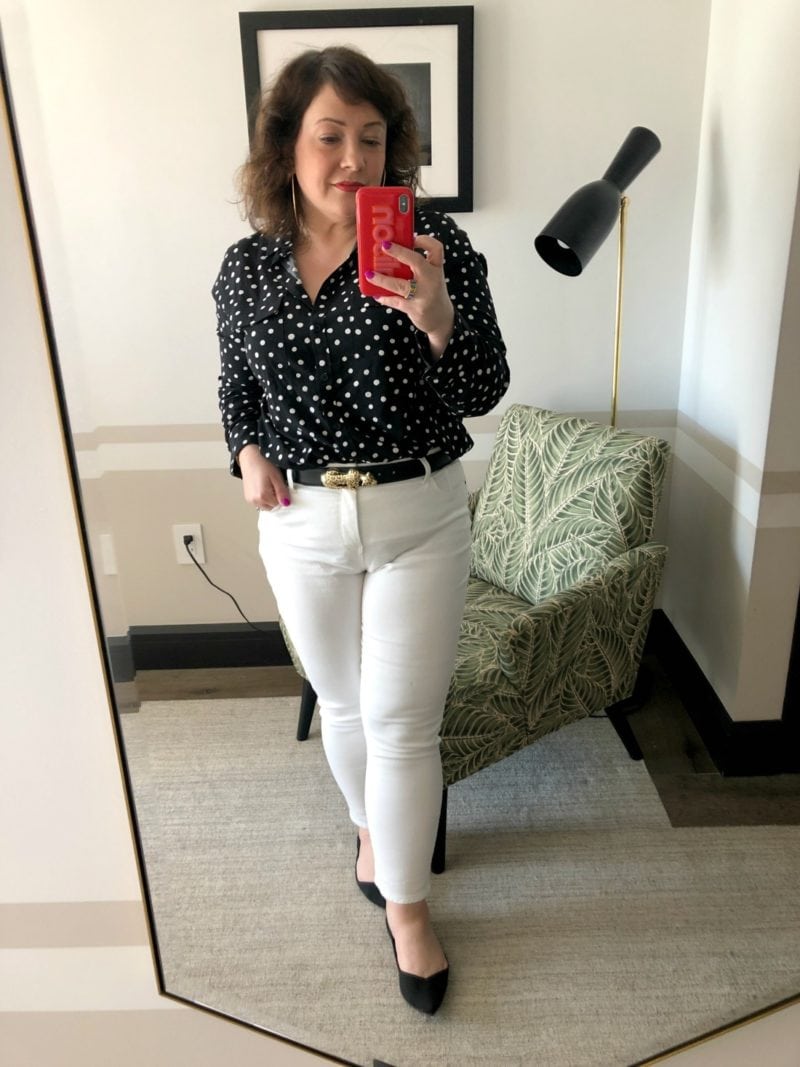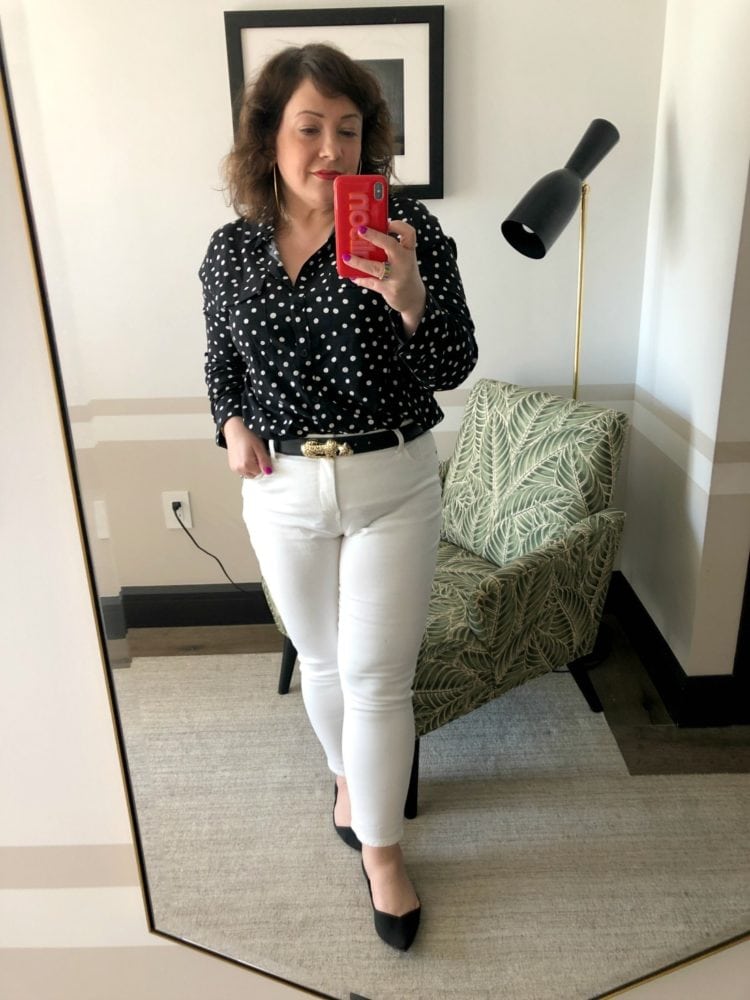 What I Wore: blouse c/o Chico's | belt c/o Chico's (sold out; previously seen here) | jeans c/o Chico's (previously seen here) | Rothy's 'The Points' flats | earrings c/o Jenny Bird | Clare V. clutch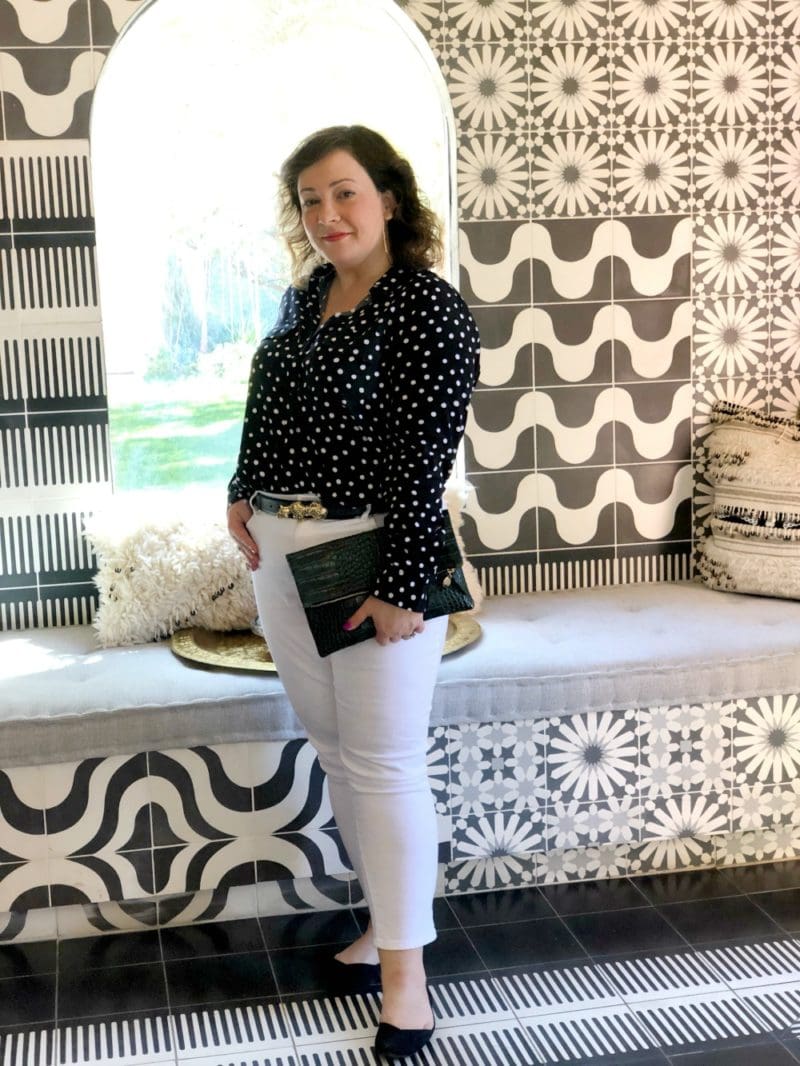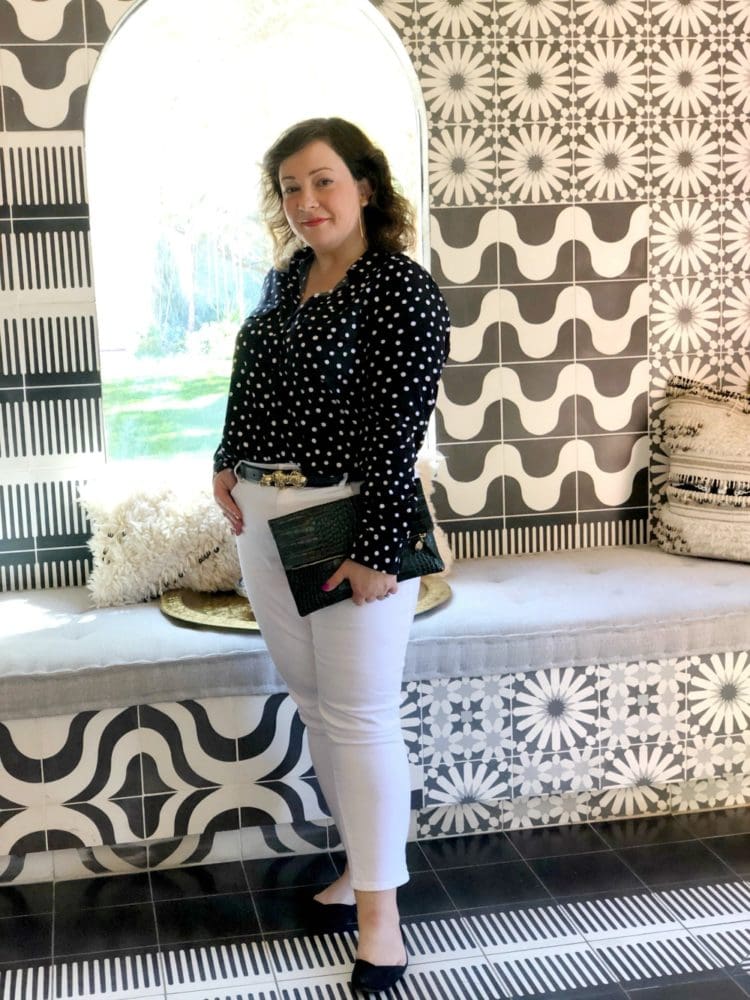 With all the influencers in Palm Springs and checked into the hotel, Chico's took us to lunch at AC3 Restaurant and Bar which just won the award for Palm Desert Best New Restaurant. We got a table outside on their covered patio and caught up over delicious salads and iced tea. I hadn't seen Sheree or Jamie since the Florida trip last year and though I feel like I've known here for years hadn't yet met Dawn Lucy in person.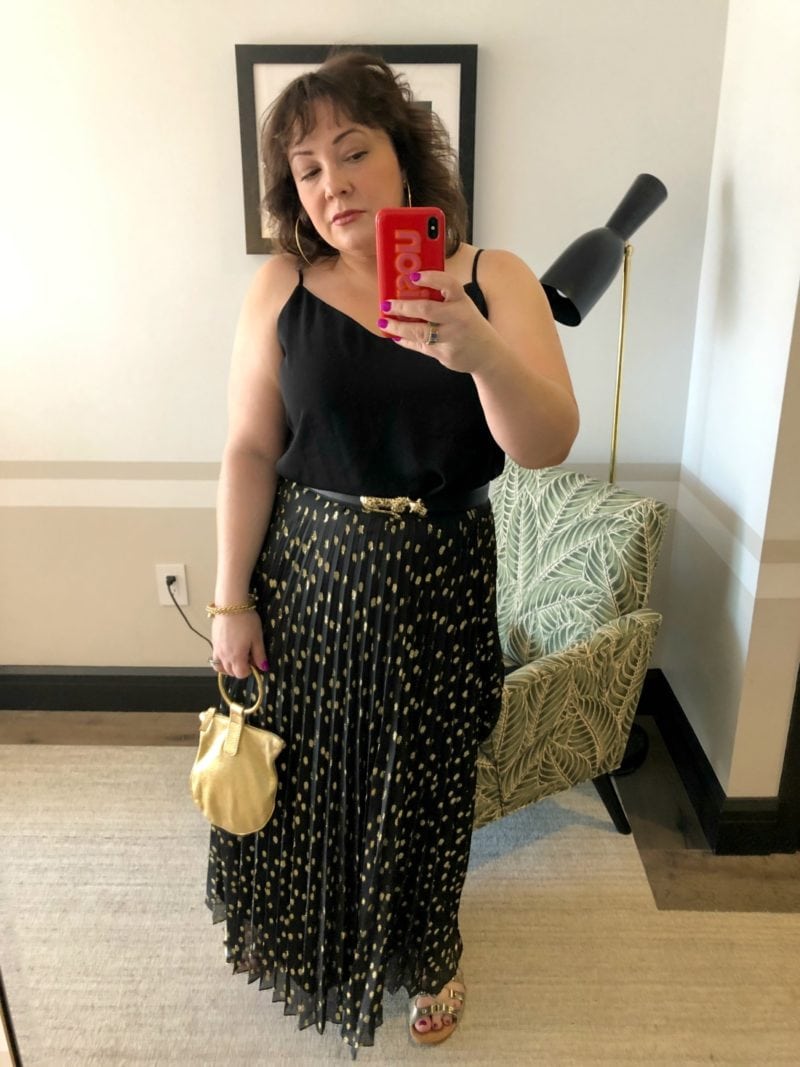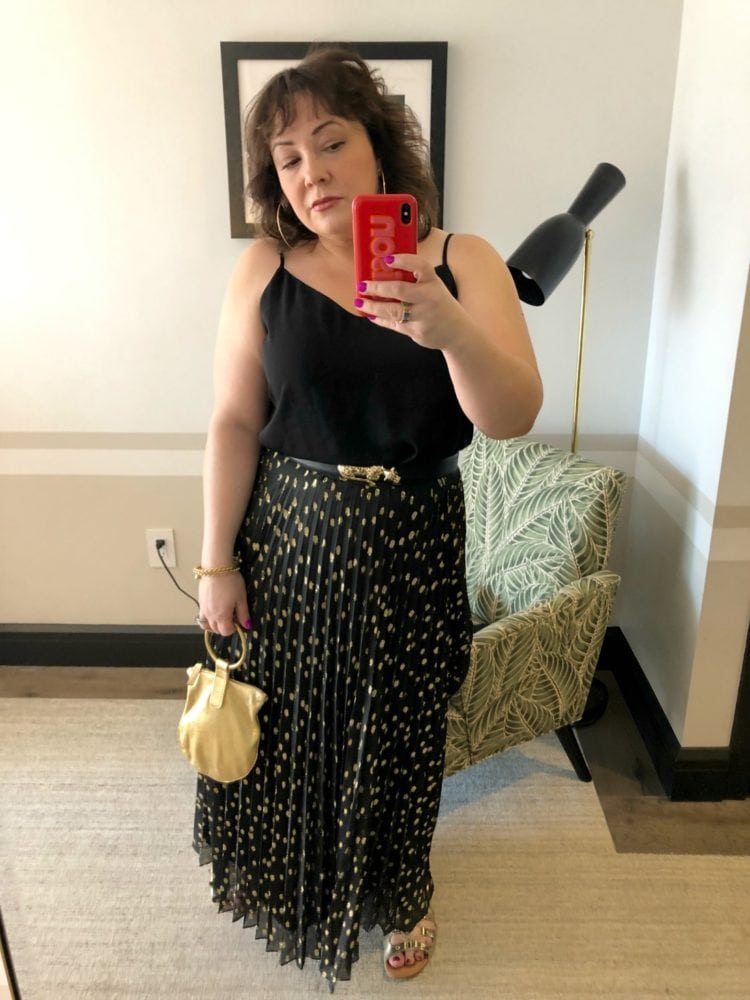 What I Wore: J. Crew camisole (previously seen here) | belt c/o Chico's (sold out) | skirt c/o Chico's (previously seen here) | Bella Vita flats (previously seen here) | Myers Collective bag (previously seen here) | bracelet c/o Chico's | earrings c/o Jenny Bird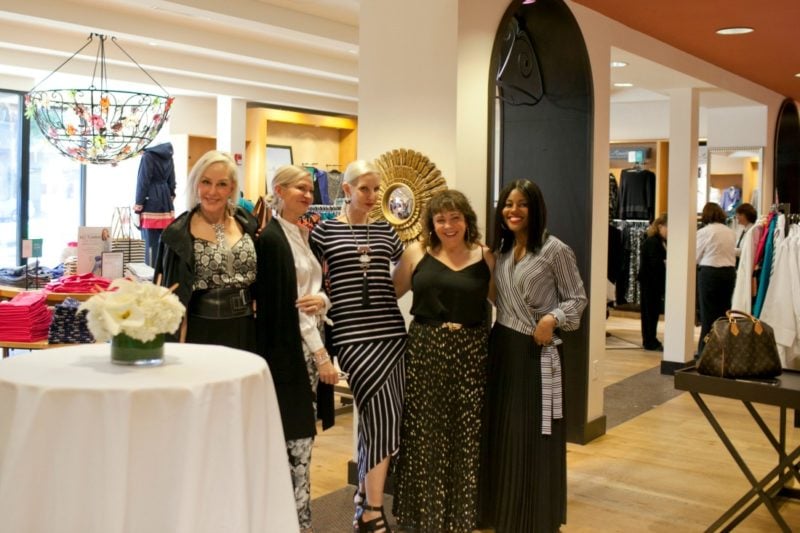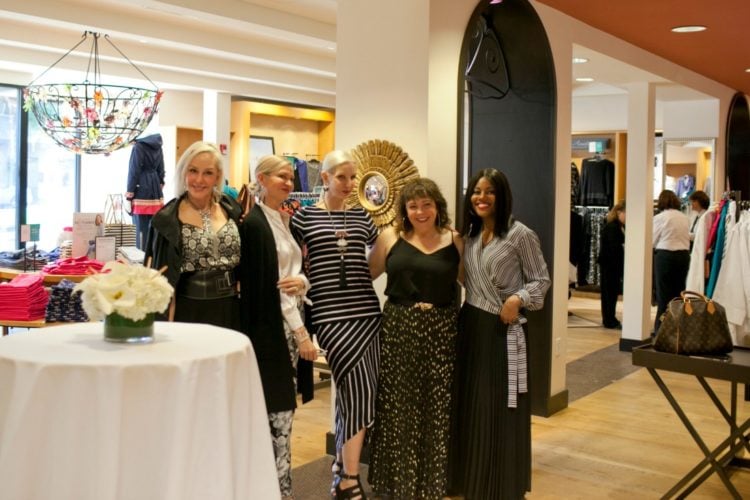 After some time to decompress, we headed to downtown Palm Springs and visited their local Chico's. It's the biggest and highest volume Chico's store and is as big as a small department store! They were having an in-store event with passed hors d'ourves and champagne, demonstrations of their stain-resistant clothing line, and special discounts. Chico's provided each of us with a gift card. I haven't shopped Chico's in person in a while and it's good to do so as things look different in person. Often things I pass by online appeal to me in person. I ended up purchasing this shell in blush pink (size 2), a belt bag (size medium, no longer on the site), this beaded necklace and two of the matching bracelet, and this white denim jacket (size down, I went with a 1).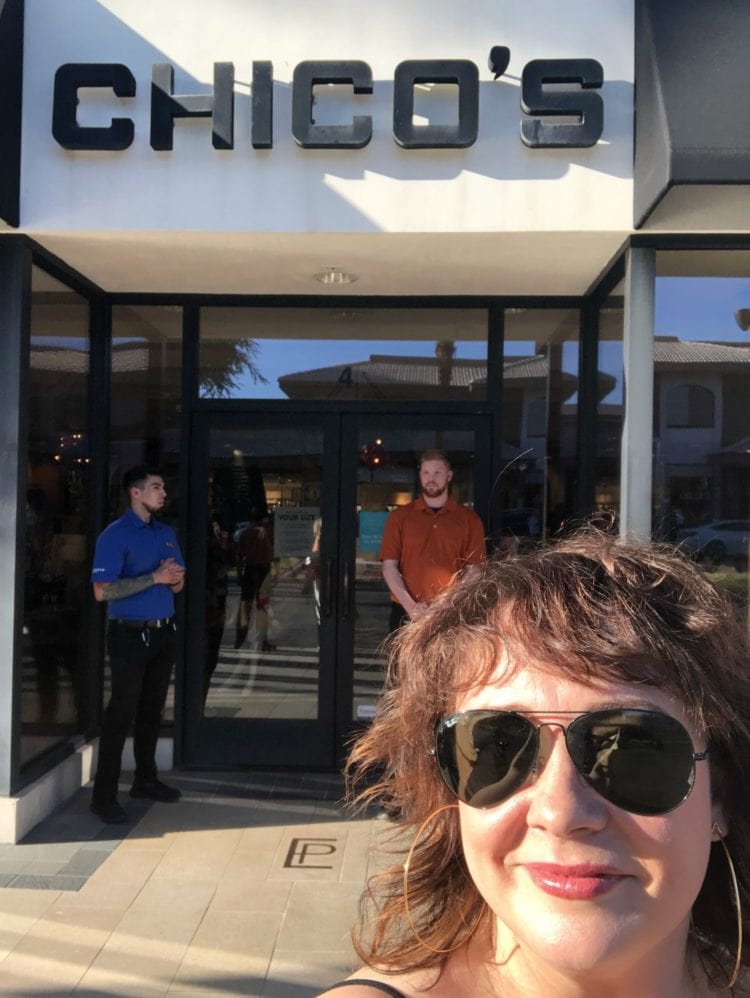 After as a group we went for dinner at The Venue, a sushi restaurant across the street from Chico's. Super delish.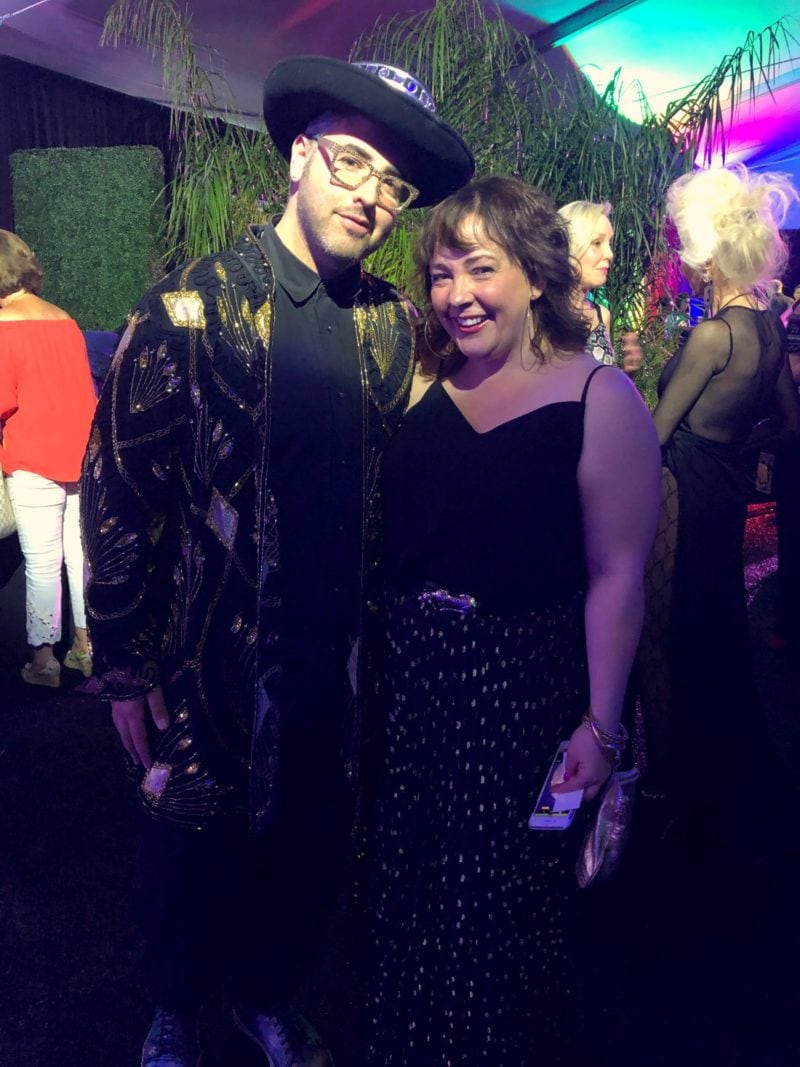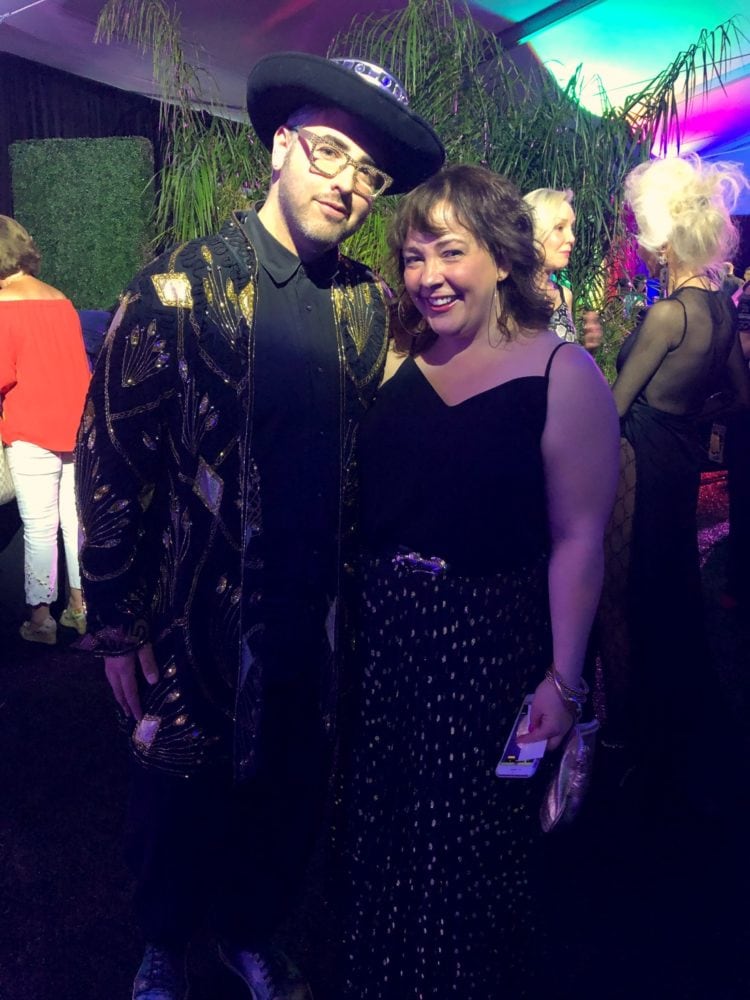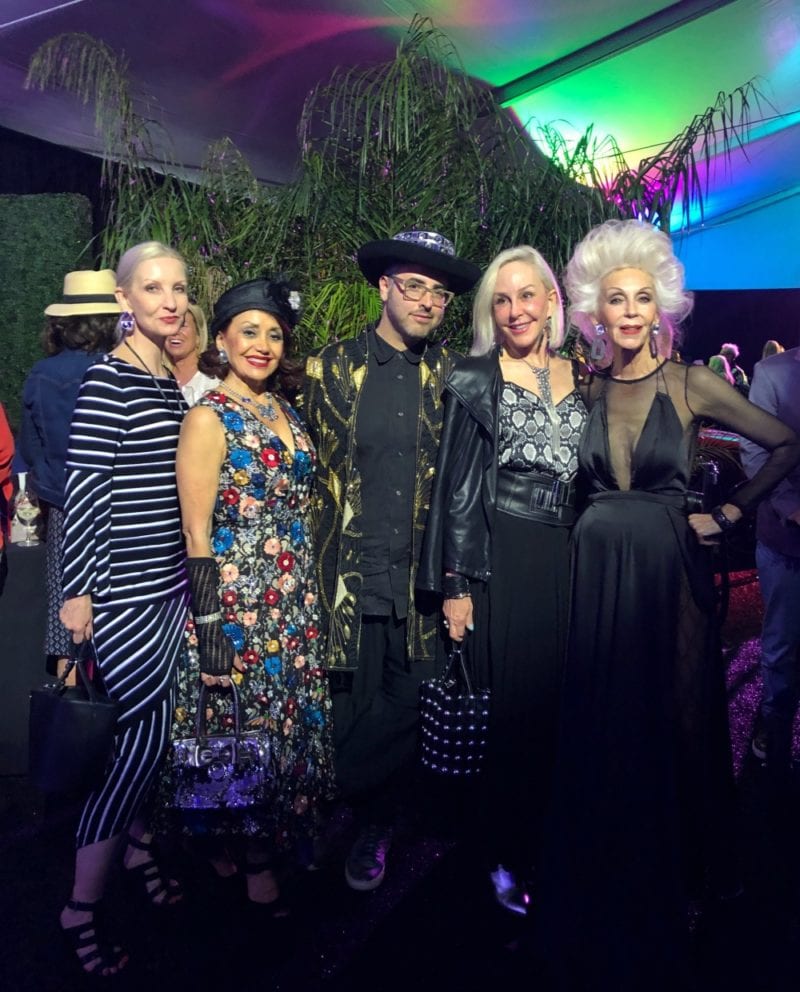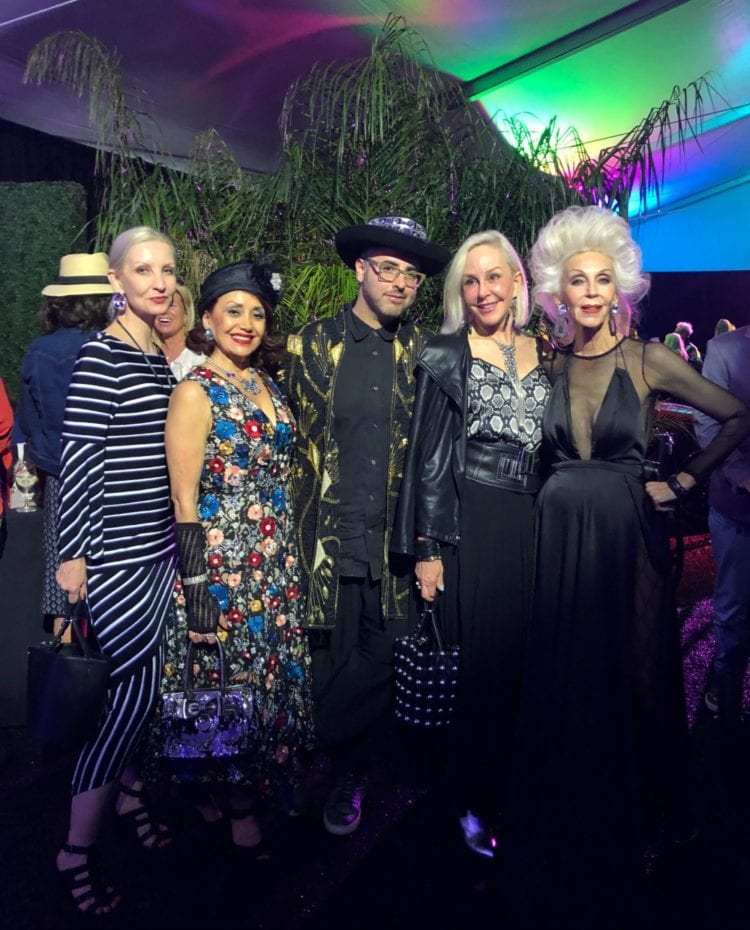 After we headed to Fashion Week El Paseo. The largest fashion week on the West Coast, Fashion Week El Paseo has quite a variety with a theme every evening. That evening it was California designers. On the car ride there, I changed from my flats to a pair of strappy black heels to make the look more cocktail attire. We mingled, got photos on the selfie wall, and even met Ari Seth Cohen, founder of Advanced Style, and some of the fierce fashionistas he has featured (including his mom!). We then got our seats for the shows.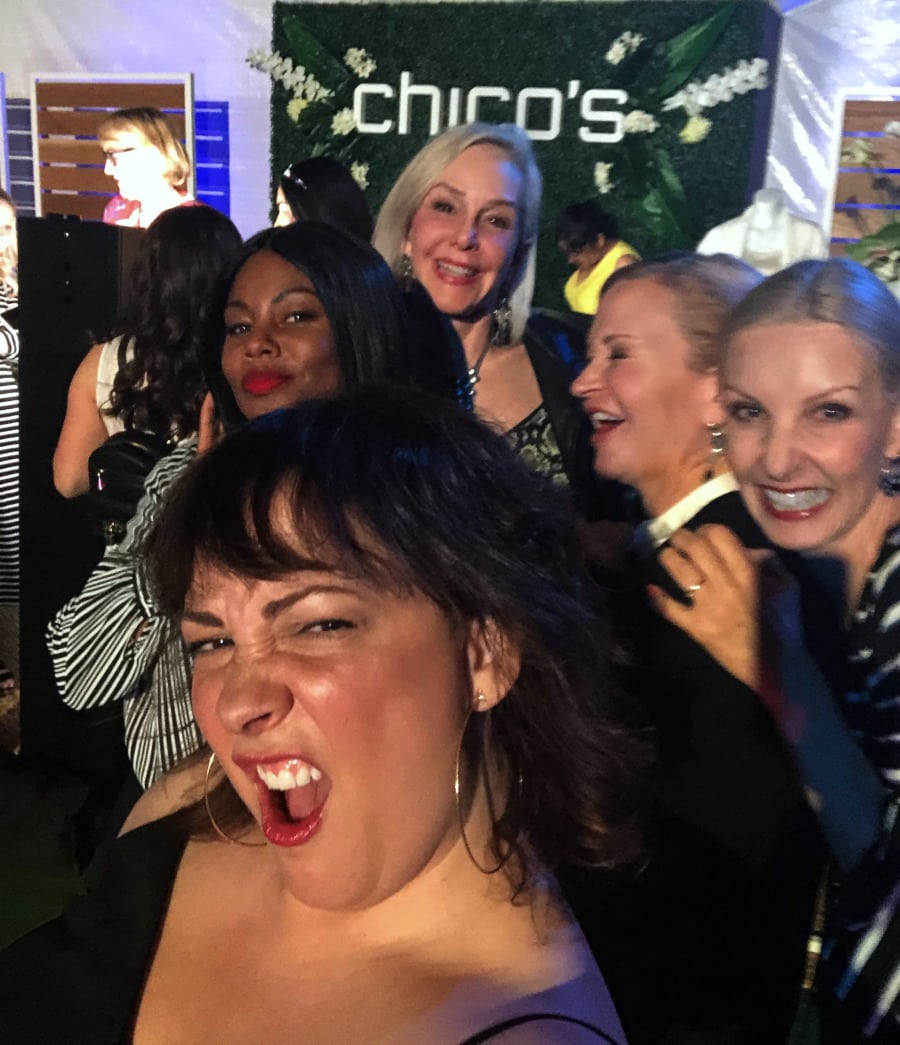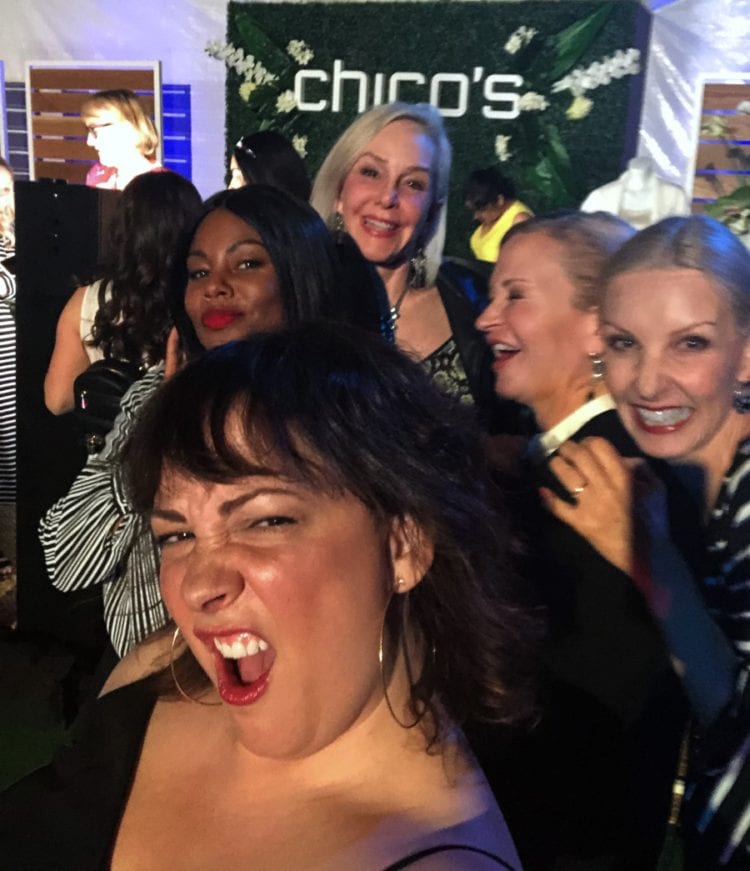 We saw three different designers; my favorite was Zandra Rhodes. An icon, Rhodes helped put London on the fashion map in the '70s. After showing her designs to Diana Vreeland, Rhodes' fashions were featured in American Vogue and began selling at Henri Bendel, and then other retailers like Saks and Neiman Marcus. She has dressed famous fashionistas and fashionistos such as Princess Diana, Debbie Harry, Freddie Mercury, Bianca Jagger, and Isabella Blow. I wanted almost every piece in my wardrobe; I loved the femininity, the mix of patterns, and how everything was so breezy and feminine and fun.
Day 3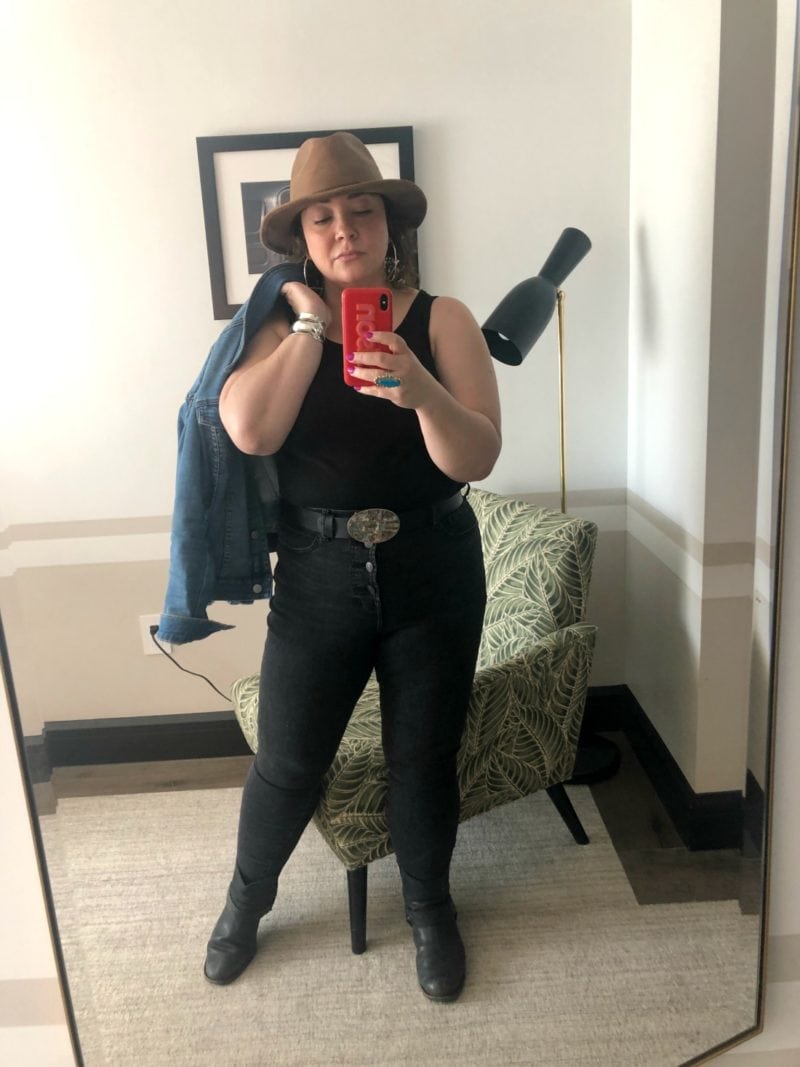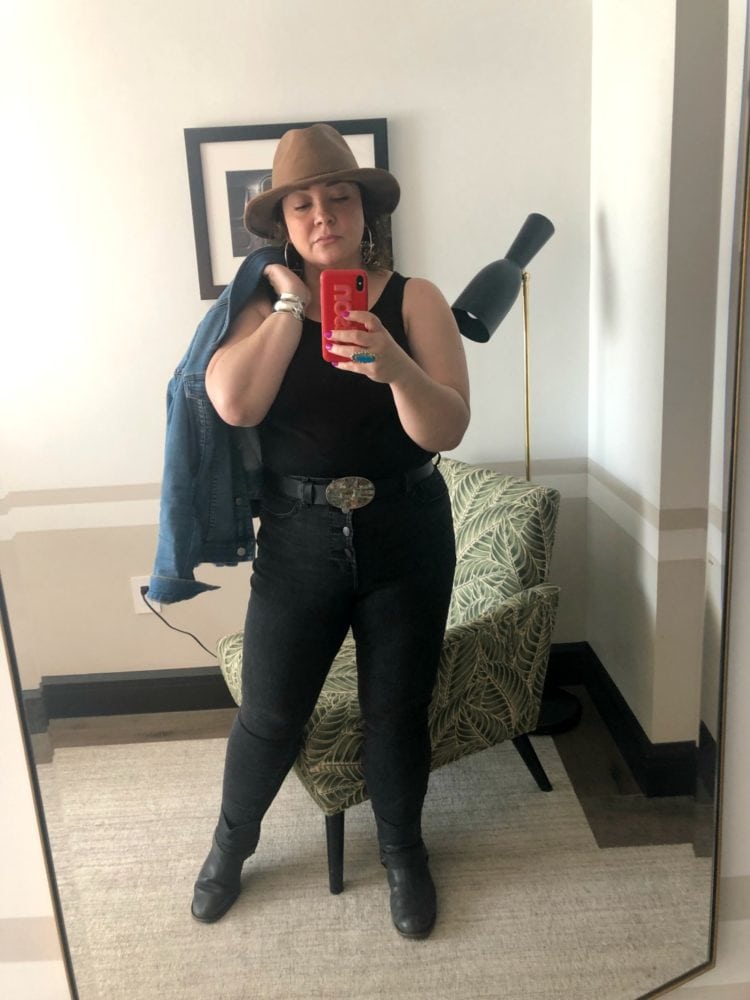 What I Wore: tank (sold out, similar here) c/o Universal Standard | jeans c/o Everlane (previously seen here) | L.L. Bean boots (old; similar) | Etsy belt | Etsy belt buckle | hat c/o Tenth Street Hats | denim jacket c/o Soma | my trusty silver cuff | Jenny Bird earrings | Ray-Ban sunglasses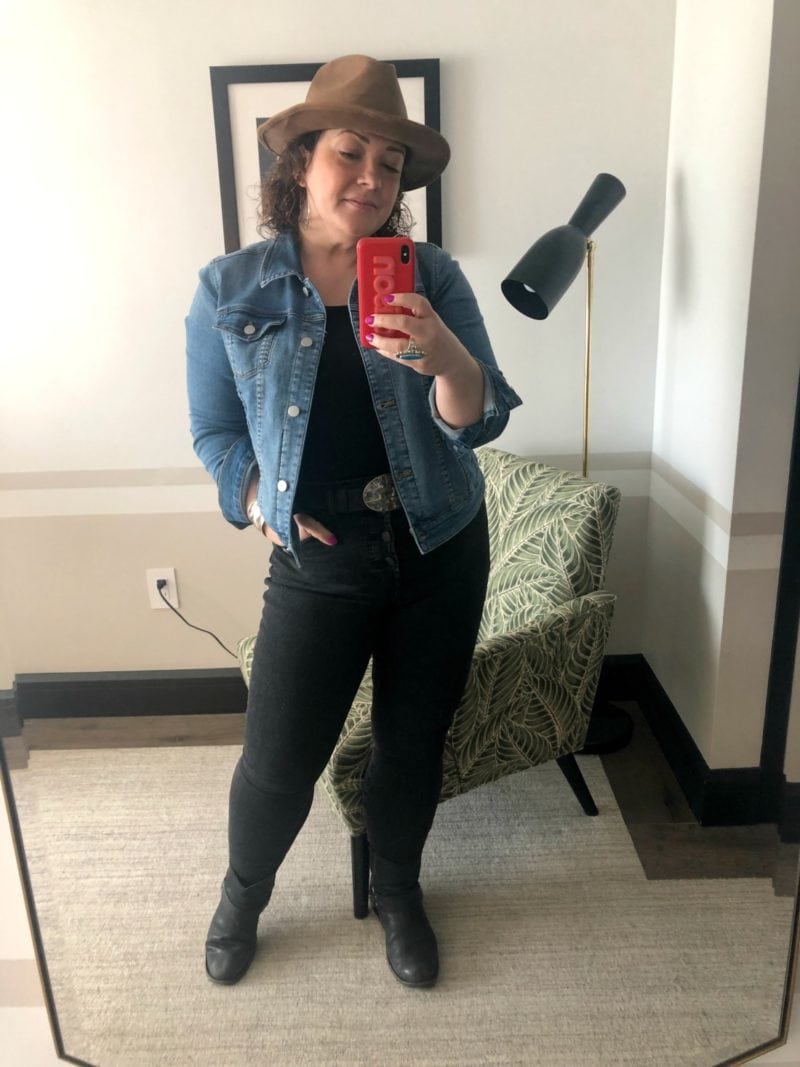 Through a group chat on Instagram DM, we influencers agreed to meet for breakfast at the hotel restaurant at 8 am. We didn't have a ton of time between breakfast and heading out for the day so I dressed for both occasions.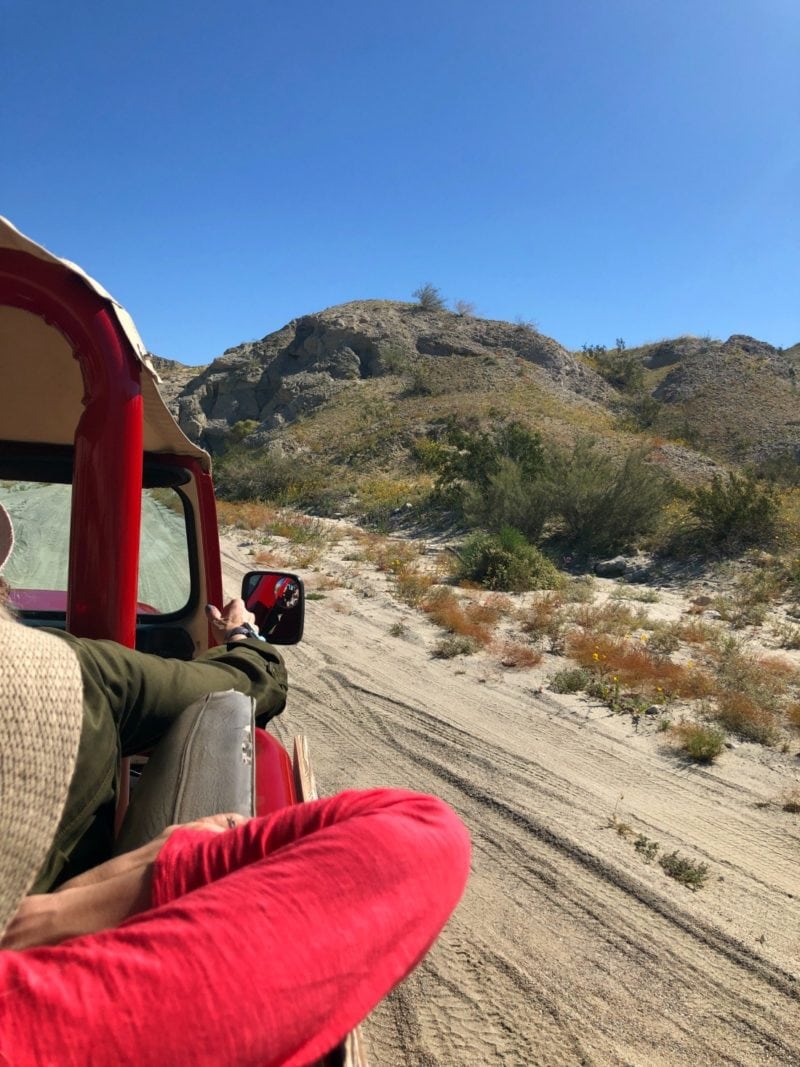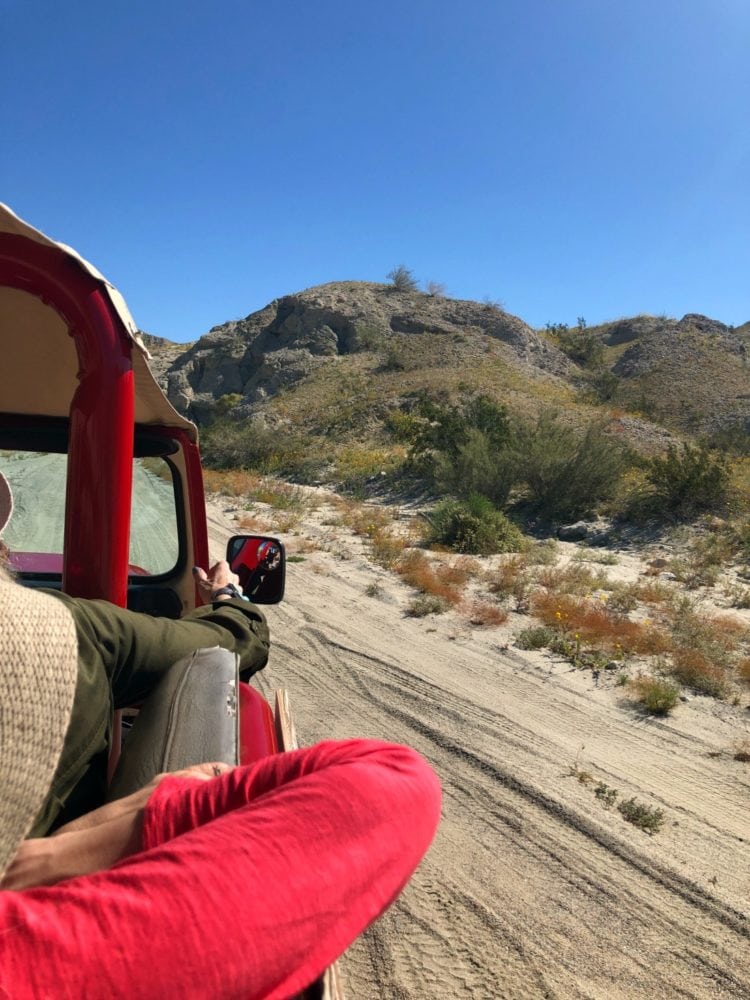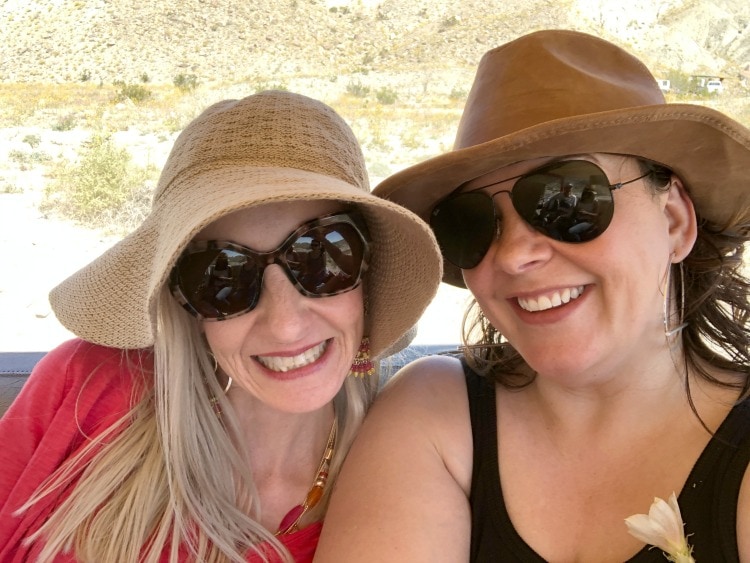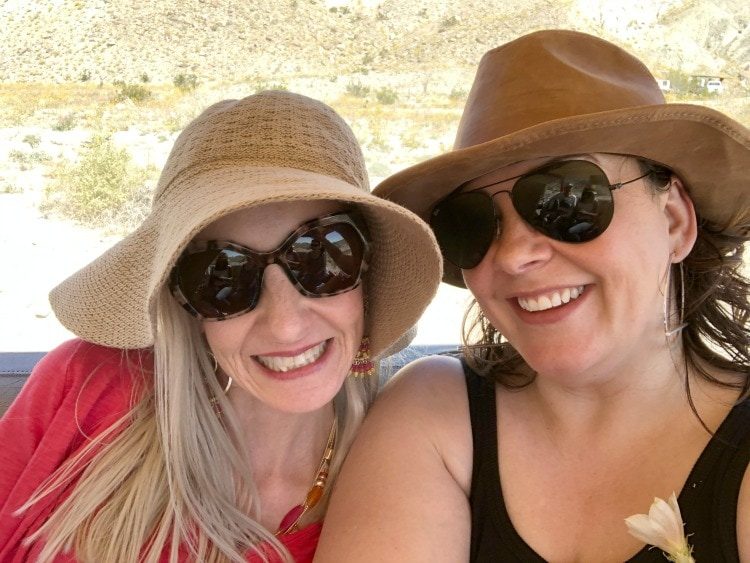 That day we headed out for a Jeep tour of the San Andreas fault area with Desert Adventures. It was a gorgeous day, and the desert was especially gorgeous with wildflowers thanks to the rains the previous month. In fact, our tour guide Rick informed us this was the most vibrant display of wildflowers in 50-100 years because of the February rainstorms. This part of the trip was especially awesome for me. Riding in the back of that Jeep looking at all of Mother Nature's beauty literally brought me to tears. It was so great to be with a group of women who totally got how I was feeling, it was a really special time.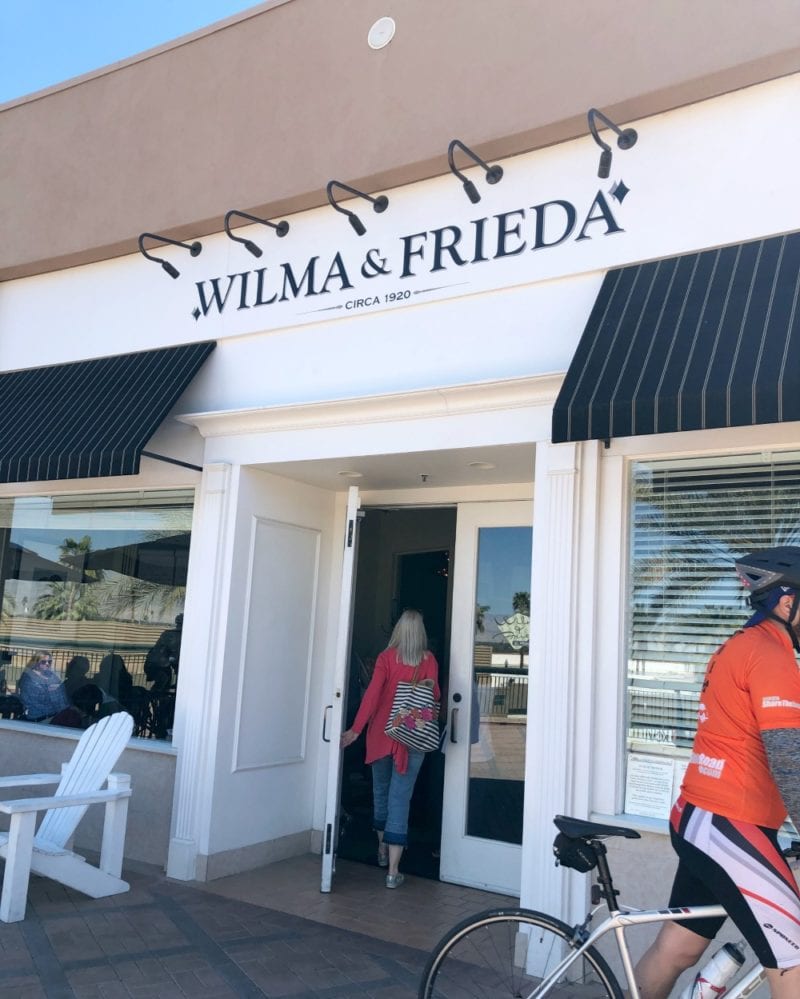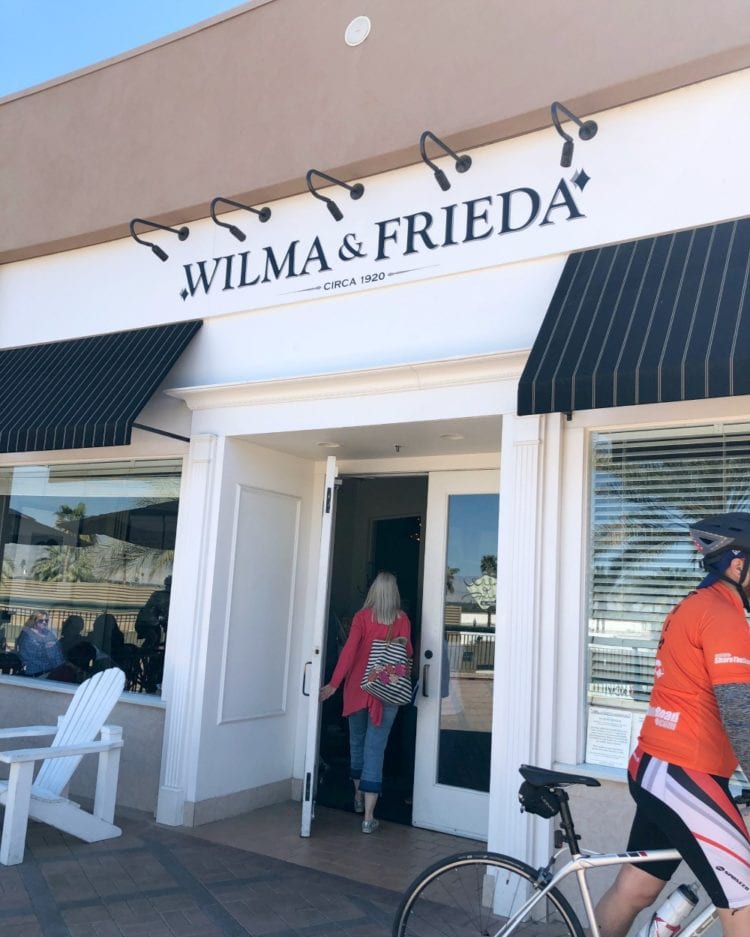 After the Jeep tour, we grabbed lunch at Wilma & Frieda, then had a couple of much-needed hours to wash off the desert dust and take a disco nap before the evening festivities.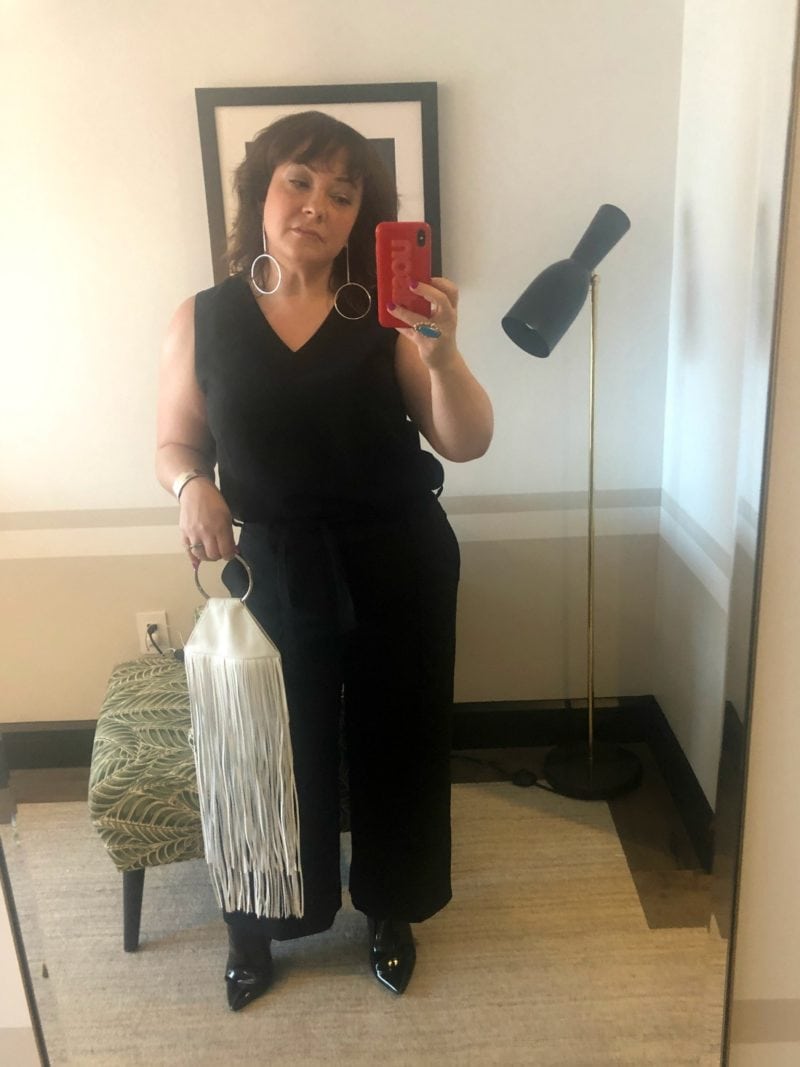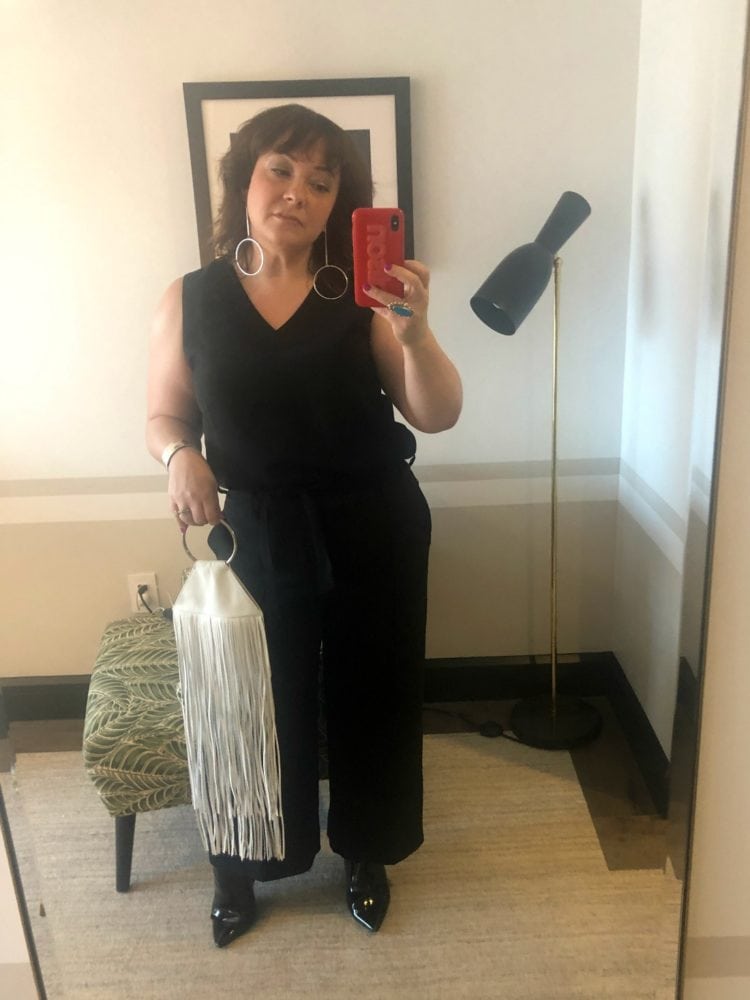 What I Wore: crepe shell c/o Chico's (previously seen here) | pants c/o Chico's (worn in the same post as the shell) | ASOS booties (also worn in the previous post) | Jenny Bird earrings (previously seen here) | KARA bag (previously seen here)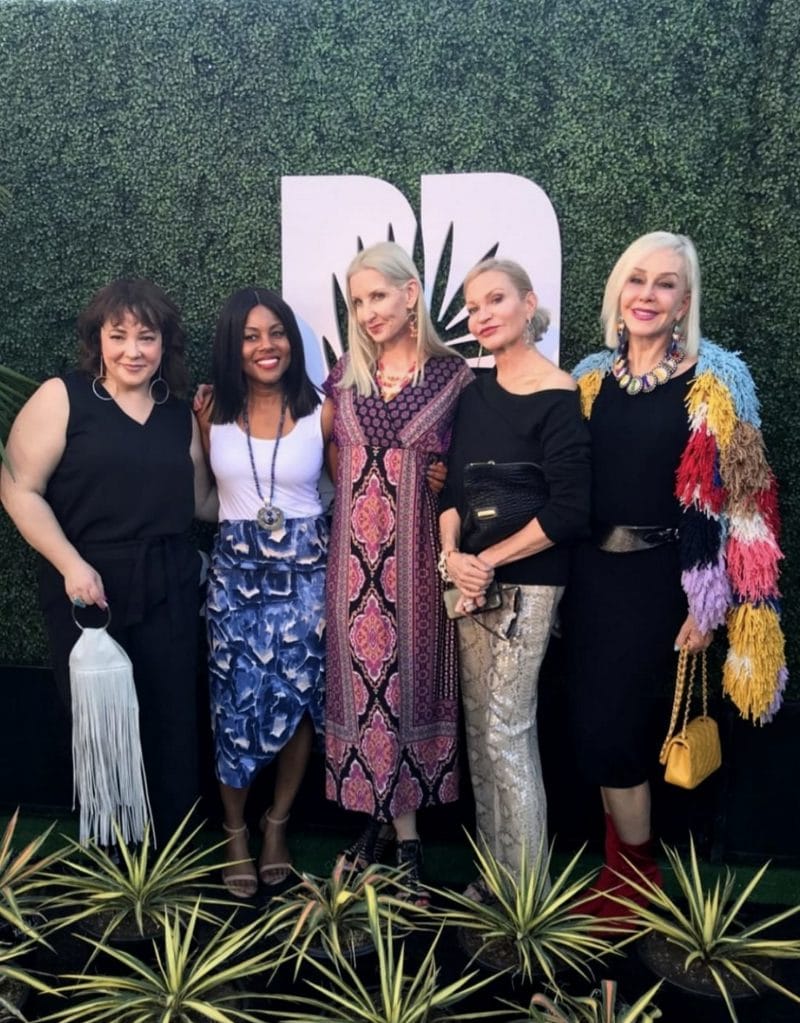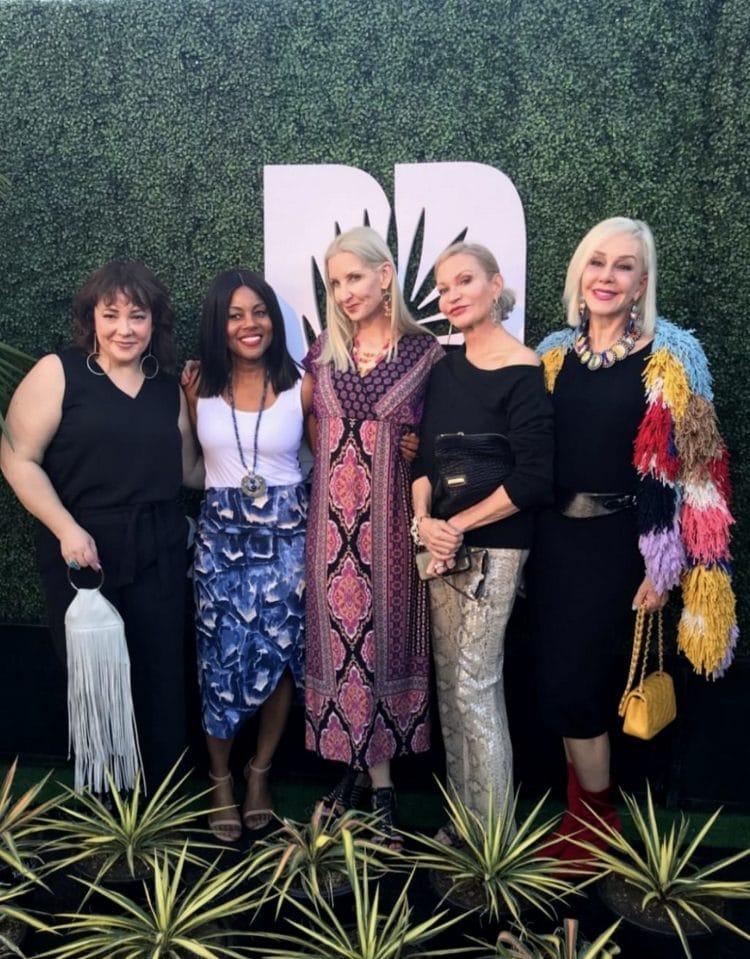 For the evening we headed back to Fashion Week El Paseo. This night was for the dogs… literally! It started with a cocktail reception and silent auction with proceeds benefiting Animal Samaritans, then two fashion shows. The first one featured gentlemen walking the runway with their dogs, the second one had models in designs by Victor Tung strutting the catwalk with their four-legged friends. After the show, we headed to Fresh Agave for a late dinner. And after dinner, we five influencers enjoyed some laughs around the fire pit at the hotel.
Day 4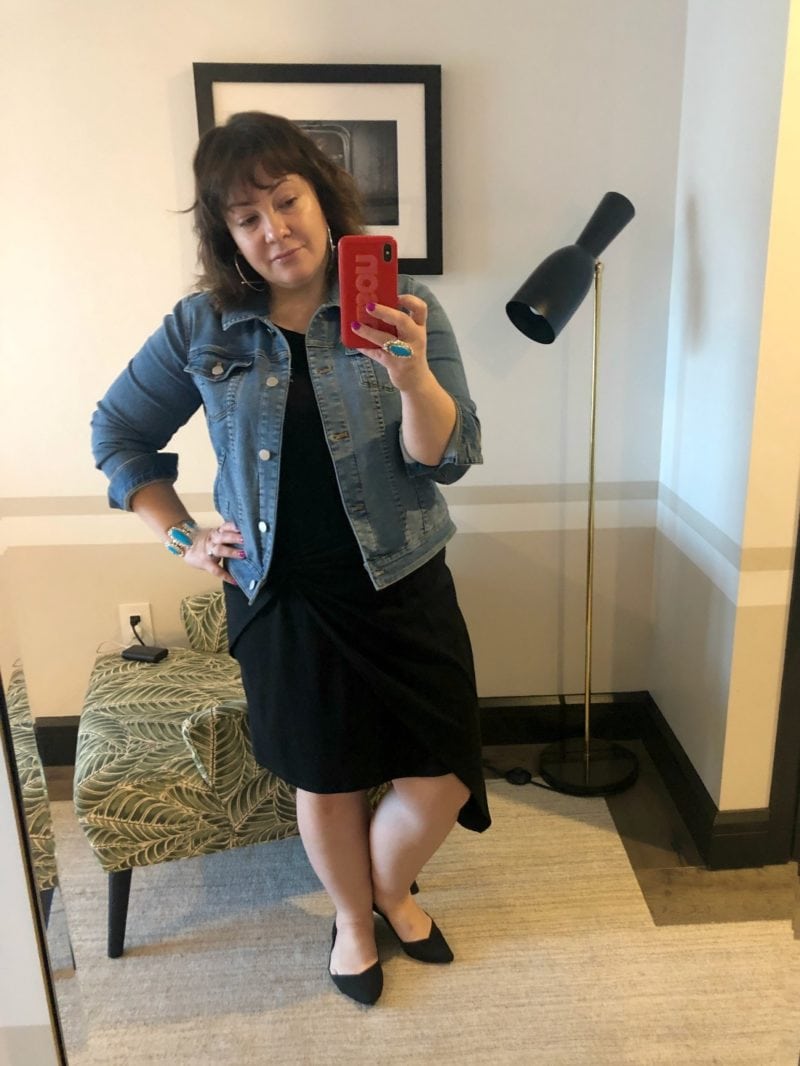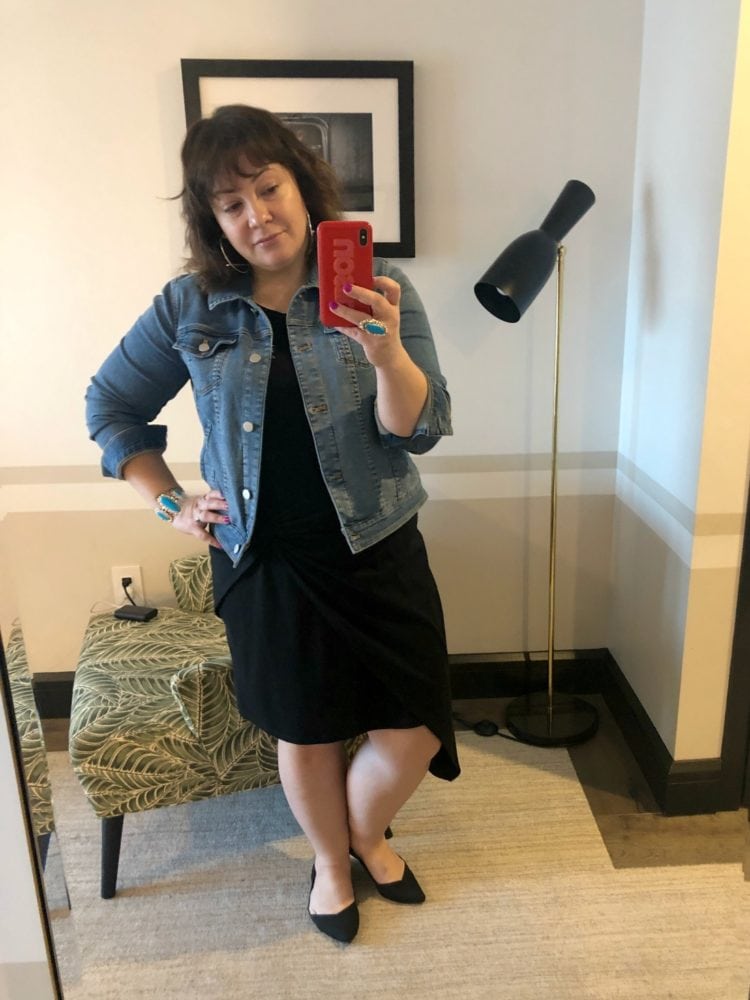 What I Wore: Trouvé dress (previously seen here) | jacket c/o Soma | Rothy's flats | cuff and ring c/o Chaco Canyon | Jenny Bird earrings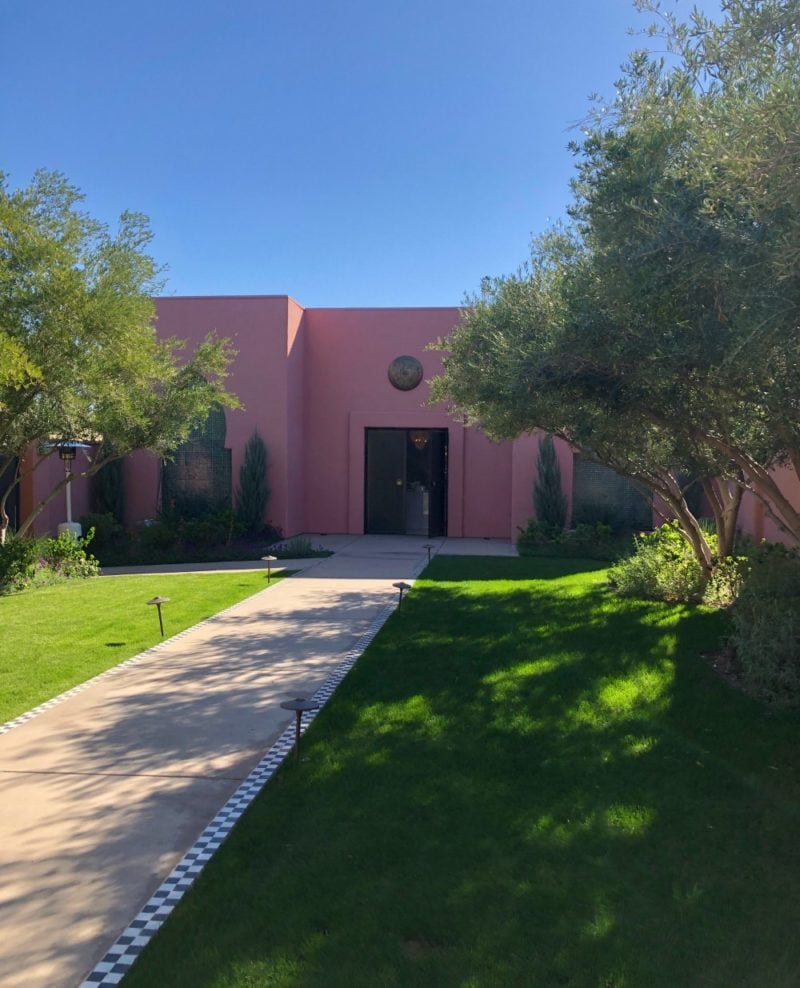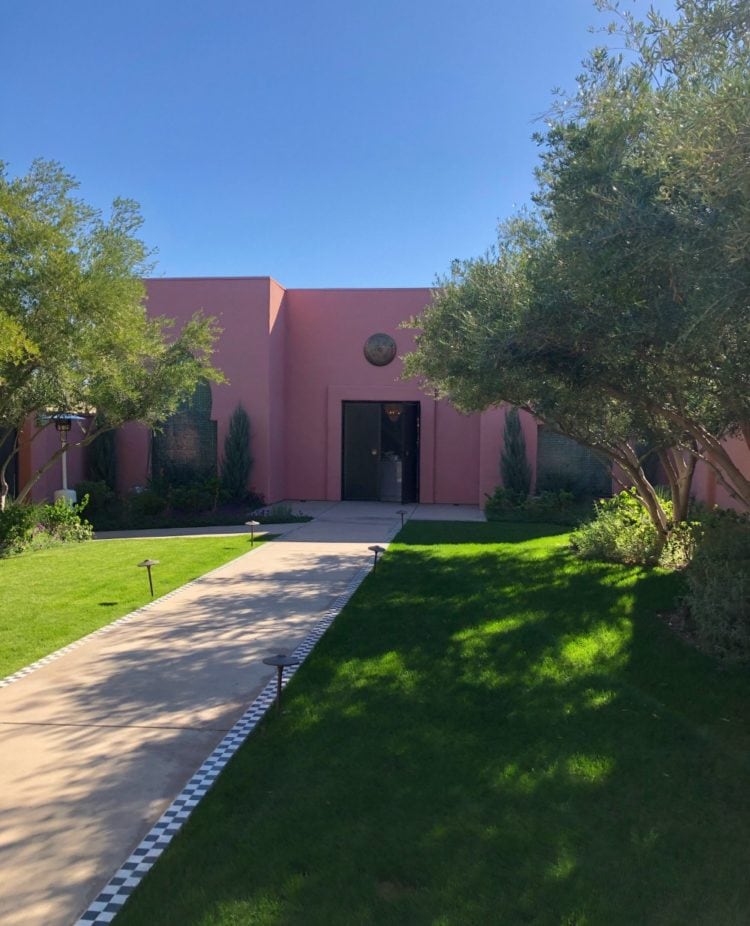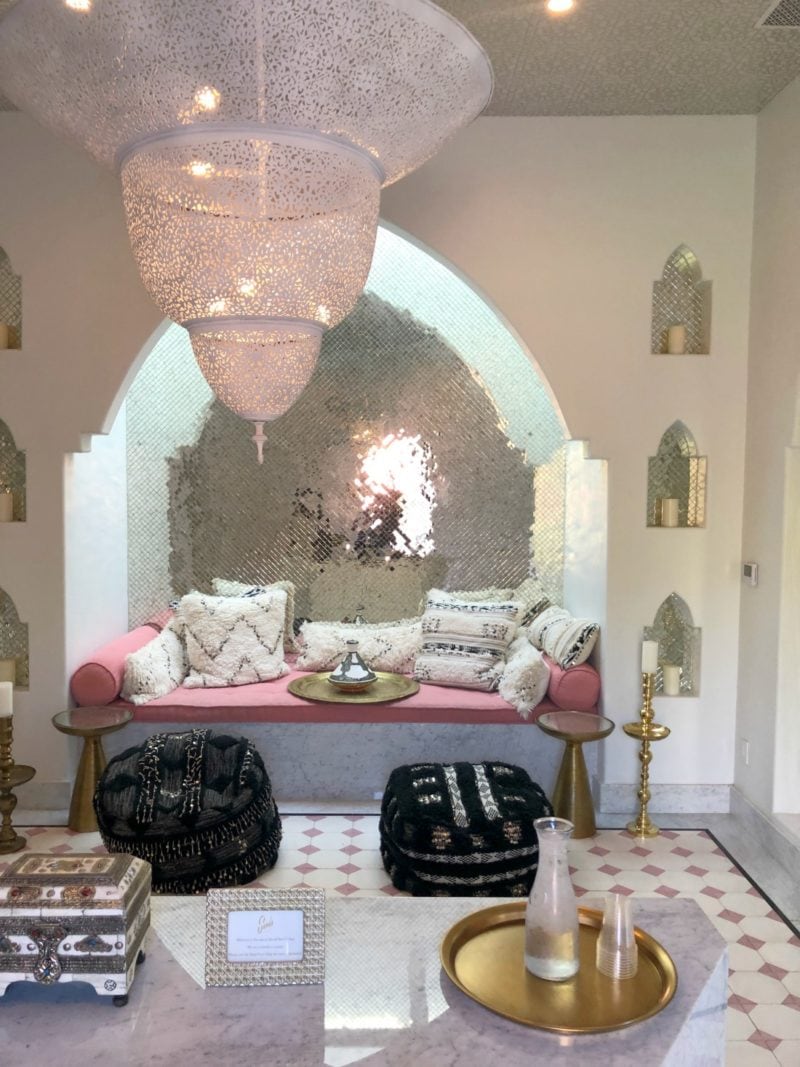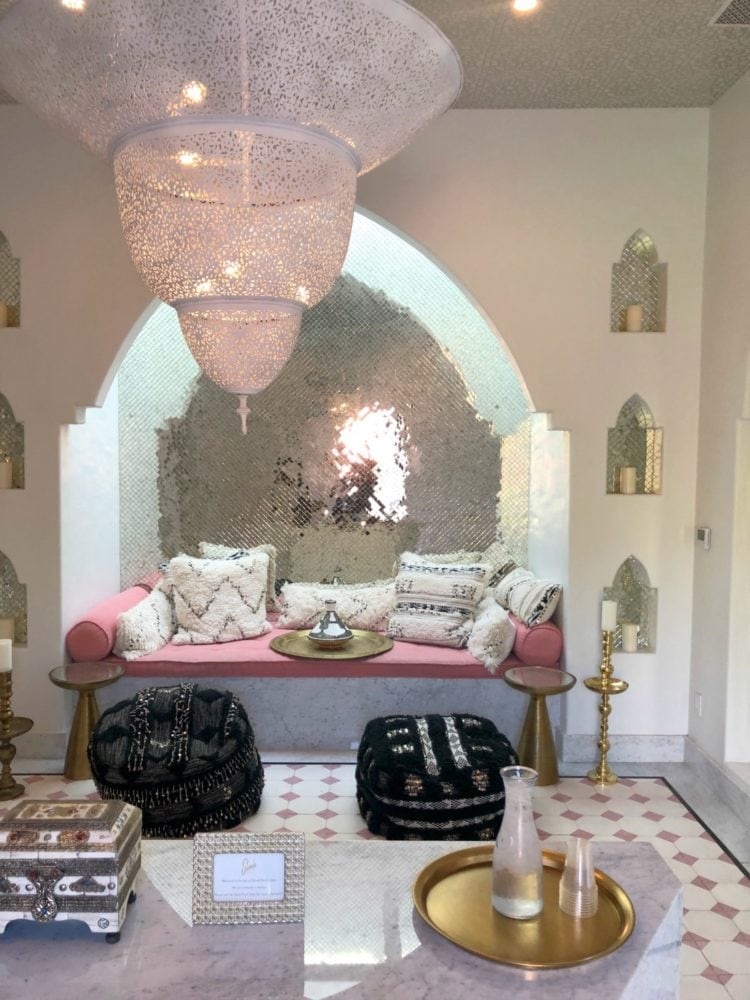 We influencers returned to the hotel restaurant for a breakfast together before we headed in separate directions back home. After breakfast, I took advantage of a spa gift card Chico's gave me (it was to be used the first day before everyone else showed up but my flight was delayed). I had a fantastic Royal Massage at the Sands Spa, which is just as beautiful as the rest of the hotel.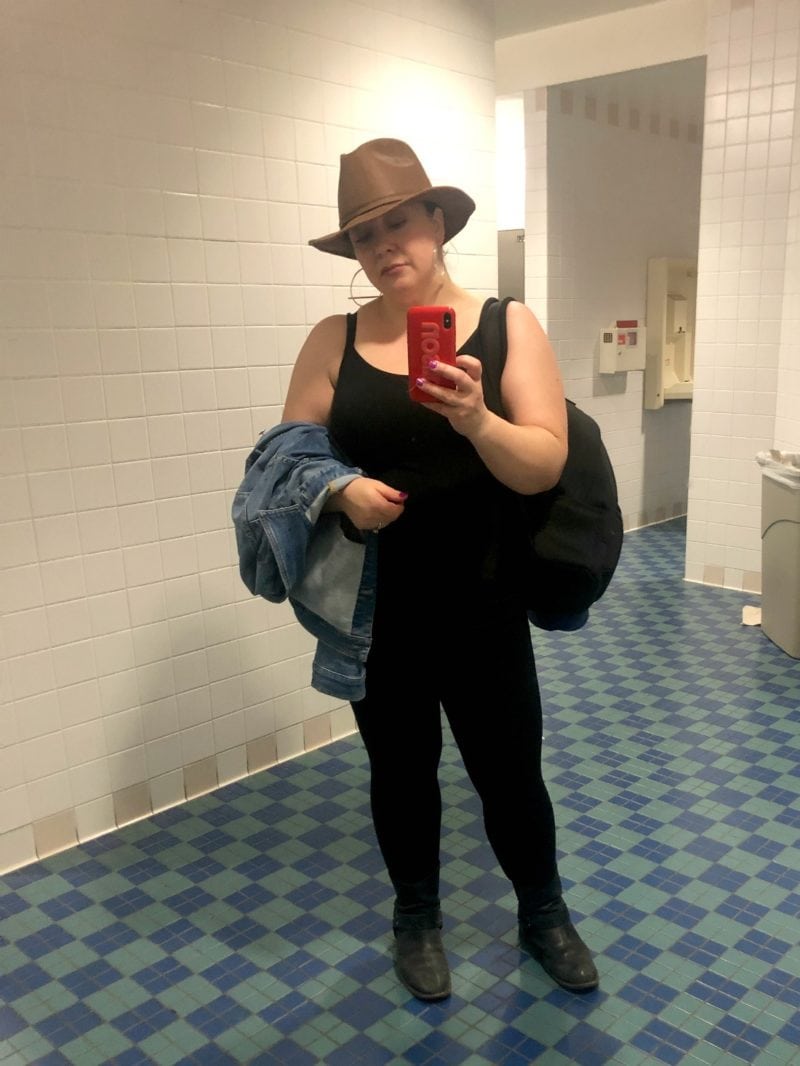 What I Wore: Same exact thing that was worn on the flight to Palm Springs (I brought a second of the same cami and switched that out).
At noon, a black car arrived to take me to the Palm Springs airport and back home to the Washington, DC area! I shared in this post about how special the trip was but I just have to rave again. Everything was perfect – the mix of influencers, the hotel, the activities, the weather… it was a weekend I won't soon forget!
Shop My Looks: