This article may contain affiliate links; if you click on a shopping link and make a purchase I may receive a commission. As an Amazon Associate, I earn from qualifying purchases. 
While it's fun to read about the beauty habits of celebrities, I find it most helpful to learn about the beauty habits of women who have lifestyles, ages, or budgets similar to mine. In this series, I've asked amazing women I know to share their beauty routines. These are women from across the country, different ages, lifestyles, professions, and beauty/skincare priorities.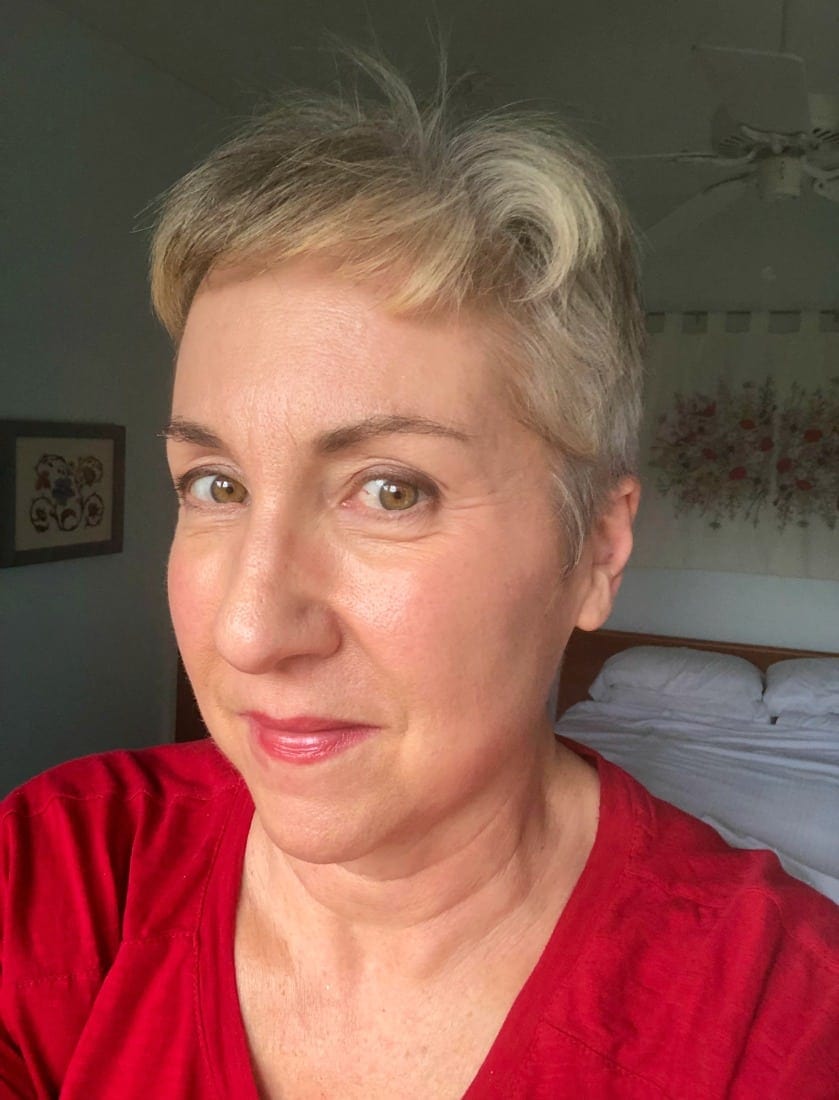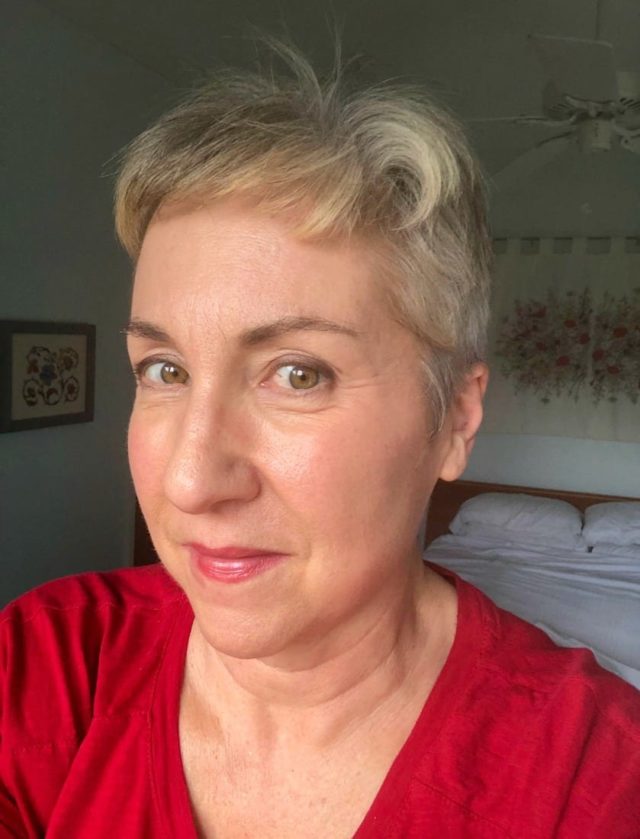 Name: Kathryn

Age: 58

Location: Columbia, SC

Profession: Community activist and volunteer (retired lawyer)
Tell me a bit about your skincare and/or routine.
I am often told by people who aren't selling me anything (like ER doctors, say) that I look considerably younger than I am, and since my hair is gray, I ascribe that to my skin, which looks pretty good because I have worn sunscreen every single day since I was 25, exercise, have a good diet of fruits, vegetables, and lots of water. Skin is what really makes a difference!
I get up before dawn and immediately go for a long walk with my husband and dogs. If it's a time of year when it will get light enough to read by (I read that that is the metric for when to wear sunscreen), I put some Badger Sport Unscented Broad Spectrum SPF 35 Zinc Oxide Sunscreen Cream on my face and neck. Last summer, Consumer Reports said it was the only mineral one that was as effective as claimed, and it's very, um, emollient– Read: not makeup friendly. I cannot use "chemical" sunscreens on my face or neck–I get little sore pimply bumps on my face and rash on my neck. I shower and wash my face with the Trader Joe's Nourish All-in-one Facial Cleanser and a Clarisonic brush–I always buy the manufacturer's original replacement brushes after reading that they are the only ones that have special bristle fibers that transmit the ultrasonic waves–I used to use dupes, but when I switched back, I really could feel the difference!
Then I mix a cocktail of Drunk Elephant C-Firma, B-Hydra, Marula Oil (number of drops varies with humidity level–I find I no longer care about highlighter since the oil creates natural luminosity!) and D-Bronzi. That goes on my face, neck, and chest. I let that sink in a minute or so, and then in summer, I top it with Cotz Face Natural-tinted sunscreen, even on my eyelids. It's very matte and very tenacious, even in super humidity and sweat. It's almost too matte without oil under it now. In cooler weather, I wear Peter Thomas Roth Max Mineral Naked Broad Spectrum SPF 45 UVA/UVB Protective Lotion (it needs to be shaken up beforehand because it separates a bit). My lower neck and chest get TiZo Ultra Zinc Body and Face Sunscreen–I can use chemical sunscreens on my arms, so I use Trader Joe's lotion or spray there.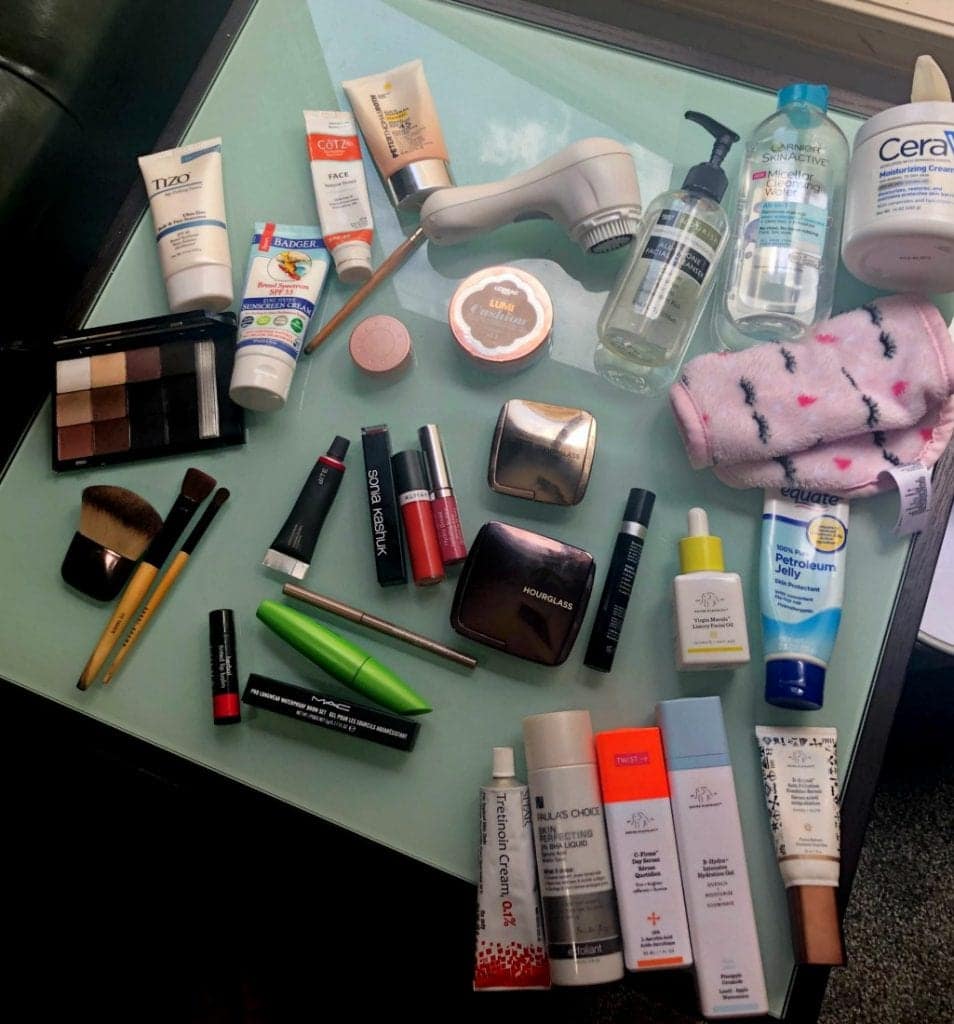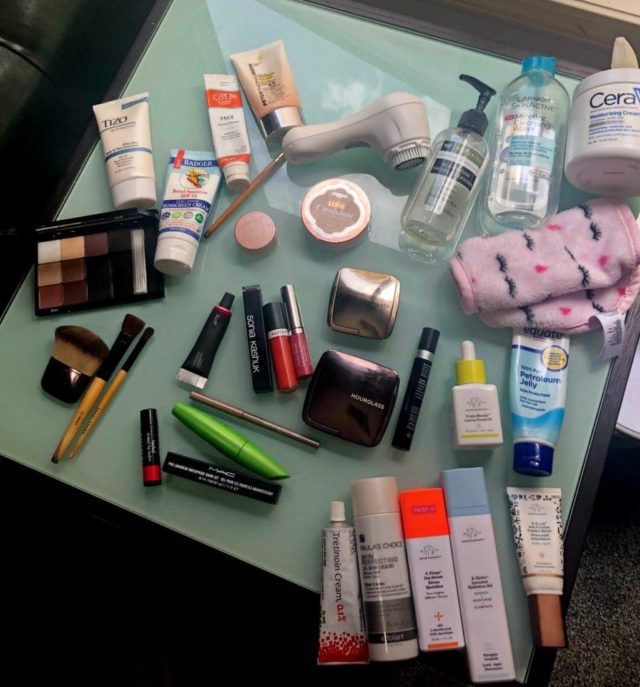 If I am doing something out in the world besides exercise or tai chi, I pat L'Oreal True Match Lumi Cushion foundation on any particularly reddish areas (bridge of nose, around nostrils, lower cheeks–I am not looking to make it perfect, but more like real skin. The older I get, the less makeup I think looks good on me–I have performed in operas and plays, and am a Southern girl from the disco era, so I used to wear almost stage levels of makeup (everyone did!), but that just accentuates any fine lines. I look at other stylish older women and see what works and what doesn't, and less is definitely more. I may set it with Hourglass Ambient Lighting Powder in Diffused Light (the yellow is great to cancel red), applied with their special flattened sort of kabuki brush, and Hourglass Ambient Lighting Blush in Dim Infusion on my outer, upper cheekbones–I have enough natural color on the apples of my cheeks, and this balances it out. My eyes are on the small side and I have skimpy, fine lashes, but piling on solid dark liner and thick mascara just looks tragic at my age, and aging. I go for faking the shadow of thicker lashes and just slight thickening of my lashes. I smudge some Stila smudge stick waterproof eyeliner in Sepia (which is discontinued so I stockpiled some from eBay–I used to love Moray, but I can no longer tolerate the flecks of glitter in it) along my upper and lower lashes. If I am going to be a grownup, I top it with some Trish McEvoy Eye Definer applied with a fatter, soft-bristled angled brush I bought decades ago at the Body Shop. I use a flat-topped Bobbi Brown Eye Shadow Brush, also decades old, to buff some Trish McEvoy Eye Glaze over my lids and up to my brow. Then I smudge a medium shade along the outer corner of the upper lash line and over into the crease, in a sideways V. My brows have gotten lots of white hairs, but way more in the right, and dying lasted only a few days, so I use a tinted brow gel to cover them and tidy up my brows. Right now I am using up Glossier Boy Brow, but it tends to not cover well and/or glop up, and I prefer the Mac Pro Wear Waterproof Gel or the Anastasia one. Cover Girl Clump Crusher in Water Resistant is just enough to do the job without looking like too much, and it stays on through eye drops (dry eyes from laser surgery and age mean frequent eye drops and watery eyes in winter winds), but comes off easily even with just cleanser. Because I use the silicone sunscreen, it acts as a primer and I am good for 8-10 hours or more without a touch-up beyond constant lip glossing or balming!
For lips, I am a recovering Lipsmacker addict, and like a moist, almost greasy lip, and I think that much color or matte texture doesn't look so good on me anymore. I love Sonia Kashuk Shine Luxe Sheer Lip Colors (Pink Lust, Sheer Plum), Bite Beauty Agave Lip Mask in Smashed, Almay Color+Care Liquid Lip Balm in Apricot, Neutrogena Hydro Boost hydrating lip shine in Radiant Rose, and Palladio Herbal Tinted Lip Balm in Rosey or Cotton Candy.
I used to use under-eye concealer on my thin-skin under eye circles, but I like the dimension they give my eyes that otherwise can look bland and washed out. If I am concerned because I have a cold or allergy flare-up, Becca's Highlighter cream works when just dabbed with a pinky in the trough.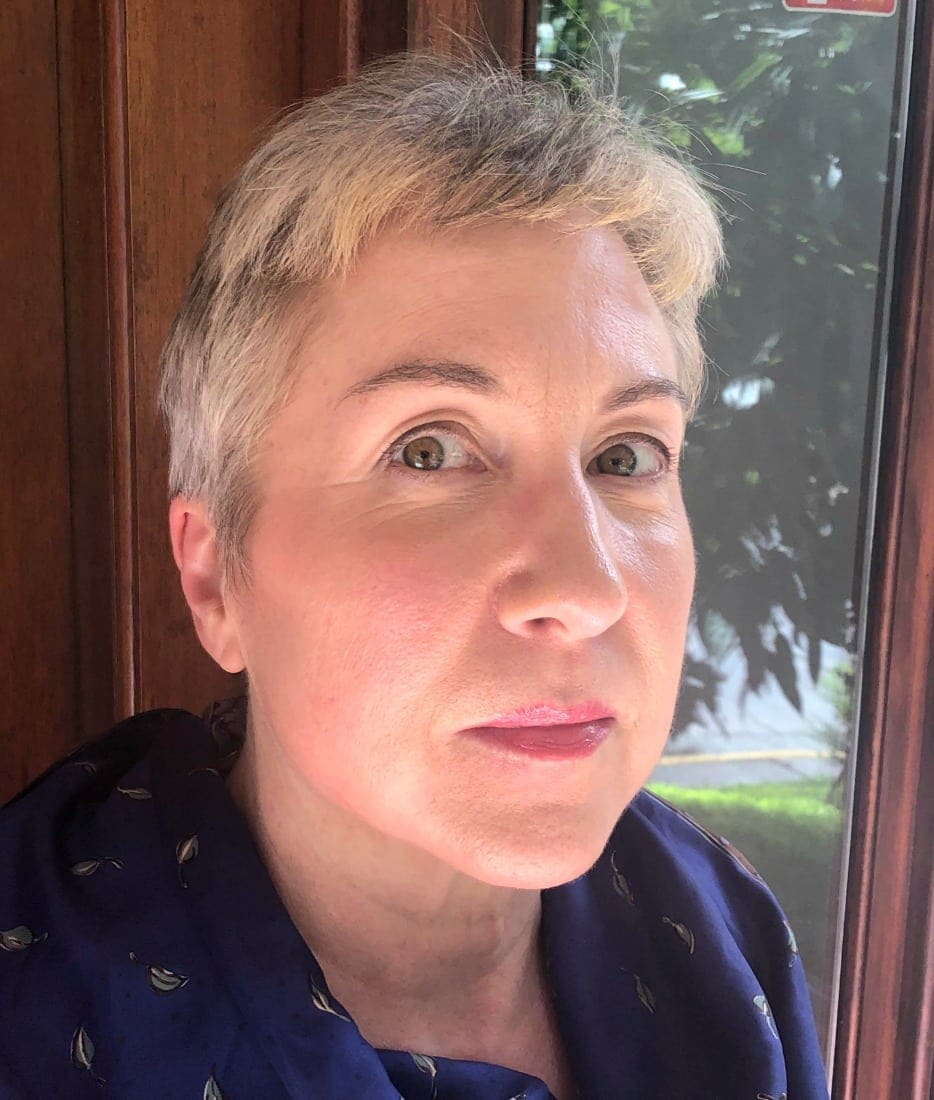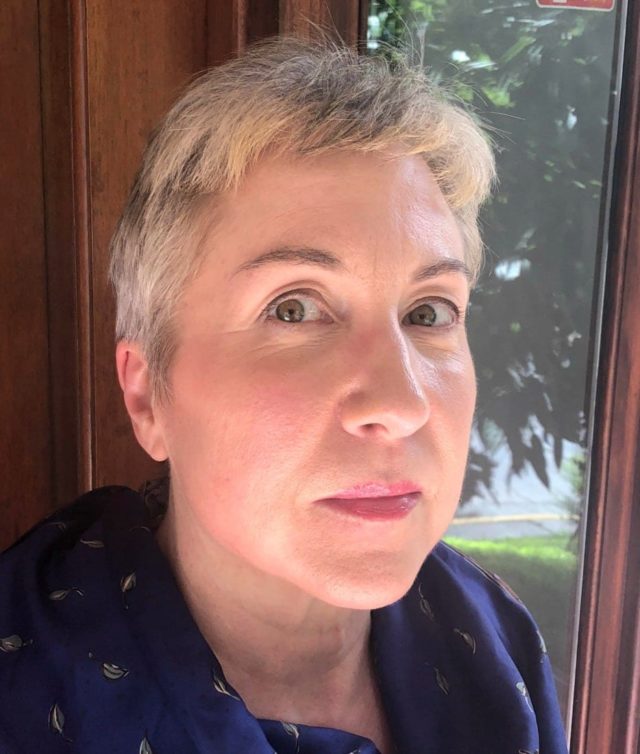 At night, I remove my makeup with either Garnier Fructis Micellar Water for Waterproof Makeup or, lately, these microfiber Makeup Eraser washcloths I bought at Nordstrom–I am going to be flying to Germany at the end of September and would like to use the cloths instead of packing makeup remover, but I am not sure they are thorough enough, and I am concerned about the rubbing even gently. [UPDATE: Kathryn let me know since writing this she returned the cloths as they were rubbing her skin raw] I follow the micellar water with Drunk Elephant JuJu Bar–I am trying to use it up during the hot weather–or Drunk Elephant Peekee Bar or CeraVe cleanser if my skin is really irritated. I spread a couple of drops of Paula's Choice Skin Perfecting 2% BHA liquid in summer, or the lotion in winter, and then generic Retin-A (tretinoin cream, 0.1%), and either CeraVe cream, CeraVe ointment or Vaseline, depending on how irritated and dry my skin is feeling. I use Vaseline lightly around my eyes, unless I am having an eczema flare-up, and then it's heavy. It's my neck cream, too! I carry a small container of Vaseline everywhere so that if I feel my skin get dry or itchy, I pat a bit on. It's also great if you feel a blister forming on the foot, or have dry cuticles!
Has your skincare and/or beauty routine changed due to age, lifestyle, career, etc.?
Totally–I went from a very oily, tough skin to a dry, sensitive one between my mid-40s and now. I also went from a dressy, formal business environment (suits and lipstick every day), to days when I may not see anyone but my husband and dogs. I have had to really emphasize non-sensitizing, very moisturizing products. I could no longer use powder to set makeup, and all that moisturizing greasiness can lead to makeup settling in fine lines. I have used many primers, including Monistat Antichafe which the Beauty Brains suggested has more of the good stuff and no irritating fragrance, but since I discovered the silicone sunscreens, I don't need a primer, too. Now I only use the lightest dusting of powder, if at all.
What is the best skincare or beauty advice you ever got and from whom?
Paula's Choice!!! Hands down. They have so much information on their website about what is likely to cause your skin problems and how to heal them. I used to use only Paula's Choice products, CeraVe cream and Vaseline, but I fell in love with Drunk Elephant, and now I just use the Paula's Choice 2% BHA and sometimes their Resist BHA 9 on stubborn sebaceous hyperplasias–it's soothing (related to aspirin!) and keeps the blackheads at bay! The Beautypedia is my go-to for products that work and won't irritate, and Paula Begoun's books are great references.
What is your must-have holy grail beauty or skincare product?
Vaseline and fragrance-free mineral sunscreen. I need both for skin barrier protection–If I could take a third, it would be CeraVe cream. Beauty product–Stila Smudgestick liner—gives eye definition–smudge and then it doesn't budge and in brown shades, can color in a brow!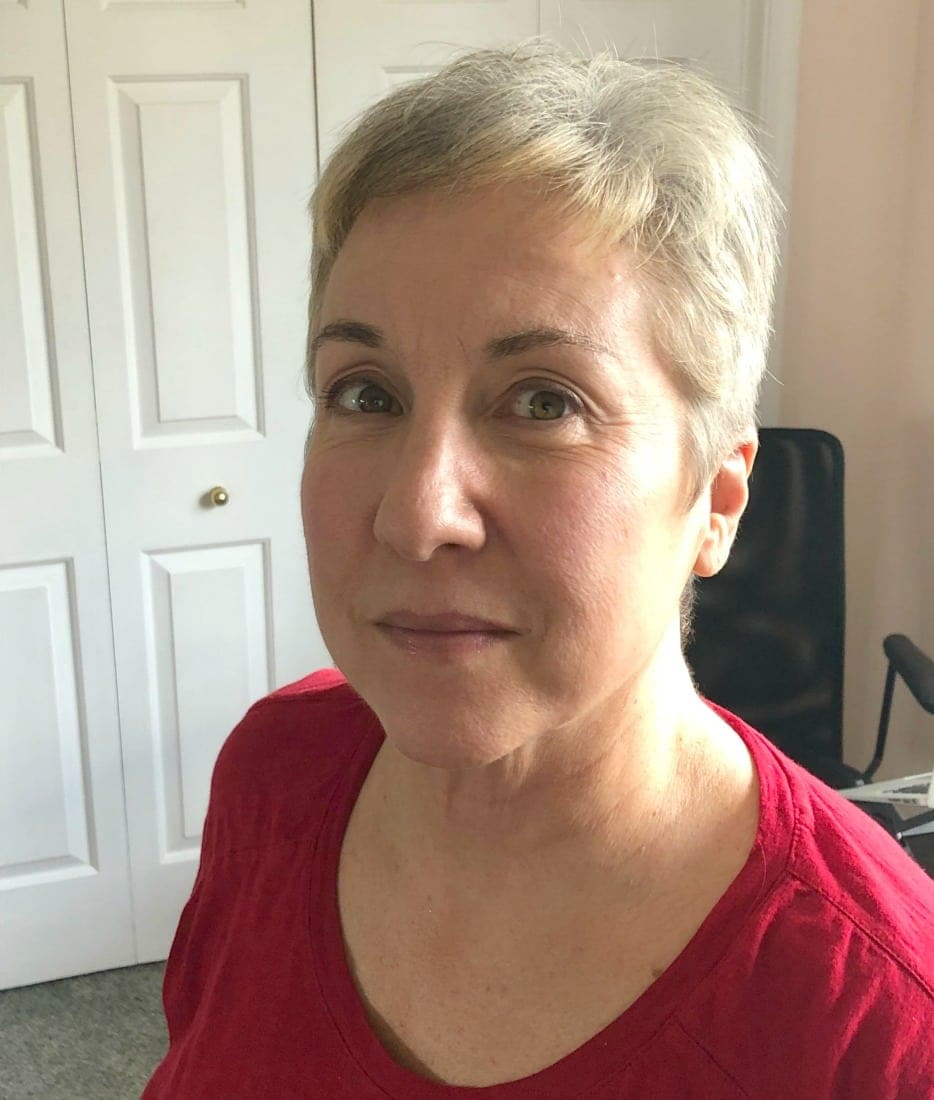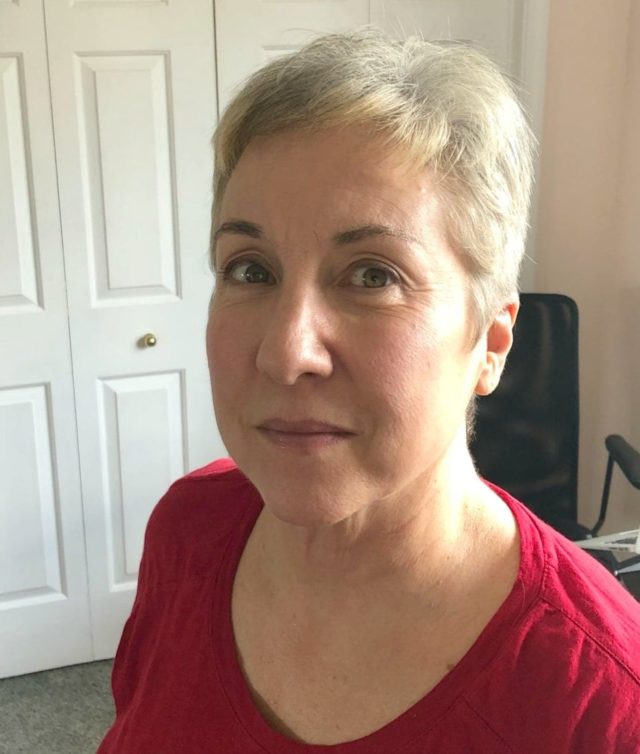 What is your biggest beauty or skincare regret or embarrassment?
Regret: Not wearing sunscreen on my neck until fairly recently—it's way, way more sensitive and fragile, and looks a lot older than the rest of my skin.
Embarrassment: the colorful, full-face makeup I wore in the 80s, to my law office in Chicago, where people don't wear Southern levels of makeup
What nugget of skincare or beauty wisdom do you wish you could give to your younger self?
Avoid fragranced products–they are sensitizing!
Shop the Post: