This article may contain affiliate links; if you click on a shopping link and make a purchase I may receive a commission. As an Amazon Associate, I earn from qualifying purchases. 
Weekend Reads #253
This Weekend Reads is a bit of a hodgepodge because I think I may work a bit Saturday and then take off most of next week. So I've put a little of this, a little of that, extended some and truncated others. I often do a blog post breaking down the sales during a holiday weekend but this holiday came up without warning.
We've had a hectic couple of weeks and now I'm like oh dang, a long weekend! And good shopping deals! So I added sales to this Weekend Read. I also had such a hectic week trying to prepare to take time off, I didn't get to research a new song for Saturday. But still plenty of links and TV/book reviews as usual!
Holiday Sale Alert
BTW I have a very special promotion just for Wardrobe Oxygen readers starting tomorrow/Sunday. I will be sharing about it Monday on the blog but if you want to grab it early, be sure to follow me on Instagram or Facebook! But for other retailers I love that have good deals this weekend, keep reading:
Knack Bags
Knack Bags is a new to me brand of brilliantly designed laptop backpacks that also hold a weekend's worth of clothes (or your work outfit after hitting the gym, or a uniform for once you arrive at work, etc.). I am working on a full review, but in the meantime you can find some video I did of the bag I have at this link for an Instagram Stories highlight. Well Knack has 45% off on fully functional factory seconds, including some of their top-selling products. That's high-quality design and premium functionality at nearly half the price, but quantities are seriously limited.
For any purchase from Knack Bags, use promo code WOKnack for a free packing insert. But this is also limited to the first 50 orders so shop soon.
I have the Large Series 1 bag, but honestly all of the bags are positively brilliant. I love how they can expand or cinch down whether you're using it as your daily commuter bag or having it be your carry-on luggage for a getaway or business trip. If you have any questions about these bags I am happy to answer them for you!
Pari Passu
Pari Passu, the innovative and elevated plus size line, has a fantastic end of season sale going on with up to 70% off. Pari Passu doesn't go by the standard sizing so you can be more likely to get a custom fit for your shape. I've visited Pari Passu in the NYC Garment District and am hella impressed by the quality, the manufacturing, and the badass woman designer behind the brand. This sale means ELOQUII prices for Marina Rinaldi quality, so shop quickly because things will sell out!
My picks from Pari Passu's sale is get this robe/duster and this matching skirt and pair with a turtleneck sweater and boots in winter, a dressy tank or tee and sandals in spring and fall, and wear the pieces separately and feel oh so glam. One-piece dressing with this navy dress or this ivory wrap dress. I love this jumpsuit and the color. And this blouse with this skirt, or the pieces on their own are fantastic.
J. Crew
J. Crew has an extra 60% off all sale with promo code FOURTH.
This sale includes this graphic t-shirt I saw in my local J. Crew this past weekend and raved about on Instagram Stories. It looks expensive IRL. I also dig these block heel sandals (and they get rave reviews). And this swimsuit is IMO one of the chicest one-pieces out there. I owned it in my 20's and even wore it on my honeymoon and it still looks modern and elegant. Better for an average to small bust, or if larger, firmer and less likely to play in the waves. And finally for those who love a double-breasted blazer but can't get past "nipple buttons," this is for you.
M.M.LaFleur
M.M.LaFleur, a brand y'all tell me you love but find occasionally to be outside your pricepoint, has an extra 10% off sale with promo code EXTRA10.
The sale includes items I own and love such as the O'Hara Blazer in plaid sharkskin that I featured in this capsule wardrobe, and wore here and here. It also includes this caftan which makes me feel like a Greek goddess (see it on me here). Also worth a look is this washable silk skirt (see it in a different color on me here) with the matching silk cami; wear together to a wedding with a clutch and heeled sandals, to work with a belted cardigan or soft blazer, wear the pieces separately all year long.
Peepers
Peepers, a company that makes fun and stylish yet affordable readers, progressives, and sunglasses is having a 4th of July sale with frames as low as $20.
There are a lot of cool and classic options in the sale, but my personal favorite is the Sawyer. I also think Moonstone is very pretty and fun.
Summersalt
Summersalt is having a sale with up to 60% off many of their bestsellers. While Summersalt doesn't offer enough support for my bust, I do find the quality stellar and appreciate their extended size range (0-22). From my personal experience, if in doubt, size down.
The Sidestroke is Summersalt's iconic swimsuit and during this sale some of the colors are under $50. I really love the versatility and chic style of the Easy Breezy Sarong, and this boyfriend shirt style coverup is on sale and adorable in rainbow stripes on a white ground.
WRAY
WRAY, the sustainable, chic, and size-inclusive apparel label has 30% off sale with promo code SUMMERSALE.
Personal want is anything in the acid floral print, which includes this bucket hat, these pillowcases, this sundress, and this cotton tote. I also think this dress is hella chic and looks good on all the different models of different sizes and heights.
Weekend Reads
I booked a multigenerational vacation to bring my mom and kids closer and, wow, did it backfire. (Insider)
Jenna Lyons, the famously stylish former president of J. Crew has joined the rebooted "Real Housewives of New York City." Why? (New York Times – gift article)
A year after the repeal of Roe v. Wade, a nonprofit and menstruation brand are driving their way towards period equity and equality. (PRWeek)
One year in a post-Roe America. (Jill Filipovic)
Parker Posey doesn't know if she can live here. (Vulture)
Loved seeing what Virginia Sole-Smith wore on her book tour. (Burnt Toast)
Chinese fast fashion giant Shein's success story is unrivalled, but at what cost? Iman Amrani investigates the famously secretive business, as hidden cameras go inside factories for the first time. (47-minute documentary movie via Channel Four)
National Geographic magazine has laid off the last of its staff writers. (CNN)
AI is killing the old web, and the new web struggles to be born. (The Verge)
In 2019, Maria and her family were in a car accident. Her father and brother, sitting in the front seat, were fine. Maria and her mother, sitting in the back seat, were both badly injured. Why? (Ladyparts)
The website Goodreads has become an essential avenue for building readership, but the same features that help generate excitement can also backfire. (New York Times – gift article)
The toxic chemical sneaking into our clothes. (Back Row)
Miss Benny is glamorous-and transgender. (Time)
See/Hear/Read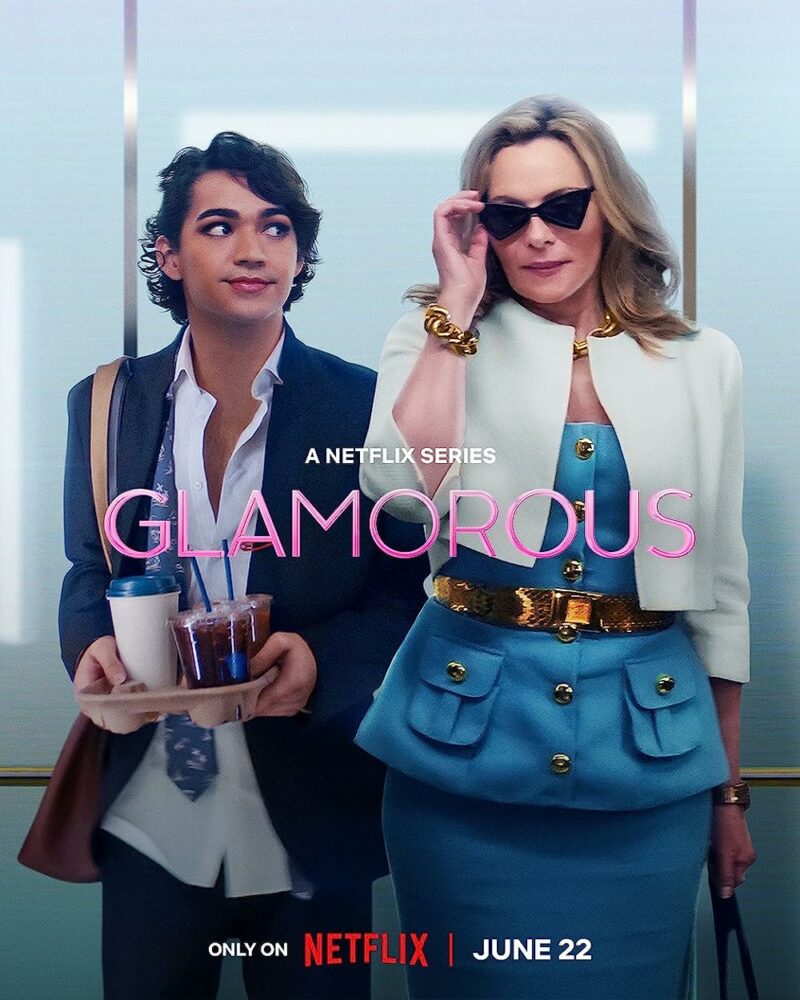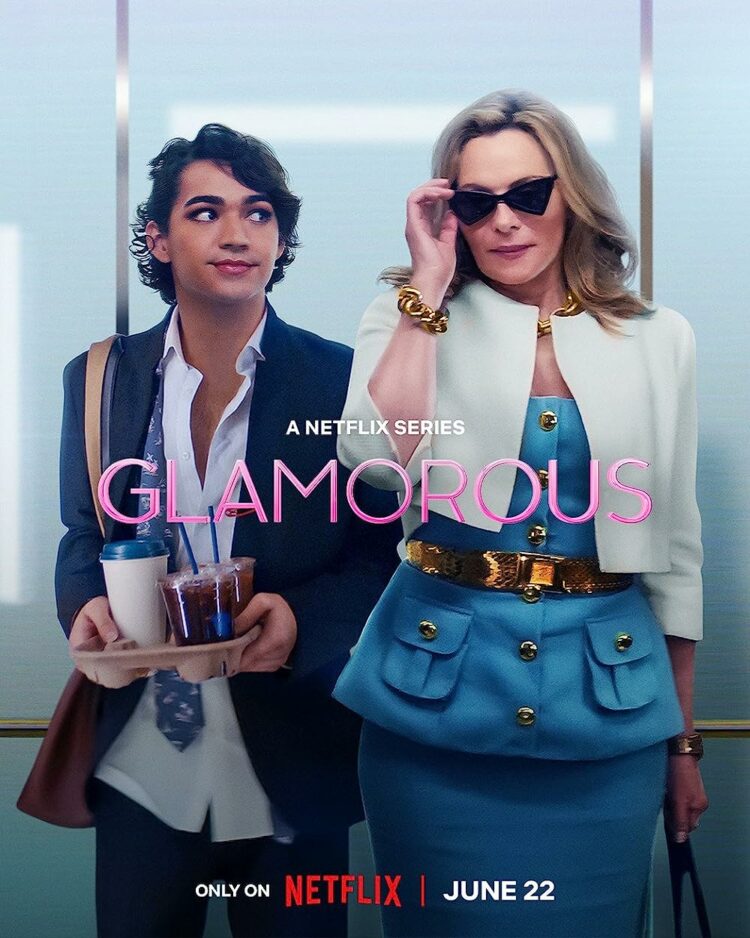 Glamorous
It is so funny to see how drastically different my Netflix profile is from my daughter's as is from my husband's. My daughter gets YA series, historical romances, and anime. My husband will get war movies, documentaries, and investigative series about murderers, scam artists, and cults. I get recommended, Glamorous, a series starring Kim Cattrall as a former supermodel turned makeup mogul. Netflix knows me so well.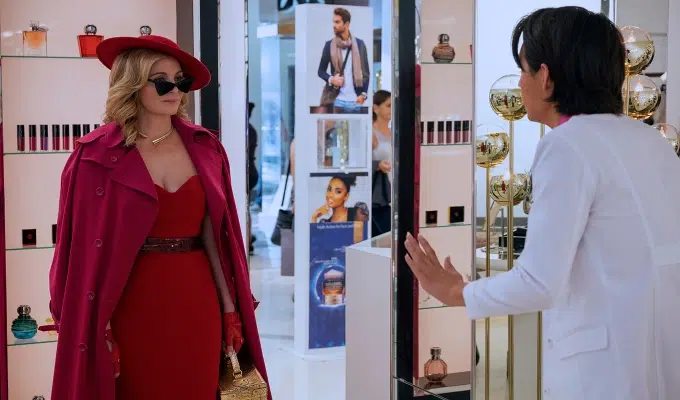 Glamorous also stars Miss Benny, a gender non-confirming queer Latinx who gets the career chance of a lifetime and with it, a new community and new challenges. Miss Benny is vulnerable, sweet, naive, brave, young and foolish, yet utterly adorable as Marco, who as a makeup artist at a counter in a department store, had a chance encounter with the owner of the makeup brand.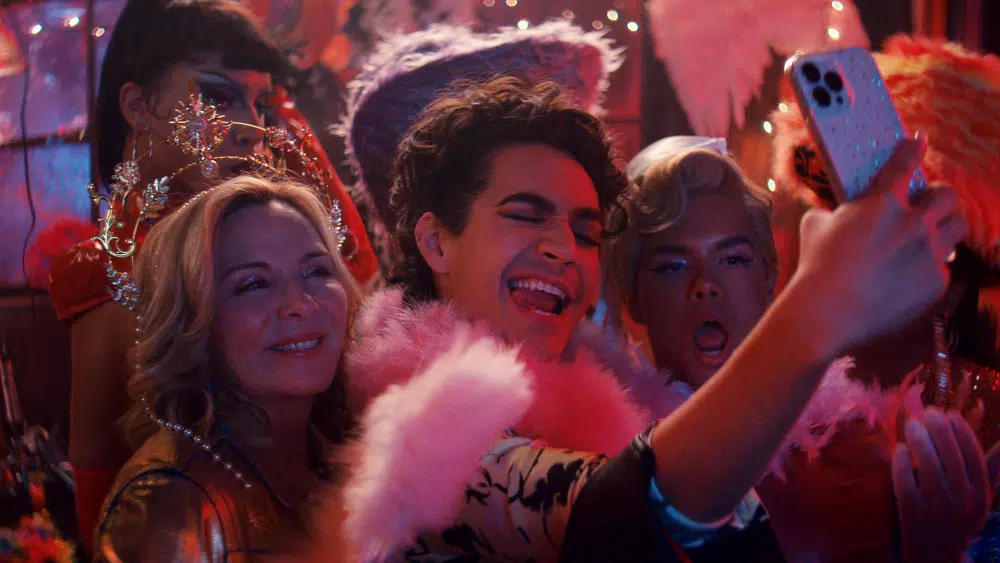 That owner is Madolyn, played by Kim Cattrall. One part Melora Hardin's character on The Bold Type and one part Samantha without the sex drive, Madolyn Addison is glamorous, smart, independent, but vulnerable and open to change and growth. Each time Cattrall's character starts falling into some over-50 power woman trope, she reels it back. I appreciate she is the only person that seems to be over 30 in her office, yet there aren't a bunch of "Okay, Boomer" level-jokes and bits about being an older means being out of touch or unrelatable.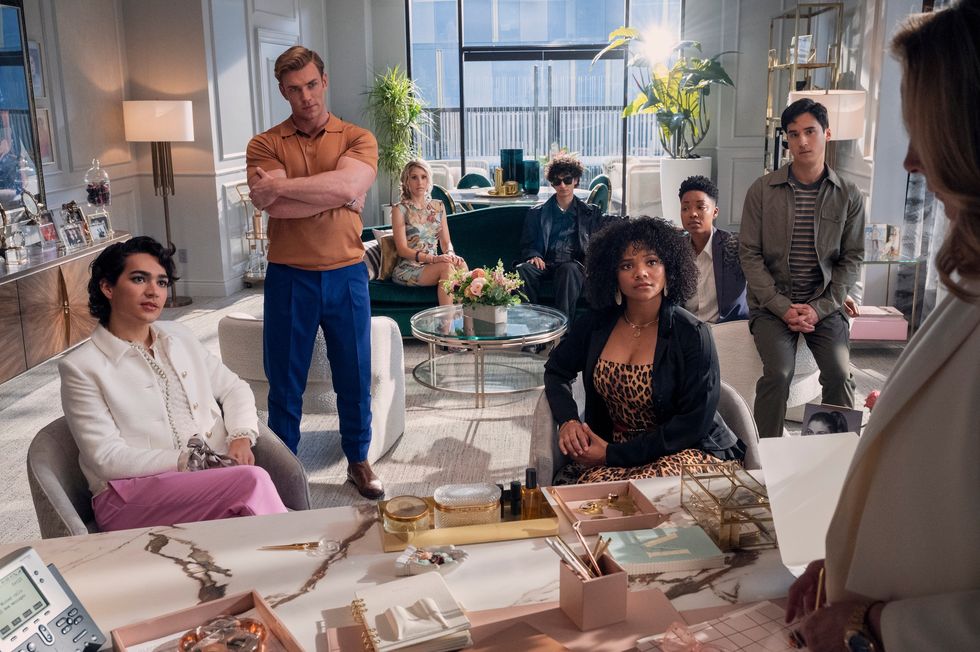 This show is totally cheesy, but how effing REFRESHING to have a colorful, fun to watch, cheesy series that stars queer actors who aren't having to be a stereotype, a challenge, or expected to be the voice for a generation. It's a classic workplace sitcom like Ugly Betty, The Mary Tyler Moore Show, or WKRP but for modern times and modern audiences. Do know, as much as any other Netflix or Max series, there is discussion of sex, drug usage, and you do see bare butts. But this show is a delightful distraction for a lazy summer afternoon.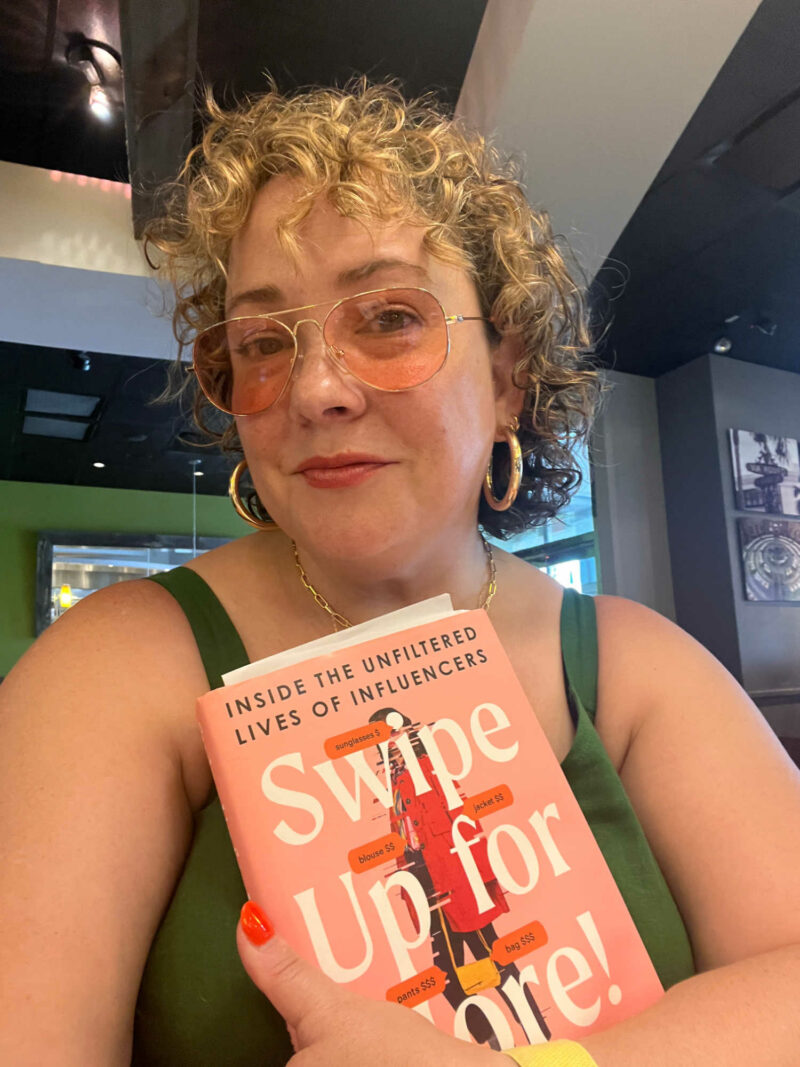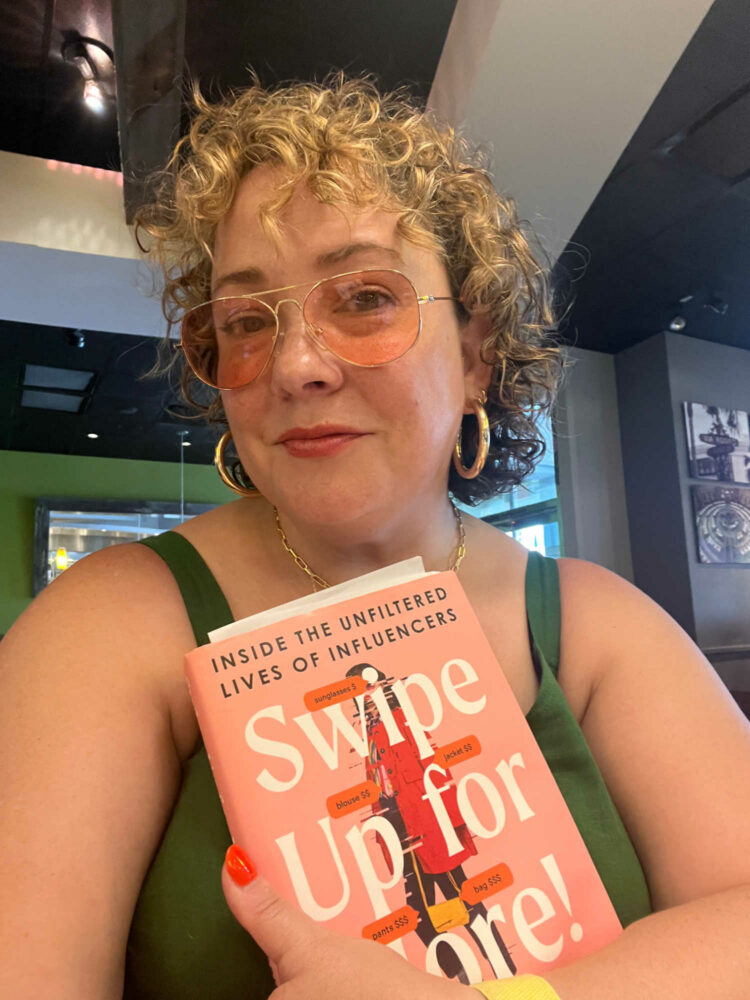 Swipe up for More!
So I finished Swipe up for More!, a book on influencers by Stephanie McNeal. I read a little more than half of it last week and wasn't sure how I felt about the book. The book ends strong, and I finished with a more positive view though I still feel it's a bit too fangirly and could have possibly been condensed into a series of a few articles on a site and then it won't date so quickly. I mean, we don't even swipe up anymore on Instagram!
But it's clear McNeal respects influencing as a job and doesn't see the "influencer bubble" popping any time soon. I appreciate those who realize that. If you think I started blogging in 2005 and I was following in the footsteps of thousands who started before me, it's not like influencing is a passing fancy. Those who dismiss it as just a vanity project don't realize that it's just the evolution of knowing what face cream that star of the silver screen wore, or Cindy Crawford drinking a Pepsi.
If this world intrigues you, you may enjoy Swipe Up for More! But maybe borrow it from the library or from a friend instead of buying your own copy (or buy the copy you pass around your friend circle). Because within a year, what's in this book will be obsolete. There will be new Instagram darlings, or a new platform that has taken over Instagram, or swiping up which got replaced by tapping links will become something else completely.