This article may contain affiliate links; if you click on a shopping link and make a purchase I may receive a commission. As an Amazon Associate, I earn from qualifying purchases.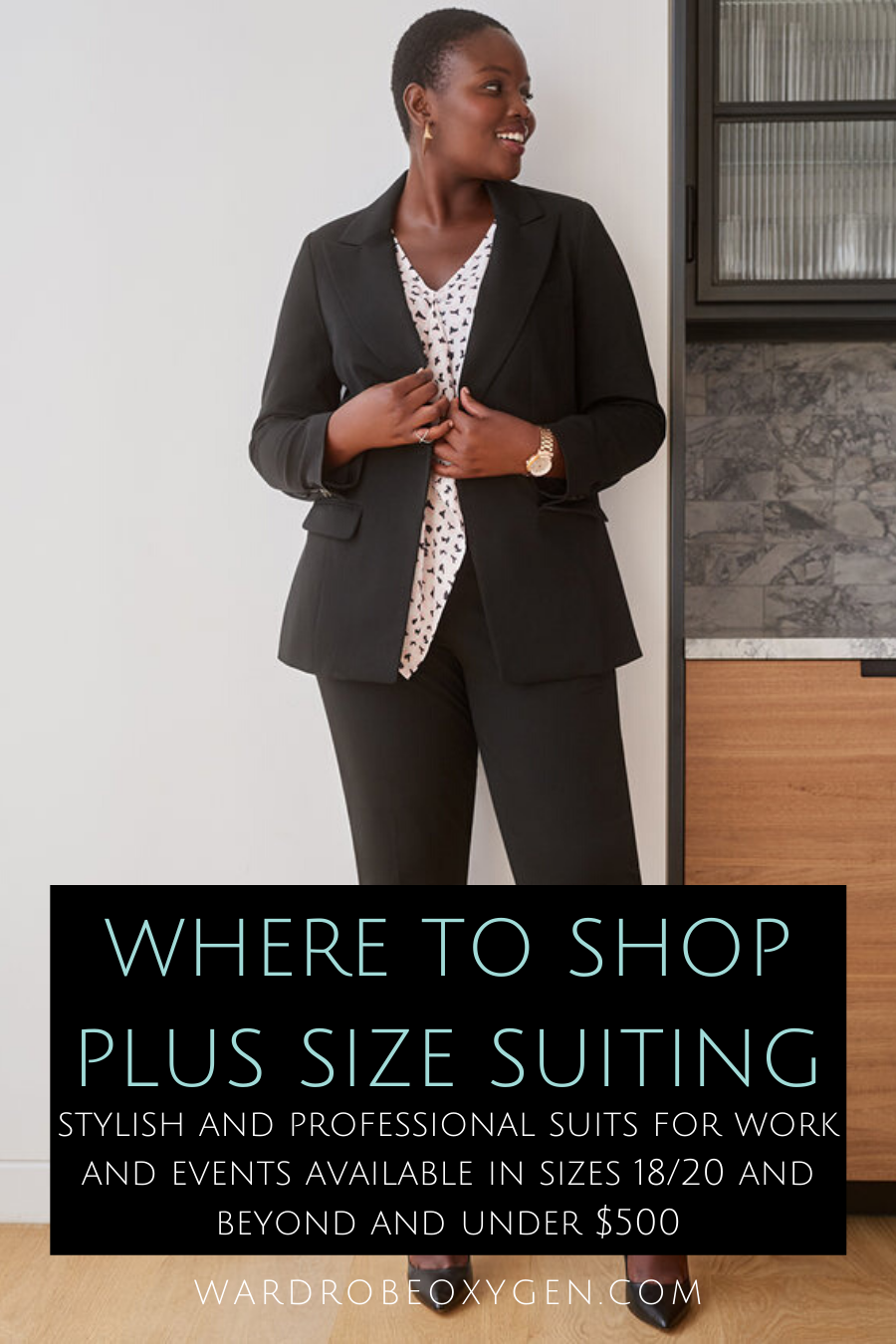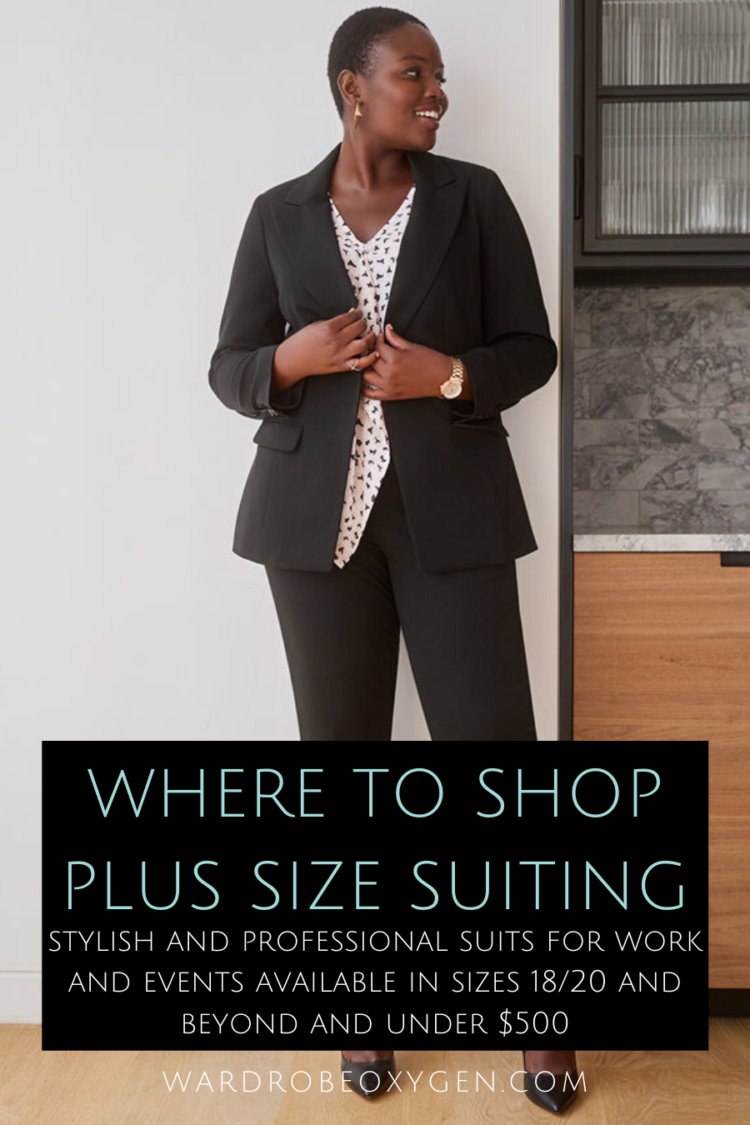 A reader recently reached out asking about finding suiting in size 18/20. She has an event coming up where she would like to wear a black suit but hasn't found one that she likes that doesn't cost an arm and a leg. Her email (personal details removed):
"Hi Alison! I love your site. Thank you for making me feel a little prettier when I am very hard on myself. I need help! I am receiving a pretty big award [for being a realtor] in front of all [my state's] agents. I want to wear a black suit. I can not find one anywhere. I can find pieces….but I want the complete outfit. I wear a size 18/20 depending on Brand. I do not want to spend $500. Any suggestions? My usual spots are Macy's, Dress Barn (RIP), Lane Bryant, Dillards, and Avenue. Am I missing something?"
A black suit is a wardrobe staple… that is if it's good quality and a classic style. Often when looking for plus-size suiting the selection is trendy, cheap, or too memorable. Below I share retailers where I find suiting in size 18/20 and find the quality and price to be excellent. While I am focusing on black suiting for this reader, these retailers carry more colors and patterns.
Where to Buy Black Suits in Size 18/20
Banana Republic
Banana Republic extended its size range to 20 or XXL. They also have several styles in petite and tall. Banana Republic does not offer plus sizing but extended sizing so the cuts are a bit more "straight" but many in sizes 14-20, myself included, to find their suiting a good fit. Unfortunately, Banana Republic is not a retailer that shows their clothing on any models except those that are very slim so it's hard to gauge how they will fit on a body that is softer and has curves. If you go through my Banana Republic archives, you can see wear their suits over and over – this is their collarless jacket and wide-leg pants, this is the Italian Wool suit with the Ryan cut of pants, this is a ponte knit suit from a few years ago, also with the Ryan pant.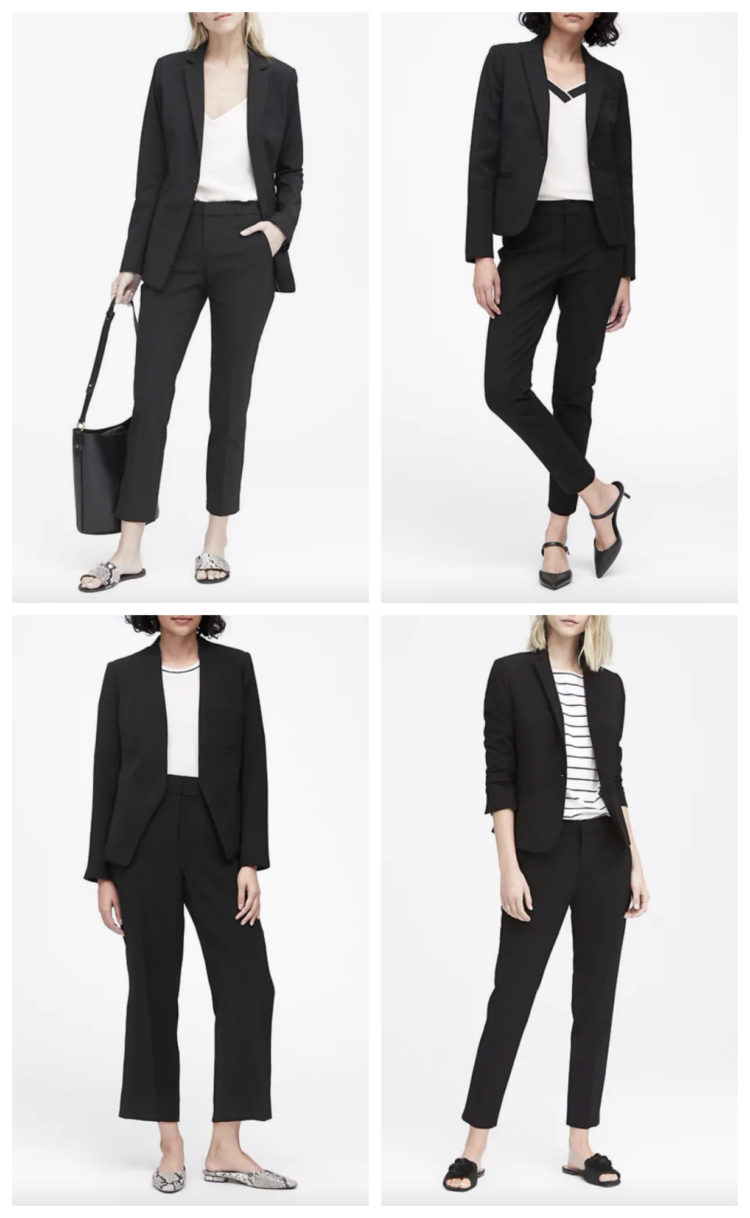 I appreciate that Banana Republic carries many machine washable suiting pieces. Their Italian Wool collection is classic, elegant, and great quality. I find it looks great for the office but can also dress up for evening events. The Collarless Blazer and matching trousers are polyester that has a bit of sheen making it a great choice if you want a suit that can go from desk to drinks or be glammed up for a cocktail party. Their Performance Stretch is the most casual of the three, but a great choice if you wear suits often, especially for travel. Banana Republic's Performance Stretch is made from recycled polyester; it is breathable, wrinkle-resistant, machine washable, and even sun-safe (UPF 50+ rated).
Banana Republic carries its suiting pants in a few different cuts. The Ryan fit is straight through the hips and thigh, the Sloan is narrower at the waist with more room through the hip and thigh, and Hayden is straight through the hip but the thigh and leg is tapered. All three styles come in a variety of lengths and silhouettes. Banana Republic also carries a wide-leg, a flared leg, and occasional other silhouettes depending on the trends of the season.
With most jackets under $200 and pants under $100, Banana Republic is a great choice for suiting that is good looking but also on budget. Banana Republic offers free shipping for orders over $50. You have 45 days to make a return, and returns are easy thanks to Banana being one of many companies to use Happy Returns (AKA Narvar), an online return system that will create a packing slip and UPS or USPS mailing label for you.
Shop Banana Republic Suiting:

Universal Standard
Universal Standard is available in sizes 00-40, and a few pieces are also available in lengths and petite sizing. The quality is stellar; seriously I find the fabrication and construction to rival retailers that sell their clothes at twice the price. Universal Standard offers photos of models in every size for most of the clothing they sell online making it easy to envision how it will fit you.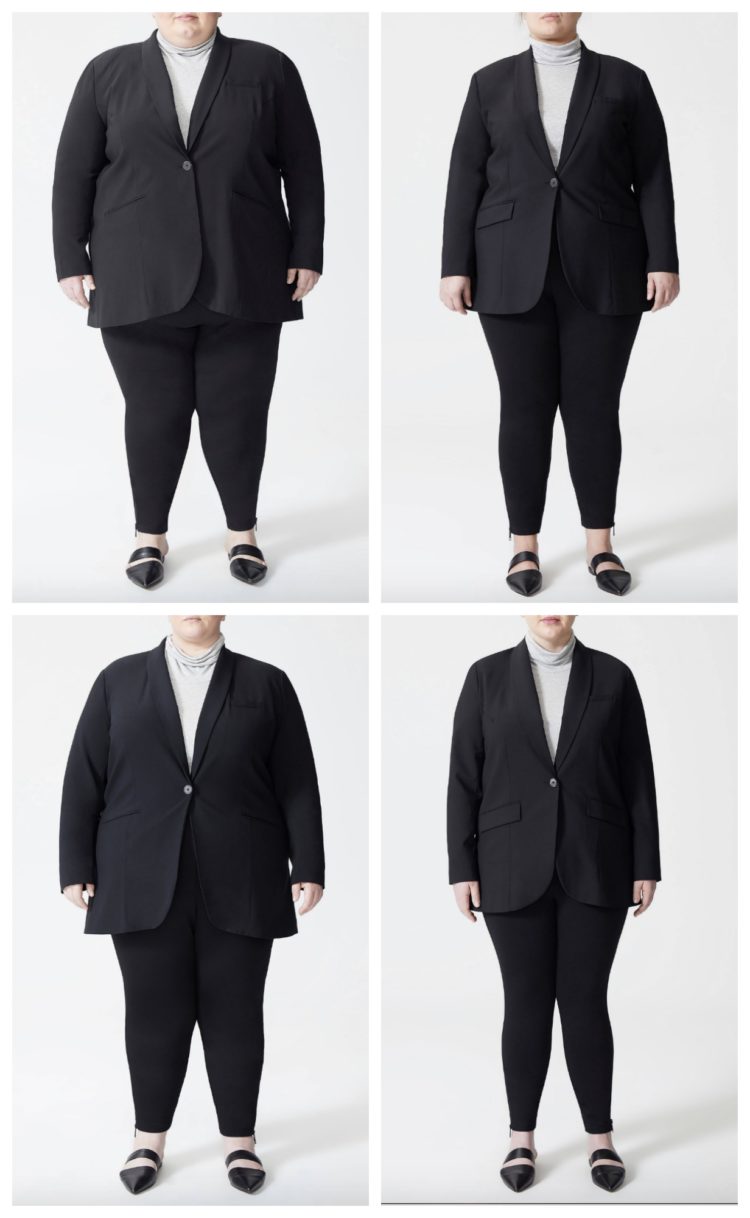 I love Universal Standard but find their suiting to be… perplexing. I think they are a bit too into their creative/cool New York vibe when designing it as at first glance it appears none of their suiting coordinates with one another nor do they make an effort to advertise matching sets. However, I am a huge fan and have worked with Universal Standard to promote their workwear so I have felt and tried on most of their suiting so I know what creates a matched set.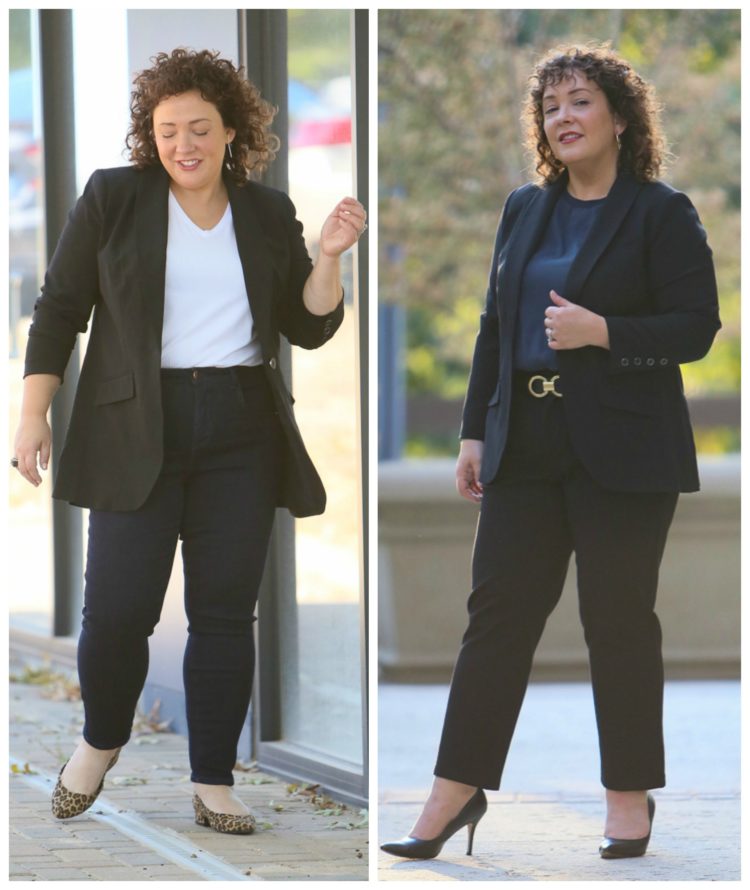 At the time of writing this, the only blazer that has matching bottoms is the Rio Blazer, which comes in black, gray and blue. It also is available in petite sizing. This is my favorite blazer from Universal Standard and one of my favorite blazers in my closet. The fabric is 49% wool, 46% polyester, and 5% Elastane which gives a classic suiting fabric and finish but a hint of stretch for comfort and to repel wrinkles. It has matching buttons on the cuffs and a single front button; this detail makes the suit easy to wear the blazer with jeans or glam up the set as a Le Smoking. The only pant in the same exact fabrication as the Rio Blazer is the Minton Joggers. While these are made of an elegant fabric and have belt loops to add polish, it's not the most classic of silhouettes and may not be appropriate for all workplaces or personal style aesthetics. The Silvia Trousers are not the exact same fabric makeup but look pretty darn close enough to create a professional-looking matched set. The Silvia Trouser comes in two lengths – 29″ and 25″. Again, not very traditional and may not work at all offices or with all personal styles. I find the 29″ pant to be a classic length and fit on my 5'3″ self and have had readers up to 5'6″ find the 29″ pant to work as a classic ankle not cropped trouser.
Universal Standard offers free shipping and free and easy returns within 30 days of receipt. They also have a program called Fit Liberty where any of the pieces from this link, if they stop fitting for any reason within a year, they will exchange for your new size for free. No suiting is part of Fit Liberty, but it's a great option for their more casual basics like t-shirts, knit dresses, and jeans.
Shop Universal Standard Suiting:

ELOQUII
ELOQUII is known for their trendy, fun fashion and is a great destination for dresses and going-out tops. However, ELOQUII has slowly been increasing their suiting options and the results are pretty fantastic. Their suiting is available in sizes 14-28 and many of the pants come in three lengths. I appreciate the extensive and detailed customer reviews and photos of them wearing the clothes available right on the ELOQUII site.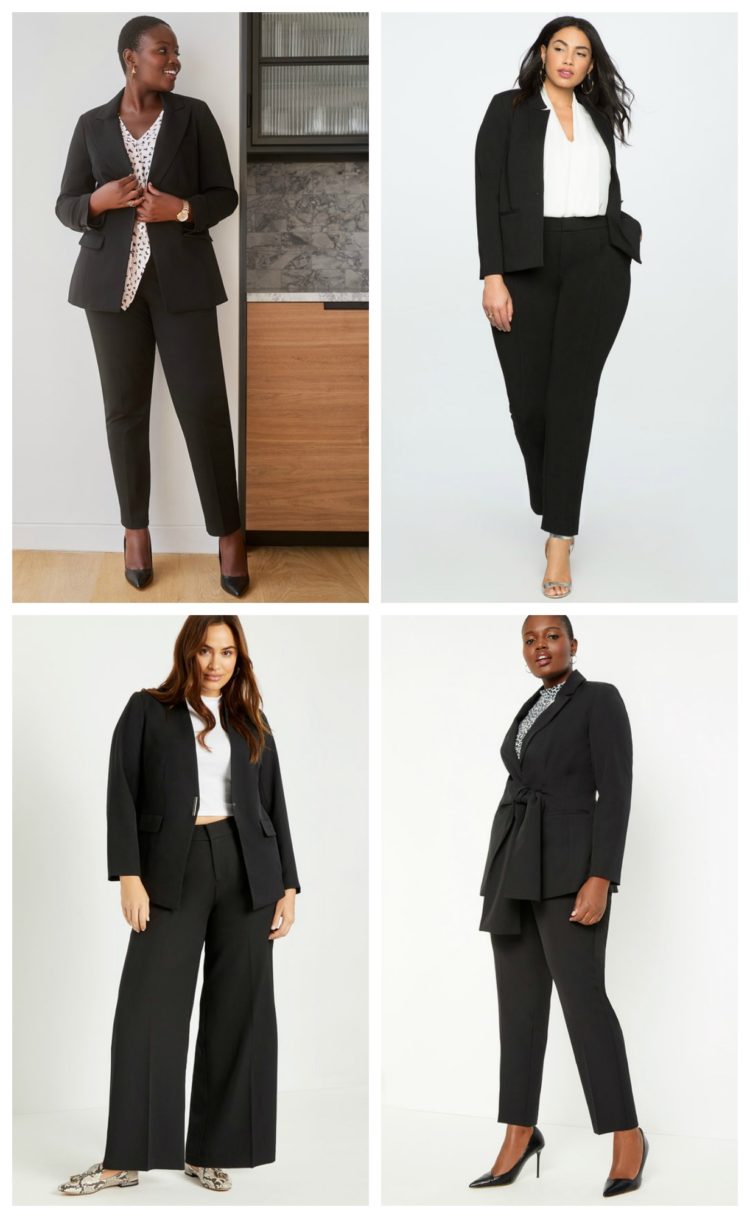 Their 9-to-5 Collection is a customer favorite for fit and fabric. The blazer from this collection has a modern notched collar but is otherwise a classic look. The matching 9-to-5 Stretch pants get rave reviews for fit and quality. The Venice Crepe Collection is chic, tailored, and beautifully draped. I love the closure on the Venice Collarless Blazer and the elegant knot detail on the Venice Tie Front Blazer is so beautiful and easy to dress up as a cocktail pantsuit. The coordinating Wide Leg Venice Crepe Trouser to be chic. The ELOQUII Premier Suiting Collection is made from a lightweight breathable fabric that is still quite polished and professional. The Premier Bi-Stretch Blazer has a single button closure and classic lines. The coordinating Premier Bi-Stretch Work Pant comes in three lengths and have hidden elastic on the back of the waistband for better fit.
ELOQUII offers free shipping on orders over $100 and returns are just $5 for a pre-paid mailing label and need to be returned within 30 days. You can also return online orders in an ELOQUII store or to a Happy Returns location. It's worth it to get on ELOQUII's mailing list as they regularly have sales on their suiting.
Shop ELOQUII Suiting:

Talbots
Talbots has been a favorite of mine for many years; I forgot to include them when I originally wrote this post and is the reason I updated this! Talbots offers their Misses cut up to size 18, and they have both Plus and Plus Petite starting at size 14 and continuing to size 24. Talbots is one of the few suiting retailers where I can wear their blazers and pants right off the rack (or right out of the delivery box) without needing alterations. Every season, Talbots carries at least two classic suits in black and usually, they offer a variety of pant silhouettes and a matching skirt and or dress. The past few seasons they have had an Easy Travel collection that resists wrinkles and is machine washable. I love that Talbots has the Plus and Misses options at the same link, just with a different model so you can pick and choose whether you are Misses or Plus or a Petite option without clicking all over the site.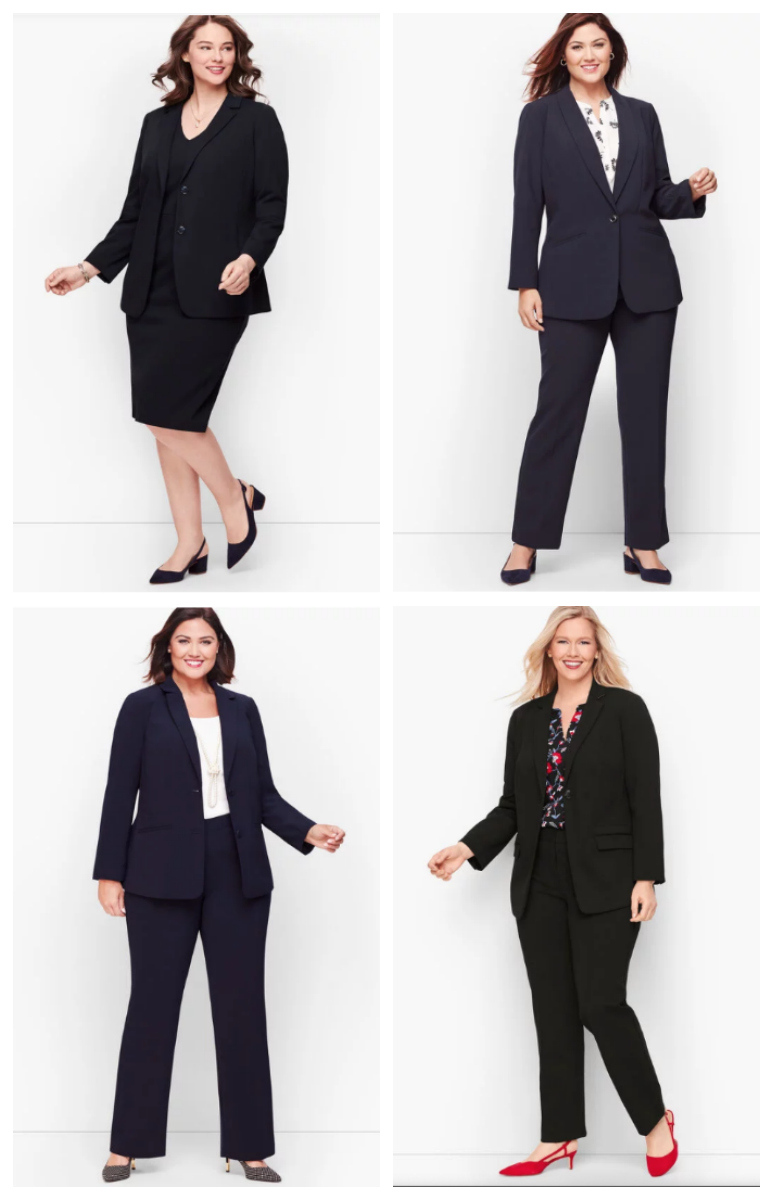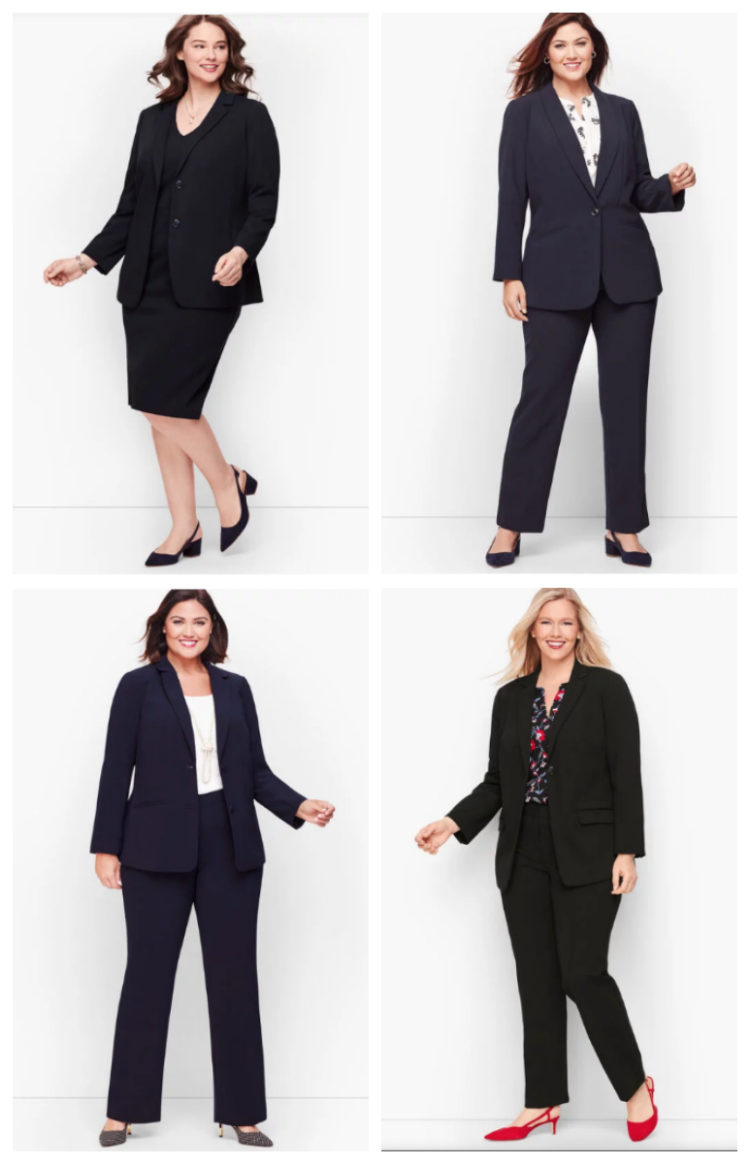 I am partial to the Italian Luxe Knit, which is actually a very professional looking suiting that just has a nice hint of stretch for bounceback and comfort. I have two suits in the fabric and they are the kind you can wear the blazer with jeans and a tee on the weekend, style the look with a silk blouse and pumps for a board meetings, or glam it up with a camisole and heels for a wedding.
Talbots has an $8 flat rate for shipping but occasionally offers free shipping promotions; it is worth it to sign up for their email list to be notified when such events take place. Talbots offers returns of unworn, unwashed or defective merchandise and unopened fragrance within 90 days to stores (online purchases may be returned at a store) and 30 days if returning online. Talbots offers shipping to Canada ($25 flat rate) and international shipping (price dependant on purchase and delivery location).
Shop Talbots Suiting:

Ann Taylor
Ann Taylor also extended their sizing in the past couple of years and now offers suiting up to size 18 and also offers tall up to 18 (petite only goes up to 16) and pants often come in straight and curvy fit options. Unfortunately, like Banana Republic, Ann Taylor only uses one small size model on their website. What makes Ann Taylor a great suiting destination is they offer a variety of fabrics and within those fabrics a good range of silhouettes. Even better, Ann Taylor often has the same fabrics from season to season so you can build upon your suiting wardrobe knowing the pieces will match from year to year.
Last year I had the opportunity to try out Ann Taylor's Bi-Stretch Suiting Collection and picked their long one-button blazer and ankle pant. For both I chose 14 petite, my regular size with retailers. Above is how the suit fit straight out of the box without any tailoring, dressed up and down for work and play; you can see more photos of the suiting buttoned and from different angles at this link. I continue to love this suit. It's a heavier fabric than several of the suits above with a matte slightly textured finish but still looks polished, professional, and great for three seasons (four if you live further north). They also have a Doubleweave collection which is a classic suiting fabric that resists wrinkles and looks polished. Their Seasonless Stretch collection is known for its great fit and most pieces are machine washable.
Ann Taylor's blazers are usually under $200 and their pants under $175. They are also a retailer I recommend for getting their emails as they often have sales. Ann Taylor offers free shipping on orders over $125 and easy online returns through Happy Returns/Narvar within 30 days of receipt.
Shop Ann Taylor Suiting:

J. Crew
J. Crew recently extended their size range to 24 in many looks and that includes the majority of their classic suiting. What makes J. Crew a great retailer for suiting is they continue the same silhouettes and fabrics for multiple seasons, so you can often score a matching skirt or pants to your blazer on sale at the end of a season. Also, if you love a certain cut or silhouette, they usually carry it in different fabrics depending on the season. This way you can have the same great fit in wool for December and linen for July.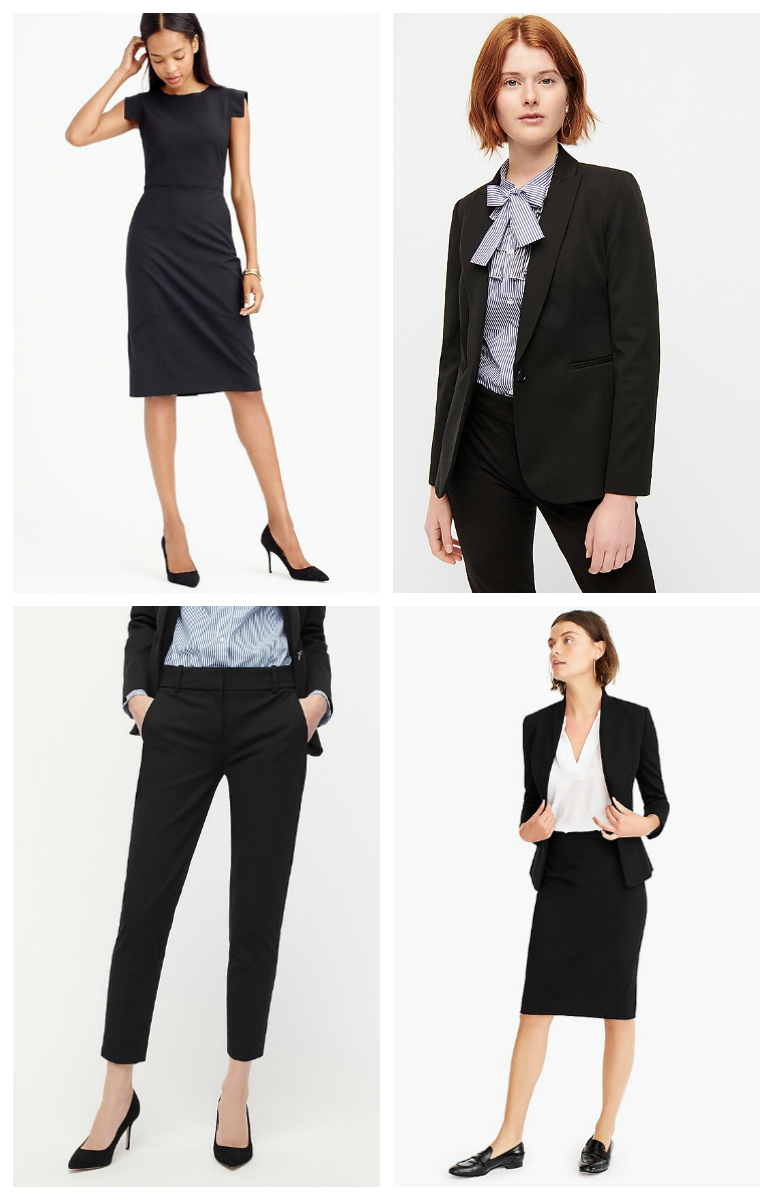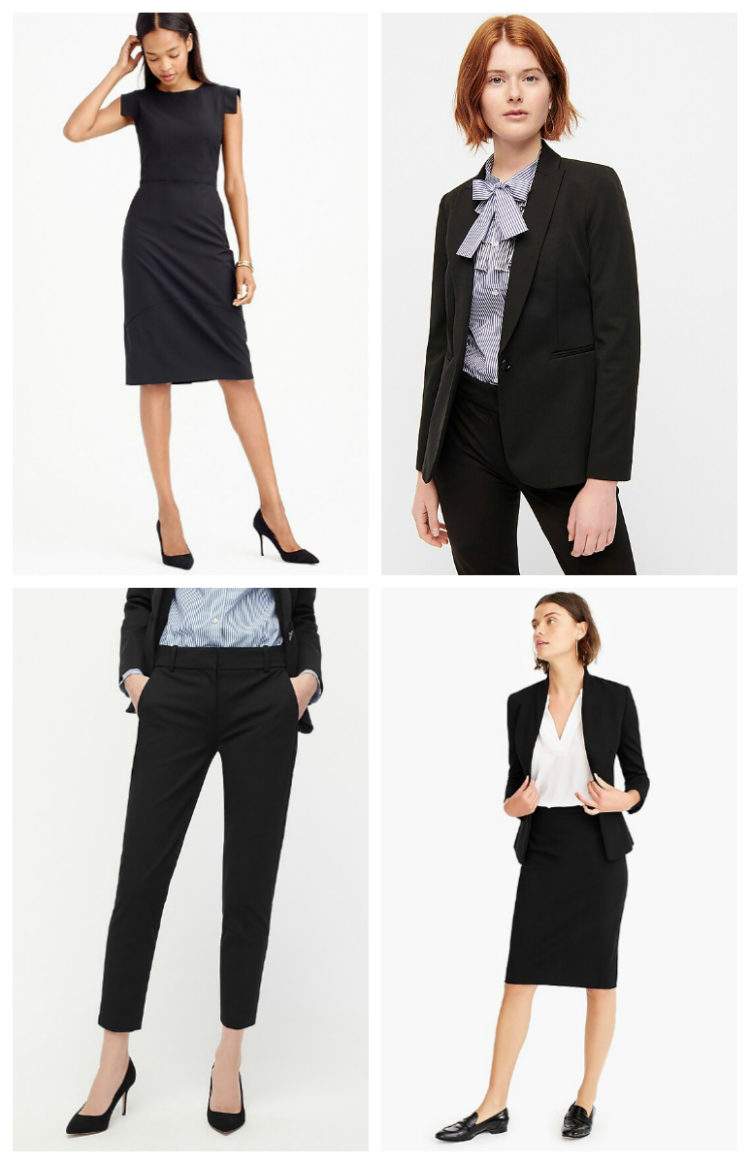 J. Crew isn't very good at showing models in larger sizes so it's hard to determine how a piece will fit. Thank goodness for their customer reviews which depending on the piece, can be quite extensive and help determine which style will work for your unique shape.
J. Crew only ships to the United States, U.S. territories and APO/FPO/DPO addresses. They shop for a flat rate of $5, but they also occasionally offer free shipping promotions. J. Crew offers returns of unworn, unwashed, undamaged or defective merchandise within 30 days either online or to a store. If you use their return label, it will cost a flat fee of $7.50.
Shop J. Crew Suiting:

Honorable Mention: Nordstrom
Nordstrom only gets an honorable mention because while they have increased their plus-size offerings, it still skews junior with many of their blazers out of cheaper fabrics with extremely trendy details (I don't know about you, but a cold-shoulder blazer with a see-through lace back panel wouldn't have been the best choice at most of my jobs). They also get points taken off for not having a suit destination; if you find a blazer you like you then need to search to see if there are coordinating pants. However, Nordstrom carries brands like Rachel Rachel Roy, Vince Camuto, 1.State, and Nic + Zoe which make great work clothing at great prices, and have in-house brands like Halogen that are equal for quality and price. At the time of writing this I found a few matched suits in sizes 18 and 20:
Nordstrom usually has its best suiting selection in mid-spring and early fall. They also often carry the same brands as other department stores like Macy's and Dillard's so you can often find the blazer at one retailer and the pants at another. Nordstrom offers free shipping on all orders and free returns with no time limit. They also carry brands like Universal Standard, Pari Passu, Eileen Fisher, and ELOQUII so it's an easy way to try these brands for the first time without having to meet a return date.
Shop Nordstrom Suiting:

If you know of a retailer that offers stylish suiting for women in sizes 18 and 20 that is under $500 and I didn't mention it, please share in the comments to help out fellow readers! And please know for all retailers, the toughest time to find coordinating suiting is January through early March and the middle of the summer. However, during those times are when you may find the best sales and bargains. Good luck and happy shopping!