This article may contain affiliate links; if you click on a shopping link and make a purchase I may receive a commission. As an Amazon Associate, I earn from qualifying purchases.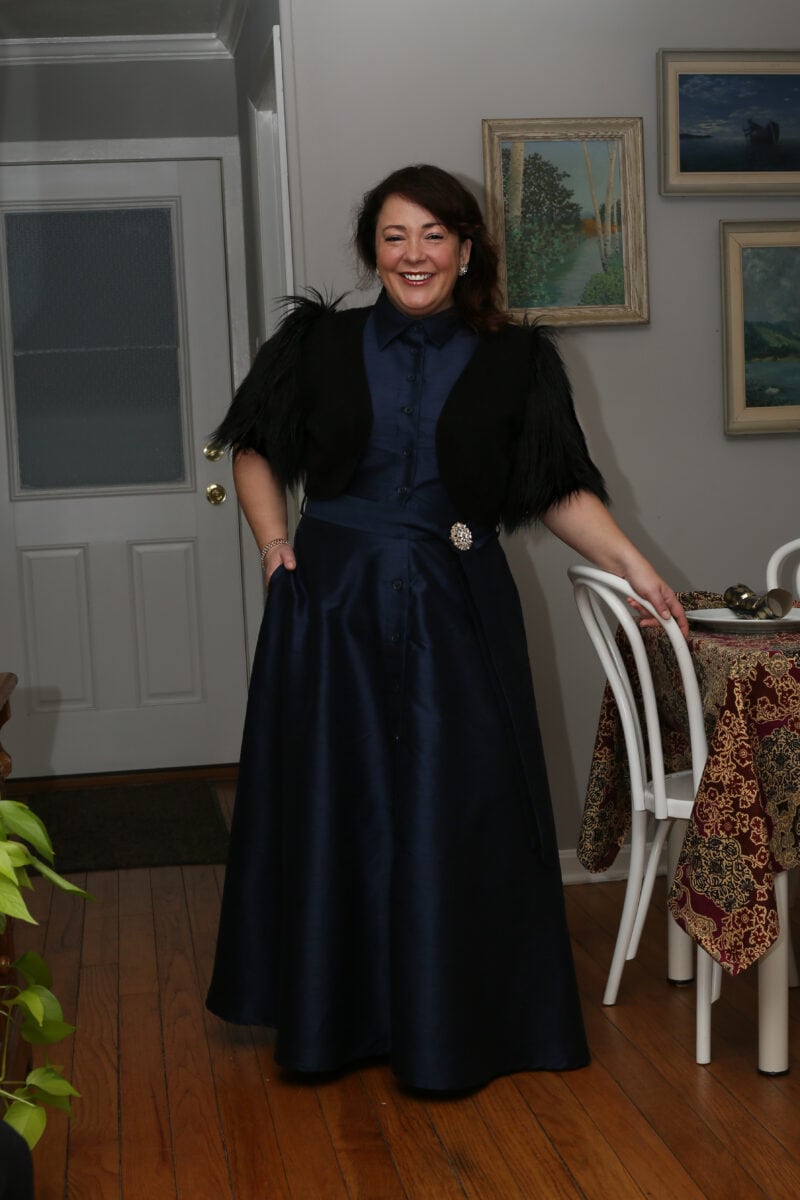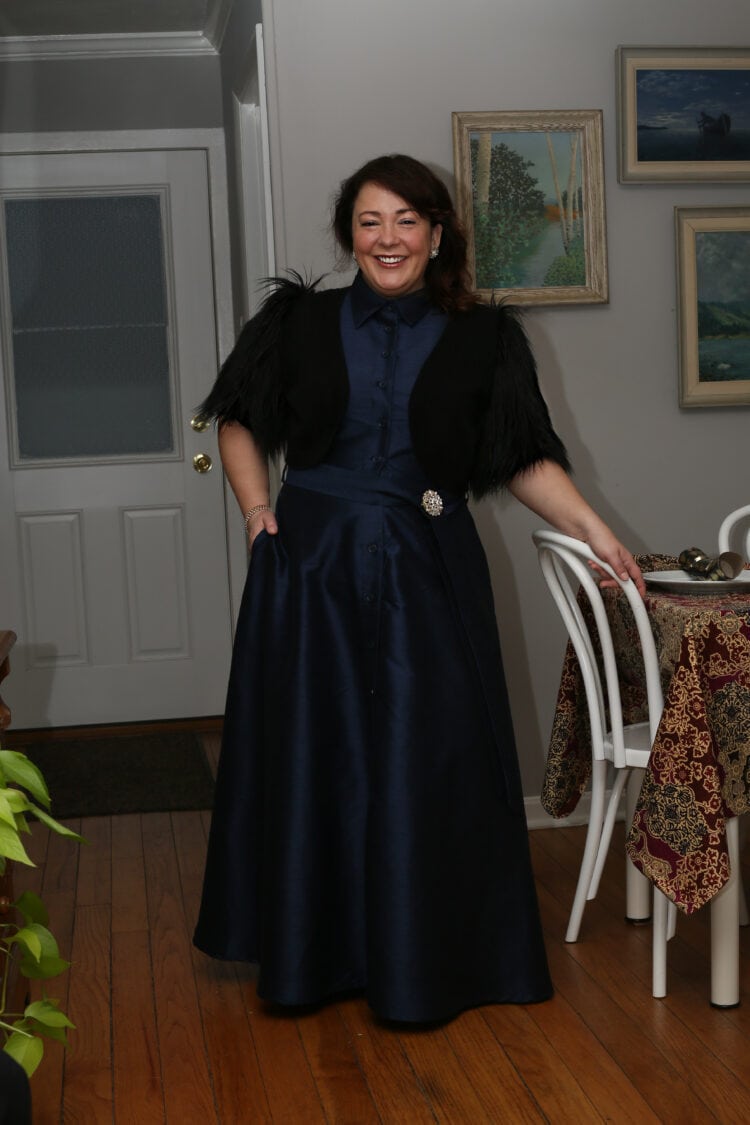 I am on vacation through the end of the year, but I had to pop on to share what I wore Christmas Eve. It's actually the same thing I wore last year for Christmas Eve and the year prior! I am all about rewearing looks, and for special occasions like holidays, it's a great time to create a signature look you can wear time and time again. It's not boring, it's tradition!
What I Wore Christmas Eve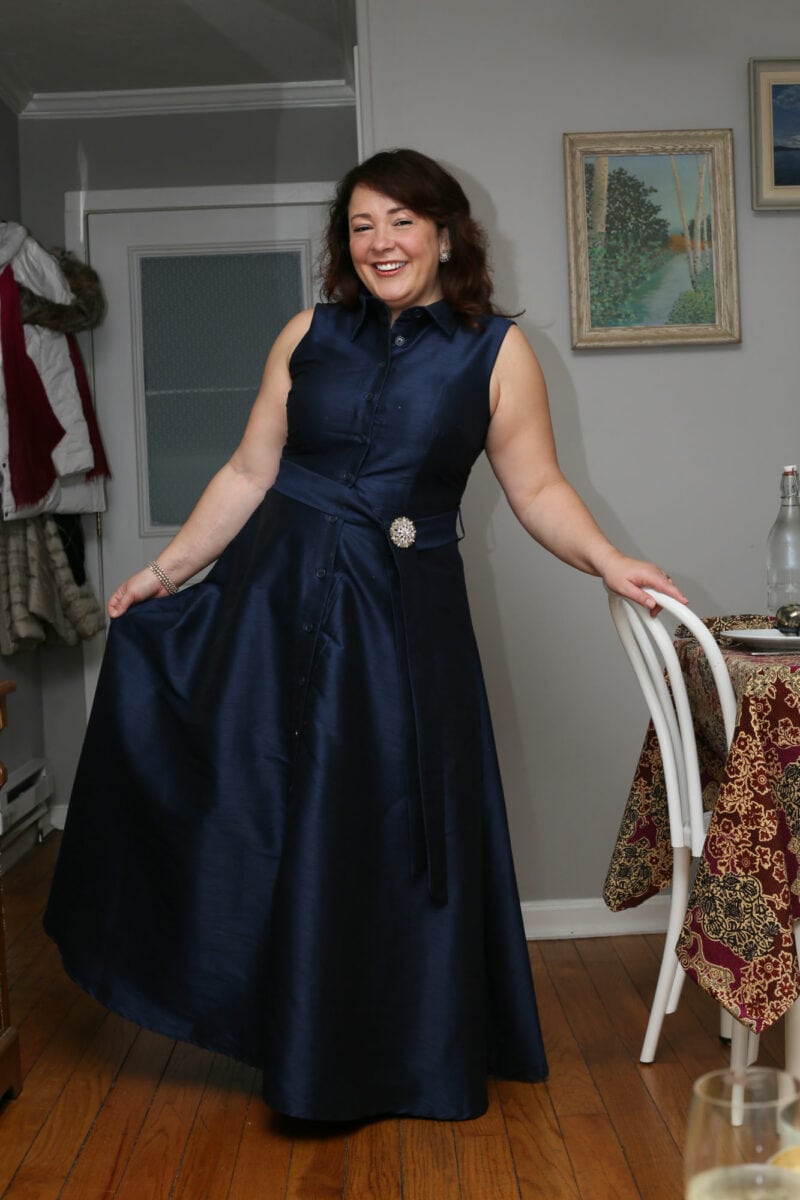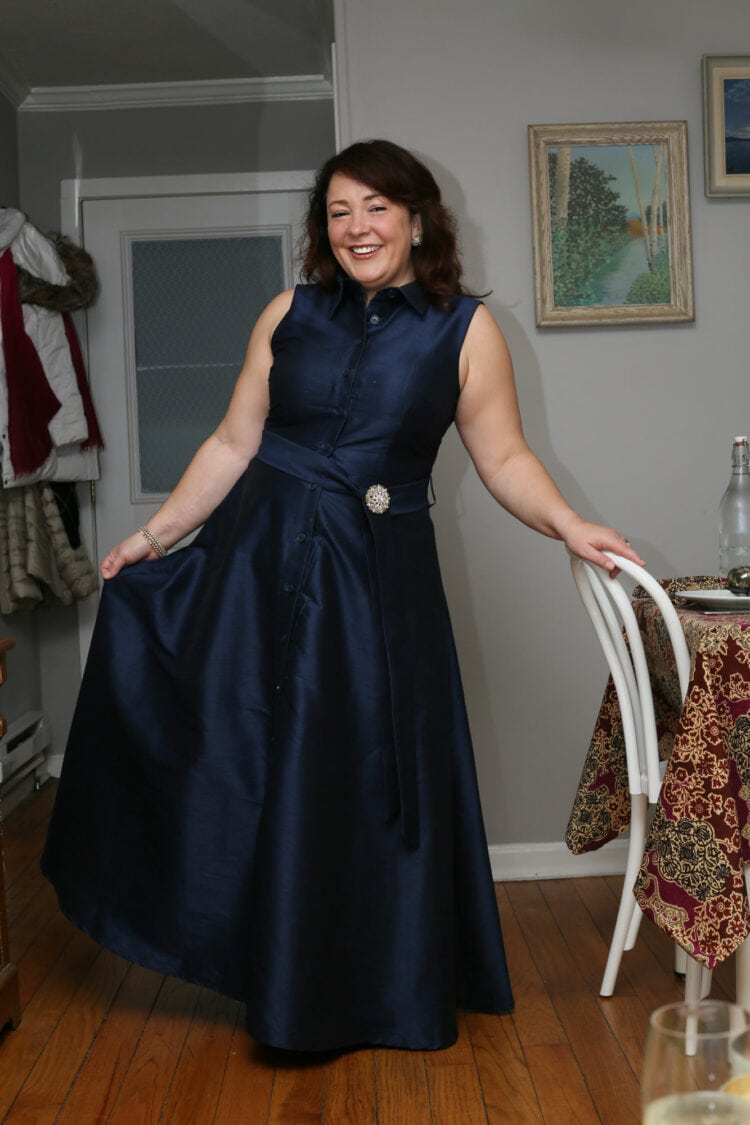 I bought this sleeveless dupioni full-length shirtdress from eShakti in late summer 2019. I thought it looked like a classic piece that would work year-round for dressier occasions and the price was so low it could sit in the closet at the ready for an evening wedding, a more formal blogger event, that sort of thing. I knew of a few such events on the horizon in 2020. I had no idea what the next year would hold and how it would affect our social lives.
Christmas Eve, we go to my sister's house for dinner. It's a small crowd; me, my husband, our daughter, and our mother. Occasionally a friend or partner joins us, but it still remains small and intimate. My sister decorates her space with candles and twinkle lights and has a playlist of holiday songs perfect for an elegant dinner. And she cooks a divine meal and sets the table with candles and chargers and fancy napkin holders.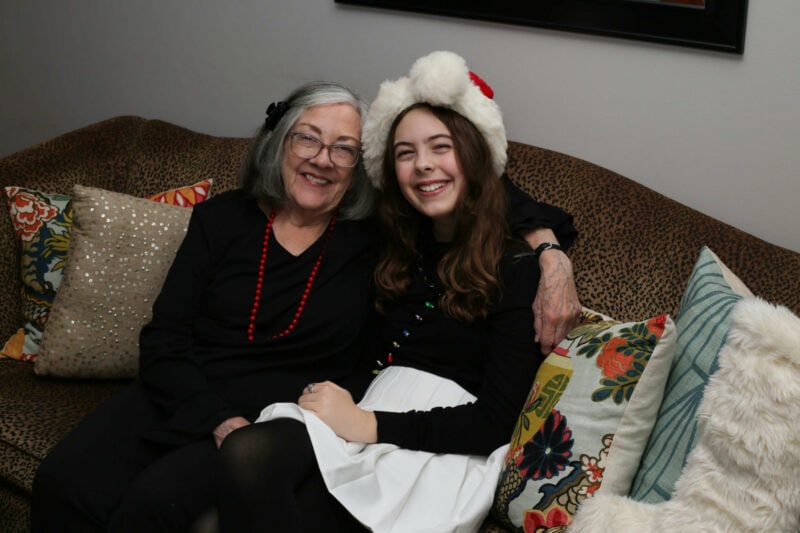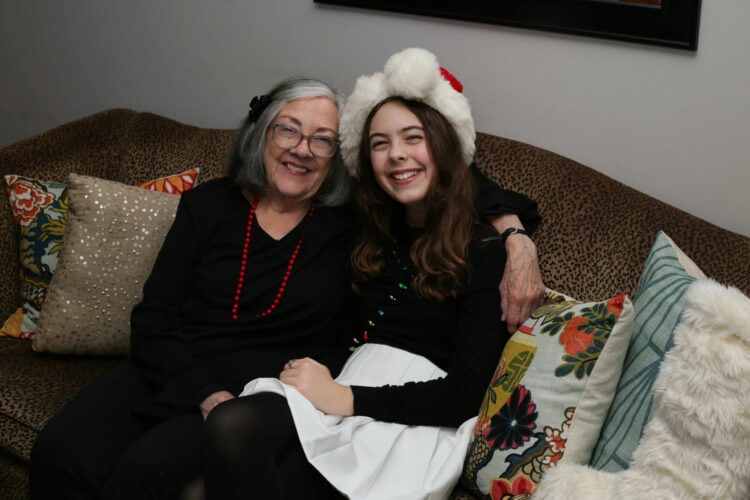 After dinner, my daughter opens gifts in a stocking my mom makes for her and they read The Night Before Christmas from a large board book with pop-ups and flaps to open that my mom bought when Emerson was a baby. Then, she would hold Emerson in her lap and read the book aloud; now my mom sits next to Emerson as she reads the book to all of us.
This is an occasion where one could easily wear jeans and a t-shirt but we always dress up in our own way. My mom wears a beautiful blouse and jewelry in holiday colors, my husband chooses one of his ugly Christmas sweaters, and I like to use it to wear something that doesn't get enough play in my closet. So in 2019, I chose this eShakti shirtdress.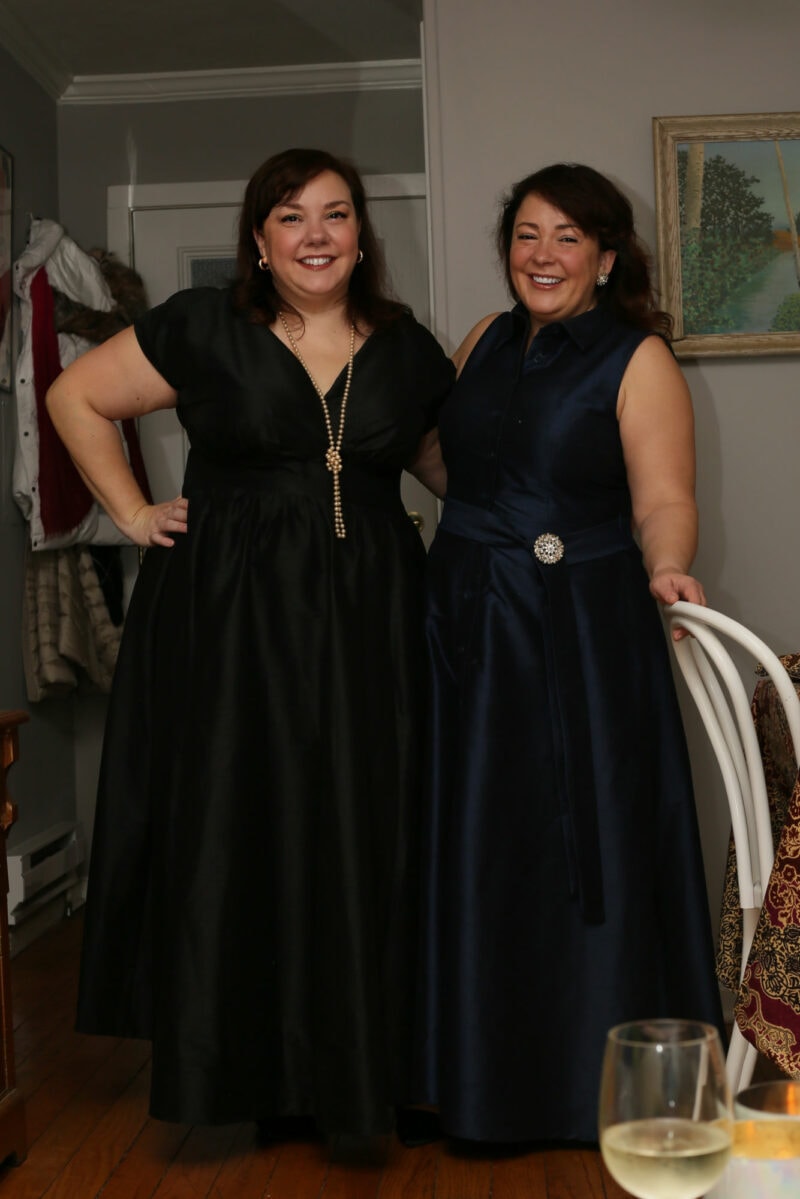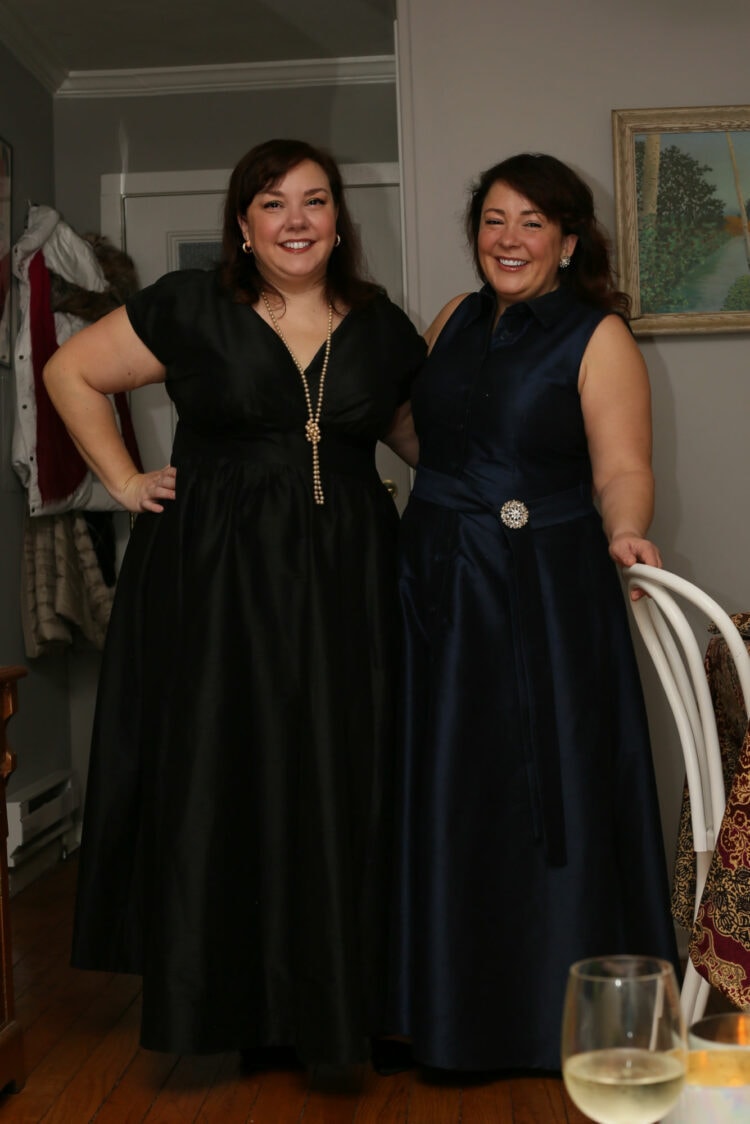 It's dressy, but functional with deep pockets and a length where I can wear flats. While it reads silk dupioni, it's actually machine washable. There are backward buttons between the visible buttons at the bust to keep it closed and smooth. And with eShakti, you can have it made to your custom measurements or choose a street size and enter your height for proper length. I bought a size 16 (I always go up one size with eShakti) and had it made for my 5'3″ self (if I wanted to wear heels I'd likely go an inch longer).
EShakti has several dresses and separates in this dupioni fabric, and in a range of colors. Most styles you can adjust the sleeve length and style, the neckline, and the length of the dress. My specific dress is no longer available, but this one is the same color and fabric with sleeves, this is the same dress in a white, black, and mint print, this is similar in black with sleeves, and this one is black and has a sleeveless with a shawl collar.
Eshakti does not currently have an active affiliate program, but this is the link to my referral code; if you use my code you will get a $50 credit and I will get a $25 credit for a future purchase.
What I Wore Christmas Eve 2019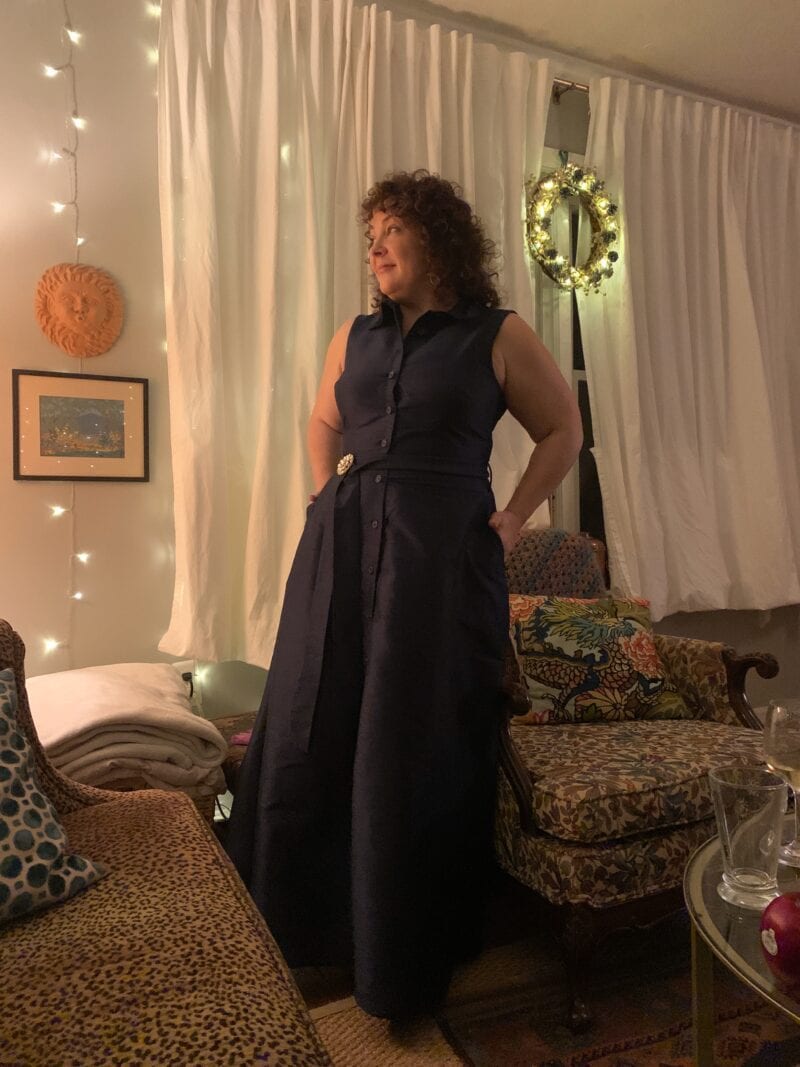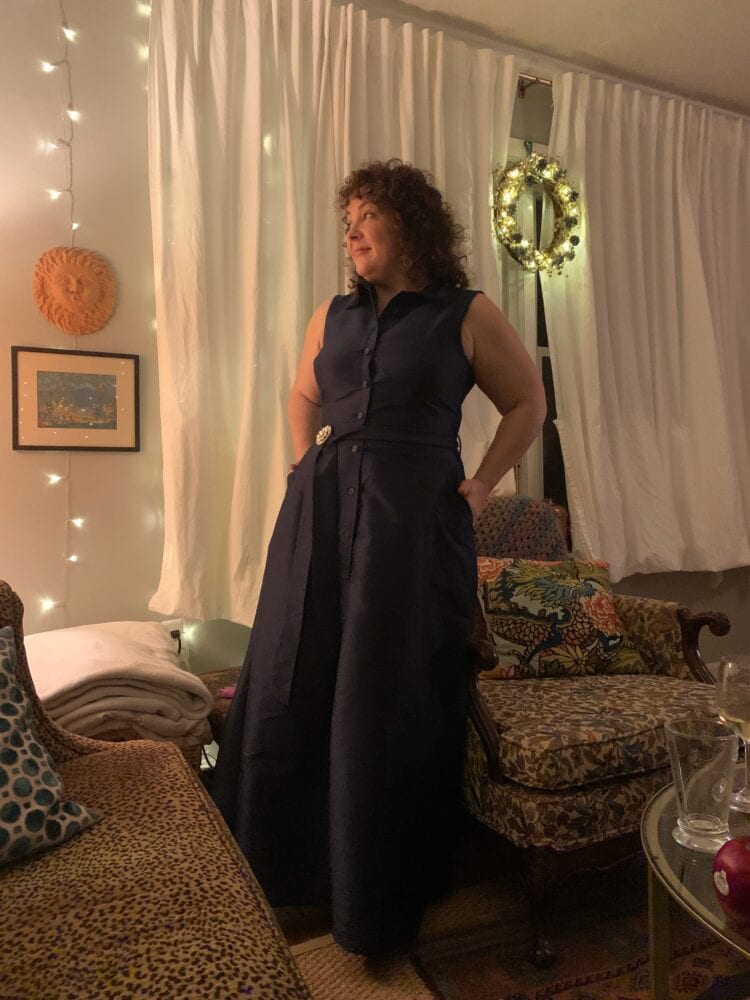 That first Christmas Eve to make it feel more festive, I added a sparkly brooch and earrings from Talbots I got back in 2017 (earrings previously seen here). Talbots continues to be one of my favorite places for special pieces like brooches; the quality is really good and their selection, especially in winter, is stellar. I tied the waist sash flat and put the brooch through the knot and had the knot off to the side.
What I Wore Christmas Eve 2020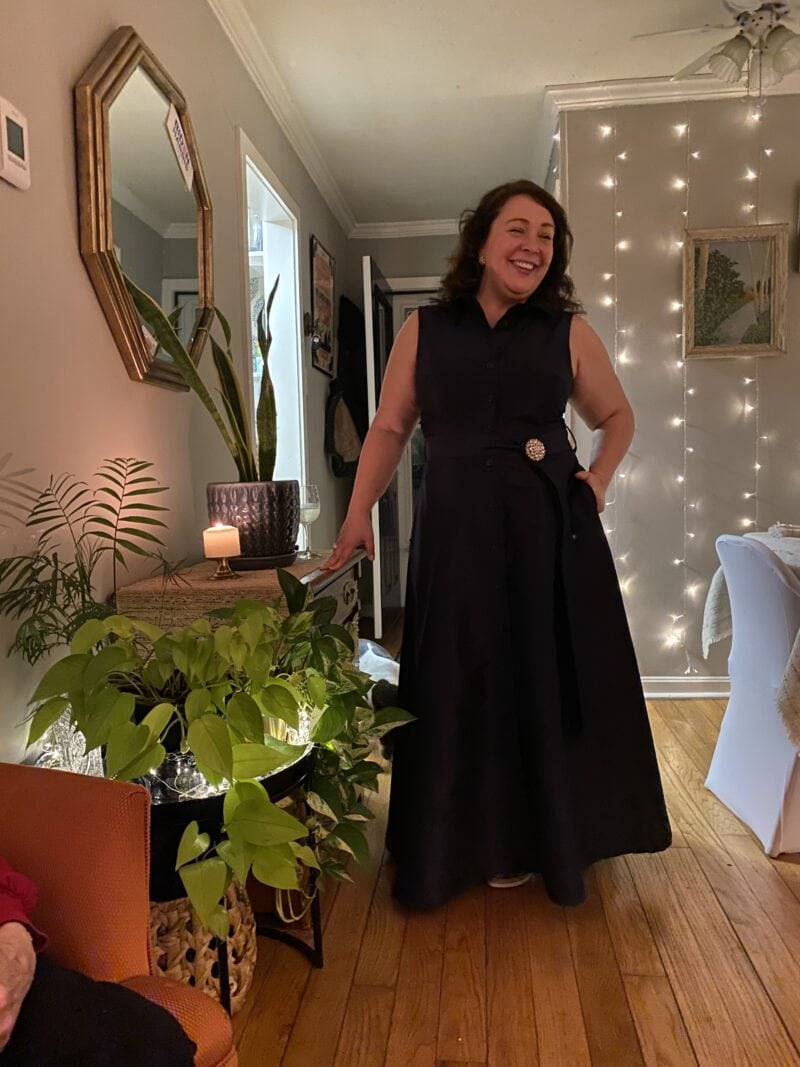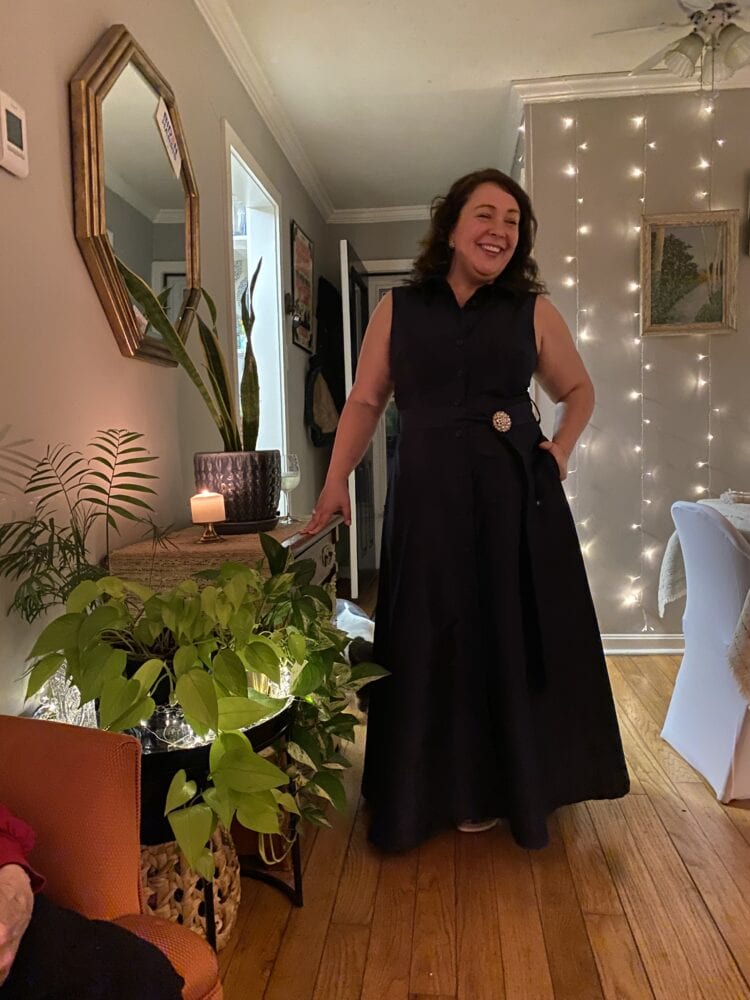 Come 2020, I was a different person in a different world. Physically, I went from weightlifting five days a week and focusing on a low-carb, high-protein diet to riding my Peloton bike many days a week, not lifting, and going plant-based. I was still the same clothing size, but a different shape and the dress still fit. All the occasions I envisioned for this dress that year were canceled so it felt great to pull it out of the back of the closet, dust it off, and wear it to my sister's for our annual Christmas Eve dinner with the same folks who were also our quarantine pod.
What I Wore Christmas Eve 2021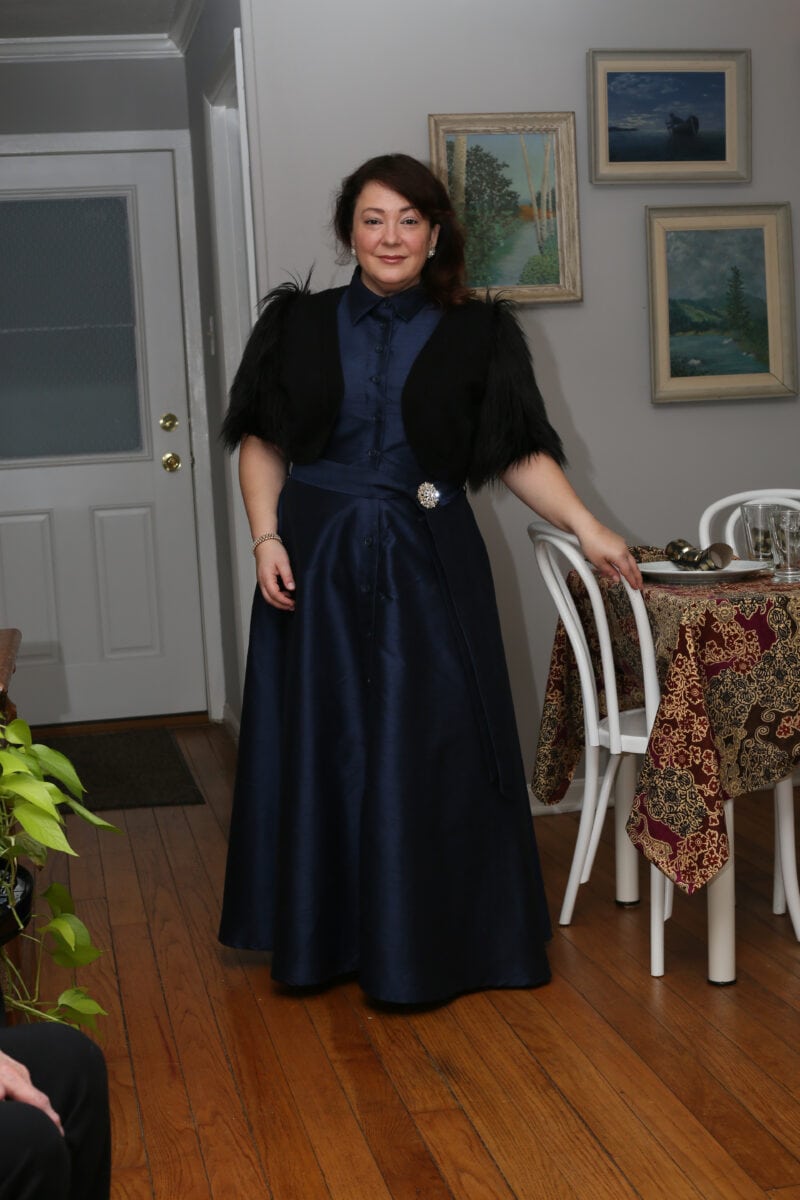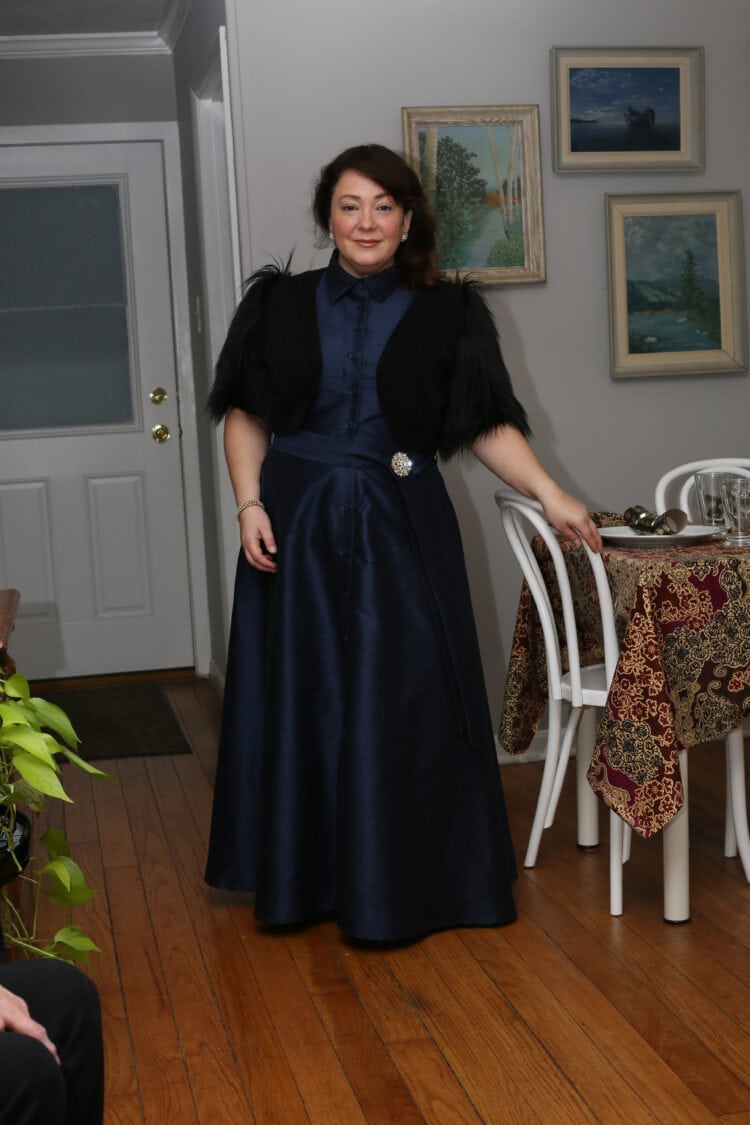 And this year I decided instead of creating a new look or buying something additional, why not wear this same dress and make it a tradition? After a year where I exercised for health instead of body shape and finally stopped weighing myself and worrying about my size, I was happy to find the dress still fit comfortably. I styled it as I did the previous years with the brooch and earrings, but felt it needed a little something for the person I had become over 2021.
I got this shrug from cabi back in 2019 when I was an ambassador for the brand. I have always loved it but struggled to style it. In 2019 I wore it to a friend's event and one other time I wore it with a cut-up band tee and jeans, but otherwise, it has sat in my closet looking for the right moment. I tried it with the dress, and liked it. I buttoned up the dress completely and loved the effect. For those looking for this one-size shrug, it was called the Dressed up Shrug from Fall 2019 and I've seen several on sites like Poshmark, Mercari, and eBay. It is a sweater knit with faux monkey fur sleeves.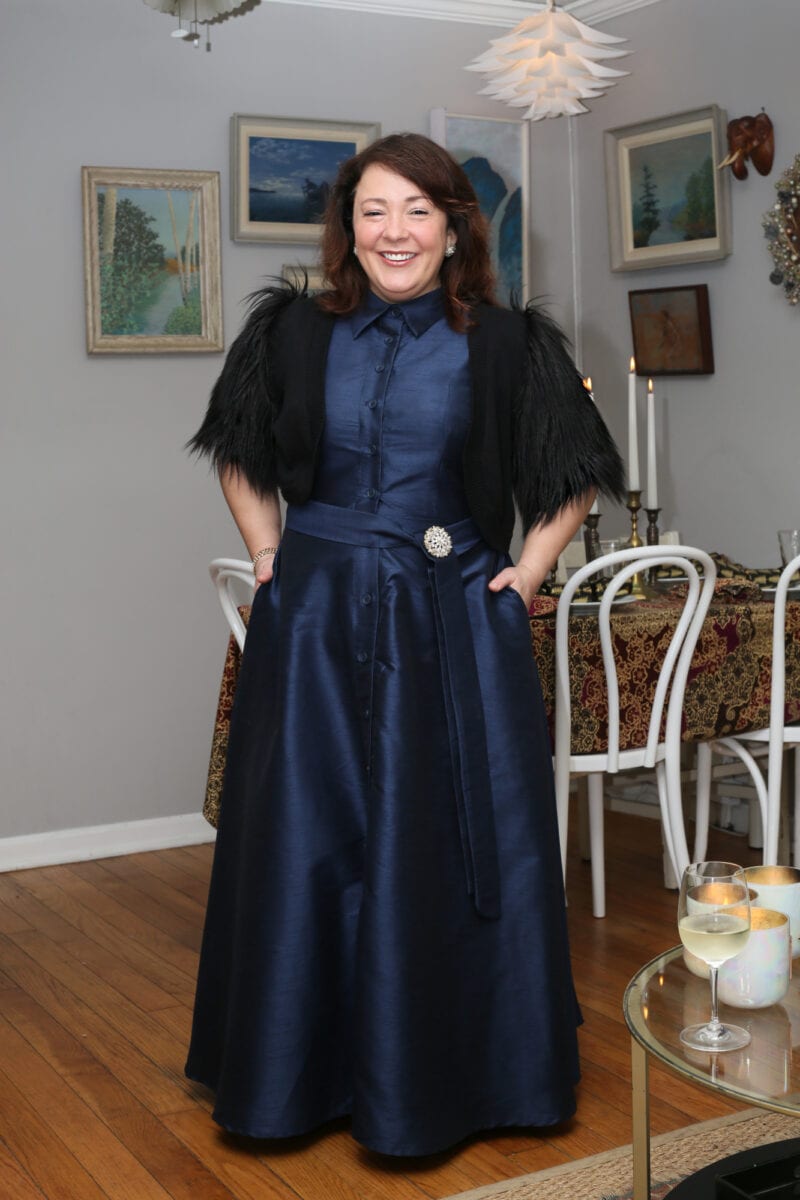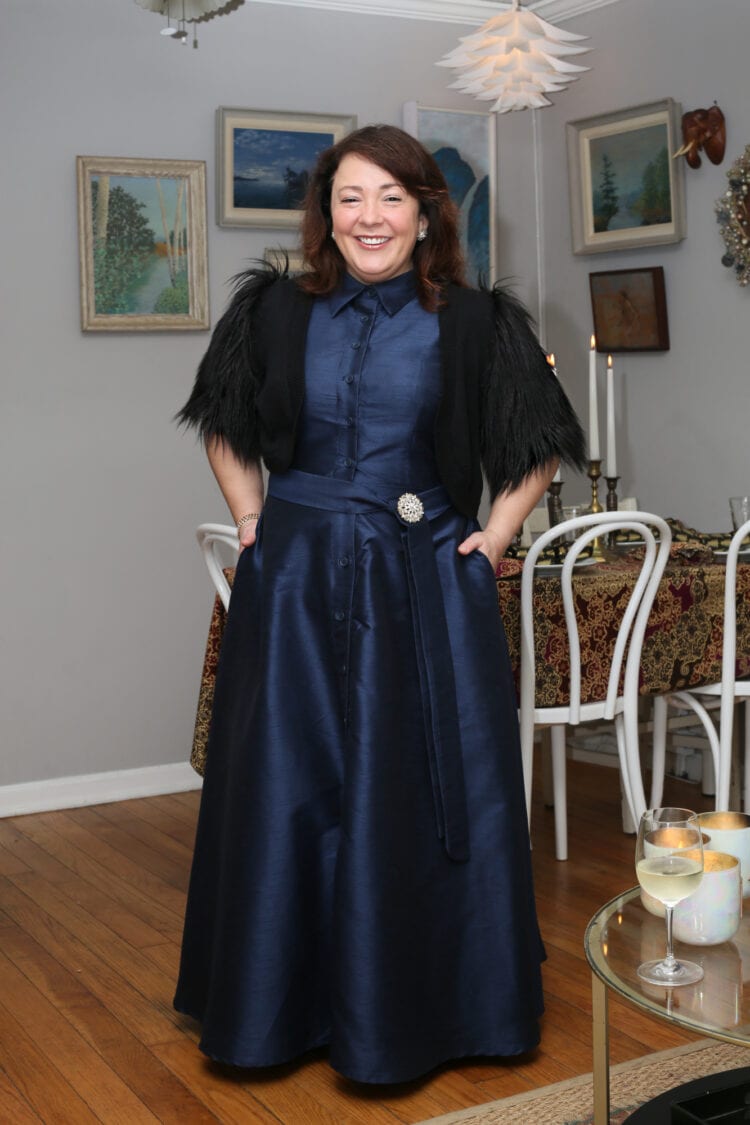 On my feet are a pair of LISSOM flats. The founder of the company sent me a fresh pair this year to celebrate the relaunch of the brand (and kind of as an apology; she has now paid me back all outstanding affiliate revenue). These shoes are the perfect "I don't want to wear shoes but I have to" shoe. I wouldn't wear them with this dress to an event, but for my sister's house, they worked great.
Making the Ordinary Special with Traditions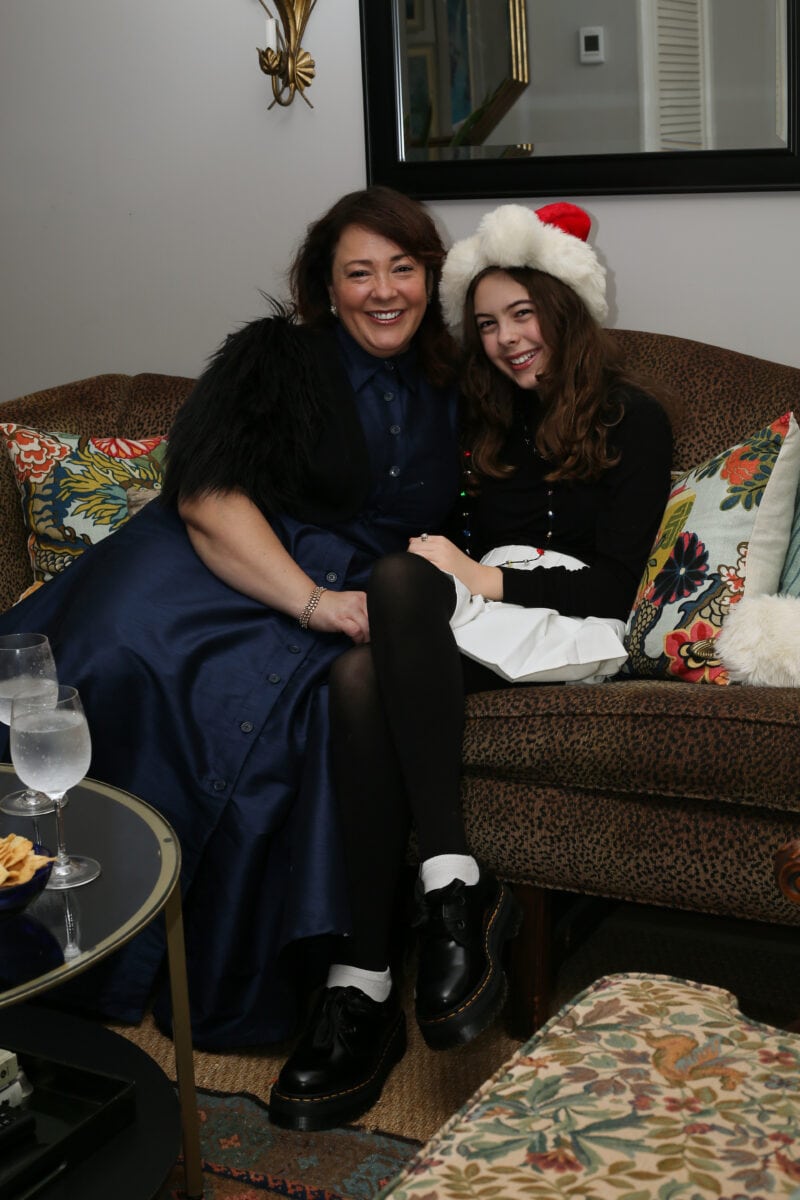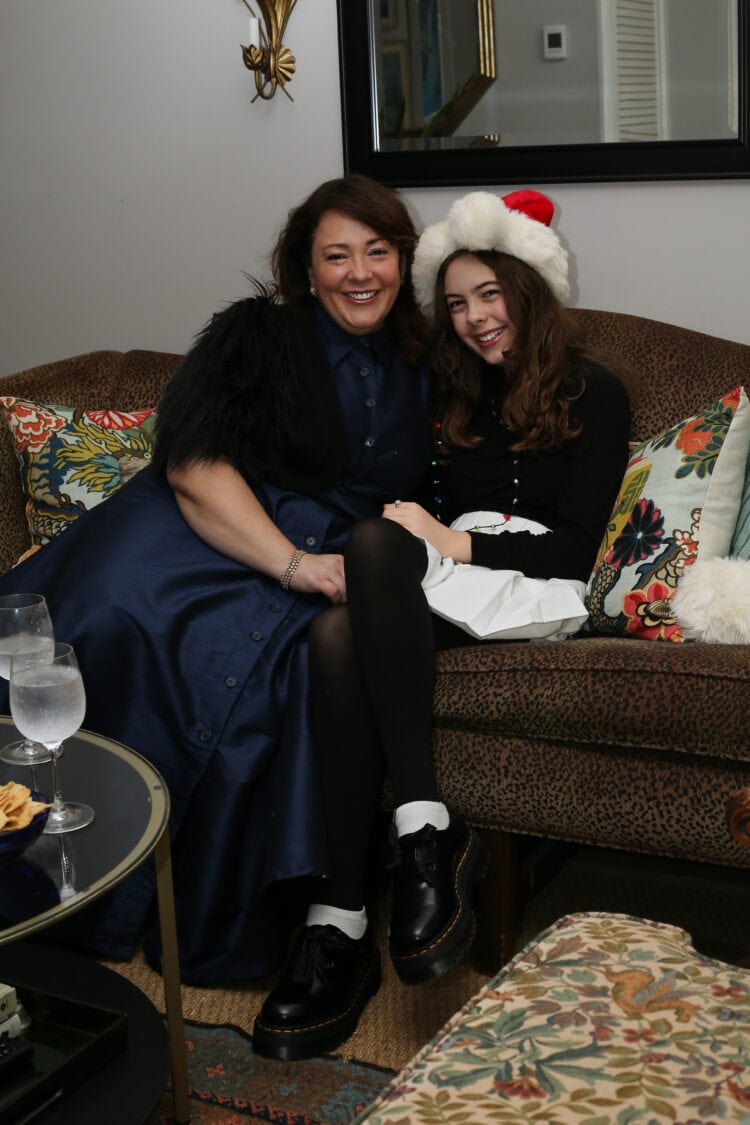 The evening was lovely, and made me thankful we have a tradition with our small "pod" that is still special. Who says you have to keep your fancy duds for events out and about? If we have gained one thing from these two years, it's that we can make any occasion special. We don't need reservations or invitations to an event to dress up, we don't need a large crowd to justify cooking a fancy meal or baking a decadent dessert. And re-wearing looks isn't gauche, it's celebrating your signature style and creating a new tradition.
Here's to making the ordinary special, savoring what we already have, and to creating new traditions in the new year!