This article may contain affiliate links; if you click on a shopping link and make a purchase I may receive a commission. As an Amazon Associate, I earn from qualifying purchases.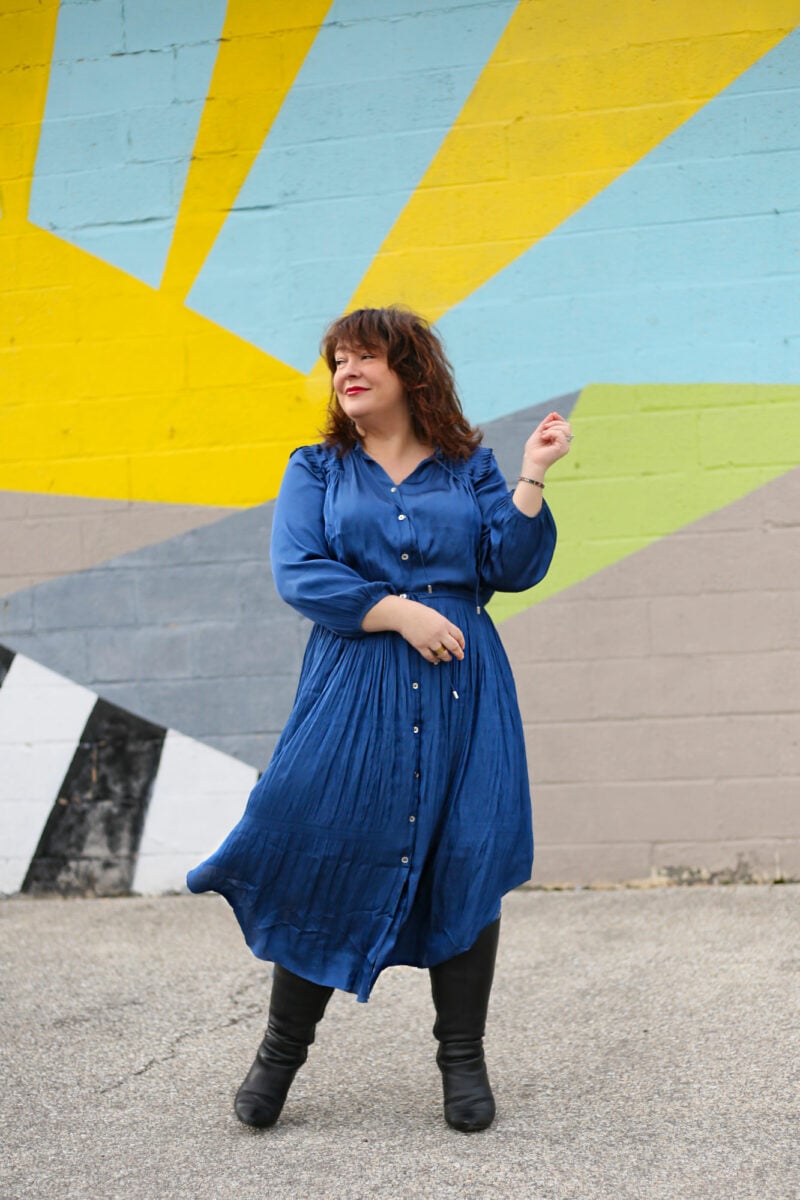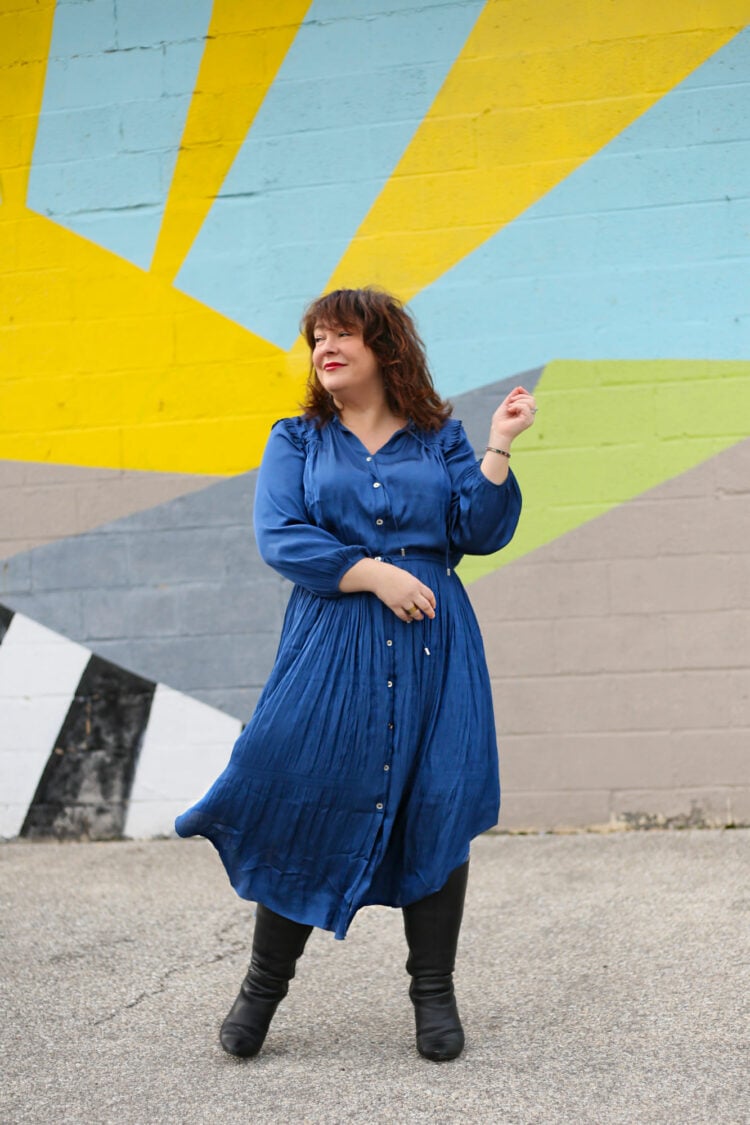 As I've mentioned before, I am a Chico's ambassador, which means many months they reach out, invite me to pick items from their New Arrivals, and have me style one for Instagram. I love this relationship; I have been a fan of Chico's for many years, finding their fit and quality excellent and pretty consistent.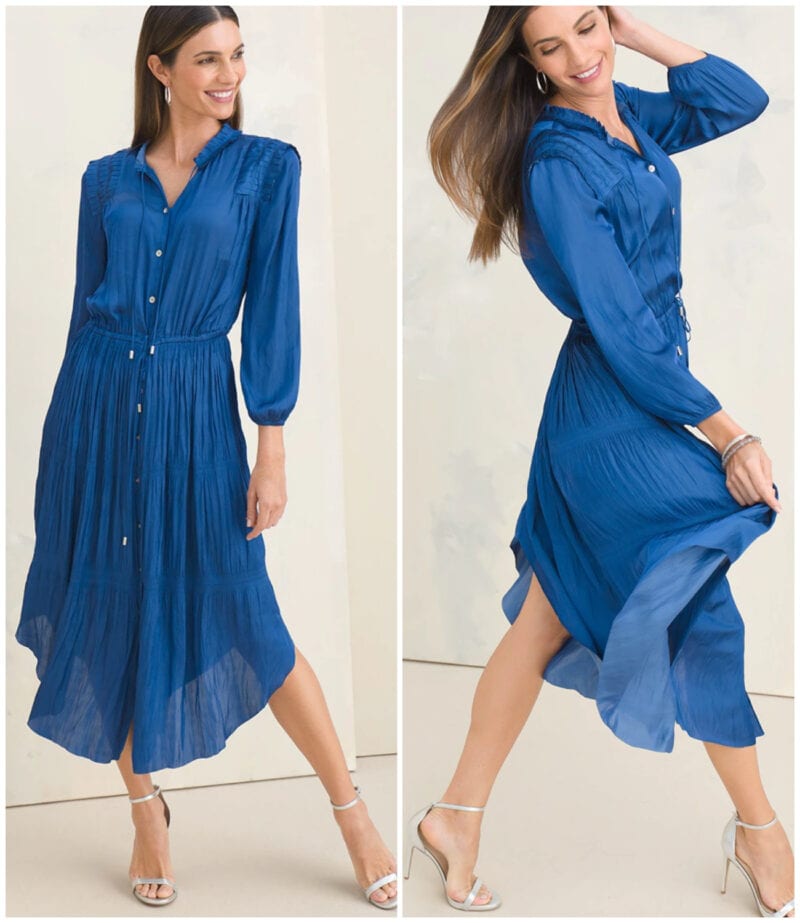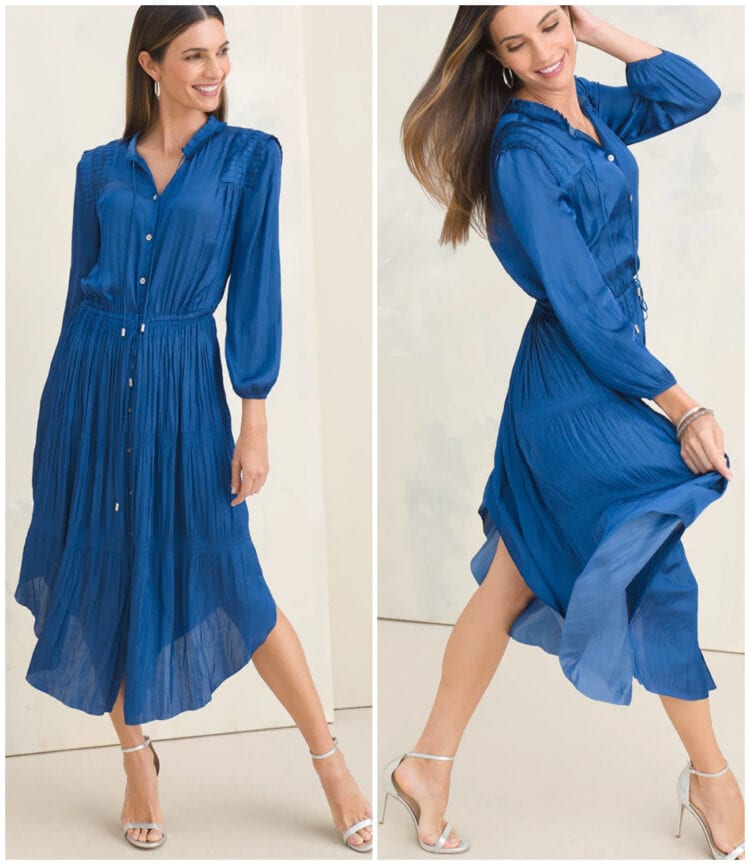 Some find Chico's to be… mature in style but I always find really cool and fun pieces and many I keep in my closet for several years. And when I checked out their New Arrivals and saw this dress I knew I had to have it. On the slim model at Chico's, it looked pretty but I knew on my curves that silhouette and fabric would really shine.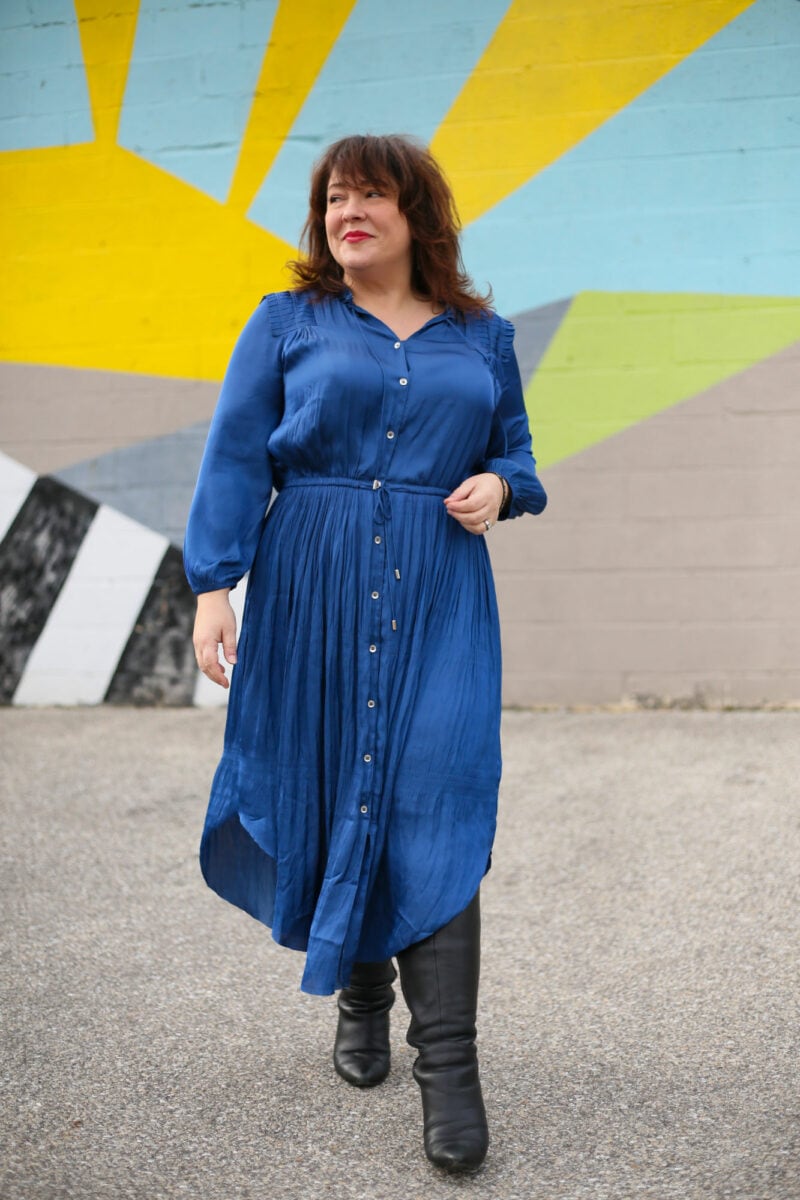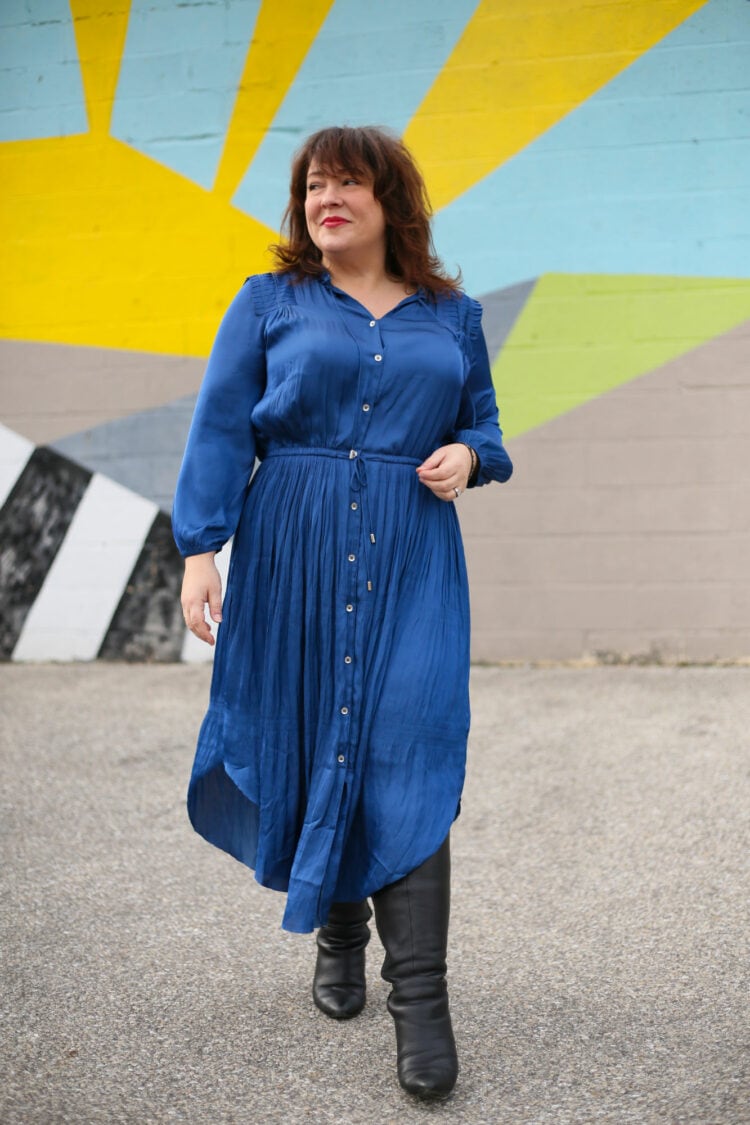 I reached out to my contact at Chico's and asked to style this dress for December with these earrings and this bracelet. She said new pieces were coming out that following Monday, why don't I wait to see if there was something else I may like better. Monday came and yes, there were some fabulous new pieces available but I still had to have that blue dress.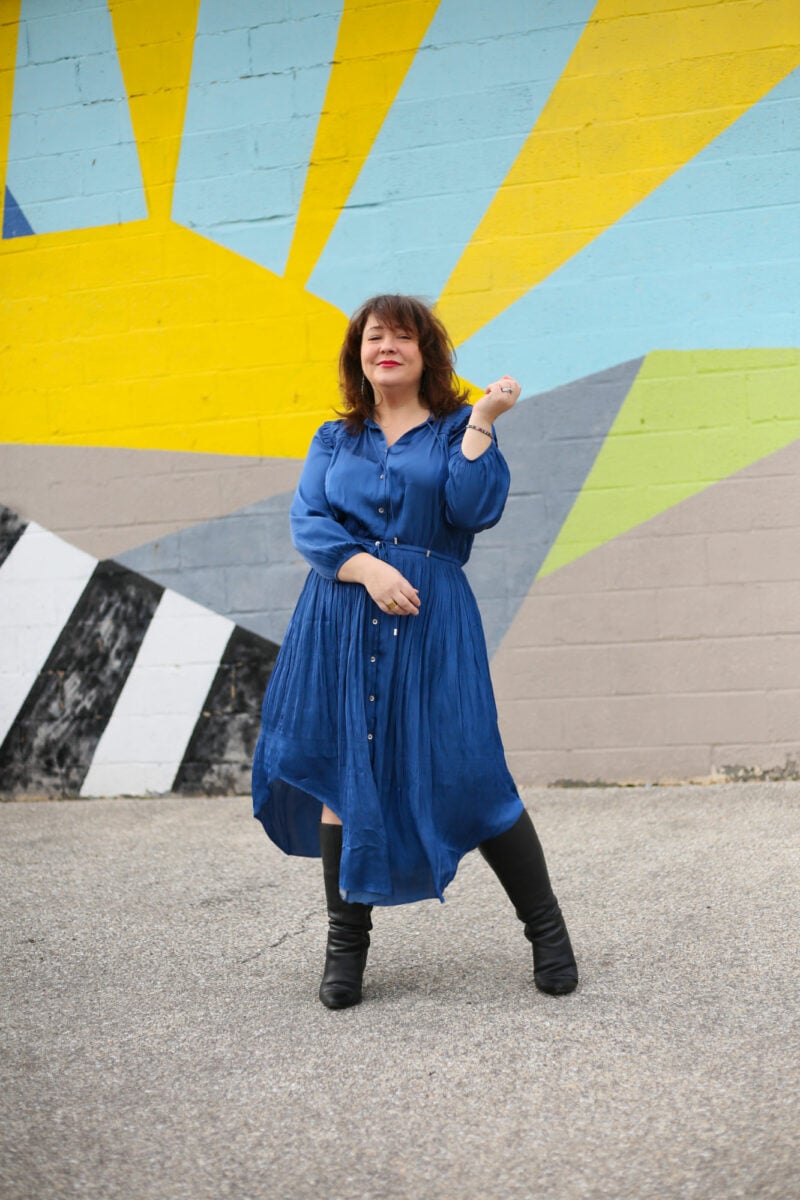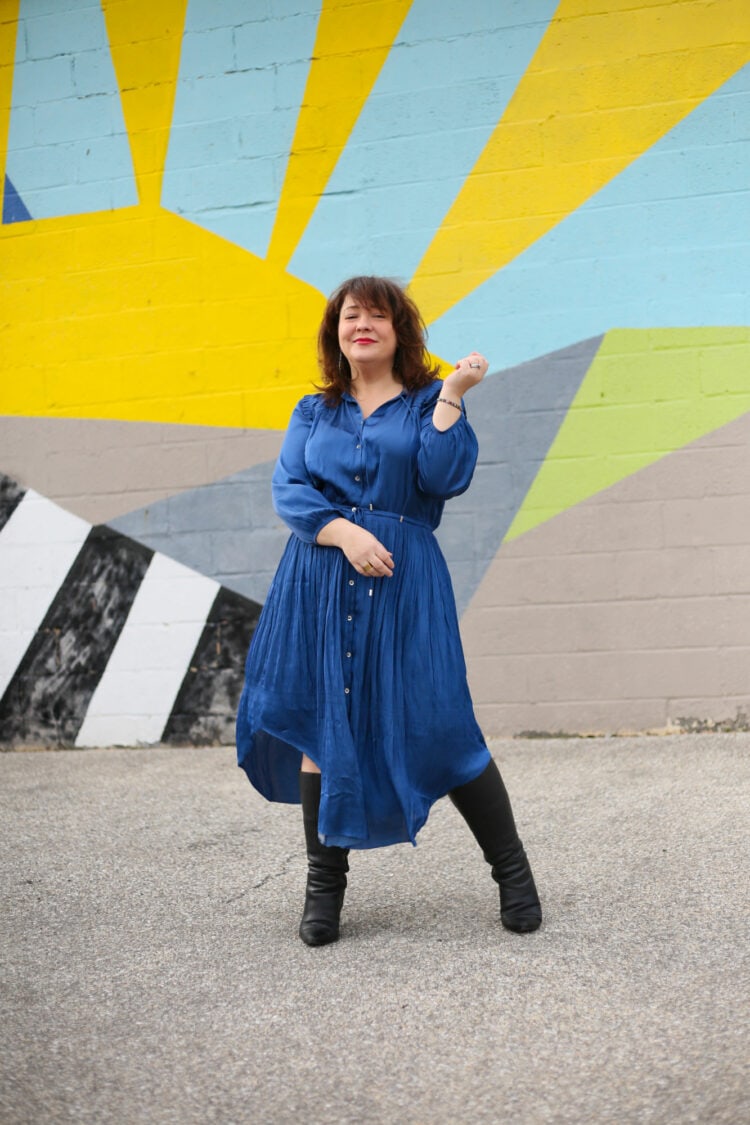 And honestly? Pieces like this are why I love being an ambassador because I think a lot of times Chico's clothes look nice on the model but really are made for a more "average" woman's body. And at a size 14 and 5'3″ I am pretty average and have a lot of luck with Chico's.
And I was right, I LOVE this dress and I think it works great with soft curves. And with the drawstring waist and full sleeves, it's the kind of dress that can work if you're my height or several inches taller, busty like me or with fewer or different curves. Honestly, I think I look better in it than the model!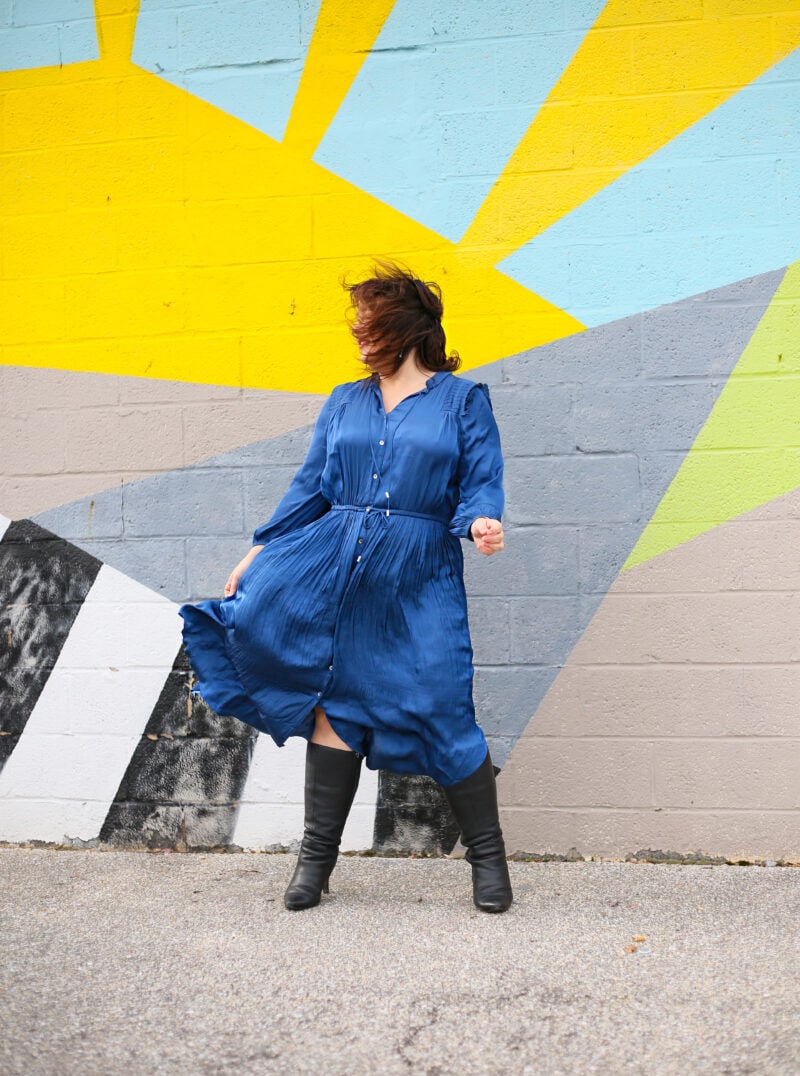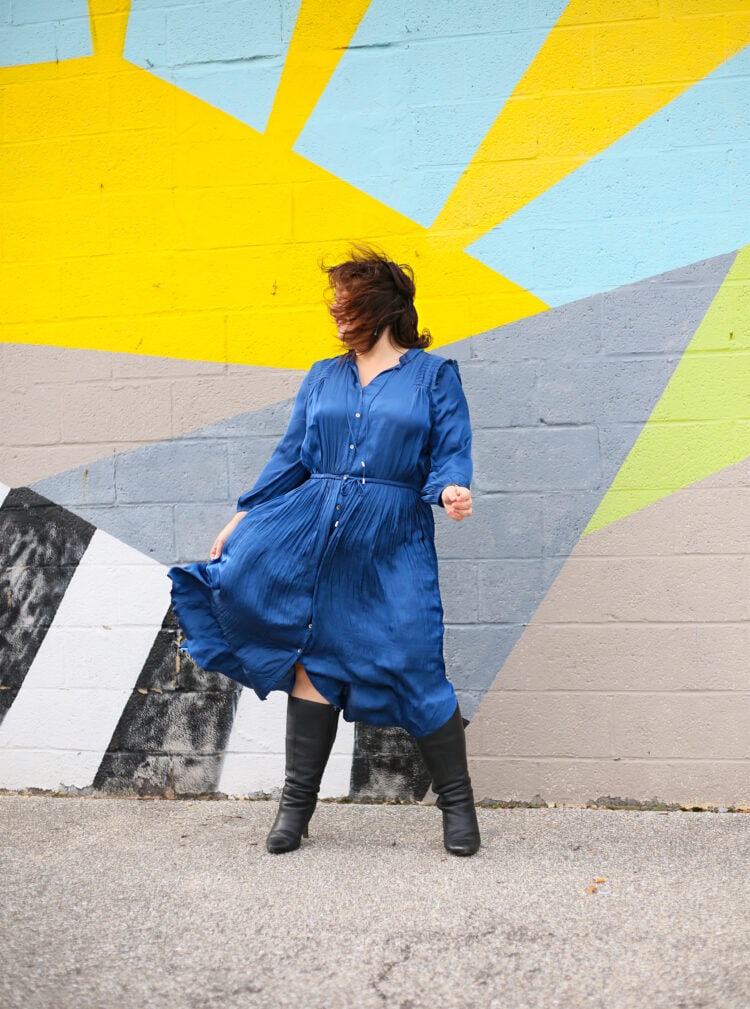 The dress is 100% polyester but reads like silk. But because it's poly it's machine washable and has a short lining (just enough to ensure your underpinnings aren't on display with a strong backlight). I would put this into a lingerie bag to launder on gentle and line dry, either embracing the wrinkles or using a garment steamer to get it looking like new.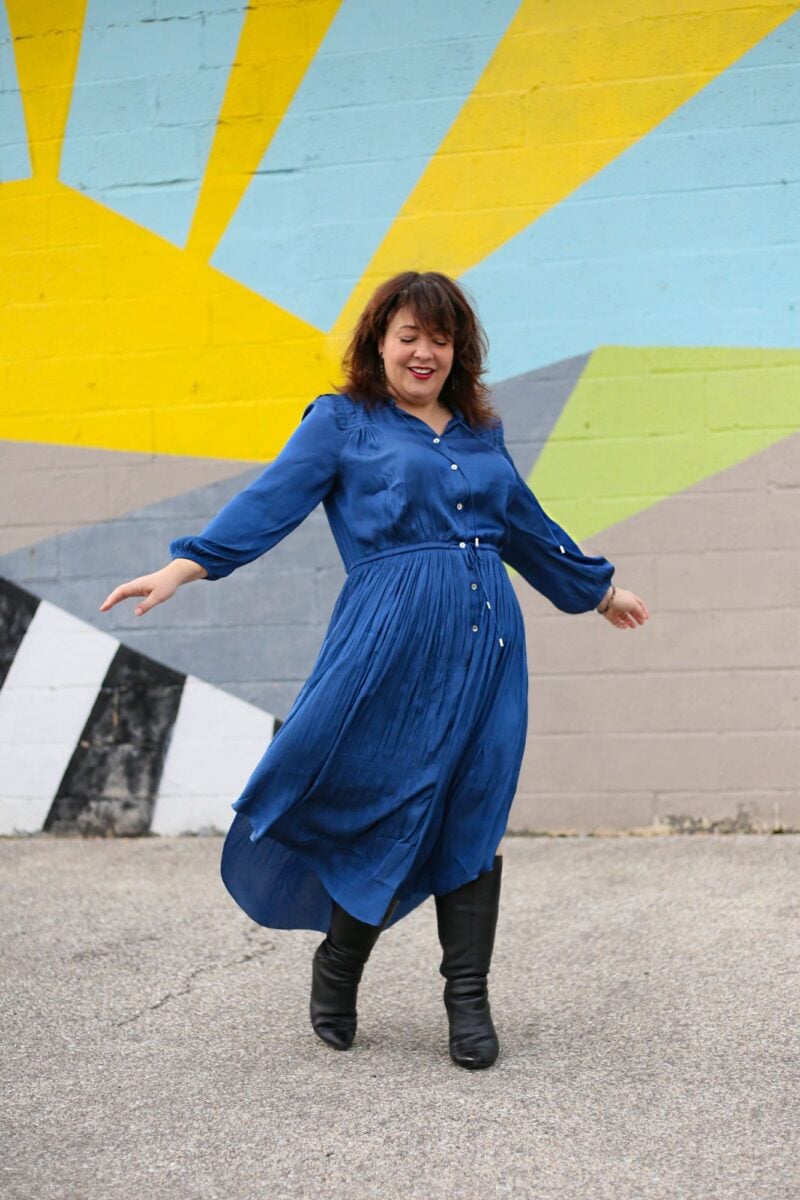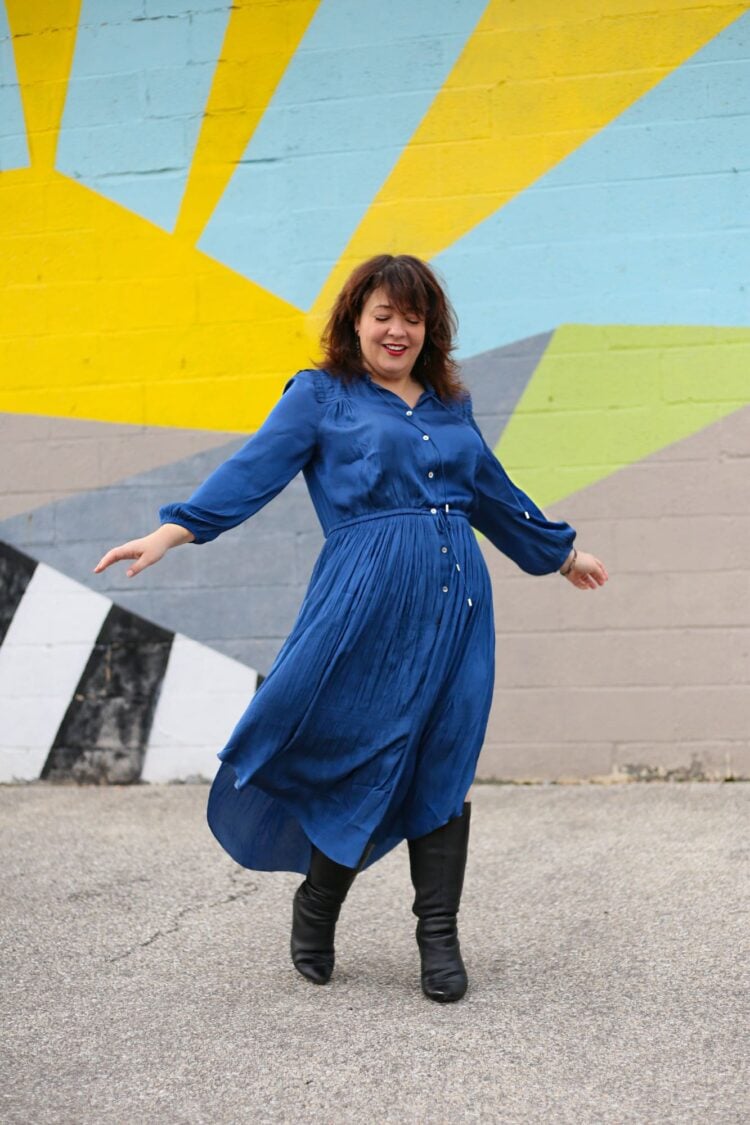 Here, I am wearing it with tall leather boots because it's winter. But with this breezy silhouette and fabric, I could see this dress with pumps or pointed-toe flats to the office in spring, with metallic sandals in early summer, and come fall with a pair of trendy sneakers and a moto jacket. You could easily cover the drawstring waist with a wide belt for a completely different effect.
This could be worn to a wedding, to the office, for date night, for a holiday party. It's the kind of dress I'd pack for travel because it takes up no space in a suitcase. The ruffle detail and the drawstrings with metal endcaps make this dress special and unique while also being a wardrobe workhorse.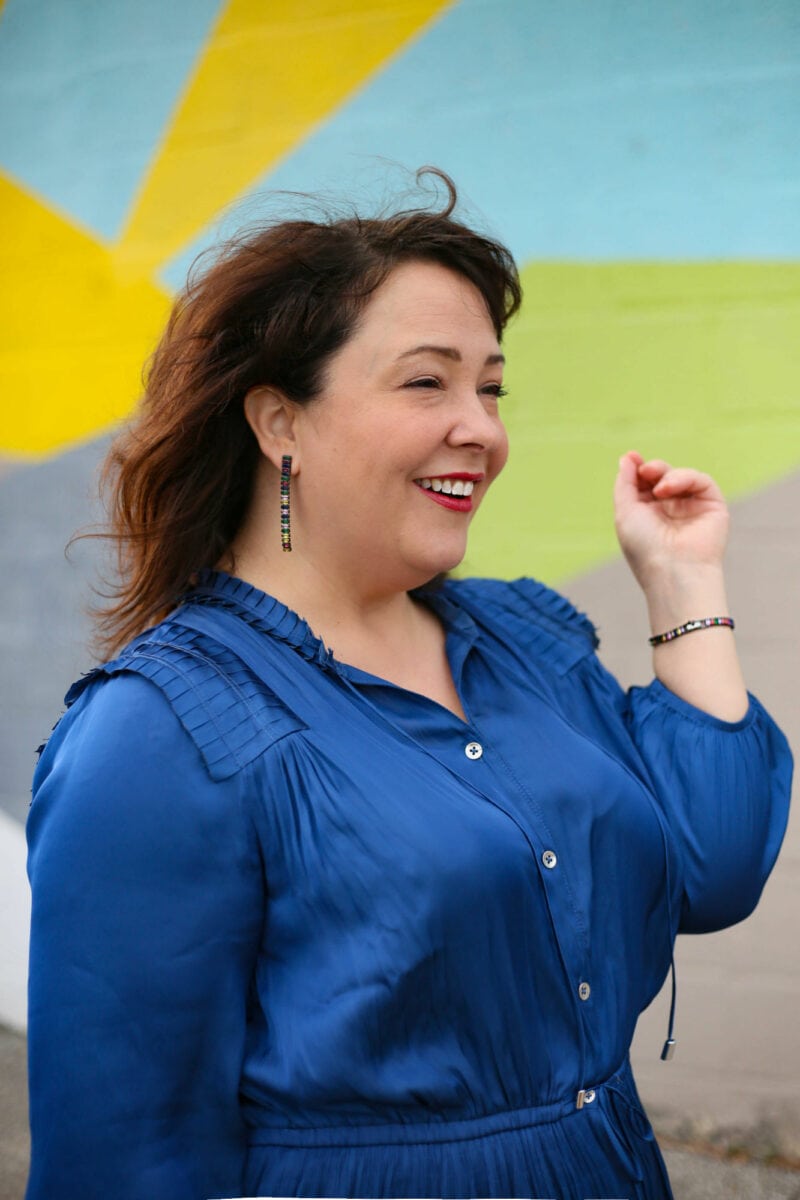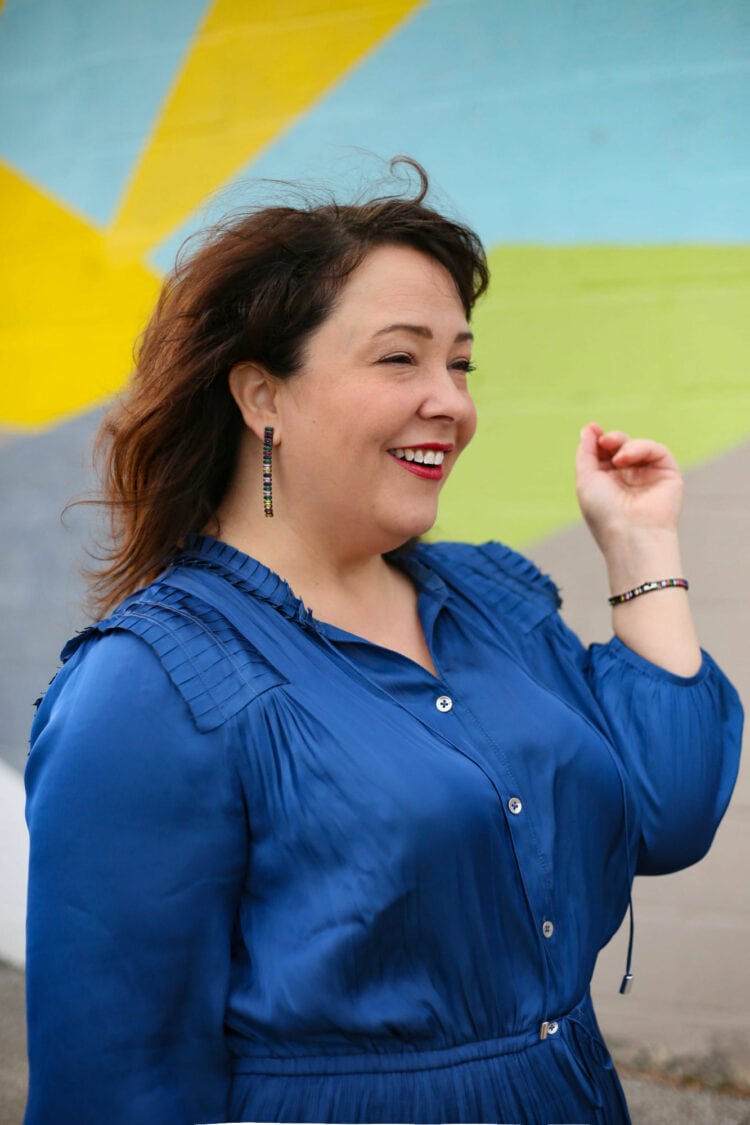 The jewelry I couldn't resist because my favorite color is rainbow and I loved how these were subtle yet make an impact. At the time of writing this, the earrings are on sale for $9.99 and the bracelet $14.99, and let me tell you a similarly crafted set would be 5-8x as much at a department store. But just like Chico's has well-crafted clothing, their jewelry is always fantastic.
This month has gotten away from me. I planned on having an end of year recap today on the blog but it didn't finish in time and sharing this badass dress was much quicker since I already shot the look for Chico's. I hope. to have my recap this week, but in case it doesn't happen I wish you all a very happy holiday season and we'll see one another soon!
Shop the Post: