This article may contain affiliate links; if you click on a shopping link and make a purchase I may receive a commission. As an Amazon Associate, I earn from qualifying purchases.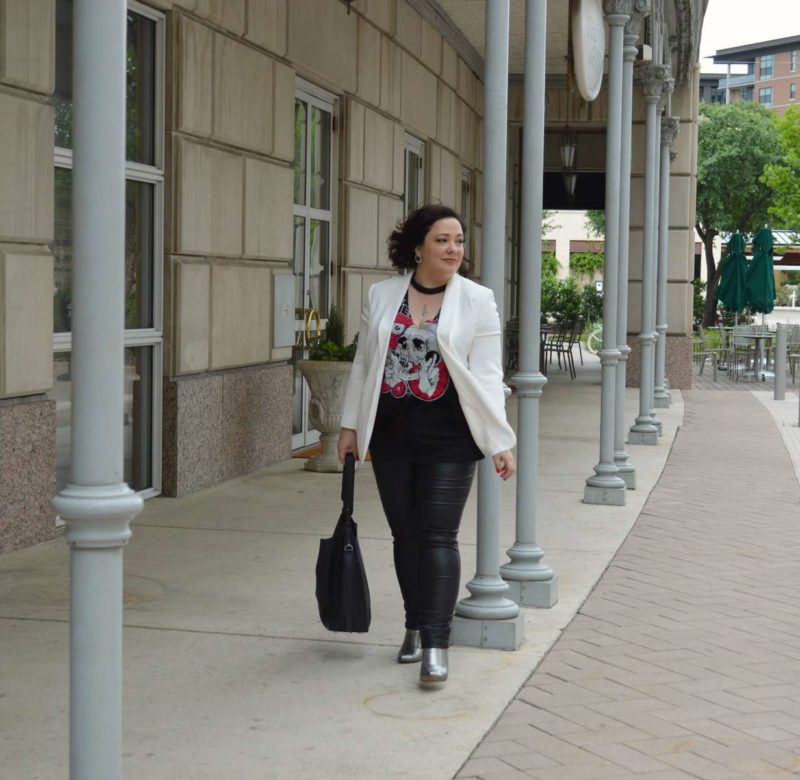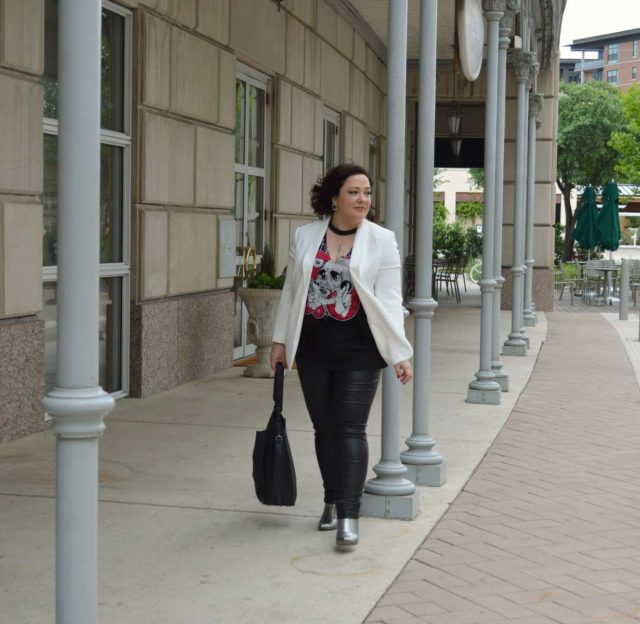 jacket | tee | jeans | boots | bag | sunglasses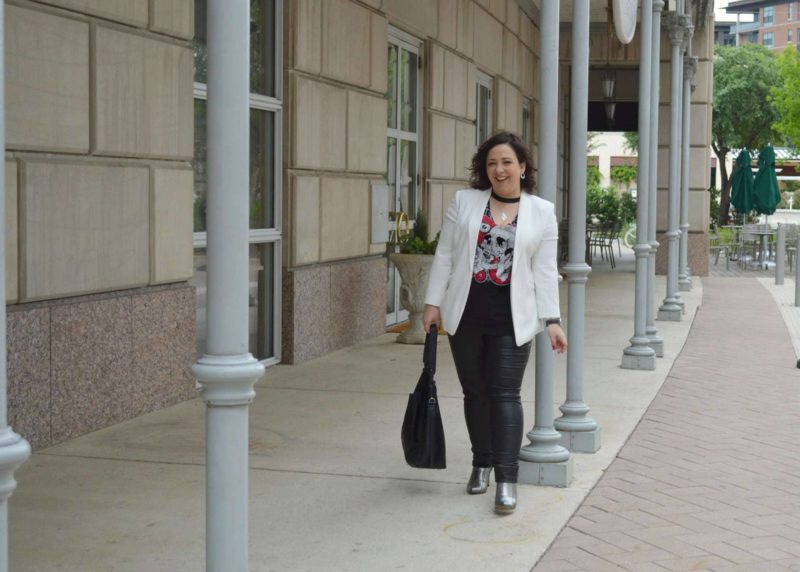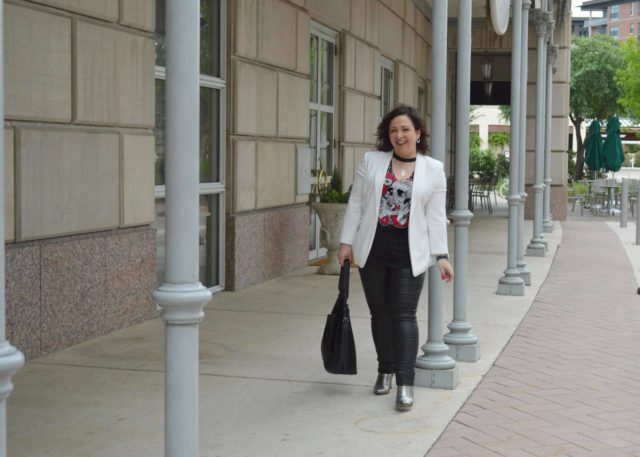 Jacket: Vince Camuto (14) | Tee: Topshop (14) | Jeans: Junarose via Dia & Co (14) | Booties: BCBG (old; similar) | Bag: ALLSAINTS | Sunglasses: Ray-Ban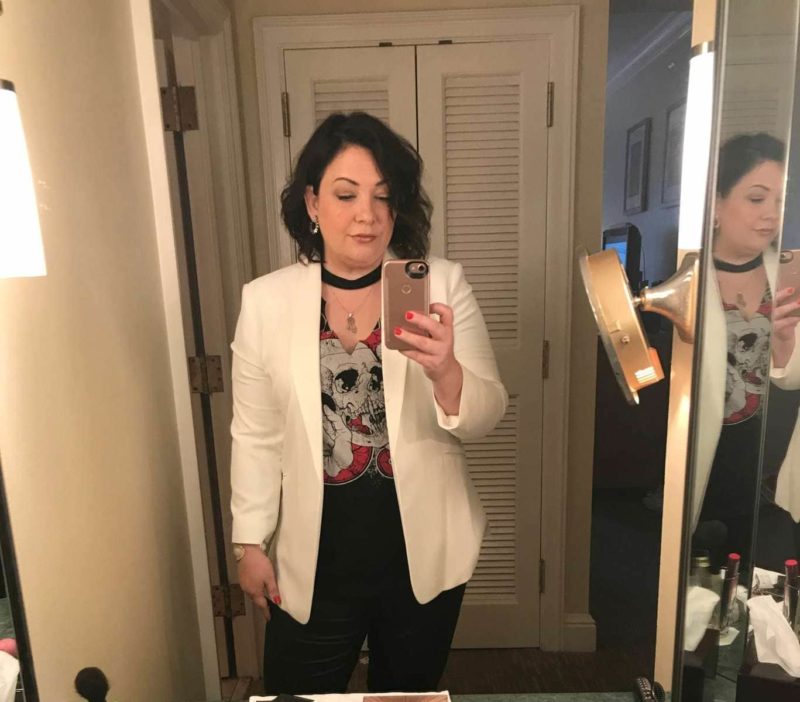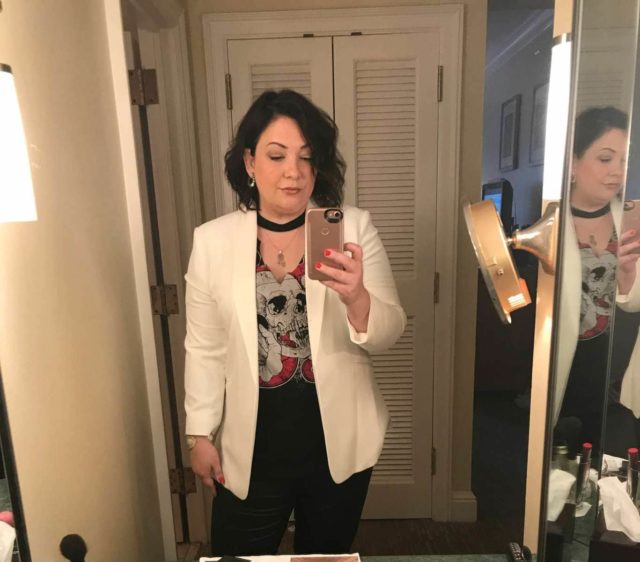 I woke up Saturday raring to go. It had rained the night before and the temps were in the 50s. I opened the French doors of my room (it had a Juliette balcony) to let in the breeze as I got ready. This outfit felt very like me, and full of pieces I already owned in my closet but looked current. This Vince Camuto blazer has no closure and a shawl collar; it's a drapey crepe fabric and gives the feel of a tux jacket. You've seen this choker neck tee on the blog before, paired with these same coated jeans. I wore my silver snakeskin booties I've had for a couple years, and again carried my ALLSAINTS tote. The earrings I borrowed from Rosana of DC Style Factory.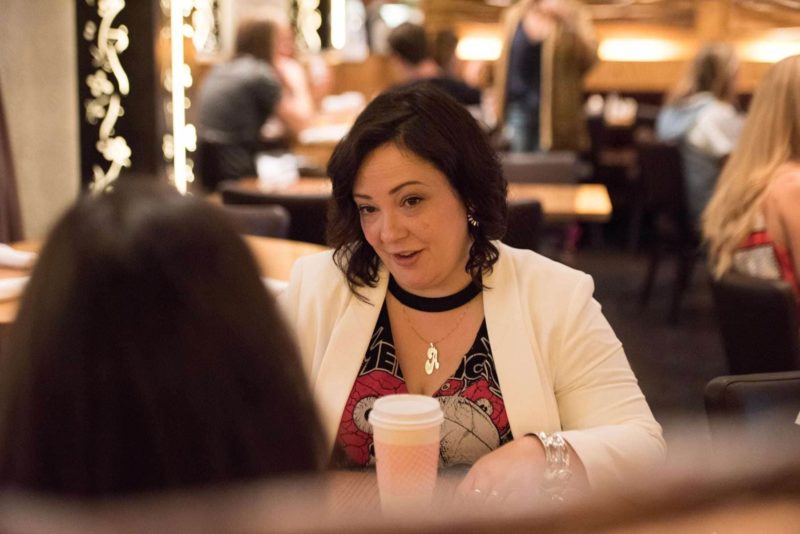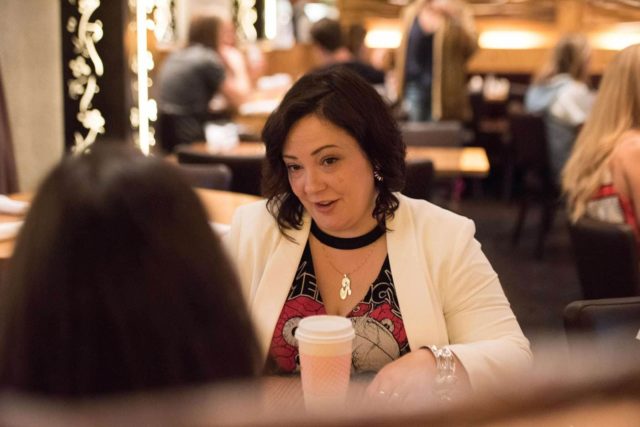 This morning, breakfast was Nobu… and as I wrote this I completely forgot to share that the first night I had dinner at Nobu with Cathy, Jennifer and Susan! That was a great way to start the trip and deserves to be mentioned. So Nobu was again opened, with tables that had liquid yogurt/kefir drinks in little bottles, breakfast burritos, and fruit. More coffee, but this time also the option of tea, non-dairy creamers, and juices. I grabbed a table with Cathy; our friends dined at an outside restaurant that had gluten free options.
I didn't have a classroom session until 10am so Cathy and I headed to the Networking Hall. It was a large ballroom set up with booths like you'd see at many conferences and trade shows but these were beauty and fashion brands. We skimmed through and stopped by the tde. booth where they would monogram a small leather good for you. I got a black Saffiano luggage tag and pale pink mock lizard business card holder but headed out to get to my first session.
My first classroom session for the day was The Modern Collaboration: The anatomy of Successful Brand Partnerships. I was looking forward to this. It may not be clear as a reader, but I've made some changes in the past year with sponsored content. I've stopped working with some companies and been saying no a lot more – if it doesn't pay well, if they expect me to essentially host copy they wrote, if it's not a good fit, if the turnaround is too short. I preach quality not quantity on the blog, I should show it with my partnerships too.
The session was hosted by two account managers at rewardStyle and it was a good session because they were super honest. No BS "Just be you!" spiels, they shared why brands ask for certain things, how you should over deliver to get better partnerships in the future, ways to communicate, and more. The audience felt comfortable enough to ask a lot of specific questions, and that's always where I learn the most.
What I Learned at the First Classroom Session:
Don't accept it if you won't be proud of it. This is a duh, but often we bloggers will say yes because we fear saying no will put us in a negative light, or we say yes because it's a new brand or company and we want to build a relationship. But it's always better to say no, no matter the situation, and tell them WHY. If it's money, it may be negotiable. If it's because they want you to post on Facebook and you don't have Facebook, they may be able to switch that out for a Tweet or InstaStory. If it's a bad fit, let them know that and how so they can better partner you with products or brands in the future.
You can't over-communicate. I always feel that those who reach out to me for collabs must have inboxes as insane as mine. I get my contract, sign it, reply back with the date I'll schedule and usually don't chat again unless I need to share links or metrics. I should be sharing when I receive the content, when I take the pictures, when I'm ready to go live, the links when they go live, and any post-collab feedback from me or my readers. Also let your rep know when you've gone above and beyond – extra Instagrams, an InstaStory unboxing, a share on Snapchat, etc.
Brands WANT your creativity, your eye, your voice. Don't try to be them or try to be someone else. If you look at the big successful bloggers, they are all unique in some way. Find your uniqueness and celebrate it, sell it to brands. If they want X and that feels false to you and your readers, come back and offer Y and give them the reasoning. They likely will go with it because they too want to look authentic to your followers.
If you get a low price for a partnership, instead of saying no reduce the scope. For that price I can't provide you with my first born, but instead I can do three Facebook posts and an Instagram tagging you. That sort of thing.
Be the infinite player. Baxter Box also said this the previous day. But look for ways to stay in the game. Stick to core values and your brands, but always be thinking ahead. No one player wins, but people will simply drop out. Staying true to you, going above and beyond, and looking for ways to stay fresh and current will keep you in the game.
Right after this session, I had my second classroom session: SEO Essentials: Attracting the Traffic. SEO is not my strong suit. I spent the majority of my blog career on Blogger; I just switched to WordPress in 2014 and have been playing catch up since. I have thousands of posts that haven't been touched since being flipped over, and even once I was on WordPress I didn't get an SEO plug-in until 2015. I see my traffic, and I know search engines isn't where most is coming from so I feel this is a place where I can grow in 2017 without it affecting my content. This was another session where I was writing furiously in my journal, and most came from the audience questions.
What I Learned at the Second Classroom Session:
For your blog, have no more than 2-3 Categories, then an even amount of subcategories below them. As for tags, you can't have too many, but keep using the same ones over and over.
Be sure your site is indexed with Google (if it's not or you're not sure, google this topic and Google will let you know how to create a sitemap and submit it to Google Search Console)
Sunday evening is the best time to post on Pinterest. Consider using Board Booster.
For Instagram:

Use hashtags, geotags, and tag brands. If you feel that tagging brands will decrease your LikeToKnow.it revenue, tag the brands on top of one another in the corner of your photo. For hashtags don't be too broad but don't be too niche
The more Instagram tools you use (live, stories, any future tools) the more likely you'll show up on the Discovery page.

Your site NEEDS to be mobile friendly, and be responsive. If you have your site still on Blogger, it's going to kill your SEO because m.yoursite.com is a redirect.
Your site needs to be fast, a max of 4 seconds for loading. Can check your speed with Pingdom, Google page Speeds, or GT Metrix. With GT Metrix, don't get hung up on your score, worry more about the speed.
Link to yourself in posts, and don't link to "in this blog post" or "here." Instead say the last time I wore this J. Crew Breton top and put the link on J. Crew Breton top.
Rename the file name of your photos with keywords. You don't need every photo on your post to have the same keywords either. Focus on one hero piece per image. You can use spaces and dashes but do NOT use underscores. Think of Google before Pinterest.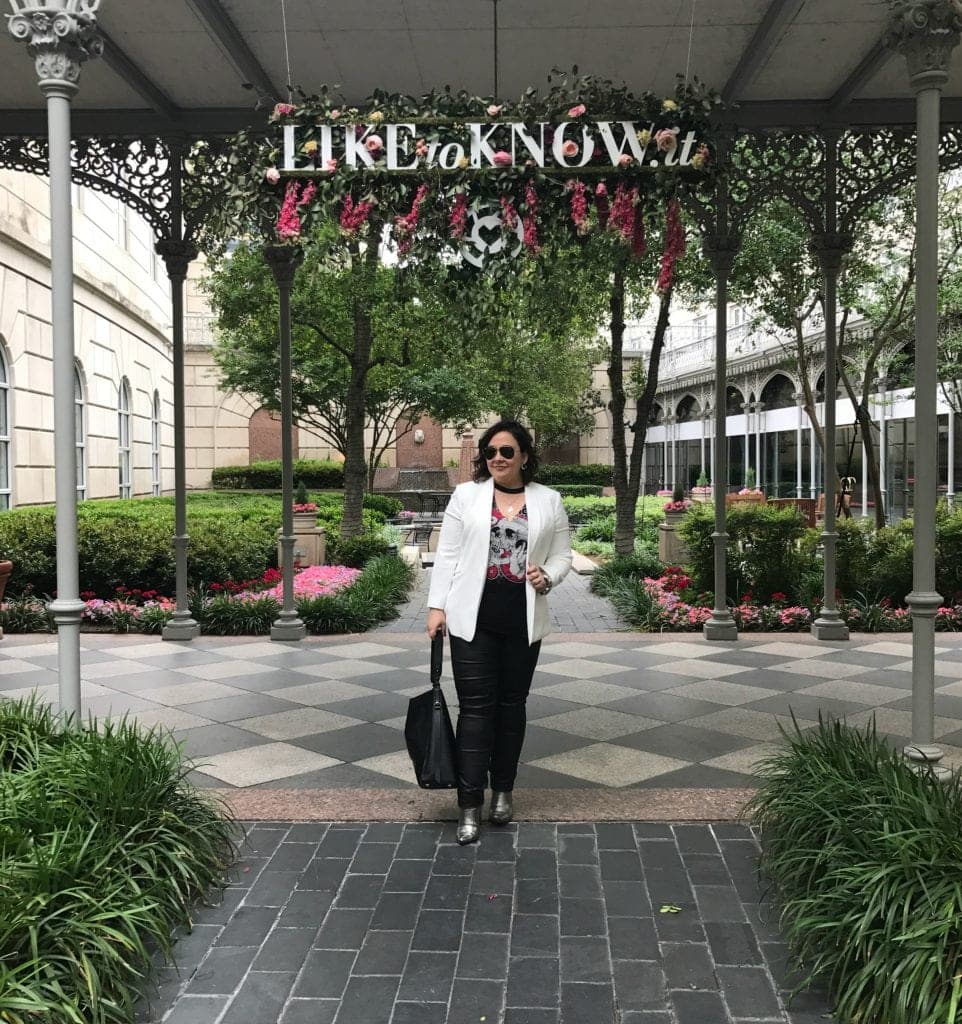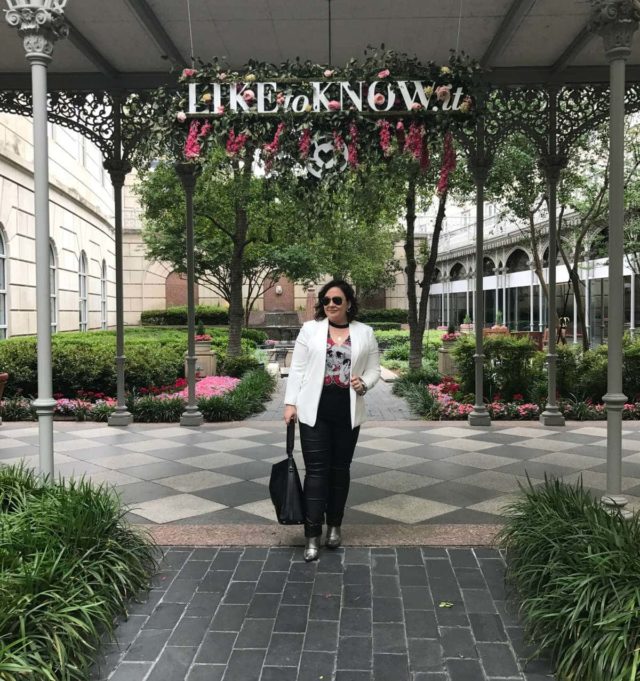 Immediately after this session, we had a Garden Lunch with Topshop. Topshop took the courtyard and turned it into a garden party – there was a wall with their logo for photos (a must at this event though I didn't take advantage of this one), they strung flowers into garlands and hung them in the trees, tables indoors and out with beautiful bowls of flowers and even a lucite menu at each place setting.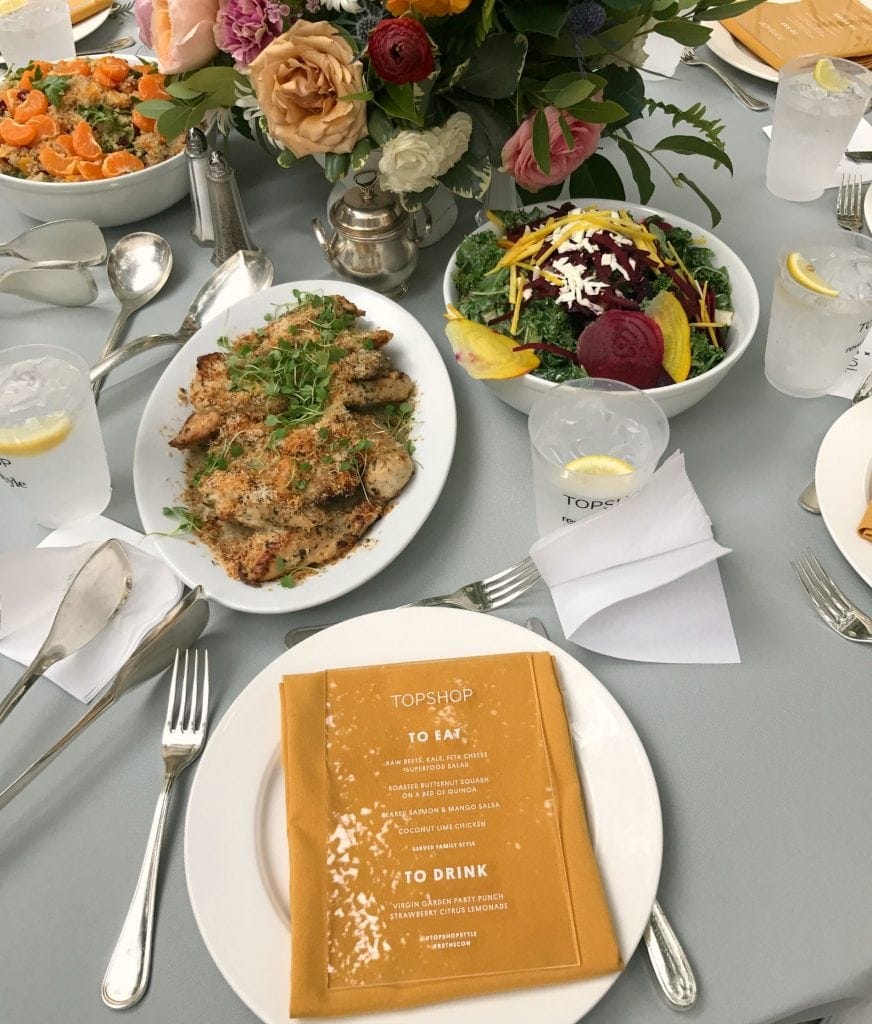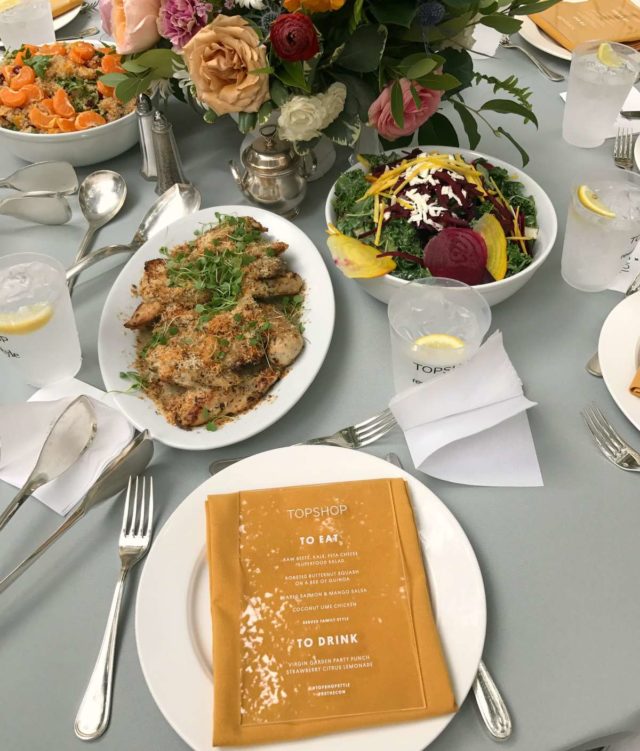 They served a gorgeous meal and the prettiest mocktails. The whole thing was lovely… except for the weather. It was around 50 degrees, windy, and cloudy. The hotel brought out blankets. I felt for the blogger next to me who was in the most darling eyelet crop top; she and another blogger at our table wrapped up in blankets.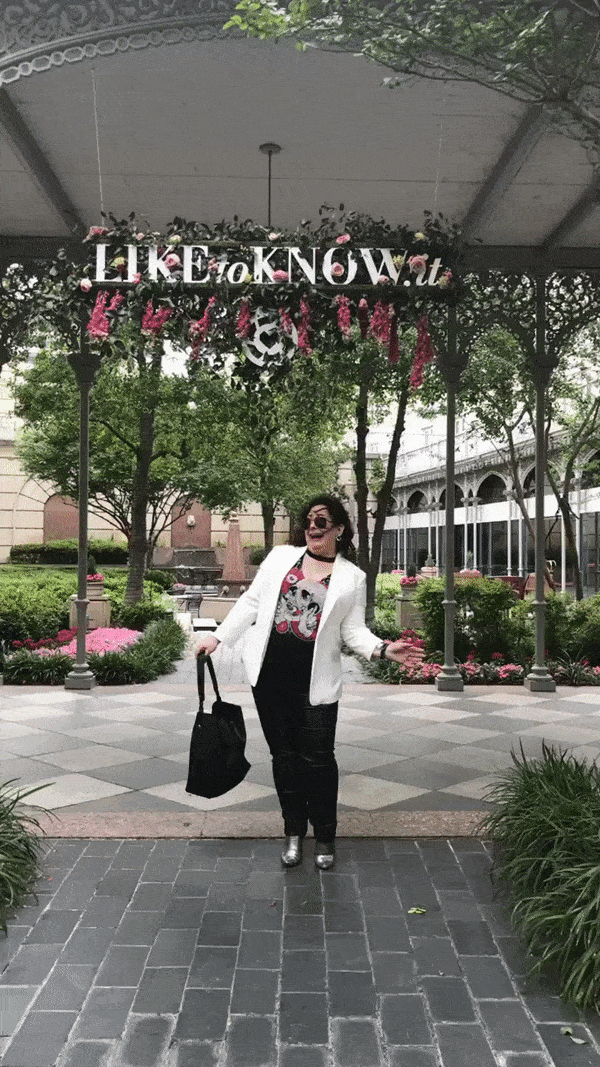 I usually run hot and I was in coated jeans, closed-toe boots and a blazer and even I was cold. I've been looking on Instagram but everyone has filtered their photos and their choice of photos to make the luncheon adorable and sunny. It was adorable, it just was cold as all get out. So the Boomerang of me above is a more accurate depiction of the event.
Immediately after lunch I had my third brand meeting, this time with Raymond Weil. Some other bloggers told me they met with the brand the previous day and the brand rep was rude, on the phone the whole time, dismissive. I went in thinking if I got the same experience I would just leave. I did not have that same experience, in fact I had a really good experience. I went in thinking Raymond Weil is a crazypants choice for me and the blog, I mean how many of us can afford one of their watches? But as we were talking we were discussing quality. They knew my reader isn't one to latch on to every brand, and loves admitting she is wearing the same ring/dress/bag she's had for over a decade. Yes, their watches are expensive, but they're quality. They're the kind of watch you wear for the rest of your life and then it is passed down to another woman in the family. They have a collab with Repetto, the shoe company, and there's a watch that comes with three different bands and the ability to buy more for a watch wardrobe with a single base face. After talking to them I didn't think it was a crazypants that they met with me.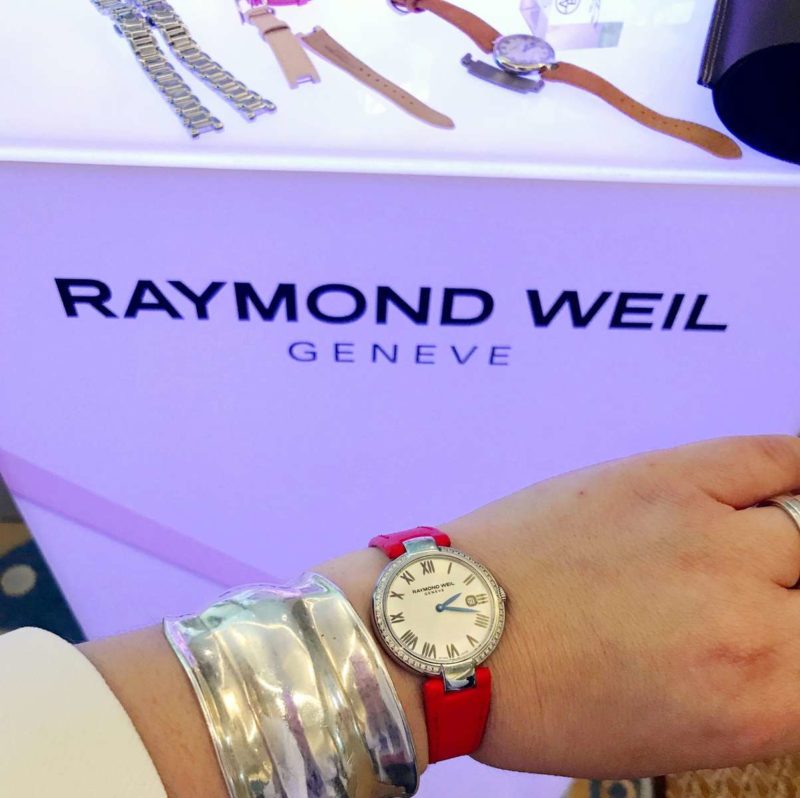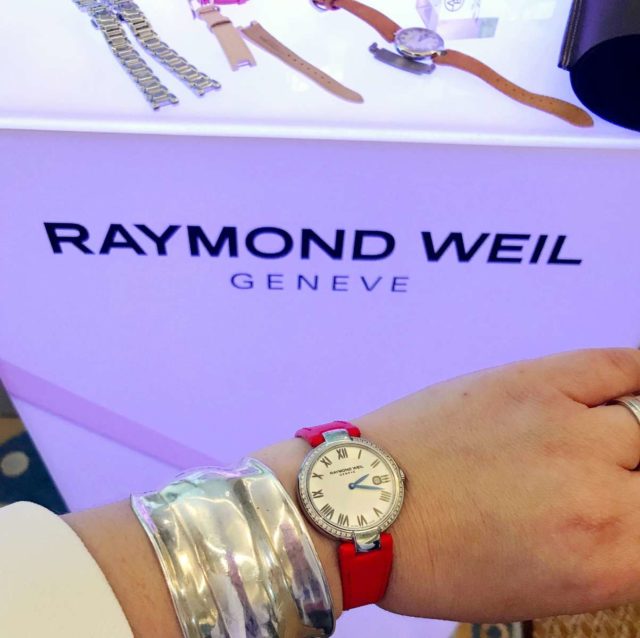 After Raymond Weil, I was free until the evening party. I went back up to the Networking Hall where I chatted with a few brands, got some swag (follow me on Instagram, I'll be sharing a giveaway next week in my InstaStories of the swag). It wasn't as busy, and it was a mix of super nice reps wanting to talk about their brands, and some who literally looked me up and down and didn't say hi. Funny how I was surrounded by skinny beautiful young women in designer clothes who were the nicest people and the ones who were judgy were the brand reps stuck in the Networking Hall all day. Though it wasn't the brands you'd think that were snobby or rude to me. I met amazing women at the boots for Lole, a fabulous athleisure brand that carries nothing my size as well as Abecrombie (who BTW is cleaning up their rep – they now have a female CEO, all female exec board, they go up to size 14 and have petites and talls). I was given time and respect at Raymond Weil and was blatantly ignored at low-cost clothing retailers. Oh well, I didn't get mad. These brands did me a favor by letting me know not to feature them on my blog!
I went back to my room to drop my swag and reached out to Beth to see if she was free. We've been blogging buddies for a while, but had yet to find time during the conference to sit down and chat. She met me in the lobby where we had a glass of wine and gabbed. Next thing we knew dinner was happening in an hour so we both raced to our hotel rooms to get ready.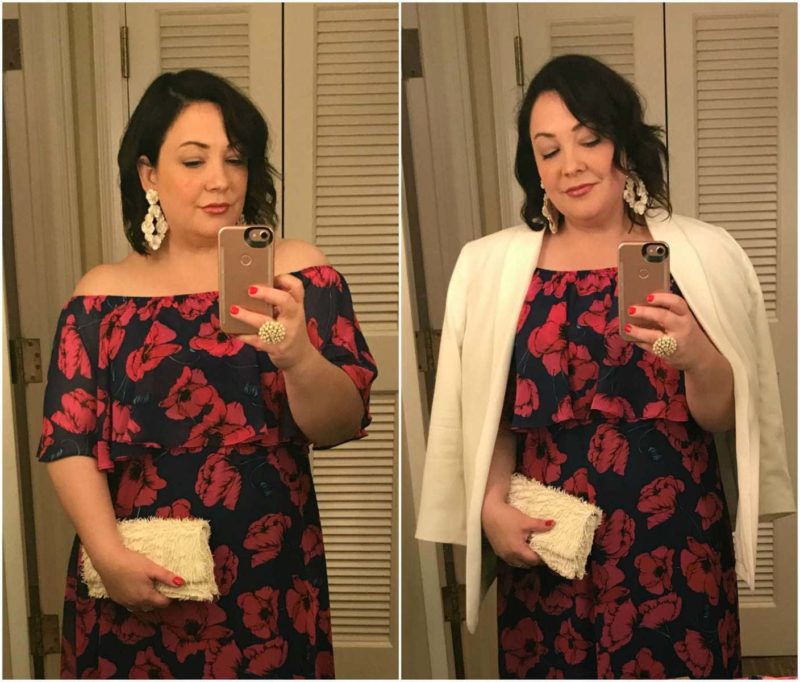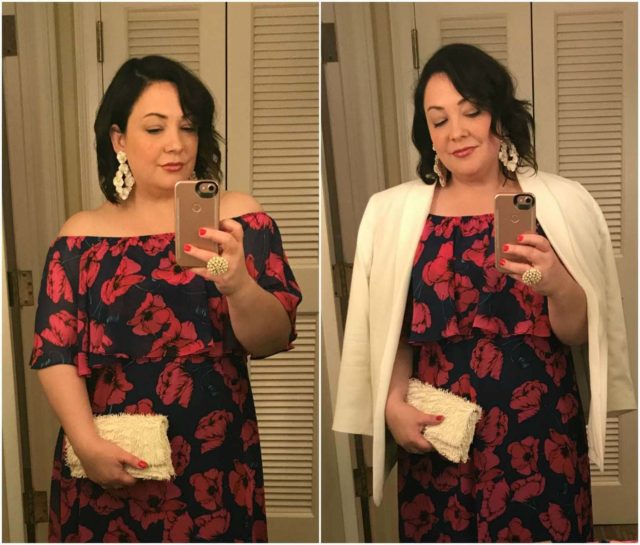 I didn't have time to wash and redo my hair, but since the day was so cold, I didn't get sweaty and frizzy like the day prior. I just brushed and hit a few pieces with the curling iron to smooth. I was also excited that I chose an outfit that was super easy and comfortable to wear – while I did need a strapless bra I was able to go sans control garment and just a pair of Jockey Skimmies underneath for comfort! Since it was cold, I used my blazer from earlier in the day, wearing it cape style over my shoulders.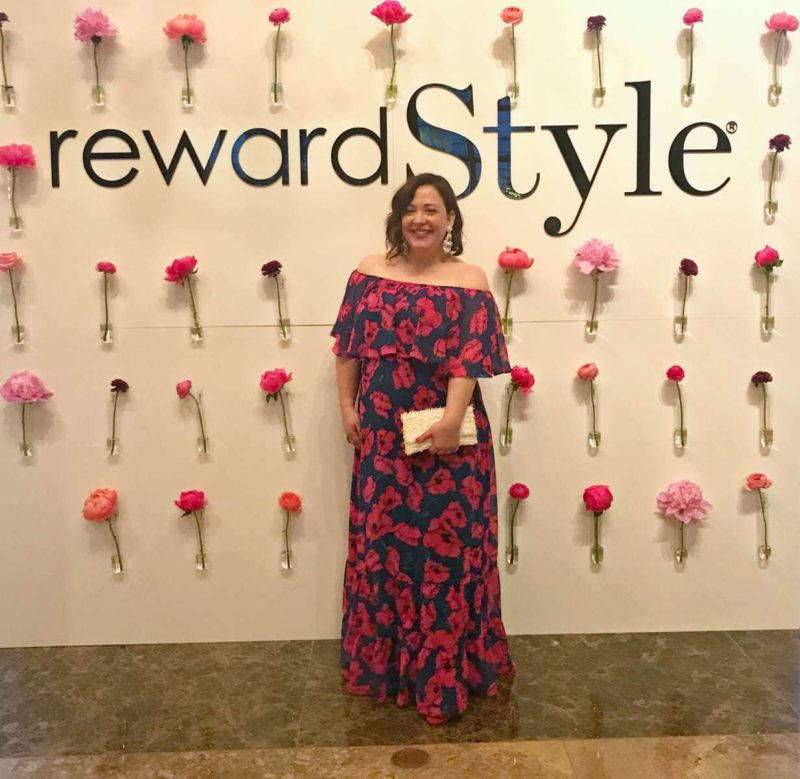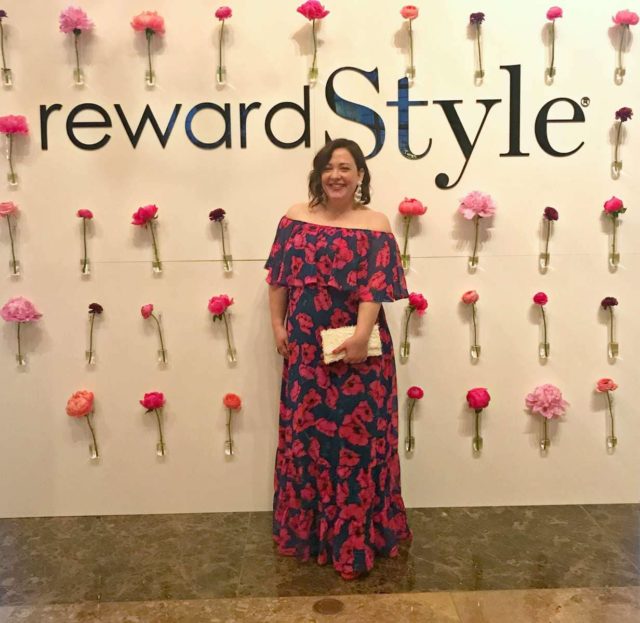 dress | shoes | bag | earrings | ring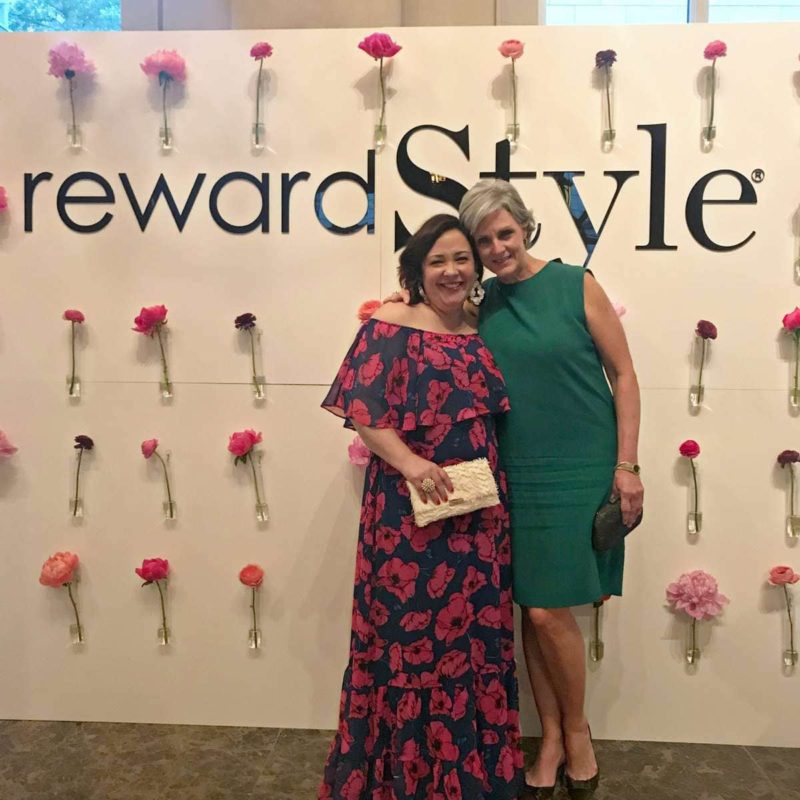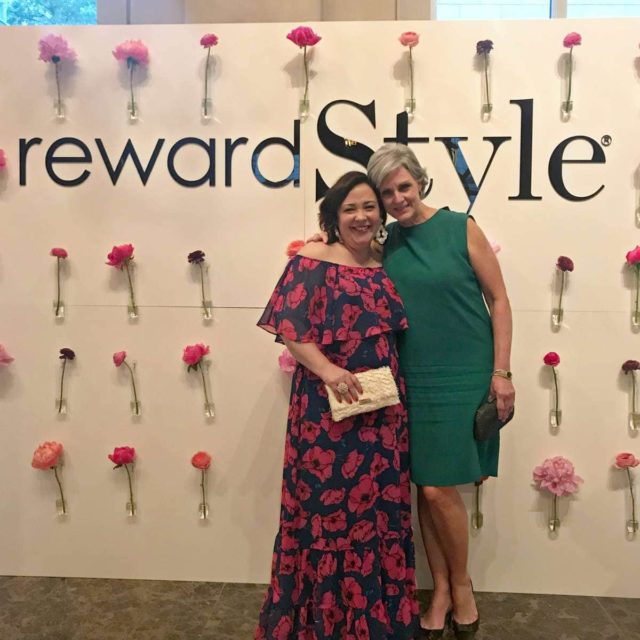 Dress: Donna Morgan (14) | Bag: Loeffler Randall | Earrings: J. Crew | Ring: Stella & Dot from years ago (similar idea) | Shoes: Naturalizer | Blazer: Vince Camuto
A few of us over-40 bloggers decided to get dinner together before the evening affair. We again met at The Capital Grille since it was so close by and had such a varied menu. We ended up with the same table and waitress too! Again, wonderful conversation with these women. Some I knew before the conference, some I didn't, all I now consider friends. We then headed back to the hotel. There was a new rewardStyle wall set up in the lobby for a photo op, and we all took advantage of it. I know many of you follow Audrey at Putting Me Together; I got a chance to meet her at the conference and we got a photo in front of the wall. Yes, she's just as nice as she seems online!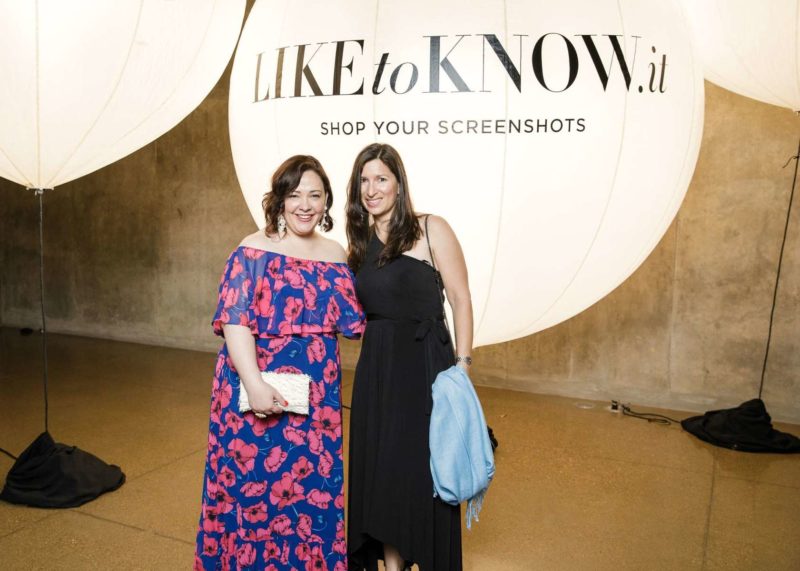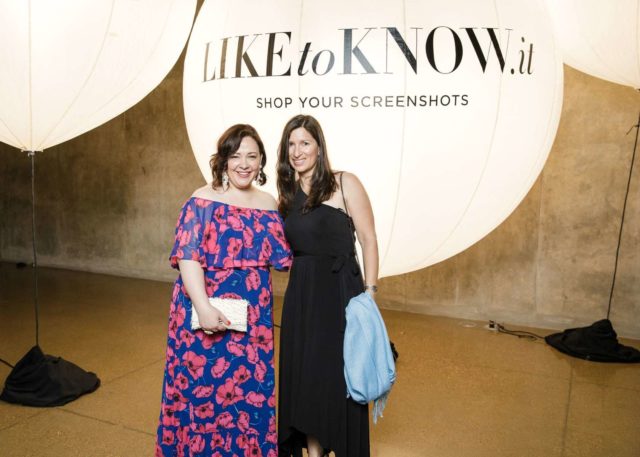 The event was black tie optional. Limo buses picked us up outside the hotel and took us to the AT&T Performing Arts Center. When we arrived, men in tuxes were there to escort us inside. I was trying to walk with the glass of champagne they gave me, my clutch, my caped blazer, and this gentleman holding my arm and well, champagne got on me and my jacket fell off! I don't know how people function with caped jackets!
We entered and took an elevator up to a rooftop deck. There was the LTK made into a light-up sign and people were taking selfies in front of it. They were passing around water and champagne and hors d'ourves. The deck was a true deck, many had their heels fall into the cracks; I was glad to be wearing my block heel platforms! We walked around, but it was loud and not much was going on so we went downstairs.
Downstairs there were these giant white balls lit up with the LTK logo on it. A full bar, and more passed goodies. Outside there were some heaters, a DJ and a few who were dancing. We didn't really get the event, it felt like a Bar Mitzvah. Someone said that the real party was starting at 10. It was 9:15 and a bunch of my friends said forget it, we're out of here and took a limo bus back to the hotel. Cathy and I stayed and danced for a bit.
At 10:00 a drumline arrived wearing shirts with the LTK logo. They performed for us and then walked up the ramp and we followed them up and around a corner to where there was a tent. Tent is the wrong word… it was a house made of plastic sheeting and silver poles. Very cool. Inside was an LED wall with a crazy pattern of the LTK logo and another photo wall with a stand to take photobooth pictures. Servers were offering food… I saw mini cheeseburgers and the whole tent smelled of French fries. The drum line began performing again to Bruno Mars and the audience went bonkers and everyone started dancing.
A little thing about me… I'm not afraid to dance in public. I'll get down with no fear. And when I dance, my PG County (where I grew up right outside of DC) ends up showing. Don't play go-go or Rob Base or I'll go crazy.
The DJ played go-go, and Rob Base, and Salt n Pepa and I had a blast going crazy. Most people were shimmying and looking elegant, a few who seemed to be the type who always are in the center of a dance circle came up front and showed their stuff, and a few of us just did our thing where we were (I was kind of up front). Another rave for these Naturalizer shoes; my feet didn't hurt, I felt secure in my heels, no blisters. So many other attendees were taking off their shoes but I felt great!
And another thing about me… I'm a sweater. Not the garment, the type of person who "glistens" at a moment's notice. So combine the two and I had wet hair and a wet red face. But it was the last night, and honestly, I didn't care. There were SO MANY PHOTOGRAPHERS everywhere hired by rewardStyle but they were amazing at finding the most flattering times for photos. I knew they wouldn't be capturing my wet lobster self, and I wasn't worried what anyone else thought. I danced with Cathy, with Audrey, and with myself. But at 10:30 I was done so Cathy and I caught a limo bus back to the hotel.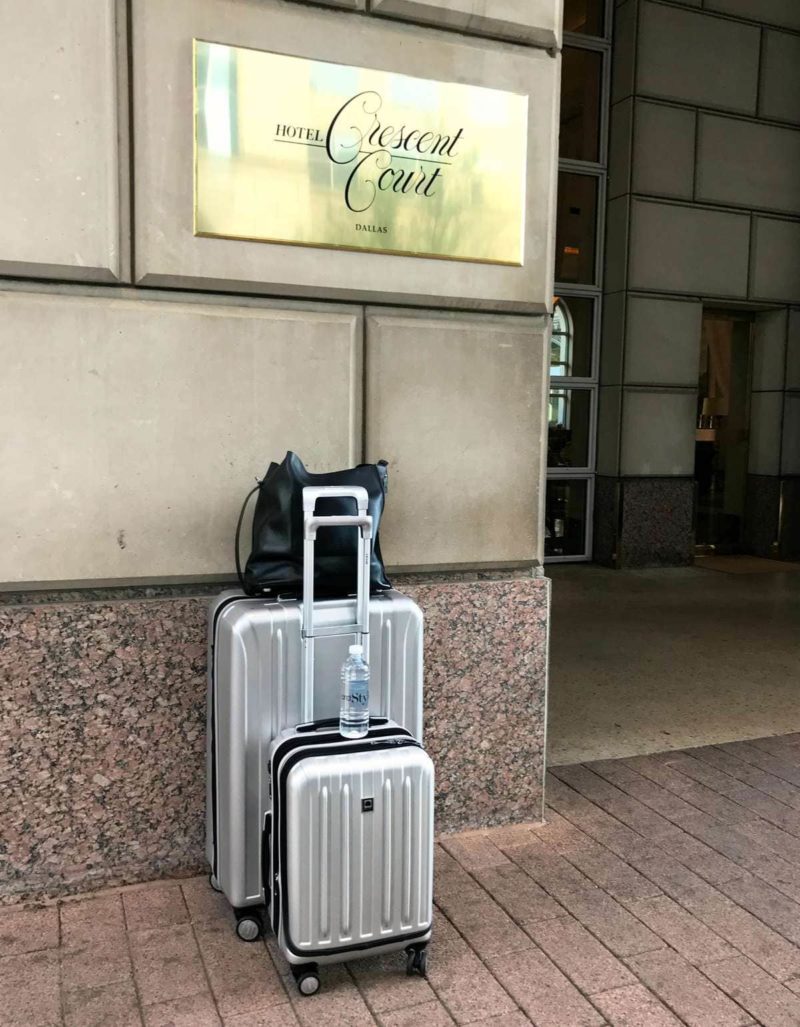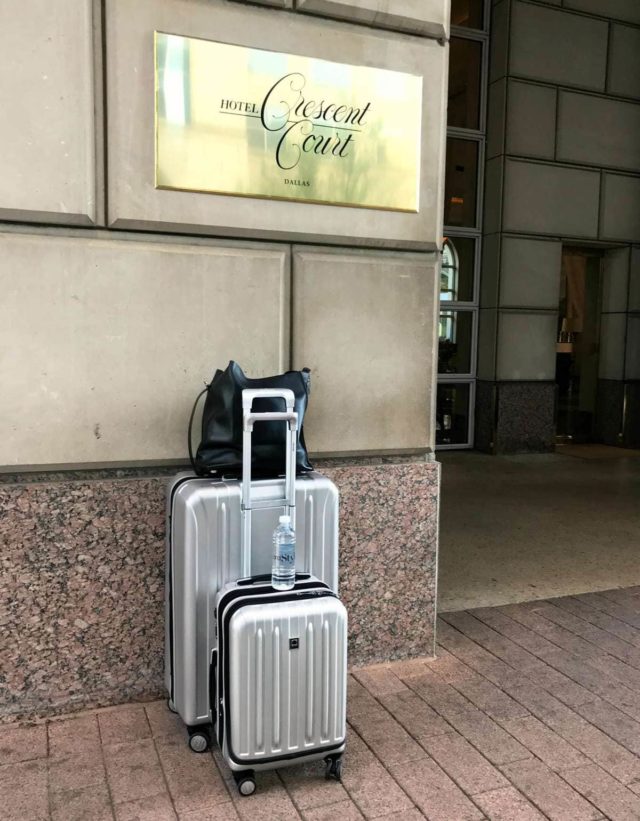 The next day I packed up and headed to the airport and was home in time for dinner! Here you can see my Delsey carry-on and checked-size suitcases and my ALLSAINTS tote chock-full of my in-flight essentials:
What I Learned Day 3 of the rewardStyle Conference:
Steam or iron your clothes. I can't tell you how many beautiful women I saw in beautiful gowns that still had the creases from them being delivered in the mail. Even if they hung them in the bathroom during their shower it would have been better!
Tailor your clothes. Beautiful women, beautiful clothes constantly being hiked up, adjusted, stepped on, or showing underpinnings.
Black tie optional is not scary. There were women in full-out pageant gowns, and women in beautiful trousers with dressy tops. I wore a dress that easily could be worn more casual with sandals but the accessories made it appropriate for the affair.
Everyone has my earrings. Seriously, I saw 50 women over the weekend wearing these J. Crew earrings in various colors. Second place goes to the Baublebar Pinata tassel earrings, third to the brand's Crispin Drop earrings.
You learn the most from your peers. I learned in the classroom sessions, but the best knowledge I got was over lamb chops at the Capital Grille dishing with fellow bloggers. The random conversations with strangers in the elevator, questions asked in sessions, follow-up discussions in the hallways.
Be yourself. This is the biggest lesson I learned from this conference. You're unique, and quirky, and that's a good thing. I hired a personal stylist because I didn't have time to plan my outfits, but also because I didn't want to over-think it and try to be someone else. My wardrobe felt comfortable and a good representation of me and my blog. I spilled, I tripped, I laughed too loud, I tripped over my words, I sweated buckets on the dance floor and I wouldn't change any of it. The thing that makes blogs special is that they are featuring humans, not models or mannequins. Whether it's the rewardStyle conference or another blogging event, or an event in your everyday life… be yourself and be proud. You're more awesome than you realize.
Save