This article may contain affiliate links; if you click on a shopping link and make a purchase I may receive a commission. As an Amazon Associate, I earn from qualifying purchases.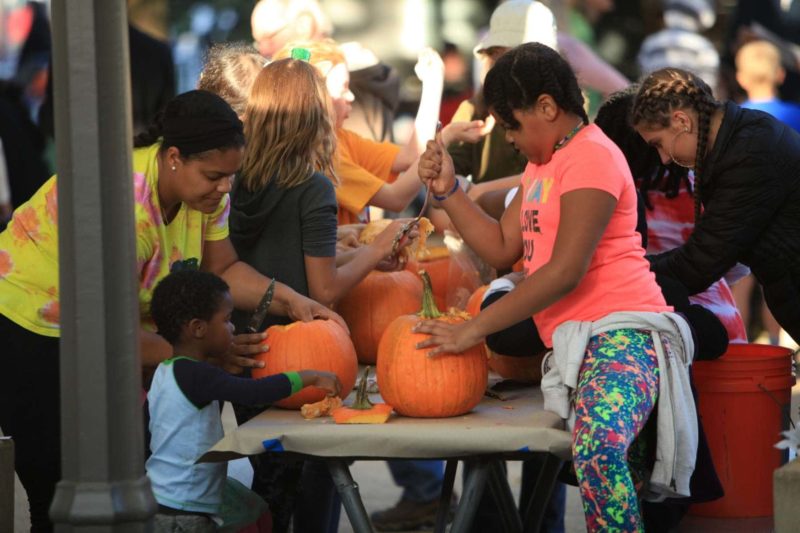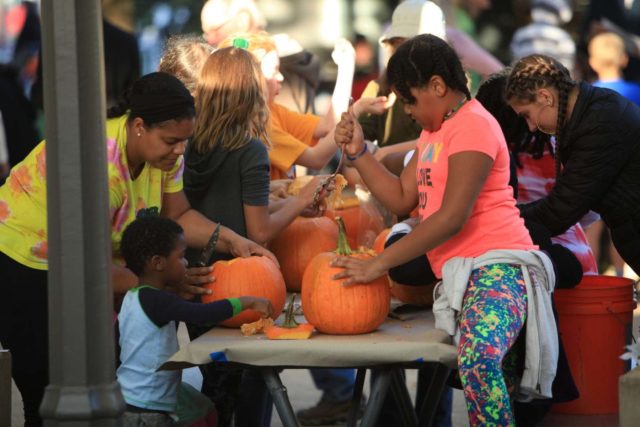 This past weekend was the Greenbelt Pumpkin Festival, an event the whole community looks forward to every year.  It starts Friday afternoon after school in the town center.  Shlagel Farms donates hundreds of pumpkins and the city sets up picnic tables and a stage.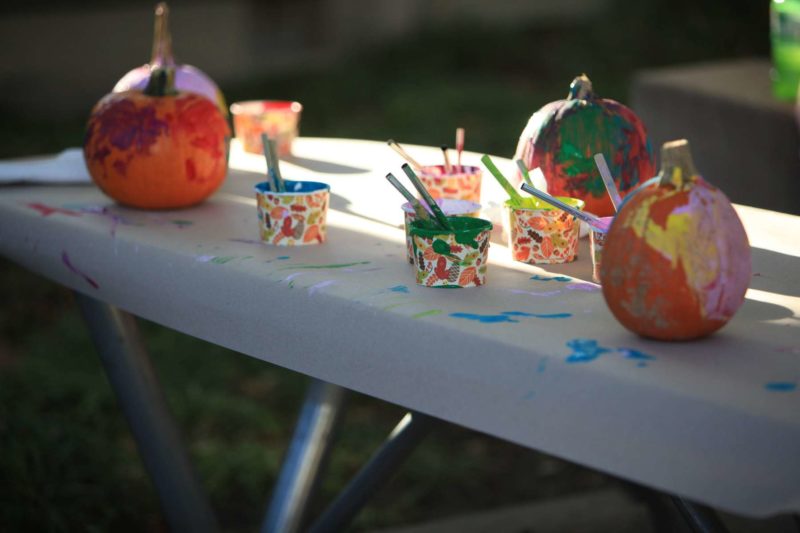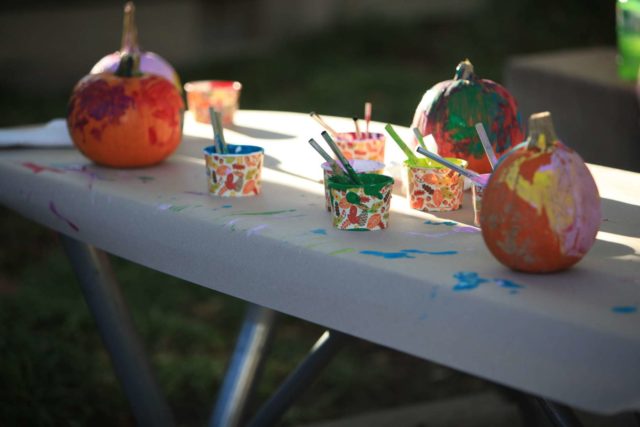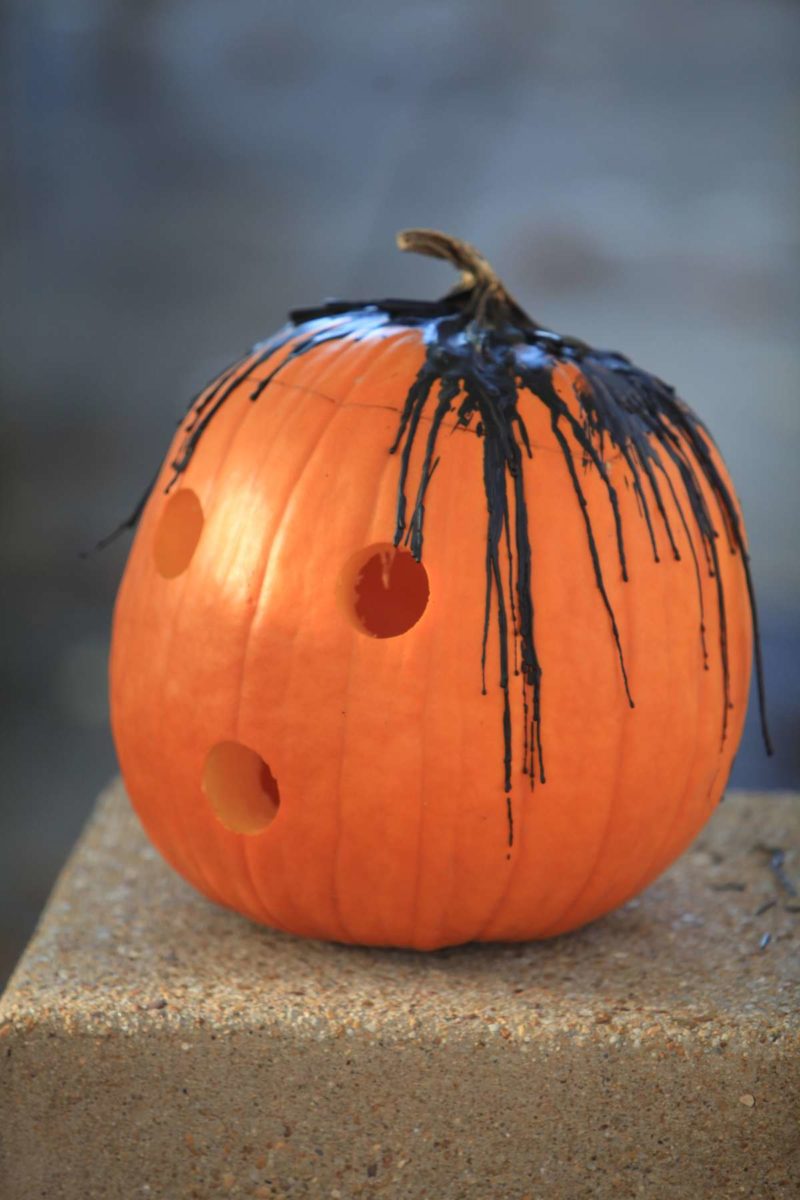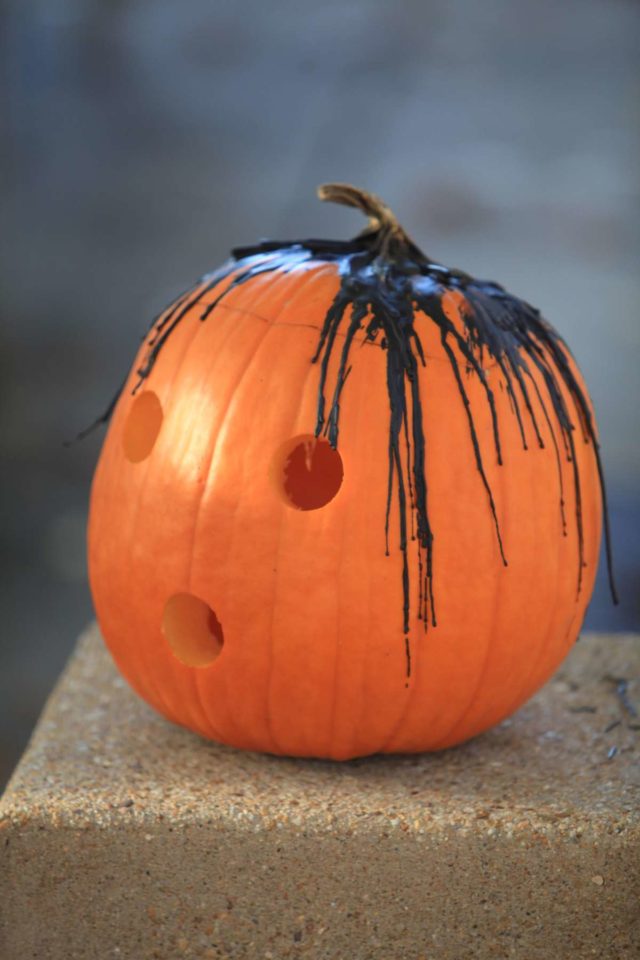 For the first hour it's set up for little kids with smaller pumpkins and washable paint for decorating them and kid-friendly entertainment like a clown.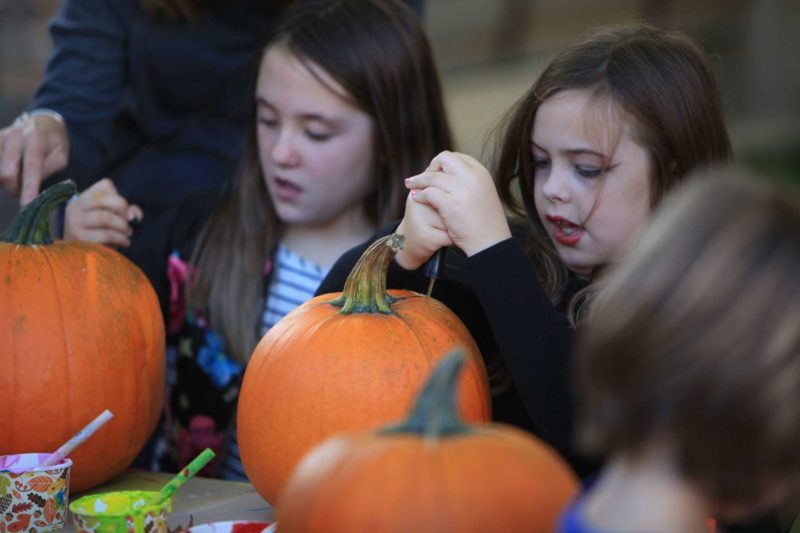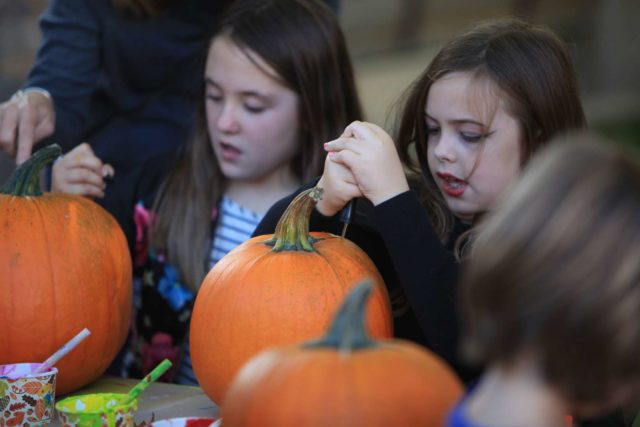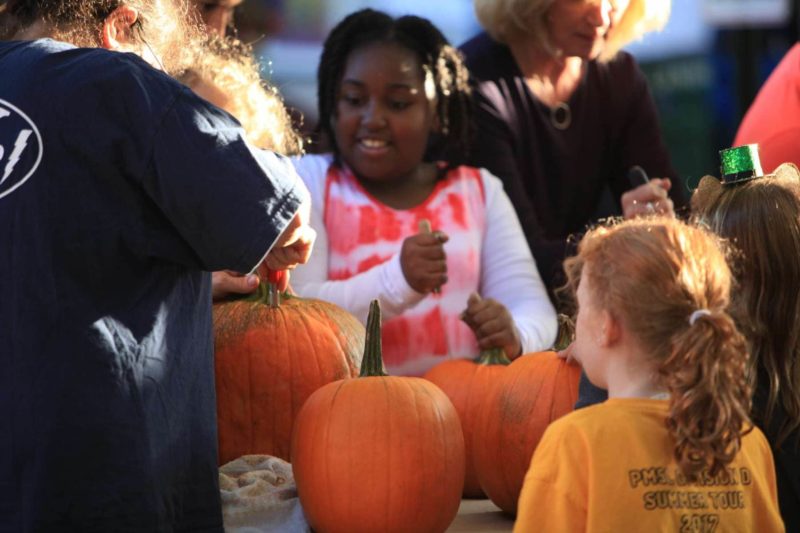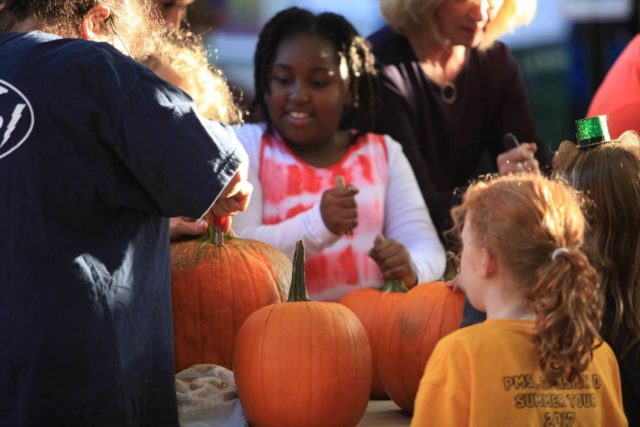 After that it's set up for carving for older kids and adults.  The community sets up buckets to collect pumpkins guts to compost, there's clowns, magicians, and bands performing, and businesses in the town center offer cookies, candy, popcorn, and cider for free snacks.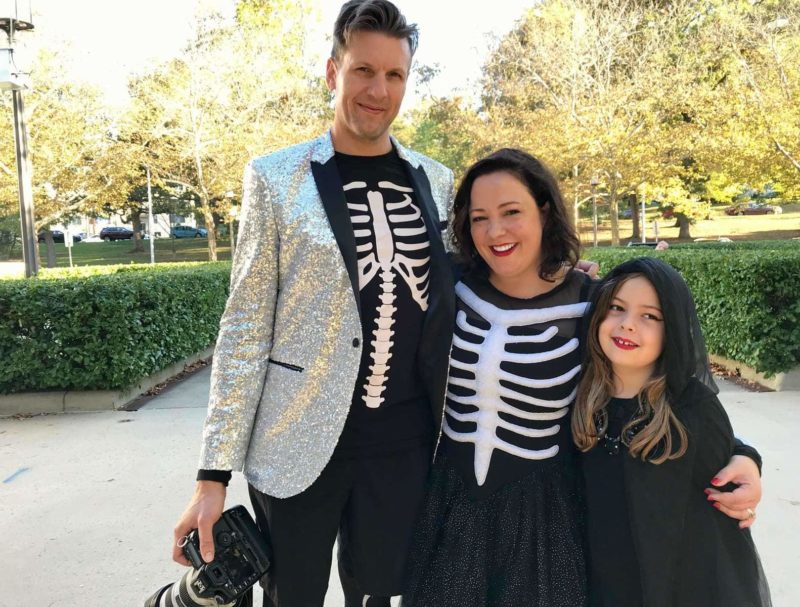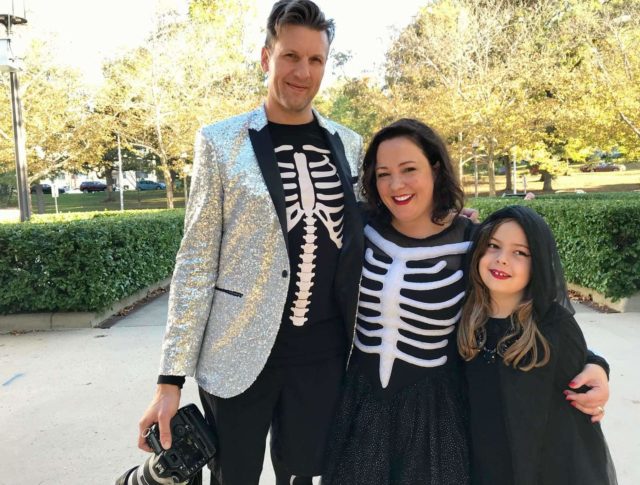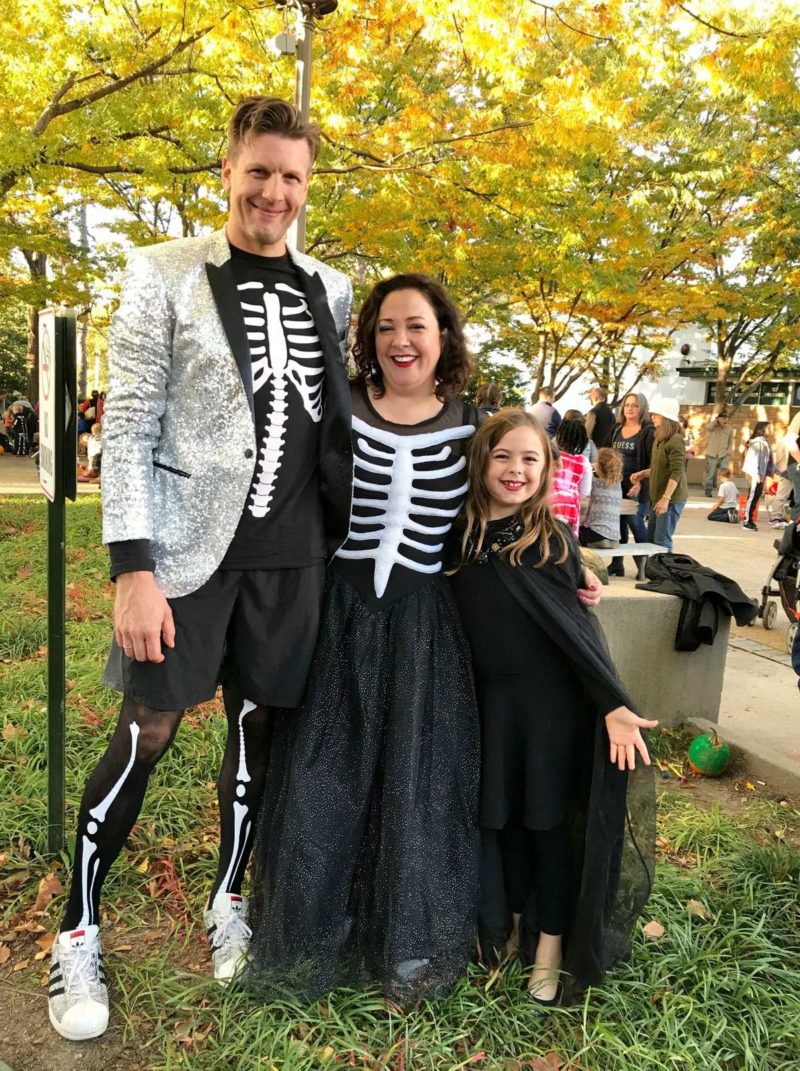 Costumes are not required or even suggested for the Pumpkin Festival but many do dress up with Halloween- and pumpkin-themed clothing and some wear costumes.  Karl volunteered to take photos at the event and decided to wear his skeleton shirt to be festive.  When going into his closet for the shirt, he pulled out his sequined tux jacket and thought it would be a fun addition. Karl's sequined tux jacket is from ASOS' Tall collection.  ASOS has a great collection of trendy and fun clothing for men in tall and plus sizes.  While this tux jacket is fun for this costume, it's also perfect for New Year's Eve and likely will get wear for other festive events over the years.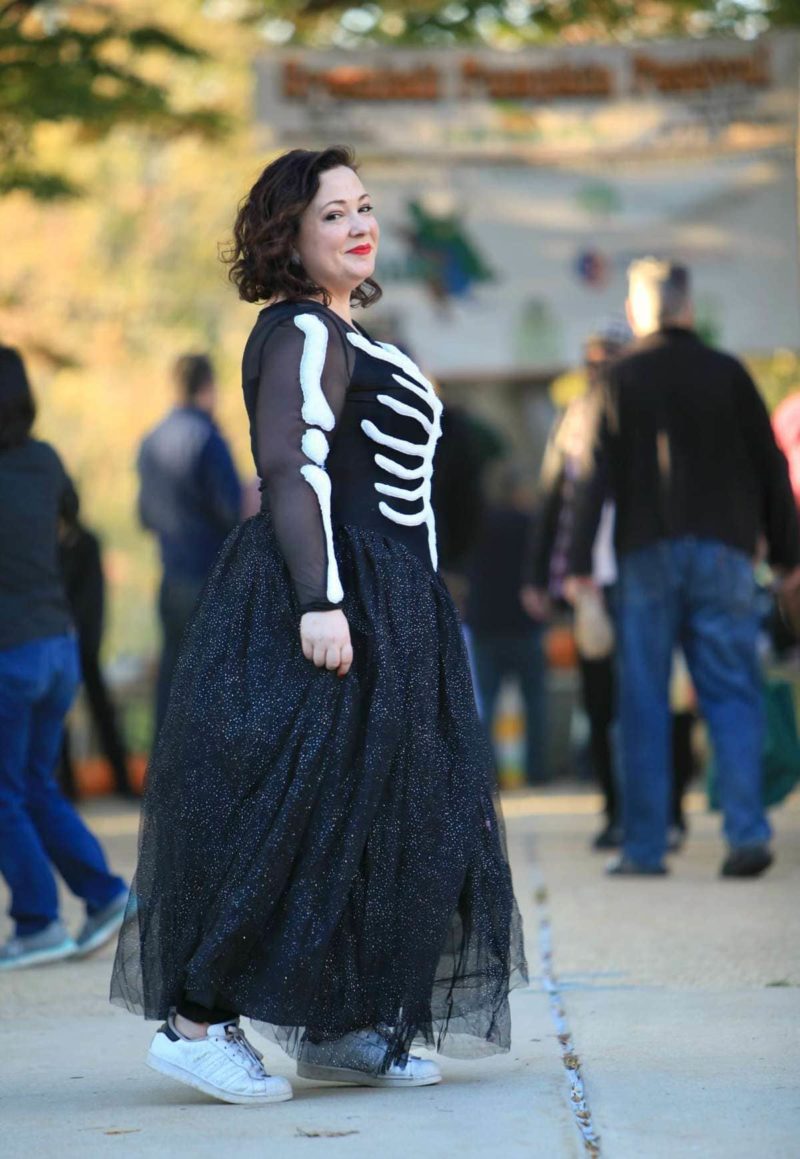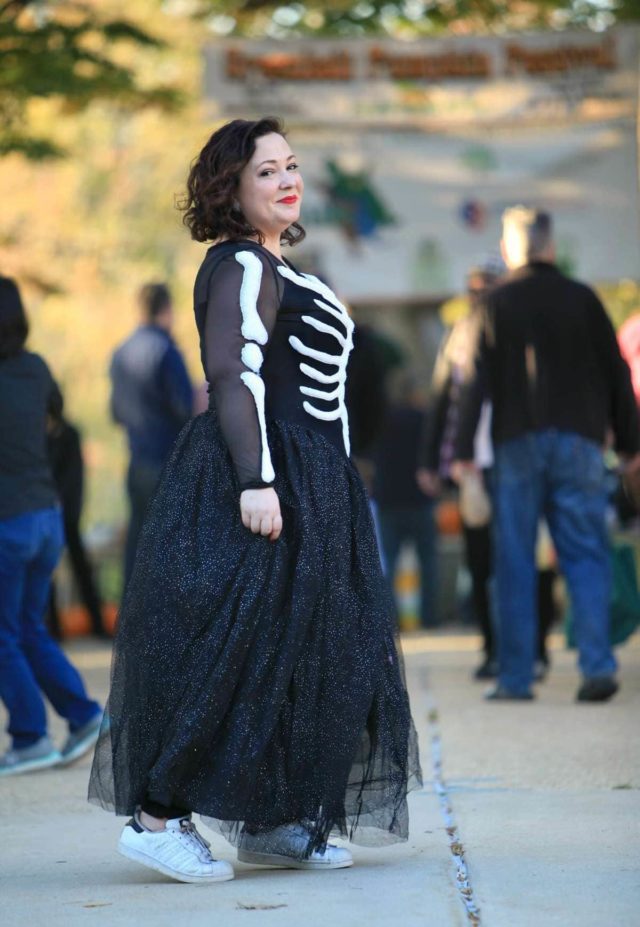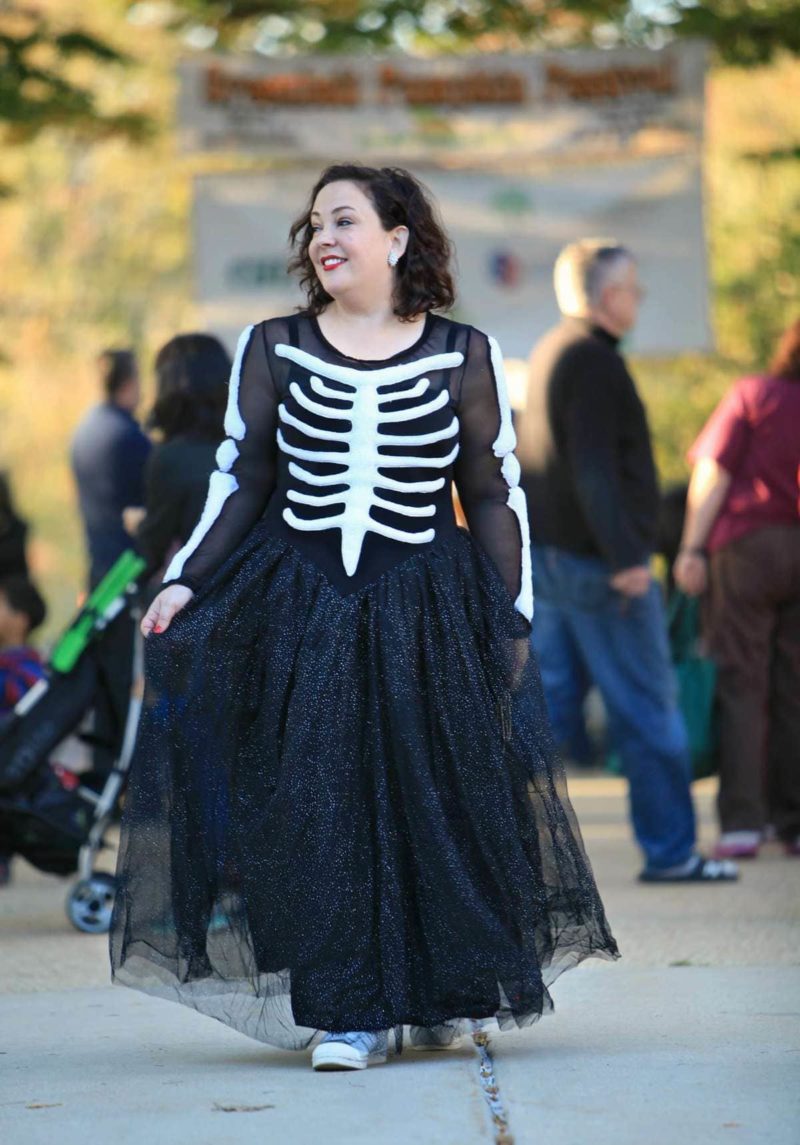 I had this skeleton dress from a costume that never took place and decided to dress up with him; he snagged the tights from my costume since they were too long for me. It's hard to find a costume that isn't a "sexy something" and also one that is in plus sizes.  This dress is surprisingly well made for the price and great for colder temps (I have leggings hiding underneath and if it were colder would add my Thermaskin cami underneath). Along with the tights, the costume also comes with sheer black gloves with a bone pattern on them.  The price on costumes always rises closer to Halloween; I didn't buy this dress in October and found it on several websites ranging from $40-$60. I'm glad to own this dress as it's an easy costume to throw on for a last-minute Halloween event!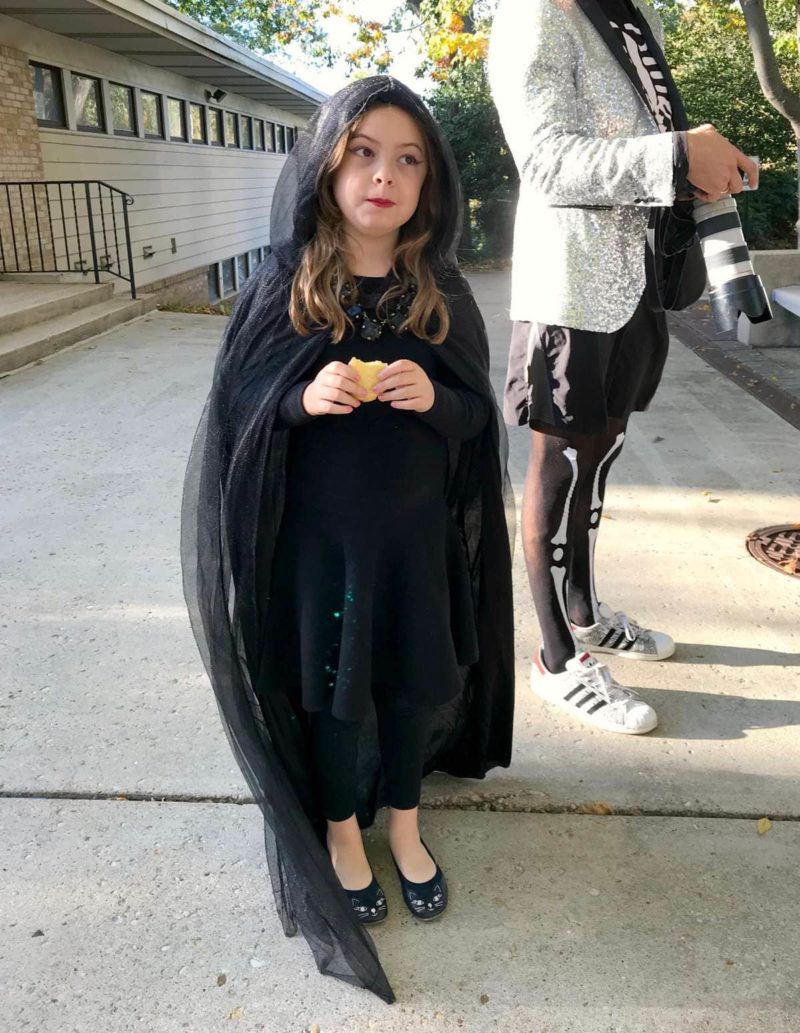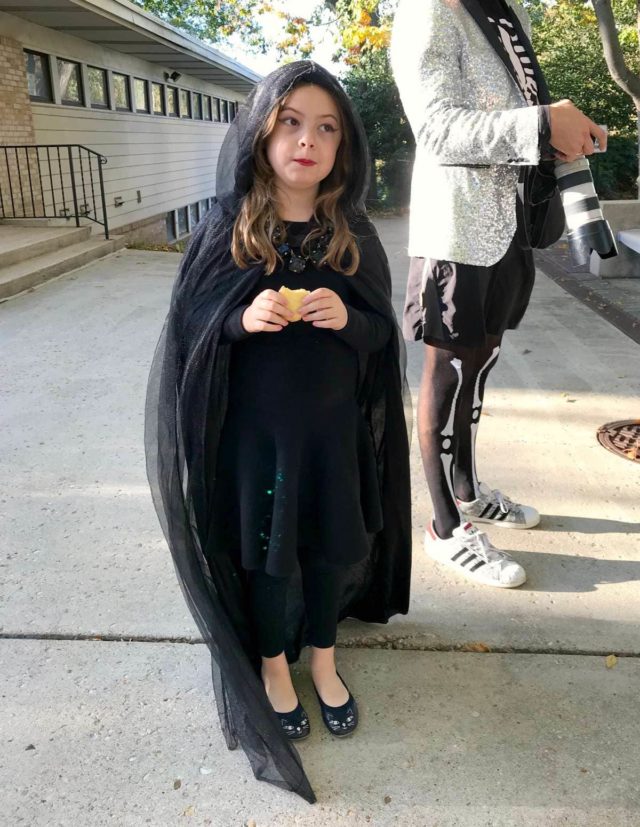 Emerson came home from school and decided to dress up as well, using a hooded cape, black clothes, my old Ann Taylor necklace, and some dramatic makeup to be what she determined was a "soul stealer."  Her cat shoes are from Gap (and they're on sale).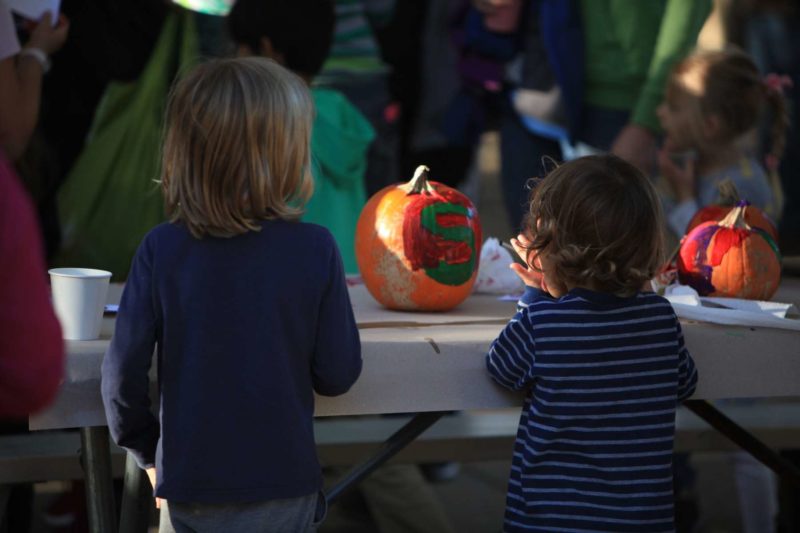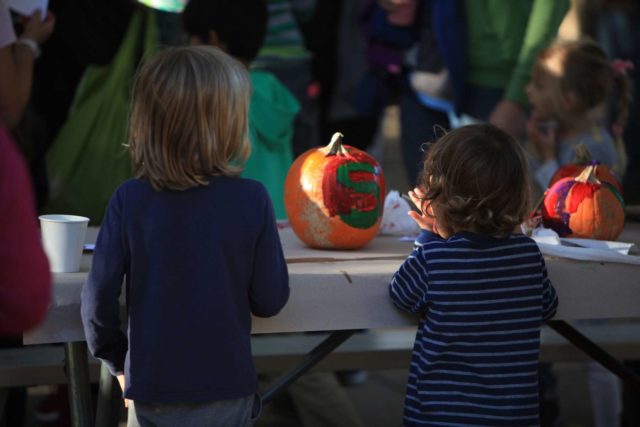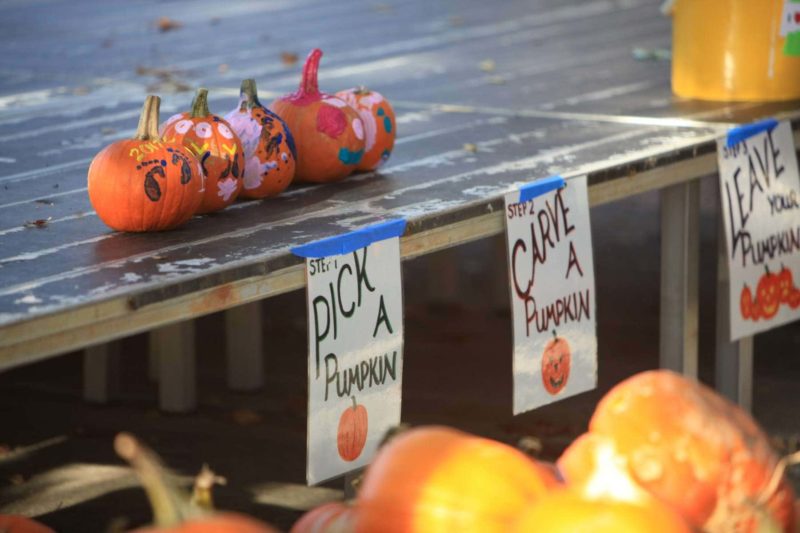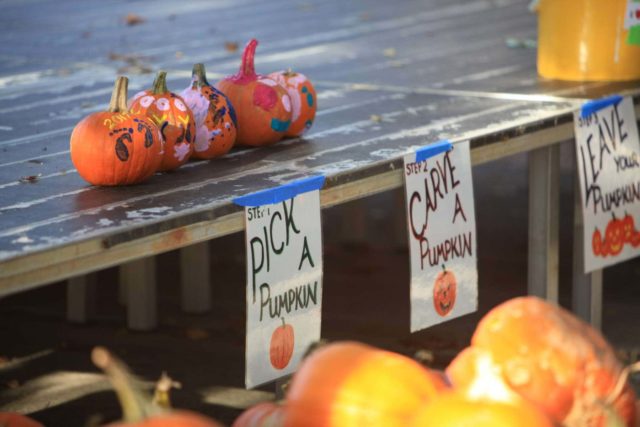 All of the carved pumpkins are left, and volunteers gather them up for the Pumpkin Walk.  The pumpkins are lit and placed along a path in Northway Woods in Greenbelt.  Guests can walk through the path, and may come across witches, fairies, and even the legendary Goatman.  It's fun to walk through and see the amazing talent of fellow Greenbelters and look for your own pumpkin.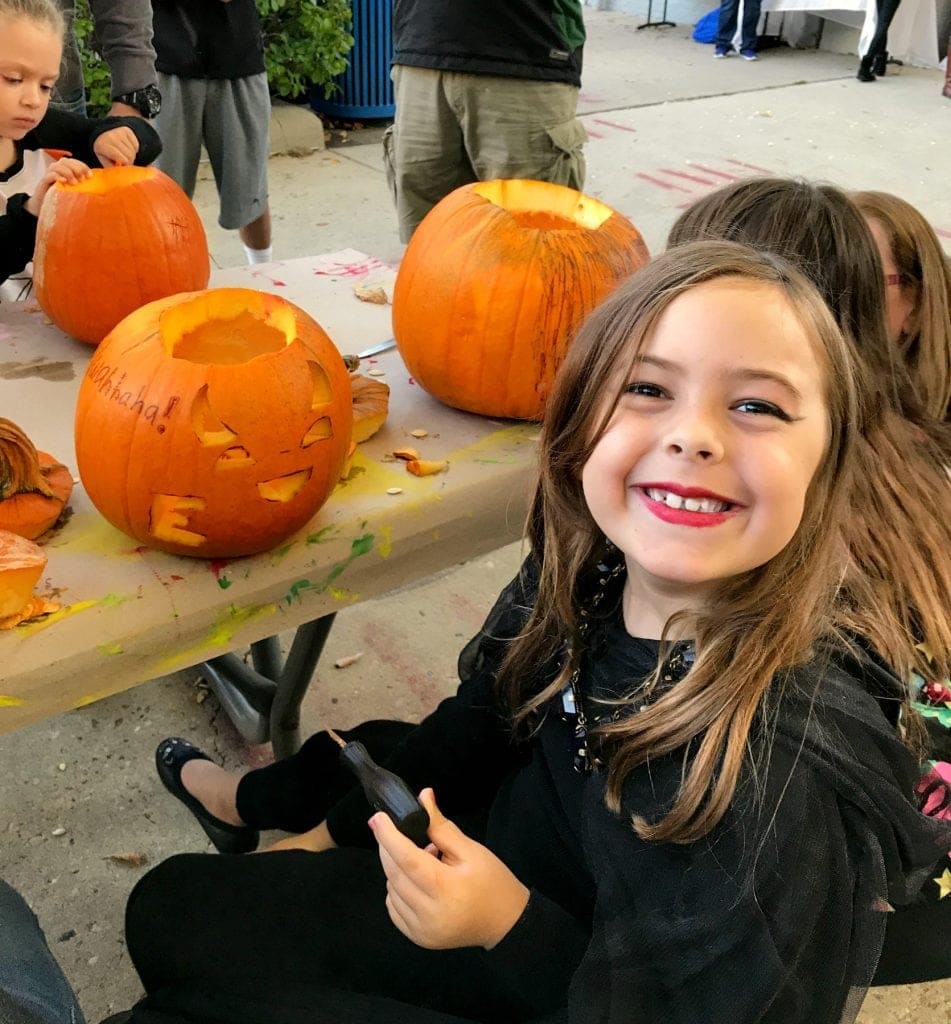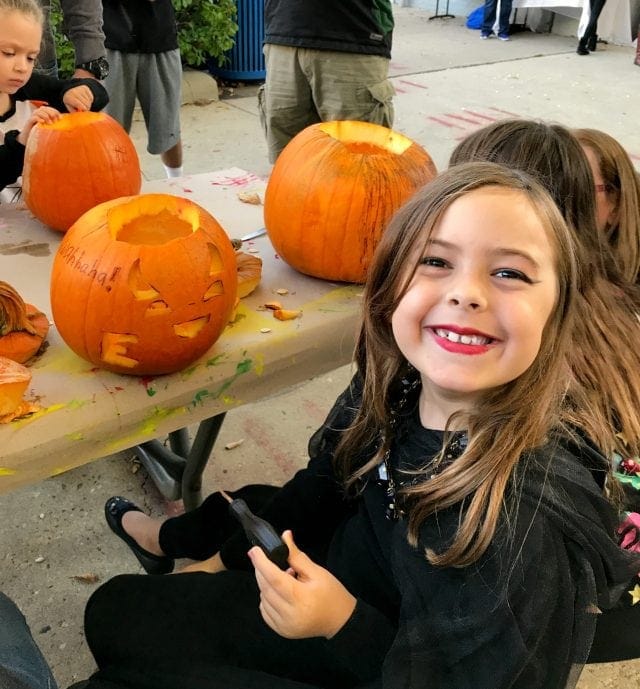 Emerson made sure to add an E to her devil pumpkin to be able to recognize it easily on her walk.  She went through the walk with her Girl Scout troop, they do this activity together every year.  At the end of the Pumpkin Walk, the community offers warm cider and cookies.  Like Friday's events, the Pumpkin Walk is completely free. Sunday, those who want their pumpkins can return to Northway and pick them up.  Any pumpkins leftover are composted.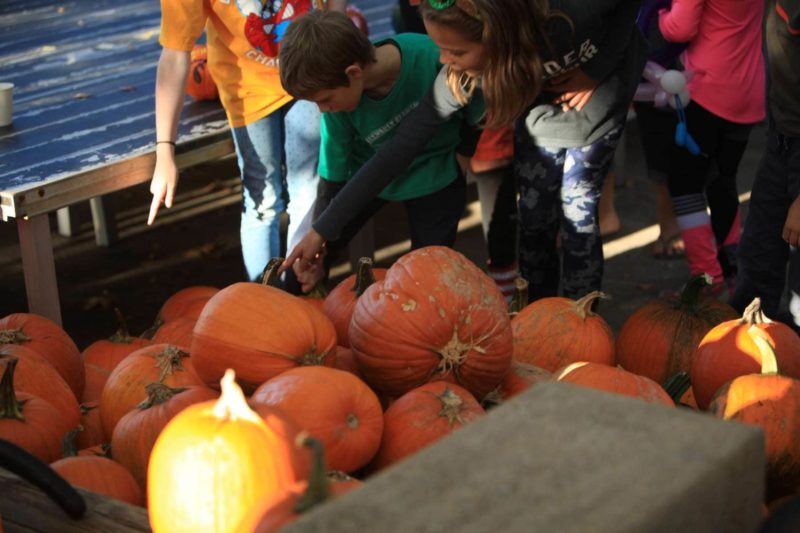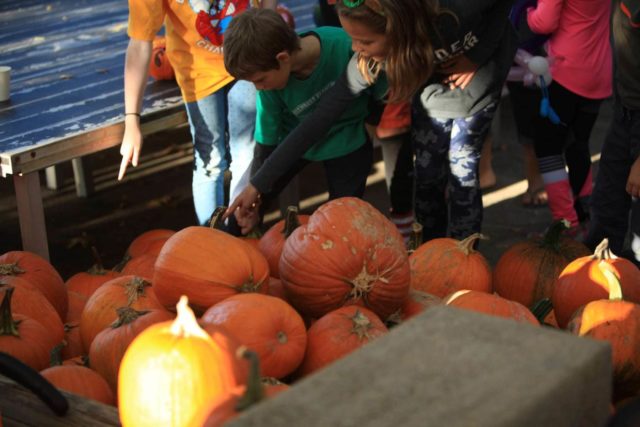 Today, Greenbelt has a Costume Parade in the town center.  The shops in town provide candy to trick or treat in the daylight hours and there's a contest for best costumes by age and family/group.  Then Tuesday when the sun goes down, classic trick or treating takes place with a few courts and rows of homes doing a trunk or treat.  We Garys have a different family costume to wear today.  Emerson decided on it, and as a hint one of the things we're wearing in these photos will be used for our family costume!
The woods that hosts the Pumpkin Walk, and is right behind our home, is being threatened. Maryland Governor Larry Hogan is proposing turning the Baltimore-Washington Parkway into an eight-lane superhighway. Doing this will likely encroach into the Greenbelt Forest Preserve and remove the existing, wooded buffer between the Parkway and the delicate ecosystem of the Goddard Branch floodplain. There's also a proposal to build a high-speed superconducting magnetic levitation (SCMAGLEV) system between Washington, DC and Baltimore, Maryland. This would also likely go through Greenbelt's woods, destroying homes for so many animals and drastically affecting the ecosystem.  I'm all about improving the traffic issues between DC and Baltimore, but living next to these woods for over 15 years, I fear what will happen if they are destroyed.  Greenbelt got its name from the 800 acres of forest that surrounded the town.  Over the years, forest land was sold parcel by parcel and we only have 225 acres left, which buffer our community from the Parkway, Beltway, and provide homes for deer, groundhogs, squirrels, fox, bats, and birds.  While most of you reading this do not live in Greenbelt, if you live in Maryland you should be aware of the environmental ramifications of these potential transportation updates.