This article may contain affiliate links; if you click on a shopping link and make a purchase I may receive a commission. As an Amazon Associate, I earn from qualifying purchases.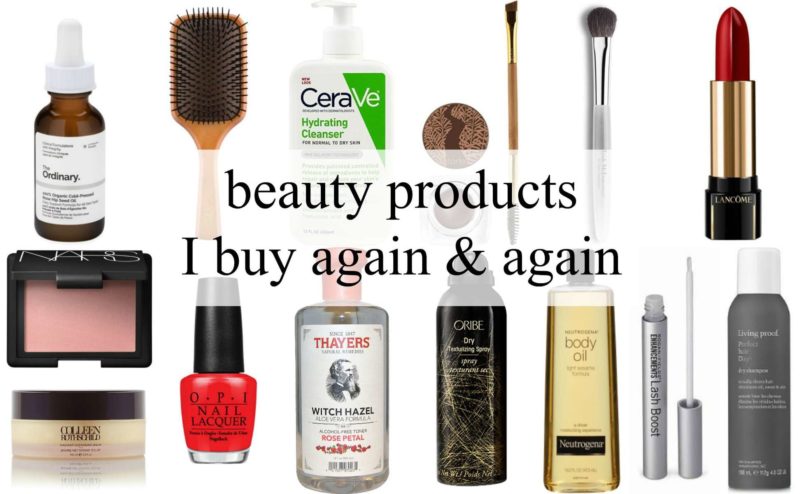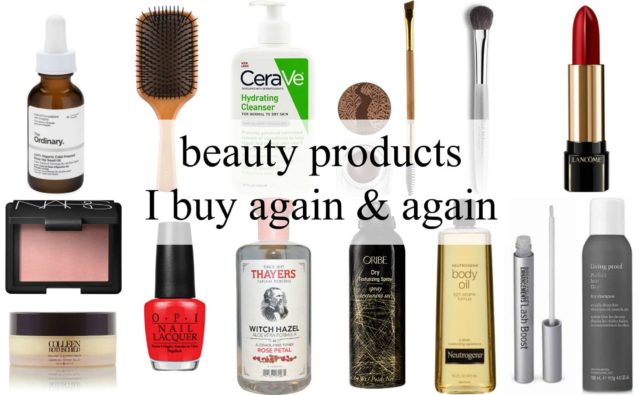 Inspired by my friend Kat at Corporette, I thought it would be fun to share my best beauty purchases, items I buy again and again. These are skincare, makeup, and hair products I purchase over and over, and dread when I go a day without it. I'd love to know what our your favorite beauty products too. In the comments let me know what products you love so much you "hit pan" or empty and repurchase, and check out the comments on Corporette for some more amazing beauty must-haves!
My Best Beauty Purchases (and Re-purchases)
Thayer's Rose Petal Witch Hazel – I use it to cleanse my face each morning and have off and on since… well before Karl and I were married and we celebrated 13 years this June. When I try something else I regret it. I love the smell, I love how gentle it is, I even love the style of the bottle. Oh, and I love that I can find it at my local market or drug store. I wrote about before it in this post.
Colleen Rothschild Radiant Cleansing Balm – I've been using this for over a year and freak out when I get to the bottom of a jar and don't have one at the ready. I've tried some other cream cleansers but none in my opinion compare or make my skin as happy. Read my first review of the cleanser and my whole nighttime skincare routine including it.
Carmex – I'm kind of like the woman in this viral video with my Carmex. I have one by my bed, one in my purse, one in the medicine cabinet, and you can usually find one in the kitchen junk drawer and next to the washing machine since I always find them in my pockets when sorting laundry.
Neutrogena Body Oil – I don't like a lot of scents, but gosh I adore the smell of Neutrogena Body Oil. When I was pregnant most scents made me ill but the scent of this oil actually made me feel less nauseous. I slather it from neck to toes after every bath and wrap up in a bathrobe to let it all soak in. When I take a bath, I add it to the water. I've written about my Neutrogena Body Oil love before.
CeraVe Hydrating Cleanser – I've used this off and on for years. Now that I have my skincare routine down pat, I use this less often. It's my in-shower facial cleanser because of the convenient pump bottle and that it will cleanse deeply without stripping my skin. Karl uses it and I also use it on Emerson. I've written about CeraVe before on the blog.
The Ordinary 100% Organic Cold-Pressed Rose Hip Seed Oil – I bought this after Fran of Franish raved about it and now I too am obsessed. I'm on my third jar. I put it on between my treatment and night cream every evening and it makes my skin so happy, so hydrated, so glowy. I had my 2/3 empty bottle open up in my toiletries bag during a trip and was crushed and tried to make do with random serums I had received as gifts or as samples with beauty purchases. I noticed the difference, my skin wasn't as luminous and I got dry faster during the day. When I went to NYC I went into Ricky's looking for a brush and saw they carried the Ordinary and grabbed a bottle of this oil and slathered it all over that evening. Gamechanger, even without much sleep my skin looked more vibrant, plump, and happy than it did after 10 hours of sleep at home. You can read my initial review of The Ordinary products in this post.
Aveda Hand Relief – I have this on my bedside table and apply it every night to my hands and elbows and anything leftover goes on my knees. I have another in my work tote; it absorbs well enough that I can put it on, rub it in, and be able to go back to typing. I adore the smell as I do with most Aveda products. This is a really great gift idea too.
Reusable Cotton Rounds and Wipes – I get mine from Little Green Nest on Etsy. I first bought cloth wipes from this Etsy store (we cloth diapered Emerson). I then saw the cotton rounds and bought them to use with makeup remover and witch hazel. You can read my review of them here. After several years my cotton rounds were ready to hit the compost so I just ordered another set a couple weeks ago and with it some more cloth wipes to use as gentle washcloths for my face. The more you wash them the more absorbent they are, in the long run it's cheaper than buying cotton pads and disposable products, and it's way better for the environment.
Hair Products I Swear By
Oribe Dry Texturizing Spray – I loved it so much I dedicated a Friday Favorite to it. If I could only have one hair product the rest of my life it would be this. It's like a dry shampoo, hairspray, and styling product all in one. It's never ashy on my brown hair, it never looks sticky or greasy or weird. I can brush it without losing all its power, and I have Day 2 hair even if I used a lot of it the night before. I apply it to dry hair to create volume and to hold curls or waves. There's always a travel sized can in my toiletries bag because I'd cry if I went somewhere without it!
Living Proof Dry Shampoo – I've tried a lot of dry shampoos and this one is my absolute favorite. It doesn't make my hair gummy or ashy, it truly cleans it, making it feel silky and normal while taking away grease. I've even used it on Emerson. She loves having sideswept bangs but after a day at school running around and tucking them behind her ear they can be a scraggly greasy mess. If we have to head somewhere after school and don't have time to shower, I'll spray them with Living Proof Dry Shampoo, rub it in a bit and brush out and her hair looks like it did before a day of cray. This is also one I have a travel sized can of at the ready in my toiletries bag.
HERB Ghost Oil – Most oils and shine serums weigh down my hair and just make me look greasy. This stuff will smooth, add shine, keeping hair bouncy and soft. I've written about my love for HERB haircare in this post.
Aveda Wooden Paddle Brush – Karl has one and I have one and sometimes he steals mine so I've gotten to hiding it in my bedside drawer. I don't brush my hair often because it kills curls, but when I go straight, I use this to brush and also use it when drying my hair to get it straighter but not stick straight.
Coconut Oil – I swear by this more than any fancy product for a deep conditioning. Karl uses it as a styling product. While you're at it, rub it on your knees and elbows, use it to clean your face, and swish with it for 15 minutes for strong white teeth.
My Makeup Must Haves
NARS Blush in 'Sex Appeal' – I used to wear NARS Orgasm and bought it over and over and over. And then with age I found Orgasm too sparkly. I can't remember which blogger said she wore Sex Appeal but I tried it and fell in love. I'm on my third compact.
Maybelline Line Stiletto in Brownish Black – Most people say liquid liner is too tough, I'm the exact opposite. I always make a mess from pencil liners, but can get a nice clean line with liquid and this by far is my very favorite. I don't want a glossy black cat eye, it's not my style and I find it can make my eyes look older. This liner isn't shiny, and the brownish-black color looks more natural. I usually wear a very thin line just to make my lashes look thicker, but it works well to thicken up and amp up the look. There's one in my purse, one in my dressing table, and always one still in its packaging for backup. I worry this is being discontinued, I can't find it anywhere and ended up ordering 4 tubes on target.com at the end of the summer because it's out of stock in every store near me and now it's out of stock in this color on target.com. No Maybelline noooooo don't say its true!
Rodan + Fields LashBoost – This stuff really works. I've been using it almost all year and my lashes are long, strong, they're not down to get the friction on but they gave me lashes better than I had in my 20s. Read my full review of LashBoost.
Lancome LAbsolu Rouge Définition Demi-Matte Lipstick in Le Carmin – This is the perfect classic cool toned red. I put it on and I feel like a young Elizabeth Taylor. It feels good, it smells good, it wears well, and I have three tubes in case they ever discontinue it.
L'Oreal Riche Matte Lipcolor in Eva's Red – This is my daily lipstick and has been since around June. Reds often make me feel like I'm wearing a costume, this one feels like I am supposed to wear it. Since I found it I've felt less a need to wear other makeup and often just go with brows, mascara, and lipstick. It's like my Carmex, there's tubes of this lipstick in every bag and all over the house.
Tarte Amazonian Clay Waterproof Brow Mousse – One jar lasts for EVER, seriously over a year when you use it daily. I'm on my third jar, which shows how much I adore this stuff. However, I don't use the enclosed brush I prefer this one from Trish McEvoy which is shorter and stiffer and fills in my brows more than drawing them on. And yes, it is waterproof, you'll still have brows after a dip in the pool. FYI I use Rich Brown.
OPI Nail Color in Big Apple Red – For years I chewed my nails and cuticles and would do anything to hide my hands. Then I started getting acrylic tips, and then powder dips to strengthen my nails and prevent chewing. I started with nude colors but then branched out and one day tried Big Apple Red and next thing I knew I was one of those red nail people and now have been for about two years. 90% of the time my nails are Big Apple Red, fingers and toes.
Trish McEvoy Shadow Brushes – Long-time readers know my love for these brushes. The #45 Sheer Application Brush is the perfect size, softness, and volume to give a wash of color over the lid and blend so nicely. The #29 Tapered Blending Brush will make anyone look like a makeup pro; use a darker color and go in a wiper blade movement in the crease and you'll get beautiful contouring.
While there's plenty of other beauty products I love, these are the ones that have stood the test of time and continue to impress. And now it's your turn, share in the comments your favorite products and best beauty purchases!