This article may contain affiliate links; if you click on a shopping link and make a purchase I may receive a commission. As an Amazon Associate, I earn from qualifying purchases.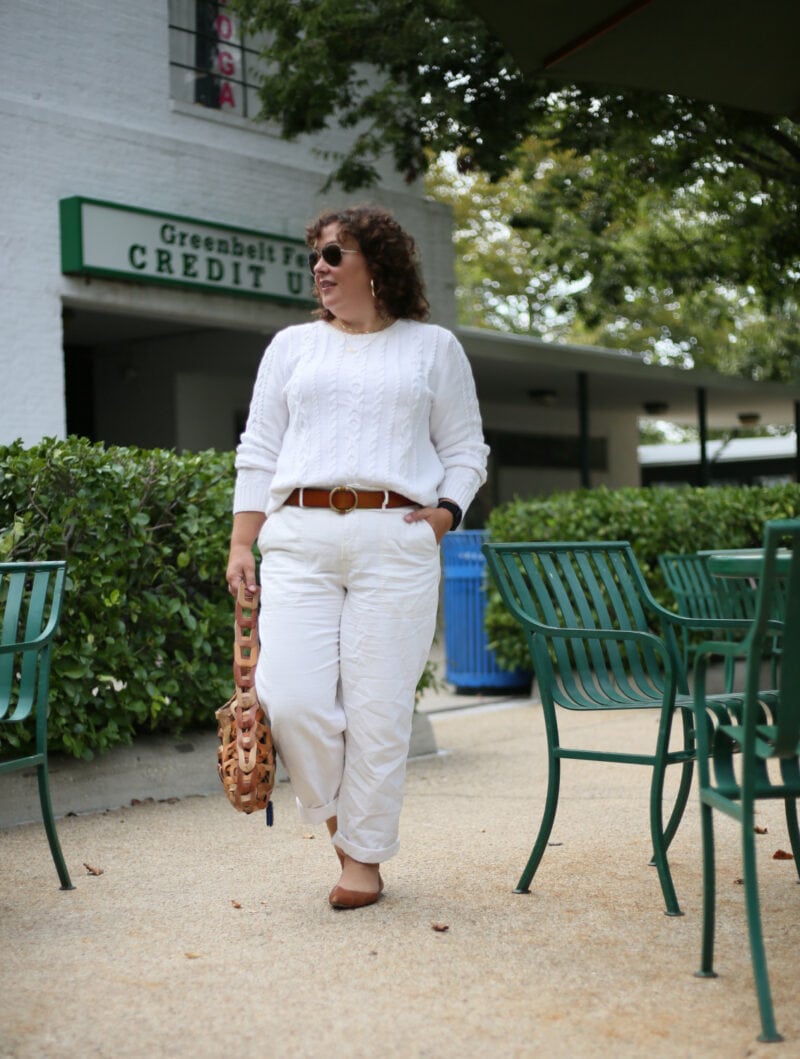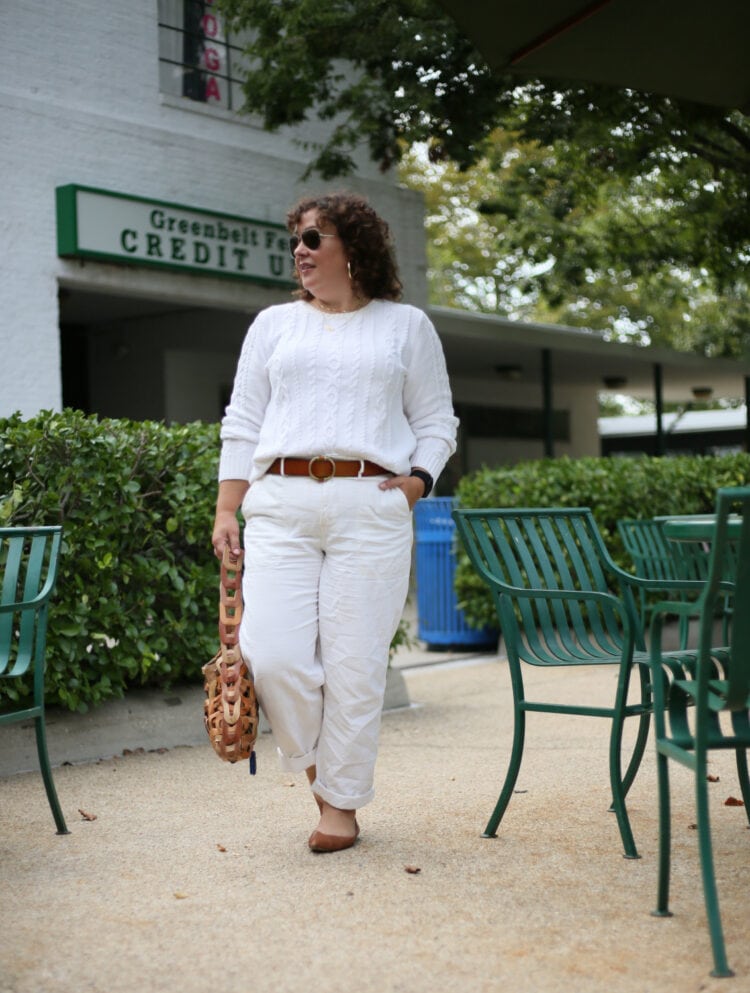 Summer-to-fall transition outfits can be tricky to master. One minute you're sweating in a tank top and shorts, and the next you're shivering in the same clothes. But fear not, the key to nailing this confusing time of year is layering. Opt for lightweight fabrics that can easily be added or removed to adjust to the changing temperatures. For example, pair tank tops with button-down shirts with long sleeves worn open. This will add an extra layer of warmth when necessary but can be easily removed when it warms up.
Another idea is to pair your summer dresses with a denim or leather jacket for an instant fall style update. With these outfit ideas, you'll be able to transition smoothly from summer to fall without sacrificing comfort or style.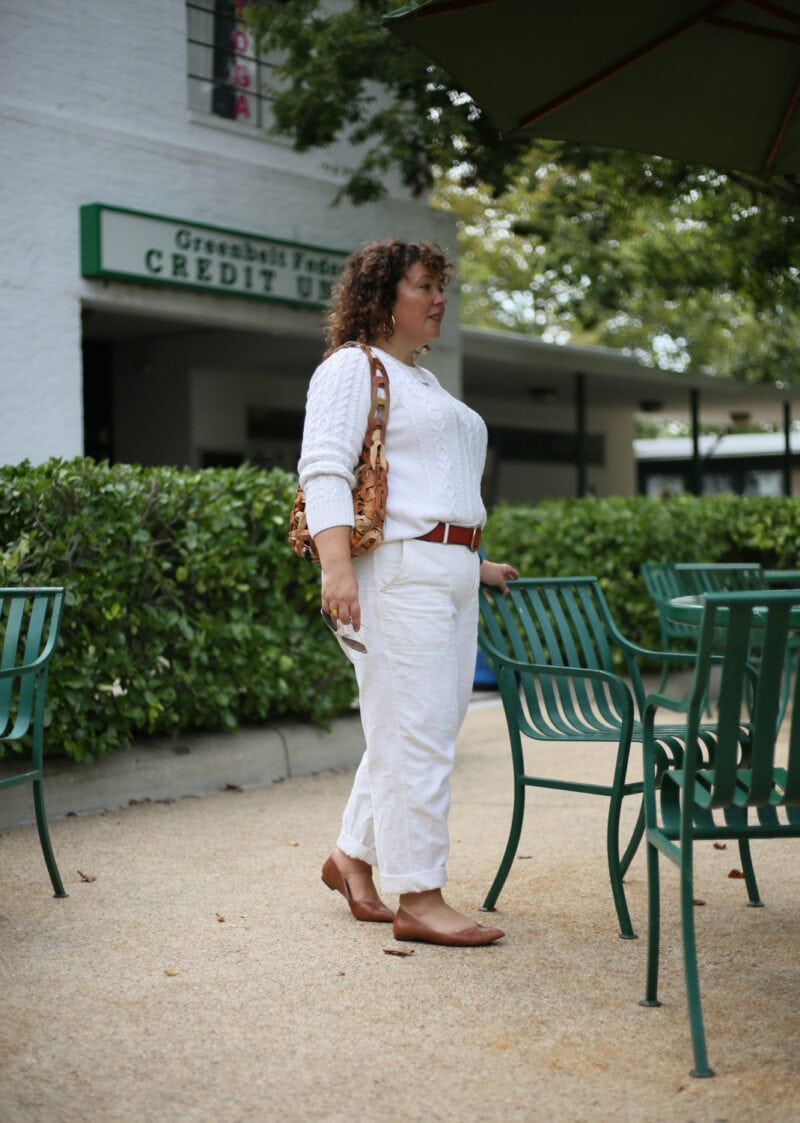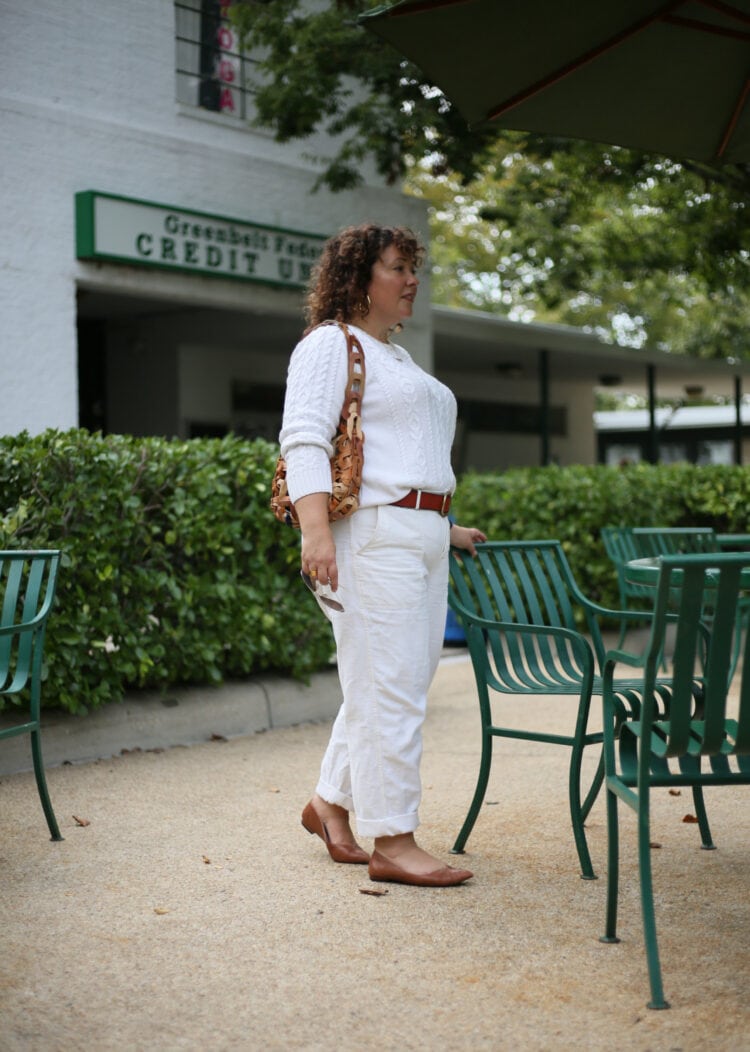 Summer to Fall Transitional Dressing
Cable Knit Sweater
I've had this L.L. Bean cotton cable knit sweater for almost as long as my 14-year-old daughter. It has been bleached and put in the dryer and still looks great. This is a size large; they still have the same sweater. It comes in 8 colors, regular, petite, tall, and plus sizes, and is less than $70.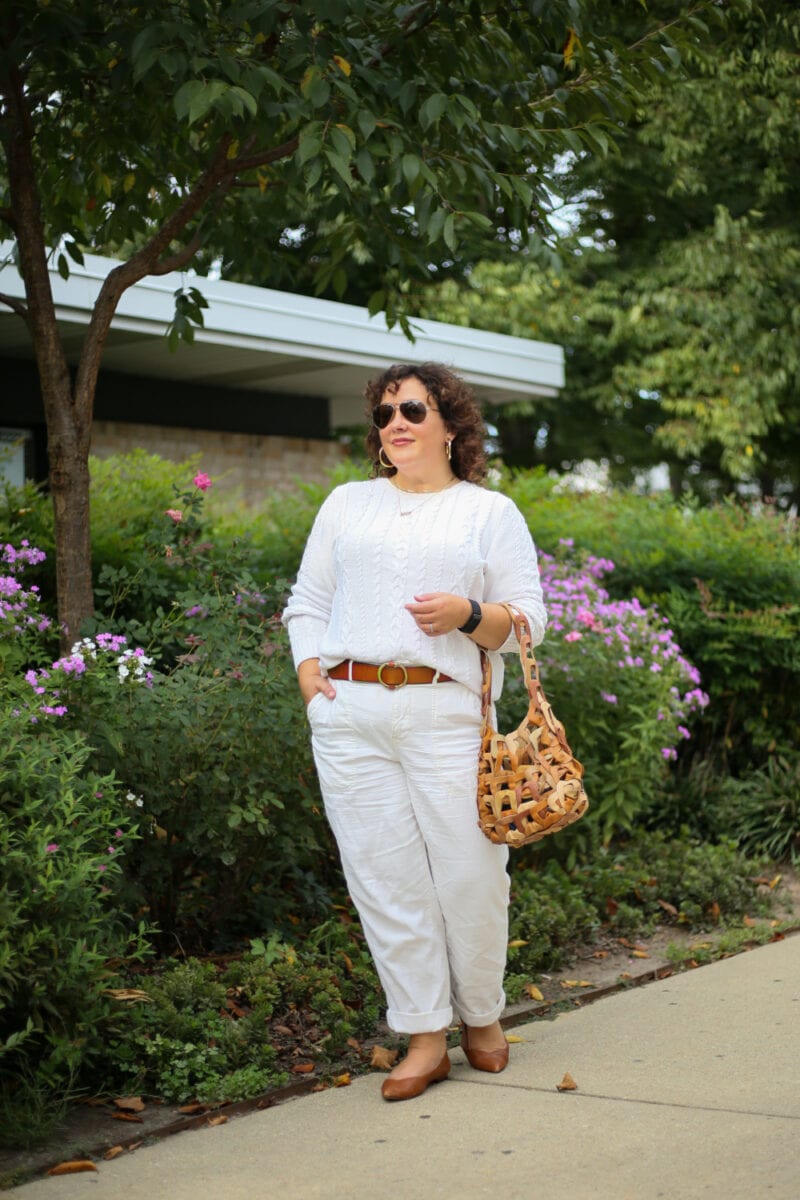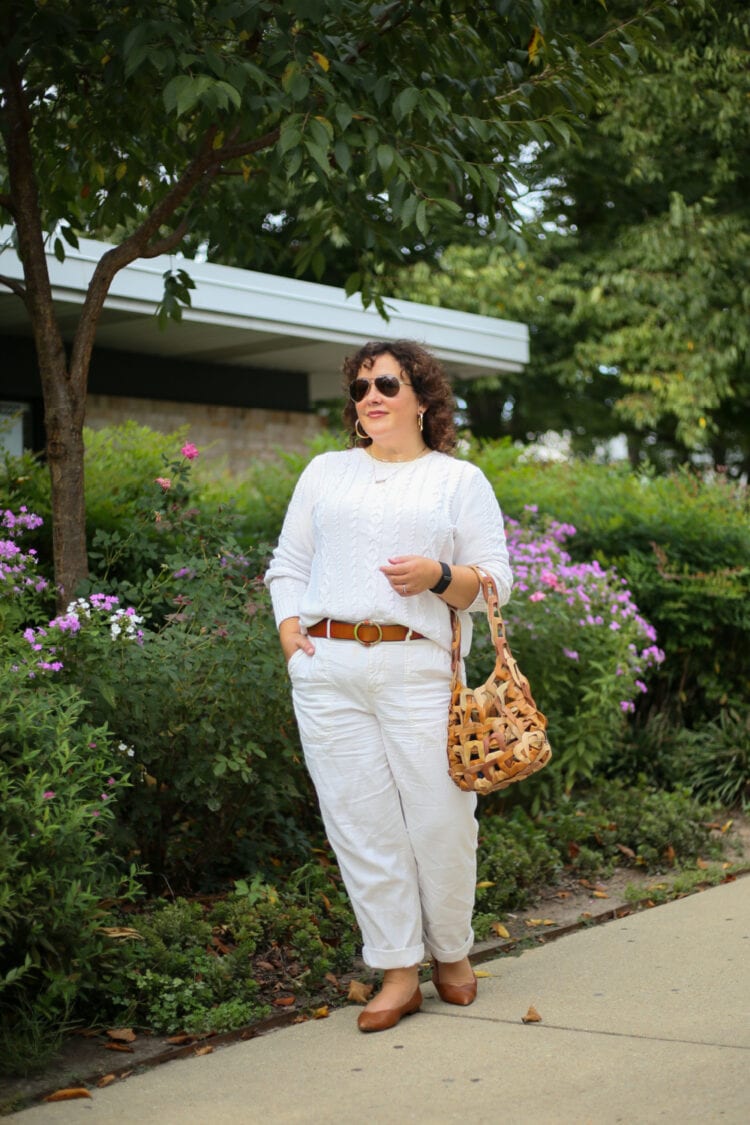 The collegiate trend with cableknit sweaters is on trend this fall. Even my 9th grader is seeking a "Rory Gilmore sweater" which is a cream or white cableknit crewneck. But considering how old this sweater is (and it's not my first one from L.L. Bean), it's not like it's a trendy piece that will look dated this time next year.
Since it's cotton, it's more of a transition piece than my wool sweaters; I've worn it with my black Universal Standard overalls, with jeans, with denim shorts, with wool trousers, and on this weird not hot/not cold day with an old pair of J. Crew pants. Since they're no longer available, I have linked to a few similar styles below in the carousel: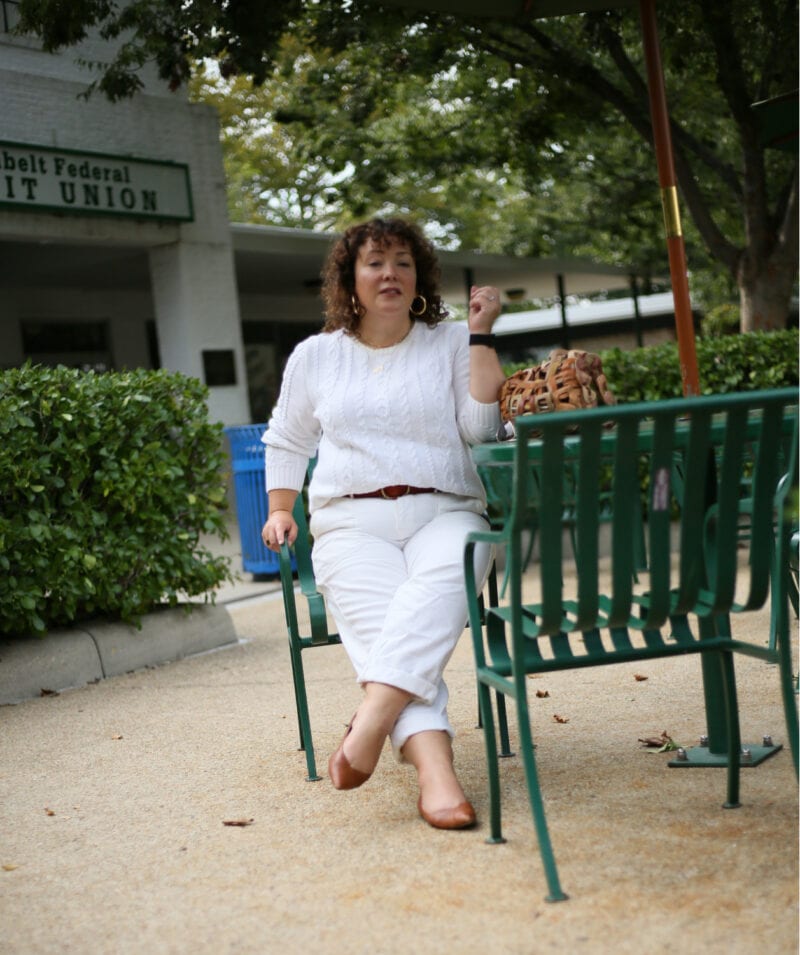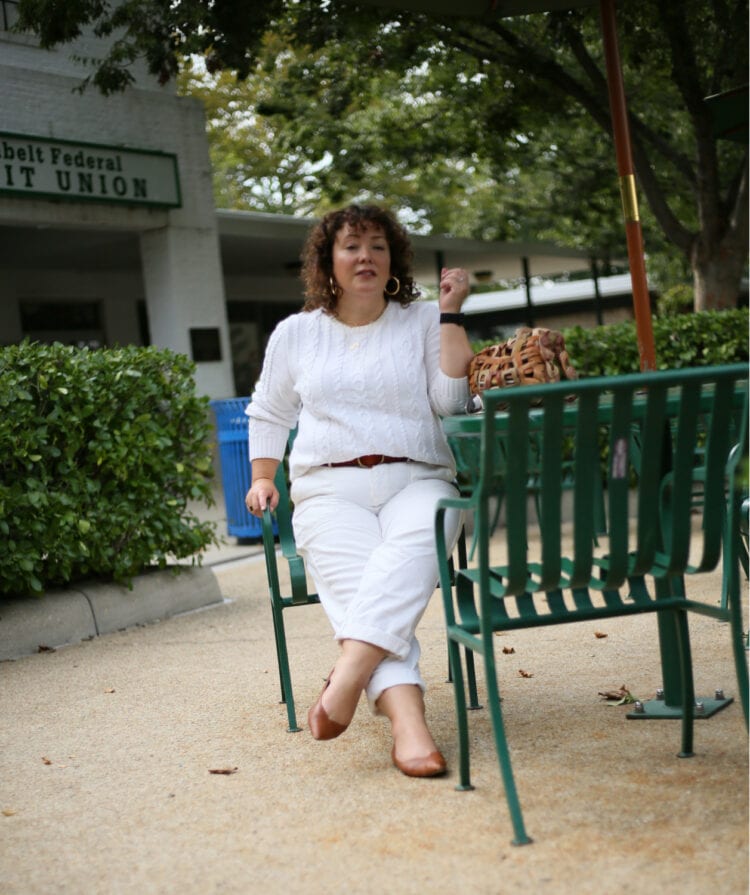 Chino Pants
Who would have thought I'd become a chino gal? Since getting these pants I got last year's version of these pants, and after seeing these pants tried on by another attendee of a Universal Standard trunk show, they're also on my list. Chinos really fit with the fall collegiate trend, the still lingering "coastal chic" trend, the minimalism trend, as well as the preppy and "quiet luxury" trends. The key is to have them a bit relaxed, bit slouchy, more an "oh this old thing" than freshly starched and creased.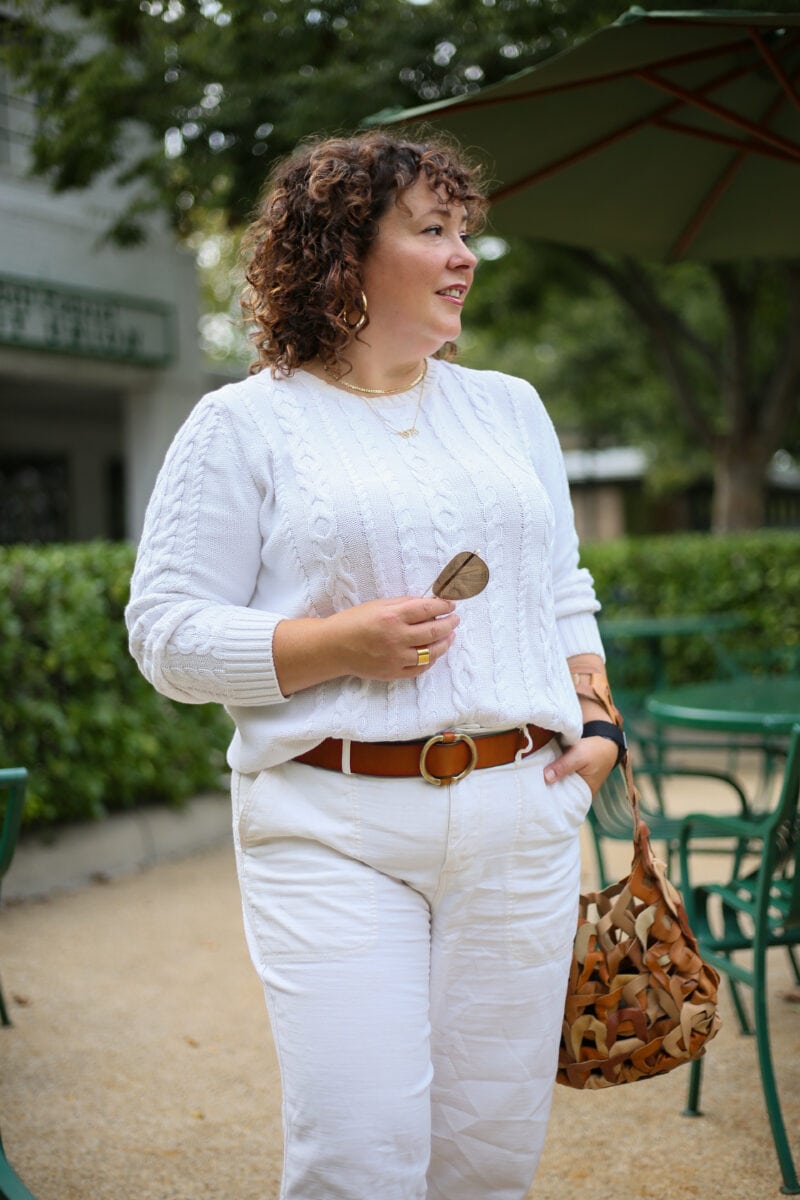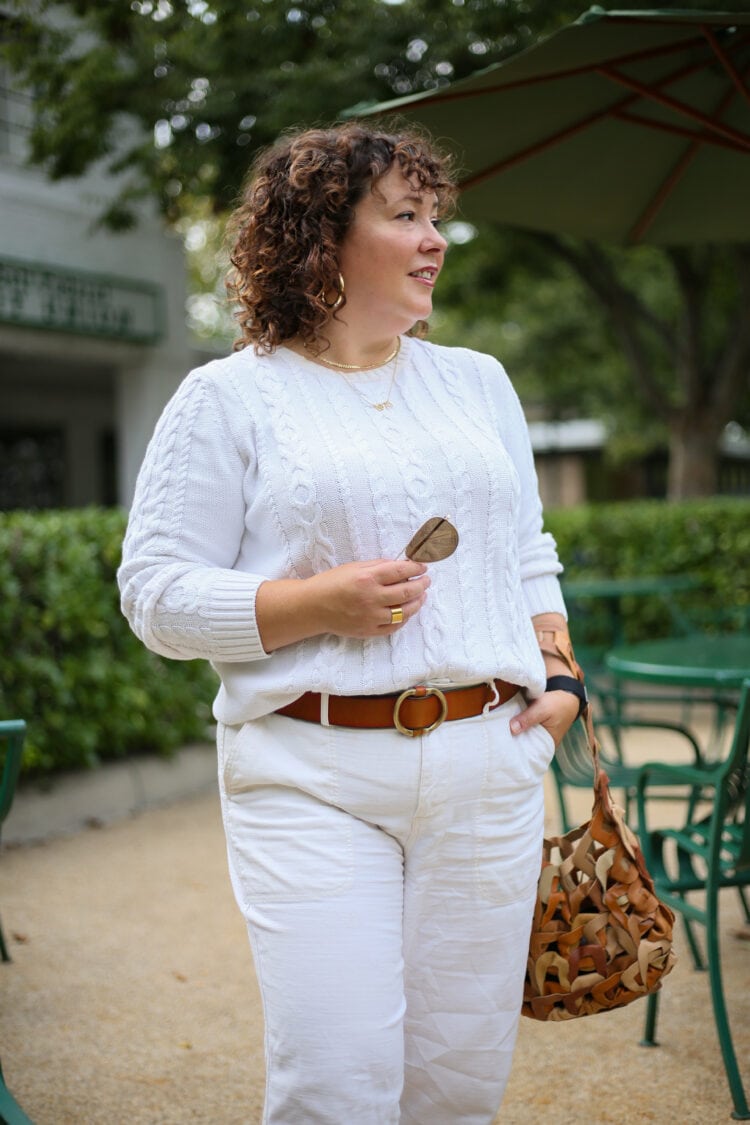 The creams don't match exactly, my brown leathers don't match exactly, and this is okay. You'll see this fall a lot of similar but not exact colors mixed together and I don't think the difference is jarring in person. While I am not usually one to wear warm neutrals, this time of year I love all the creams, tans, camels, and browns with my leftover highlights and tan from the summer.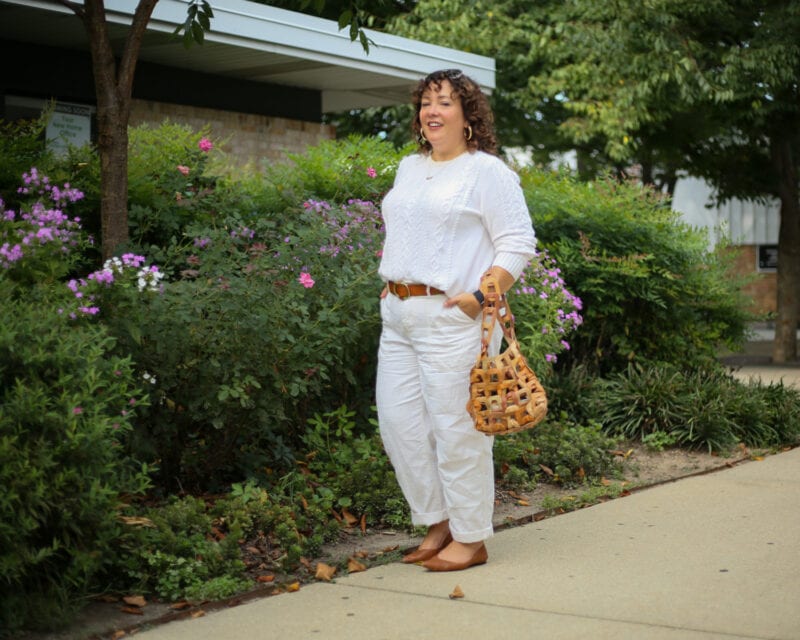 Accessories
The belt is old from cabi (gift from the brand), the flats are from ALLY (read my ALLY flats review and find a promo code to save on an order). I really love these flats; they're not cheap but they are supportive and well-constructed. I don't like flats, but I like these! I went up half a size, chose the wide width, super happy with the fit.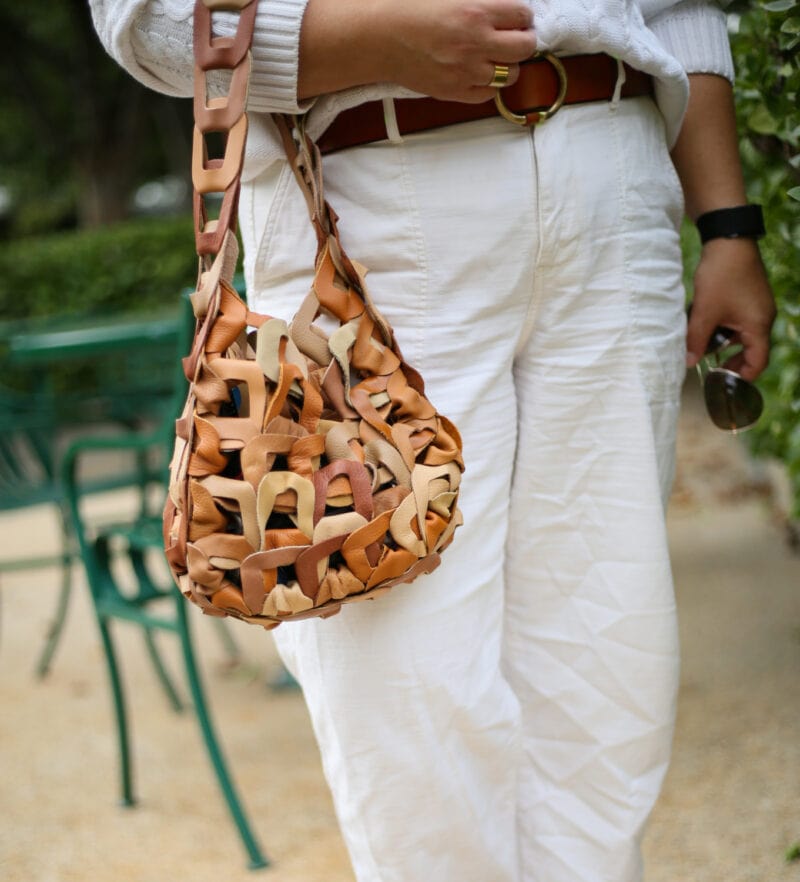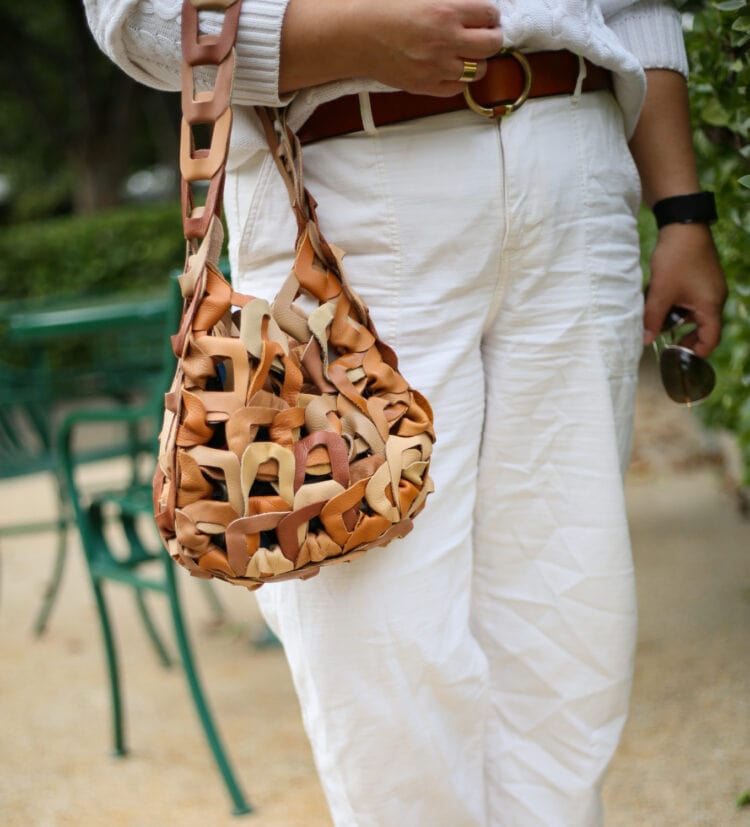 The bag is no longer in my possession. This shoot was its first and last time I carried it; I came home and carefully packed it up and sent it back. I don't know what I was thinking buying an open weave bag. Actually, I do, I was thinking I have a pouch I thought would fit inside and I could just move the pouch from bag to bag this fall. And the pouch doesn't fit in this bag.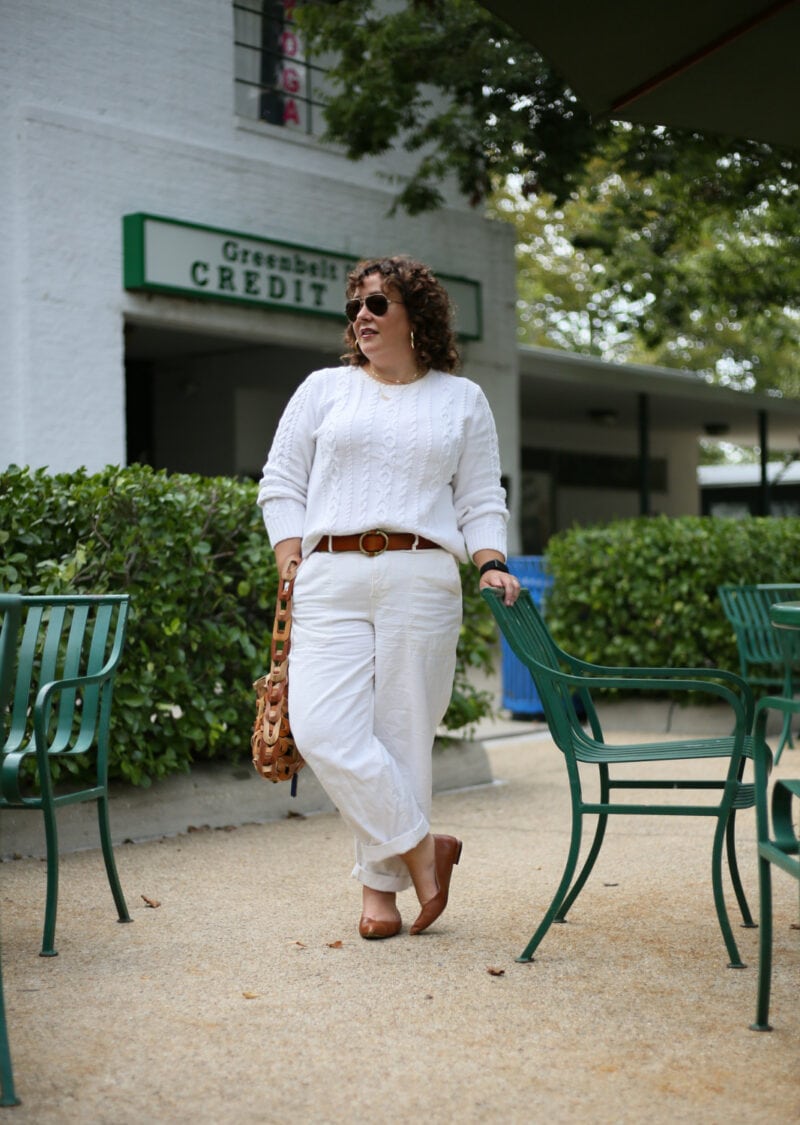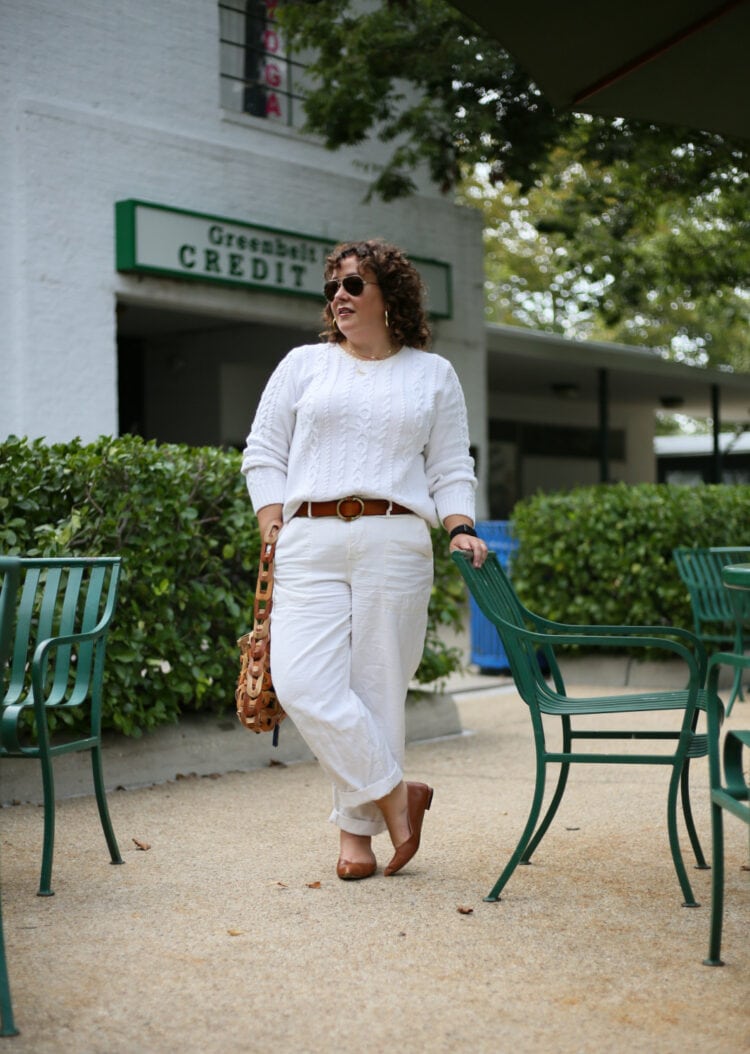 So I put my purse basics in it for the shoot and almost lost my keys during the session. It's also smaller than I thought it would be. But if I was the kind who could rock an open weave bag, this one smells amazing, looks great, and is beautifully constructed.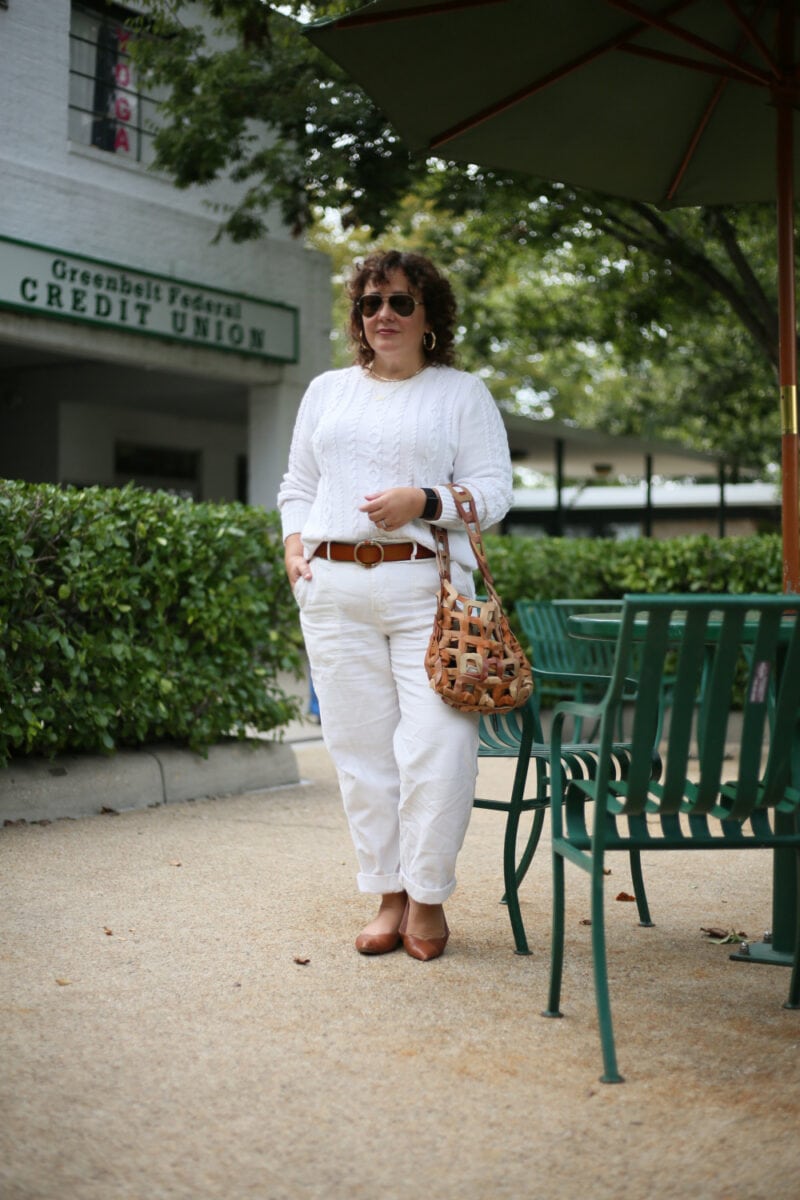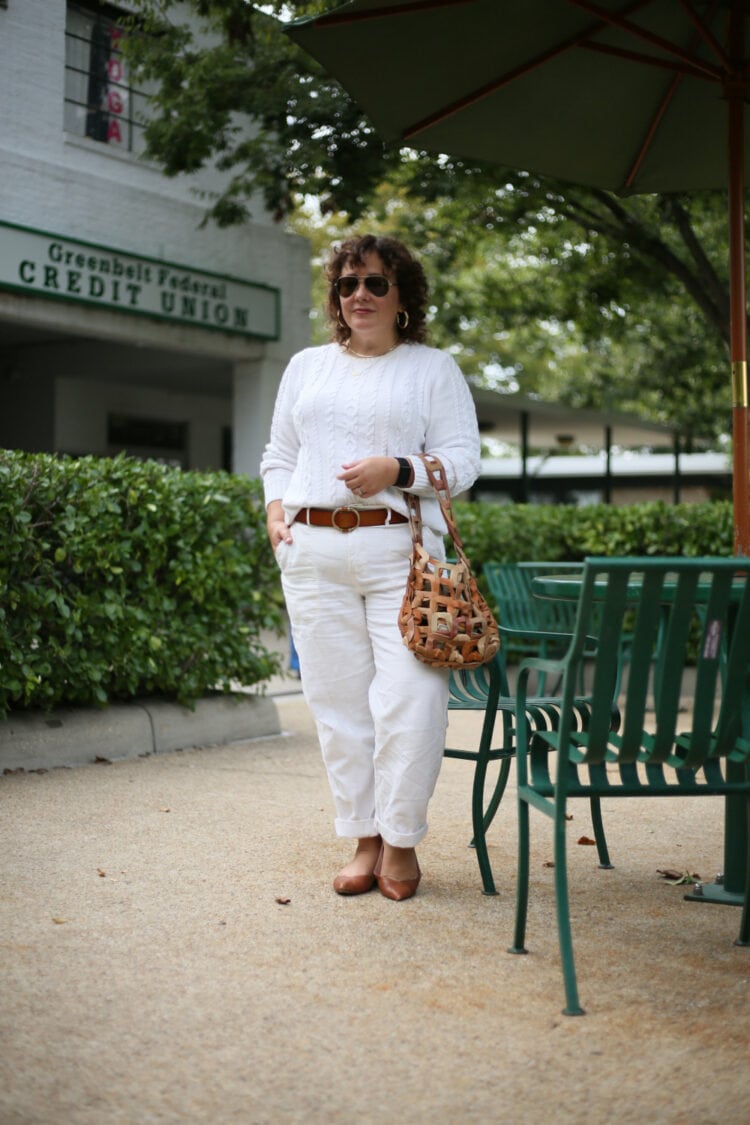 The cigar ring is from this Etsy seller; FYI I usually wear a size 9 on my right ring finger and got an 11. It fits on my right ring finger but no other finger except my thumb. It may fit on one of my middle fingers this winter (fingers are a bit smaller in cold weather) but I wanted to give you the heads up in case you're considering buying it. I really like the finish and quality. I asked the Etsy seller if they do larger sizes and they do not.
The sunglasses are from ROKA, the earrings are from Baublebar, the chain is from Rellery (gift from the brand last year), and the date necklace is from Etsy.
ORIGINAL POST: 09/21/2021
UPDATED: 09/03/2023