This article may contain affiliate links; if you click on a shopping link and make a purchase I may receive a commission. As an Amazon Associate, I earn from qualifying purchases. 
Via your emails, comments and contact form submissions, it seems as though many of you are planning cruises to Alaska in the next year and are wondering what to pack. I have written about what to pack for a cruise before, but that assumes that you are headed to a warm tropical locale. While the same fashion can be worn for formal nights on a cruise or when spending time on the ship, the main thing to factor is excursions.
Unlike a tropical cruise where excursions include zip lines, kayaks, and private beaches; an Alaskan cruise will have excursions that will require you to be prepared for the elements. The weather can be very different depending on where you are and what you are doing, so it is best to dress in layers. My husband and I took a cruise through the fjords in Norway and at some points I was freezing and other times I was frantically shedding layers to be comfortable in the warm sun. From what I have read and from what friends have told me, it seems that it can be quite similar to Alaska, where it can be downright frigid near the glaciers and in the middle of summer can be anywhere between 40 to 70 degrees during the day. Some ports like Juneau are more rainy than others, and Alaska can also be pretty windy (as can the ship deck).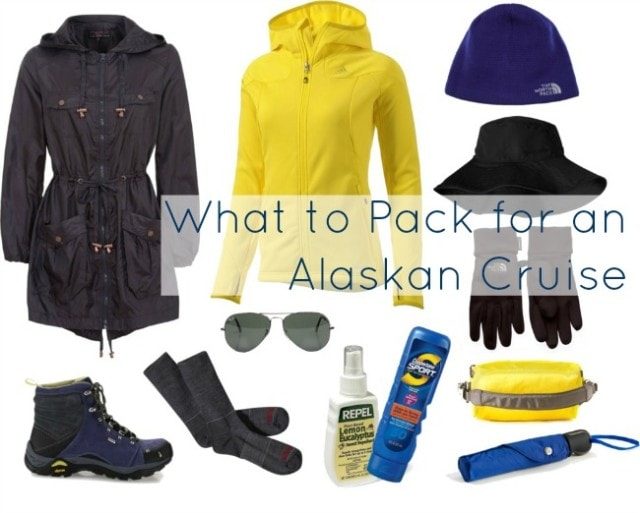 Your main clothing can be pretty typical – a pair of jeans or pants, a long-sleeved tee or lightweight sweater and possibly a base layer (camisole or undershirt). However, what you put over all this is what's important. A fleece jacket is great because it is warm, water and wind resistant. A hood will make it all the more versatile and can be your lightweight jacket for the entire trip. While most cruises provide ponchos, having a proper raincoat can be a very good thing – much warmer and more durable. I have a packable hooded raincoat from Calvin Klein (not mine, but a similar version) that I adore because it's waterproof, windproof, long enough to cover the rear when sitting, cinches at the waist to ward off chill and flatter the figure, but is loose enough to comfortably layer over a sweater or fleece. Since it's packable, it can handle being stuffed in a bag when the weather warms. Speaking of stuffing in a bag, having a packable tote or backpack is great for excursions so you have somewhere to stuff your coat when you get warm or store your souvenirs.
Hats are an instant way to be warm and protected and they don't take a lot of room. A fleece beanie takes up no space and can protect your ears and scalp from wind and rain; a crushable bucket hat can not only keep you and your camera dry when taking photos in drizzle, but it can also double as a sun hat. A pair of lightweight gloves also take up little space in your suitcase and will be nice to have if you visit the ice fields. There will be sun, even if it's hidden behind clouds so be sure to apply sunscreen and bring sunglasses. Alaska is known for its mosquitoes, so be sure to pack a bottle of bug repellant.
Shoes can make or break your adventure, so be sure whatever pair you take is properly broken in before your journey. While they may be adorable, this is not the time for Hunter boots. A hiking shoe or boot that is lightweight will make for easy walking and fewer blisters; one made with Gor-Tex will also be waterproof. If you plan on doing a lot of activities, you may want a second pair of walking or hiking shoes. This is a good time to invest in proper hiking socks – they are shaped, padded, and from high-tech materials (or good old merino wool) to keep your toes dry and warm all day.
Not every part of an excursion will have you fighting the elements; use your raincoat or fleece with an umbrella tucked in your bag for shopping and sightseeing. This is also a great time to have that packable bag to hold your coat or new purchases.
As for the rest of your clothing, bring your bathing suit – even though it's chilly on land, the ship is often warm enough to take a dip in the pool or hot tub. Instead of a gauzy pareo, a thicker terry cover up may be a wiser choice for poolside. For daytime, pants and shorts with lightweight sweaters and knit tops will be good – layers will also be good on deck (as well as a pair of binoculars!). For evening, standard cruise attire applies. A handful of LBDs, cocktail dresses, or sparkly tops with dressy pants or skirt will get you through dinners and drinks at a bar. Finally, don't forget the workout gear! Cruise ships have wonderful gyms and a workout can help with the longer days and different time zone!